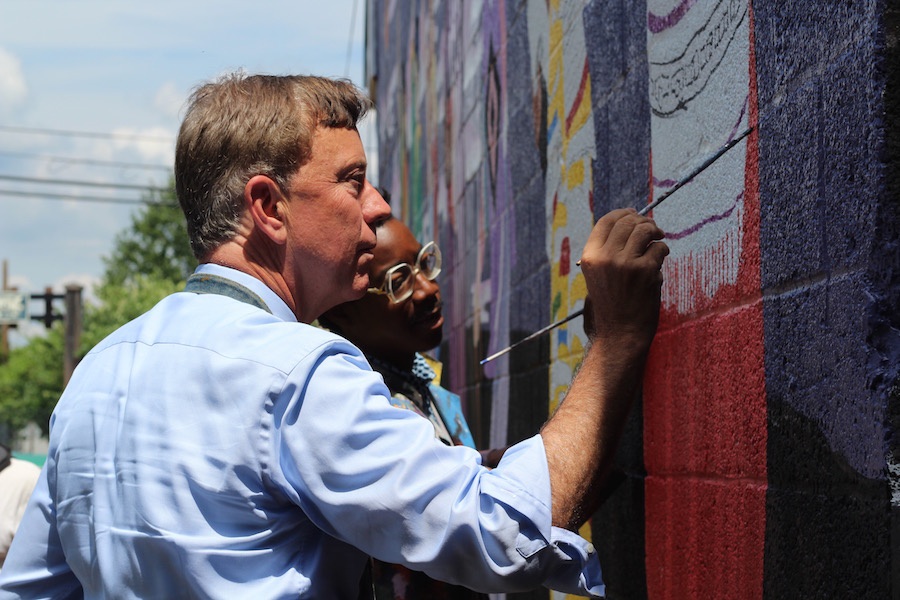 Connecticut Office of the Arts | Arts & Culture | COVID-19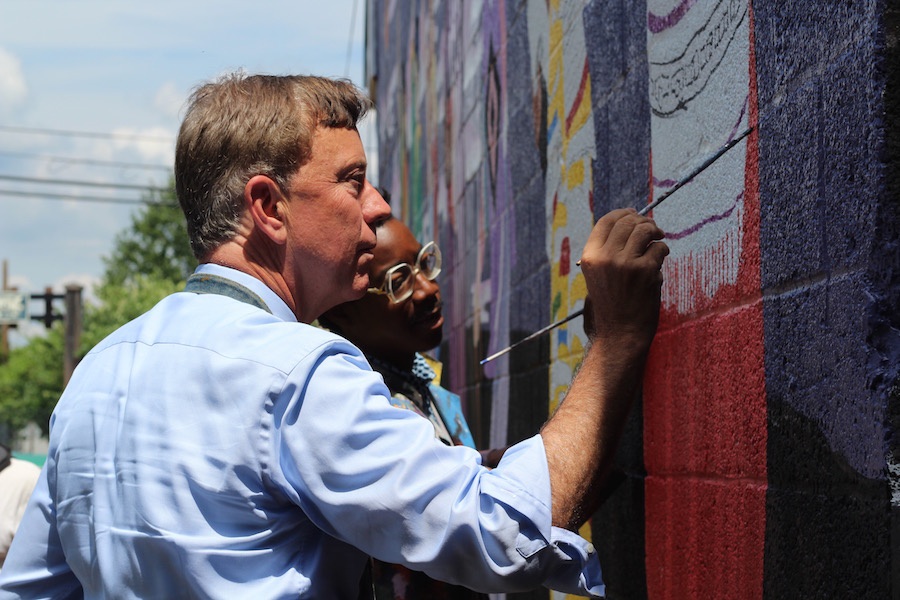 Gov. Ned Lamont on the campaign trail in July 2018, with Artist Kwadwo Adae. Adae, who owns an arts school. has been one of the artists hit hard by COVID-19 closures. Lucy Gellman File Photo.
The Connecticut Office of the Arts has launched two new grant programs to support artists during the COVID-19 pandemic. Artists have two weeks to apply, and in some cases to choose their online collaborators and jumpstart virtual programming.
Those grants are the Connecticut Artists Relief Grant Program and Connecticut Artists Respond Grant Program, both of which were announced Monday evening in a COVID-19 update from Gov. Ned Lamont. A second press release followed from the Connecticut Office of the Arts.
Office of the Arts Director Liz Shapiro said the grants are a much-needed nod to artists who have lost work due to the ongoing global pandemic. They join ongoing efforts through the New Haven Creative Sector Relief Fund, which has distributed at least $65,000 to 146 recipients thus far.
"Artists and teaching artists are the movers, drivers and connectors of our creative economy." Shapiro said in a press release Monday evening. "Their creative works spark joy and inspiration, and push us to question and understand. Investing in artists–particularly now–is just the right thing to do."
Applications are due by 11:59 p.m. on Monday, May 4. While the two programs are running concurrently, artists may only apply to one grant. The Office of the Arts has also continued to reach out to artists who have already received funding through other state grant programs and need to extend their grant deadlines or redefine the scope of their projects.
Aided by $47,000 from the New England Foundation for the Arts (NEFA), the Connecticut Artists Relief Grant will allocate $500 in unrestricted grant funding to 120 artists and teaching artists across the state. Because the Office of the Arts expects "an anticipated high volume of applications"—perhaps a nod to the 4,000 applications that the Connecticut Recovery Bridge Loan program got in 36 hours last month—grantees will be selected at random.
The $47,000 comes from a larger pool of funding that NEFA is providing for artist relief in Connecticut, Maine, Massachusetts, New Hampshire, Rhode Island, and Vermont. In total, the foundation distributed $282,000 among six state arts agencies.
The Connecticut Artists Respond Grant, meanwhile, is intended to fund free, publicly-accessible virtual programming that artists launch individually or in collaboration with each other. Monday, a basic overview from the Office of the Arts suggested that could take the form of live streamed performances, a solo or group online exhibition, or distance learning videos available for free (a full list is available here).
For artists working alone, the grant carries an award of $1,000. For artists working in a collaborative, it amounts to $2,000. In a Zoom meeting with state arts organizations in early April, Shapiro described it as a "WPA-style grant" intended to give artists an online platform for their work.
Before grants were announced this month, Shapiro explained that the Connecticut Office of the Arts will be continuing with its annual Arts Workforce Initiative (AWI) program, placing several state-funded summer interns with regional arts organizations even though their work will be virtual this year.
The grants are not part of the $447,000 coming to the state from the National Endowment for the Arts (NEA), part of the NEA's share of the Coronavirus Aid, Relief, and Economic Security (CARES) Act. In a conference with regional arts organizations earlier this month, Shapiro said those funds cannot go to artist relief.
"We're all feeling this, and we're all in this together," she said at the time. "We all are aware that artists and gig workers are the ones who tend to be left behind, and they were some of the first people who had cancellations. Many artists experienced huge losses."
She added that she knows artists and arts organizations are anxious for news on the Supporting Arts Grant Program and Connecticut Arts Endowment Fund (CAEF), both of which the Office of the Arts plans to streamline with a short form for the applications. Both provide operating support to organizations, and both will remain on the same grant cycle.
The grants come at a critical time for both artists and arts organizations, as schools and arts organizations remain closed to the public and artists continue to watch months of work disappear. To date, Connecticut has 19,815 documented cases of the novel coronavirus and has seen 1,331 deaths from the disease. The state has tested just under 63,000 people.
While Lamont has formed a regional task force to discuss reopening the state, that date still appears to be weeks or even months away. As artists remain out of work, Shapiro said she is taking direction from the nine Designated Regional Service Organizations, who have provided on-the-ground information and reporting on Connecticut artists directly affected by COVID-19.
"We've listened, and we've heard you," she said Monday. "These grants are unlike any we have offered before and we encourage you to apply yourself, and to spread the word. The COA staff and I know that this is just the tip of the iceberg, but it's a small step in the right direction. We will continue to listen to you, to learn from you, and to spread your stories."
Applications for the Connecticut Artists Relief Grant Program, the Connecticut Artists Respond Grant Program and more are available here. For more information, artists may contact Tamara Dimitri at tamara.dimitri@ct.gov and teaching artists may contact Bonnie Koba at bonnie.koba@ct.gov.