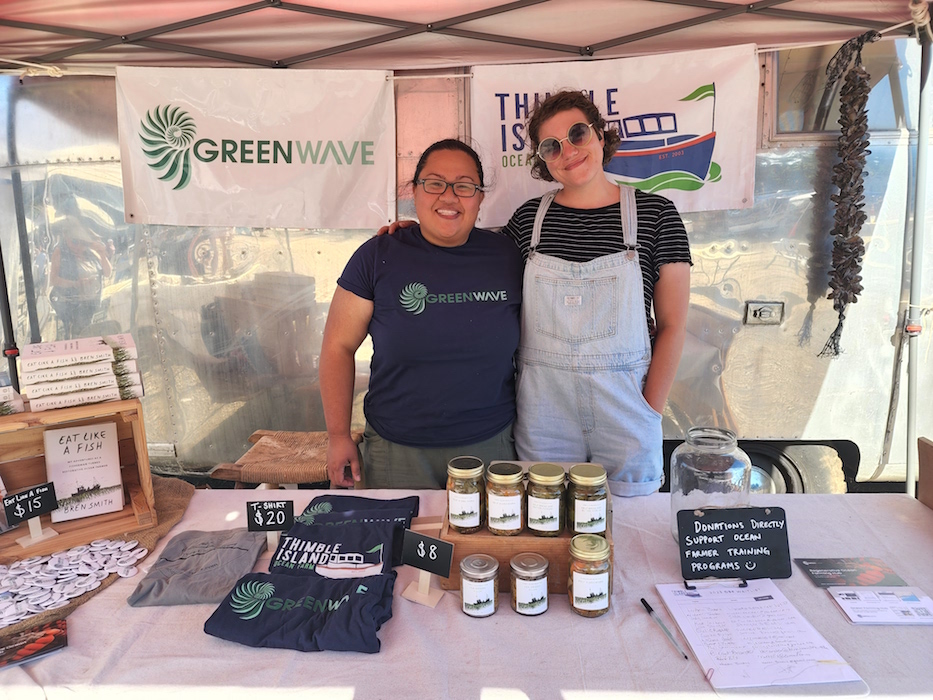 Chatham Square Neighborhood Association | Culture & Community | Fair Haven | Arts & Culture | Neighborhoods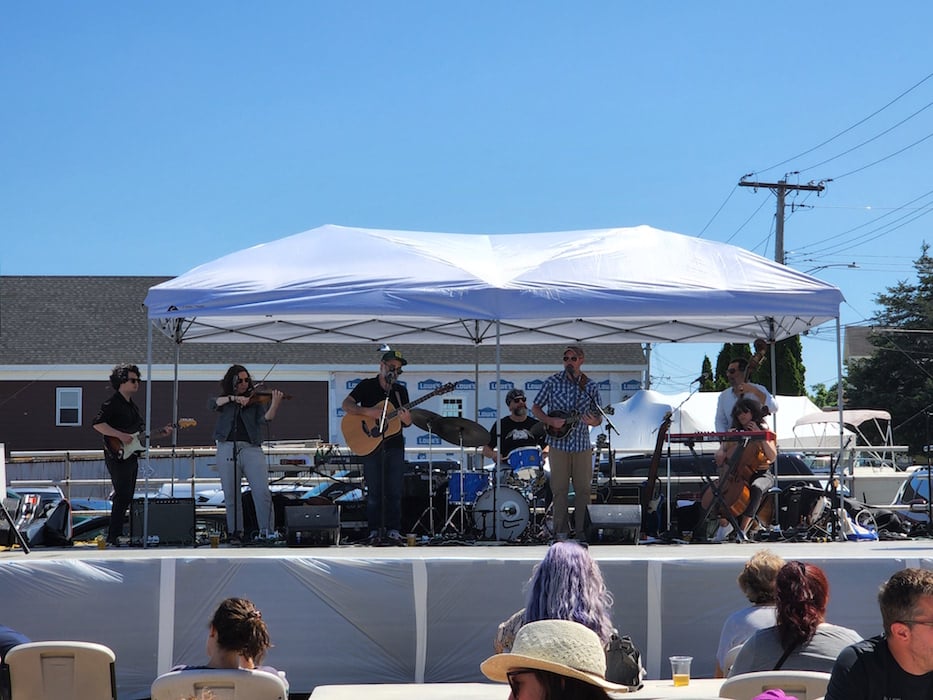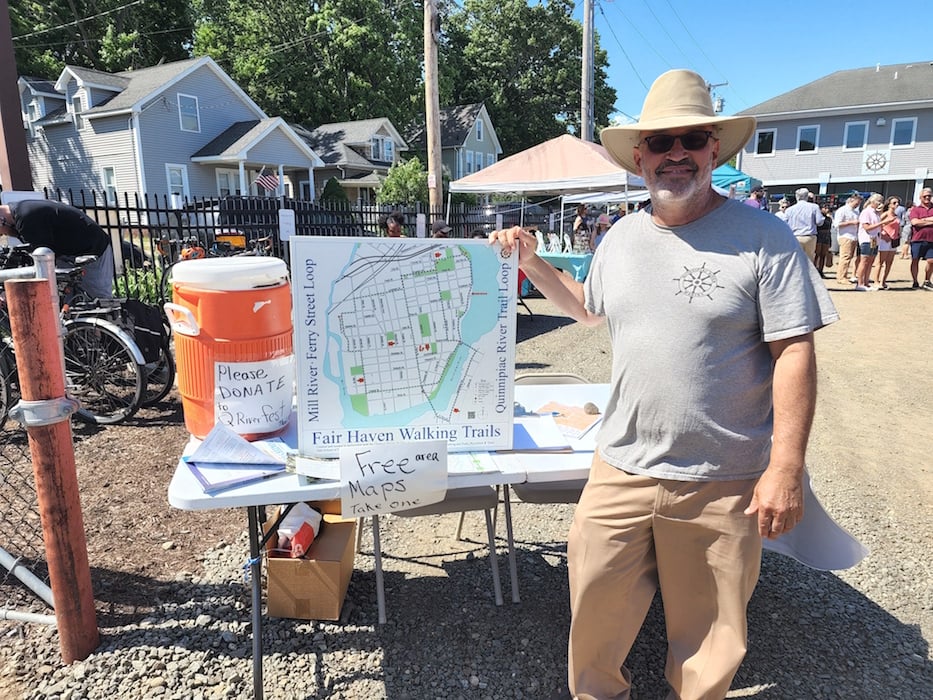 Top: Goodnight Blue Moon performs. Bottom: Riverfest organizer Lee Cruz. Danielle Campbell Photos.
A breeze blew off the Quinnipiac River, cooling the air as people walked through the sun-warmed grass. Laughter floated over the park, weaving past craft tables and food vendors to the stage. As Goodnight Blue Moon struck up a tune, a smooth mix of vocals and strings filed the air.
It was a warm welcome to the reborn Quinnipiac Riverfest, back at the Quinnipiac River Marina at 309 Front St. after a two-year pandemic hiatus. The event featured several musical acts, vendors selling art and food, and organizations that had come to talk about environmental awareness. There were also several activities for children and families, including canoe rides.
The brainchild of the Chatham Square Neighborhood Association, Riverfest was born several years ago to promote the vast richness of the Fair Haven community. The marina is a cross-section of that: a restaurant, workspaces, bed and breakfast and several small businesses sit nearby. Just a few blocks away, Grand Avenue blooms into a self-contained business district with business owners from around the world.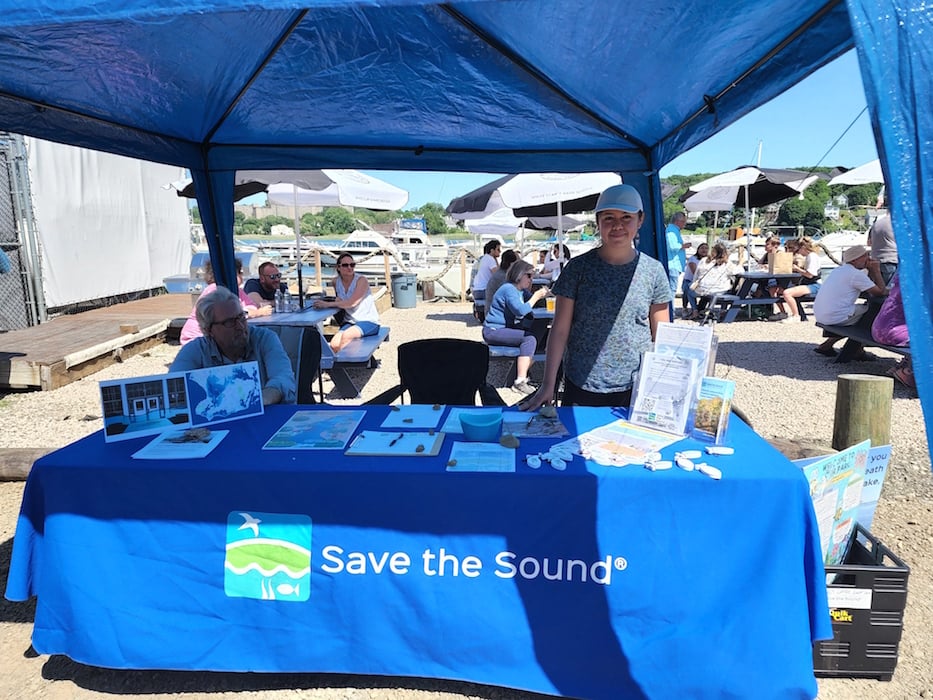 Riverfest organizer Lee Cruz, who lives in Chatham Square, described the rich multicultural essence of Fair Haven. By his home alone, he said, a person can hear people speaking English, Spanish, French. Hebrew, Italian, and Polish.
"This [Riverfest] is part of a strategy to raise awareness about how beautiful it [the neighborhood] is at a time when people can then act on it the whole rest of the summer," Cruz said. This summer, he will be leading restaurant tours of the area as part of the International Festival of Arts & Ideas, to display various cultural foods from Fair Haven.
He noted that the Community Fund has also created a 5.8-mile walking map through the neighborhood to show off the visible beauty of the neighborhood.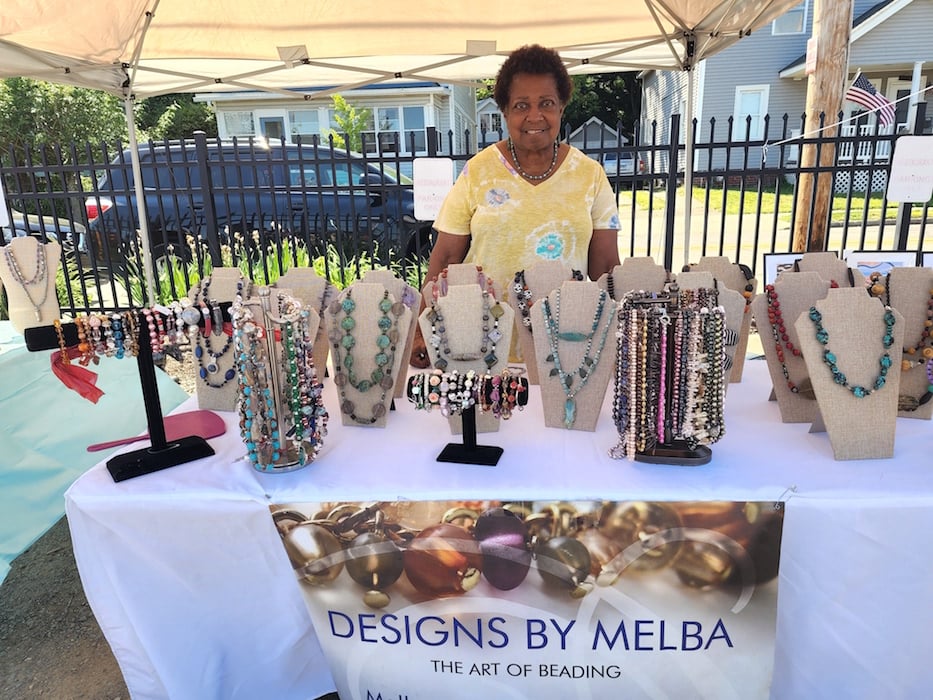 Creator Melba Crowley.
Each vendor came with their own unique energy.
At a booth for Save the Sound (pictured above), volunteer Xochitl Garcia worked to recruit Fair Haven residents for the organization's PhotoVoice Project. The project is designed to get neighborhood residents to contribute ideas, concerns or highlights related to the natural environment—and the negative impact of industrialism on the neighborhood.
The table featured information on an independent project to help restore the Long Island Sound and a signup sheet for the neighborhood project.
Close by, creator Melba Crowley showed off Designs by Melba, a line of beaded creations featuring semi-precious stones. Necklaces and bracelets hung on display, organized by color schemes and multi color assortments. Crowley, who has been creating one of a kind jewelry for 12 years, said semi-precious stones are her favorite to work with.
She has always been an artist, she added. Although she works in multiple mediums, a class in jewelry making over a decade ago changed it all.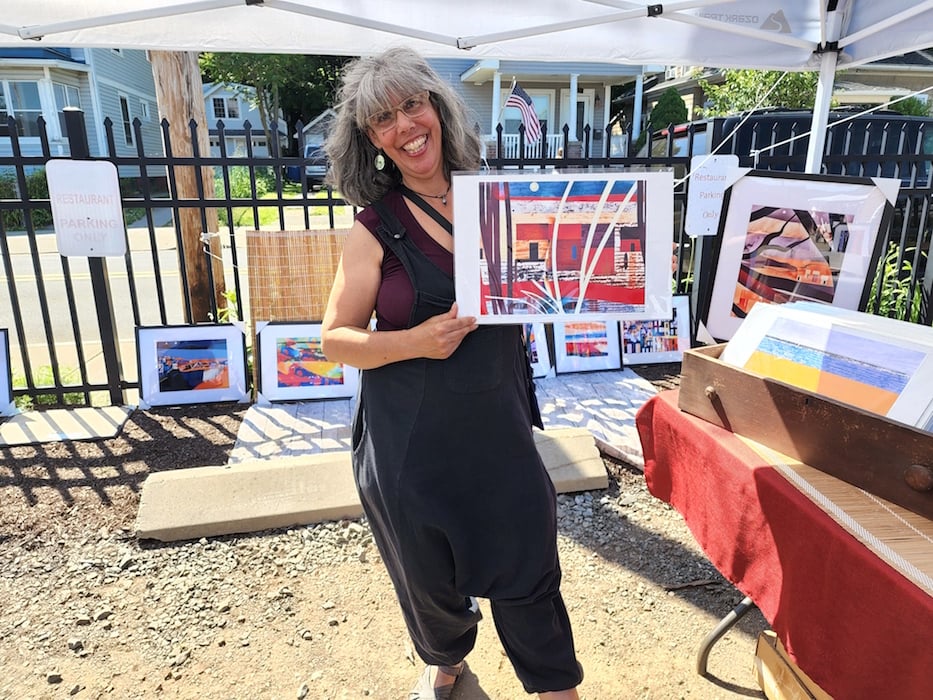 Artist Shula Weinstein.
As the park heated up, artist Shula Weinstein greeted visitors with a wide smile in her flowy artist's overalls. During lockdown in 2020, Weinstein started creating digital art prints as a way to cope. Three years into the pandemic Saturday, a booth of digital art prints sat at the ready beside her. Her creations start from pictures of a texture. From there she creates her masterpieces in Preview, an Apple creative medium.
The prints are reflective of her travels, she said—and of places she would love to go, but hasn't yet been able to visit. Many are inspired by Brazil, because her brother moved there.
For her, the pandemic gave her time to focus on what she once loved. Weinstein's mother was an artist, and she went to school for art herself, before driving a recycling truck 30 years. Saturday, she looked completely in her element.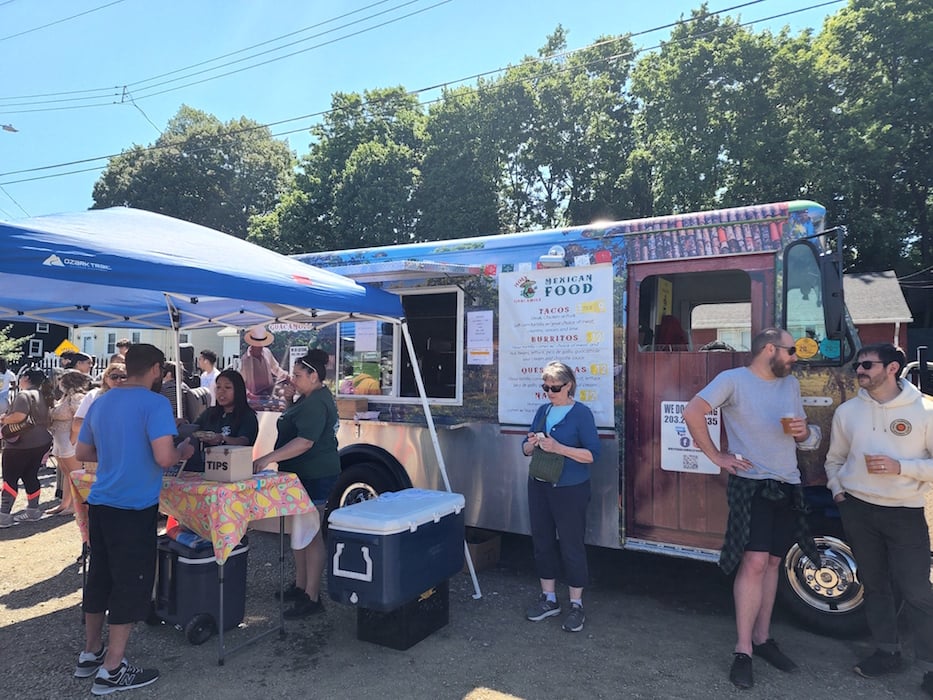 On the sprawling grass, Allie Bruch and her son, August Cruz, watched the band play. Listening to the music, August focused on eating ice cream from his favorite vendor of the day, the ice cream truck. Burch's favorite vendor was the Mexican vendor who she described as having "beautiful, beaded jewelry. Beautiful, beautiful craftsmanship. Unbelievable."
Nearby, a table from EcoWorks table was equipped with 100 craft sets, each designed to create circular boxes for children. By 3 p.m., they were gone. The store, which moved from New Haven to North Haven several years ago,provides thrifted creative accessories like yarn, beads and fabrics.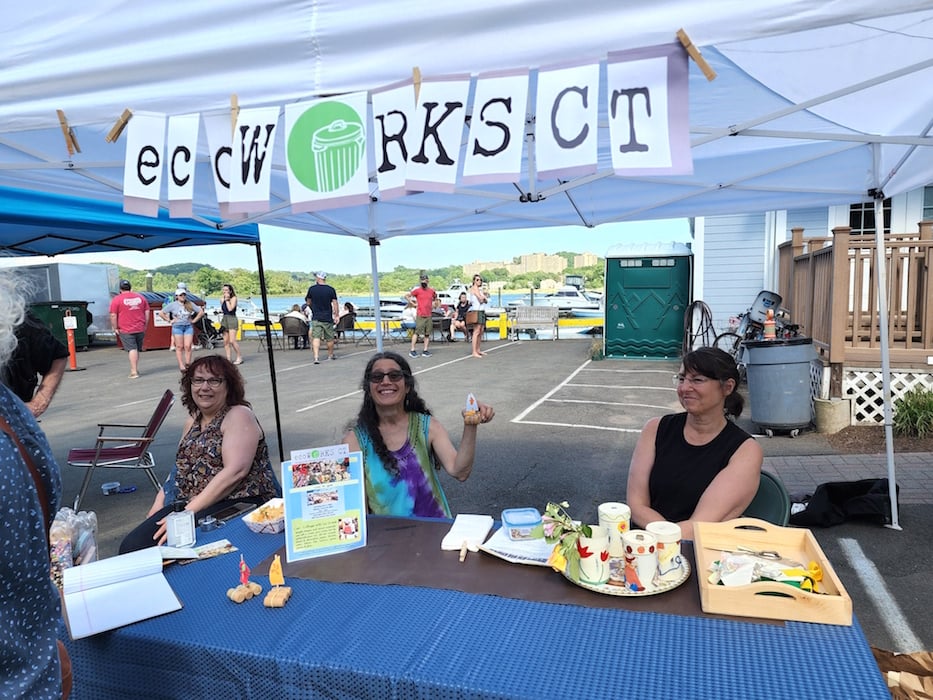 Nancy Pizzonia was the hub of information at the table. With creative reuse at the organization's core, she said that EcoWorks still does workshops in its North Haven storefront, but has dedicated more time to creating take-home craft kits since the beginning of Covid-19. The space's current workshops are funded by the Lee Sawyer Community Waste Reduction Grant Program, which the organization received in 2021 from the RecycleCT Foundation.
Beneath a tent from the Sound School, a group of students sold plants that their peers had grown at the school. Three seniors helped teacher Pebbles Lacross sell the items. Two students were from aquaculture, and one was agriculture. Lacross explained that students need 200 hours of "research" to graduate, "So, it's really easy to motivate them to join me."
"We have student grown vegetables, herbs, annuals and houseplants so everything's propagated and grown from seed by students," Lacross said.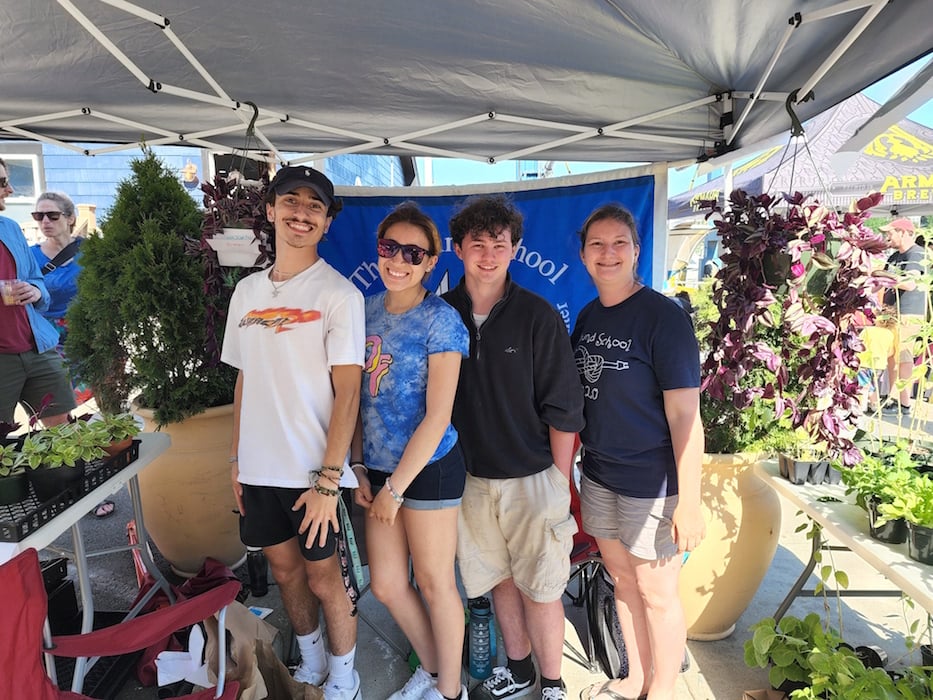 Students from Sound School.
David Wiel is a senior aquaculture student who is focused on boat mechanics and maintenance. Saturday marked his first time vending at Riverfest, although he has done community projects in Fair Haven before, including painting rain barrels at the marina.
"Being able to come out, put out a booth and talk to people and be able to sell items like this. It's a good experience," he said.
A senior agriculture student, Joseph Jensen said that Riverfest was not his first rodeo volunteering—he's worked five sale and wants to be sure more people know of the school.
"I like to volunteer and kind of get really get hands on in the progra," he said.. "Some other kids just do it for the credit, but I want to be part of it. It's such a cool experience."
The plant profits go back into the program to fund more exciting things for the students.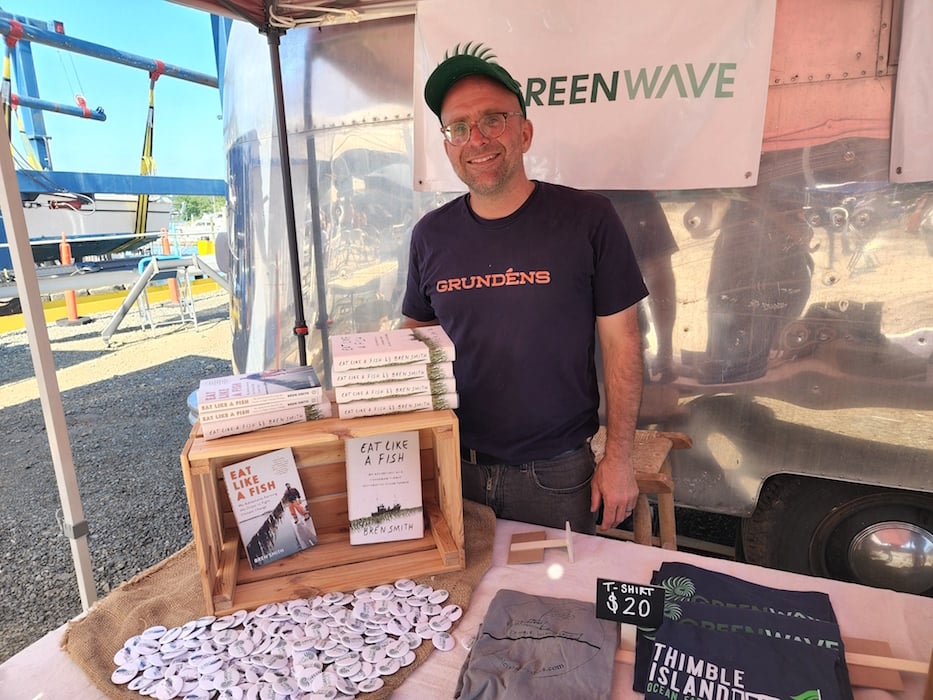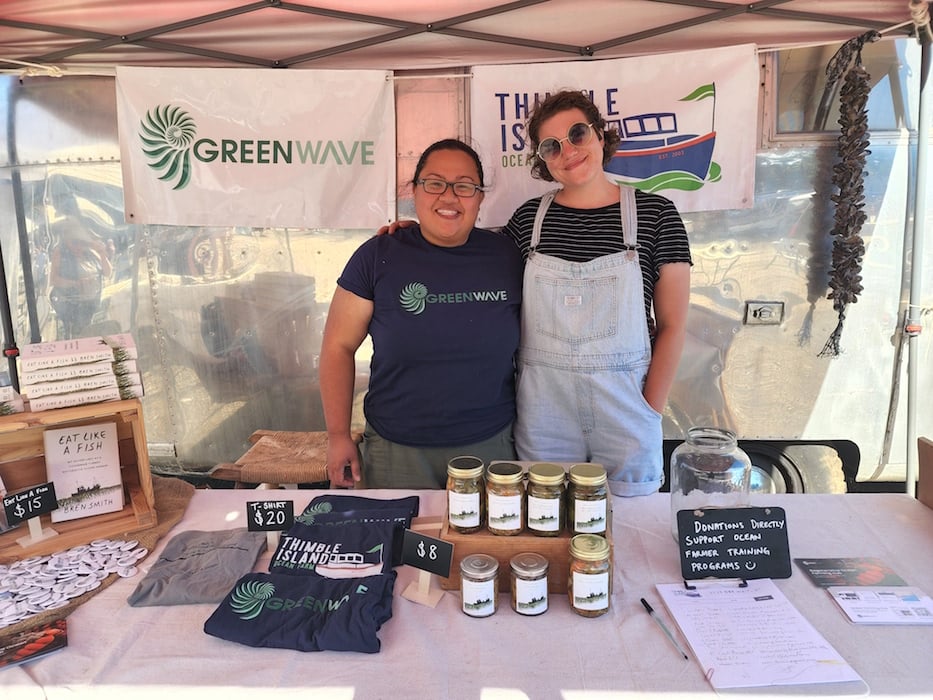 Not far from the Sound School's tent, GreenWave Co-Founder and Co-Executive Director Bren Smith talked to attendees about the organization, a non-profit that trains regenerative ocean farmers. As he spoke, he motioned to a booth stocked with canned kelp products from Thimble Island Ocean Farm, shirts, recycled rope rugs, and books that he had written.
Farm Manager Jill Pegnataro greeted visitors with a smile and explained GreenWave's Community Supported Fishery (CSF), the first shellfish and seaweed CSF in the country. It now offers a mix of oysters, mussels, clams, and kelp. Including products made from their farmed foods such as kelp bagels and schmear.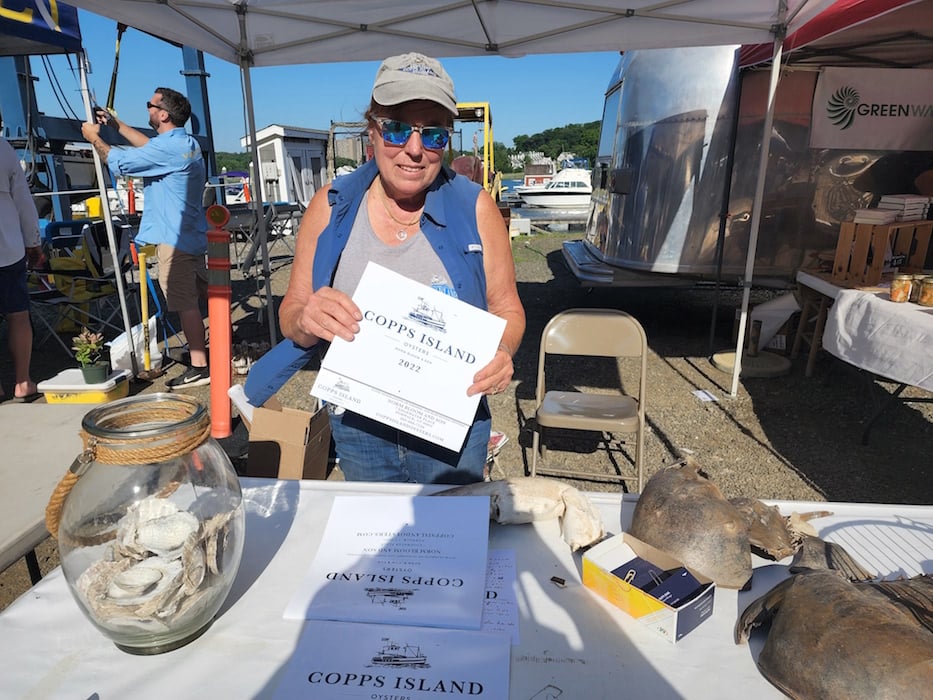 GreenWave wasn't the only station to pay homage to the Quinnipiac River's long history of oysters. Patty King got into Riverfest when organizers invited Copps Island Oysters to do a display booth. She has run a clam boat for the company for 22 years.
Saturday, she showed kids how to band lobsters with elastic bands. They worked methodically on her family heirloom, the claw of a 50-pound lobster her family ate when she was younger. The company also gave out seashells and were promoting their Saturday market.
Friends Janina Adams, Courtney Elligers and Liz English all described the day as one full of highlights. Adams' brother is in the band Good Night Blue Moon , so she came to support them and also enjoyed the food. Elligers was happy to have gotten pottery from one of the vendors and English was so enamored by all of the things to buy that she had to stop herself from overspending.
"I had to restrain myself a lot,"she said. "I did not buy anything [because] I would have bought everything when I walked by, but yeah, there were a lot of cool vendors."
Noel Pinto traveled to his third Riverfest by bicycle and was impressed with the beauty of the city.
"It's quintessential New Haven culture," he said. "Just the diversity of people in the city and the neighborhood. It was just so nice to see friendly faces, music, food that represents our city. Super excited to just be a part of it. There's a great energy from it."