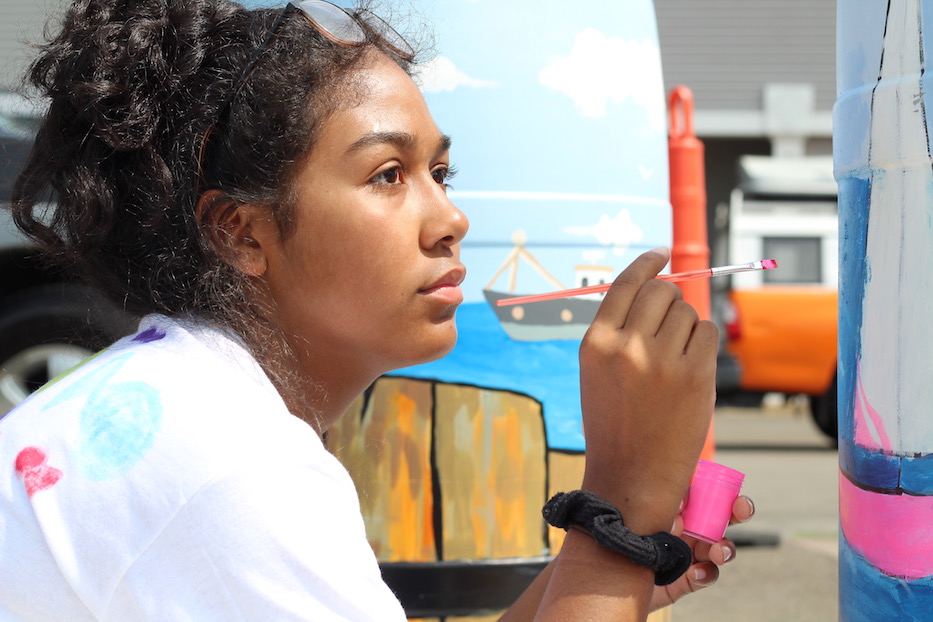 Education & Youth | Environment | Fair Haven | Arts & Culture | Visual Arts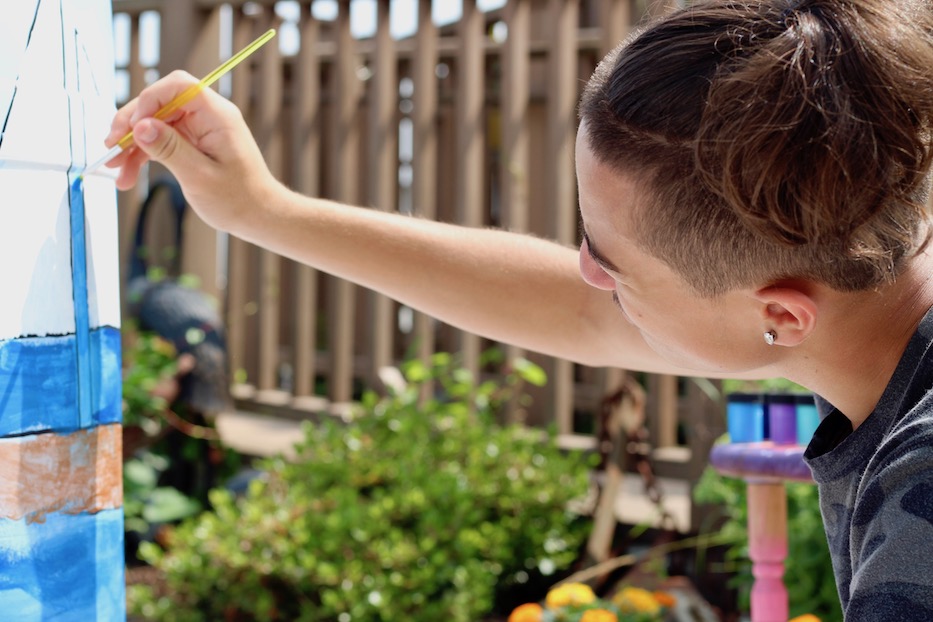 David Wiel, Jr. grew up in New Haven, but didn't think about waterway conservation as a kid. Now, he said, he thinks of it as a priority and is excited to get involved with a public art approach. Lucy Gellman Photos.
David Wiel didn't grow up thinking about the rivers that ran through his city. Now, he's trying to spread information about how to protect and preserve them—with a paintbrush as his primary teaching tool.
Weil, a rising senior at the Sound School, is one of four students apprentices with Lots Of Fish, an eco-art program run by Art25 New Haven with support from the Quinnipiac River Fund and the city's Youth @ Work program. Through the end of the month, students from the Sound School will be painting and installing rain barrels in Fair Haven, in an effort to collect and repurpose stormwater. In addition, they are priming the wall at 12 East Grand Ave. for a mural that they hope to paint later this summer.
Three of the students are compensated through Youth @ Work, and one is working as a volunteer to log community service hours. They are working under public artist, educator and Art25 Co-Founder Joann Moran, who is running the program with guest speakers from Save The Sound and the New Haven Bioregional Group, as well as local artist Juan Negron. Artist Barbara Pochan, the other half of Art25, has been working with apprentices on the social media component of their program.
"It's still a little rough around the edges, but we're getting it," Moran said Wednesday, as the group entered its fifth day together. "The idea was green jobs for youth."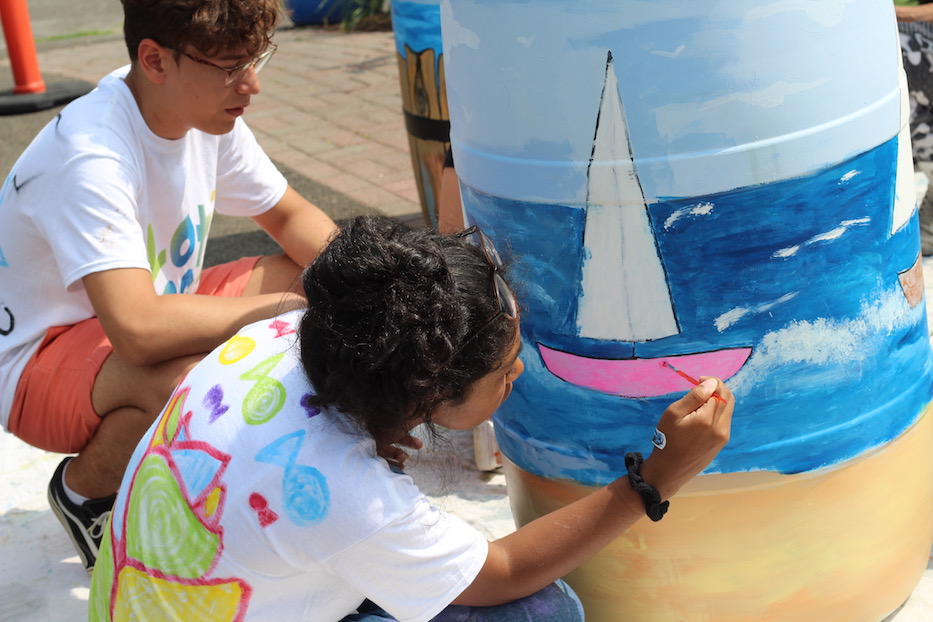 Carlos Lebron and Alanis Declet.
Wednesday morning, the group's work found them outside Anastasio's Boat House Cafe on Front Street, installing a rain barrel decorated with painted-on wooden planks, a submarine-like bolted door and school of bright, happy fish. As they moved the barrel beneath the cafe's gutter, New Havener Frank Panzarella talked them through installing the apparatus, whipping out a hacksaw and power drill to install a drain hose.
Once installed, rain barrels collect stormwater runoff through their connection to a building's gutter system. In New Haven, they are supplied for free through the Water Pollution Control Authority (WPCA), which gets them as discarded syrup drums from Coca-Cola (sometimes they arrive still smelling of citric and phosphoric acid, Panzarella said).
In the past two years, the New Haven Bioregional Group has installed close to 150 throughout the city, according to member Aaron Goode. It's one of the ways the city is acclimating to heavy, short bursts of rain due to climate change.
"I think it's a great idea," said Lisa Fitch, who owns the Quinnipiac River Marina on which the group is placing several barrels. "It helps the environment, and they're beautiful to look at. And it helps me—there are flowers I can't get to with a hose."
The barrels arrive to the group as bright white drums, which is where Lots Of Fish comes in. Each barrel—Moran is hoping to install 10 this month, and then more on demand—is painted with a marine landscape, bands of color arranged into blue skies, expanses of clear water, bobbing sailboats and birds overhead. Some sport fish, swimming by. Others have clouds that look like spun sugar, hanging low over boats that cruise by.
Spread out on a paint-splattered sheet in the cafe's parking lot, 17-year-old Alanis Declet put the finishing touches on a pink-and-white sailboat, on a barrel that has yet to be installed. A rising senior at the Sound School, Declet initially heard about the project from Moran, who saw that she had signed up with Youth @ Work and thought she might be a good fit.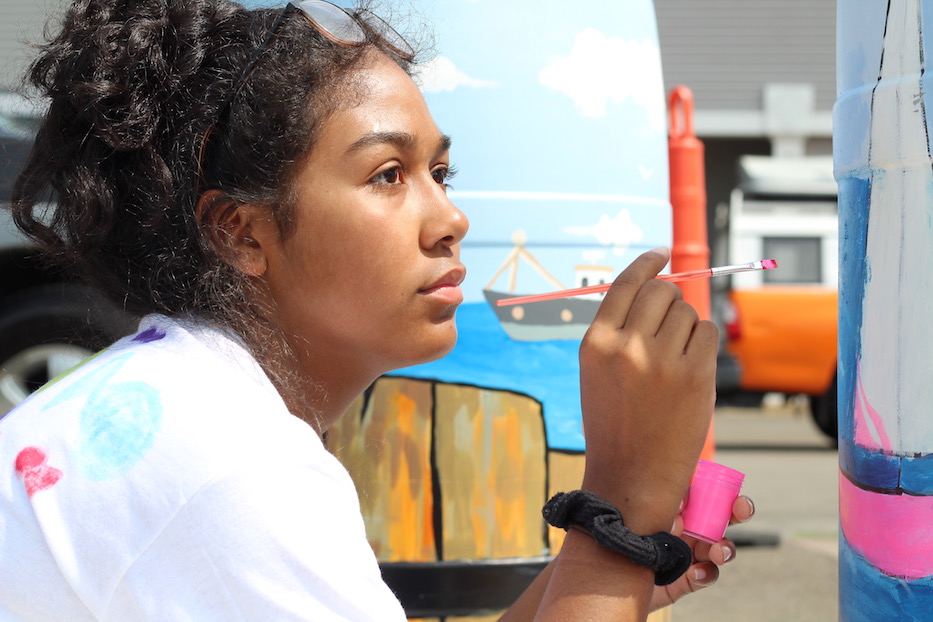 "I don't want to be that parent who is like 'yeah, we had this thing when I was little and it's not here anymore.'"
At school, Declet is involved in the school's aquaculture program and does seahorse husbandry, overseeing a growing herd that the school keeps in a saltwater tank. On a recent trip to check on the fish, she saw that their number had grown to almost 400, meaning that they are "super happy" with their salty environment, and breed constantly. It's the same kind of clean, safe marine environment she wants to preserve for generations to come.
"It's really important to me," she said. "I don't want to be that parent who is like 'yeah, we had this thing when I was little and it's not here anymore.'"
That's also true for 16-year-old Carlos Lebron, who will start his senior year in the fall. Raised on New Haven's East Shore, Lebron said that he didn't grow up thinking a lot about the city's waterways. That started to change during his time at the Sound School, where part of the curriculum is taking care of the stretch of the Long Island Sound by which the school sits.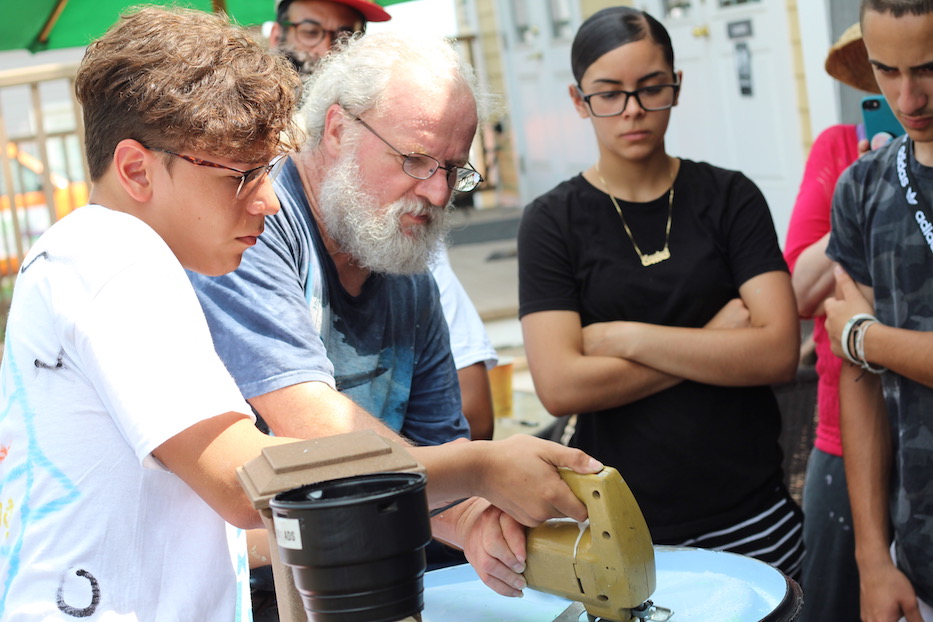 Carlos Lebron, pictured with Frank Panzarella. Lots of Fish members Amaiya Rivera and David Wiel are in the background.
Then last month, he was working as a fellow for the International Festival of Arts & Ideas, and saw a banner project with huge, bright fish unfolding on the New Haven Green. He went over to take a look. Moran was running the project. When he mentioned to her that his school requires 200 hours of community service before graduation, she suggested he join.
"I think it's important because it's more than just one river," he said. "If you don't take care of one place, you don't take care of any of them. We created this problem; we can create a solution."
In part, students are learning from Negron, a muralist and graffiti artist who came to New Haven 36 years ago when his family moved from Puerto Rico. As both a kid growing up in Fair Haven and now an adult, he said, "I've done everything on this river."
As a kid, that included fishing and swimming. He recalled seeing the rivers "at their worst" in the 1980s, when it wasn't uncommon for plastic bags, syringes and manmade debris to float by, wash up on the shore close to where he was sitting. He was part of cleanup efforts then. He still is now, too.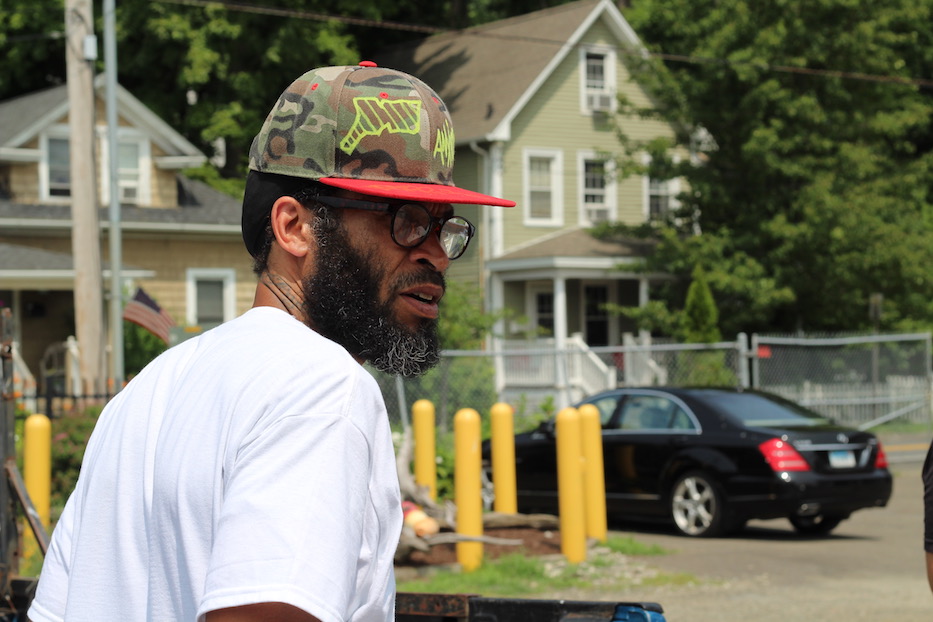 Now 41, he spends time passing that knowledge to his three sons, all of whom are under 10 years old. He still goes crabbing on the Quinnipiac and Mill River, with a wide net that "keeps it more interesting" than the cages some fishers use. He said he loves the water, because it makes him feel connected to the landscape around him.
In late June, he saw Lots Of Fish members cleaning the lot at 12 East Grand Ave., where they plan to paint the mural. He jumped on board as a volunteer.
"Our waterways are beautiful man," he said. "Protecting them … it's a big deal. I'm proud to sit by the waterfront, and to teach our youth."
Joann Moran is still looking for volunteers for the project. To get in touch with her, contact art25ct@gmail.com or call 203.298.2628.