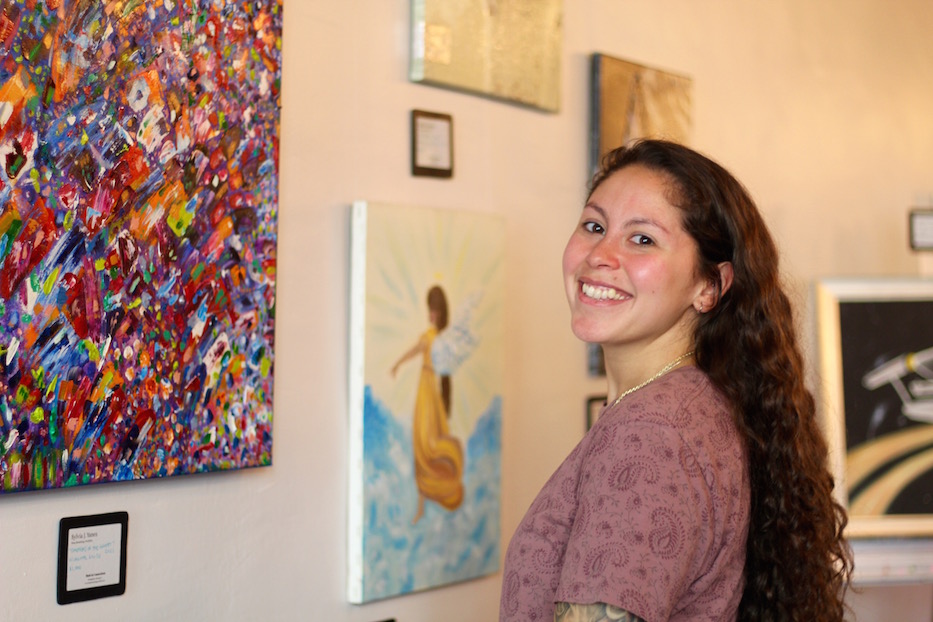 Economic Development | Food & Drink | LGBTQ | Arts & Culture | Visual Arts | Public Health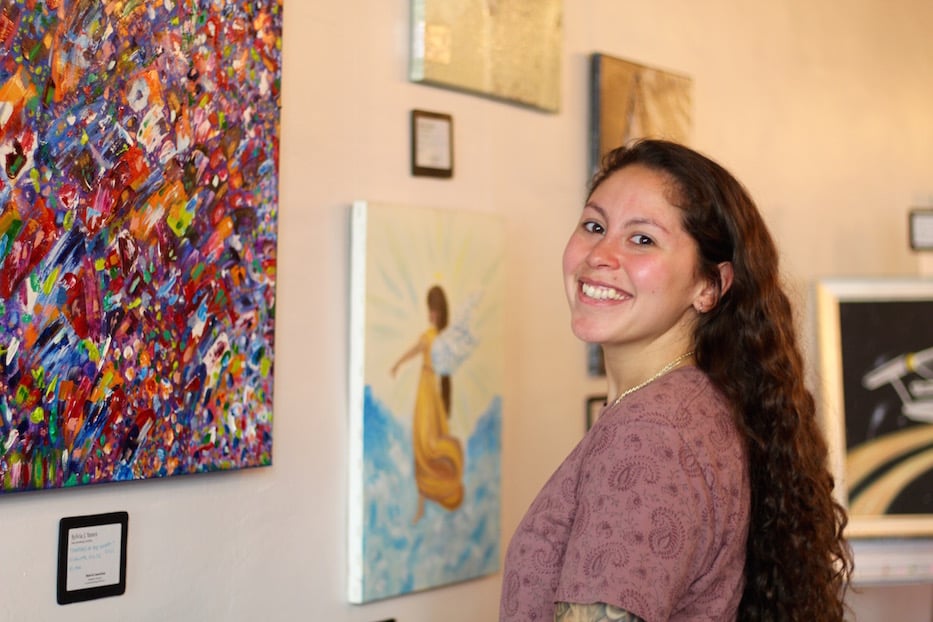 Artist Sylvia J. Yanez. Lucy Gellman Photos.
From far away, the painting could be two jellyfish surfacing, a swirl of technicolor stretching across their backs. Tan-tinted bubbles float in a sea of never-quite-even black paint, surrounding the shapes. A filmy band of white stretches between the two. The longer a viewer looks, the more details emerge: the smoothed, once saw-toothed edge of canvas oval, the long, thick black stitches that feel declarative as they fasten the pieces in place.
Aptly titled Frankenstein, the multimedia painting is the work of 27-year-old artist and poet Sylvia J. Yanez, whose exhibition Keep Breathing is running at Blue Orchid at 130 Court St. downtown through August 15. A mix of thickly layered oils, "Frankensteined" canvas collages, and two standout figural representations, the show doubles as a powerful meditation on mental health, family ties, and the power of self- and community care.
It is named after her eponymous brand, which is meant to amplify and address mental health struggles. It also marks the inaugural solo show for the artist, who is proudly queer and Latina.
"My hope is always to inspire, to make others feel good," she said in an interview last Thursday, nursing a blue-tinted lemonade at the bar. "I want people to feel the feelings that I'm feeling."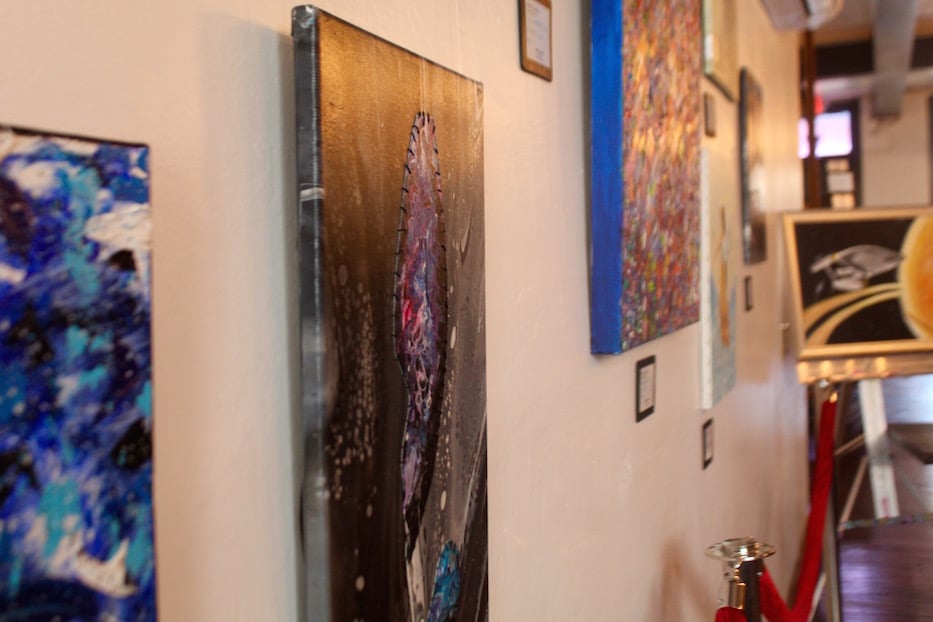 Detail, Frankenstein (there are two such works in the show). On the left is Pisces Season and on the right is Emotions of the Winter. Lucy Gellman Photos.
As it stretches across the restaurant's new "Wall Gallery," the show hangs onto a kind of lyricism that is baked into Yanez' practice, from years of writing poetry to methodical oil pour paintings that take months to dry. Hung salon-style, works greet the viewer in bright, marbled pinks, impastoed blues, and vibrant layers of orange, red, white, black, and blue. Some, like her 2021 Hi, I'm melting, make it seem entirely possible that a rainbow might spill its contents over a canvas. Others, including the buzzing, energetic Pisces Season in undulating blues, make it feel like the artist is ready to come out and play.
While a thick, velour rope barrier hangs in front of the paintings, Yanez said she wants people to get intimate with them—and indeed, they're best studied up close. At one end of the wall, a strip of crushed, piled glass embedded in canvas interrupts a swirl of black and white, throwing prismatic light across the piece when the sun shines on it just so. At the other side of the display, a table features her original writing and 2019 book You Jump I Jump, published during Mental Health Awareness Month.
In between are two pieces that her late grandmother started, and she completed. In a canvas dedicated to her late uncle Jeffrey, a chrome-colored spaceship hovers around Saturn's tangerine rings, bright against that deep, star-flecked black of outer space. Nearby, her 2022 Trans Angel looks out at the viewer, a tiny gender symbol hovering on its arm.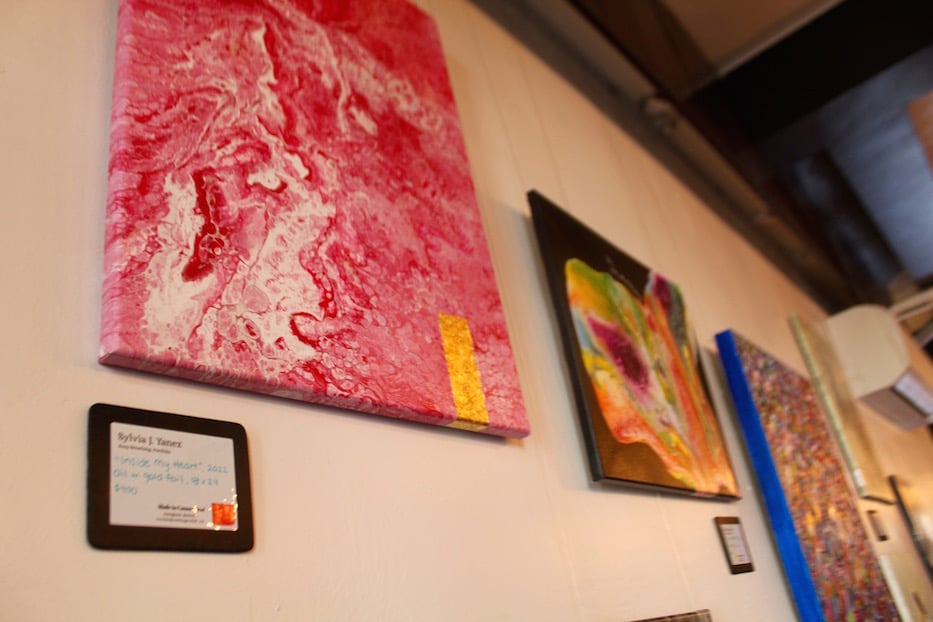 Detail, Inside My Heart, 2021. Beside it is Hi, I'm melting, one of three works in a series. Lucy Gellman Photos.
For the artist, who works in behavioral health when she's not writing or painting in her home studio, it's all connected. The second youngest of five children born and raised in West Haven, Yanez became interested in art as a young child, but did not exhibit her work until much later. She learned primarily under her grandmother, a self-taught, West Haven-based oil painter named Rita Carlson who was her primary caregiver after school.
Working shoulder to shoulder with Carlson, Yanez learned how to weave paint into narrative, watching as landscapes and portraits unfolded from the tip of her grandmother's brush. It was only later, after her grandmother was gone and Yanez was figuring out what to do with her portraits, that she would pick up the brush and "feel her there with me," a guiding light beyond the veil.
While Yanez loved painting, she originally didn't share her craft with those around her. During her youth, she played on multiple soccer teams, honing her skills on the field. In high school, she juggled sports with a budding interest in poetry, but kept her art a secret from most of her peers. Then her junior year, she tore her ACL, meniscus, and hamstring. It effectively ended her athletic career, including several scholarships she was on track to receive for college.
Her academic future dissolved—at least momentarily—before her eyes.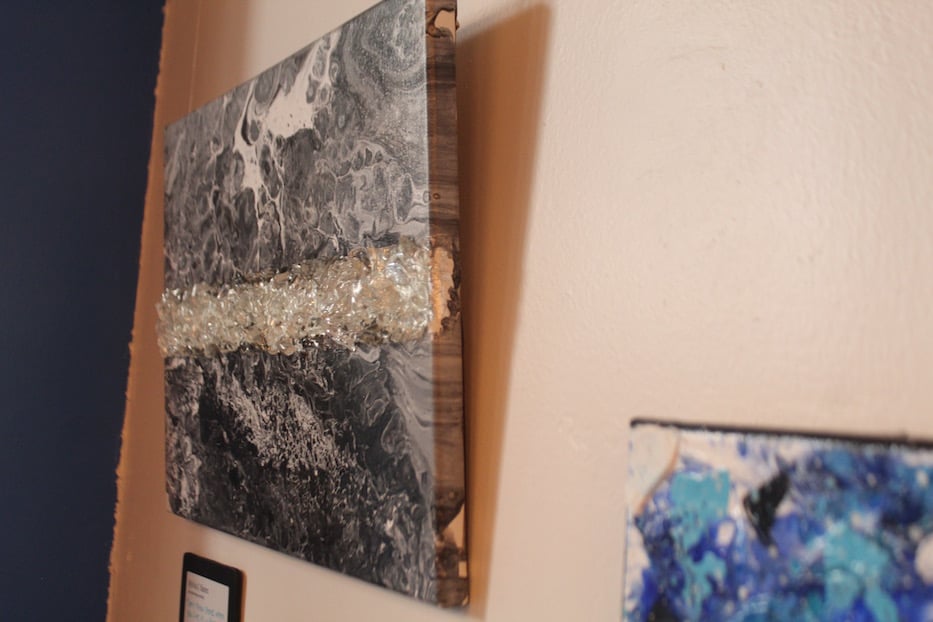 Yanez' multimedia Don't Throw Stones When You Live in a Glass House, which sends up refracted light when the sun shines on the glass embedded in the canvas. Yanez said that the title of the work is taken from her mother's frequent use of the phrase. Lucy Gellman Photos.
"That's the first time I ever had the feeling of not feeling good enough," she said. "That's also when I really started to dive a lot deeper into my artistic aspects. I started going to galleries and I fell in love with abstract [art] and colors.
"[It was] just something I felt like you could just stare at and melt," she continued. "And I felt like a lot of those abstract pieces had stories ... you could kind of look at it and see what was going on. It was subjective. You could say whatever. You could feel whatever."
Her budding work in mental health soon became intertwined with her practice as a visual artist. By then, she was studying psychology and sociology at Post University in Waterbury, and writing poetry and making art outside of academics. She was in her early 20s, and had already experienced the loss of several friends to suicide and substance use disorder, a shock to the system that stayed with her. She believed—and still does, she said—that art can play an immediate and long-lasting role in healing and recovery.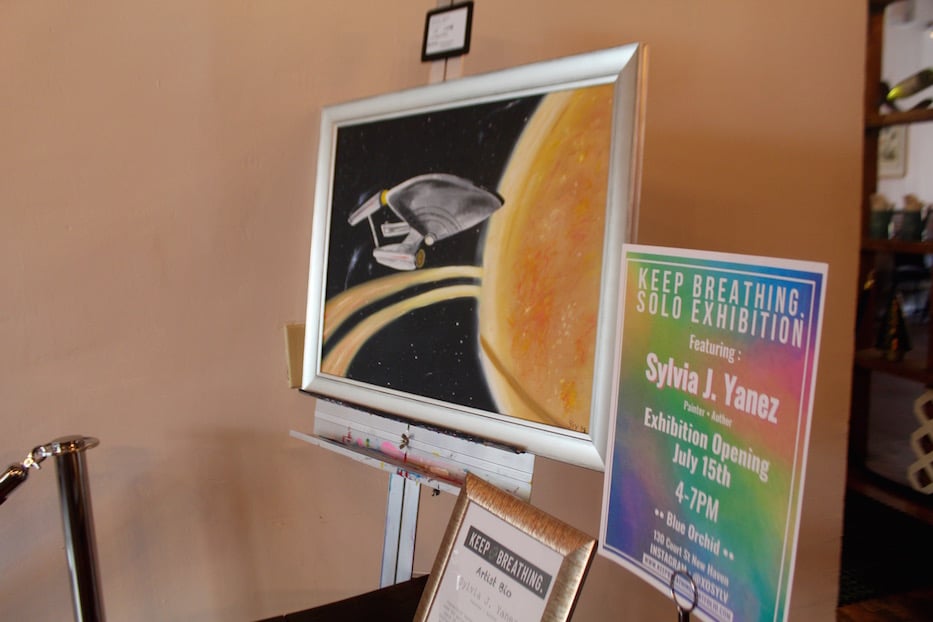 A painting dedicated to Yanez' late uncle Jeffrey, who passed away unexpectedly in 2018. Lucy Gellman Photo.
Then in 2017—the same year she was set to graduate from Post—Carlson passed away. All of her art went to Yanez, the granddaughter who had stayed by her side for years.
During her lifetime, Carlson had always told her that she could sell the paintings after her death. But the works were "these stunning oil paintings" that Yanez felt a near-umbilical connection to, she said. After choosing to keep most of them, she looked to the work as a sign to deepen her practice.
Her art was there, waiting for her, when she left the state for Minnesota after college—and then returned to Connecticut because the winters were too harsh. It was there when she went back to school for her graduate degree in occupational therapy, and navigated a burgeoning career in mental health. And it was then when she made space in her home studio, in a Waterbury apartment that she shares with her older sister, and opened herself to painting as ritual practice.
While Yanez' stye favors abstraction—she works in long, detailed paint pours done in oil, and canvases to which she returns dozens of times—she holds the memory of her grandmother close when she picks up a brush, or starts in on a new canvas. Indeed, Keep Breathing pays homage to her first and greatest mentor, including with canvases that her grandmother started, but did not finish. In the corner of her Trans Angel, for instance, the artist's 2021 signature lives alongside Carlson's.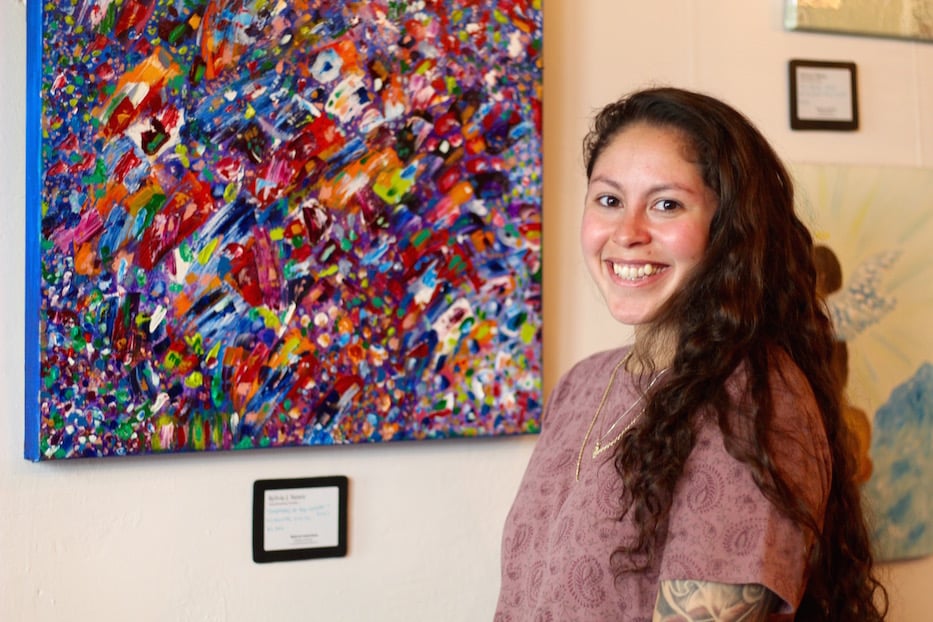 Yanez by her Emotions of the Winter, which she made a practice of working on every single day during the winter months. Because it had so many coats of oil paint, it took until July to dry, she said. Lucy Gellman Photos.
The practice has also become a form of self-care, she said. During the winter months, Yanez has a practice of painting each day to keep herself balanced as she struggles with the coldest, darkest time of the year. Her work Emotions of the Winter, for instance, comes out of returning to the same canvas each day. It dried just before the show's opening in July, she said.
On the walls of Blue Orchid, the show also dovetails with Yanez' identity as a proud and out queer woman. The artist, who has been out to herself and a small circle of friends and family since she was 13, began exploring queer community in New Haven a few years ago. After she started attending gay bars and drag shows, "I was like, 'these are my people!'" she recalled.
"Once I just slam dunked into the queer community, that's kind of my whole life now," she said. "My whole life is wrapped around queer [events], all my friends, I love it. My whole inner circle is very queer."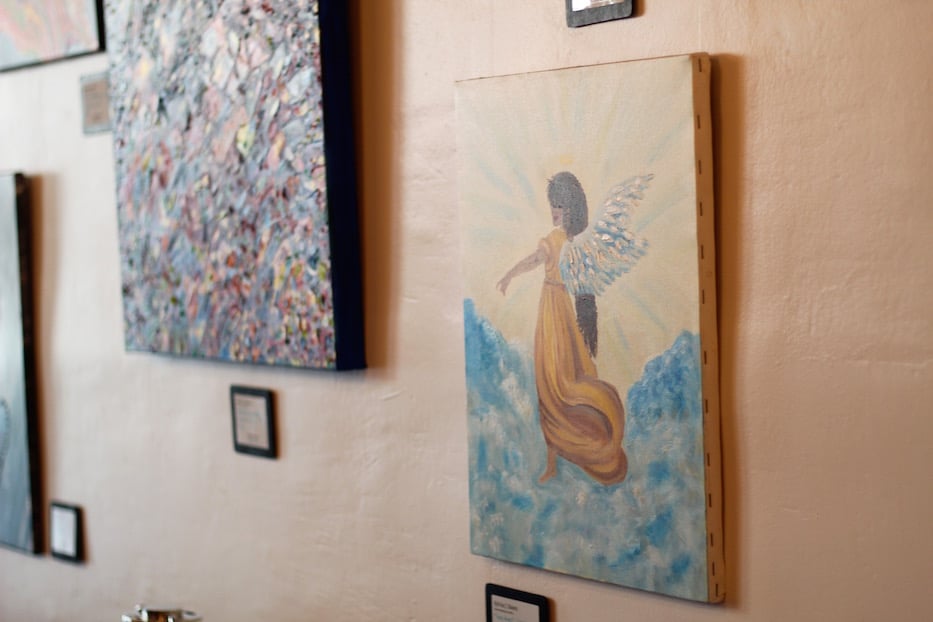 Yanez' 2022 Trans Angel, which her grandmother started. In the finished piece, her signature lives alongside Carlson's. Lucy Gellman Photos.
That led her to Blue Orchid. This year, she learned about the chance to show her work at the restaurant during a shift at Barracuda, where she works as a bartender when she isn't working in mental healthcare. She and her partner ventured over to Court Street to give it a try. She tried the food and gave it an immediate yes.
Blue Orchid co-owner Michael Flora, who runs the restaurant with his husband Natthawut Tipjak, praised Yanez' work, part of a new rotating exhibition schedule that is booked through November of this year. Prior to Keep Breathing, he and Tipjak kicked the series off with artist and curator Roseprimevere Anakaona, who runs the Art of Kwè. Anakaona later introduced Yanez to the bar.
"Sylvia was the perfect choice for our second exhibitor for the Blue Orchid Wall Gallery," Flora wrote via text Tuesday afternoon. "Her pieces are so unique and warrant a deeper view. I really enjoy talking to customers about her work and pointing out things they may not have seen at first glance."
Blue Orchid is located at 130 Court St. in downtown New Haven. For hours and more information, visit the restaurant's website. Sylvia Yanez plans to hold a closing reception August 12 from 4 to 7 p.m. during the restaurant's happy hour.