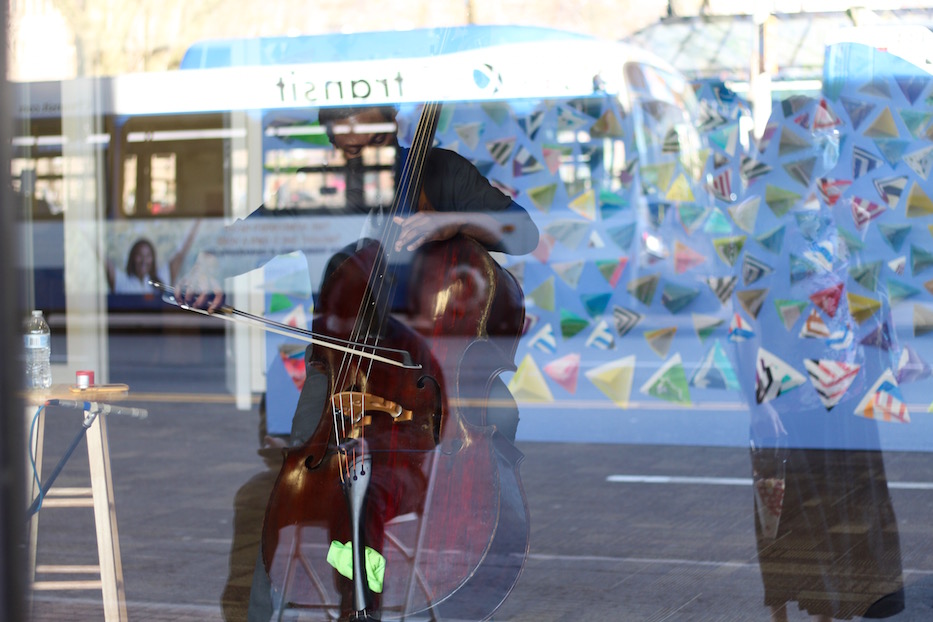 Downtown | Music | Arts & Culture | New Haven Symphony Orchestra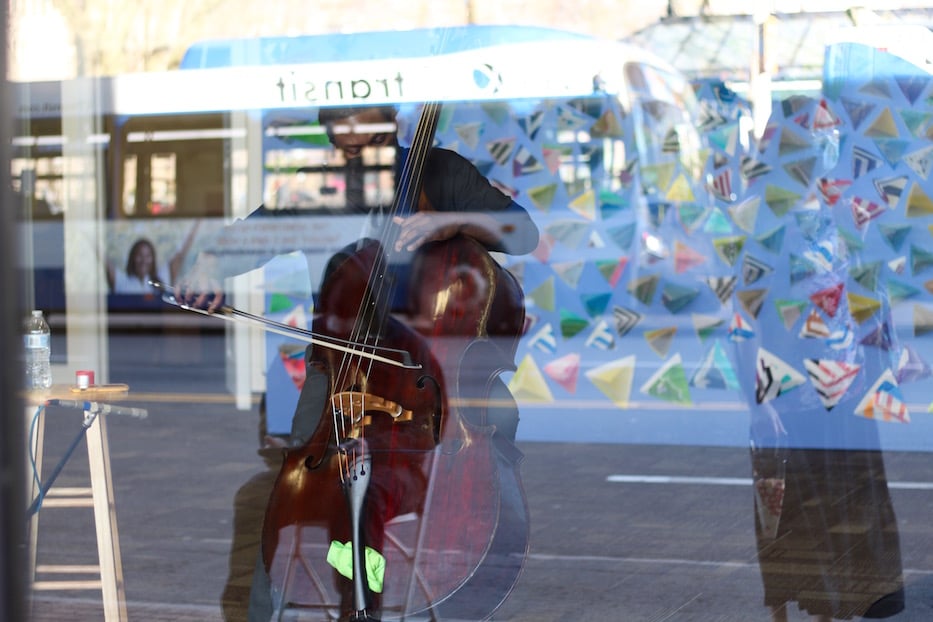 Musician Christopher Johnson on Friday. The project is a sort of live, temporary extension of the Town Green's "Windowed Worlds" series, in which artists put large-scale installations in vacant storefronts downtown. Lucy Gellman Photos.
The strains of Leslie Bricusse's "Pure Imagination" were so unexpected at first, passers-by on Chapel Street took a moment to notice them. The notes lingered, more insistent as they crackled through two speakers. On his way to catch the Whitney Avenue bus, Jorge Rivas stopped what he was doing, and started listening. Only then did he see the bass player through the glass, his head bowed reverently as he played.
Christopher Johnson's Chapel Street serenade is part of a new initiative from the New Haven Symphony Orchestra (NHSO) and Town Green Special Services District to give musicians a Covid-safe way to perform while temperatures remain too cold to bring instruments outdoors. Friday, the organizations beta tested the series at 900 Chapel St., which sits across from the New Haven Green. It is loosely inspired by the Kaufman Music Center's "Musical Storefronts" series in New York City.
"We're trying to catch people on their way home from work," said NHSO Chief Executive Officer Elaine Carroll. She added that near the Green seemed like the right place to start: the space is the city's transit hub, through which hundreds of New Haveners pass every day. In addition, Chapel Street is a main artery, meaning that it's crowded with foot and bike traffic at rush hour. Town Green has already worked to liven storefronts with its "Windowed Worlds" project, of which this feels like an extension.
The setup is simple enough: a musician settles into an empty storefront, hooks their instrument up to amplification, and plays for 90 minutes at the end of a busy day. Friday, a nest of cables ran from Johnson to an electrical box, and then out the door to two large speakers on the sidewalk. Piped through the speakers, the sound was loud enough to compete with the squeaking wheels and belching exhaust pipes of buses that trundled past. Every so often, someone's phone conversation or animated young child became part of the mix.
Behind the glass, Johnson cycled from "Pure Imagination" to a buttery cover of Giveon's "Like I Want You." A passer-by slowed down and dipped into an unoccupied doorway, where he could listen with his bike in tow. Around him, a few walkers started to gather, their reflections joining Johnson's in the window. Johnson summoned the composer Serge Koussevitzky—one of his favorites, he later said—eyed the crowd for just a moment, and kept playing.
The gig marks his first performance in the New Haven in over a year. While his home base is an apartment in Crown Heights, he is used to cobbling together work in the region—and across the country—in order to sustain himself. Prior to March 2020, he was performing with symphony orchestras in New Haven, Allentown, and Redding, and touring with the Sphinx Virtuosi. He was doing work with Rootstock Republic, Epic Records, and multiple bands. He recently hopped on the soundtracks for The Lion King and Judas and the Black Messiah. Each brought him in touch with a different kind of crowd.
"With all those different groups, you get a different kind of audience," he said in a phone call Tuesday afternoon. "And these audiences give me a different kind of appreciation. When I'm playing in the band, somebody is going to buy me a drink. Someone is going to give me a hug. I might even get a phone number. With the Nina Simone group, they come for Nina. They come for the legacy. With the symphony, people might leave afterwards, but they stand and applaud, and you can hear the appreciation."
Then Covid-19 hit. When pandemic-enforced closures rippled across the country last, Johnson lost over $12,000 of work in a matter of weeks. Performances and Easter gigs dried up overnight. Festivals were postponed, and then canceled. Concert halls shuttered and stayed closed; many of them have remained quiet for over a year. While he filed for grants and unemployment in those early weeks, "I really didn't know what was happening," he said. He started a GoFundMe to make ends meet, but said he felt self-conscious about asking for money when he knew many artists were in the same boat.
Slowly, he got his footing. After weeks of waiting, unemployment checks started coming in. Of five grants that he applied for, he got two. He found that "there are people looking out for artists," including friends who sent him grant applications and information on federal relief programs. Projects trickled in, although he said the landscape still remains sparse. He has picked up a weekly gig for a church that streams music from its sanctuary, and a performance for Easter Sunday. Through a competition that the Sphinx Organization held last month, he got calls for potential work in Detroit. He said he's grateful to the NHSO for giving him a springtime stage, however unorthodox it may be.
"With the storefront, it was those few glimpses of people that weren't expecting it," he said. "It might have just made them think for a second or two. I appreciate those types of things. I'd get a head nod of appreciation, or a smile or twinkle or something."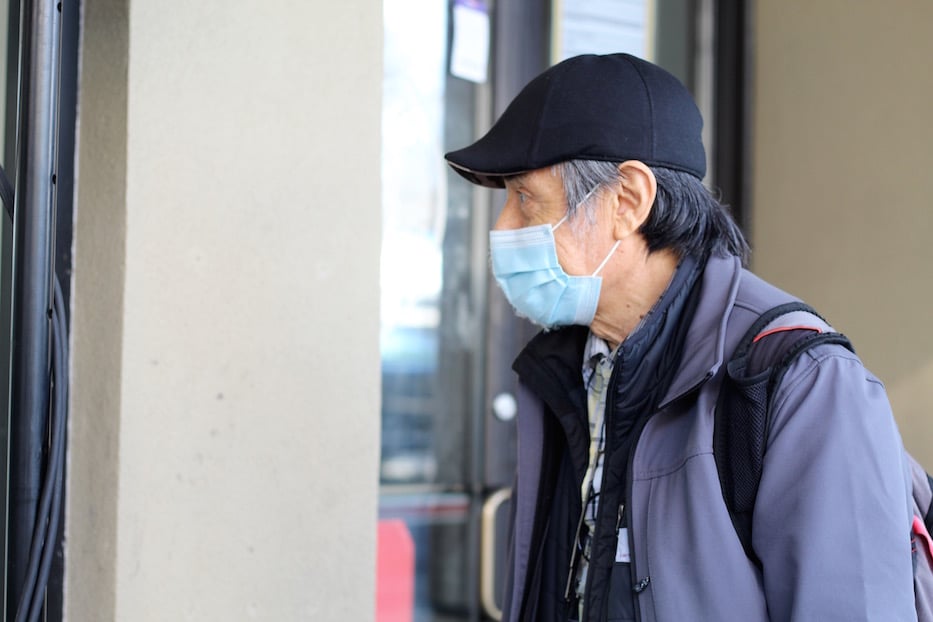 Jorge Rivas, who was on his way home when he heard the music.
Friday, listeners rotated in and out as cyclists, couples, young families, downtown residents and employees walked down Chapel Street. On his way to catch the Whitney Avenue bus home, Rivas said that he was excited to hear the music floating over the street. At 74 ("seventy-four point nine! It's very important!" he insisted during the interview), Rivas grew up on music in Peru, and later in Connecticut. He credits his parents with feeding him a steady diet of popular and Andean music as a kid. When he realized that Johnson's set was live, he decided to stay for a while.
"Without music, I wouldn't be alive," he said. "This is a good idea. The city should have more opportunities for outdoor, public entertainment like this."
30-year-old Bianka O'Bryan was also on her way home when she heard Johnson playing, and decided that she could listen while waiting for the 241 bus. O'Bryan grew up in the city's Hill neighborhood, and fell in love with music when she was young. As a student at James Hillhouse High School, she became involved with Youth Rights Media, where she learned how to do video editing and production. Now, she said, she thinks about starting her own fashion line or tech company in the city.
"I love watching other artists do their thing," she said, her headphones fitted snugly around her neck as she stood in front of the window. "It definitely caught my attention. It's beautiful."
Around the window, listeners opened their ears as Johnson dipped into his collection of J.S. Bach. Some stayed for just two or three minutes; others stuck around for half an hour. Elizabeth Bickley, manager of public space planning and development for Town Green, praised the symphony for experimenting with performance as the pandemic enters its second year in New Haven. She said she is especially grateful to NHSO Operations Director John Leibensperger, who initially proposed the project.
"We want to always elevate the local cultural organizations and make sure they have a platform to be able to share their talent downtown," she said. "We also really want to activate vacant storefronts."
Follow the New Haven Symphony Orchestra on Facebook, Twitter, Instagram, or at their website.