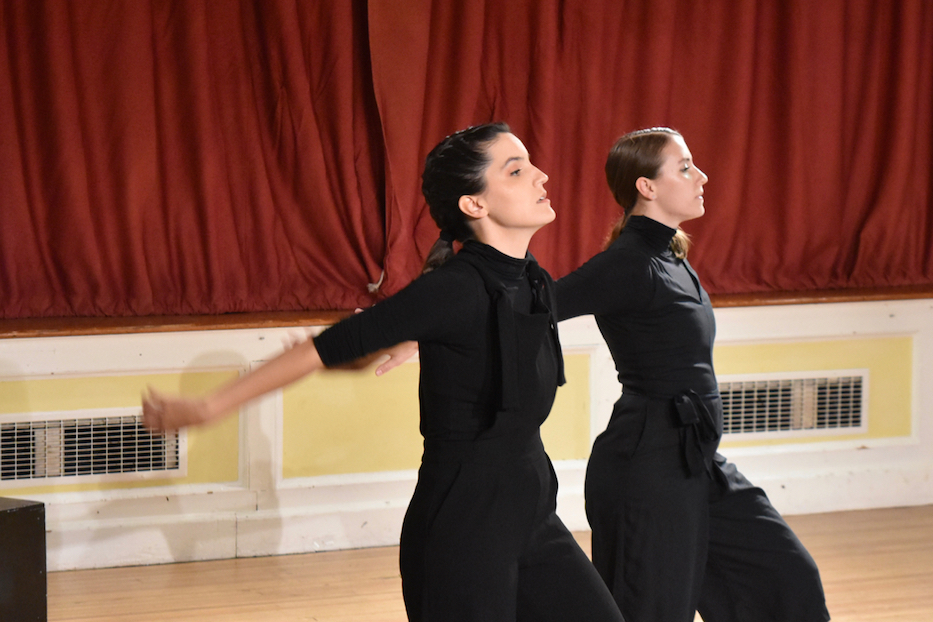 Dance | Hamden | Arts & Culture | Whitneyville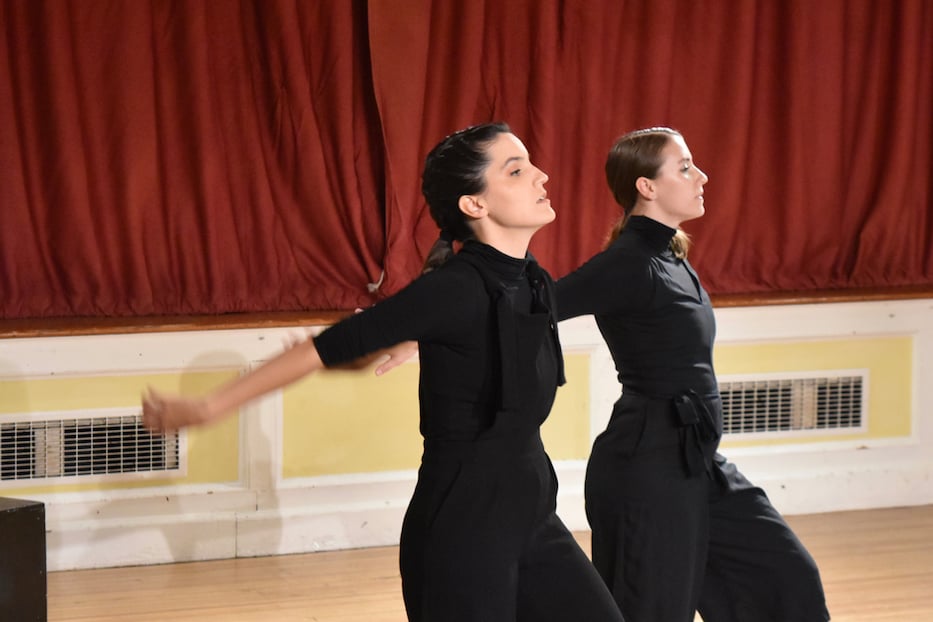 Luiza Karnas and Alexis Robbins. Leah Andelsmith Photos and Video.
Finger dancing. Two dancers mirroring each other, one tapping her shoes, one pointing her toes.
A cowbell and tap duet. The rhythm of tap shoes nestled between the upright bass and the keyboard.
"Two very different styles of tap dance together under one roof" was how tap dancer and choreographer Alexis Robbins put it as she welcomed over 40 audience members to "Tap on Whitney" last Sunday night.
Held at the Whitneyville Cultural Commons, the event brought together kamrDANCE's tap and contemporary work Are you or do you? with Hartford-based jazz ensemble Medusa, featuring band leader Jocelyn Pleasant on drums, Michael Carabello on keys, Matt Dwonszyk on bass, and tap dancer Corey Hutchins. Are you or do you? is a collaboration with Westchester-based dancer and choreographer Luiza Karnas.
"I Hear You. I Appreciate You."
Robbins and Karnas began behind a stack of black, wooden boxes. The audience sat still and vaguely uncertain as the two began tapping on the boxes with their fingertips, making shapes with their hands and elbows, dancing with their fingers as if marking out a routine instead of dancing it full out on their feet. The shuffling of chairs and feet as the audience settled in was uncomfortably amplified in the quiet room, as the duo started in on a routine without musical accompaniment.
Soon, they stepped out from the boxes to dance more freely on the floor. Karnas slid her hard-soled shoes across the floor like a brush sweeping across a drum. Robbins was barefoot, dancing in a contemporary style. She mirrored Karnas' movements at first, then danced on her own to the music Karnas was making with her shoes. There were moments of stillness, moments of unison, and moments of loose, sweeping movement.
But it was in a moment when a clear rhythm rang out between tap shoes and clapping hands that Hutchins, watching from backstage, broke the audience's silence with an "Mmmh!" as if to say, "I hear you. I appreciate you."
Later, Robbins laid down wooden boards over the wooden floor and Karnas stepped right up. She tapped out a distinct rhythm, then started to vary it, adding and deleting notes, playing with the syncopation. Karnas tapped with each foot on a different board, like a pianist stretching to play two keyboards at once. That earned her a chuckle of appreciation and a "Wooo!" from the audience.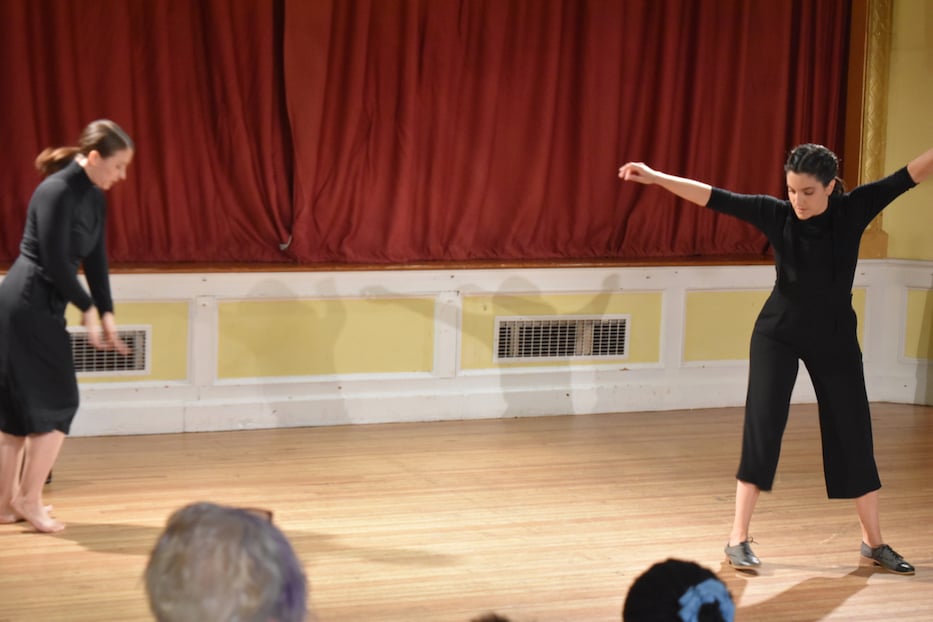 After a moment of silence and a long look at Karnas, Robbins took over. Her character in the piece explored the friction of her different dance identities and wondered when and where she would be able to be her full self. Now with her shoes tied on, she was ready to tap.
Some of the boards Robbins had laid out made lower-pitched, more muted sounds and some rang higher and with more resonance. She stepped onto a muted board and tapped out a slow groove. Blunt heel taps and crisp toe taps blended together with the scraping swish of the side of her shoe sliding across the board. Not every seat afforded a view of the dancers' feet, but the music of taps on wood could be heard anywhere in the room, and the audience slid into the rhythm along with her.
After a long while on that muted board, Robbins gave just a few quick taps on a higher, more resonant board. It sounded refreshing, like the bright zing of lime slicing through the richness of a carnitas taco.
"Talk about it," Hutchins encouraged from the back of the room. "You're not holding back no more."
And neither was the audience.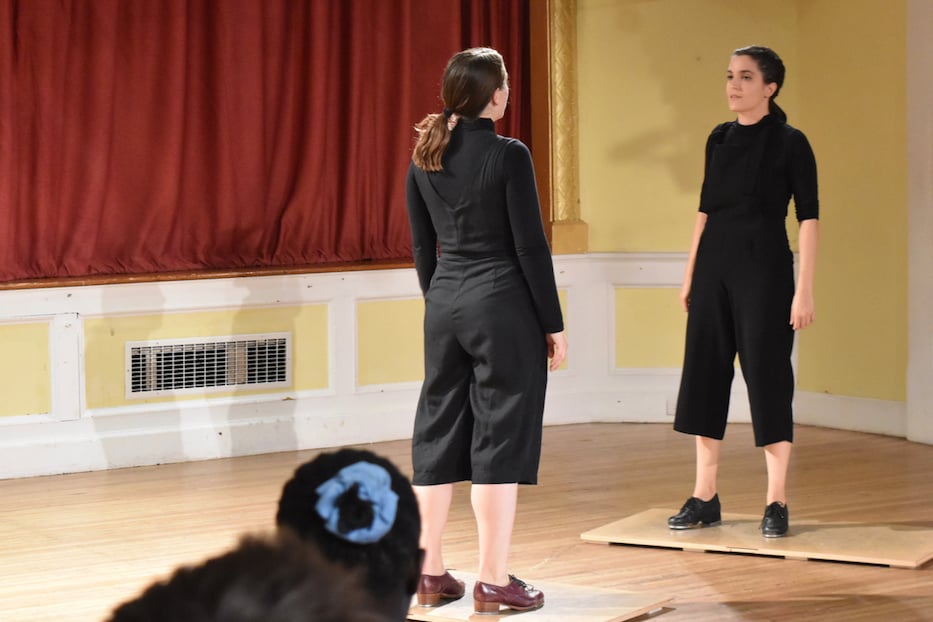 As Robbins and Karnas took turns laying down the rhythm and picking it up, always changing it and letting it breathe, audience members grooved and nodded along, as if following jazz riffs or rap verses. A toddler in attendance bounced in place with an uncontainable smile. More and more audience members began to talk back to the performers, their ad libs embellishing the rhythm:
"Eh!"
"Yes. Yes, ladies."
"There it is, yes."
"Wha???"
"Woot!"
"Church!"
Robbins and Karnas hit the last mark of the performance, Robbins finally answering Karnas' repeated question, "Does not knowing"—where you fit in and whether you'll be able to show up as your full self—"weigh you down?"
"Yeah, it does," she said. The audience was immediately on their feet and cheering, stomping out their joy as if clapping wasn't enough.
"Take Our Own Bit of Butter, Put It on Top, and Make It Melt."
As Medusa took the stage, Pleasant caught everyone's attention with the bright, clear clang of a cow bell. Hutchins slid out onto the floor, bold and brilliant in a red button down shirt, black tie, and red, suede tap shoes.
"Don't hold back. Let's have a party! You already feeling it?" he said. The crowd's cheers and applause confirmed that they were. Pleasant added a high hat topped with a tambourine to the rhythm. Hutchins mixed in the quick, sharp beat of his tap shoes and got the audience clapping.
Then, the first notes from Dwonszyk's bass zoomed out, electric. The wooden body of the upright bass, every chest in the audience, and the walls and floor of the room itself all resonated with the same frequency. Suddenly, everything was vibrating with music, spilling over with the power of being together.
Right away, Hutchins revealed his strength as a showman, his moves alternately smooth and flashy. He slid on his tap shoes from one side of the front row to the other, then up the aisle. He mimed a golf swing as he tapped. His broad smile engaged the audience as he bantered with folks in the front row and invited a young person up to dance with him.
Later, Hutchins loosened his tie, unbuttoned his collar and left the boards to squeeze in on stage with his bandmates. The two percussionists traded rhythmic phrases, one with sticks on drums, and one with taps on floorboards.
The tie was abandoned altogether as the band launched into Charlie Parker's "Confirmation." Hutchins tapped along to the rhythm of the melody Carabello was playing on the keys, adding his own flourishes as he went. Then he launched into a solo, tapping a rhythmic line that wove in and out of the beat in much the same way a vocalist might sing a melody on top of the chords.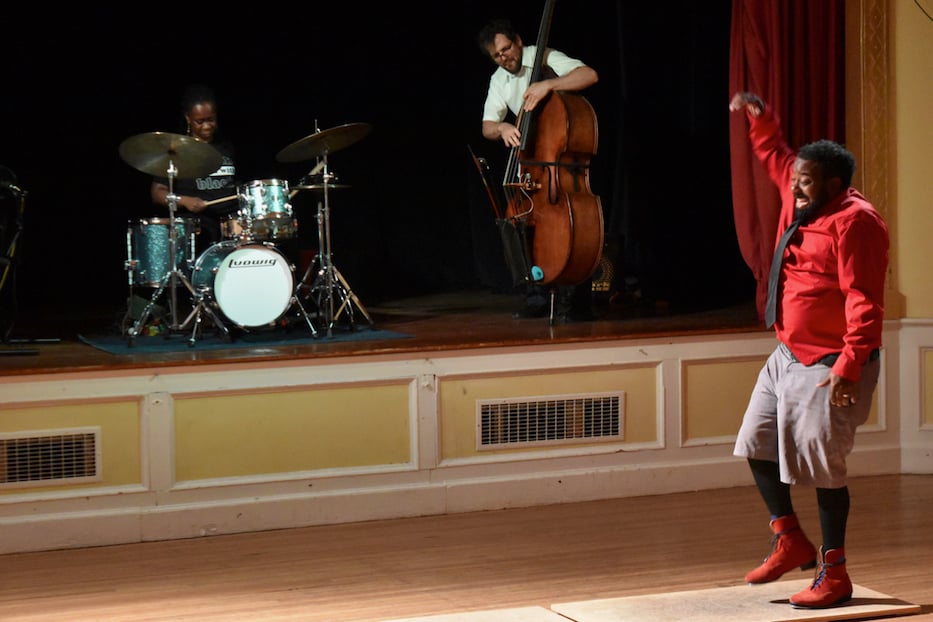 While one could be forgiven for focusing on Hutchins' dancing, a string of solos from bass, keys, and drums highlighted just how good the music was on its own. Each solo was punctuated by whistles and cheers of appreciation from the crowd. Hutchins abandoned the button down altogether and sat on the side of the stage in his tee shirt to appreciate his bandmates.
Sheer joy and energy filled the room just as much as the music did. The crowd did not seem to want to stop clapping at the end of each number. Audience members who seemed silent and unsure before were now giving a loud "Woo!" whenever the spirit moved them.
"Do you want to hear one more?" the band asked. "At least! At least!" someone yelled back.
As Medusa began their final number, there was no trace of the evening's first quiet, awkward moments. Hutchins no longer needed to slide up and down the aisle to engage the audience; the audience was reaching out to engage the band. Having learned from Hutchins' example, they were free with their whoops of delight and oh yeahs, applauding after each solo and clapping along when it seemed right.
Folks sat loose and easy in their seats, letting the flow of the music rock them. Hutchins tapped with his eyes closed, the showman's smile gone. His gaze was turned inward and he appeared to be deep in the music, feeling it all the way down to the taps on his shoes.
It felt like a late night in a close-quartered jazz club, where there's not much breathing room between the performers and the audience, and it's everyone's collective presence that creates the atmosphere. That feeling wasn't an accident.
"Tap and jazz are not just a performance on stage, but a community activity," Hutchins said after the show. The reactions of the audience form a call and response that is integral to both jazz and tap, even during routines like "Are you or do you?" that incorporate some choreography.
"You didn't make your piece just so no one would respond, for you to not get anything back," he said. "You created it to build and expand on it."
In keeping with tap and jazz tradition, Medusa's performances are primarily improvised. Pleasant said that the band's communication feels "perfect, beautiful" when they're on stage because "it's what the music is supposed to be." In addition, they've all spent years studying their art forms, and the result is a sense of effortlessness as they improvise on stage.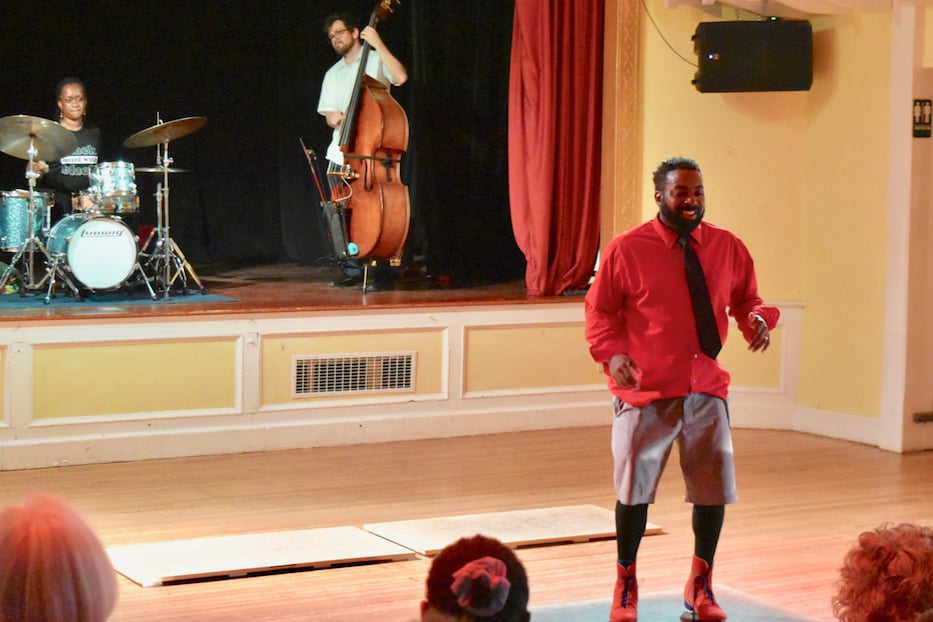 "Medusa is where tap dance lives at its core and at its origin: with jazz music," Robbins had said as she introduced the band. After the show, Hutchins had a different way of putting it. Medusa starts with jazz standards which are old school, like sliced bread, and then "we take our own bit of butter, put it on top, and make it melt."
Hutchins spoke to the deep roots of tap and jazz, stretching back to when drums were taken away from enslaved Africans and they "put rocks between their toes to create rhythm." Each art form took a different route from a shared past, but both are about "creating a language" for self-expression within a community.
For Pleasant, too, there is a strong connection to the past, both to ancestors long gone and more recent mentors. The band dedicated their performance to Cheryl Smith, co-founder of The Artists Collective in Hartford and community pillar, whose recent passing was very much on their minds. As a dancer and teacher, Smith was profoundly influential to generations of artists.
"She had a big impact on me as a woman in charge, getting things done, putting shows together," Pleasant told the audience during the show. In the quiet moments after the performance, Pleasant's thoughts came back again to "Momma Cheryl," who "was so important to Black arts in Connecticut," and to her own role in the community.
"We are carrying on that legend," she said.