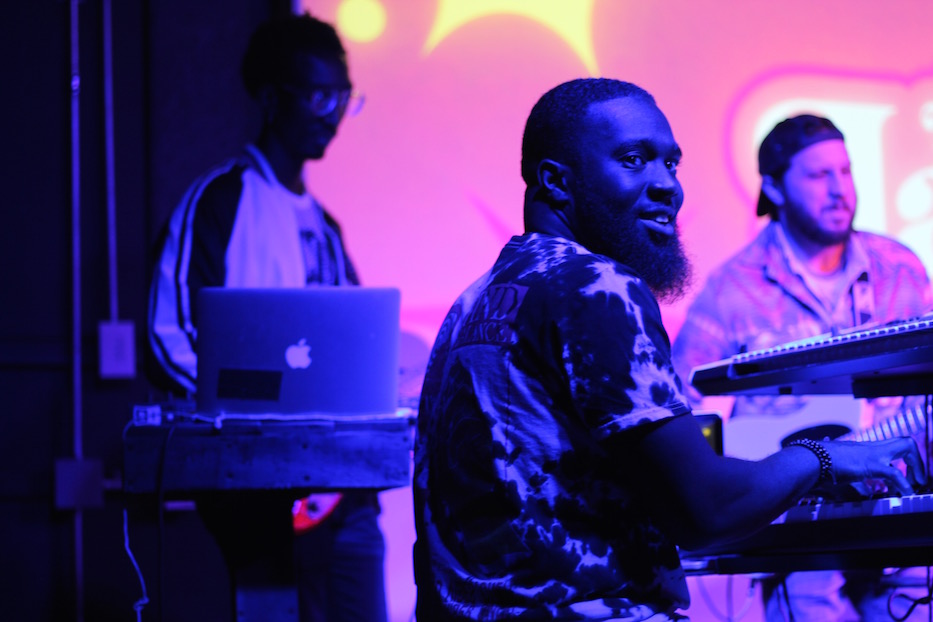 Culture & Community | Downtown | Music | Arts & Culture | The State House | Arts & Anti-racism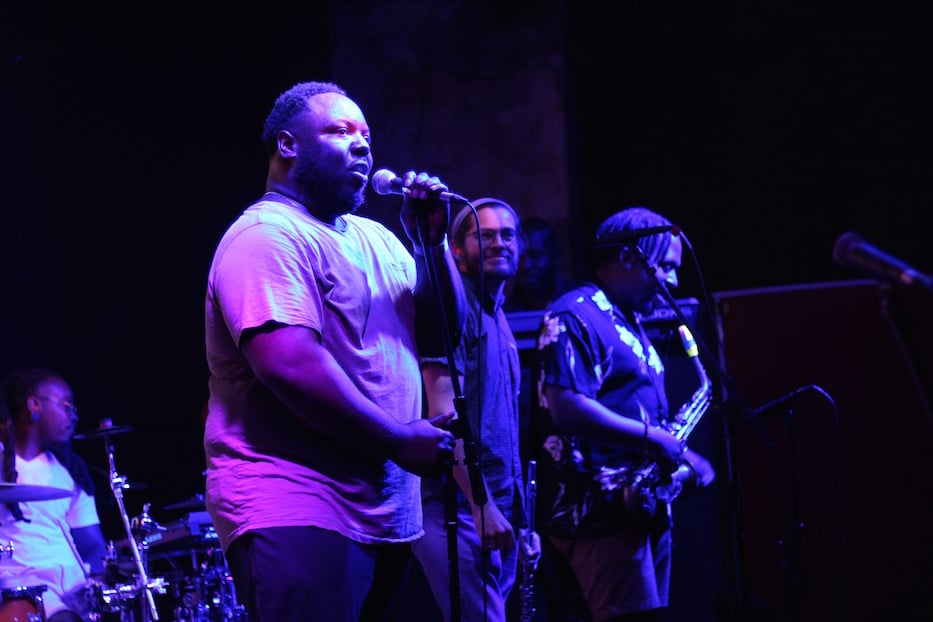 Musician Paul Bryant Hudson. Behind him are drummer Travis Hall (at left), Dylan Olimpi McDonnell and Stephen Gritz King. Lucy Gellman Photos.
The keys entered first, filling the room with a vibrating, synth-flecked sound that found every corner, rafter, filled and empty chair. Then the drums not even two seconds later, with a slow, steady cadence that melted on the stage. Bass and guitar slipped in. The music vibrated through the stage, coming up through legs, arms, chests and chins. It was thick and weighted, the kind of sound a person could chew on.
Paul Bryant Hudson lowered his mouth to the mic, and the first lyrics of the night—I want you/The right way—glided over the house. The audience began to move. He turned to Jeremiah Fuller, and started speaking in tilted, bobbing shoulders, bending knees and electrified eyes.
That sound came to the State House Sunday night, as The Jam returned from a two-year, pandemic-enforced hiatus to play out Juneteenth. As Gregory Porter serenaded the New Haven Green nearby, the Jam closed out the weekend with a sound that has been missing from New Haven for over two years. It brought with it a sense of rite and ritual that has survived the pandemic and somehow come back stronger.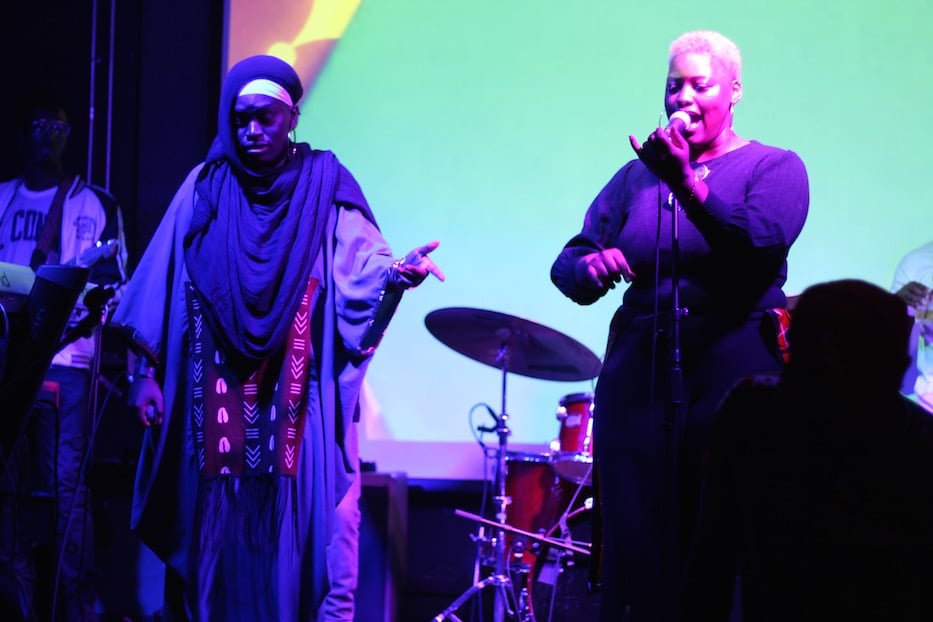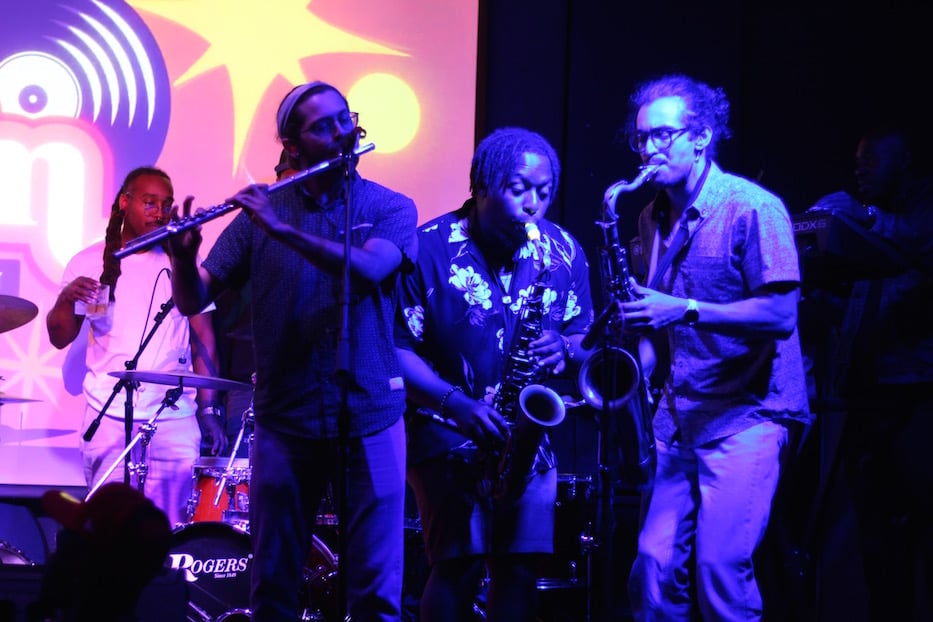 "I'm really happy to be back here," said Hudson, a lifelong New Haven musician who started the jam in 2019 with musician Jeremiah Fuller. "The jam is an institution. The jam is a community. The jam is an offering."
It has been over two years since the event graced The State House. In February 2020, Hudson and Fuller held a jam for Black History Month that had the venue packed. It lasted into the early hours of the morning, filling the 4,400 square foot space all the way up with sound.
Less than a month later, many of those same musicians were out of work. The State House didn't know if it would survive through the pandemic. That it did, a combination of federal relief and a gracious landlord, allowed the tradition to return. Hudson said it was especially significant to him that it came on Juneteenth, which recognizes the emancipation of enslaved Black people in Galveston, Tex. on June 19, 1865.
No wonder, then, that Sunday felt like a reunion. Even with the specter of Covid-19 everywhere—"I want to emphasize the reality and the importance of keeping each other safe," Hudson said early in the night—the format of the Jam was the same as it's always been. The night is set up so that a house band starts, and then musicians cycle in and out, asking for a turn in the group. It is not an open mic or a sort of riff-off, but something much more sacred and collaborative. In the audience, some attendees in the know came carrying their instruments, hoping for a chance to step on stage.
True to Jam tradition, the music was nearly continuous; only once, for a 10-minute intermission, did musicians stop playing completely. Sunday, it was also a mellifluous experiment, opening up a space for musicians who might never cross paths to meet.
As night fell outside, a house band started the show in a groove, with Fuller holding it down on keys. For a moment, musicians listened for an opening, and then came in one by one. On drums, Albear Sheffield and Travis Hall rolled in with a soft, deepening sort of hello. Trey Moore and Pete Greco joined on guitar, and suddenly it was impossible not to dance. Corey Claiborne stepped out from the shadows at stage right, and laid down a thrumming bass.
The music vibrated through the stage and into the floor. From the right side of the stage, Dylan Oimpi McDonnell crept in on flute. Instruments threaded in and out of each other, making space as Hudson entered.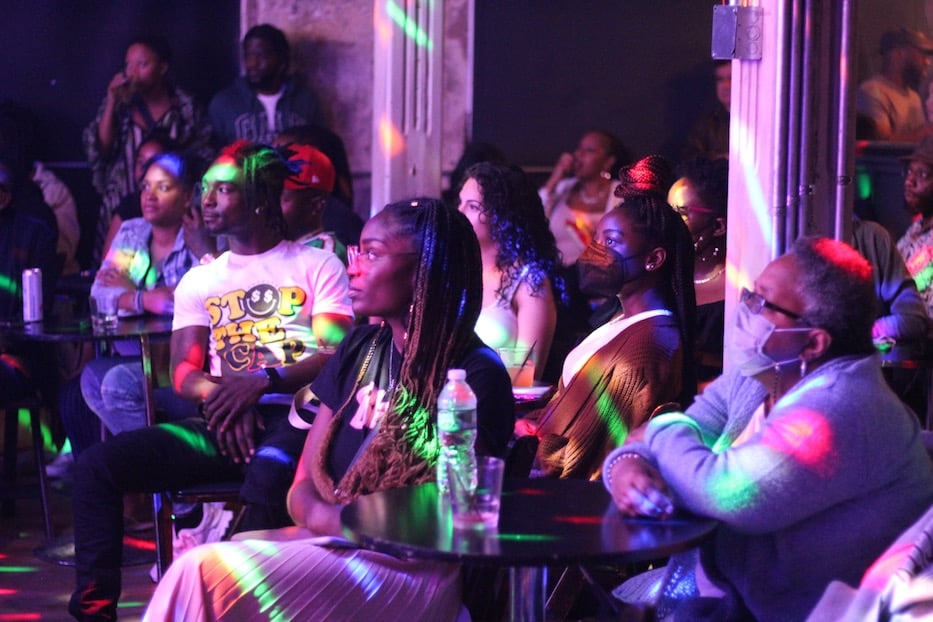 In the crowd, audience members relaxed. Some held up their phones, documenting the moment; most danced by themselves, or with friends and partners. When Stephen Gritz King stepped off stage momentarily to fix his saxophone, musicians filled the empty space without ever having to say a word.
The night's exchange of ideas started moving. On an invisible cue, drummers came to the lip of the stage, setting up in shadow as the band kept playing. Between them, there were over two centuries of experience, spanning groups from The Lost Tribe, Bregamos Community Theater and Art of Huckleberry to the New Haven School of African Drum and Dance They leaned in, eyes dancing above their masks as a heartbeat exploded from their hands. Keys, and flute all gilded into the mix. Sensing his moment, Hudson jumped in with Stevie Wonder's "Superstition." The drums undulated underneath him, leaving a spray of sound in their wake.
From the far left of the stage, Seny Tatchol Camara unleashed a djembe solo that attendees could feel from the soles of their feet to their foreheads. Beside him, Jocelyn Peasant switched from a handheld bell and clave to hand drum in a matter of seconds. Rafael Ramos responded on the other end of the room, his palms open and keeping keeping a steady rhythm. ​​When you believe in things - That you don't un-ders-tand - Then you suffer! Hudson belted. Superstition ain't the way!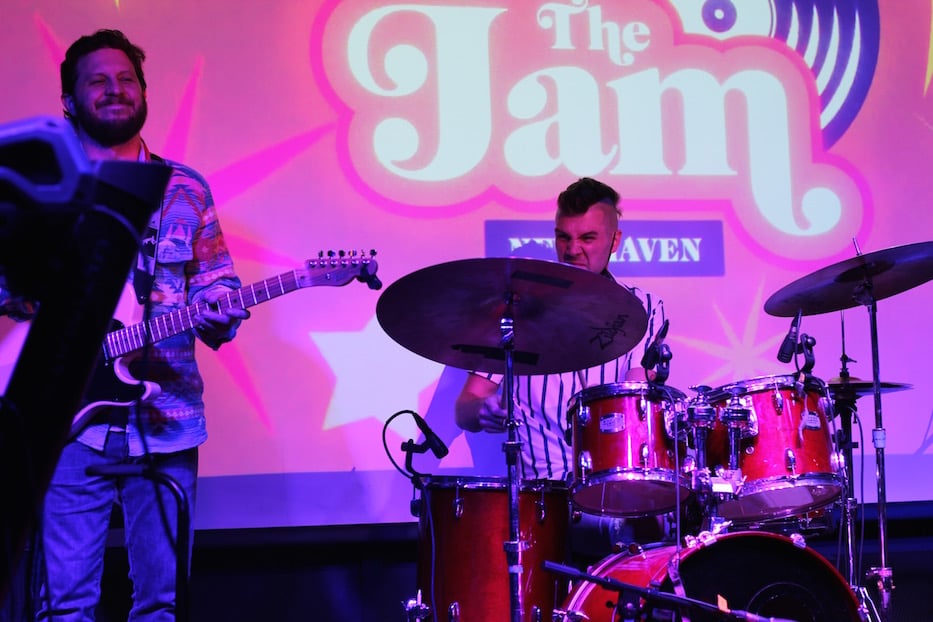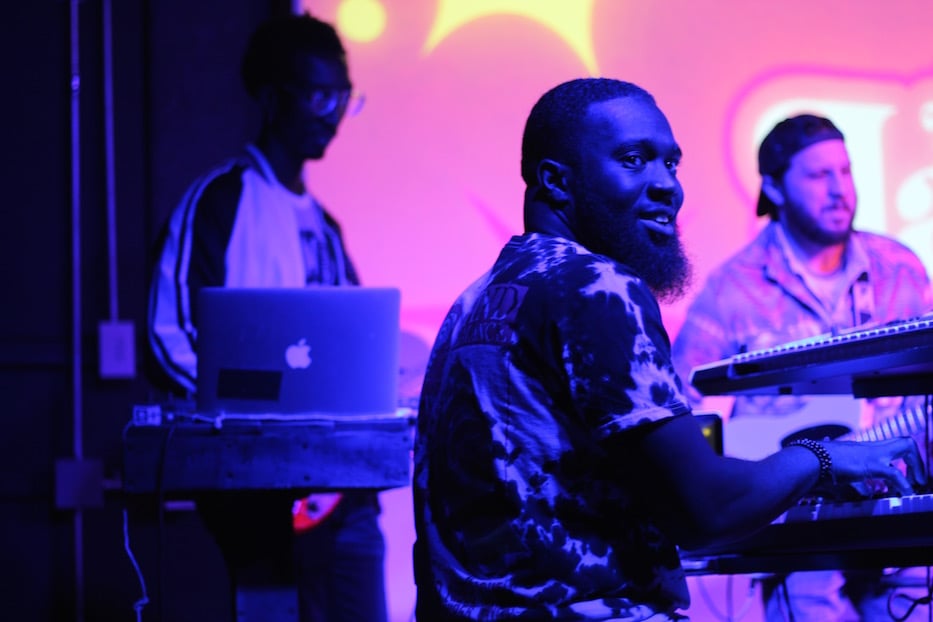 The sound pressed up against the ceiling, bathing the audience and the musicians alike. In the back, people danced even as they ordered their drinks at the bar and stepped toward the door for fresh air. As Camara played, Fuller turned around to watch, his mouth hanging halfway open. He never took his hands off the keyboard, and they never stopped moving. He leaned back, found Hudson, and burst into a wide smile. Camara kept drumming, one foot between universes as he played.
"It feels amazing because I've grown up on the line between the traditional music and contemporary [music]," Camara said after the set, still drumming as he spoke. "Being able to communicate and collaborate with all different perspectives, it's what I like to do."
The night was just heating up. Beside the stage, a line had started to form as musicians waited for their turn to talk to Hudson, and then step into the shared spotlight. From a green room in the basement, Gritz King reemerged, a fixed saxophone in hand. The blue-and-yellow mouthpiece glowed neon in the low light. He hopped back onto the stage, and a velvety, smooth sax entered the mix. Two years after he had last played on the stage, it sounded like a homecoming.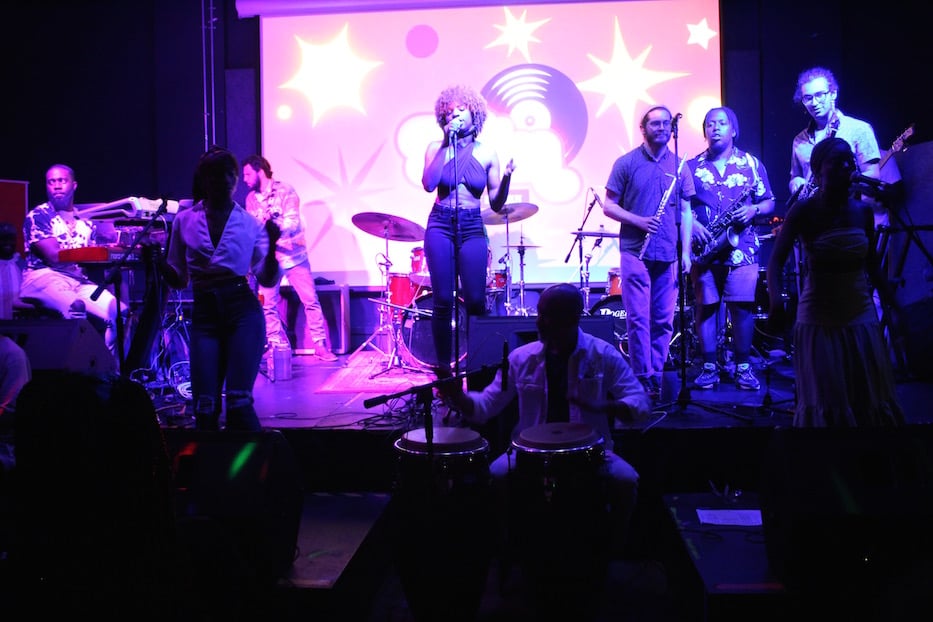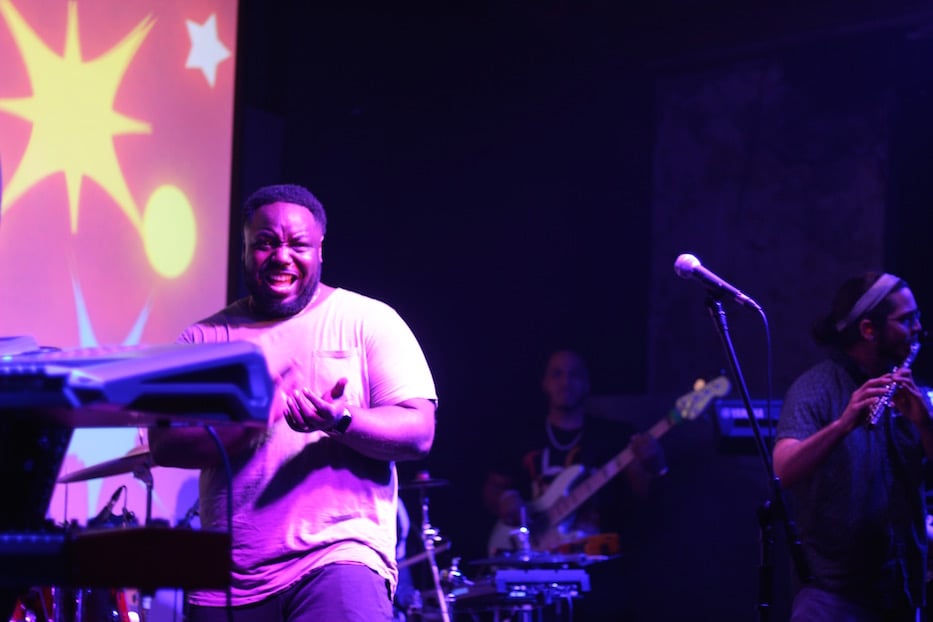 Around him, Hudson stirred jazz standards with R&B, soul, poetry, and something entirely of his and the band's own making. Led by the keys, musicians danced mid-strum and watched each other from over their drum kits. At one point, Greco turned to Fuller, his face a question mark. Fuller played back a flurry of keys, and Greco responded with a new riff. His face transformed from a snarl to a huge, ecstatic smile.
Once it started, the rotation of musicians never stopped. Somewhere between Stevie Wonder and a cover of "My Funny Valentine" that showed up Chet Baker and honored Ella, Hudson stepped out into the crowd. He found Jake Huffman, a drummer from the Hartford-based band ​​McLovins (and, it turns out, a former composer for Sesame Street), nodding at something as they shook hands. Moments later, Sheffield stepped out, and Huffman picked up right where he had left off. He became a blur in thick black and white stripes, electric as he flowed from drum to cymbal to drum in constant motion.
He later said that he hadn't planned to play at all; he had heard about the event that week, and was simply interested in coming to watch. But "when you get the calling," there's nothing else to do, he said. Prior to Sunday, he and Hudson had never met. That's part of the magic.
Back inside, the Jam's last hour became a masterclass in listening. Winding toward the stage to a few cheers from the audience, musicians Salwa Abdussabur and Finn Henry took a beat, each nodding as they felt out the musicians behind them. On bass, Bet Calixte had slipped in, beaming as he played. A sax player who'd introduced himself simply as Wes stood beside McDonnell and Gritz King, as if he'd belonged there for a very long time.
Abdussabur lifted the mic as Henry swayed to the music, fingers snapping. I'm taking my freedom- she began, and the audience cheered as it recognized a slowed down, simmering cover of Jill Scott. Henry turned to the mic and jumped in, suddenly in dialogue with Abdussabur. Guitar announced itself, fuzz-flecked at the edges, behind them. It was "Golden" unlike an audience had ever heard it before. Minutes later, the Dickey sisters kept the Scott tribute going as they stepped onstage and performed as a group.
Hudson savored the moment. Bathed in white and purple light at the end of the night, he looked out over the house, where attendees were dancing right into Monday morning. Slowing it down to the first verse of "Lift Every Voice and Sing," his voice melted right into a spare, clean drumbeat. He took his time on the words, each one round and full in his mouth. At the end, silence hung in the room for just a second before cheers and applause took over.
"I understand really clearly not to let these moments pass us by," he said. "We made it back to this space and that means everything."
Learn more about the State House here.