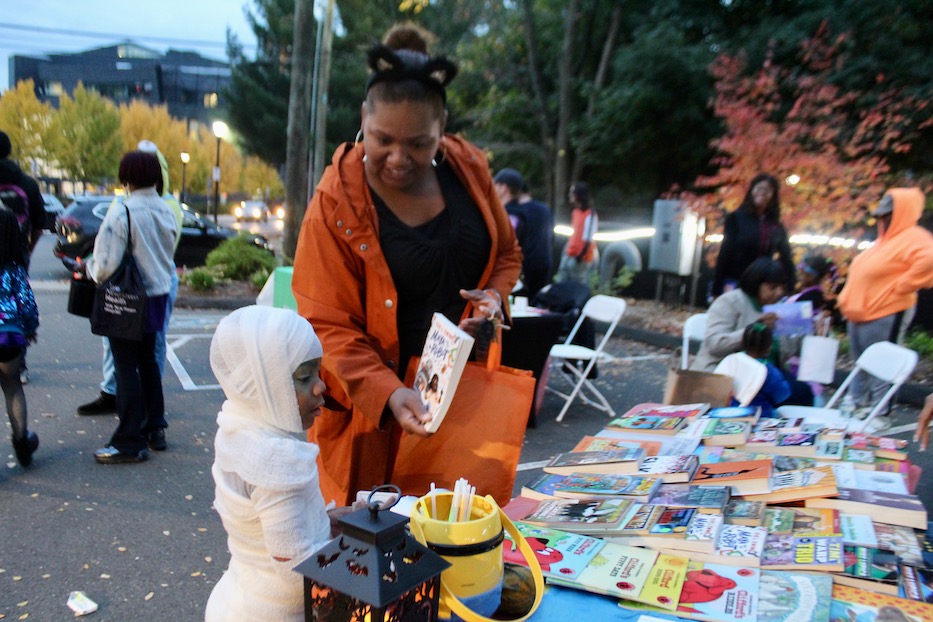 Culture & Community | Dixwell | Halloween | Arts & Culture | Newhallville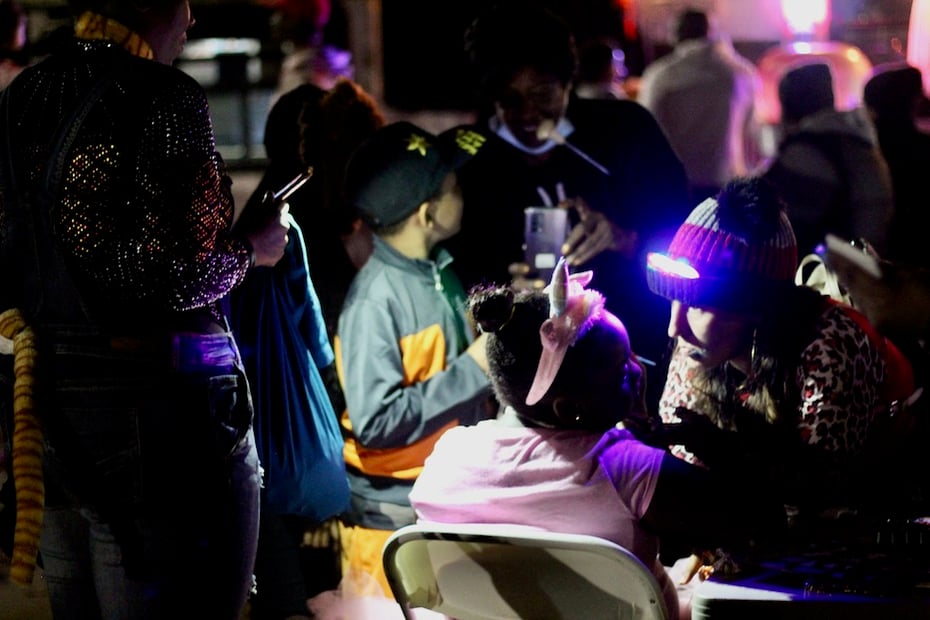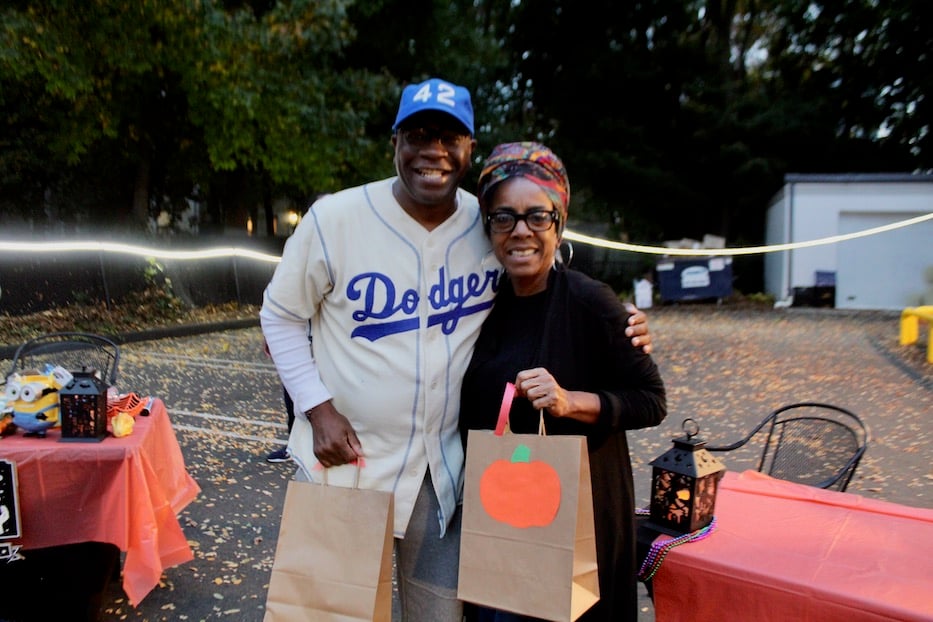 Top: Halloween at Troup School, where Kenia and Michael Massey are working to bring the celebration back to the neighborhood. Bottom: ConnCORP CEO and President Erik Clemons and Stetson Branch Manager Diane Brown. Lucy Gellman Photos.
In the parking lot beside Troup School, things were getting spooky. By the sidewalk, a tiny princess and pirate made their way to a van etched with red lettering, its doors flung open as the theme to "Ghostbusters" floated through the air. Two superheroes locked arms, and tested their luck with bite-sized candy bars in crackly blue wrappers. Morticia Addams sailed through a knot of costumes, dipping her hand into an oversized bucket as a wave of trick-or-treaters arrived.
It was the scene on Beers Street Monday night, as community members and grassroots organizations alike put on Halloween events for kids across the city. In laughter-filled, just-scary-enough celebrations from both The Black Corner Store in Edgewood and ConnCORP's Petals Market at the edge of Dixwell, an image emerged of a Halloween that was just as much for parents, neighbors, and community members as it was for the kids who came out with them.
Click here, here and here for articles on other Halloween celebrations from our colleagues at the New Haven Independent.
"This is what I imagined," said Kenia Massey, who runs Black Corner at 277 Edgewood Ave. with her husband Michael. "This is what I wanted to do to bring Halloween back to the community. I think it's the same for all of us … it was about bringing it back to your own hood."
A Night Of Spooky & Safe Celebration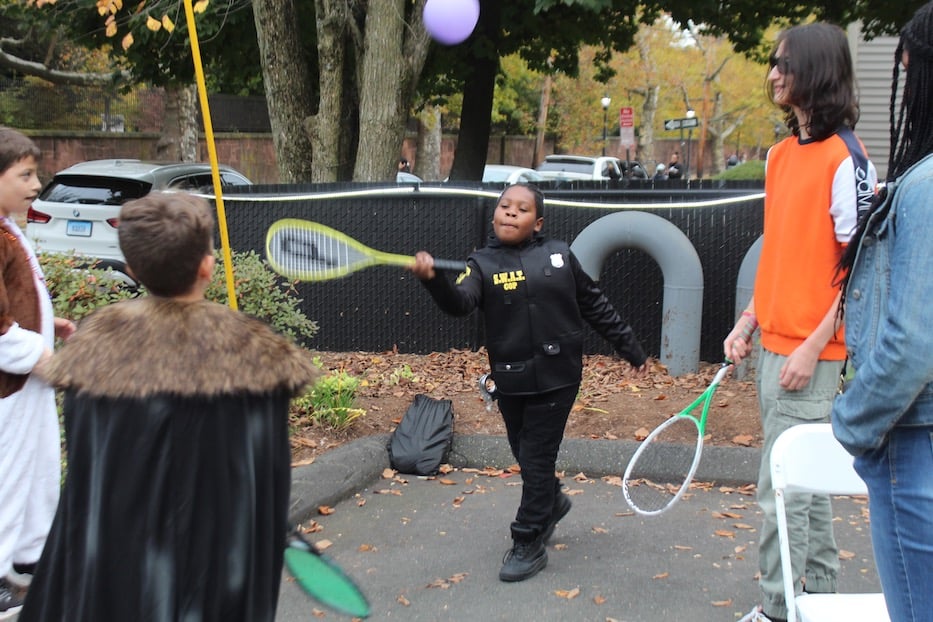 Squash Haven gets the party started. Pictured is Brad Fuller, a fourth grader at Barack Obama School who said he wants to be a police officer when he grows up.
For dozens of kids across the city, the night began at Petals Market, a small market and sandwich shop at 100 Ashmun St. that lives beneath the Connecticut Community Outreach Revitalization Program (ConnCORP) umbrella. For weeks, ConnCORP staff have been working toward the event, meant to give young New Haveners a safe and family-fun option for trick or treating.
After coming up with the idea, Vice President of Culture and Community Elaine Roper (or as she was recognized Monday, a fuzzy character from Minions: The Rise of Gru) and a small team brought in community partners including Squash Haven, the New Haven Free Public Library, the Yale University Police Department and New Haven Reads. Jamel Lee, a senior at Wilbur Cross, jumped in to help man a candy station when ConnCORP needed extra hands.
"It was just a team effort," said Daniel Hunt, community liaison for ConnCORP. "We wanted to do something special for the kids in the neighborhood."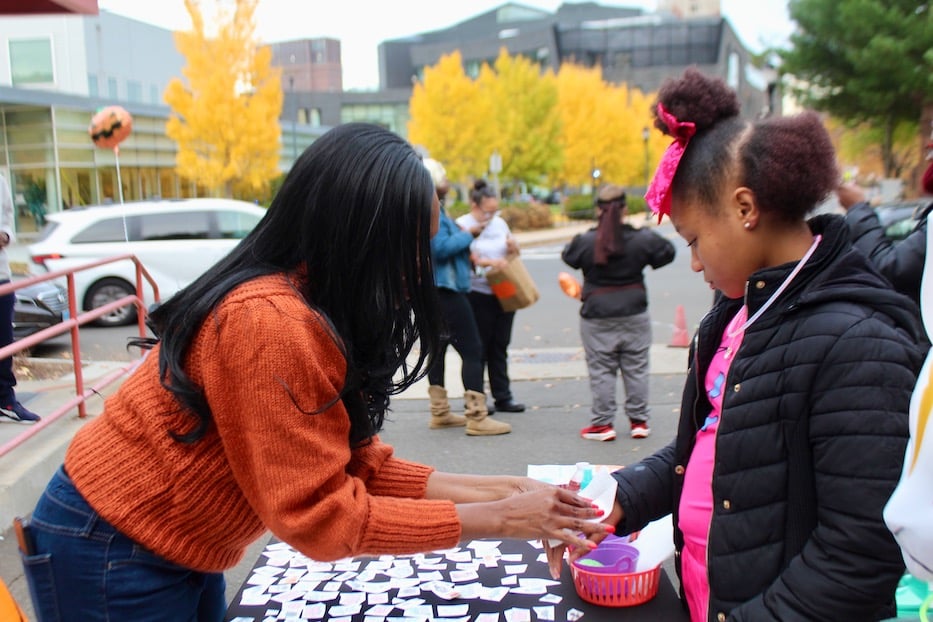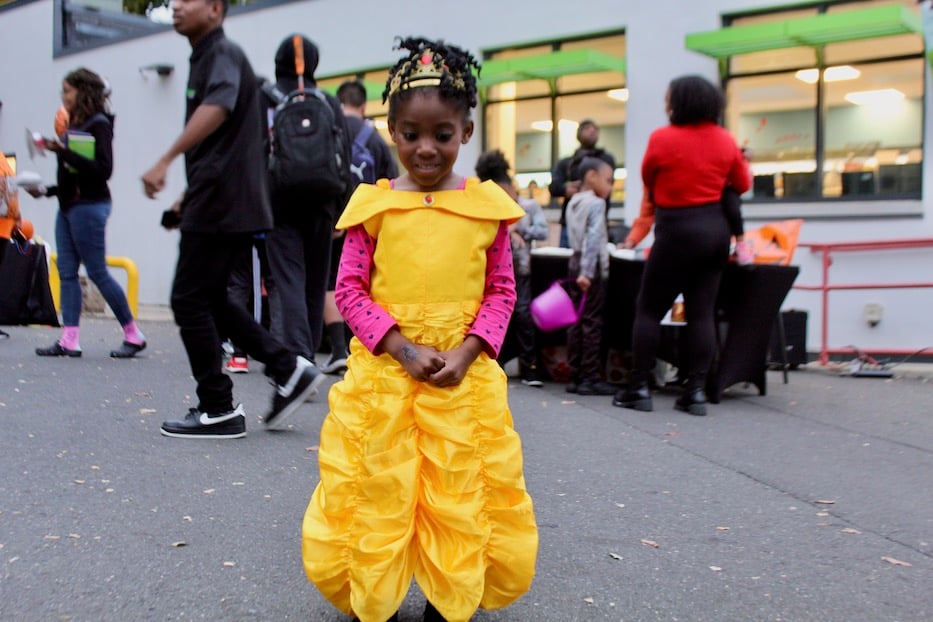 Top: ConnCORP's Jeneave Dacres and fifth grader Tamilya Williams. Bottom: Four-year-old Amina dressed up as Belle.
For three hours, it did. As a cover of "Time Warp" drifted through the air, a soft glow from inside the market seeped out into the parking lot, making it seem other worldly for a few hours. Bathed in the light, ConnCORP'S Jeneave Dacres gave out temporary tattoos, applying tiny lollipops, hairy black spiders and vampires to equally small hands.
At a table for Squash Haven nearby, a skeleton king, crowned princess and pint-sized SWAT officer tried out the sport, a purple balloon bouncing between them as they lifted the rackets.
As parents and kids drifted into the lot, it filled with cheerleaders, vampire brides, skeletal royalty, red-mouthed clowns, and at least a half dozen versions of Belle, Cinderella, and Ariel. As she waited for a temporary tattoo, student-turned-cheerleader Tamilya Williams said that she was as excited about the community she saw around—and the candy she was about to consume. Beside her, her brother Rickhie Jacobs transformed into a hacker.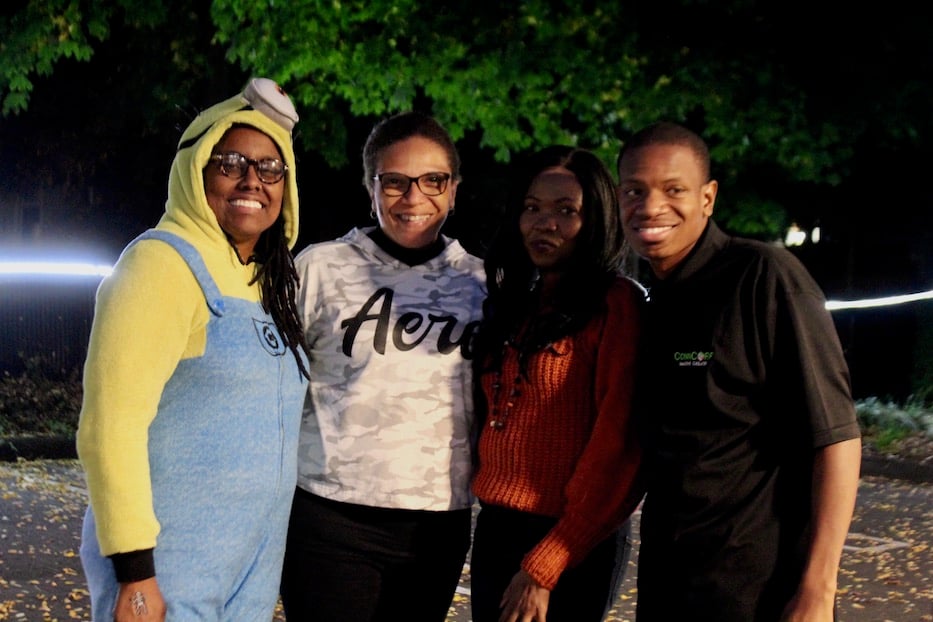 The ConnCORP Halloween dream team: Elaine Roper, Andrea Taylor, Jeneave Dacres and Daniel Hunt.
"The coolest thing is going out with your friends and family to trick or treat," said Tamilya, a fifth grader at Shepherd Glen Elementary School. She likes the chance to play pretend with a costume for the night, she added—she wants to be an actor when she's older. She was also excited to see the library there, she said: she likes books as much as candy.
As she watched the tattoo take shape, her mom Ketta Johnson lauded ConnCORP for putting on the event. In August of last year, Johnson lost her partner, Kenyon Tyrell Jacobs, very suddenly. Her kids lost their dad. In the year since, she's looked for safe events to take their minds off everything that is happening in their lives. She heard about ConnCORP's bash while planning to visit one nearby at 230 Ashmun St.
"It's just something fun to give my kids to do," she said.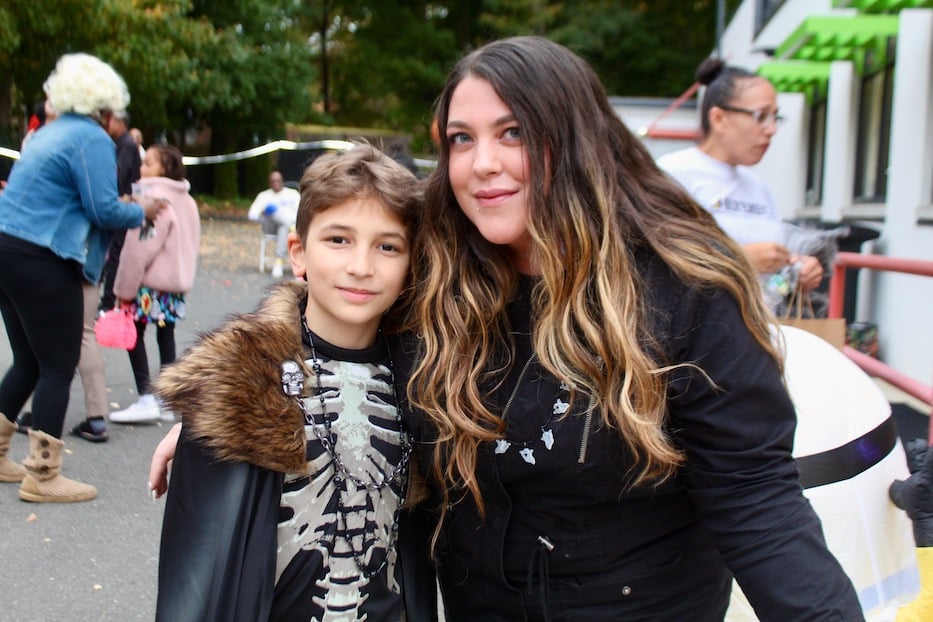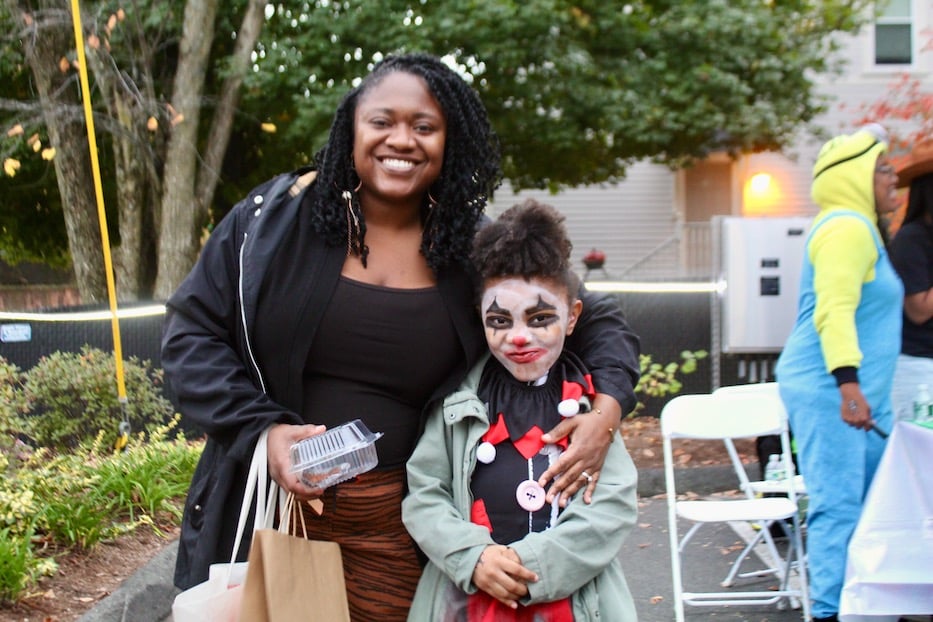 Top: Amin El Sayed and his mom Lisa Cipriano. Bottom: Gennell and Raina Bellamy.
Nearby, Helen Street School fifth grader Amin El Sayed and his mom Lisa Cipriano took a break from the festivities to nibble on pepperoni pizza still warm from Petals' oven. An aspiring game designer who loves math and science, Amin came Monday as a skeleton king, letting his long, fur-lined cape swish behind him as he walked. He pointed to two plastic skulls holding a chain across his chest, noting that they were a sign of "my royalty" for the night. A lifelong fan of Halloween after seeing the movie Hocus Pocus, Cipriano said that she was thrilled to discover the event in its inaugural year.
Nearby, Newhallville resident Gennell Bellamy and her six-year-old daughter Raina floated from the Squash Haven station over to a table heavy with books, checking out the titles they could bring home with their candy. The oldest of nine kids born and raised in New Haven, Bellamy has been trick-or-treating for most of her life—first as a costumed kid, then a doting and protective older sister, and then as a mom. She said she's grateful for a safe, community-oriented event, adding that she didn't know Petals existed until Monday night.
"I like that it makes my kids happy," she said as Raina—transformed into a clown, with thick diamonds around her eyes and patches of white face paint that glowed at dusk—bit into a chocolate cupcake decorated with green-and-black peanut butter cups. "It's community, you know?"
"I always can do whatever I want!" said Raina of her costume, adding that other recent costumes include a princess and a zombie. Asked for the best part of Halloween, she burst into a cupcake-smeared smile. "Candy!" she declared without hesitation.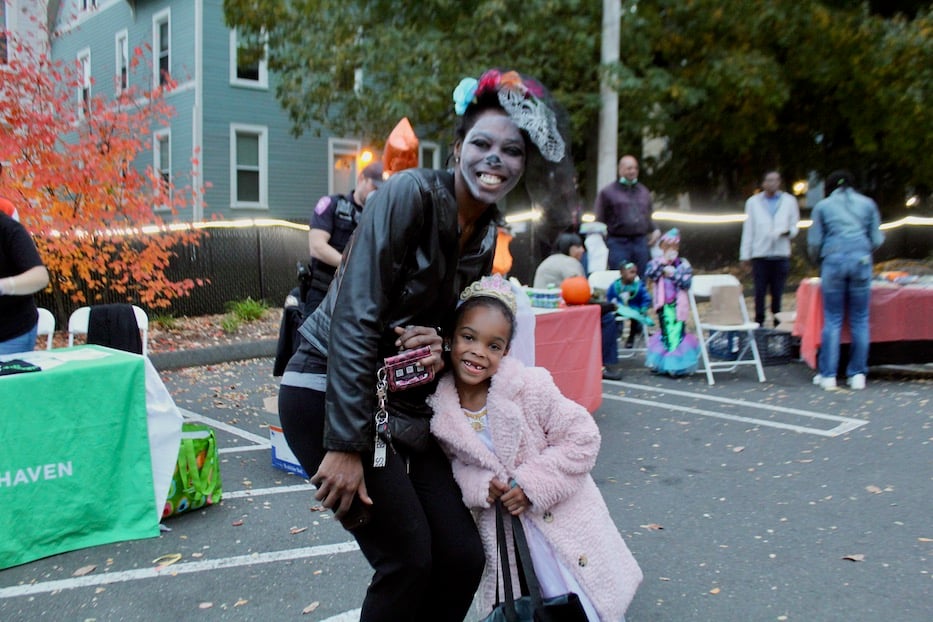 Many parents echoed that same feeling of safety. Walking around the lot with her four-year-old Amina (pictured at the top of this section), Shonta Walker pointed to the event as one where her daughter, who she described as special needs, could socialize with other kids in a supportive environment. Growing up in New Haven in the 1990s, "it wasn't safe" to trick or treat in New Haven, Walker said—so her mom would pack the kids into the car, and bring them to Hamden.
Years later, Walker's glad to see an event in her own backyard. She added that there's a lot of joy there this year: Amina, who was dressed as the princess Belle, loves cosplay. For her, the night became magical. Every time she sees a new Disney princess, she puts herself into the narrative, Walker said.
Back at a table covered with books, Chucky's Bride made friends with a mummy, circles of green, glittery face paint dancing around his eyes. In real life, they introduced themselves as seven-year old Malaysia Hunter and five-year-old Roary Nelson, both big fans of Halloween. As Roary picked out a book, his mom Leeza Nelson, said that Halloween is his favorite day of the year.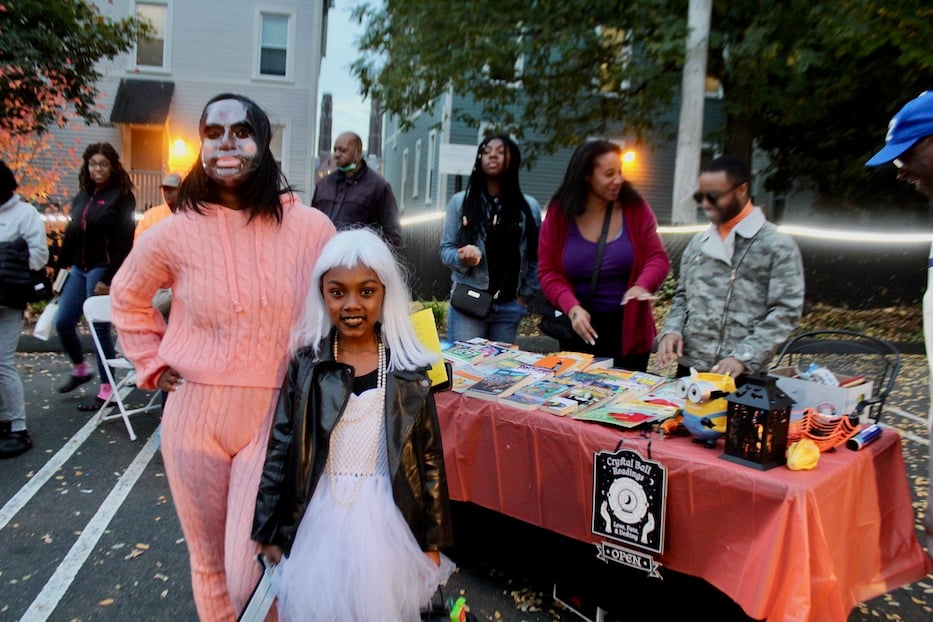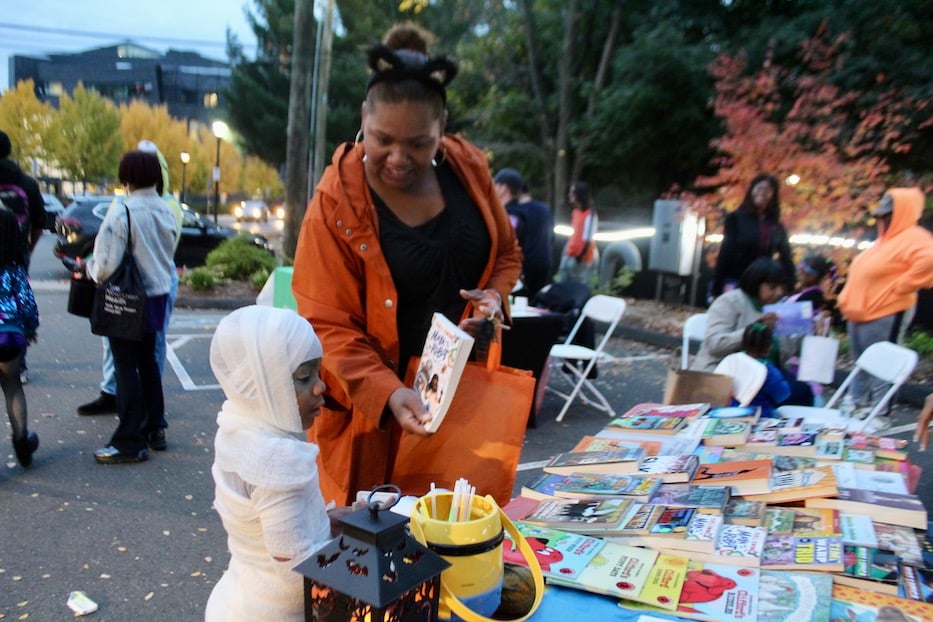 He loves it "because of the decorations, and also the vampires," he said. At home and at school, he's obsessed with Sesame Street's Count Von Count ("Everyone else loves Elmo," Leeza said). So a chance to flex his ghostly muscles was exciting to him. As he walked from station to station, he extended his arms, mastering the rigid, wobbly mummy walk.
"It's just good for the community," Leeza Nelson said as "This Is Halloween" came over the speaker.
"I Love This"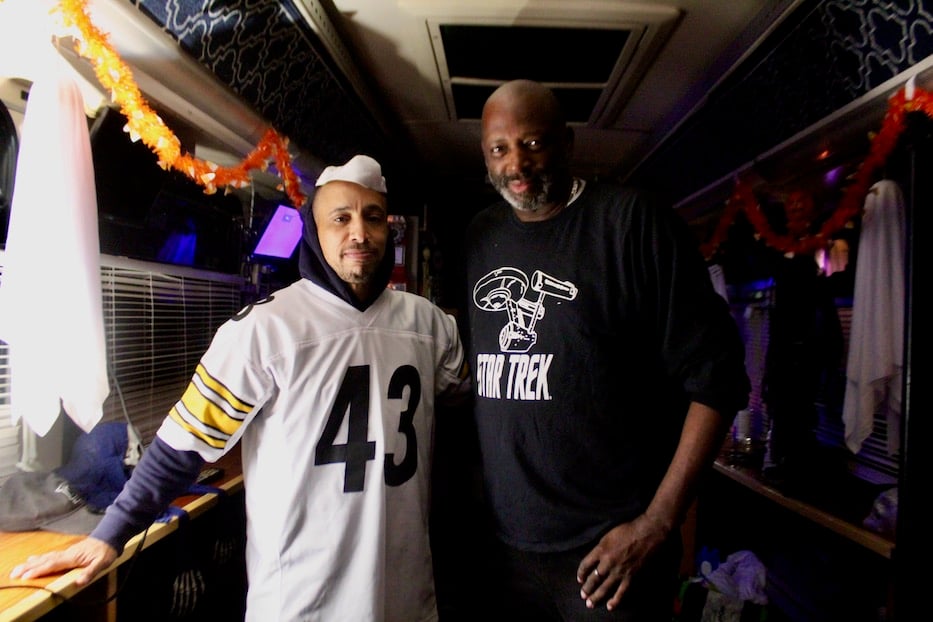 Steffon Miller and Chef Larry Lucky. Lucky noted that his t-shirt is not a costume: he is a lifelong Trekkie.
A mile away on Beers Street, Chef Larry Lucky stood in a transformed version of his bus-turned-restaurant, the dining area replaced by ghoulish lights and a large, furry yarn spider web with a long-legged visitor at its center. As they walked down the narrow aisle of the bus, sisters Royal and Havana El Bey held hands, bracing themselves for any jump scares. When one came—sort of—from Steffon Miller. they assured this reporter that it hadn't actually been scary.
A lifelong New Havener and the owner of Lucky's Star Bus Cafe, Lucky was one of several community members to work on a second inaugural Halloween celebration held beside Augusta Lewis Troup School in the city's Edgewood neighborhood Monday night. Organized by Black Corner Store owners Kenia and Michael Massey and several anti-violence groups in New Haven, the trunk or treat brought in over 100 neighborhood kids and families.
Collaborators included Ice The Beef Youth, Reformed Offenders Creating Change (ROCC), Sharper Edge Barber Shop, Lucky's Star Bus Cafe, and Head Lines Hair Salon among others. Steffon Miller, who leads ROCC, said that he jumped at the chance to help bring Halloween back to the neighborhood in a safe, family-friendly and festive way.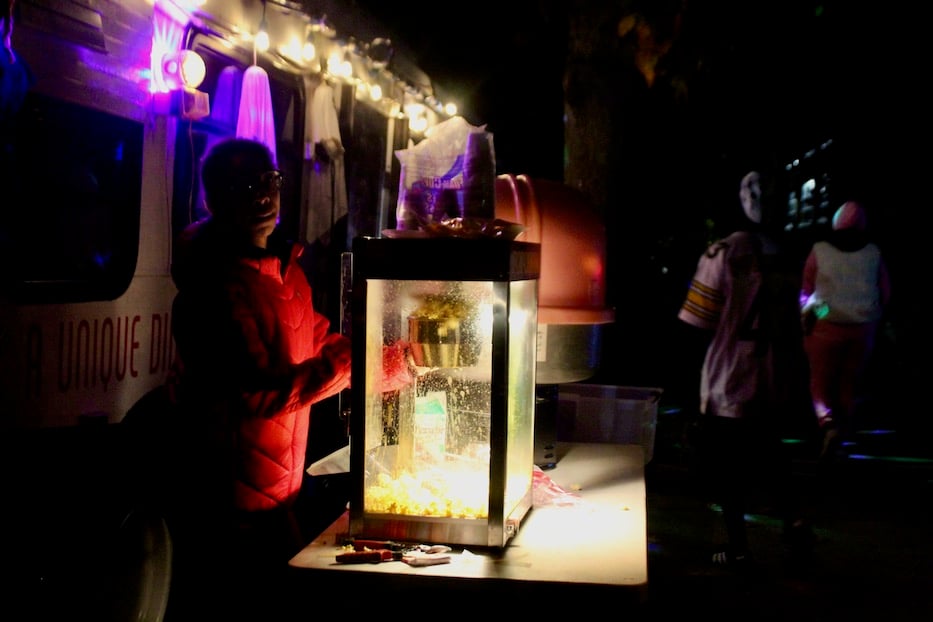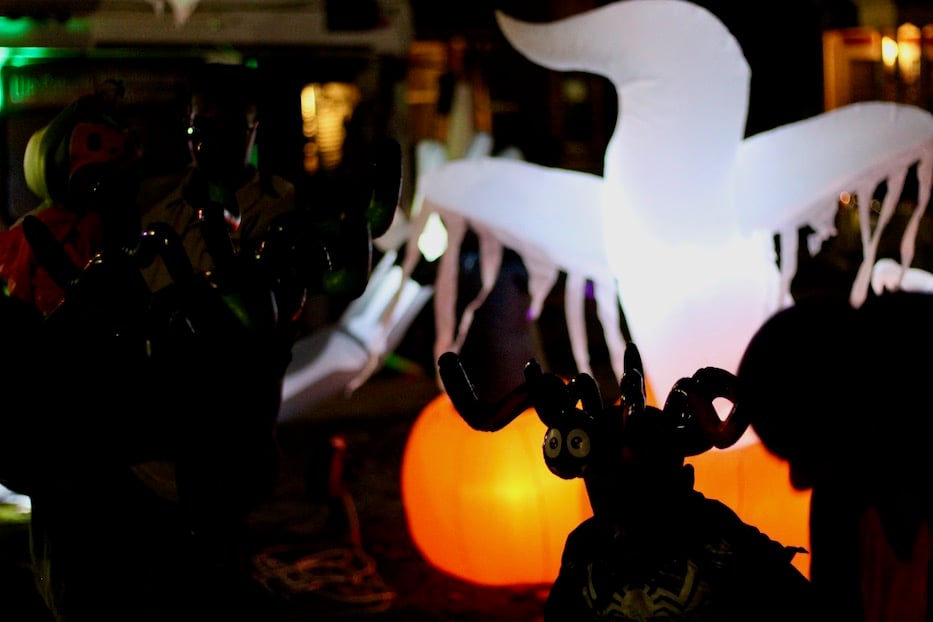 Top: Ice The Beef's Eliza Vargas at a popcorn station. Bottom: Games were part of the fun.
Raised in Edgewood, he said he misses the Halloween nights of his youth, when "we didn't have to worry about all this crazy stuff." While much of his work happens in Newhallville, he tries to bring a spirit of joy into the neighborhood when he can, he said.
"It was a different day and age," chimed in Lucky as he welcomed both kids and adults into the transformed bus. "We didn't have to worry so much about safety."
Around them, Halloween snapped back to an older version of itself, with the neighborhood at its center. Outside the cafe, Ice The Beef's Eliza Vargas handed out bags of warm, freshly-popped popcorn that crunched as kids dug in. Dressed as Morticia Addams, Kenia Massey bobbed around the space, making sure everyone was taken care of.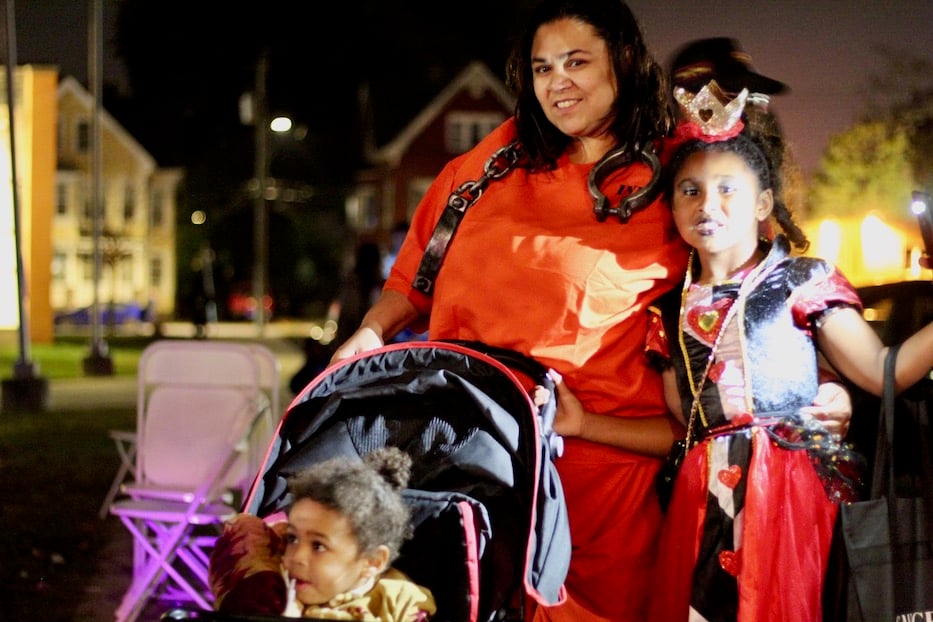 Semarie Flores with Kiara and Kyrie Turner.
As she walked into the parking lot, second grader Kiara Turner turned sharply, and headed toward a face painting station. Dressed as the Queen of Hearts—complete with a frequent theatrical flourish of "Off with your head!"—Kiara said that the best part of the night was coming home with candy.
Behind her, mom Semarie Flores pushed her infant son Kyrie in his stroller. A resident of the Hill neighborhood, Flores said she heard about it by word of mouth.
"It's the fact that the community gets together," she said.
Those smiles and calls of appreciation abounded. At the far end of the parking lot, George Nelson bounced his baby cousin Nilah in his arms as she began to whimper, dressed in a costume that made her look like a decorative squash. Born and raised in New Haven, Nelson said he didn't always feel safe going out on Halloween.
"This is beautiful," he said as a wave of kids came over to the same car, where Craig Plunkett was handing out candy.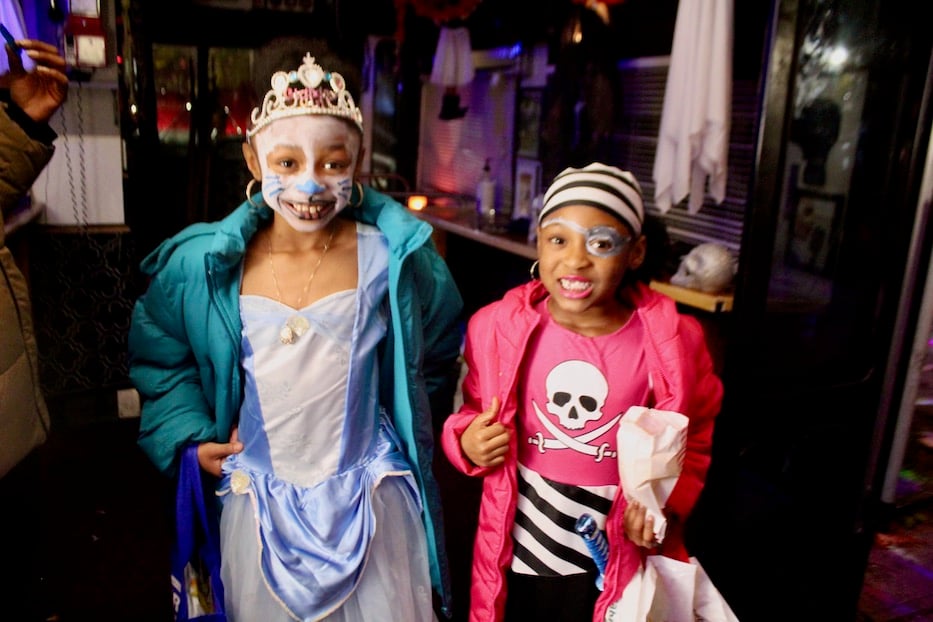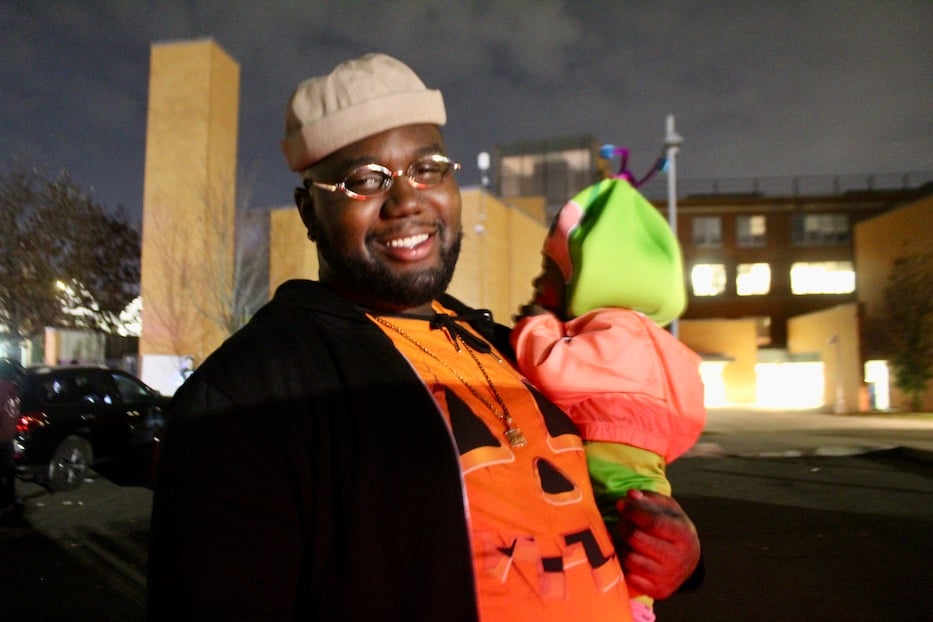 Top: Havana and Royal. Bottom: George Nelson and Nilah.
Back in the cafe, sisters Royal and Havana said they love Halloween each year—not for the candy, but for the chance to celebrate loved ones who have passed on. Each day, they and their mother Queen-Ra El Bey say a prayer for the ancestors who have passed on, including great-grandparents, grandparents, cousins and an uncle who transitioned last year.
"This day just helps the family," El Bey said.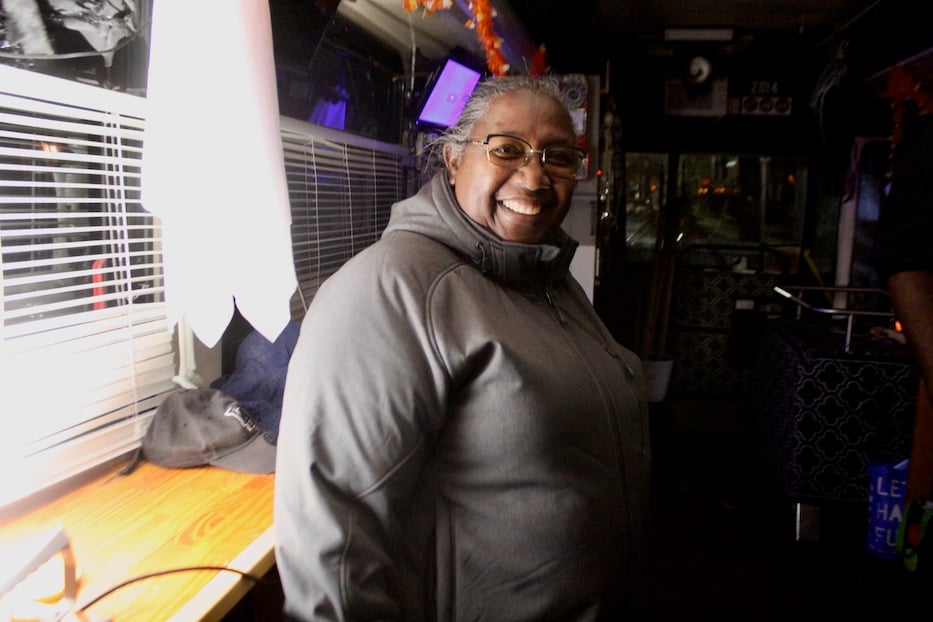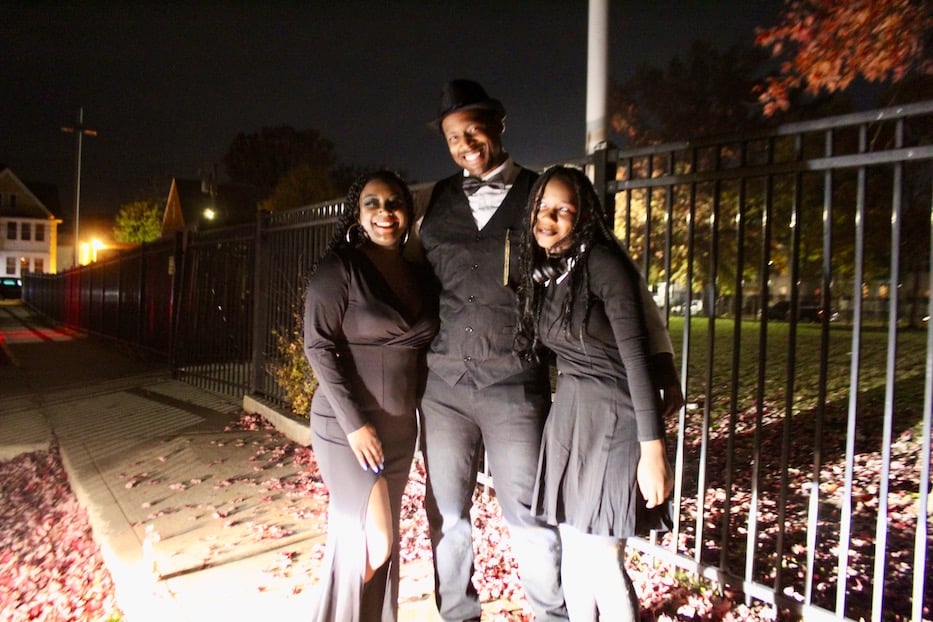 Top: Beers Street neighbor Vanetta Smith. Bottom: The Masseys as the Addams Family.
Coming in behind them, Beers Street neighbor Vanetta Smith praised the Masseys for dreaming up the event. Three decades ago, Smith moved to New Haven from Saint Kitts and Nevis in the West Indies. She raised her kids in Edgewood, watching as trick-or-treaters dwindled in the neighborhood. She remembered Halloween activities that have long since disappeared, including a costume party for kids in the now-defunct Chapel Street mall.
"I really, really love this," she said. "Something like this is good for the community."