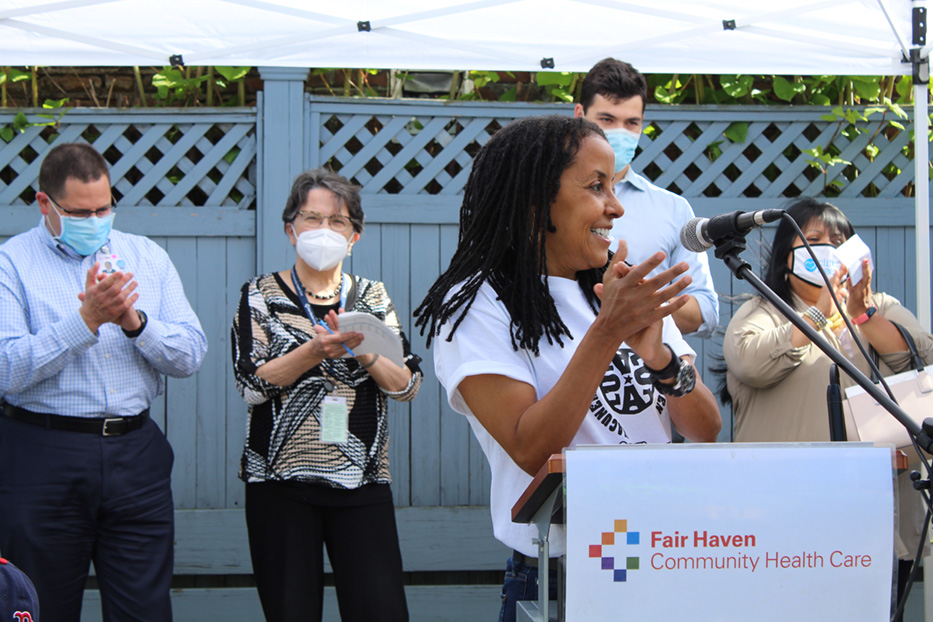 Fair Haven | Unidad Latina en Acción | Fair Haven Heights | COVID-19
Kica Matos greets the crowd to celebrate the Vaccinate/Vacúnate Fair Haven milestone.
Alex Guzhnay realized what canvassing for Vaccinate/Vacúnate Fair Haven! (VFH) was all about early in its grassroots campaign. He came across a Spanish-speaking mother and son, both with severe preexisting conditions. The mother wanted the vaccine for the family, but was not yet eligible because of state guidelines. He jotted down their information and returned once she was eligible.
"It is radical that someone knocked on the door and it's someone who looks like them and speaks the same language as them," he said. "It makes people more comfortable and likely to listen to you."
Wednesday, community organizers, elected officials and healthcare workers championed that grassroots approach, which has resulted in 5,648 doors knocked by almost 450 volunteers. Since March—when the Vaccinate/Vacúnate Fair Haven! campaign first began—Fair Haven Community Health Care (FHCHC) has vaccinated 4,286 people. Of those who have received at least one shot, 70 percent have been people of color. Of those who have completed a full series of shots, 50 to 60 percent were of color.
The neighborhood's numbers are in stark contrast to vaccination rates for Black and Latinx communities across the state. In the state, 50 percent of age-eligible white residents have been fully vaccinated, compared to 28 percent of Black and Latinx residents respectively.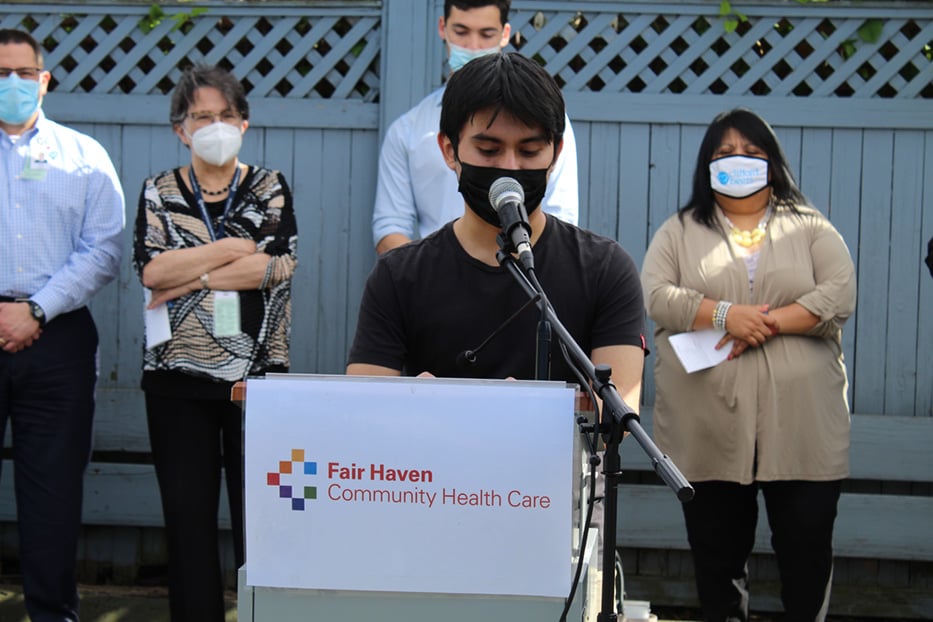 Alex Guznhay speaks about his experiencing canvassing with the campaign
Overall, FHCHC has vaccinated more than 18,000 people since January. The zip code data of those vaccinated is not yet available, but the health center's goal remains to vaccinate all 17,141 Fair Haven residents, 83 percent of whom are people of color. Many residents are undocumented, and many are essential workers.
"This is proof that we can get people of color vaccinated if we tackle accessibility and have conversations where our people are in our neighborhood on our porches in multiple languages," said organizer Kica Matos, who has spent years advocating for immigrant rights in New Haven and across the country. "This, mi gente, is what community health looks like."
Volunteers launched the campaign in March, as an effort to address a critical healthcare need in a chronically overlooked and under-resourced community. Partners involved included Unidad Latina en Acción, Black and Brown United in Action, Clifford Beers, the Fair Haven Management Team, and over a dozen others.
But the effort stretches back to earlier this year. In January, FHCHC Chief Executive Officer Dr. Suzanne Lagarde despaired looking at vaccination numbers. She knew that people in her own community were not the ones being vaccinated. The complicated signup through the Vaccine Administration Management System (VAMS) required signing up in English and with an email, leaving many in her community with no way to sign up for the vaccine. The state's age-based system, meanwhile, did not leave space for essential workers, many of whom are people of color.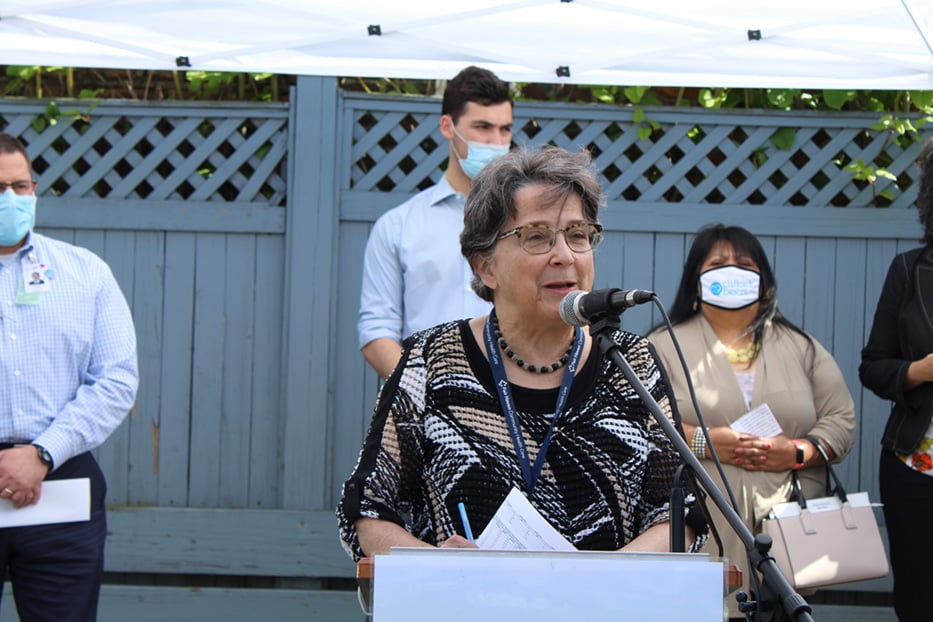 FHCHC Chief Executive Officer Dr. Suzanne Lagarde
At the time, only 30 percent of all people vaccinated were nonwhite. At the clinic's mass vaccination site at Wilbur Cross High School, she was seeing white, suburban people who did not live or work in the city.
"How am I going to get to the people who are two blocks away when there are people coming from 20, 30, and 40 miles away," she said. "What I really want are the people down the street, so I picked up the phone and said to Kica, 'Do you have any ideas?"
The campaign was wildly successful. More than 430 volunteers walked Fair Haven's 102 streets, covering more than a 70-block radius over the course of two months. David Weinreb, an educator and Fair Haven Community Management Team member who helped spearhead the effort, said the process extends beyond door-knocking.
"There is more to do; public health does not end with a vaccine," he said. "A community should not only show up for its institutions when in crisis. We are volunteers affirming our readiness and resolve to continue advocating for the health of our neighbors."
As part of the campaign, Fair Haven Community Health Center also reached out to leaders from the Semilla Collective, Integrated Refugee and Immigrant Services (IRIS), New Haven Legal Assistance, Apostle Immigrant Services, Junta for Progressive Action, Elm City Communities, and HAVEN Free Clinic to spread the word and schedule appointments.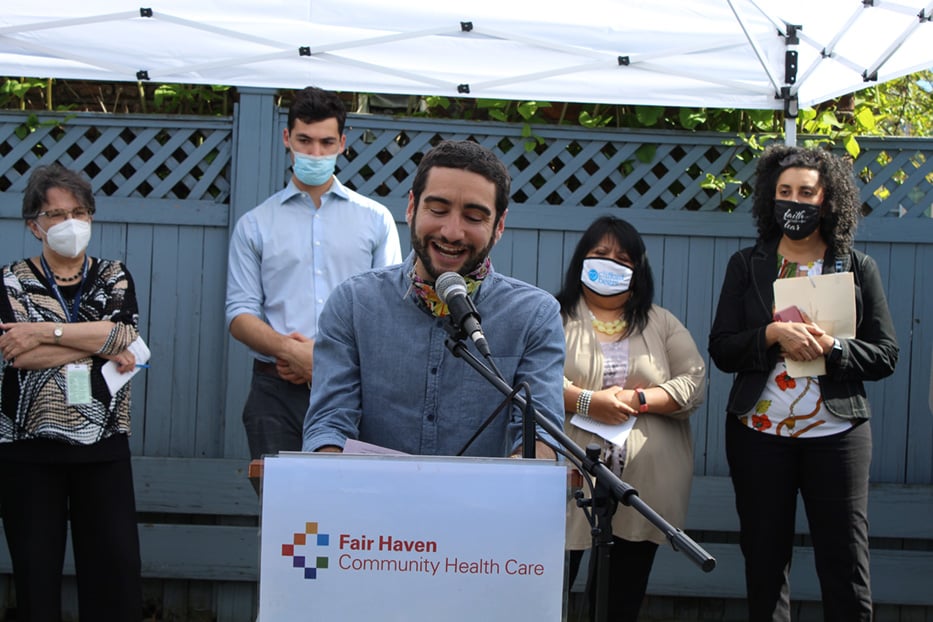 David Weinreb one of the organizers of the campaign.
Weinreb said he is both surprised and unsurprised by the results of the campaign. He knew that the community would step in to take care of itself, but the results are still outstanding compared to the state's rates.
"Fair Haven Community Health Care is an anchoring neighborhood powerhouse, and it needs all of us, including the Connecticut State Department of Public Health, to consistently support, invest, and amplify their work," he said.
Going into the summer, he spoke about the need to vaccinate people who have either fallen through the cracks or have chosen not to get the vaccine. Instead of alienating them, he suggested being sensitive and careful as possible when working with them.
Vaccination rates have slowed down nationwide, in part because many Americans are still hesitant to receive the vaccine. Last week the clinic saw a number of no-shows for vaccine appointments. After the news broke that the Johnson & Johnson vaccine was linked to some rare blood clot cases, people got scared, Matos said. She echoed Weinreb's sentiment to address fears and meet people where they are. There are plans to host more pop up sites, including a mobile clinic at the Ferry Street C Town Supermarket. That will be part of Vaccinate Fair Haven 2.0—the next phase of the campaign.
Miriam C. Grossman, a volunteer and moderator for the popular Facebook Group New York / Connecticut / Massachusetts Vaccine Hunters, said she has also seen pushback against the Johnson & Johnson vaccine. As a result, she has been guiding people to vaccine sites based on their preferences.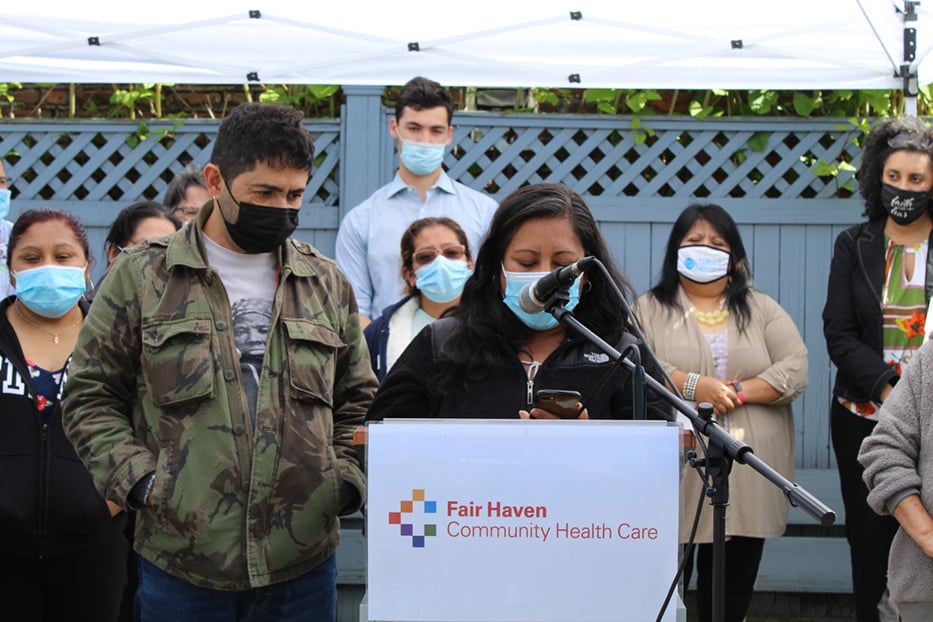 John Lugo (left) and Sophia Tecocoatzi (right) representing ULA.
For members of ULA, the vaccination efforts were personal. Earlier this year, ULA member Nora Garcia died of Covid-19. A Fair Haven resident, Garcia worked as a subcontractor at Yale New Haven Hospital. ULA Co-Founder John Lugo believes it led her to contract the virus while at work.
At the time, she was not eligible for the vaccine because she was a subcontracted employee, said Lugo. She died at the age of 42, leaving behind her husband and three children.
"If the system doesn't do it, we have to do it ourselves," he said.
ULA member Sophia Tecocoatzi became involved in the campaign to honor Garcia's memory. She herself was vaccinated through the campaign. As more and more people in the community have received the vaccine, she's been seeing some long-term holdouts change their minds about the vaccine.
FHCHC is currently administering the two-dose Pfizer vaccine and the one-dose Johnson & Johnson vaccine. For more information about scheduling visit their website here. The center is also preparing to vaccinate children between the ages of 12 and 15.