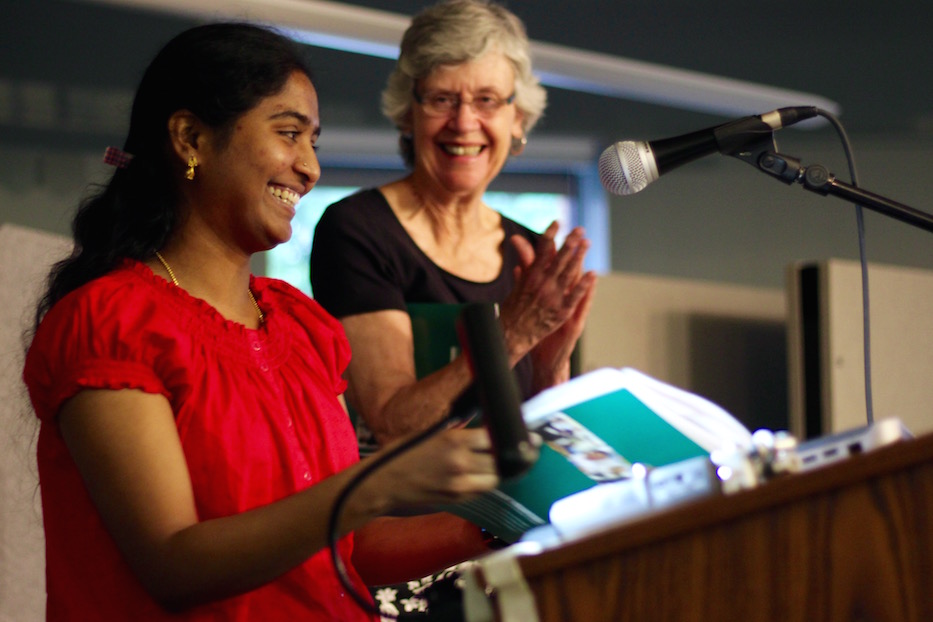 Books | Downtown | Arts & Culture | New Haven Free Public Library | Literacy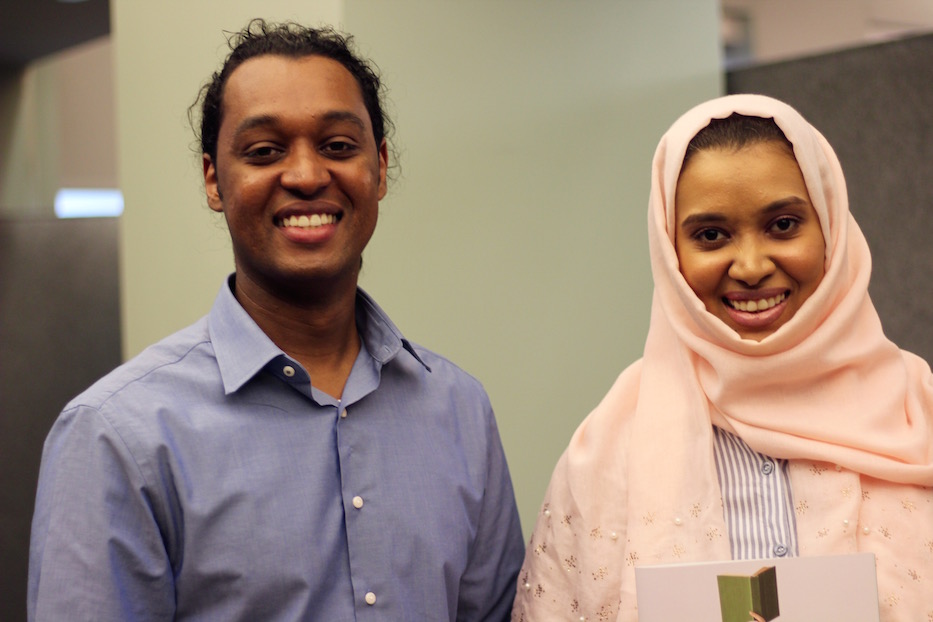 Sarah Al Neel (on right) with her brother, Ahmed, at the reading. Lucy Gellman Photos.
Sarah Al Neel walked up to a podium at the New Haven Free Public Library, and prepared to take the audience on a whirlwind tour of the globe.
She spoke, and a bird-boned woman was leaning over her sewing machine in China, hoping to make ends meet. She took a breath, and a church in New York filled with parishioners lifting their voice in prayer. More words, and women crowded around an oven in Palestine, pulling out steaming discs of fresh bread.
"These are the pictures I see behind the walls," she said. "Now, what do you see behind them?"
Wednesday evening, Al Neel was one of several new and longtime New Haveners to read at "Hear Our Voices," an annual presentation of student work from Literacy Volunteers at the downtown branch of the New Haven Free Public Library. Over the two hour event, eight students read on topics ranging from their own migration stories and time in the U.S. to what they have learned at Literacy Volunteers itself.
In addition, two volunteer tutors read in place of students who were unable to make it. Close to 50 attended the event.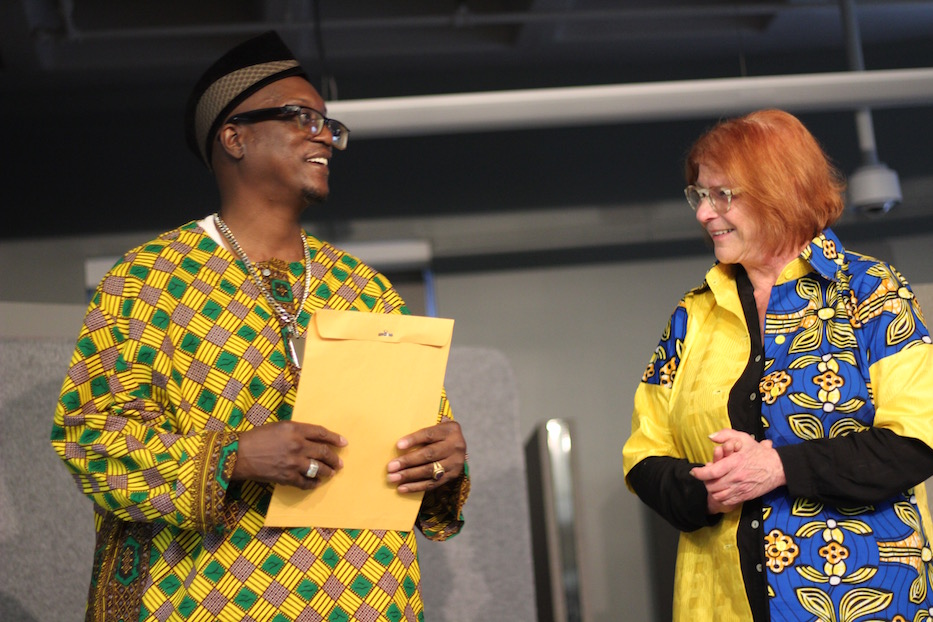 Eddie Edwards, who read "What I Am Accomplishing," with tutor Enid Sherry.
"It's people like you who show America in its best light," said Kathleen McKenna, who coordinates the English for Speakers of Other Languages (ESOL) program with Gateway Community College. She praised students, tutors and staff for their work throughout the year, calling it a testament to the value of adult education.
Founded in 1976, Literacy Volunteers works with adult students in math, ESOL, and literacy, using language acquisition as a key to greater personal and professional success. As it has grown to sites in both greater New Haven and Wallingford, Meriden and the Naugatuck Valley, the program has come to serve over 1,500 adult students each year. It has close to 300 volunteers, who tutor at various locations throughout the region.
Last year, Executive Director Lou Perno said that students enrolled in the program came from 67 different countries.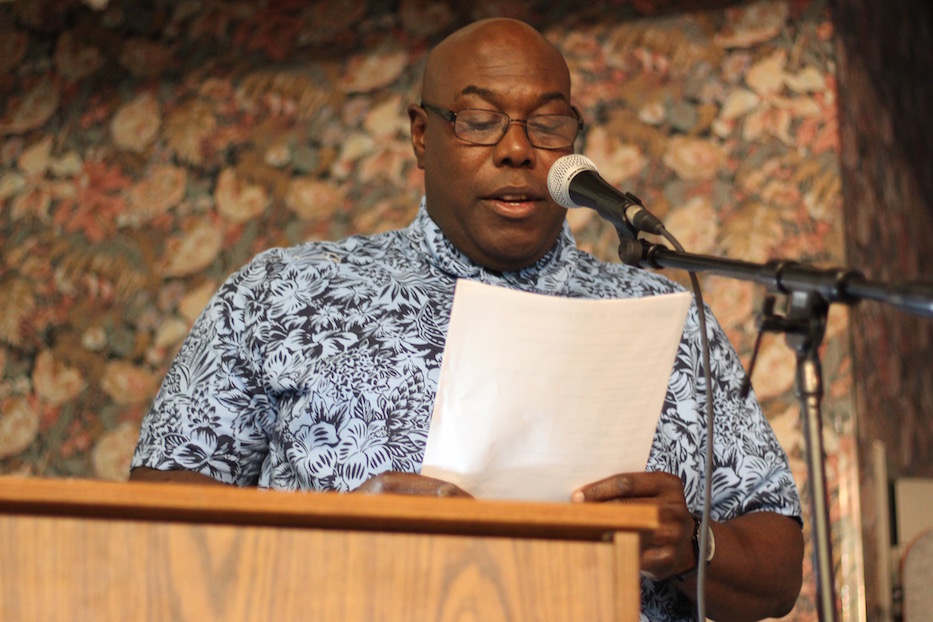 Stephen Jones: "In the future, I do not want to let my problems distract me from my goals."
Taking the mic, several students centered their readings on that learning, praising the organization and placing themselves at the very heart of the work that it does. Opening the evening with the short essay "My Dreams For The Future," Stephen Jones, Sr. described both his goals for the next years—to write more fluidly, with greater language acquisition—and the life into which that fits.
Currently, he is a member of the men's ministry at his church and an aspiring GED graduate. He said he had been inspired in part by the story "It's Never Too Late," penned by a man named John Corcoran who learned to read at 48 and then started a literacy foundation to continue the work that had so empowered him.
"In the future, I do not want to let my problems distract me from my goals," he said, family and friends murmuring in assent. "To be a better man and to get a GED."
"Stephen is a positive, confident and very dedicated person who lives his life through strength and wisdom," said volunteer tutor Rosemary Benivegna, who took the stage with Jones during his reading.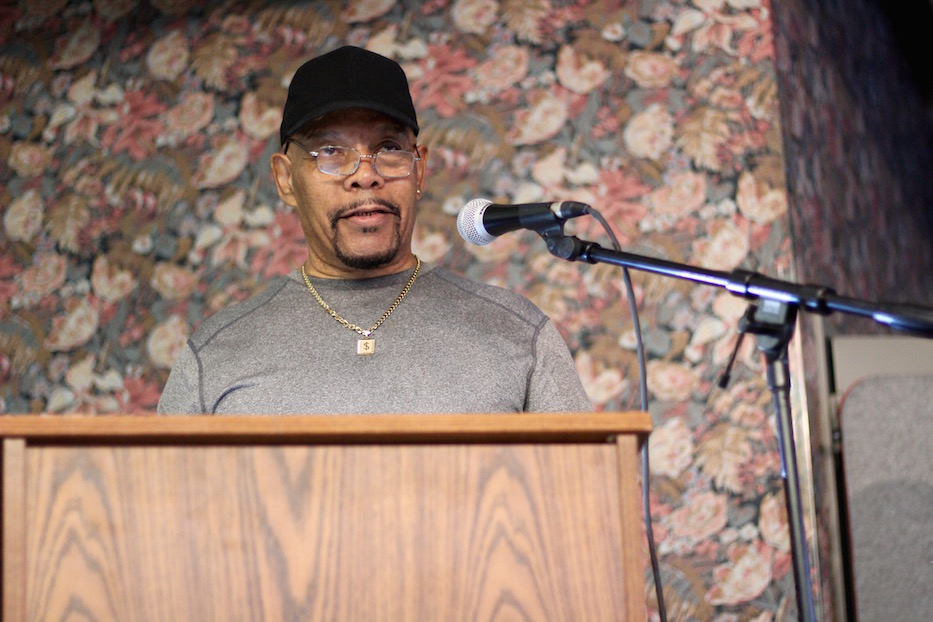 Charles Mitchell, who appeared with tutor Nina Ruckes.
Student Charles Mitchell spun his own experience into wise counsel, encouraging his fellow classmates to stay the course with a piece entitled "My Advice."
He took the audience back, describing the frustration he felt years ago when "I didn't have the attention span to sit and read" because he so struggled with the text before him. As he progressed at Literacy Volunteers, he took on more voluntary reading assignments outside of his workbook, sticking around to read news articles and updates in the sports section. Now, he said, he reads before bed to help ease into sleep.
"I find that reading is a form of communication, and if you don't have that, you can get lost in this big old world," he read. "You have to know how to read and how to read well."
Digging into the essay, he encouraged fellow students to challenge themselves with new reading assignments. "Use the dictionary as if it is your Bible," he said to some nods and a few quiet chuckles around the room.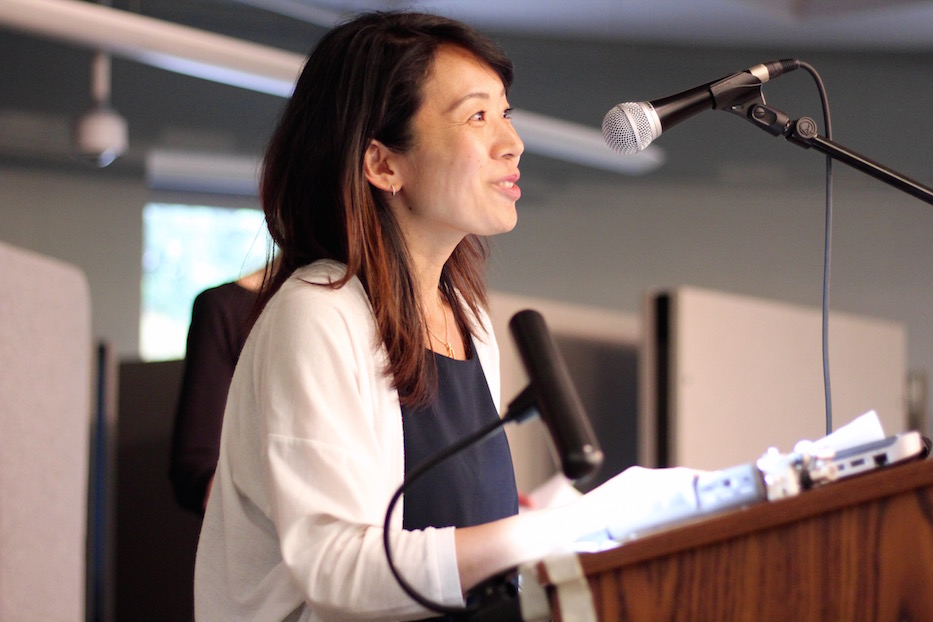 Rumi Taniguchi, a pediatrician from Japan who read a haiku titled "Autumn Leaves."
As a developing reader, he explained that that strategy has helped him succeed. In his own life, he said, he has taken particular joy in finding new words that were once foreign, and are now exciting—like 'astute,' 'proprietor,' 'philanthropist' and 'unequivocal' just to name a few.
"It doesn't matter how old you are, you can still learn to read," he said. "Reading can be fun. Never give up on reading."
Other students, in some of the evening's most moving moments, gave attendees a glimpse into their own worlds, which have expanded with the power of the read and written word. Reading with equal parts humor and candor, student Krishaveni Veerplati recalled "My First Terrible Cold Day In New Haven," taking listeners on an icy trek through the city in the wake of a perilous January storm that left whole neighborhoods without power.
After coming to the United States from India last year, she said New Haveners warned her about the winter months, and expressed concern for how she was faring. But until January of this year, neither she nor her husband thought it was too cold. Then a winter storm hit the city, leaving slippery streets, downed power lines and tree branches enveloped in ice in its wake.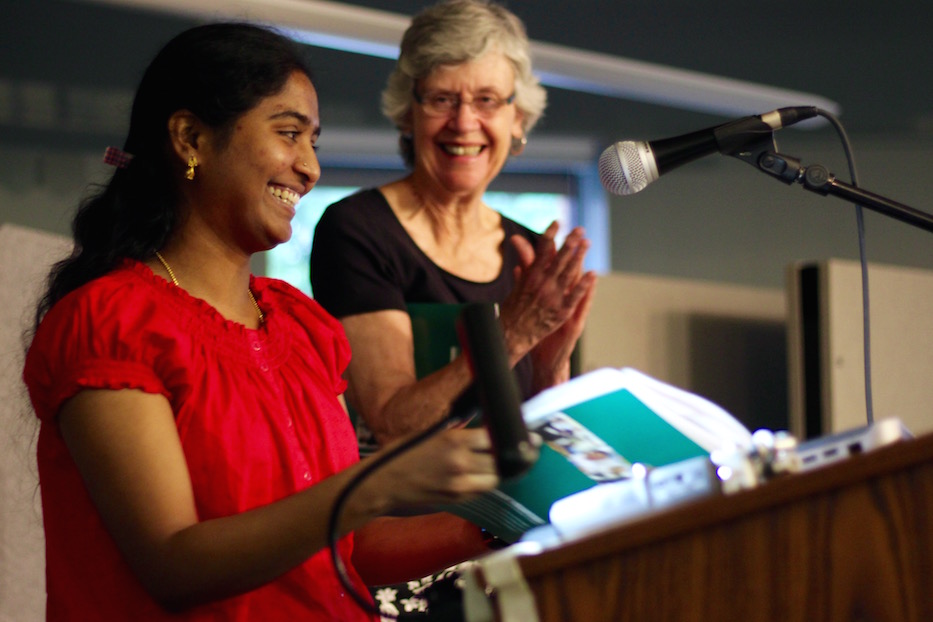 Krishnaveni Veerplati with tutor Stephanie Fitzgerald.
The couple was among thousands in New Haven and Hamden who lost power and heat. When the two tried to get a ride from a friend, they discovered his car door was frozen shut. When they realized they'd have to wait for the heat, they snuggled under all the blankets they had at home.
"That was my most memorable cold day in New Haven," she recalled. The story had a happy ending that got a few quiet cheers and resounding applause: the heat came back on, and the landlord brought by two space heaters in the time that it took to fix it.
Or Hari Madougou, who had sewn matching outfits with bright, printed cloth for herself and tutor Enid Sherry for the occasion. As she read, she unspooled the story of her life in the United States, a journey that began in 2003 when she immigrated from Togo. She learned English by watching children's cartoons on television. In the 16 years since, she and her husband have welcomed three children, moved into a house built by Habitat for Humanity, and become citizens. She attended school and learned English.
"Now I know that dreams are possible," she read from her piece. "First a person must have a dream, and then they must follow a road to get there."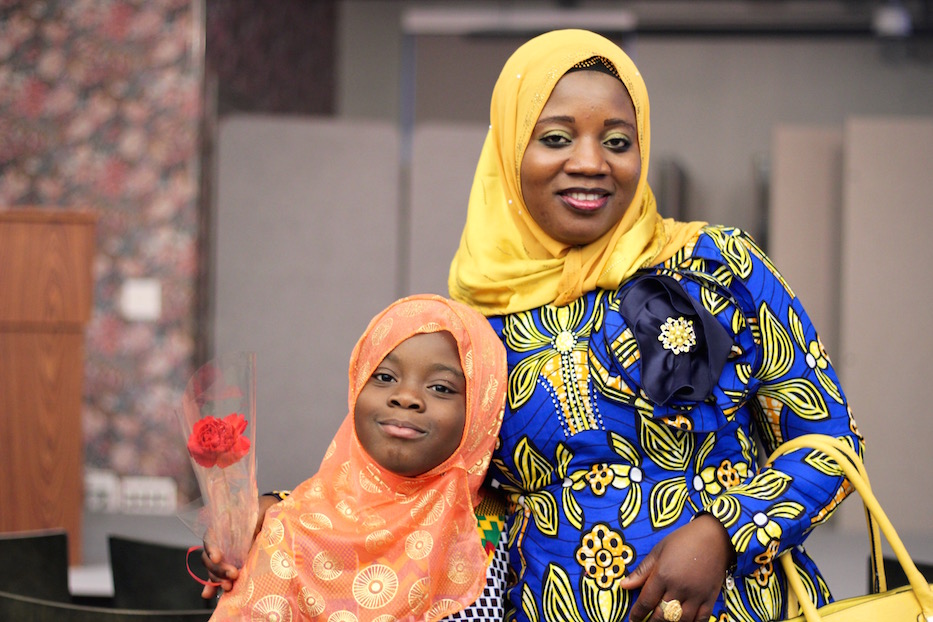 "Now I know that dreams are possible. First a person must have a dream, and then they must follow a road to get there."
Al Neel, meanwhile, took a different approach. Reading from her essay-meets-prose-poem "What Is Behind The Walls?" she took the audience on an epic journey without ever leaving the library's community room. Looking beyond "the continents, and between the islands, and across the oceans and beyond the seas," she painted a world knit together by its most pedestrian moments, exceptional in their normalcy.
"I see a family watching a comedy movie on Sunday evening in a warm apartment in Cairo," she read from one section. "I see a group of workers in the early morning in the farm market in Mexico. They are cleaning the vegetables and the fruits. I see a soccer team coming out from the building, riding the bus in Barcelona."
"I see children in a hospital in Syria," she read a little later in the piece. "All their faces show tears. I hear the sound of pain."
Onstage with her during the reading, tutor Roy Ogren explained that he had been thrilled—and moved profoundly—last year, when he suggested that students in the ESOL program at Gateway Community College keep journals, and Al Neel began turning in poetic reflections on the world around her.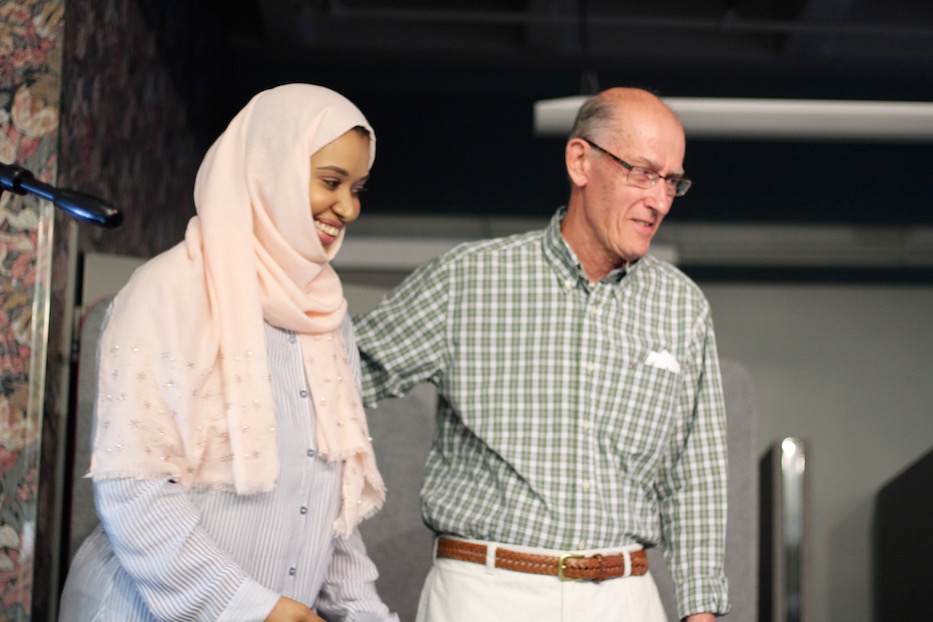 Sarah Al Neel and tutor Roy Ogren.
After the reading, Al Neel said she was inspired to write the piece after finding herself thinking about the inevitability of global connection. An immigrant from Sudan—she has only been taking classes since last fall, after a stay in Chicago—she explained that "I tried to make it [the piece] around the world, I tried to make it all over."
In addition to her work at Literacy Volunteers, she has received a certificate in Arabic lauding her piece from the Misk Foundation, which she proudly showed off on her phone Wednesday night. As part of her work, she said that the foundation has translated the piece into Arabic.
"When I be in the car or walking, I look at the windows and I think, 'what is behind those windows? What is behind those walls?'" she said. "I hope for all people to be safe."