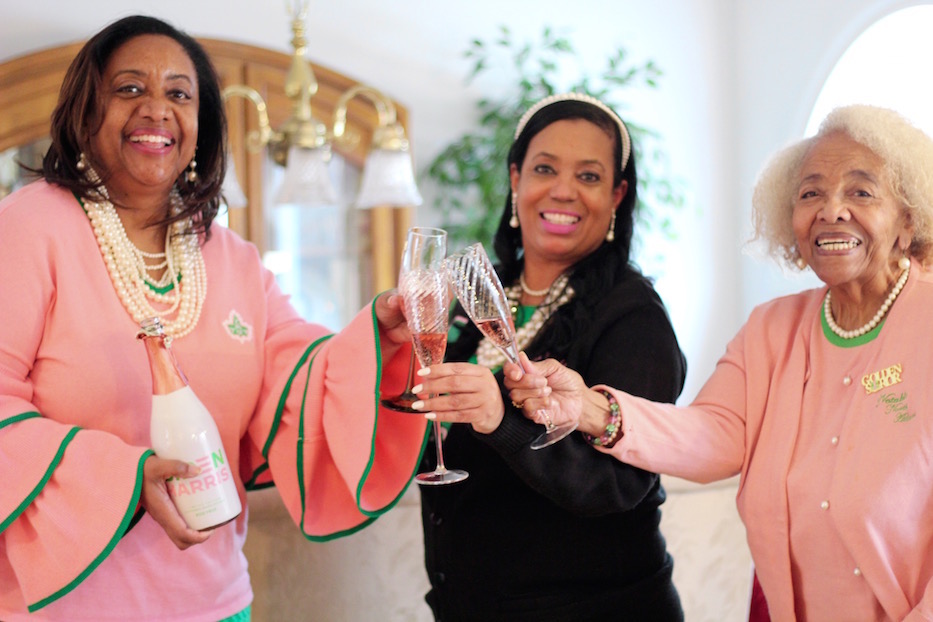 Culture & Community | Arts & Culture | Westville | COVID-19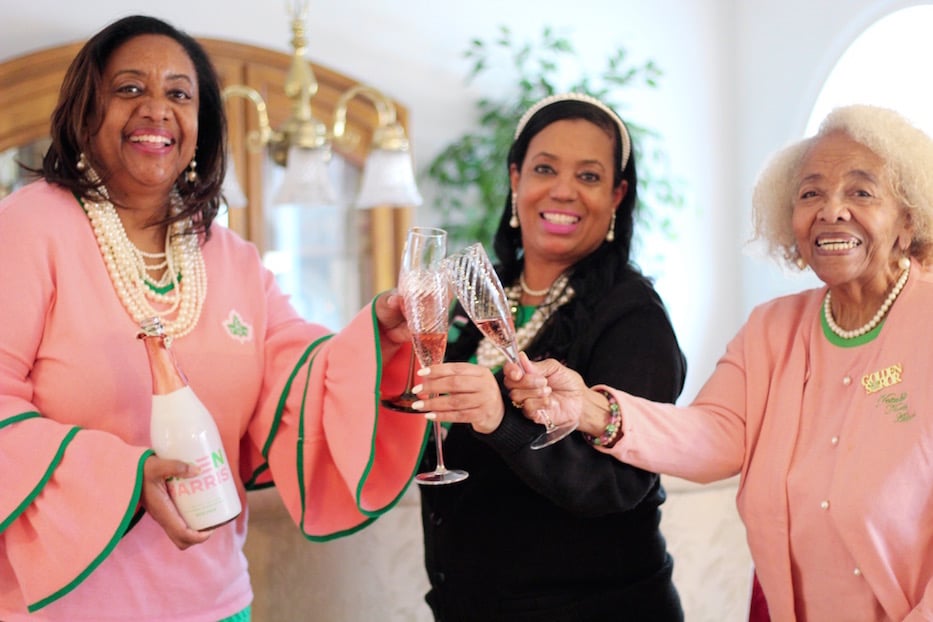 Elicia Pegues Spearman, Dori Dumas and Cheryl Pegues. The three have all served as presidents of the Theta Epsilon Omega Chapter of the Alpha Kappa Alpha Sorority, Incorporated. Lucy Gellman Photos.
As Kamala Harris became the first Black, South Asian, and woman vice president Wednesday, Elicia Pegues Spearman held out a pink-and-green bottle of champagne. She laughed as the clean pop of the cork filled the air. Her mother Cheryl Pegues, who thought she would never live to see a Black woman take that office, held out her arm as rose-tinted bubbles filled the glass.
Spearman is a member and past president of the Theta Epsilon Omega chapter of the Alpha Kappa Alpha Sorority, Incorporated, which has been active in New Haven since 1965. Wednesday, she gathered with her mother, daughter Kaila, and soror Dori Dumas to celebrate Joe Biden and Kamala Harris' inauguration as President and Vice President of the United States. For each woman present, the moment came with a mix of emotions, and a tidal wave of joy.
"We're looking forward to Joe Biden and Kamala Harris educating our populace about the fact that we're different colors, different genders, but we're also more the same," Spearman said on the lawn of Dumas' home in Westville, as the three sorors took pictures outside. "We all want the same thing—for our families to thrive and survive. For us to be able to drive down the street and not get killed if we get stopped. We want some equity."
In part, that pride comes from Harris' place as not only the first Black and South Asian woman to hold the position, but also the first soror to hold it. Harris joined the founding chapter of the AKA Sorority at Howard University in 1986, 78 years after it was launched and three decades before she shattered a glass ceiling. Last Friday, she spoke at a virtual celebration for its 113th Founders Day.
In a normal year, all three sorors said they would have headed to Washington to see history unfold in person. Their sisterhood is a balm in the midst of their professional and personal lives: Dumas is the first female president of The Greater New Haven NAACP, Spearman is the general counsel and chief human resources officer at Quinnipiac University, and Pegues championed education for decades as an administrator at Gateway Community College before she retired. All three have served terms as president of the Theta Epsilon Omega chapter and all three are active in the sorority's mentorship and educational programming.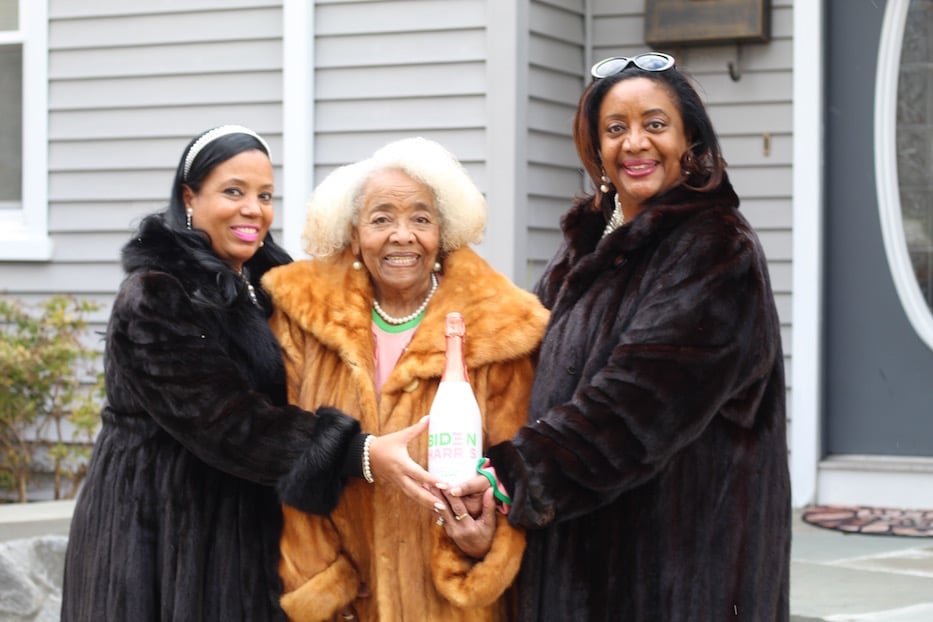 And so on Wednesday, "we did not let it [the pandemic] dim our light," Dumas said. Instead, they joined fellow AKA chapter members on Zoom for a Covid-safe watch party. The four, who are effectively in the same "pod," then gathered afterwards on Dumas' lawn for a short celebration. Spearman said she expected festivities to continue well into the night on Zoom, FaceTime, and her phone, where a group text with her AKA sorors has become a lifeline during Covid-19. Pegues joked that she had already recorded several news clips to replay that evening.
"We're gonna go all night," Dumas said. "This is important for all Americans, I would hope, but it's a special moment in history for members of Alpha Kappa Alpha."
Dressed in matching pink and green sweaters, green knit pants, hot pink medical masks, pearl necklaces and at least one pair of pink converses, all three called the day historic. Dumas pointed to Biden's inaugural address as a defining moment, in which she felt that something tangible had shifted after four years of Donald Trump and the violence of January 6.
Beyond a return to civility, she said she is excited for the administration's legislative priorities, including job creation and a renewed commitment to healthcare for all Americans. She also praised Dr. Jill Biden, who has said she will continue to teach during her time as First Lady.
"We have hope again," she said. "I love that our President Joe Biden—oh, that feels so good to say—along with our soror, Madam Vice President Kamala Harris, will be taking us to the next level. Will be repairing a lot of what has happened. We know there's a lot of work ahead. We're up for the challenge."
Pegues said she has been especially buoyed by the diversity of Biden's cabinet. As a little girl growing up in West Virginia, she said she couldn't fathom a Biden-Harris victory: her town still enforced Jim Crow-era, segregationist policies. She was overjoyed 12 years ago when Barack Obama took the oath of office. Wednesday, she took it all in as Harris took the oath of office from Justice Sonia Sotomayor, on a bible that once belonged to the late Justice Thurgood Marshall.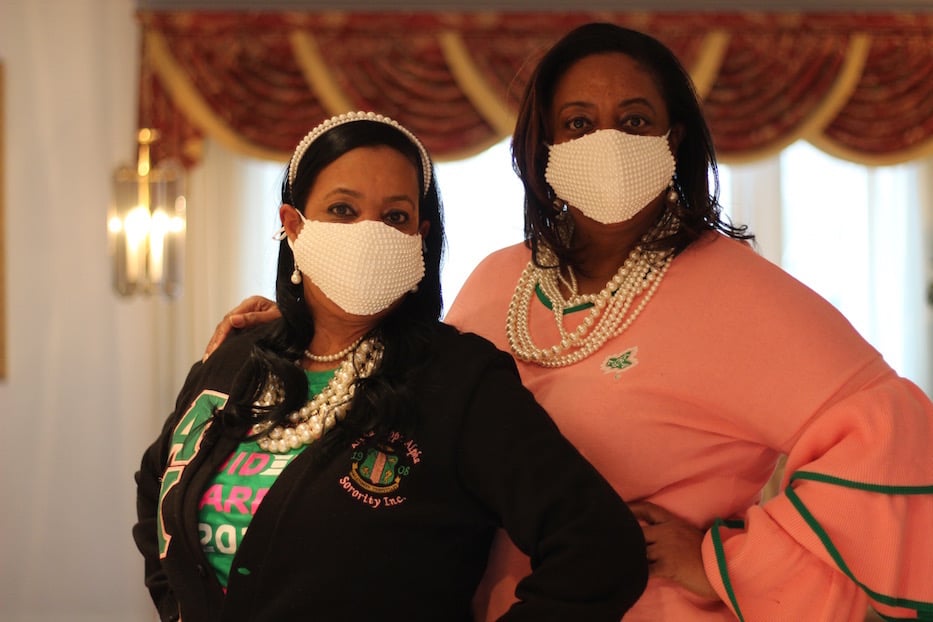 Dumas also gave Spearman a pearl-studded mask as an early birthday present.
Pegues added that she was also moved by a commitment to faith throughout the inauguration ceremony. When AKAs gathered outdoors to celebrate Harris' victory last November, she led the group in prayer before a ritual stroll through the parking lot of Wexler Grant School. Wednesday, both she and her daughter said they believe many will be praying for the safety of the president and vice president during this transition period and for the next four years.
"Our motto is 'Service To All Mankind.' And I see that Joe Biden is trying to make this Democracy a true Democracy," she said. "And that our creed, that all men are created equal, he's working toward that. It's gonna take a while, but our young people are there. And they're ready. And I don't think from this juncture they're going to step back."
Spearman said that while she plans to celebrate well into the night with her sorors over Zoom, text, and phone calls, she also has her eyes fixed on the future of legislation in Washington and Connecticut alike. Both she and Dumas said that they plan to hold legislators accountable on all levels of government, from healthcare and education to employment and food security. Wednesday, meanwhile, was reserved for hard-fought joy.
"This did not happen overnight, but it was worth the fight," Dumas said. "And we have to be in the fight. We have to keep pushing and demanding for what we know is the right thing. And I think we will see some change."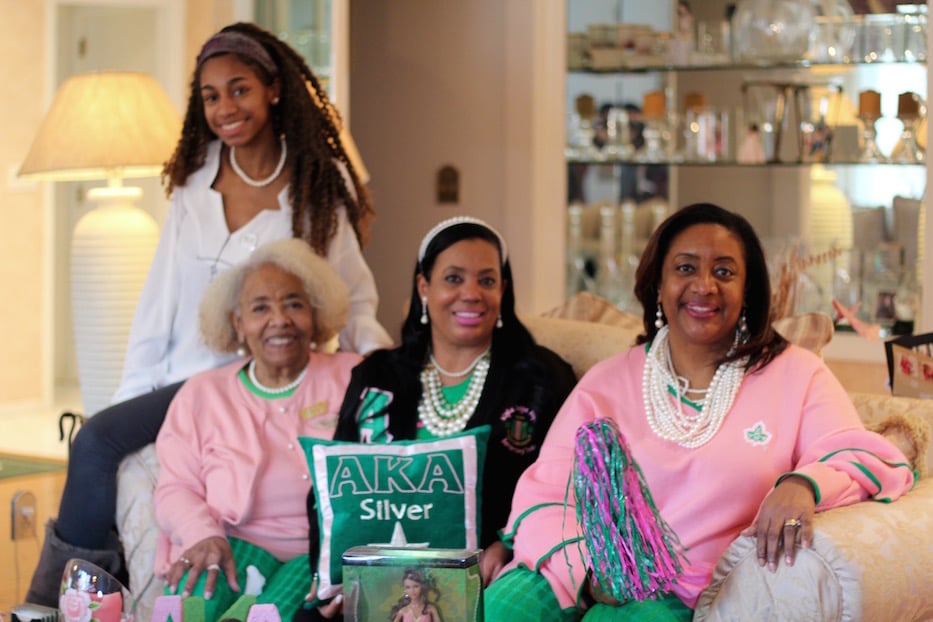 Outside, it had started snowing, a few big flakes falling around a bottle of champagne with the Biden-Harris logo in AKA colors. Inside the house, Hopkins School senior Kaila Cheryl Spearman—so named in honor of the family matriarch—looked up from an online political history class as her grandmother opened the door and shook off the cold.
Her class, dedicated to 21st century political history, had been going over the inauguration in real time. Pegues said that she learns new information every day from listening to her granddaughter talk about the injustices in the world.
"I know it's more surreal for my grandmother, my mom, and my godmother, because growing up, they didn't see a lot of representation in government," Kaila Spearman said. "Knowing that I'm just appreciative for it. It shows you that what you can do now, people thought wasn't attainable not that long ago."
To find out more about the Theta Epsilon Omega Chapter, visit its website.