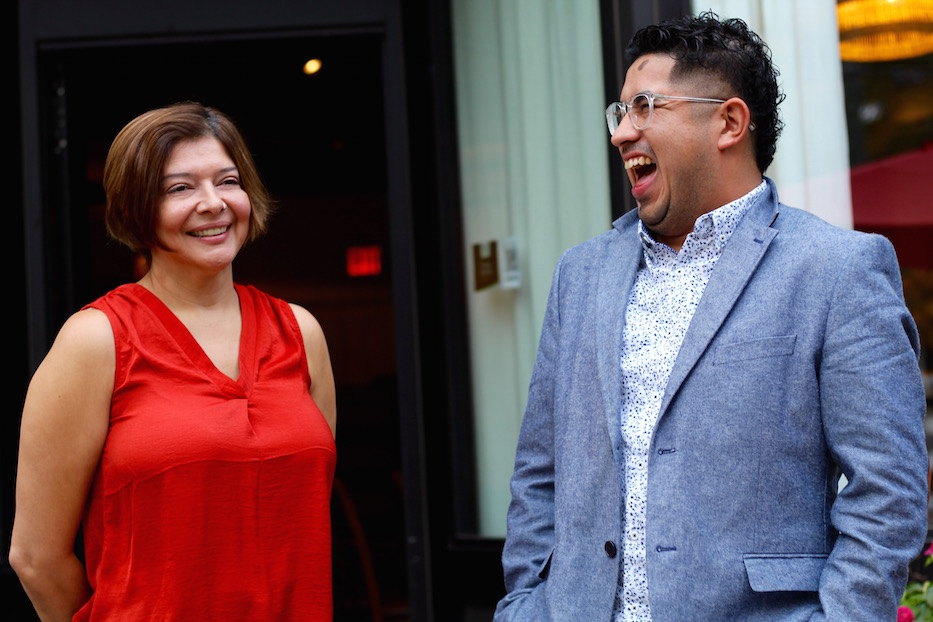 Economic Development | Arts & Culture | Culinary Arts | COVID-19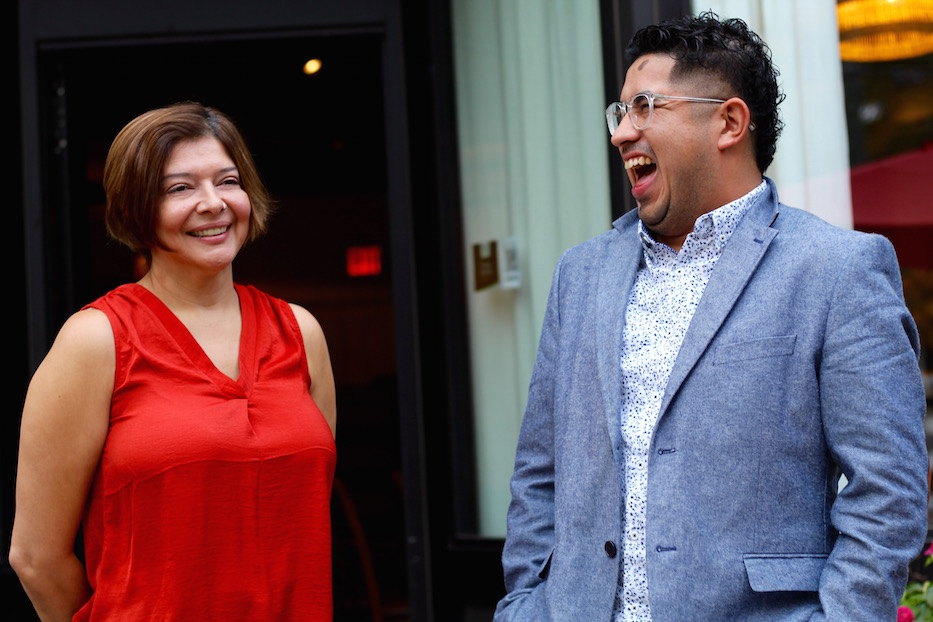 Ana De Los Angeles and Ricardo Garcia outside of the restaurant. Lucy Gellman Photo.
Ricardo Garcia is particular about his kitchen. He likes his scallops seared just so, still pink and juicy at the edges. His sliced steak glistens in the right lighting. And if there's not enough cilantro on a dish, he'll stop to scrutinize the plating and adjust the portions. Now, that extra measure of care is helping him open a restaurant in a pandemic.
Garcia—who most people know only as Chef Kachito—is the head chef at Amaru Peruvian Bistro, a new spot on West Rock Avenue that is part of Westville's growing culinary renaissance. After opening quietly three weeks ago, he and a team of just four cooks and waitstaff have watched business grow by word of mouth.
The restaurant is named after Túpac Amaru, the last Indigenous monarch of the Inca state and the namesake of an eponymous Marxist rebellion in the 1980s. It sits in the building next to Manjares Cafe, a restaurant and bar space that owner Ana De Los Angeles leased out earlier this year.
"My biggest hope is that customers come in here, that they enjoy themselves, and that I can bring them as close to Peru as I can," Garcia said in a recent interview at the restaurant, during a rare moment of quiet. "We make everything from scratch, from the salads to the desserts. It's Peruvian food through my eyes."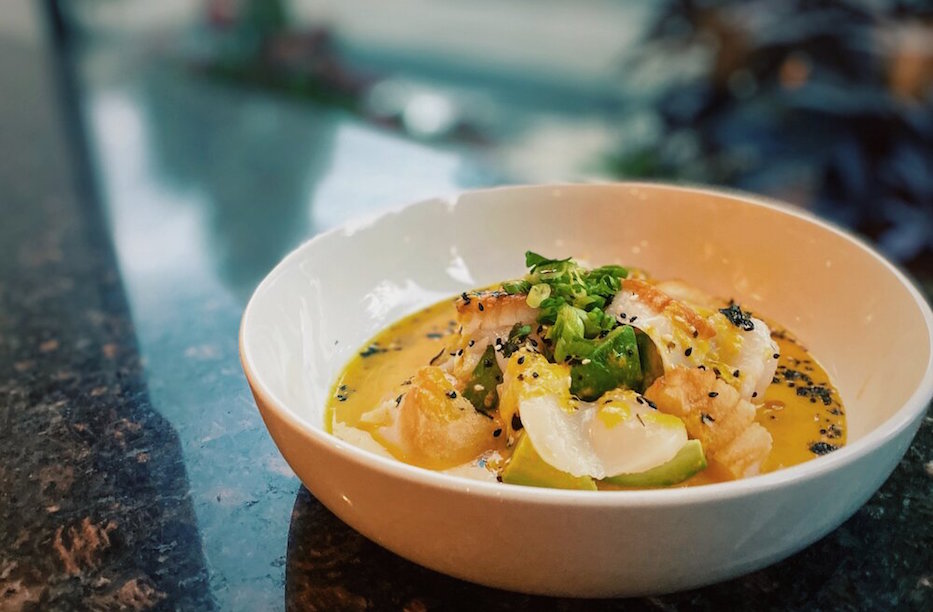 Scallops tiradito (seared scallops, ají amarillo, avocado, scallions, lime juice, furikake). Amaru Peruvian Bistro Photo.
Amaru has come together in just a series of weeks, thanks to the space's existing infrastructure and a kitchen that just needed a chef. In August, Garcia saw the space for the first time after stopping to get coffee and chilaquiles at Manjares. De Los Angeles came over to ask whether he liked the food, and he began telling her about his life in New Haven, which has included long soccer games on Ella T. Grasso Boulevard, a childhood in Fair Haven, and time in the kitchens at Heirloom, Zafra, and the short-lived Ceviche 181 downtown.
Originally a dishwasher at Heirloom, Garcia became a line cook after his boss caught him tasting the sauce for a dish and asked if he wanted to learn. He later went on to help open its partner restaurant, the Co-Op Restaurant and Lounge in Philadelphia. He explained to De Los Angeles that he wanted to one day open a Peruvian restaurant, as a nod to his wife Lisbeth's roots and mother-in-law's traditional Peruvian cooking.
De Los Angeles, who considers Peru her favorite place in the world, felt like the conversation was a good omen. In an interview, she called Peruvian food "the best food" across the globe, including cuisine from her native Dominican Republic. After a three-week trip to Cusco, Machu Picchu and Lima, she wants to return.
"It's my favorite food in the world," she said, adding that her confirmation was a beta test of Amaru's lomo saltado. "It's amazing. The conchas negras, la jalea, the ceviche, la leche de tigre—oh my God. That's in my opinion. Pero, in my opinion, that food is unbelievable. When he told me he cooked Peruvian food, I said 'Oh my God.' The restaurant has been waiting long enough. New Haven doesn't have a good place for Peruvian, and I think it's a good opportunity."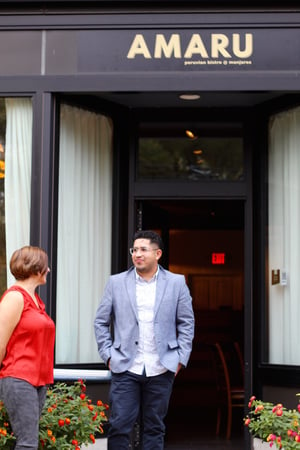 The two worked together to add new mood lighting, outfit the space for COVID-19 regulations, and re-stock the bar. From years of tinkering in professional kitchens and watching his mother-in-law prepare Peruvian food, Garcia knew exactly what he wanted on the menu, from steak skewers to a flounder ceviche.
A seasoned expert in cakes and patisserie, De Los Angeles offered to provide tres leches cake and flan. She also is perfecting alfajores, Peruvian sandwich cookies made with equal parts cornstarch and flour and filled with a sweet, carmelly milk-based confection called manjar blanco. Garcia called it the Peruvian cousin to dulce de leche.
In part, Garcia considers the restaurant an homage to both his mom, the late Silvia Castellanos, and his mother-in-law. Born in Guatemala, Garcia came to the U.S. when he was five, and settled in the city's Fair Haven neighborhood after a brief period in Los Angeles. As one of three kids raised by a single mom, he learned to cook when he was 15 and she was working double shifts late into the night. After a few misses—undercooked chicken thighs and soggy rice was the first that he can remember—he started to master the stove.
"She never let me down," he said. "She didn't yell at me. She just sat me down, and was like: 'Listen. Tomorrow, cook like this. Do that.' Now that I cook and I look back on that, she didn't discourage me. She was never like 'Oh, your food sucks.' That always sticks with me, now that she's not here. I always go back to that when I'm having trouble in the kitchen or I'm having a bad day. It lifts me up, and I know she'd be very happy. I know she'd get along with Ana [De Los Angeles]. They're almost the same."
Five years ago, Castellanos died from ovarian cancer. By then, Garcia was working full time in the restaurant industry, with dreams of operating a food truck in West Haven and New Haven. With New Haven chefs and colleagues Paulie Silva and Jeremy Gelman, he spent time honing his skills in Philadelphia, until the commute proved too great a strain on his relationship. After two years of training, he moved back to West Haven, where he lives with his wife and two teenage children.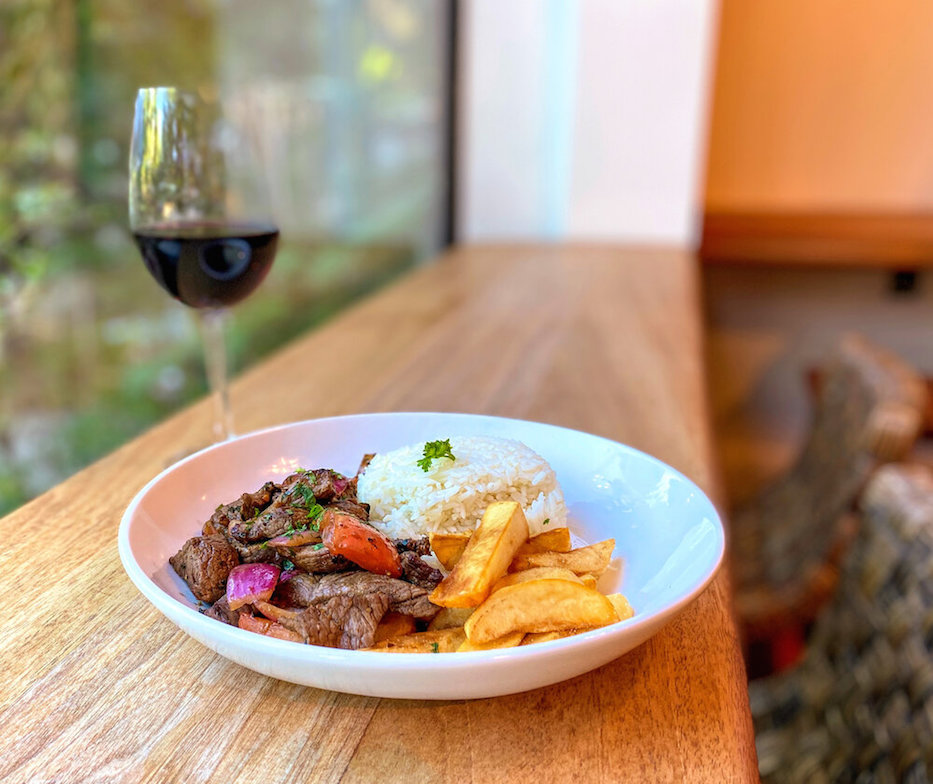 Lomo saltado (beef slices sautéed in onions, tomatoes, cilantro, soy sauce and served with white rice and yukon potato). Amaru Peruvian Bistro Photo.
Amaru also comes from the other matriarchs in his orbit. He met his wife Lisbeth, with whom he has a daughter and a son, 18 years ago while working in a factory in New Haven. After they got married, he would spend time watching his mother-in-law in the kitchen, her hands flying as she cooked up the same Peruvian dishes she learned to make decades ago, from a father who owned restaurants in Peru.
"Latin roots always come back," he said. "I'm just in love with Peruvian food. Not being Peruvian, I just appreciate it so much. everything that I've learned from her is the traditional way of doing things. She teaches me one way, and from me cooking at other places, I put my spin on things from what I've learned."
He keeps those women in mind every time he dons his apron and cooking garb, which includes a pair of bright white clogs that help him stand for hours in the kitchen. In under eight weeks, he has designed a food and drink menu that he called scalable, with local beer and a selection of food to which he intends to add seasonal options. He added that he's already looking at takeaway for those who are not comfortable eating in establishments.
The setup works, he added: he and Manjares share the same kitchen, with equipment that gets switched out when the restaurants rotate. Toasters, panini presses and flat-bottom skillets are replaced with woks and fryers. Garcia works with sous chef Robert Micho, a colleague of his from Heirloom that lost his job when the restaurant closed in March. On the menu, Garcia has rolled out dishes that make him feel close to Peru: arroz chaufa with slices of roasted red pepper so tender the skin is falling off, flounder ceviche, and anticuchos made with New York strip steak.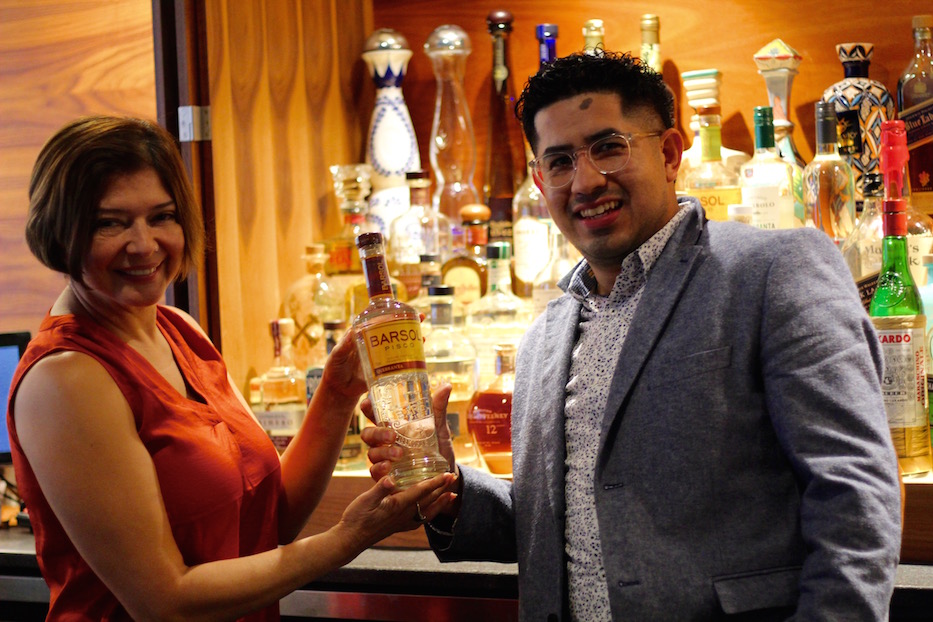 Pisco plays prominently on the drink menu. Lucy Gellman Photo.
His favorite of late is the scallops tiradito, where the scallops are just barely seared and bathed in a creamy, spiced ají amarillo sauce. Before he sends them off, he adds avocado and the flakes of seaweed, sea salt and sesame seeds that are part of a furikake spice mix. The recipe is his spin on the traditional dish.
He joked that his wife and mother-in-law, who come to the restaurant every Friday, are his toughest critics. The two tell him when they think he should tweak a recipe, sub a new ingredient, or add different proportions of spice.
Both he and De Los Angeles agreed that opening during COVID-19 was not part of the plan, but they have found that the restaurant is unexpectedly busy, largely by word of mouth and the restaurant's social media following. Garcia said he sees pandemic fatigue among diners who roll in, and is careful to balance COVID-19 precautions with fine dining. A layer of plexiglass sits at the bar. Staff wear masks and sanitize constantly.
"We worry about it," said De Los Angeles. "At the same time, we know we have to continue life. We have to be here for our customer. People need a place to go out. We pray every day that we have the potential to survive."
"I haven't been this happy in a long time in the kitchen," Garcia chimed in, adding that he thanks his mom for the gift of cooking. "The last time I was this happy was in Philly, when I got promoted to sous chef. That was the last time I was genuinely happy cooking. And then when I came back here … I wasn't fulfilled. And here, I'm fulfilled."
Amaru Peruvian Bistro is located at 368 West Rock Ave. The restaurant is open Wednesdays, Thursdays and Sundays from 4:30 to 10 p.m. and Friday and Saturdays from 4:30 to 11 p.m. Find out more on Facebook and Instagram.