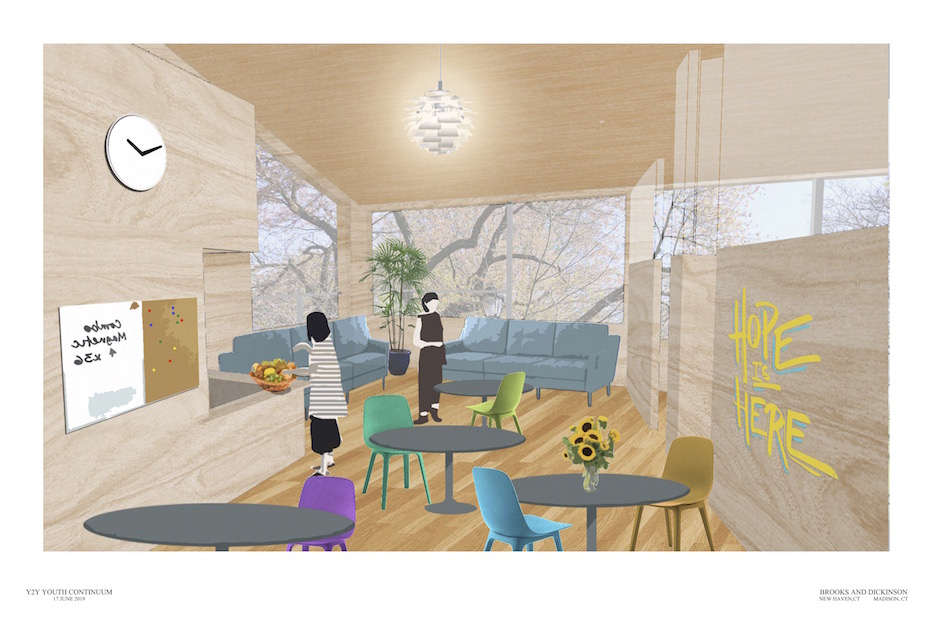 Design | Education & Youth | Architecture | Arts & Culture | COVID-19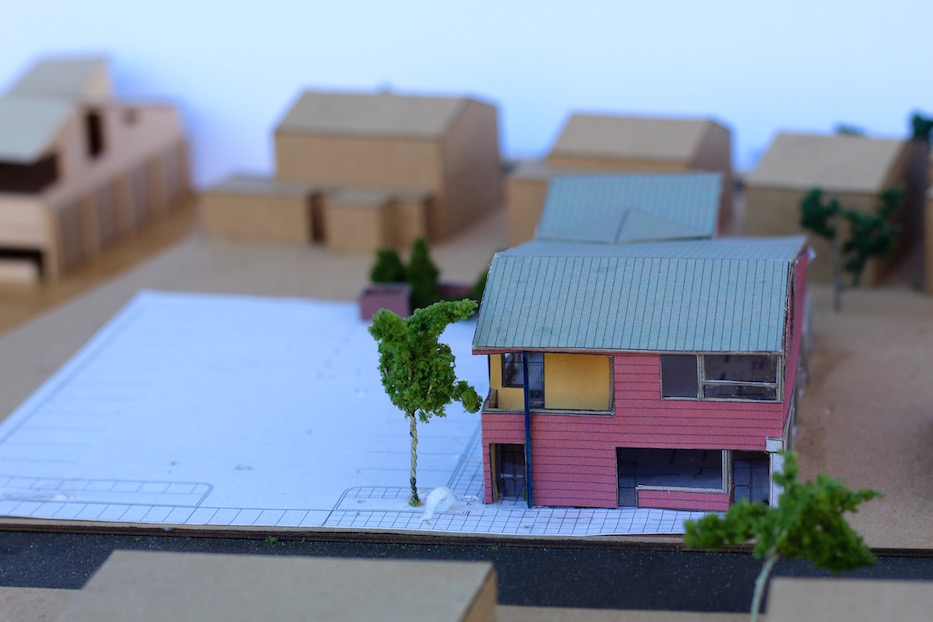 The design at Tuesday's press conference. Lucy Gellman Photo.
The poetry wall is now upstairs, just waiting for words to populate its length. The light in the hallways is soft, calming. The beds are intended to feel like small homes, with shutters that sleepers can open and close as they choose. A winding staircase opens into a room flooded with natural light, with an indoor/outdoor porch just a few feet away.
Youth, many of whom have lived with housing insecurity, made it happen.
Architects, homelessness advocates, and elected officials unveiled that design Tuesday afternoon, at a groundbreaking for Y2Y New Haven at its future Grand Avenue headquarters. The 20-bed youth homeless shelter is a collaboration between Youth Continuum and the Y2Y Network that will expand youth-led, peer-led homelessnesses services in New Haven.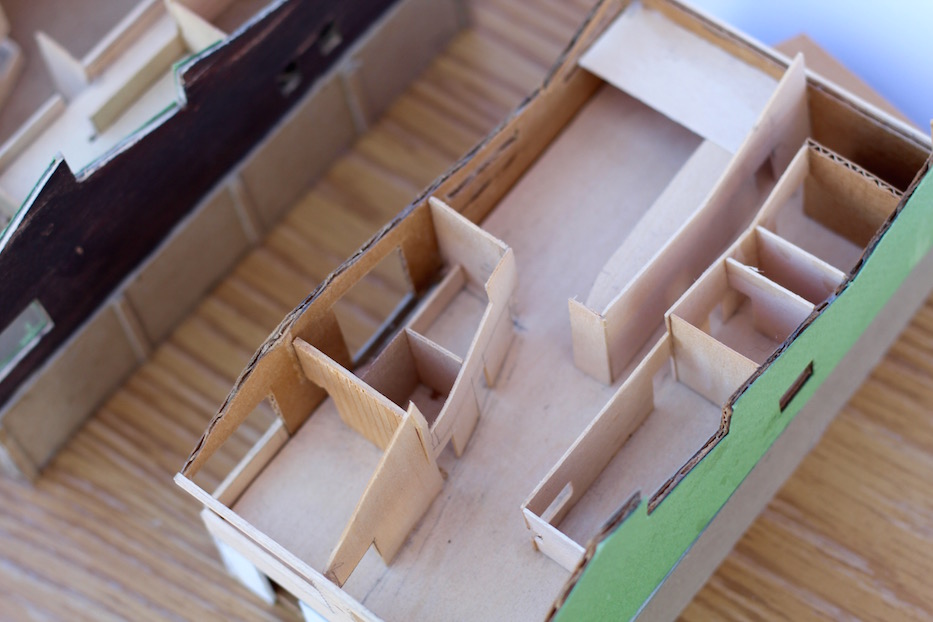 Lucy Gellman Photo; model by Duo Dickinson and Turner Brooks.
"The Y2Y New Haven project is yet another step along the path of trying to meet the state's goal to end homelessness," said Youth Continuum Chief Executive Officer Paul Kosowsky, invoking the more than 500 youth who were counted as homeless last year. "And we believe that this project will make New Haven the first city in Connecticut to end youth homelessness."
Based on Y2Y Harvard Square, Y2Y New Haven is a peer-led model for youth experiencing homelessness. In the current plan, it will operate on the second floor and basement of the building that currently houses Youth Continuum, a service agency dedicated to addressing, responding to, and ultimately preventing youth homelessness in New Haven and Connecticut.
Babbidge Construction is expected to begin construction on the space this month. After two years of contentious neighborhood meetings and a fight for city approval, advocates and funders praised it as a step towards ending youth homelessness in New Haven. The shelter's 20 beds will be open to youth between the ages of 18 and 24, for 60 to 90 days at a time. Y2Y and Youth Continuum are also collaborating with Clifford Beers Clinic to provide a "one stop shop" for medical and mental healthcare.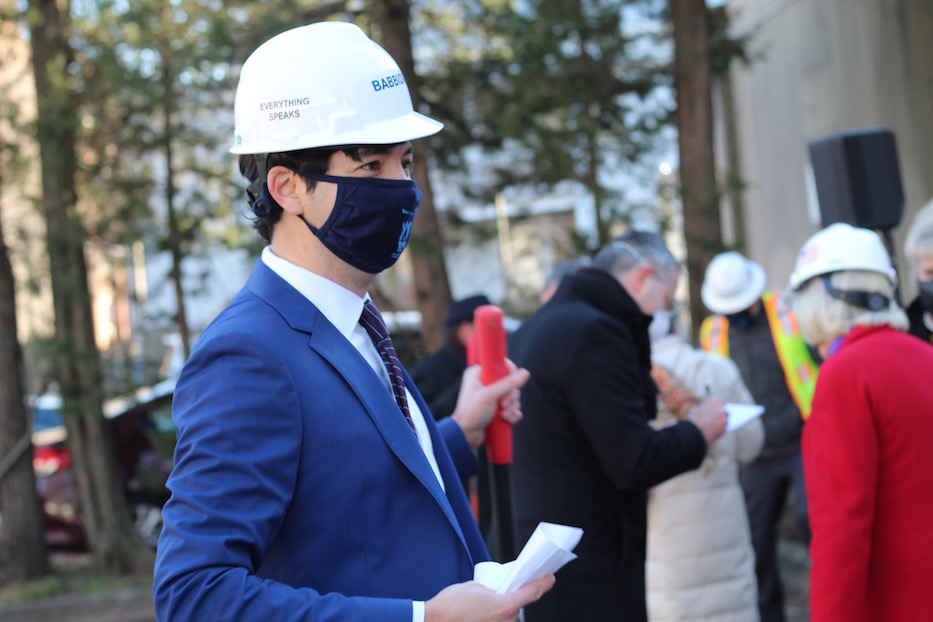 Y2Y Co-Founder Sam Greenberg. Lucy Gellman Photo.
"The reality has been sitting with me ... that on the verge of the first major snowstorm of the year, I, we, can only imagine what it will be like for young people who don't have a safe place to live," said Y2Y Co-Founder Sam Greenberg. "Today is a joyful day, but it's also an urgent one. Youth experiencing homelessness show remarkable creativity simply to survive. And they shouldn't have to."
As attendees shivered through the hour-long press conference, the design remained the unspoken star of the show. Relegated to two back tables with large blown-up blueprints, it is perhaps the most mission-aligned part of Y2Y's $4.5 million project because it integrates youth input at every stage of development.
Last year, members of Youth Continuum's Youth Action Board (YAB) met with architects Duo Dickinson and Turner Brooks in a series of workshops around the final design. Over pizza and wings, they gathered in Brooks' Erector Square studio, adding elements that ranged from a poetry wall to additional showers and washing machines.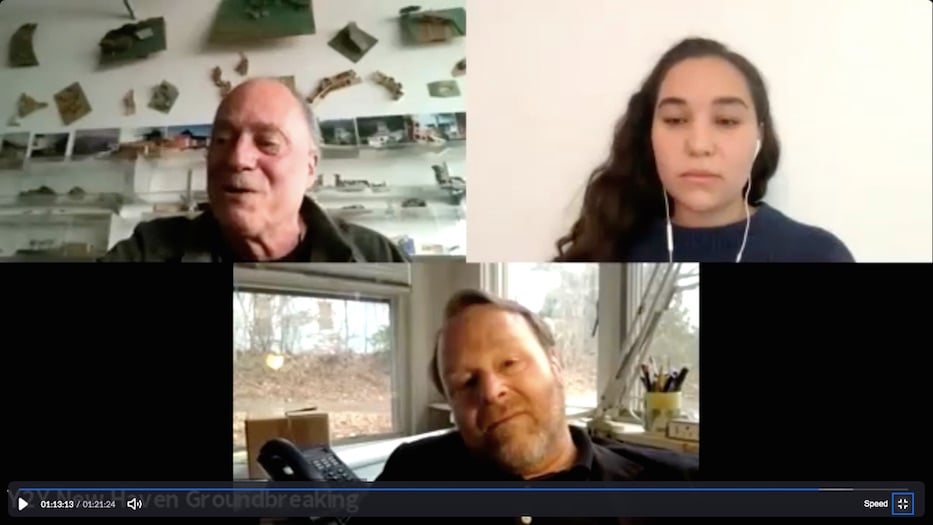 Clockwise from top: Brooks, a student volunteer, and Dickinson.
While none of them spoke Tuesday (and could not be reached for this story), their lived experience now lives in the building. In a Zoom interview before the event, Brooks said he wouldn't have it any other way.
"The importance is that it's such a fundamental, enormous issue in our civilization, homelessness," he said. "And it has been underplayed. I feel like we're helping in a small way, but hopefully in a way that can help escalate the conversation. I feel that these clients are the most important that one can possibly, possibly have. It's the most important project that I have had in my life as an architect."
In the final renderings, Brooks and Dickinson have folded in suggestions for privacy screens, an interactive poetry wall, sprawling communal kitchen, an area for lounging and dining, an indoor/outdoor porch and a quiet or "soft" room. A suite of showers stand ready for use on the other side of the floor.
Dickinson praised project manager Sean Rowe, who is currently recovering from COVID-19. While two remaining Youth Action Board workshops were cancelled due to the pandemic earlier this year, the initial input helped the two change the flow of circulation on the second floor. He and Brooks have watched as the pandemic has made that need for safe youth housing more acute.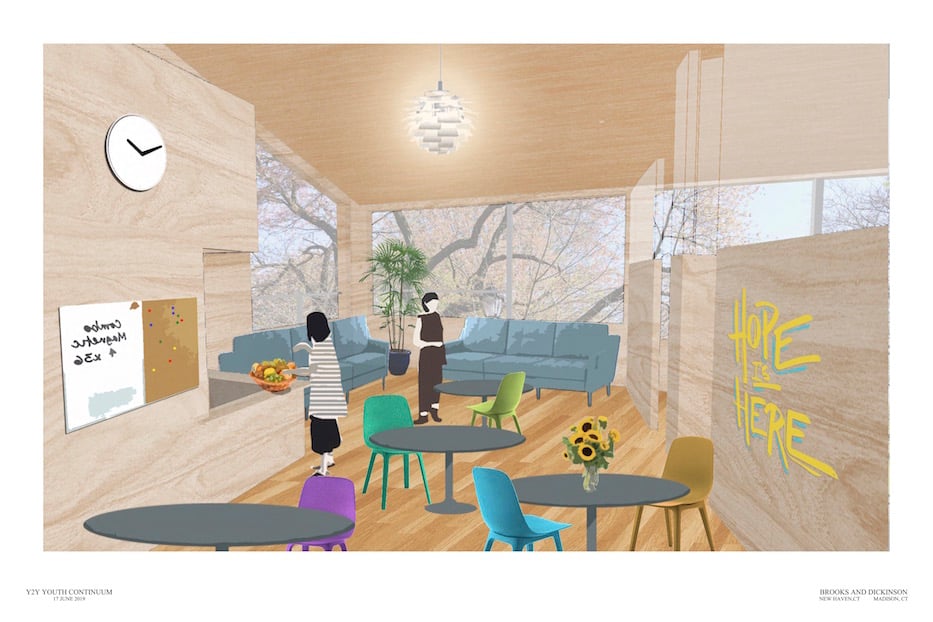 "Doing this kind of work is the reason I'm an architect," Dickinson said. "This work is for everyone. That demographic [people who are housing insecure or risk housing insecurity] almost never has design offered to them. It's usually a top-down, you take what you got. These people are usually given what society has for them, and it's usually bad. There's nothing more meaningful than that work."
He sees the project as a sort of kismet, he added. Brooks was his hero when he was an architecture student; he still is today. As the two worked together, they fell into a rhythm. Dickinson's firm took the lead on sending the project out to bid and working out "all the user stuff," Brooks became obsessed with the beds, taking Charles Moore's idea of a "house within a house" and grafting it onto a need for both privacy and social interaction.
YAB member J'Mir H.
Tuesday, two current members of the Youth Action Board joined the groundbreaking virtually. In a prerecorded message, YAB member J'Mir H. told attendees that when COVID-19 began this year, she "got caught up in some family drama," and became one of the thousands of young people across the U.S. that faces youth homelessness and housing insecurity every year.
For months, she lived in a tent and bounced between homes on Huntington Street and Shelton Avenue. Close to her birthday, a friend's family fed her and opened their home to her so she could bathe.
"They told me not to give up, but I did," she said. "And the very next day, I told the case worker that I couldn't do this anymore. But then shortly after, a spot opened up for me in Youth Continuum. I cried. I really did cry."
Two months into her time at Youth Continuum, she heard about and joined the Youth Advisory Board. Tuesday, she announced that she'd found an apartment and is planning to return to school. She shouted out her friends for their support and said she's excited to come back to Y2Y as a mentor.
"My goal, my interest is that I want to help people," she said. "That's why I am so excited for Y2Y. Because young people like me who are losing hope, just like I was when I was living in that tent, will have a warm and safe place to sleep."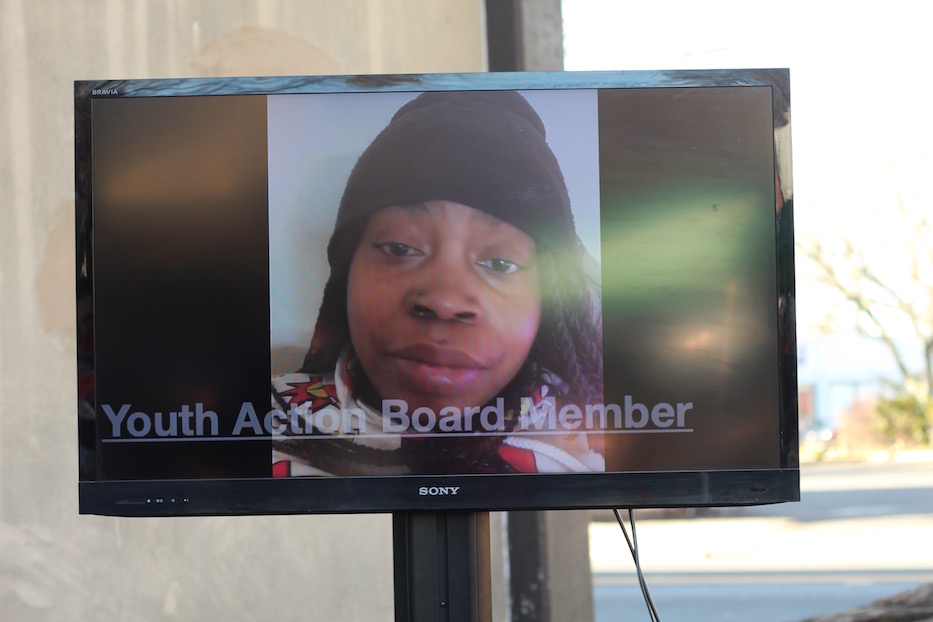 A fellow member who did not share her name recalled becoming homeless her junior year of college, after her mother lost her job and could no longer afford tuition.
"It was devastating," she said. "I was couch-hopping. I was sleeping on buses to stay warm. The struggle was real. And the struggle still is real."
When she found Youth Continuum, the organization enrolled her in a youth shelter. They paired her with a case worker. She was able to find an apartment and get back on her feet.
"It's such an honor to be part of Y2Y, because it's youth helping youth, you know?" she said. "When you've lived it, when you know what it's like to be homeless, you know what it's like to help people and what it's like to need help. So, it's all about giving."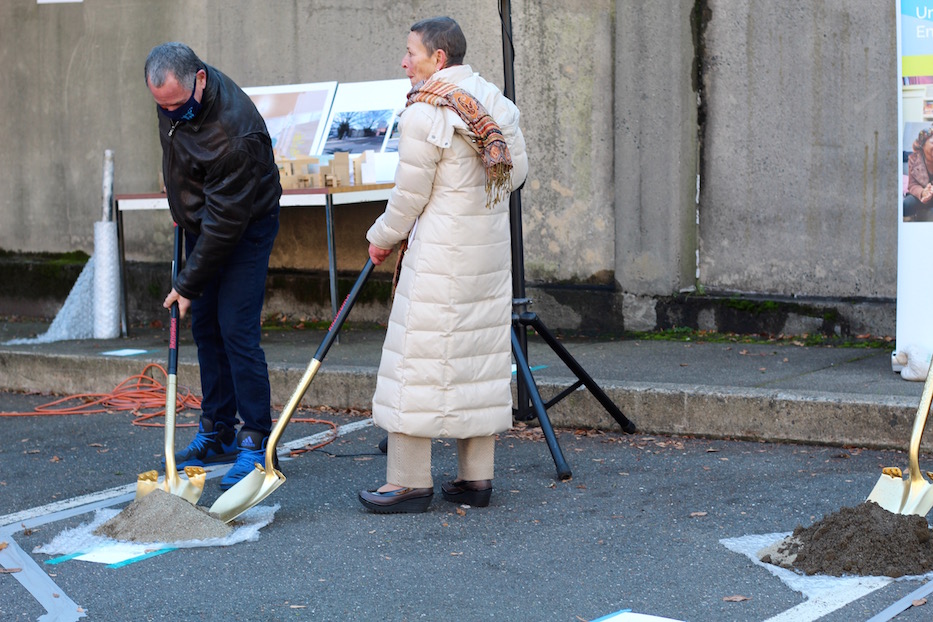 Healthcare Advocates International Dr. Gary Blick and Lindy Lee Gold. Lucy Gellman Photo.
It comes at a critical time. As speaker and Amour Propre Fund President Lindy Lee Gold pointed out during her remarks, one in 10 youth between the ages of 18 and 25 experiences "some form of homelessness."
Within that number—which is more likely to afflict Black, Latinx, and LGBTQ+ youth than their white peers—almost 70 percent report problems with their mental health. Many—including over a quarter of LGBTQ+ youth—exchange sex for basic needs like shelter, food, and sleep.
"How appropriate it is to have this groundbreaking during a holiday season during which we celebrate miracles and light," Gold said. "Y2Y New Haven exemplifies both."