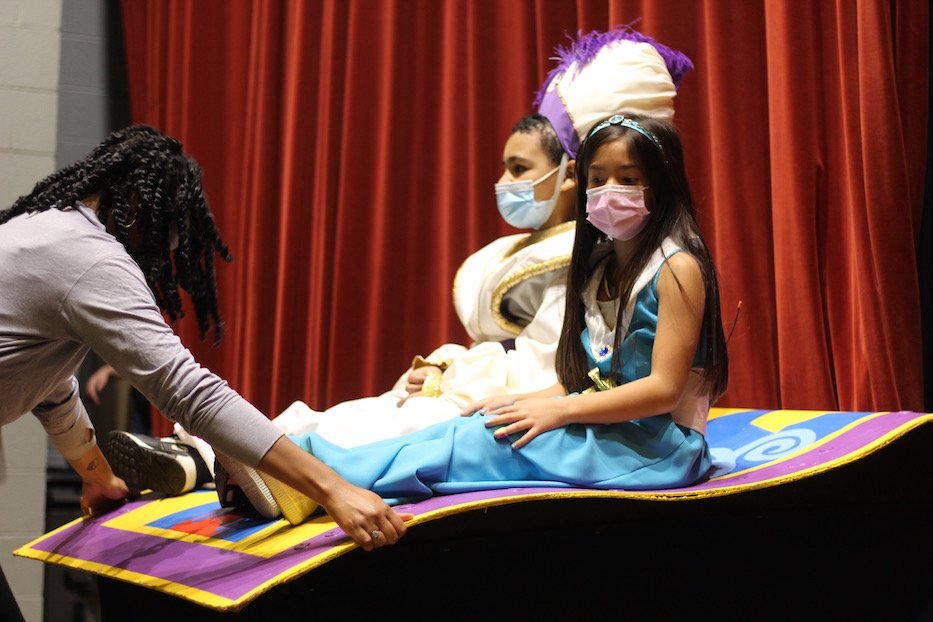 Education & Youth | Arts & Culture | Musical Theater | Theater | Nathan Hale School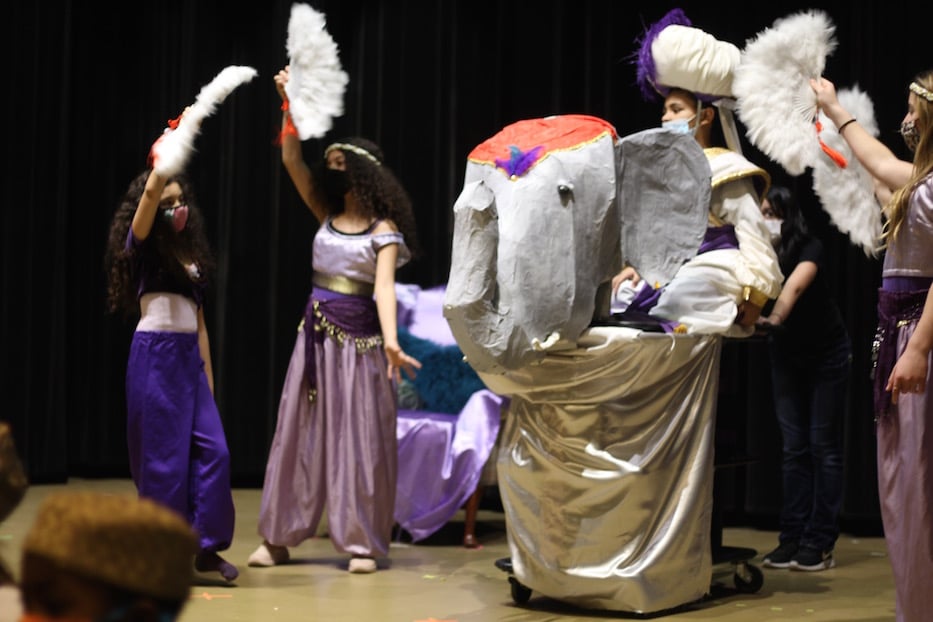 Fifth grader Julian McGregor and Ella the Elephant. Lucy Gellman Photos.
Strings filled the auditorium, trilling as student actors spilled from the wings into the carpeted front rows. On stage, four dancers in shiny parachute pants stepped to the side, and retrieved their feathered white fans. Fifth grader Julian McGregor rode in on Ella the Elephant, a blue medical mask stretched over his mouth as he sang. Prince Ali had arrived.
McGregor—or Aladdin, or Prince Ali, depending on who is asking—is part of a masked, Covid-cautious, and wholly reborn Aladdin Jr. at Nathan Hale School this week. Over a year after the school's spring 2020 performance became an early casualty of the pandemic, it has roared back to life with a mix of new and returning cast members, over 91 costume changes, and dozens of public health precautions in place.
Performances are scheduled this Wednesday through Sunday; tickets and more information are available here. While Nathan Hale normally works on a play for the better part of a year, it was slated to lose the rights to the show at the end of this calendar year and pulled the performance together in just three months.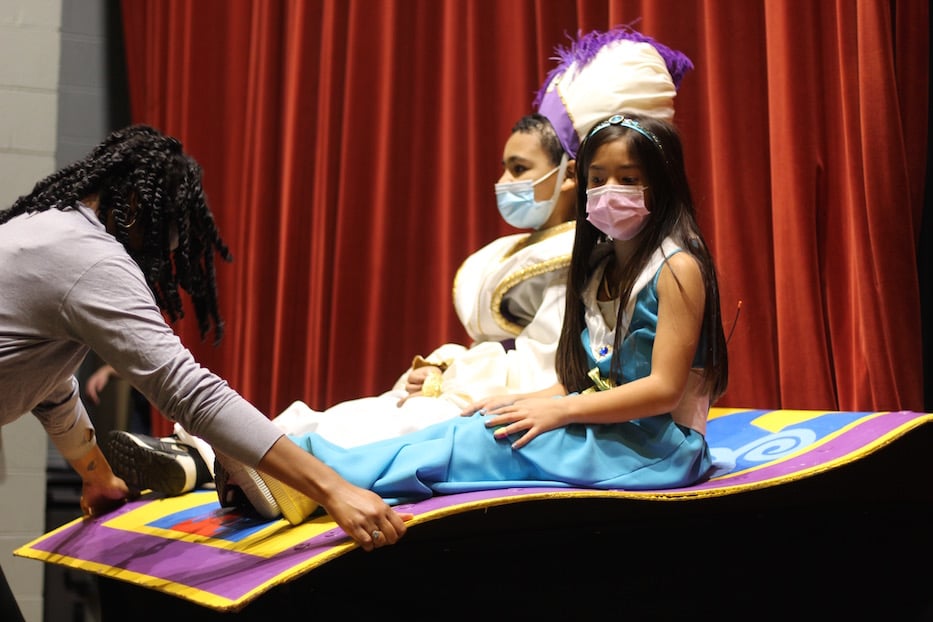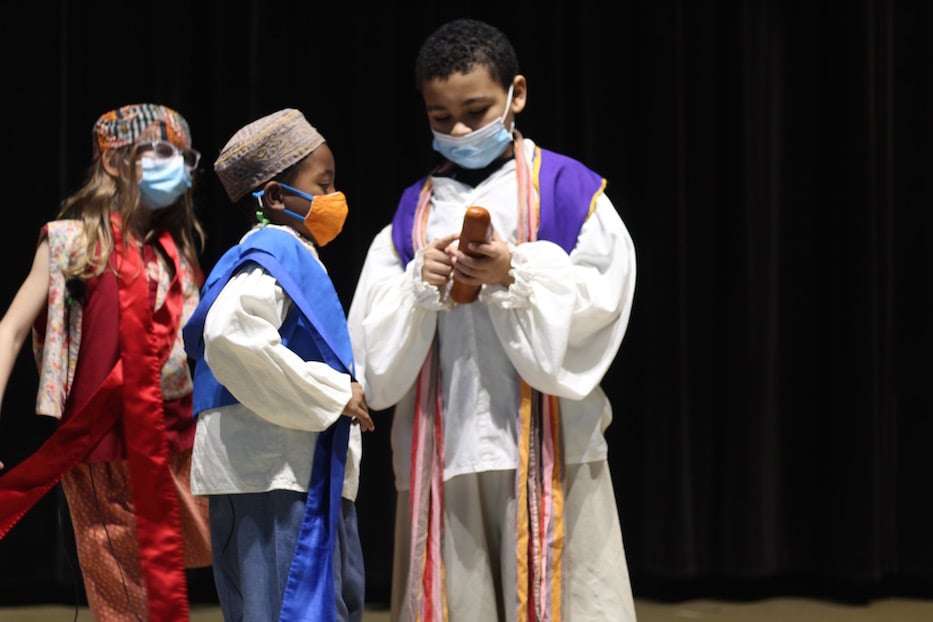 Top: Ms. B, McGregor and Nora Gilo-Tomkins. Bottom: Students Addison Holloway, Amiel "AJ" Johnson and Julian McGregor.
"It's a lot. It's different—and we're making it work," said Briana "Ms. B" Bellinger-Dawson, a dance teacher at the school who has directed and choreographed the show. "I love the magic in it."
Set in the far-away fictional land of Agrabah, Aladdin Jr. follows the story of the orphaned Aladdin (McGregor) and the headstrong Princess Jasmine (Nora Gilo-Tomkins, who played Moana at the school's summer camp earlier this year) as they jump through socioeconomic hoops, dodge palace guards, accidentally summon magic, sail over the rooftops on an enchanted carpet, escape an evil sorcerer, free an enslaved genie from a lamp, and fall in love. At the core of the show are twin desires: Aladdin's to make his parents proud, and Jasmine's to follow her head and her heart, even if it means breaking with tradition.
It's not without eyebrow-raising, long-debated questions around Orientalism and cultural appropriation, Bellinger-Dawson acknowledged—but it also pushes students to think about listening to themselves and each other, testing the boundaries of what they know, and sticking up for what they believe is right. It's hard not to root for these young, star-struck lovebirds when crew members wheel them in on a vibrant floating carpet, and Gilo-Tomkins belts her way to a kingdom without a pandemic in sight. Or to melt a little at the earnestness with which McGregor promises that he will make his parents proud, hitting every high note with wide, wistful eyes.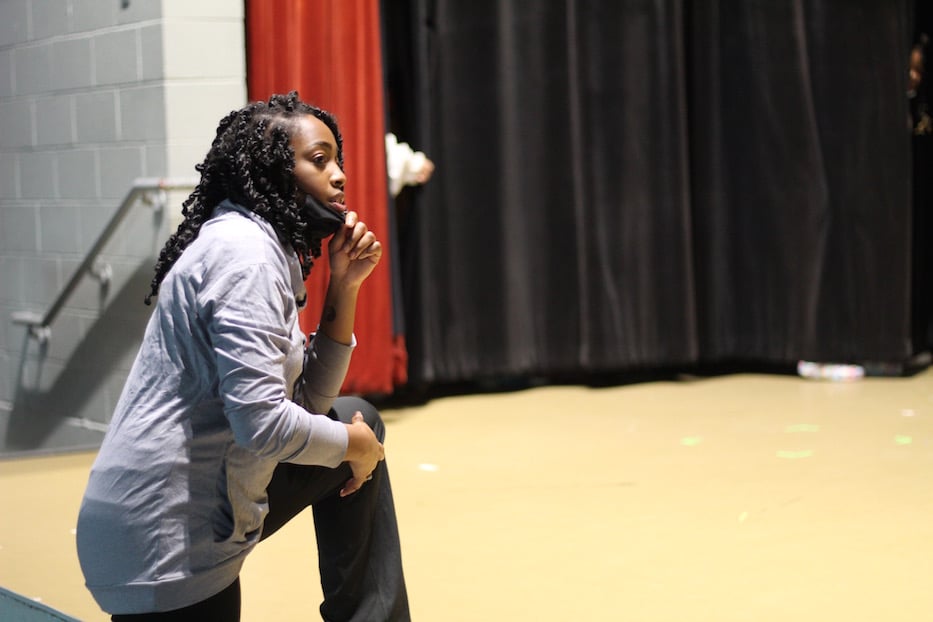 Briana Bellinger-Dawson, who students know and love as Ms. B.
With a cast of 37 and a crew of over 20 students, Bellinger-Dawson has focused on the work's magic and magnetism. which hums from the first ensemble number through the storied magic carpet ride. Aladdin has held a special place in her heart for years: in 2016, it was the first Broadway production that she got to bring students to as a teacher. She can't listen to the solo "Proud Of Your Boy," which Aladdin sings to his departed parents, without crying. In 2019, she was ecstatic when she secured the rights to the show for a spring 2020 production. Several then-eighth graders jumped onboard for the performance.
She was in the middle of rehearsals when the school called her in early March of last year, and said it was shutting down for two weeks of deep cleaning. She and students had finished a rehearsal the day before, and "I thought, okay, two weeks," she recalled Monday. In reality, Nathan Hale was the first closure of all New Haven Public Schools in the face of the Covid-19 pandemic. It didn't reopen its physical doors until the spring of 2021. Several of Bellinger-Dawson's would-have-been leads are now sophomores in high school.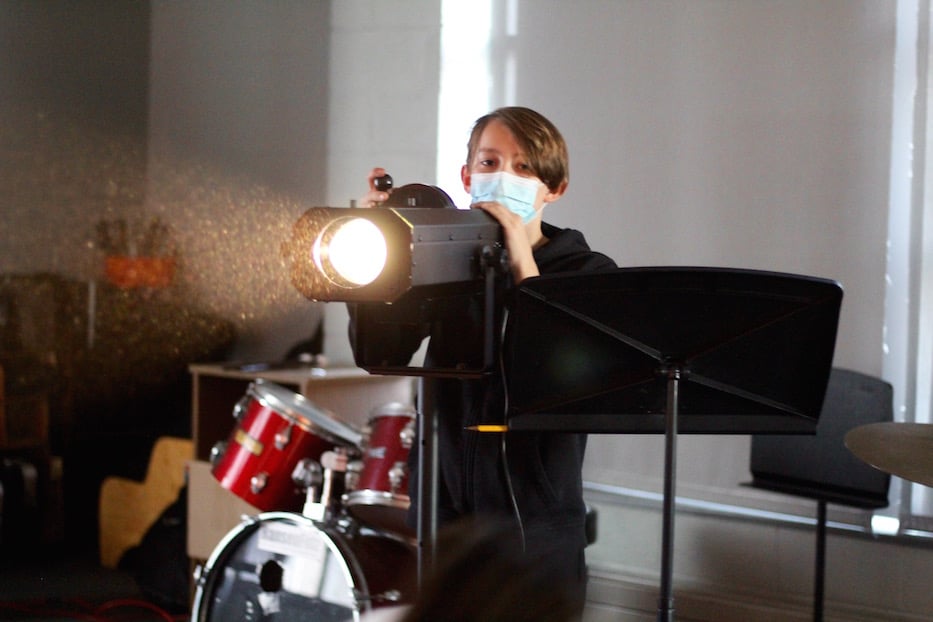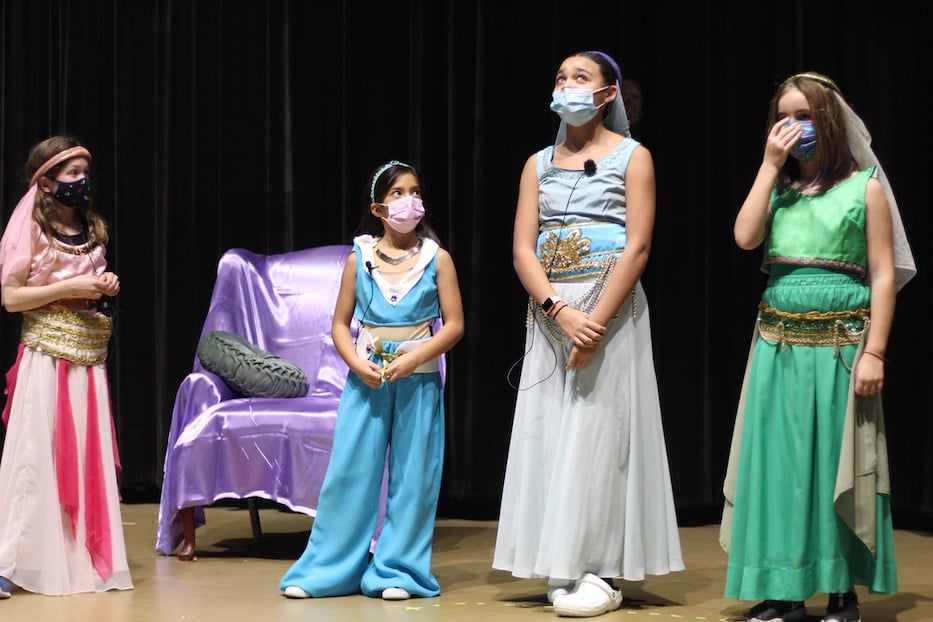 Top: Crew members on lights include Max Debiase and Raquel Garcia. Bottom: Nora Gilo-Tomkins as Jasmine (second from left) with Alyssa Geremia, Emilia Dipippo, and Emilia "Emi" Mammana.
Both she and students are excited to be back after over a year on screens. Monday night, the auditorium buzzed with energy as teachers fitted pint-sized royalty, ladies-in-waiting, shopkeepers and at least one genie with microphones and made last minute adjustments on their costumes. Dressed in aqua from head to toe, Gilo-Tomkins fretted over a pair of silky pants that ballooned over her shoes and swept the floor. Close to the stage, third grader Addison Holloway adjusted her cap and ran through the music in her head. Jafar (Gia Laverty) raised one eyebrow under a tall red velveteen hat.
"Let's go! Top of the show!" yelled music teacher Arick Lyde, who co-directs the show's music with teacher Gillian Greco. In the back of the room, Raquel Garcia and Max Debiase settled in behind two spotlights. Lyde and Greco clapped their hands, and watched as students clapped back and fell silent. They scurried off, slipping into their places behind the heavy red curtains. Ayellow spotlight found the glittering, masked Genie (Lucas Granucci) and the play rolled into motion. A tuft of red feathers peeked out from one corner of the stage.
"Hey! Iago! You need to hide!" shouted Bellinger-Dawson, and Gabby Osborn turned their head instantly, half-bird and half-student. "I can see you!" Osborn ducked on cue, and the rehearsal snapped back to life.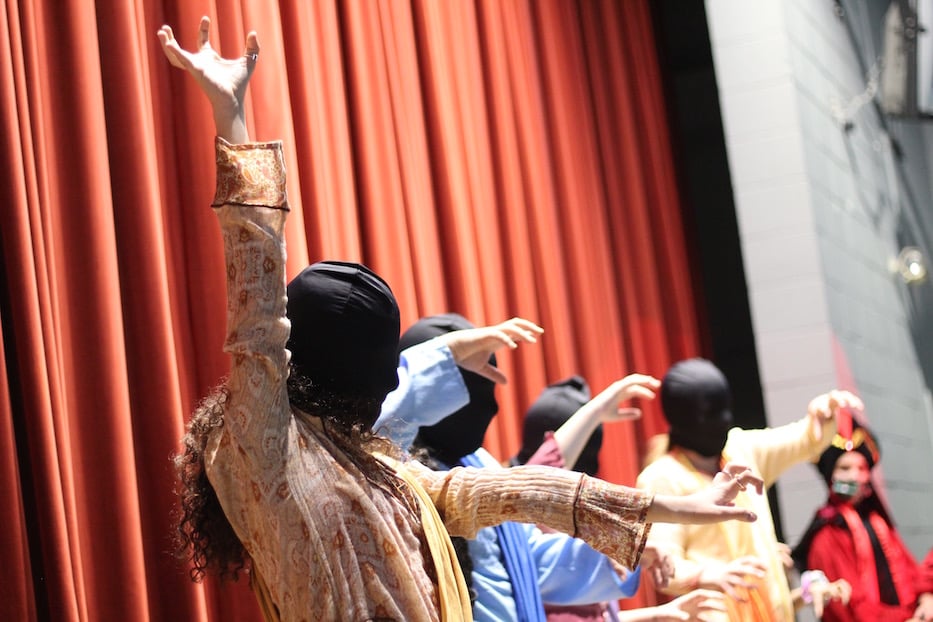 Students during some sorcery from Jafar (Gia Laverty, at far right).
Just like the work it represents, the production is dazzling in its level of collaboration. When the school announced auditions for the play in September, a few students from the 2020 production emerged from the woodwork, jumping back in as lighting assistants, dressers, prop and stage managers. Jayne Bergeron, who will be heading to the Sound School next year, offered to paint backdrops. Mickey Ardizzone, a Nathan Hale grad who is now a junior at New Haven Academy, volunteered to help students learn music.
Stage Manager Kaitlyn Scanlon, an eighth grader who was in the original performance two years ago, said she's happy to be back. Nineteen months after that first performance, she has found a whole new world of school theater, where the same questions around microphones, spotlights, scene changes and costumes live alongside new requirements for social distancing and masking up. Part of rehearsal, for instance, is simply reminding students to pull their masks back over their noses and mouths.
"It was a little upsetting" when the 2020 show was cancelled, she said Monday, while rearranging costumes after rehearsal. "We put a lot of work into it, and then it didn't happen. To be back … it's fun. I'm learning how to deal with kids. How to work with them without hurting their feelings."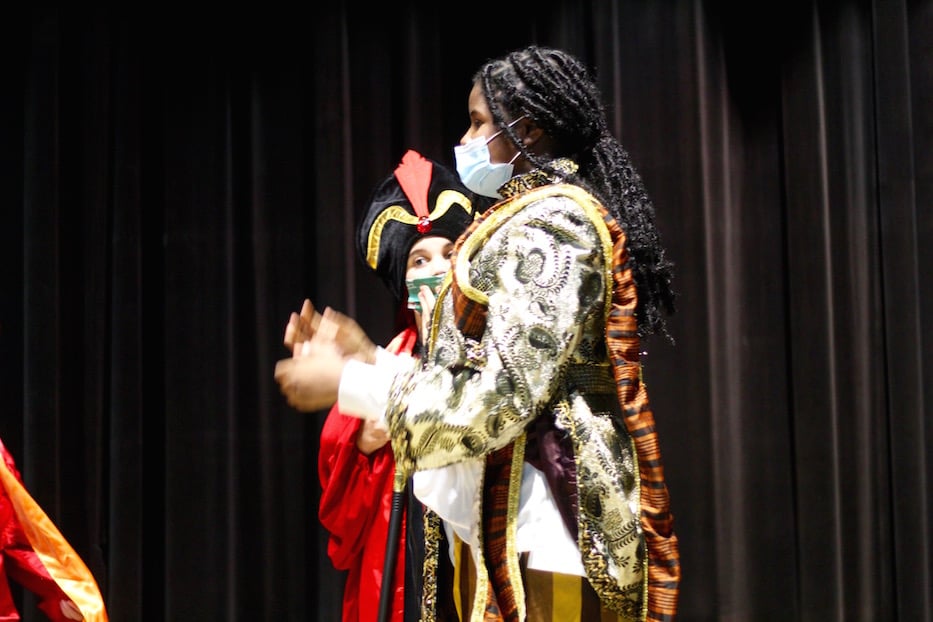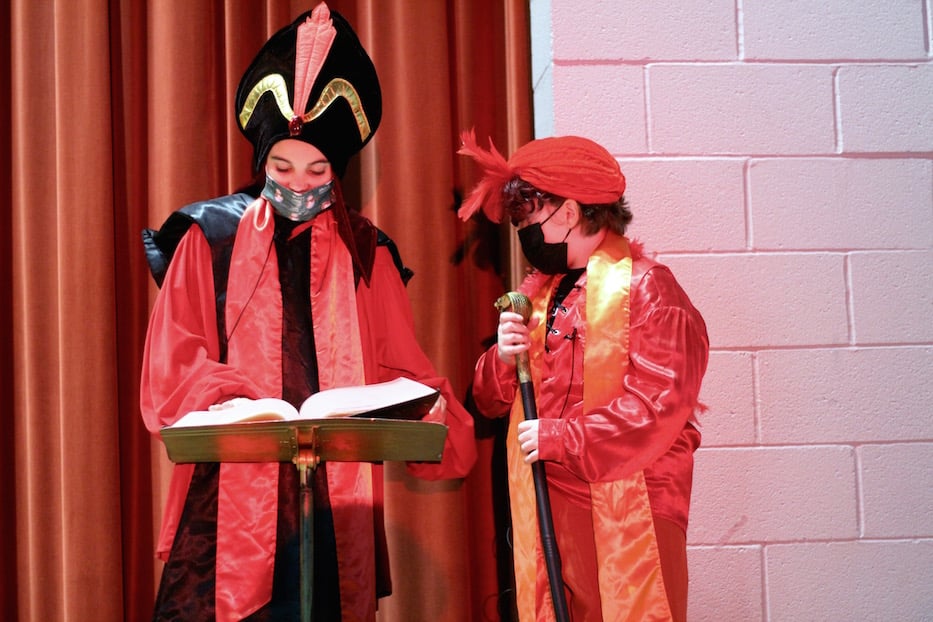 Top: Eighth grader Coni Cornelius. Bottom: Jafar and Iago (Gabby Osborn).
Ardizzone, who fell in love with musical theater as one of Bellinger-Dawson's dance and drama students, comes back to help "whenever I can," he said. Monday he was the comic relief, calming students down between acts as a laptop with music rested in his lap. During a scene break, he delivered a pep talk as McGregor sat cross-legged onstage, contemplative.
He is also the company cheerleader and joker. "Girl, you don't need to breathe that loud," he said when Gilo-Tomkins forgot to shut her mic off after Jasmine's solo in "These Palace Walls." She smiled through her mask, her cheeks rising as she adjusted a bedazzled blue tiara and headed offstage. When her vocals swooped in later in the show from atop a wheeled carpet, he was the first to snap in appreciation.
Directors and students have embraced the magic of having a much younger cast than usual, Greco said. This year, many of the leading cast members are in second through fifth grade, while crew members skew older. It creates an opportunity for mentorship between older students and those who are just beginning their academic journey at Nathan Hale. Granucci, a seventh grader who plays the genie, said it gets him out of his comfort zone and talking to other students across grade levels.
Typically shy in class, "I like that I can have a different personality than I usually do," he said.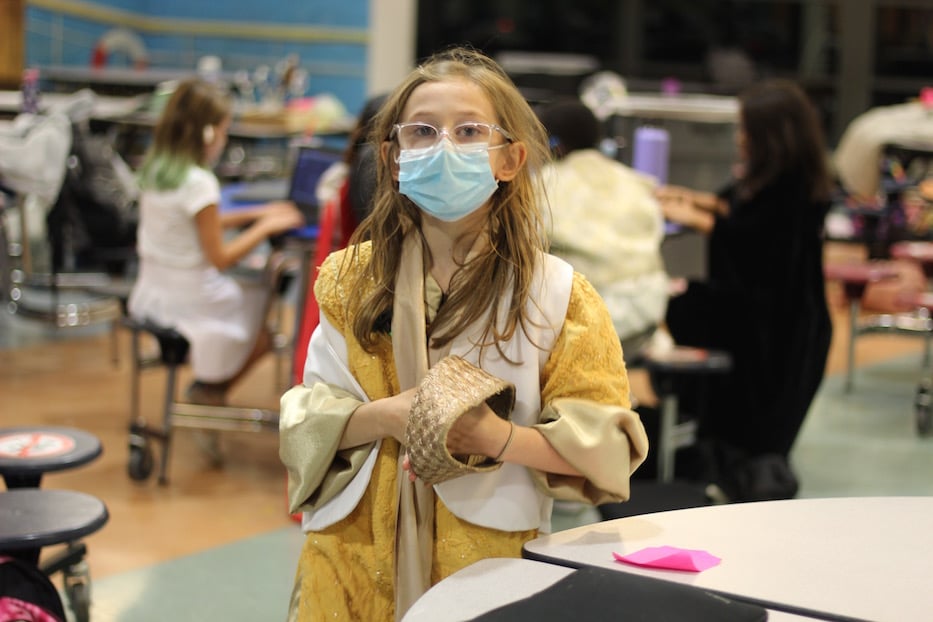 Addison Holloway, a third grader who plays Kassim. "I like getting to act, have fun with my friends, and putting on a show," she said. "You learn how to work together."
McGregor, who transferred into the fifth grade at Nathan Hale this year, jumped right into auditions to meet other students. He said that he loves the challenge of playing Aladdin, whose shape-shifting personality is very different from his own. For instance, he's still wowed that Aladdin "can jump between houses and steal without being seen," he said, adding a quick, wide-eyed declaration of "and stealing is not okay."
In the bright hallway outside the auditorium, Gilo-Tomkins and eighth grader Coni Cornelius compared costume notes as they listened for their cues to get back onstage. A fourth grader at Edgewood School—she is the only non-Nathan Hale student in the show—Gilo-Tomkins said she's excited to be back because so many of her friends were in Moana over the summer. Each time she steps onto the stage, she thinks of it as a learning experience.
"I feel really good about it," she said Monday. "It teaches me that you shouldn't be forced to do something. You should be allowed to speak up."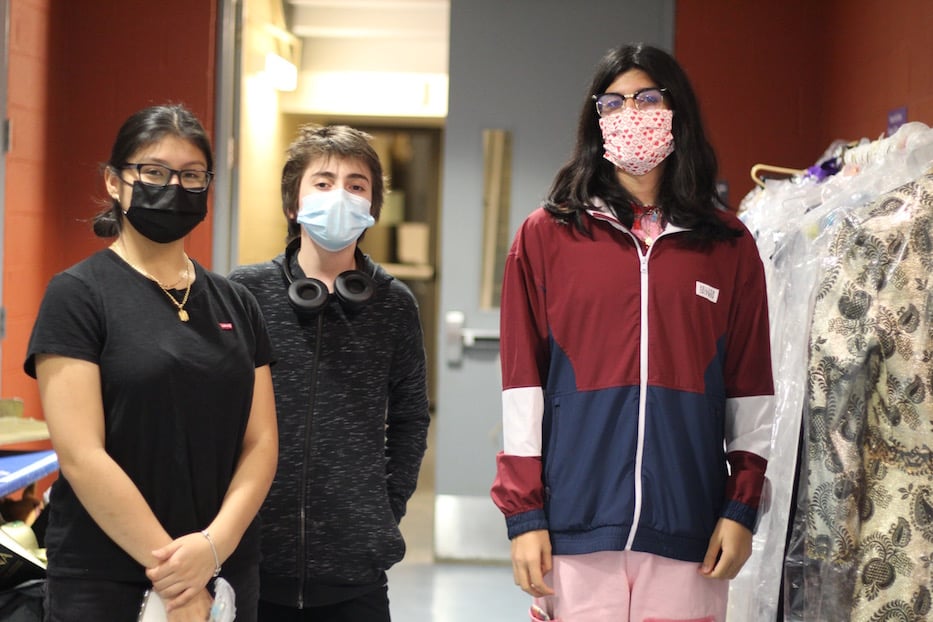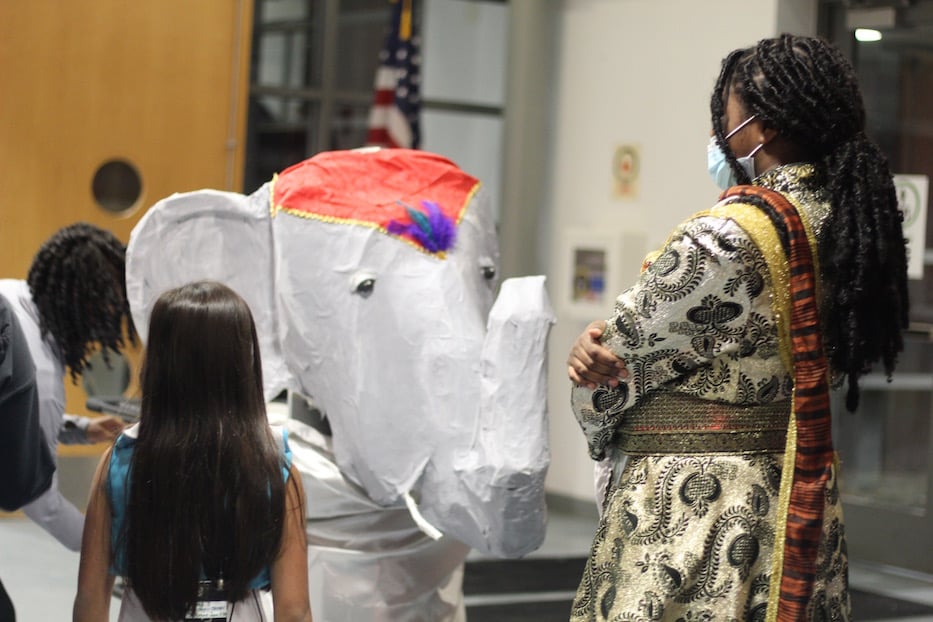 Top: Crew members and Ardizzone, who is now a junior at New Haven Academy. Bottom: Students check out Ella the Elephant.
Back on stage, act two was beginning. Students hurried to the auditorium, waiting quietly on its ramp and in the wings. Some of them gasped at Ella the Elephant, one of the props that Nathan Hale found on an MTI Marketplace and inherited from an earlier production at Wallingford High School.
Backstage, stage managers ran through their paces and checked the scripts to make sure everything was in place. The lights went up. The music boomed over the stage. The magic, masks and all, was back.
Disney's Aladdin Jr. runs at Nathan Hale School Wednesday Dec. 15 through Sunday Dec. 19. For tickets and more information, click here.