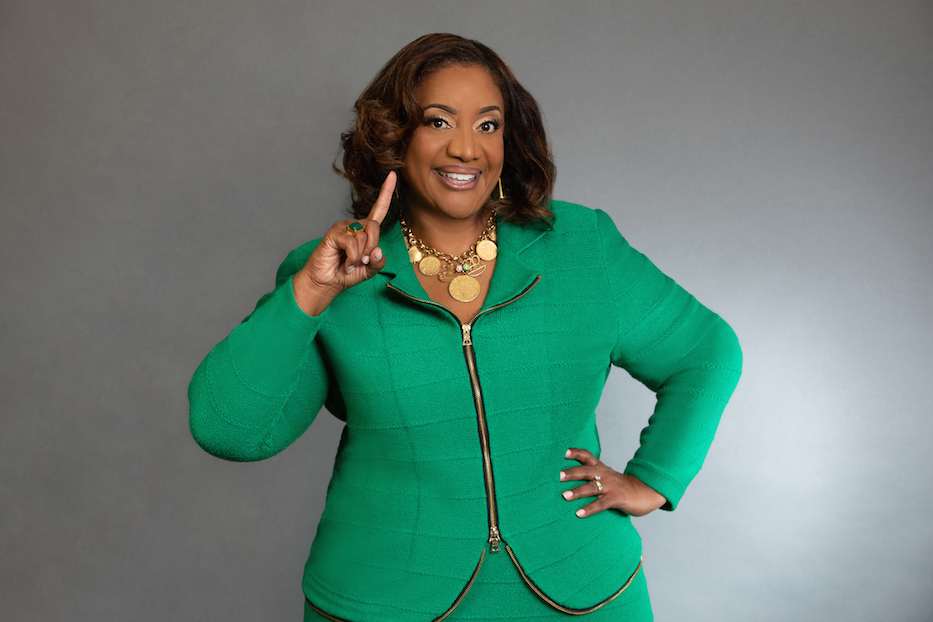 Hamden | Arts & Culture | Quinnipiac University | Alpha Kappa Alpha Sorority, Inc.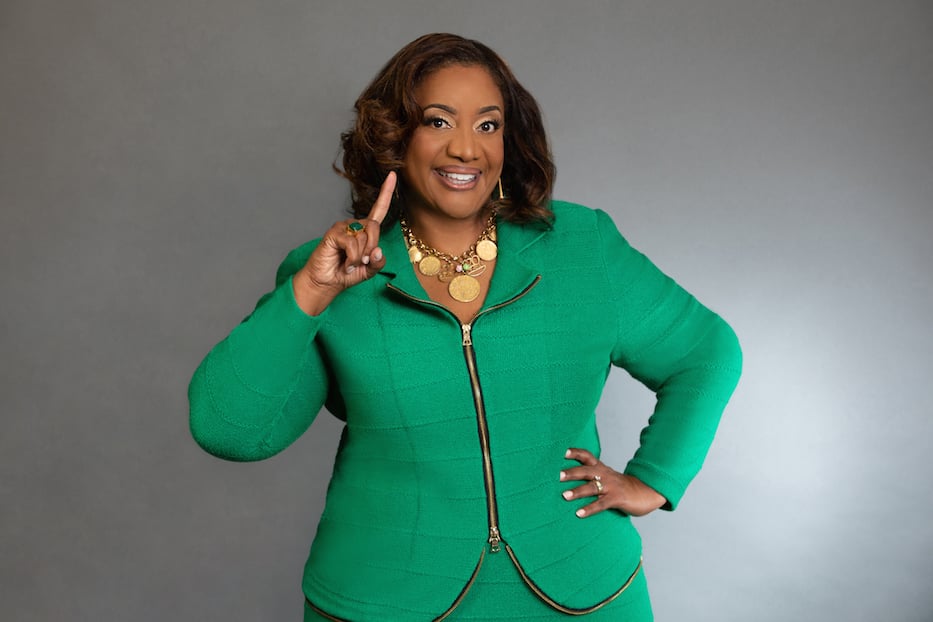 Michael Ross Photo.
A steadfast leader and champion of faith, family, service, and community—and of the pink and green—has made history as the first Connecticut-based director of the Alpha Kappa Alpha Sorority, Incorporated's North Atlantic Region. In her first days in the position, she and fellow sorors have already raised funds to support the future social justice leaders among them. And they're just getting started.
That leader is Elicia Pegues Spearman, a longtime member of the sorority who was installed as AKA's North Atlantic Regional Director in July, and inaugurated to the position at Quinnipiac University's York Hill Campus last Saturday. For Spearman, who is general counsel and vice president of human resources for Quinnipiac University, it is the latest chapter in a decades-long history of service and sisterhood.
She is the first attorney to hold the position. The North Atlantic Region, one of ten national regions in the U.S., comprises undergraduate, graduate, and professional AKA chapters in ​​Connecticut, Washington, D.C., Delaware, Massachusetts, Maryland, Maine, New Hampshire, New Jersey, Eastern New York and Pennsylvania, Rhode Island and Vermont.
"I'm just really thankful for the support that I have received," she said in a phone interview Wednesday evening. "I was overwhelmingly elected into the position, which means that people trust me. We're gonna work hard, but we're also gonna have fun."
"In my opinion, she was destined to do this," added Dori Dumas, president of the Greater New Haven NAACP and a fellow soror in New Haven's Theta Epsilon Omega Chapter. "To see her, and to know her, and to see this big accomplishment … It's huge. It's the first time someone from Connecticut has achieved this. It speaks volumes to who she is."
As regional director, Spearman has not skipped a beat. Last Saturday, she declared a mission of "Putting the North Atlantic Region F.I.R.S.T.," a vision that stands for Fellowship, Innovation, Respect, Service, and Thrive. For her, she explained, that means supporting the region on every level, with a particular focus on youth development, "sisterliness," and dedication to both the AKA family and to the larger regional community.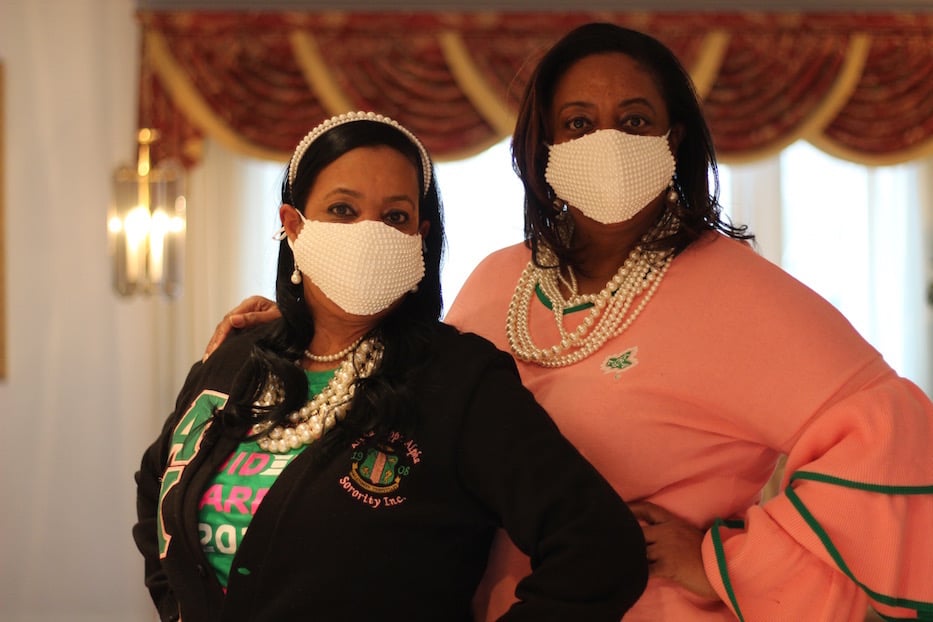 Dori Dumas and Elicia Pegues Spearman on inauguration day in January 2021. Lucy Gellman File Photo.
She is, and has long been, invested in young sorors, from chairing the International Leadership Fellows Committee to presenting workshops about "adulting" through New Haven's Theta Epsilon Chapter. As regional director, she said, she plans to continue that work while also serving all chapters in the organization. She praised the women with whom she will be working more closely in the position, including sorority International President & CEO Danette Anthony Reed.
That work began prior to last weekend's festivities. In just five days, AKA members raised $20,000 for AKA's Educational Advancement Foundation (EAF). Specifically, that funding will endow the North Atlantic Region's Our Voice Matters F.I.R.S.T. Educational Advancement Fund, meant to support budding social justice leaders who are both sorors and often starting on their academic and professional journeys.
Wednesday, she noted that the initial $20,000 is just a start: she intends to grow the fund in the weeks, months, and years to come. Spearman said she also plans to grow out an undergraduate leadership academy and opportunities for professional development and networking (she described it as "soror connect") for members across many different chapters.
That isn't a surprise for sorors who have seen her put in decades of work. Four years ago, Spearman spearheaded the Educational Advancement Foundation Fund for Leadership Fellows. She was the founding president of the New Haven Pearls of Excellence Foundation, Incorporated, which has provided more than $150,000 in college scholarships and to community partners since its inception. Last year, she testified in favor of Connecticut's CROWN Act legislation on behalf of the sorority. It later passed, making Connecticut the eighth state to legally ban hair discrimination.
That spirit and momentum carried through to the inauguration, she said. Last Sunday, she and sorors attended services at Immanuel Missionary Baptist Church—her lifelong spiritual home—at which they were able to donate $1,500 to the church's scholarship fund. Now, one week out, they are finalizing a few last regional positions as the work begins.
"We just want to uplift the community," she said.
For Spearman, who now lives in Cheshire, it marks a kind of full circle moment. Born in Charleston, West Virginia and raised in Hamden, Spearman grew up soaking in the AKA legacy from her mother, West Virginia transplant Cheryl Pegues. Pegues—who is still active in the sorority—instilled in her a dedication to hard work and education that remains with her today. From her father, the late Elbert Pegues, she also gained a deep love for his hometown of New Haven.
Spearman's mother, Cheryl Pegues, leading an opening prayer outside of Wexler Grant School in November 2020 during a celebration of Kamala Harris' historic win as Vice President of the U.S. Harris is a soror. "We thank you for this reason to celebrate on this day. We thank you, father God, for leading this nation to do better and to be better," she said. Lucy Gellman File Photo.
That upbringing served her well. During her years at Hamden High, Spearman excelled in school and held leadership roles in track and cheerleading. As a student at Wellesley College, she pledged AKA's Lambda Upsilon Chapter in 1984, during the spring of her freshman year. The following year, she went to Howard University on a student exchange program, and experienced its founding Alpha Chapter, which dates back to nine trailblazing members (Vice President Kamala Harris is also a member; she pledged in 1986).
When she returned to school in Massachusetts, Spearman ran for vice president of student government alongside her now-longtime friend, Ursula Paul. The two won, making history as the first Black students to become vice president and president. And then—in a phenomenon that is not new, and still persists decades later—students on the overwhelmingly white campus contested the election results.
Representatives of the Divine Nine came to campus to support them. Amidst student calls for a recount, they won a second time.
"I've never not been active [in the sorority]," she said. Her dedication to that sisterhood didn't end with Wellesley. As a law student at Case Western Reserve University in Cleveland, she remained active in the sorority, ultimately becoming a member of the Xi Zeta Omega chapter during a decade of work in Washington, D.C.. When her daughter Kaila was born, prompting a move back to Connecticut, she joined the Theta Epsilon Chapter.
Well before Saturday's inauguration, she and her mother also made history as the only mother-daughter pair to serve as presidents of the Theta Epsilon Omega chapter of the sorority. Pegues, who has belonged to the sorority for six decades, served as president from 1987 to 1990. Almost exactly 30 years later, her daughter served as president from 2009 to 2011.
During those years, Spearman was also extremely active in her daughter's life and education. When Kaila graduated from the Hopkins School and left for the University of Miami last fall, the timing finally seemed right for the regional position. Zoom proved to be a blessing, Spearman added: she could suddenly campaign virtually, which provided more ease.
"It's all in God's time," she said. She later added that she is "looking forward to leading positively and strategically making impact."
Dumas, who has known her since childhood, described herself and fellow sorors as "beyond excited and thrilled and just full of joy." While they met as kids—she and Spearman were both at the Bowen-Peters School of Dance—the two became close during high school, on a trip to Washington, D.C. Years later, Dumas (who herself served as Theta Epsilon Omega president from 2005 to 2008) has watched her grow into a wife, mother, dedicated soror, and woman climbing the corporate ladder.
"She set a goal and she really put the work in," Dumas said. "People respect her as a member of our organization. We're a sisterhood … and I believe she was destined for this, that this was meant for her. I believe that we as an organization are going to be elevated because of her vision, because of her leadership, because of her integrity."
"We'll be working with her, standing with her, supporting her," she added. "The New Haven community should understand that this is one of our own."
Learn more about the North Atlantic Region of the Alpha Kappa Alpha Sorority, Incorporated here.