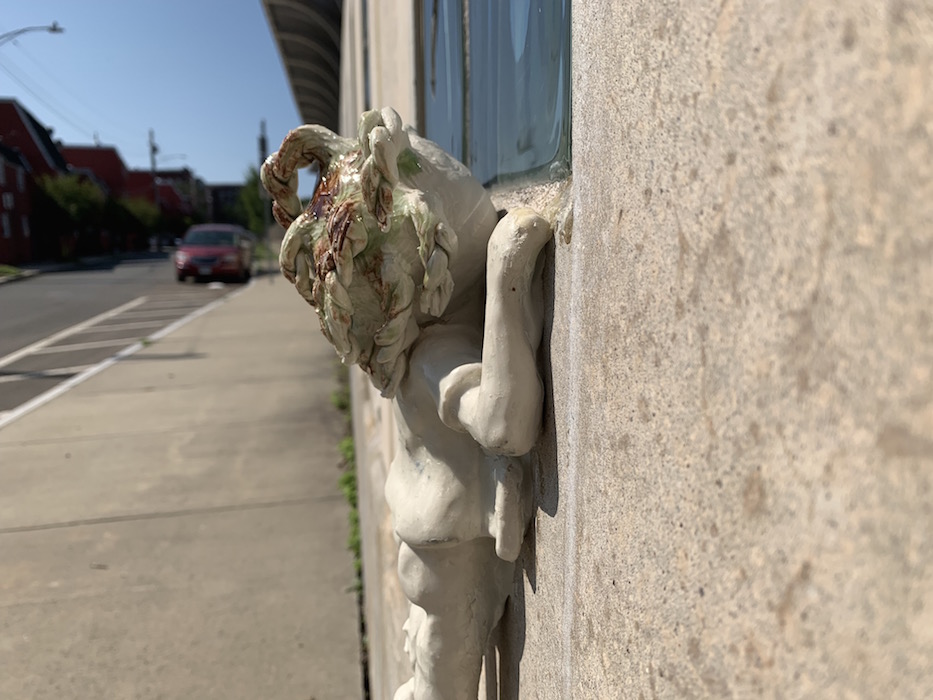 Ely Center of Contemporary Art | Arts & Culture | Wooster Square | Sculpture
Yvonne Shortt's Girl Looking Through Window. Lucy Gellman Photo.
The porcelain girl looks through the thick glass, her eyes wide as her chin clears the ledge and a criss-cross of train tracks materialize below. Her tiny, glazed hands hold the wall, pulling her up. Her hair is worked into delicate, thick twists in brown and green that surround her face. Even as she freezes mid-motion, they seem to bounce with excitement. Overhead, the New Haven sky stretches out for miles.
Sculptor Yvonne Shortt's Girl Looking Through Window is the newest—and likely tiniest—resident of Artizan Street, a one-block cut through nestled between Grand Avenue and Court Street. The artist, who did not leave a label or signature, thinks of it as "guerrilla sculpture:" unsanctioned, small-scale public art that makes the city a more beautiful and surprising place to live. As the little girl protrudes from the wall, she is both a joyful intervention on the built environment and a way to see it anew.
"I just really saw it as being a little person looking out and seeing the bright future before her, and the idea that that's all of us," said Shortt, who is an artist in residence at the Ely Center of Contemporary Art and installed the piece during the summer months. "Take a little time, see something a little differently, and then you'll have a brighter day."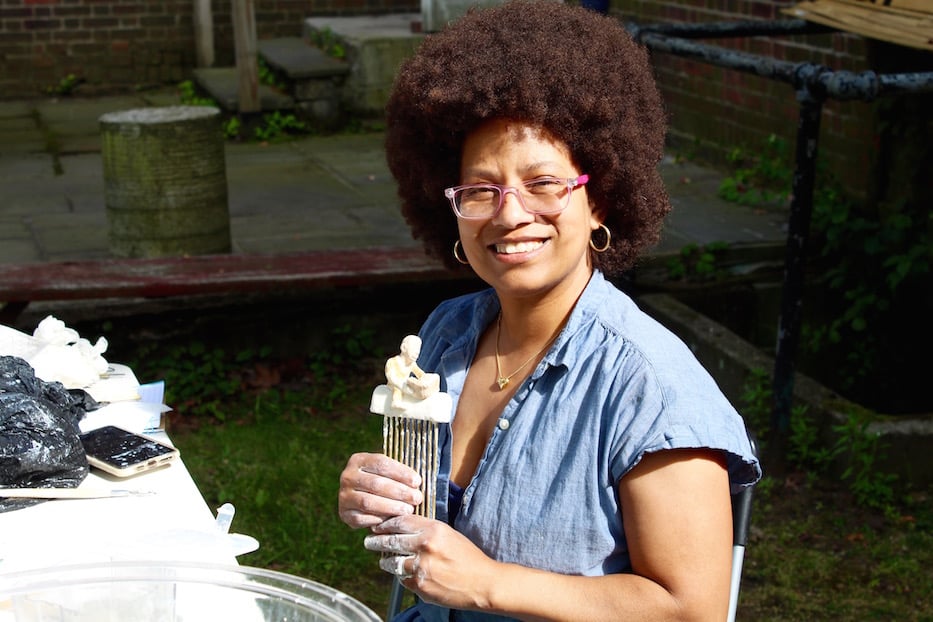 Yvonne Shortt leading a workshop at the Ely Center of Contemporary Art earlier this year. Lucy Gellman Photo.
The work is inspired by her own fixation with the wall and windows, which she's gotten to know over 15 years of visits to New Haven. Born and raised in Queens, Shortt first came to the neighborhood to visit her aunt, Wooster Square champion Elsie Chapman, after Chapman moved to New Haven from Ridgefield 16 years ago. Her grandmother, the late Elsie Blackshear, also lived in New Haven from 2011 until her death last September. Her mom, Carmen Blackshear Shortt, now also lives in New Haven.
Every time Shortt walked past the windows—thick panes of glass embedded in an Artizan Street wall below eye level—she thought about how perfect they would be for a small site-specific sculpture. In New York, Shortt has left some of those sculptures around the city for people to stumble onto: her Bantu Knot Girl lives temporarily at a garden in Brooklyn, her tiny, wide-faced guardians overlook the East and Hudson Rivers.
In the midst of the pandemic, the right image for Artizan Street came into her mind. A tiny girl, looking through the windows with awe at the train tracks below. Beyond them, there was downtown New Haven. Above them, a high ceiling of New Haven sky. She sculpted the work over six hours in New Haven, and then fired it at her studio in Wappingers Falls, New York.
The piece—which is entirely possible to miss if people aren't looking—is an antidote to a year and a half that has seen citywide struggles with Covid-19, hybrid education, gun violence, racism in the city's schools, and police misconduct. As she lifts herself up to the window, Shortt's young girl channels a childlike wonderment that has been, perhaps, hard to come by in the past 18 months. She also defies her built environment, turning the tan wall and its wiry metal overhang into a place where magic is entirely possible.
The longer a viewer looks, the more details reveal themselves. A sweet, tiny porcelain blouse hangs off her porcelain torso, billowing out just as it would on a flesh-and-blood child in the same position. There's an eagerness in barely-featured her face, like a kid who can see over the shop counter for the first time. Her feet are slack and pointed, the little treads on her tennis shoes visible. Shortt has sculpted her with a sense of inertia, and a viewer can almost feel her wiggling beside them.
She brightens up Artizan Street, once home to the city's first school for Black students and now the site of the Henry Knox Cooperative, more often referred to as the Friendship House Apartments. Traffic hums from nearby Grand Avenue, where buses lumber by every 10 minutes during the day. Occasionally, she is subject to a shrill siren from the New Haven Fire Department, whose Grand Avenue station sits just around the corner.
Around her, the street is quiet most of the time. On a clear day, the reflection from the windows scatters sunlight across her glazed face.
Since her arrival on the street this summer, she has charmed and intrigued neighbors. In August, New Haven Urban Design League President Anstress Farwell stumbled across it while taking a shortcut to the post office nearby. At the end of the Fire Department's lot, which empties out onto Artizan Street, she saw something jutting out from the wall. She crossed the street to get a closer look.
"It was this really miraculous little sculpture, of a tiny baby holding onto the edge of the window, as if it was looking through to watch trains," she said in an interview outside Grand Cafe last week. "It was beautifully done."
For a while, Farwell didn't know who the artist was, but delighted in the sculpture (as she still does). When she took a group of fellow Wooster Square residents to see it, Ian Dunn was one of the first to interact with the sculpture. As the sun set, glowing orange and pink through the windows, Dunn grabbed the top of the wall, pulling himself up towards it. He let his clog-clad feet hang just like the little girl's.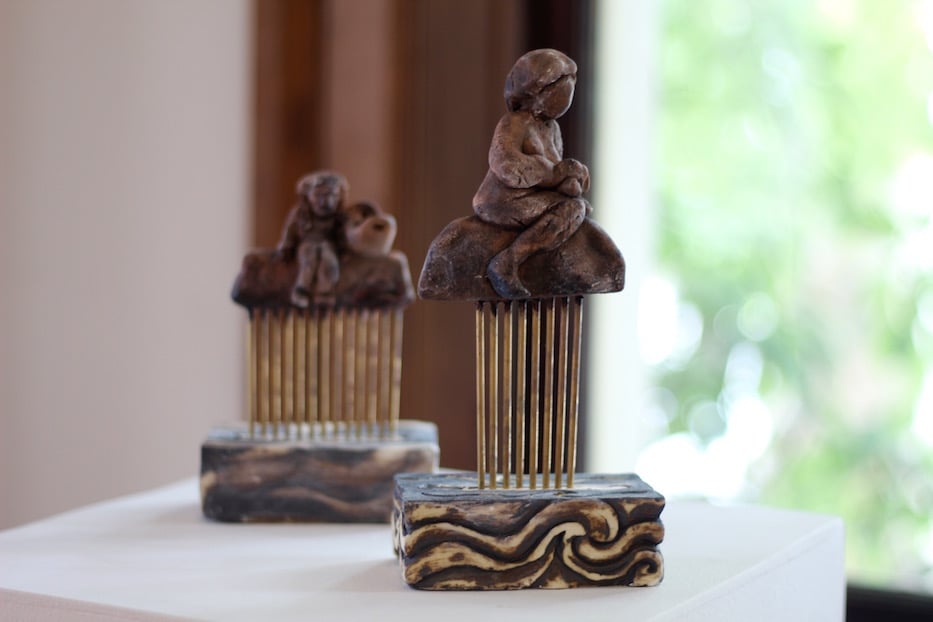 Shortt's work at the Ely Center of Contemporary Art. Lucy Gellman Photo.
Shortt said that the project, unlike her three-part African American Marbleization: An Act of Civil Disobedience, is "more about me and creating something fun." At the Ely Center, viewers encounter Shortt's clay and marble busts and series of sculpted clay afro picks steeped in history (read more about that here and here). The installation also includes 15 oral hairstories that she collected at the Mitchell Branch of the New Haven Free Public Library and on the New Haven Green.
The work adds a chapter to her ongoing, deepening relationship with the city. This year, she plans to install one of her huge afro picks with students at Common Ground High School, where the campus is studded with site-specific public art and a healing garden. More of her work is on view at Socrates Sculpture Park in New York, where it is part of The 2021 Socrates Annual: Sanctuary through March 6 of next year.
She said that she would like to place more small sculptures around New Haven, giving her unsuspecting viewers a reason to pause and look at the city with fresh eyes. When she spoke to people about getting permitted to do public art downtown, she found that "there's really no way to do that," she said. So she figured "I'll just put that little thing here," and keep looking for spaces.
She already has other spots in mind, she added. After passing the sun-drenched patio at Book Trader Cafe downtown, she began to envision a tiny person scurrying in and out of the space with books. She'd also love to talk to city residents and business owners about placing work "outside of their houses and outside of their stores."
"I'm glad people are responding," she said. "I would love to do little cute sculptures around New Haven. I just want to create something fun that's outdoors."
Find out more about Yvonne Shortt's work on her Instagram. Listen to the hairstories that she has collected here.