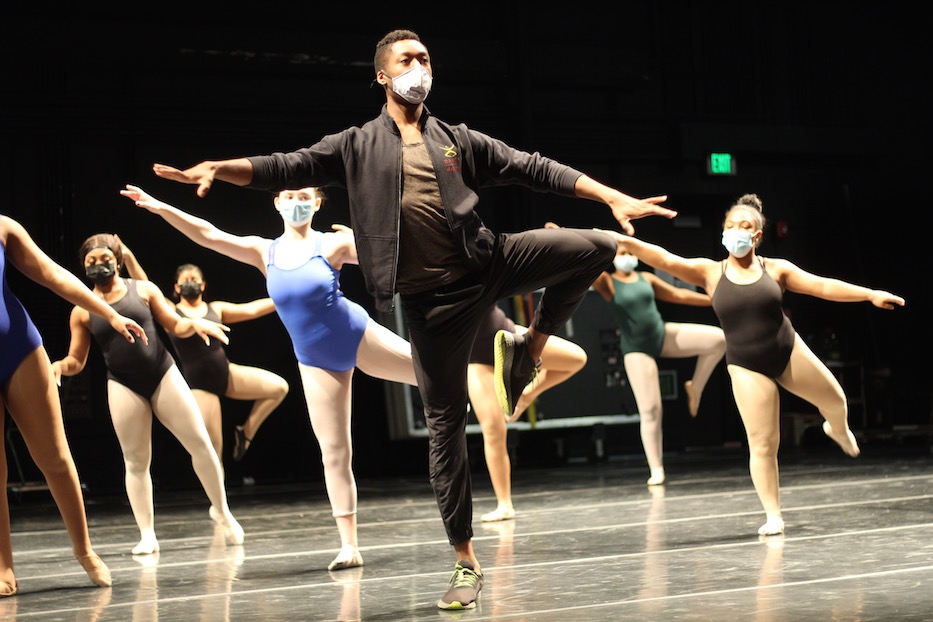 Co-Op High School | Dance | Education & Youth | Arts & Culture | New Haven Public Schools | Arts & Anti-racism | Shubert Theatre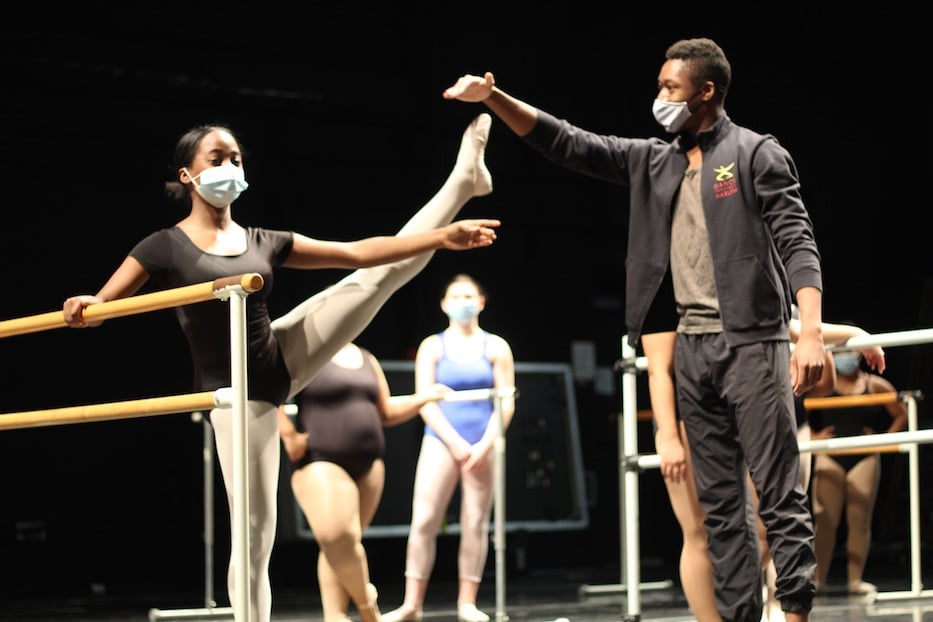 Danielle Brice, who is a senior at Cooperative Arts & Humanities High School, and Dance Theatre of Harlem company member Micah Bullard. Lucy Gellman Photos.
Micah Bullard lifted his hand in the air. Beside him, Danielle Brice raised her whole body towards the ceiling, her back arched and feet steady. Bullard examined the line from his fingertips to her feet. A marbled, pockmarked grey moon hung overhead, as if it were keeping watch.
It was time to practice grand battements.
"Imagine there's a bell," he said. "Ring it." As she did, her left leg extended in a perfect line, he raised his hand. "Keep going." She hit the mark. He raised it a third time. "Keep going."
Brice is a senior at Cooperative Arts & Humanities High School. Bullard is a performing artist at the Dance Theatre of Harlem. Tuesday afternoon, their worlds collided on the school's long-quiet stage, where Bullard arrived to teach a master class before the company's performance this Thursday at the Shubert Theatre. Sixteen Co-Op students, all of whom are vaccinated, attended the class. The Shubert has also made Dance Theatre of Harlem's virtual programming free and available to thousands of students across the state.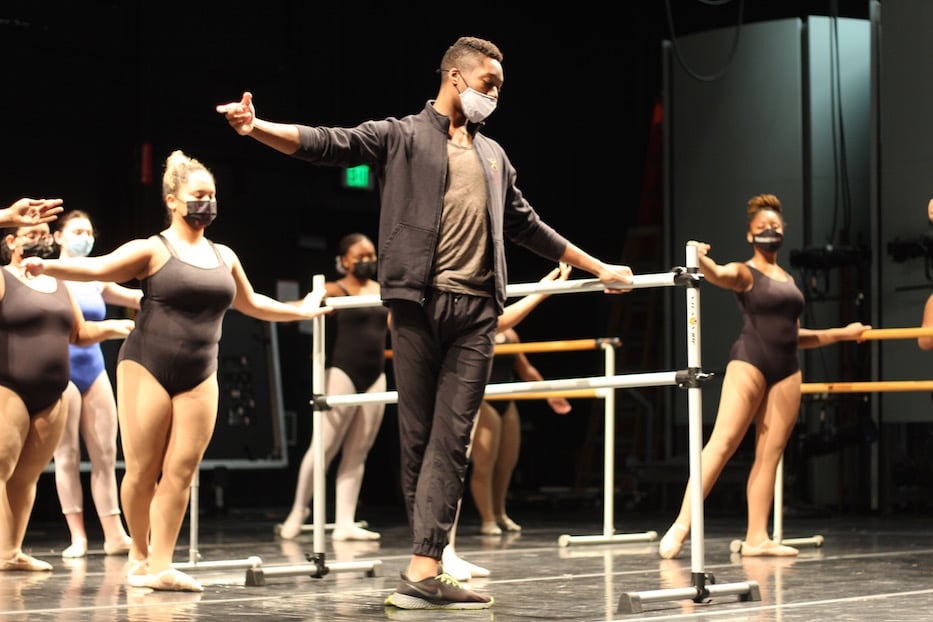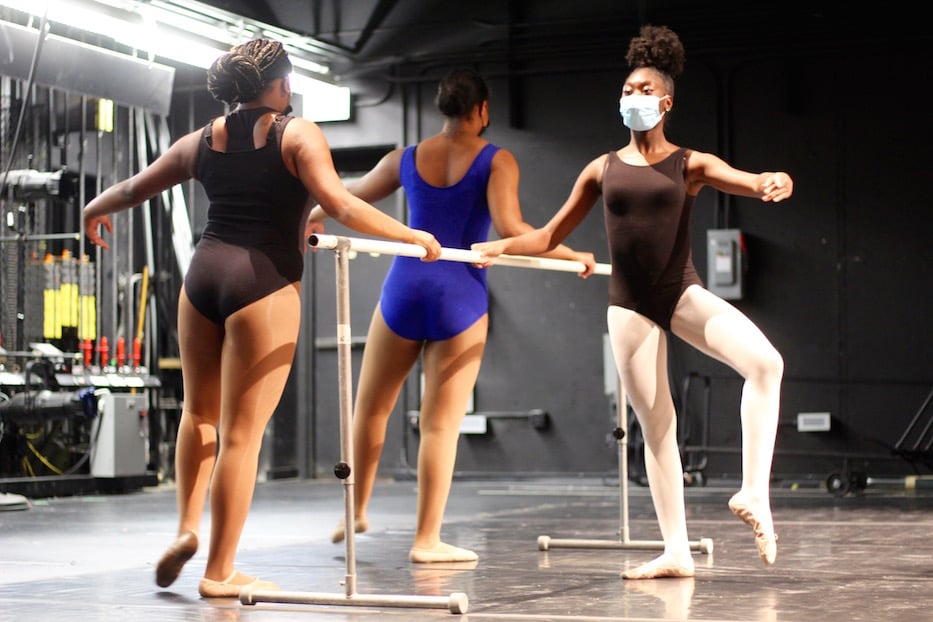 Paris Whitaker, a junior at the school, later called the class "a great experience." She is pictured at the left in the bottom photo.
"The students get to experience another part of dance [through the master class]," said Christine Kershaw, a veteran educator who has been at Co-Op since the 1990s, and is herself an alum of the Alvin Ailey American Dance Theatre. "Sometimes they feel that they're enclosed in what they do in these four walls—that it begins and ends in these four walls. We want them to know and to experience the outside dance community, to bring it all in together. I see that on their faces when they're here."
As students filed into the space in their black and green leotards, thick pink tights and black and blue medical masks, Bullard directed them to a series of ballet barres set up on the stage, where the moon from a cancelled performance of Rent still hangs low in a make-believe sky. He turned toward the group, 16 pairs of eyes staring back at him. The theater was quiet, a handful of educators huddled in the back rows. Light pooled and scattered on the stage.
"Do whatever you know," he said, watching members of the class. "Pliés. Grande ​​​​pliés. Port de bras. I just want to see what you know. Does that make sense?"
He got a series of murmured nods in return. A piano version of Louis Armstrong's "What A Wonderful World" piped through the speakers and floated over the stage. On an invisible cue, dancers began a warmup in unison. Sixteen pairs of feet worked their way from first position to second, arms lifting above heads. Thirty-two knees, kneecaps and ankles loosened up. Spines bent toward the ground. Gently cupped hands and knuckles grazed the floor.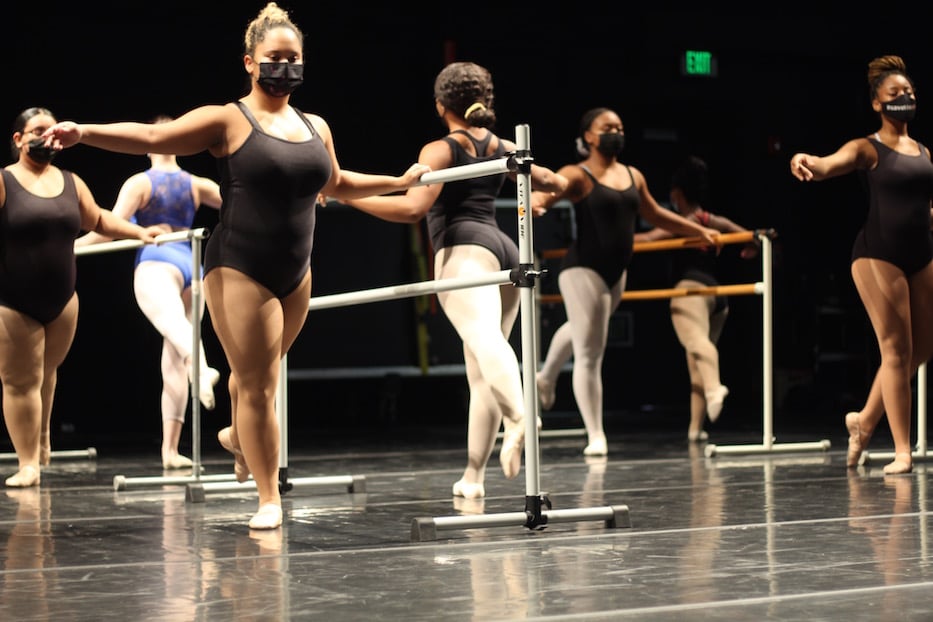 Bullard walked through a sea of limbs, watching arms and legs as he went. Every so often, he would make an adjustment, or crouch down to watch footwork. His eyes wove skillfully through a maze of pink and peach leather slippers. He studied the movements, sometimes so quiet his shoes didn't make a sound. No more than two minutes in, he stopped the music.
"Do me a favor: shake it out," he said, pumping his legs and feet to demonstrate. "Shake it out." Dancers began to rotate their wrists and ankles. "Yeah! You're really really stiff. Say hi to someone you know!"
A dancer at the front of the stage laughed nervously, standing otherwise still in fifth position. She lifted her carriage and let one arm fall to her side, curved in a wide, backwards C. He put the music back on, and nodded as dancers looked around the room as they moved noiselessly between positions.
"The first time we did this combination, you looked kind of dead," he said. A few laughs bubbled up from different parts of the stage. "Like it's eight o' clock in the morning and you don't wanna be here. I want you to be lively human beings... because that's what this is."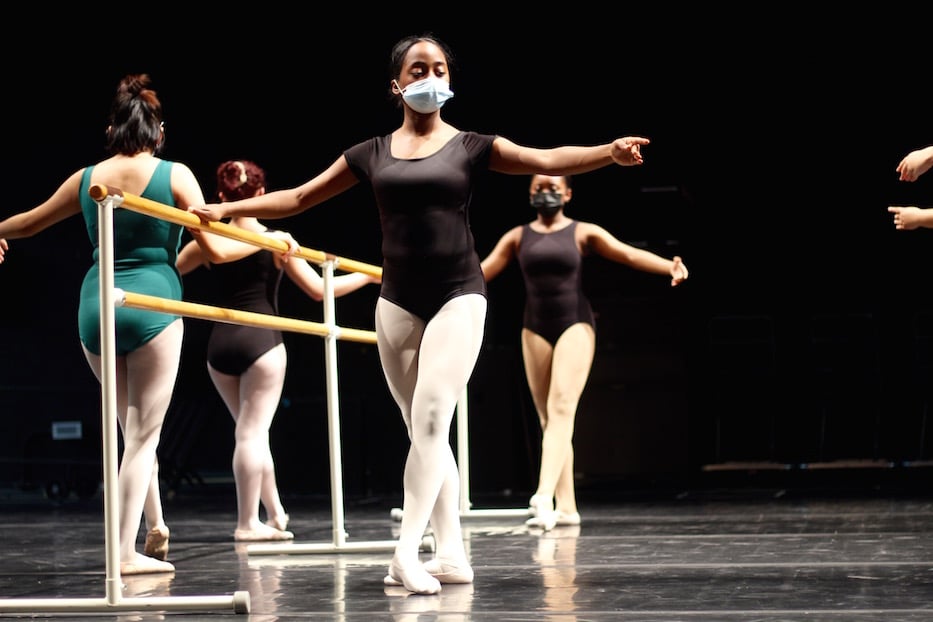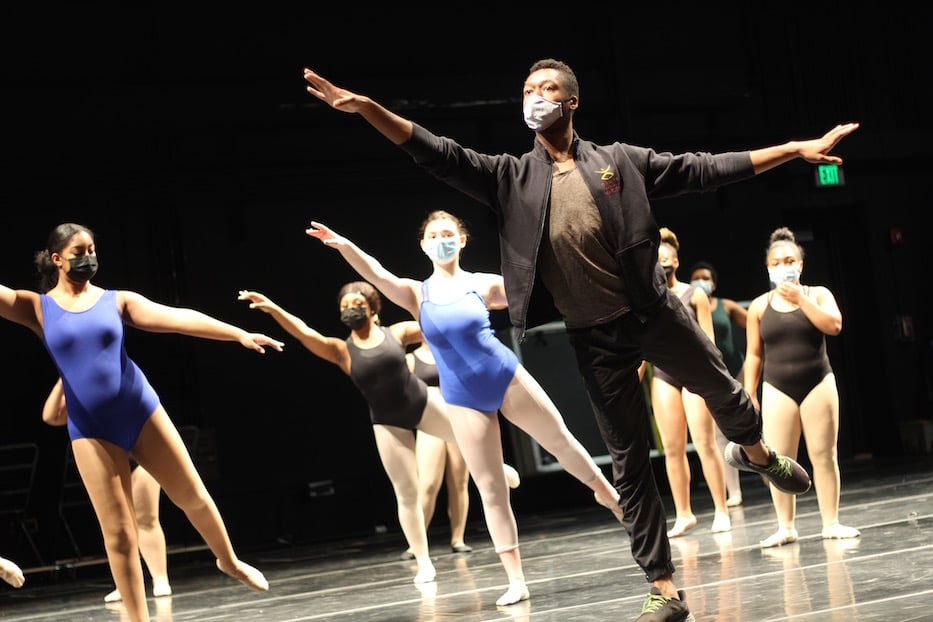 He brought that verve to the whole class, weaving in reminders to relax, loosen up, and look away from the floor between piano covers of Lewis Capaldi, Imagine Dragons, and Bonnie Tyler. At one point, he walked over to a dancer and sank into a deep squat, watching her back leg until she was turning it differently. At another, he repeated an adagio until dancers were gliding across the stage, not a shuffling pair of feet in sight.
During a series of pirouettes, he watched a group of four dancers closely, his back a straight line. Every so often, his wrist flickered to life or a hand extended, as if he was about to say something. He stopped them and shook his hips, as if they were suddenly made of jello. A few students giggled. One tried her pirouette again, falling out of balance on the second rotation.
"What. Was. That?" he asked. His eyes remained soft. The question had laughter at its edges. She focused on a spot light at the back of the theater and repeated it, steady as she spun.
For Bullard, it's part of a dream he has only recently realized. Born and raised in Houston, the artist started dancing when he was five, in a studio that was just around the corner from his home. At the time, he wanted to dance because his older sister was doing it. As he stayed with the craft—more tap and jazz than ballet, he said—he got serious about the work.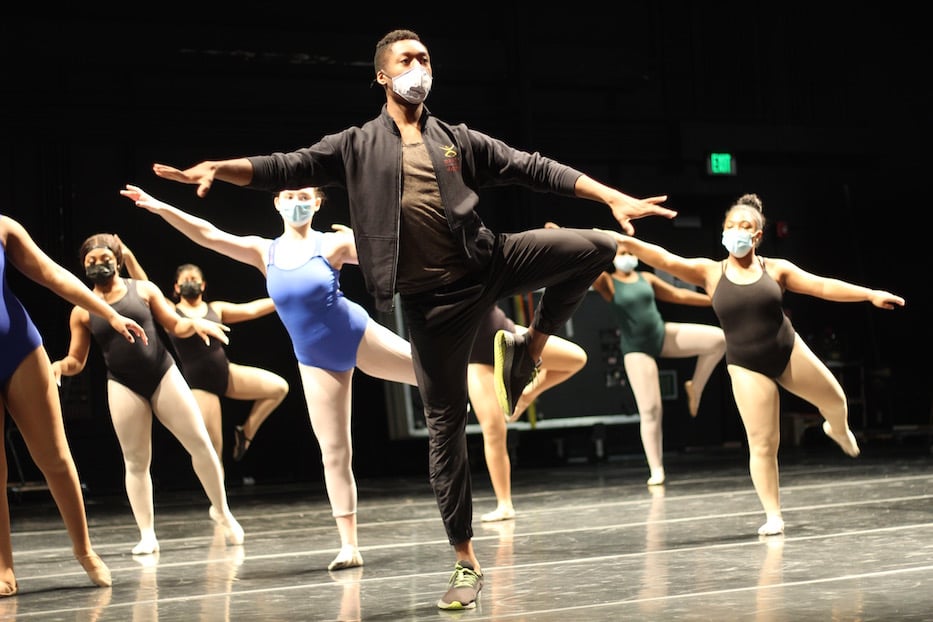 While studying ballet at the University of Oklahoma, he was able to take a summer intensive with Dance Theatre of Harlem. It was the first time since his childhood tap classes that he had learned from a Black dance instructor, he said. Even as he went on to dance with the Oklahoma City Ballet, he kept his eye trained on the New York-based company.
"That was my first time being surrounded by Black dancers," he said. "It was a completely life-changing experience. And ever since then, it became my goal that I was going to get into the company."
Bullard first auditioned for Dance Theatre of Harlem in early March 2020, just before the company went to tech a show in Detroit. Covid-19 was hitting the U.S.; the show never happened. A week later, the world had shut down completely. Stages went dark. A year later, he opted for the company's virtual audition process. He started dancing with them in August of this year.
When he's teaching, he works to pass on that same spark that he experienced three years ago. He's sensitive to the fact that students, much like him, may not have other Black dance role models in their lives.
"It takes a lot to be in any sort of art form that's so physically and mentally demanding, and not have any representation of yourself there," he said. "You know, my white peers would often be able to look at their own role models. Like, their teachers—they would be able to see it. I didn't really have that experience until much, much, much later in life."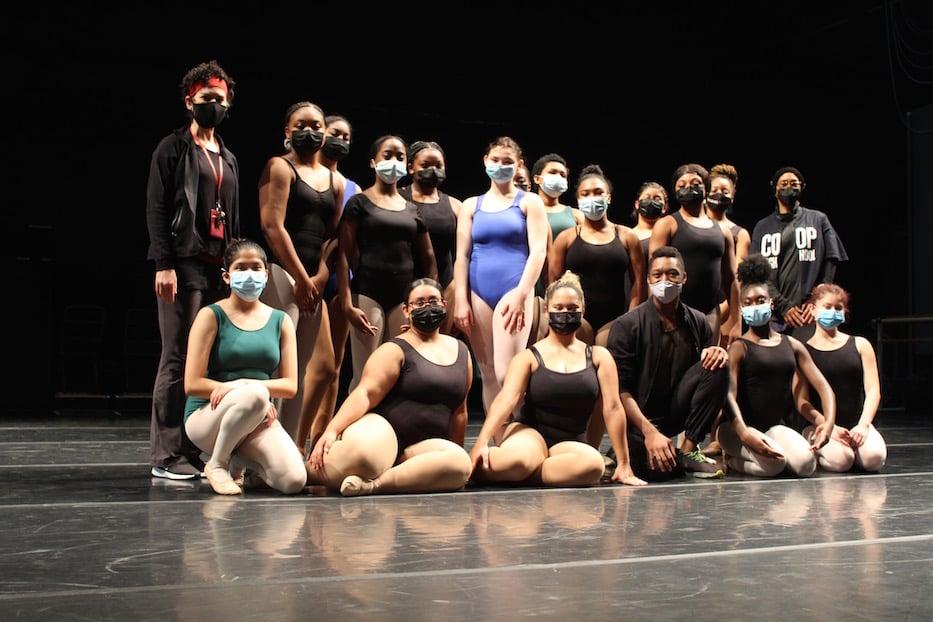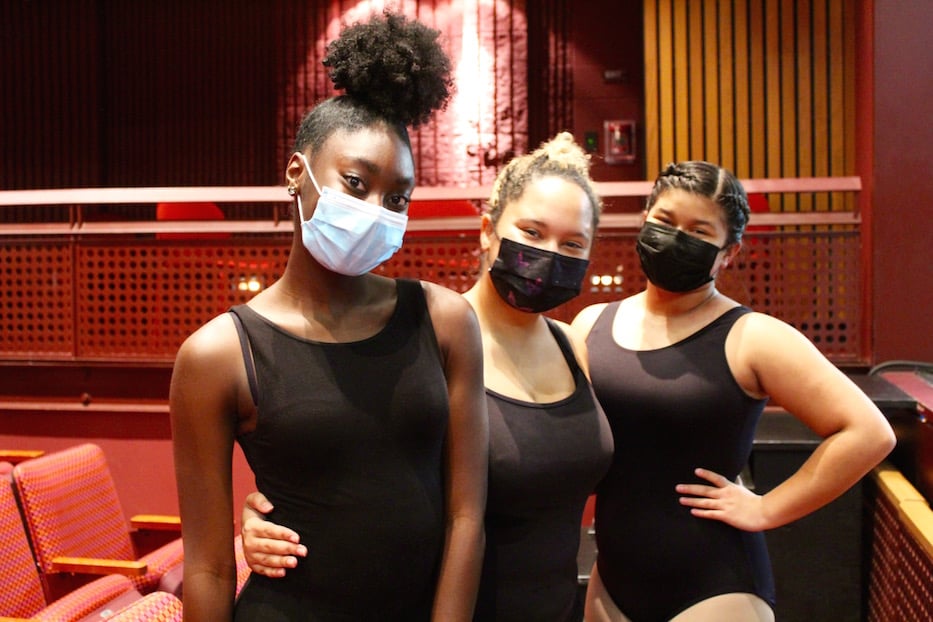 Top: Students in the master class, flanked by dance teachers Lindsey Bauer (at left, with red headband) and Christine Kershaw (at right, in black and white sweatshirt). Bottom: Students Paris Whitaker, Ayanna Blowes, and Alondra Rodriguez.
As he taught onstage, Robert Garland slipped into the second row and watched silently, introducing himself only after a break in the action. Garland is both the resident choreographer at Dance Theatre of Harlem, where his "Higher Ground" is scored by Stevie Wonder, and the director of its school. Every so often, he gave a quick order, directing dancers to look at the corner of the theater or try their sautés without making a thump thumping noise on the stage.
In the last five minutes of the session, he pitched students on a summer intensive like the one Bullard did during college. Born in Philadelphia, Garland told students he was once in their shoes as a student. He studied dance at the Philadelphia School for the Performing Arts, which ultimately became his springboard to Juilliard.
"This looks like my high school that I went to," he said. "I was you!"
As they pulled on jeans and jackets after class, students soaked in those words, some watching as Bullard exited gracefully to go over light cues across the street. Paris Whitaker, a junior at the school who hopes to study dance in college, said she was grateful for the experience.
As a longtime student of "everything" at Tia Russell Dance in Woodbridge, she said that she's been surrounded by Black and Brown dancers all her life—but often doesn't see herself reflected on the professional stage. Beyond Misty Copeland, she doesn't hear about Black ballerinas making it.
"Being a person of color, especially in ballet, it's hard," she said. Tuesday, she said she planned to bring lessons from the class with her to the barre and the stage.
Freshman Alondra Rodriguez, who just started her studies two months ago, called it an "amazing experience" and a chance to learn a centuries-old form in a new way.
"It was really fun," added Jayla Anderson, a sophomore at the school who started dancing at Betsy Ross Performing Arts Magnet School. "I feel like I've been especially lucky dancing in New Haven. New Haven is so diverse … companies like Dance Theatre of Harlem really amplify that."
Dance Theatre of Harlem Takes the stage at the Shubert Theatre Thursday night at 7:30 p.m. Tickets and more information are available here.