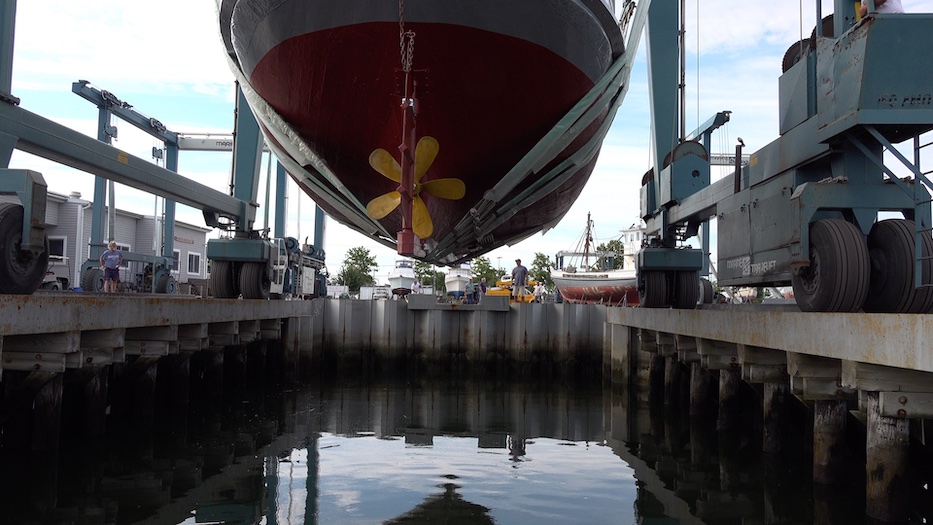 Film | Arts & Culture | NHDocs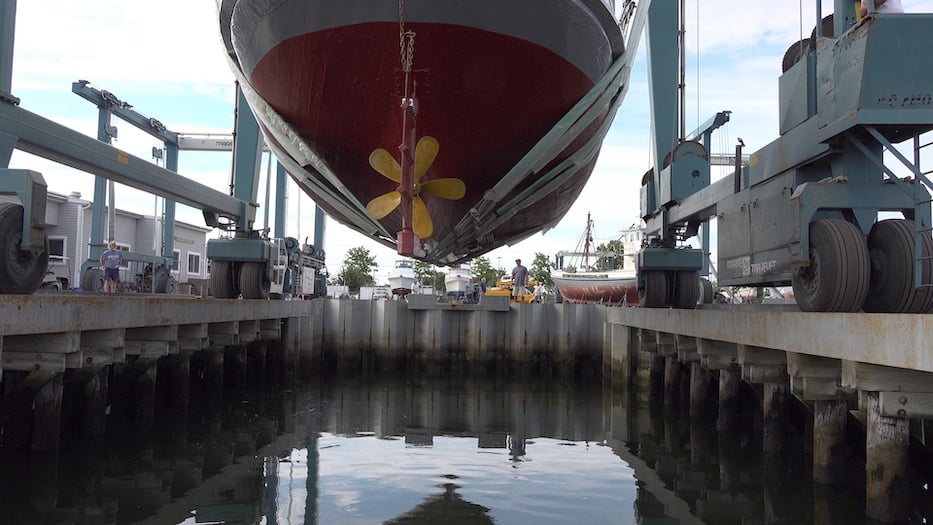 Image Courtesy Steve Hamm.
For oystermen across New England like Brian Flanigan, business extends beyond a way of life. They grow up, learn the trade from their parents, and then take on the business when they come of age—so often it's a common joke amongst them. And then, they hope that there will be someone to pass it on to.
Except when there isn't.
"I've been working here 24 years, and I think I'm the last one," announces Flanigan, shipwright at Flanigan Bros. Boatyard in Fairton, New Jersey, into the lens of a camera in The Oystering Life. "My kids aren't really into it. I don't know. I might have to find somebody to train up. Pop says you have to grow your own help, but that hasn't worked out for me yet. I haven't grown any that want to take over."
It was one such moment in The Oystering Life, a documentary from East Rock resident Steve Hamm that follows oystering in and around New Haven. Last Saturday, it arrived at the Bow Tie Criterion Cinemas on Temple Street as part of NHDocs, the New Haven Documentary Film Festival. This year it presents a total of 116 films between Oct. 14 and Oct. 23; view all of them here.
"I think video is the storytelling medium of our age," Hamm said after the premiere. "It's the democratization of storytelling … especially since the cost is low. Do you know what the production cost of this film was? $600 – 100 dollars for a pair of muck boots, and 500 for my niece to make some illustrations."
Hamm has been a regular presence at NHDocs over the years, with documentaries that take a closer look at New Haven, at Connecticut, and at New England. In the past few years, they've included The Village: Life in New Haven's Little Italy, Shift Change, and A River Speaks. He's an accomplished author and essayist, but has made the shift to video production because he believes it speaks to wider audiences.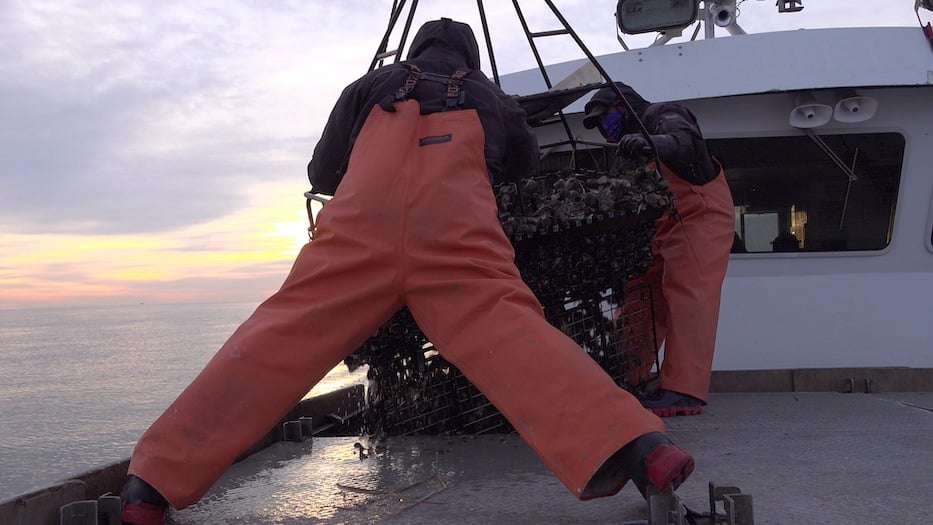 Image Courtesy Steve Hamm.
The choice to delve into the lives of oystermen was a natural one, he said. The industry has been a crucial one in Connecticut's history, and remains so today. Centuries ago—before this land was recognized as Connecticut at all—Indigenous peoples taught the first colonial fishermen how to fish up oysters. The dugout canoes with which they first sailed out into the Long Island Sound are the spiritual ancestor of most modern oystering boats.
In fact, New Haven holds a long legacy with its wooden oystering vessels. The flat-bottomed sharpie sailboat, which could easily make it out without scraping up on the oyster beds they gathered from, was first invented here, and nearly every boat used by oystermen in this state share the same design and materials. Many used today are from as far back as 1890–carefully restored and repainted as one part of our legacy to preserve.
Oysters also play an integral part in the health of Connecticut coastlines and Long Island Sound. Their beds shape the banks and direct water currents. They serve as a natural filter for the bodies of water they're in. As viewers learn in the film, a single adult oyster can filter as much as 50 gallons of water a day. They eat algae and phytoplankton by straining them out of the water, and can help control the overgrowth caused by fertilizer flowing into the Sound.
But this filtering also means that maintaining the quality of water in their habitats is of the utmost importance to prevent them from collecting toxins. As a result, Connecticut has invested heavily in resources and infrastructure to check the quality of rivers and outflow, and ensure the preservation of our oyster beds—such as the efforts of aquaculture school Sound School's students, as documented in the film.
"We set out concrete reef balls at the oyster reefs," teacher Peter Solomon explains alongside footage of students in scuba gear bringing out the hollow structures, "and they help as anchors for the oysters to collect."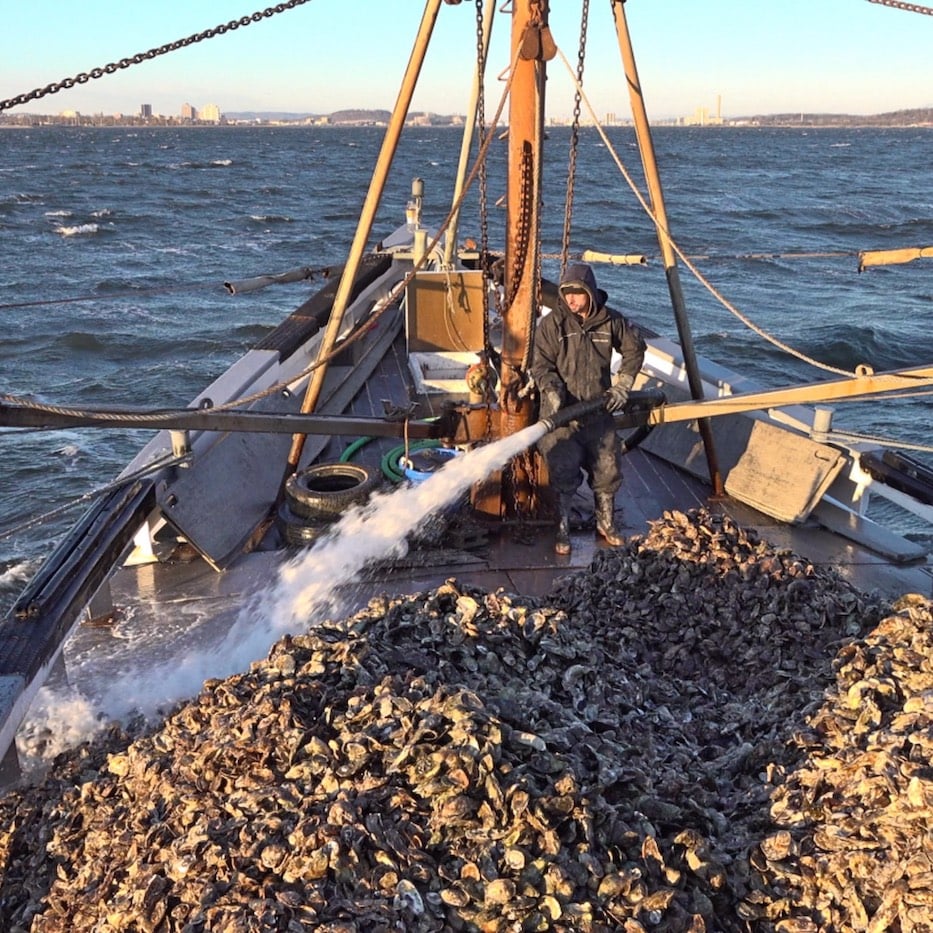 Image Courtesy Steve Hamm.
Their purpose extends beyond just helping promote reef growth—they're being used to form "breakwater reefs" that will hopefully help stabilize shorelines and reduce the effect of rising sea levels, as effectively as sea walls.
The effect of climate change is a topic that looms large over the whole film. Oyster farmers, by nature of their job, pay careful attention to the balance and wellbeing of the environments they grow their crops in, and have been taking careful measures to prepare for the drastic changes that are expected to be inflicted upon the landscape. Many even physically raise their workshops off the ground further to stave off the problem of rising sea levels (some by as much as 18 inches).
The water level rising alone is far from the only threat, the documentary explains. Rising ocean temperatures are dangerous for every sea creature not freely capable of migrating, since even a change of a couple degrees can prove life-threatening. Unlike humans who have the privilege of living on land, temperatures can't be dissipated as easily underwater. Or as Hamm put it after the film, "it'd be like if you were walking around with your internal temperature at 100 degrees all the time."
In addition, increasing ocean acidification not only threatens oysters by impeding the development of their shells, but their ability to form beds—the calcium carbonate of discarded shell attracts them to settle together. Add to it the increased risk of powerful storms, which is devastating not only for oyster beds, but for the farmers dependent on the three-year crop.
In the question-and-answer portion after the film's showing, Hamm took time to address these threats. "It's not only a threat to the oyster industry, but to all industries, pretty much," he said. He took the chance to call for audience members to also check out the New Haven Climathon, to be hosted at John S. Martinez School in Fair Haven on October 29, as one of many local efforts to increase awareness of the effects of climate change.
Every documentary Hamm produces is with the intent to capture and reveal something about the inner life of our state, and The Oystering Life—which will be airing again on October 21 at the Mystic Film Festival—is no exception. As Hamm announced to his audience before they left the theater, "You now know more about oystering than 99.9 percent of people."
Catch The Oystering Life Oct. 21 at the Mystic Film Festival. Learn more about the New Haven Climathon, scheduled for Oct. 29 at John S. Martinez School, here.