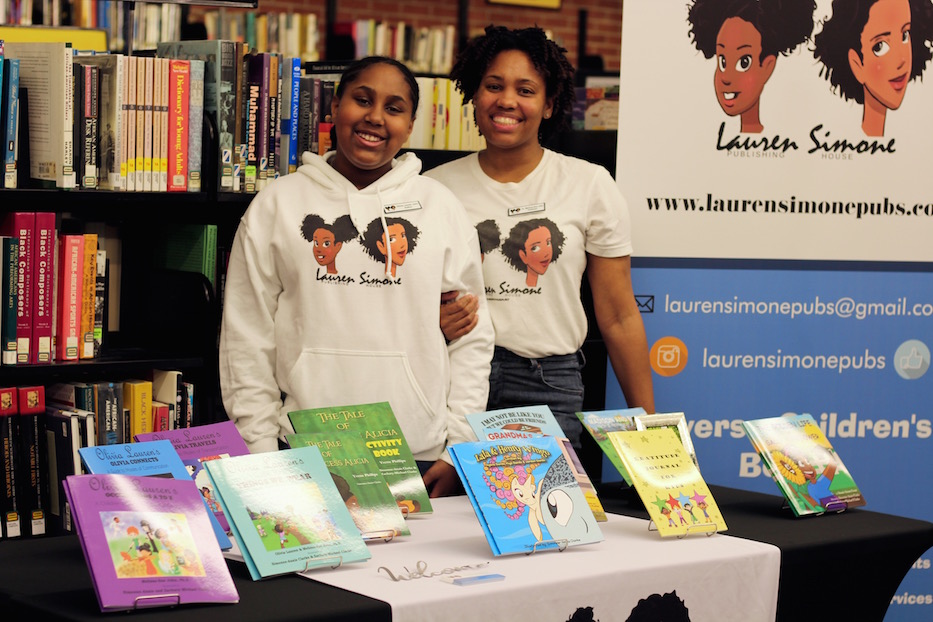 Black History Month | Arts & Culture | New Haven Free Public Library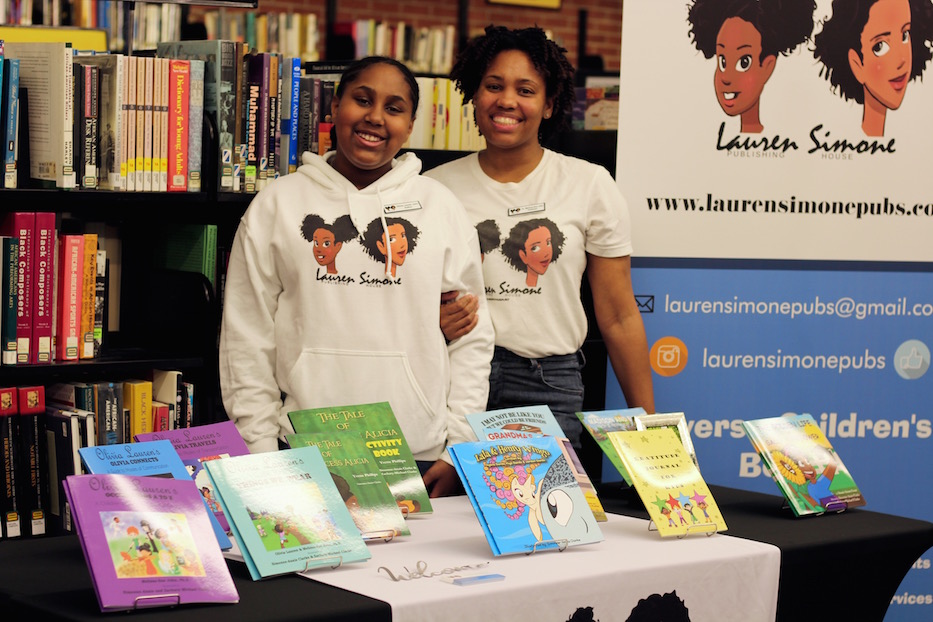 Lauren Olivia John and her mom, Melissa-Sue John. Lucy Gellman Photos.
Melissa-Sue John was tired of books that didn't reflect the two Black girls she had at home. Her daughters, Olivia Lauren and Alyssa Simone, were both budding writers. So the three of them did the only reasonable thing there was to do: they founded a publishing house to tell their own stories.
Wednesday, John and her daughter Olivia were among a handful of artist-entrepreneurs at Visual Literacy, a one-night artist and vendor showcase at the Stetson Branch Library on Dixwell Avenue. Close to 30 attended the event, the fourth and final part of a Black History Month series from Urban Grants 4 Us, Inc.
"It is essential that we have the opportunity to celebrate our own Blackness and our achievement not only in Black America, but in the community where we live," said Urban Grants 4 Us Facilitator Petisia Adger. "This is also intended to elevate the artists."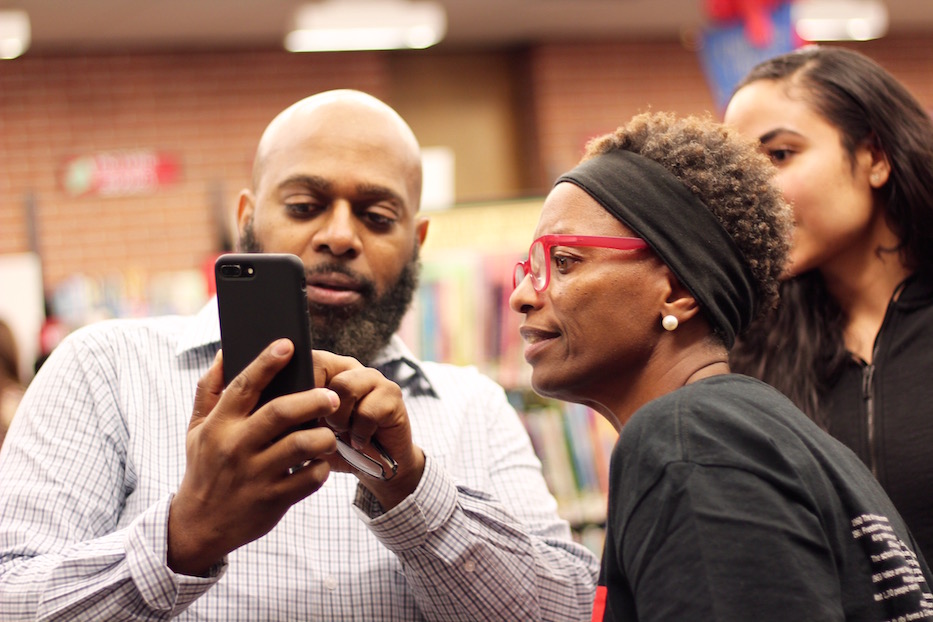 Photographer Rodney Dabney with Urban Grants 4 Us Facilitator Petisia Adger. "It is essential that we have the opportunity to celebrate our own Blackness and our achievement not only in Black America, but in the community where we live," she said.
Over two hours, artists from New Haven, Hamden, and Hartford gathered at the library, ready to talk to patrons who walked among the well-stocked bookshelves and stopped at their tables. Close to the reference desk, a Black baby doll looked out on the crowd with sweet, smiling cheeks. Across the library, multimedia artist and writer Shaunda Holloway sat perched beside two of her artworks, ready for any questions that came her way.
Holloway was born and raised between New Haven and Hamden, where she still lives today. She fell in love with artmaking while studying journalism at Southern Connecticut State University (SCSU), after realizing that most of her friends were students in the art department. Or in her words, "art chose me."
When she left school to care for her mom, she kept the interest alive in classes at Creative Arts Workshop (CAW). She recalled visiting the Studio Museum in Harlem for the first time when she was in her twenties, stunned by the number of Black American artists she had never heard of. Today, she credits many of them—Romare Bearden, Lois Mailou Jones, Jacob Lawrence, Elizabeth Catlett and Jean-Michel Basquiat among others—with guiding her through her work.
"It was like going to church," she said. "That lit the pilot light for me."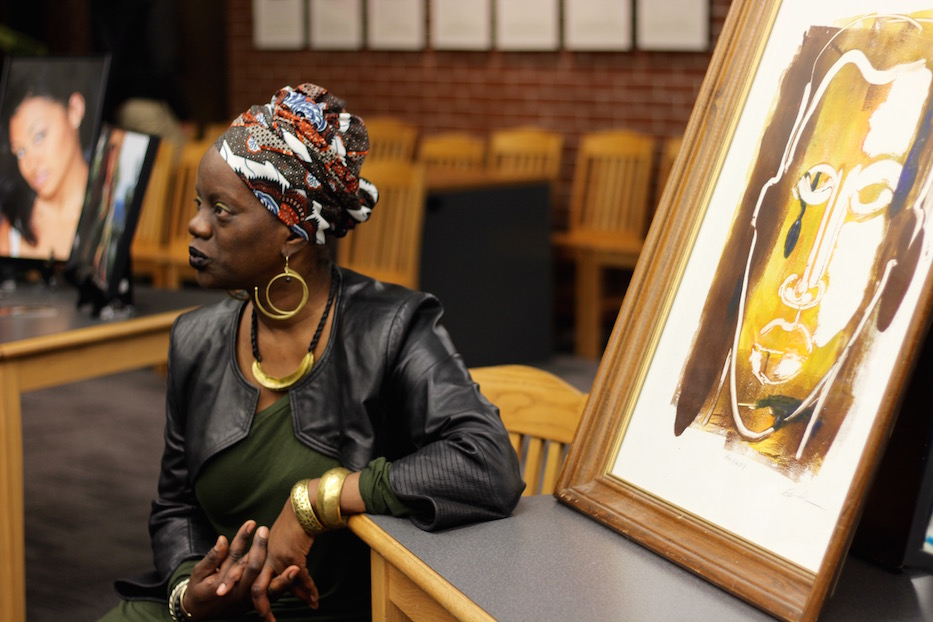 She honed her craft by doing it around the city. In the 1990s, Holloway jumped onboard as an art teacher at Cooperative Arts and Humanities Magnet High School when it was still a nascent venture between New Haven and Hamden. She continued classes at CAW, expanding her reach into abstract painting, poetry, photography and printmaking. At some point, her home became her studio space.
Beside her, an array of eyes and mouths winked out from a print and painting, both framed and waiting for viewers to come closer. In the first, a monotype titled Huemanity, a face emerged in coffee-and turmeric-colored tones, smears of blue by his eyes, chin and temples.
"I wanted to create a piece that told the story of Africa being the birthplace of humanity," she said. "In my work, I try to bring dignity to people of African descent."
As she spoke about her work, it was hard not to get equally excited about New Haven. Holloway has lived in almost every neighborhood of the city, and has fallen for each of them.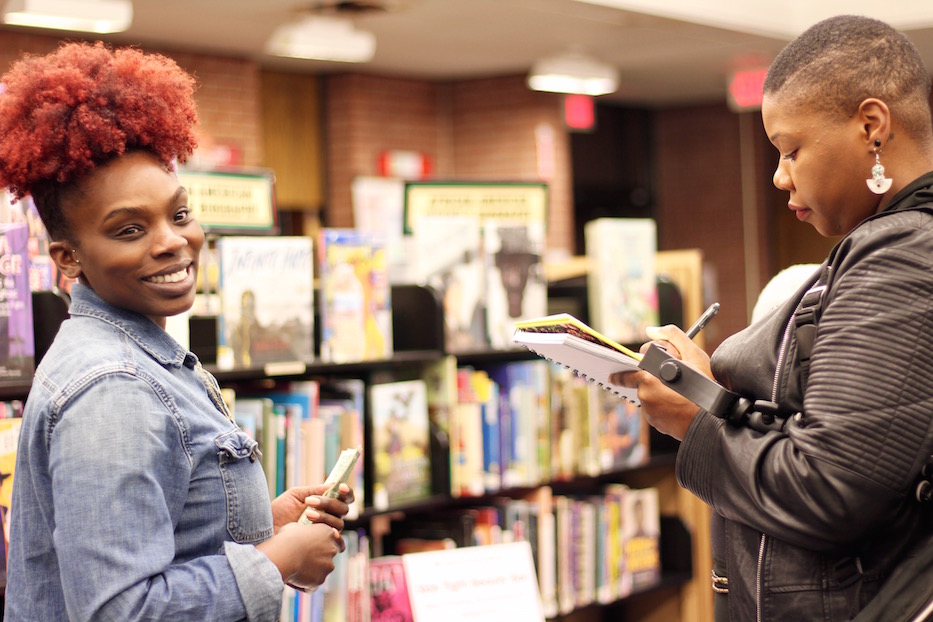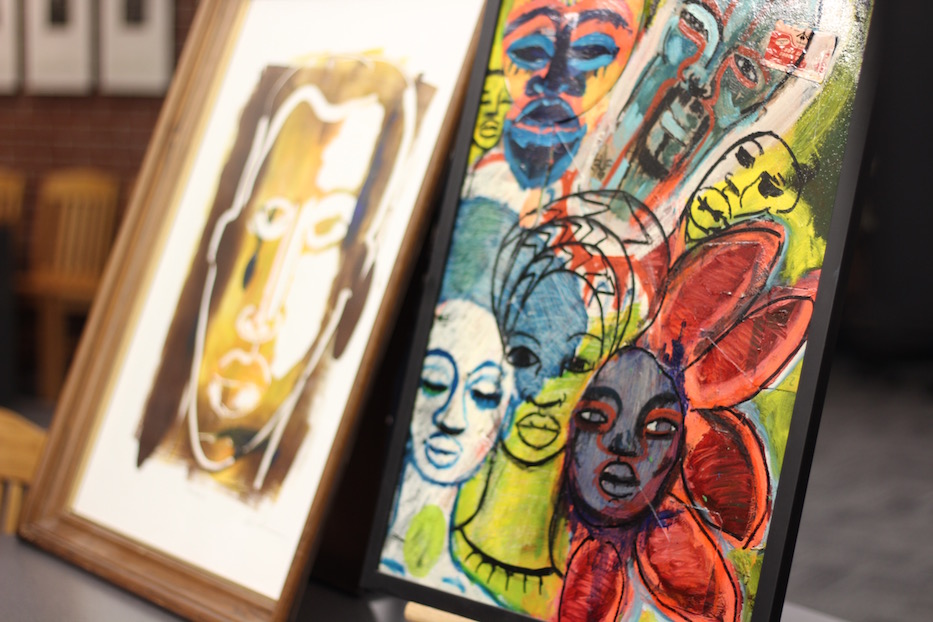 Top: Enolda Joseph. Bottom: Holloway's work.
In Fair Haven, she could always smell bread baking. West Rock was beautiful. In Dixwell, she always felt like she was going to run into someone she was related to. She still does. While she has never lived Hill, she has had "a crush" on the neighborhood for some time.
Others spun stories of New Haven's past—and its changing present—as they pitched potential new clients. Bouncing between a series of portraits on his iPad and a few framed works he'd brought with him, photographer Rodney Dabney spoke about how his practice has changed.
Dabney grew up in New Haven in the 1970s and 1980s, at a time when the city still had camera stores in Westville and downtown. He started shooting film during his sophomore year at Wilbur Cross High School, after worshipping a senior who walked around with a polaroid camera. Like Holloway, he learned by doing: he shot photos for the yearbook and fell in love with darkroom practice.
For the first few years, he joked, they weren't very good because he didn't own glasses, and couldn't accurately focus the lens. But gradually, he became that kid with a camera always around his neck. In the late 1980s, he started at a portrait studio in Milford, and then worked for himself. In the 1990s, he moved into a studio in Erector Square, where he has practiced for 28 years.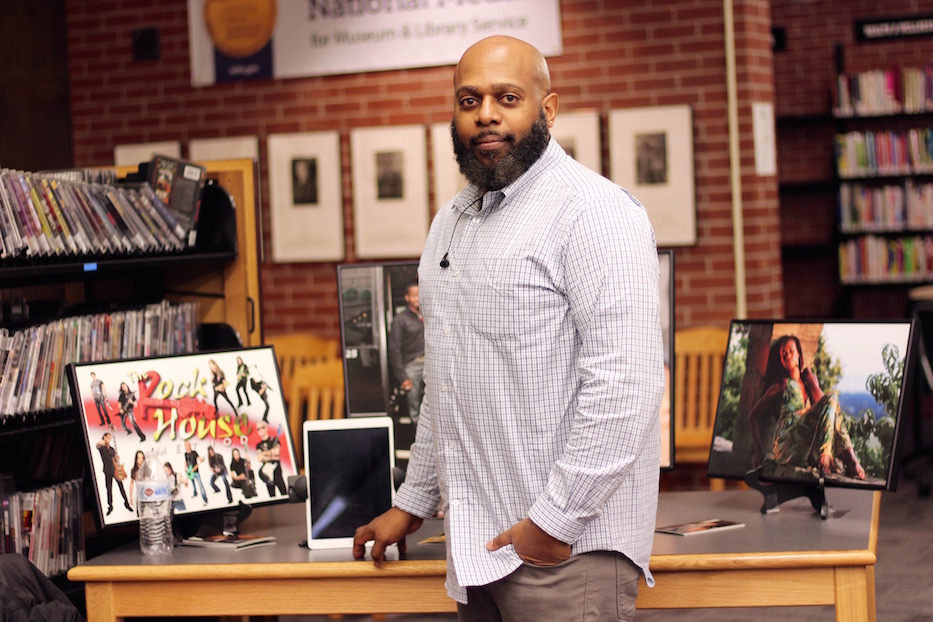 Dabney has seen photographic practice change around him, he said. As film transitioned to digital, portrait studios and camera stores shuttered one by one. Business, which comes largely from word of mouth, isn't what it used to be. In the past five years, iPhone technology has become so sleek that he sometimes shoots with a phone just for fun, and leaves his camera gear in its bag.
Just a few feet away, the Johns greeted readers of all ages at a table for Lauren Simone Publishing, a small company that the two girls and their mom started four years ago. The idea came to Sue-John as the girls were growing up, and she realized how few characters looked like her children.
"I'm a mom of two Black daughters," she said at the event. "And every time I read a book it was about slavery or a first."
There were, in other words, no books that chronicled what it meant to be young and Black and happy, living a perfectly normal life. When she did research, John found that there were similar outlets—Mocha books in Tulsa for instance—but nothing in Connecticut. In addition to selling in a few independent bookstores, the company is online.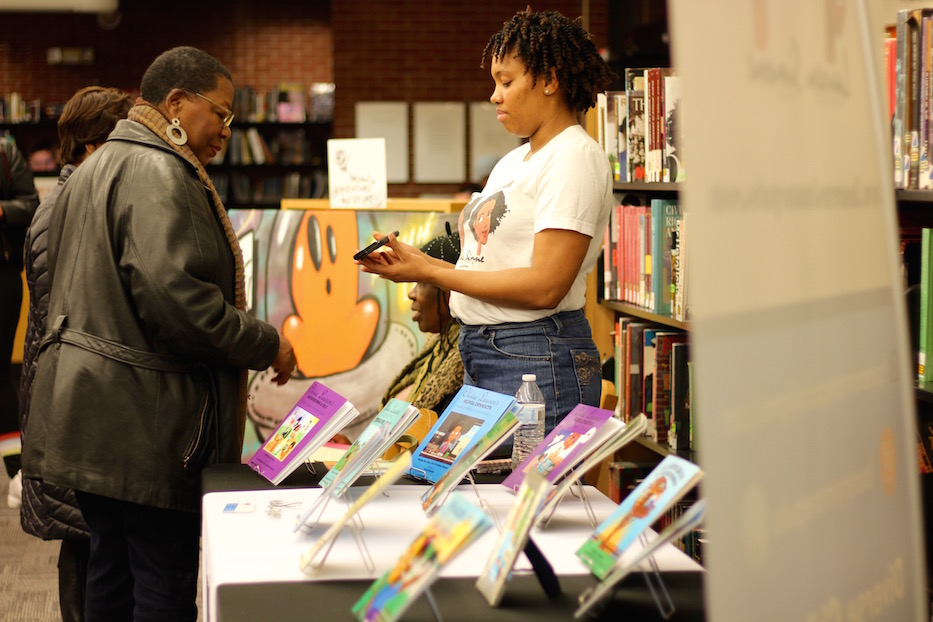 Since launching in 2016, the Hartford-based publishing house has focused on books that represent young, bouncy characters of color as they navigate careers, make friends, and fall in love with nature. In addition to sisters Olivia Lauren John and Alyssa Simone John, young authors and illustrators include Simonne-Anais Clarke, Zachary-Michael Clarke, Lionel Emabat, Niquey, and Tyler Waite.
"What really inspires me is I think of something I like or other children like," said Olivia Lauren, who is in seventh grade at Sunset Ridge Middle School in East Hartford. "If a student came to me wanting to write a book, I would encourage them."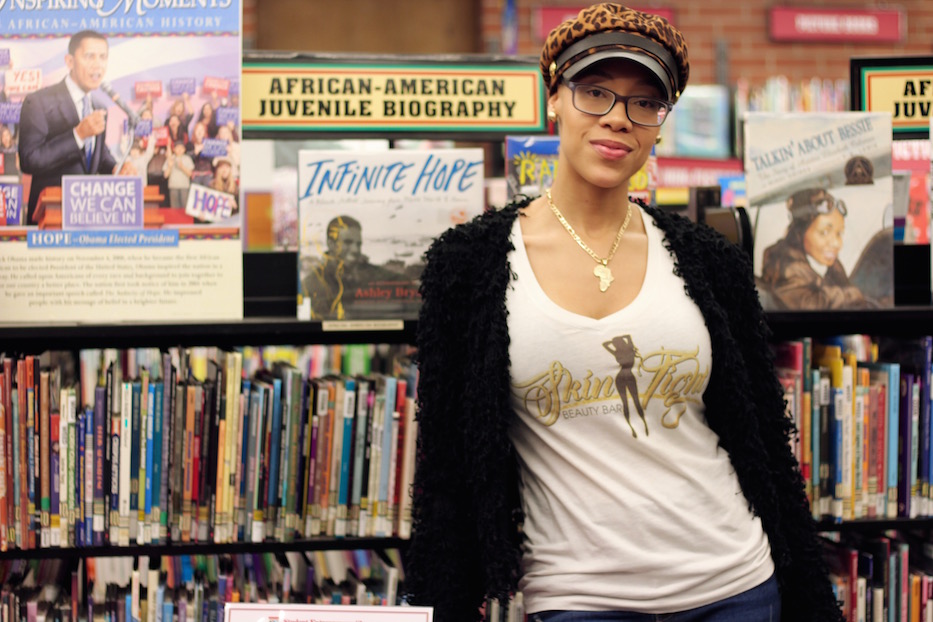 In elevating artists, Adger said, the event was also meant to shed light on young Black entrepreneurs in the community. As co-founders of the travel company Millennials Making Boss Moves (MMBM), Chanelle Diaz and Enolda Joseph did double duty Wednesday, as they pitched travel while also showing off their own small companies.
Joseph, who grew up in Bridgeport and now lives in Norwalk, runs the small-batch skin care company Lumineux and just finished her first book, My Art Of Letting Go. Diaz, who studied criminal justice and worked as a corrections officer in Virginia, runs Skin Tight Beauty Bar. Wednesday, they fielded questions on everything from how one plans a trip to Disney to whether or not one should try V or vaginal steaming.
"I'm a young entrepreneur," Diaz said as the night wound down. "I really want to educate people."