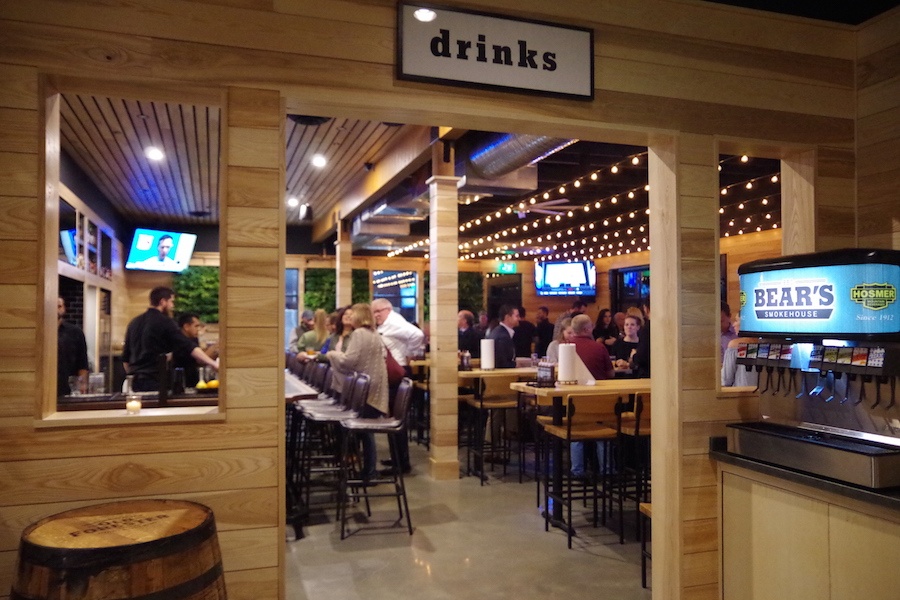 Economic Development | Food & Drink | Mill River District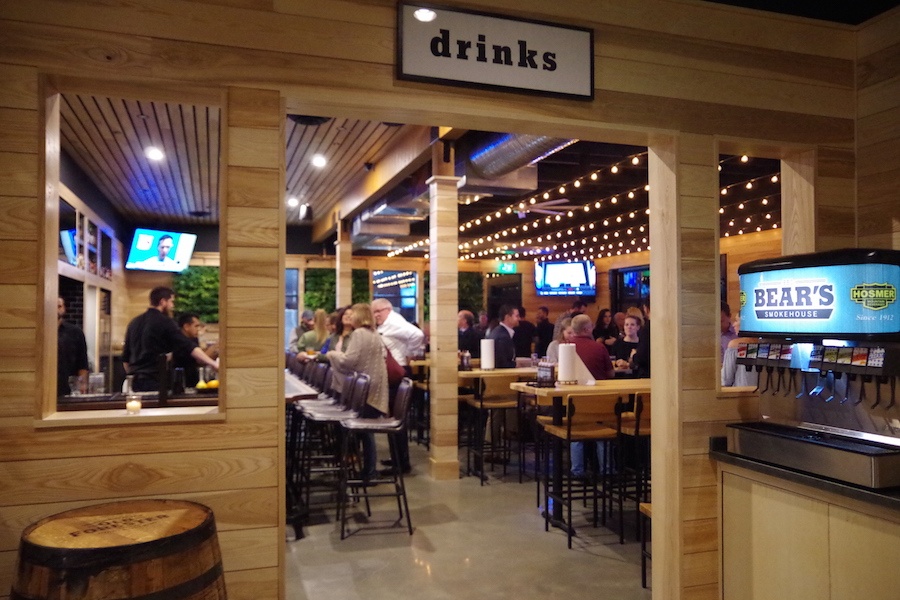 Before the Smoke Stack Manhattan ever makes it into a cocktail glass, there's the fat-washed bourbon. First, liquor is heated with brisket fat, the flavor permeating the spirit. Then, the whole mixture is frozen so that the fat rises to the top. Third, the fat is skimmed off, leaving the bourbon laced with a smoky richness. Then the liquor is mixed with smoked sweet vermouth, and served in a chilled tumbler with a couple of smoked maraschino cherries.
The Smoke Stack Manhattan is a signature drink at The Stack, the newest addition to District's Innovation Campus in New Haven's Mill River neighborhood. A barbeque joint and biergarten with an in-house brewery, the restaurant soft opened last Friday for a press and VIP preview. It opens to the public Monday.
The restaurant is co-owned and operated by Cheryl and Jamie "The Bear" McDonald of Bear Restaurant Group and New Haven's Jason Sobocinski, who owned Caseus until earlier this year and is a co-founder of The Ordinary, Black Hog Brewery and Olmo. In addition to The Stack, Bear Restaurant Group operates Bear's Smokehouse, Blind Pig Pizza, and Chango Rosa in the Hartford area.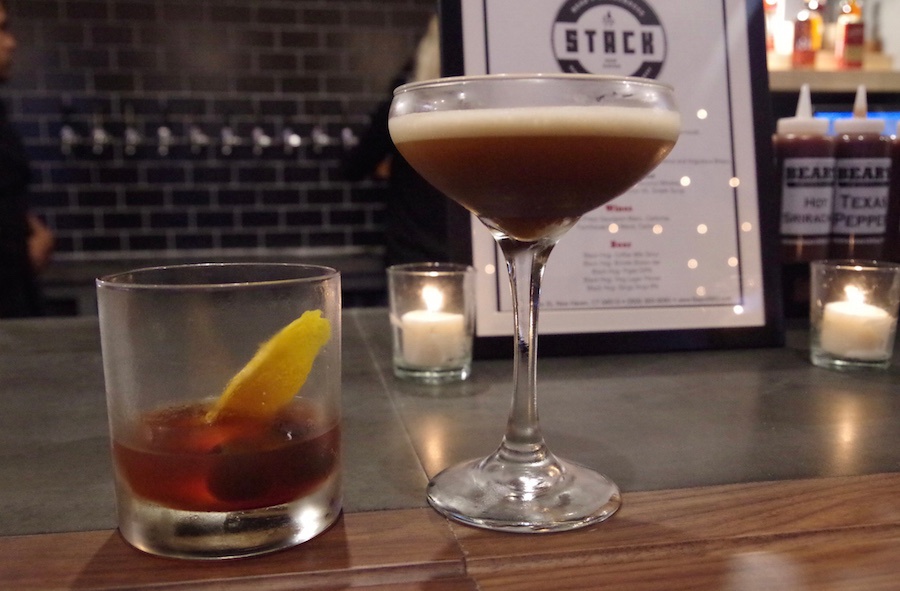 At The Stack, smoke is king. Four spotless stainless steel smokers stand in the in their own special room off the bar, ready for Smoker Manager José Perez and his team to load them with heavy cuts of meat. They're visible from two picture windows at the bar, so diners can see the whole process.
Leading a tour through the space Friday, Cheryl McDonald said the smokers can hold up to 3,000 pounds of meat at a time—which is the amount she expects the restaurant to go through in a day once it is up and running.
The McDonalds' experience is evident in the restaurant's food. The chicken wings have what seems like the perfect amount of smokiness: just enough to make the meat meatier, adding to its savory richness. The ribs fall off the bone and the brisket breaks apart under the side of a fork. But the meat is still juicy, and so good on its own that it doesn't really need sauce.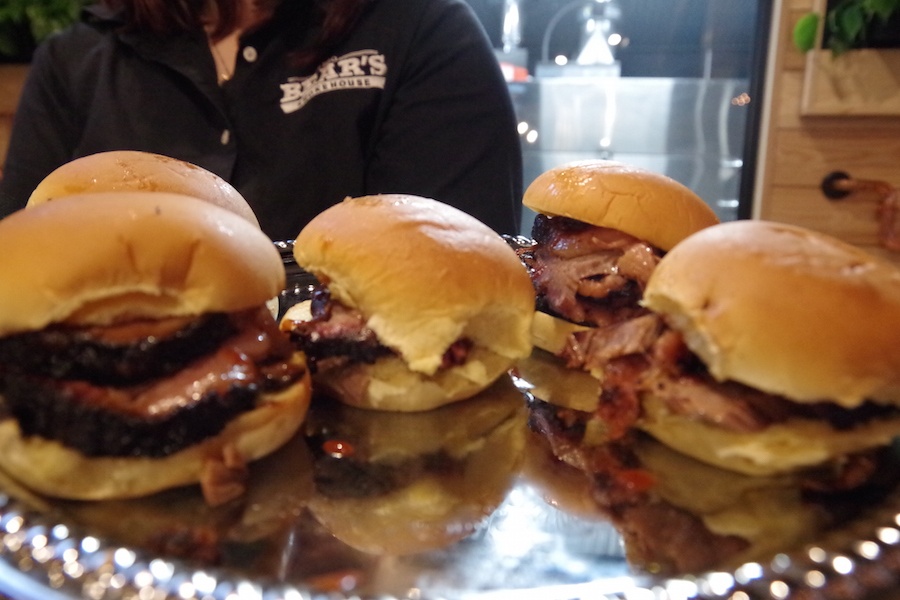 Except, the sauce is also meant to be a draw on its own. The Kansas City Sweet Sauce hits a balance of sweet and tangy, and that acid is what keeps you going back for more. The Texas Pepper is a complex beast. First there's a swirl of savory flavors—tomato, pepper, maybe onion and garlic—all working as one, like they simmered together for hours. Then the gentle spiciness sparkles on your tongue and the roof of your mouth, making a second bite a must.
Cheryl McDonald said her philosophy is that "there has to be an option for everyone," even if they don't like or don't eat meat. McDonald herself created most of the side dishes, including her "Sweet Mama Bear Salad," which includes red onion, dried cranberries, and candied walnuts.
Table service is available throughout the restaurant, but Sobocinski and the McDonalds said they are hoping that customers in the dining room will warm to the idea of ordering cafeteria-style from the counter, which Sobocinski called "classic barbeque."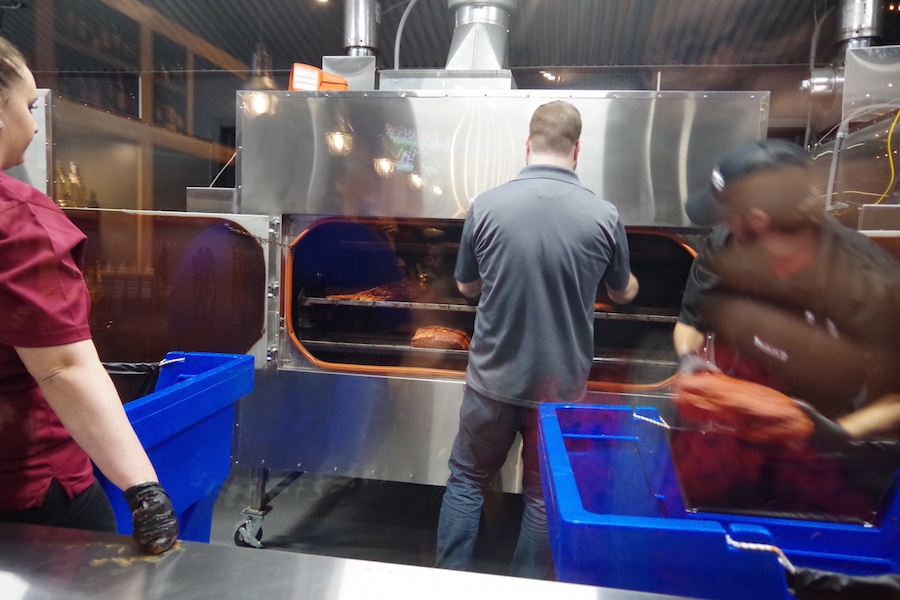 "You want to interact with your cutters and get to know them," he said, referring to the counter servers who cut the meat for customers in the line. "You can get tips and learn to get the right kind of barbeque."
Customers should ask them, "'What's good today?'" Sobocinski said, adding that "it's interactive and fun."
The owners designed a big restaurant to mirror that warm and familial feeling. Over its 12,700 square feet—that includes indoor and outdoor dining areas, with a capacity of 500—surfaces beckon in warm, honey-colored wood, and green plants cover several of the walls. Strings of fairy lights and rows of heaters hang above the picnic tables in the biergarten outside.
There's a bar housed in a black shipping container and a handful of fire pits ringed with red Adirondack chairs. Beyond the patio is a small stage and a large grassy lawn that can hold a couple hundred people, which the owners plan to use as a live music venue when the weather warms up.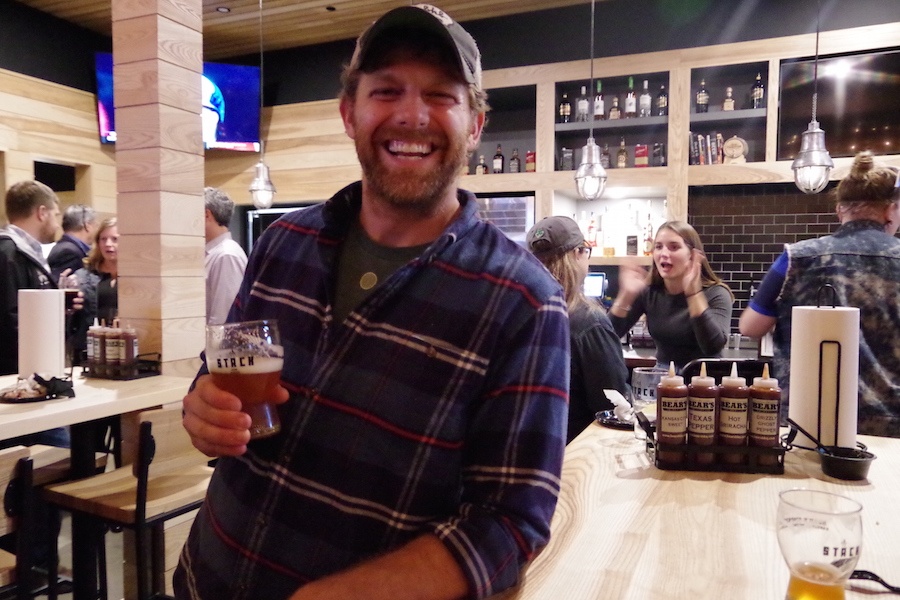 In other words, McDonald said she and her co-owners want it to be "a place where people want to come and hang out for the night."
Sobocinski (pictured above), who is heading up the in-house brewery, said he was inspired by traditional German biergartens, which often feature long, family-style tables, foster informal gathering and conversation, and are sometimes as simple as a stand with a few tables.
"The whole idea of a biergarten is that it's for the public," he said.
Sobocinski plans to have five taps devoted to in-house brews, as well as dedicated taps for sour beer, Hefeweizens, Mexican lagers, two types of German beer, and brews by Maine's Allagash Brewing Company. For non-beer drinkers, there will be two cocktails on tap as well as a dedicated cider line supplied by New England Cider Company in Wallingford.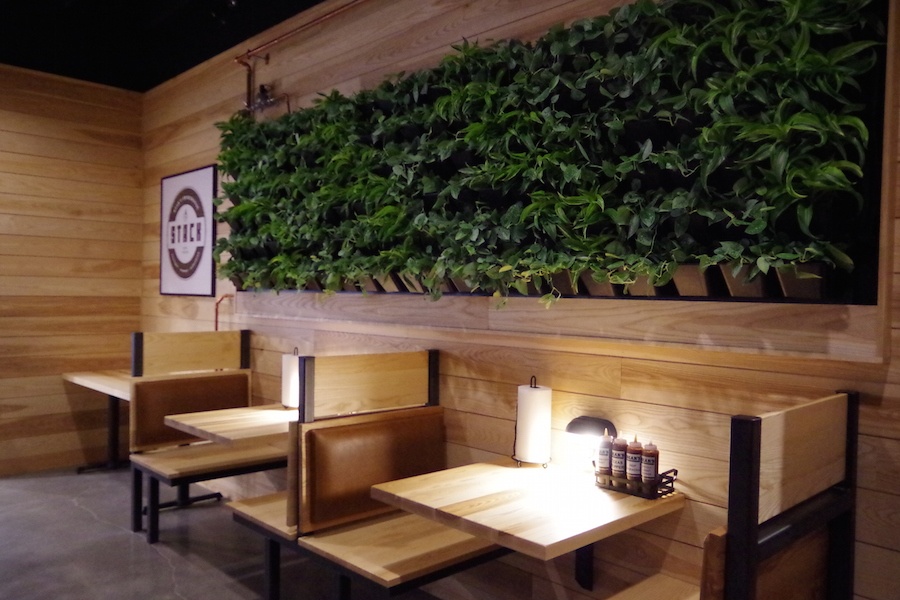 He said that kind of variety is part of the plan for such a large space. He also wants to give people a chance to try new beers that he's excited about, like the "Triple Nelson."
Brewed in-house, the Triple Nelson is a triple India Pale Ale (IPA) made with Nelson Sauvin hops, a delicate and and ancient type of hop from New Zealand. Sobocinski said it "drinks super smooth with a light white wine touch," channeling that Sauvignon Blanc flavor the hops are partially named after. The Triple Nelson smells like tropical fruit and flowers—just like a Gewürtztraminer or a Moscato—and is pleasantly bitter with a citrusy finish.
For Sobocinski, collaborating with local producers is key. The Stack's Autunm Nugget ale, for instance, is made with 100 percent fresh, or "wet" hops from Litchfield, instead of the dry pellets usually used in fermentation. Sobocinski said those hops have a "crazy, dank, rich unctuousness" and give off aromas of vanilla bean and cinnamon, as opposed to the normal astringent or floral qualities of dried hops.
Before the opening, Sobocinski educated the staff about the history and production of both beer and barbeque as part of their training. He wants employees to be well-informed and "to have buy-in and pride" in the restaurant, he said.
For her part, McDonald added that she wants customers to "feel automatically welcomed and appreciated" when they come to The Stack.
"What's unique about barbeque is that it's such soul food," she said. "People from different walks of life can feel welcome. It breaks down barriers."