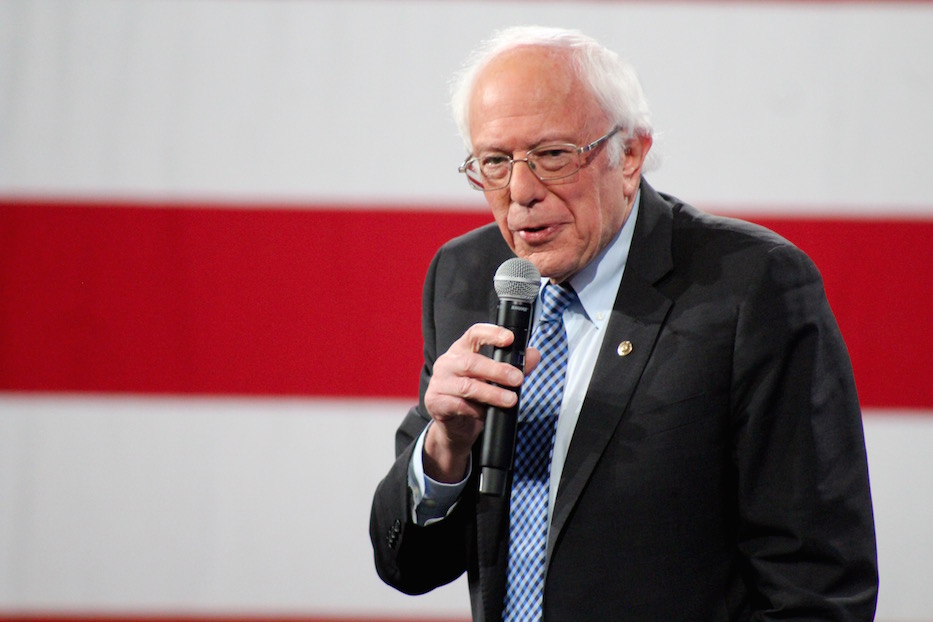 Faith & Spirituality | Politics | Reporting from the road | News From The Pews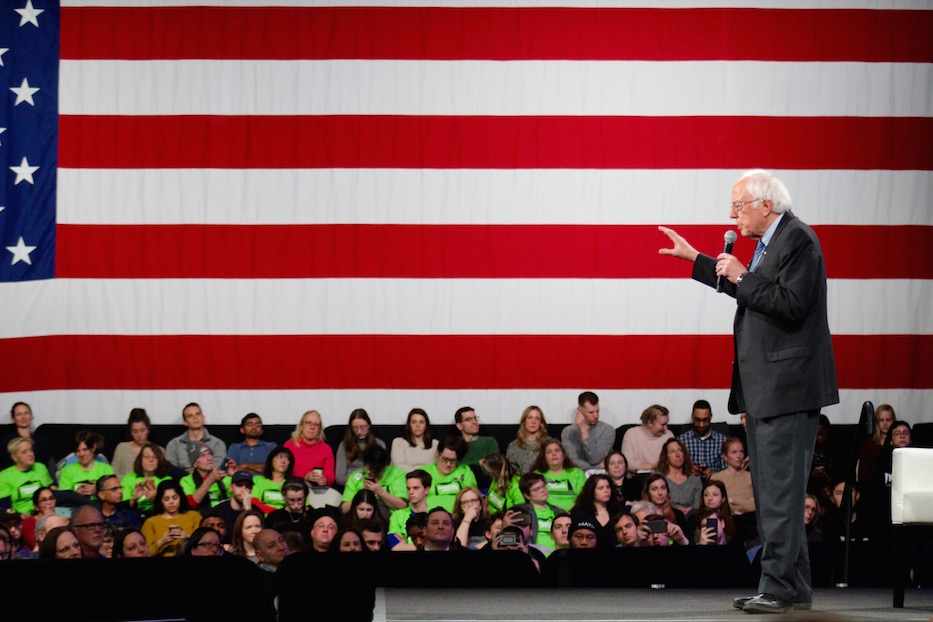 Concord, N.H.—Bernie Sanders came to preach about family values. Not the kind that demonize LGTBQ+ folks or limit women's reproductive healthcare. A new-old, inclusive, humanity-affirming, American kind of family values that the Vermont senator and Democratic presidential candidate traced to the Bible.
That sermon took place Saturday morning not in a church but in a college gymnasium, as Sanders joined seven other presidential candidates at the "Our Rights, Our Courts" presidential forum at the New Hampshire Technical Institute.
The forum, which was sponsored by the Demand Justice Initiative, Center for Reproductive Rights and NARAL Pro-Choice America, was the first of its kind to focus specifically on the role of the federal courts in this year's presidential election. It took place four days before the Granite State's First-in-the-Nation presidential primary and was moderated by MSNBC host and Senior Business Correspondent Stephanie Ruhle and Huffington Post Senior Politics Reporter Jen Bendery.
In addition to Sanders, candidates who participated included Colorado U.S. Sen. Michael Bennet, former South Bend, Indiana Mayor Pete Buttigieg, Minnesota U.S. Sen. Amy Klobuchar, former Massachusetts Gov. Deval Patrick, hedge fund billionaire Tom Steyer, Massachusetts U.S. Sen. Elizabeth Warren, and entrepreneur Andrew Yang. Over 500 people attended.
Over five hours, candidates discussed the federal courts and their impact on reproductive rights, climate and environmental policy, wealth distribution, and universal healthcare (read more about that here and here). Several vowed to codify Roe v. Wade, in a legislative move to protect reproductive health across the United States.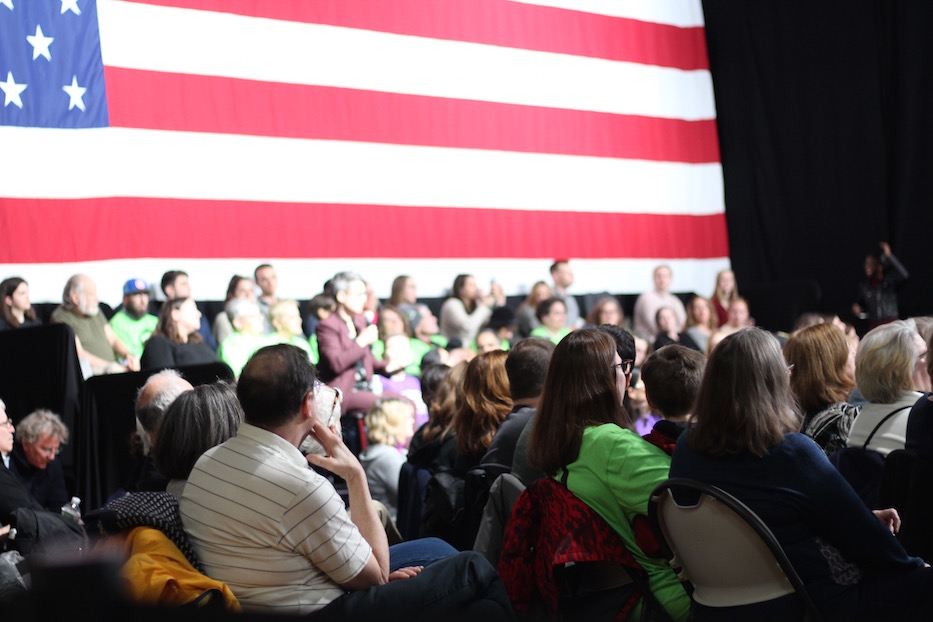 They used abortion rights and reproductive justice as a springboard into discussing their own platforms, from universal healthcare to the "Freedom Dividend" that would bring $12,000 more per year to every American.
When Sanders took the stage, he referenced a "lifetime, 100 percent pro-choice voting record," vowing to nominate only Supreme Court justices who are pro-choice. He promised to increase federal funding for Planned Parenthood and linked reproductive choice with economic justice.
He barreled forward, marrying something close to a preacher's whoop with the sensibility of Eugene Debs, if Debs had been a Brooklyn rebbe.
"We bring the American people together," he said to cheers and applause that got some attendees on their feet. "Black and white and Latino and Native American. Asian-American, gay, straight. We stand together to reclaim this country and our constitution."
Around him, energy hummed and buzzed through the standing-room only space. Attendees lifted their phones to photograph the stage; others leaned forward in their seats. A standing-room-only crowd packed into the back. T-shirts from Defend Justice and NARAL winked out in green and purple, adding spots of color to a room that was almost entirely white.
Sanders outlined a campaign—and a presidency—defined by grassroots organizing and advocacy for LGBTQ+ rights, reproductive freedom, accessible healthcare, and civil rights. He praised both young voters and those who are too young to vote, but are still fighting for climate justice, fair compensation, LGBTQ+ equality, and economic justice specifically for Black and Brown people.
He painted a picture of an administration marked by its diversity, moving forward in a fight against discrimination.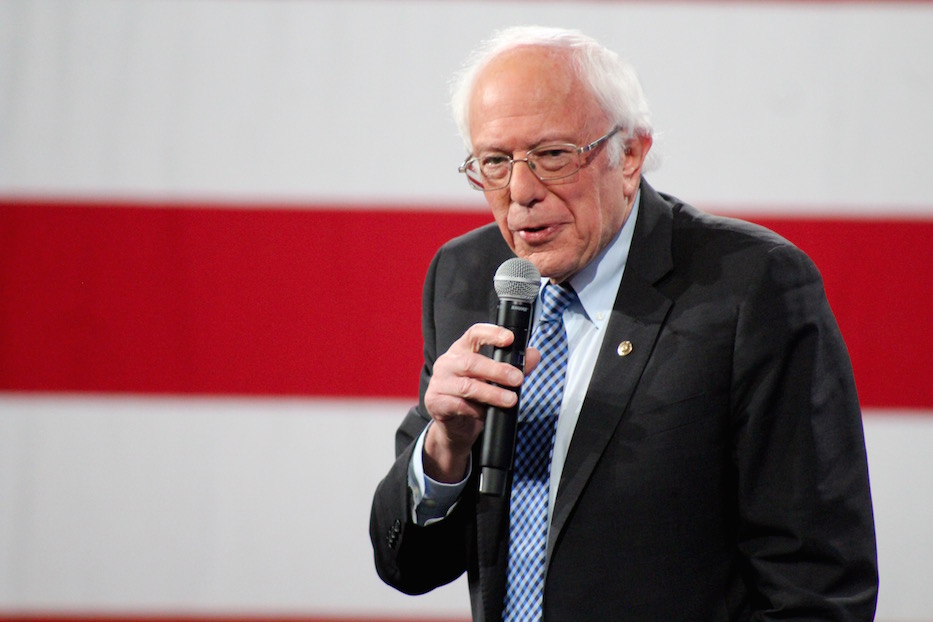 "When you turn on the television, I will guarantee you that there will be at least one old white guy," he said to laughs. "That's me. I suspect there will not be a lot of other old white guys."
Listening intently, Ruhle pressed the senator. In the last election, she reminded him, white evangelicals turned out overwhelmingly to elect Donald Trump. Current polling shows that eight in 10 of them are still behind him.
"Given your perspective, is it time for a candidate like you to redefine what family values are in 2020?" she asked.
The stage transformed into a pulpit, the gymnasium into a sanctuary. Sanders—who would be the first Jewish president if elected, although he is not religious—sprang from his seat, not for the first time in his 30-minute remarks.
Sheaves of blue and yellow light, a constant during the forum, took the place of stained glass. From one side of the room, Sanders was framed entirely by a huge American flag, welcoming congregants to the church of the at-risk Constitution.
"I happen to believe that as human beings, we share a common set of beliefs and hopes and aspirations, no matter what the color of our skin is or our sexual orientation or our gender," he began. "It's not only as Americans, it's people all over the world."
Sanders invoked the Rev. William Barber II, leader of the revived Poor People's Campaign. Several months ago, he recalled, Barber gave him a book. A very old book. It was a Bible. The two spoke about it as a radical text, that chronicled the life of a renegade as he healed the sick and cared for the poor and the destitute.
For Sanders, the connection to an economic revolution was immediate.
"The Bible is a document of justice," he said. "Read the Bible. It is a document of justice. Not of hatred."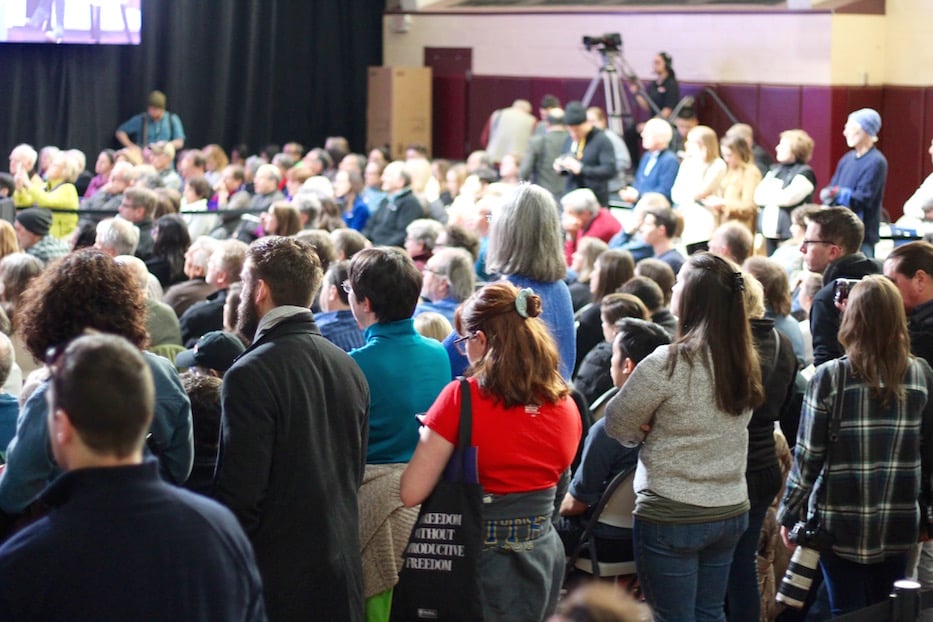 He tied family values to global climate justice, calling for congregants to join a moral fight against the fossil fuel industry not only in the U.S., but also abroad in China, Russia, Brazil, India and Pakistan. He demanded economic liberation, tying the words of the Bible to fair wages and Medicare for All. He called for access to all levels of education, regardless of income.
Lifting the mic to his mouth as if he had reached the final part of a sermon, he preached the gospel of clean water in American cities that have been penalized for their poverty. When Americans turn on their taps, he said, they should be able to drink what comes out. It's that simple.
In short, he said, true family values equate to true liberation.
"If you think about family values, it is a common humanity which says that all of us want to live in freedom while being able to control our own lives," he said.
The message is one that resonates in New Haven, where Revs. Vicki Flippin, Kelcy Steele, Steven Cousin, Kevin Ewing and others have tied physical sanctuary and immigrant rights, racial justice, union organizing, local employment and fair compensation to the gospel of Jesus Christ.
Sanders echoed calls for pay equity, racial justice, and environmental stewardship that been part of the Moral Monday movement in Hartford.
"We certainly welcome you into our movement if you believe in the concept of justice," he said. "Not greed, not corruption, not lies, but justice and compassion."