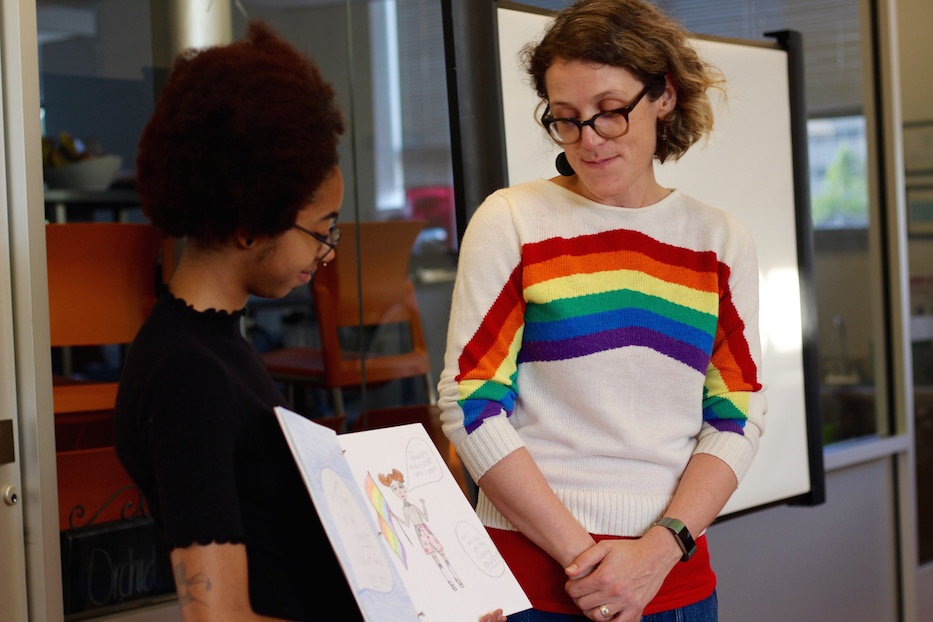 Arts & Culture | New Haven Free Public Library | Westville | Elicker Administration | COVID-19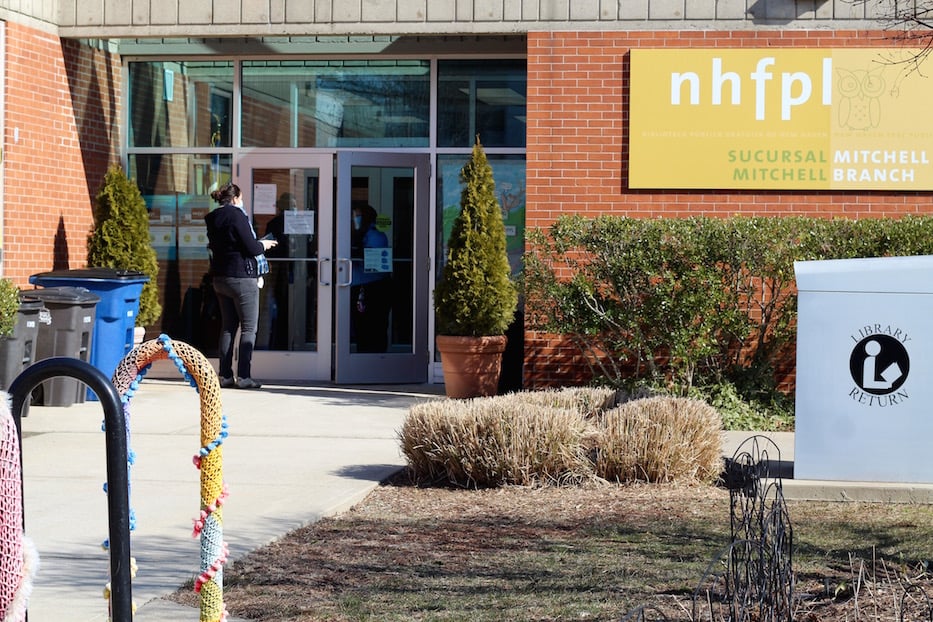 Mitchell Library earlier this year. Lucy Gellman File Photo.
When Marion Sachdeva read that Mayor Justin Elicker's proposed "Crisis Budget" included closing Mitchell Library, her first thought was to offer her stimulus check to the city in an attempt to save the space. Weeks later, she's still willing to give the library every resource she can think of—because she can't bear the thought of the neighborhood without it.
Sachdeva was one of several New Haveners to speak in defense of the Westville branch library Tuesday night, at a five-hour budget hearing before the New Haven Board of Alders' Finance Committee. For the second time this month, New Haveners came out in wholehearted support of the library, which risks closure in one of two city budgets that Elicker proposed on March 1.
The testimonies came amidst calls for Yale to raise its annual voluntary contribution to the city, and appeals for greater environmental sustainability in a growing climate crisis. While the city is projecting a $66 million deficit, Yale has reported a $203 million surplus and $31.11 billion endowment.
"Mitchell Library needs to stay open," Sachdeva said. "It's an essential part of our neighborhood … the heart of our neighborhood. It cannot close."
The hearing marked the second of three public budget hearings planned between March and May of this year. Currently, Elicker's proposed $589.1 million "Crisis Budget" would raise taxes 7.75 percent and shutter Mitchell Library, the East Shore Senior Center, and the fire station at 350 Whitney Ave. A proposed $606.2 million "Forward Together" budget leaves those resources intact, and banks on $53 million from Yale University and the State of Connecticut.
Over and over again, New Haveners identified the library as a neighborhood hub and home to not only books and media, but also community building. Sachdeva, formerly the head of technical services for the Marvin K. Peterson Library at the University of New Haven, was so alarmed by the thought of Mitchell closing that she began looking at her own finances to figure out how she might chip in. She wrote the mayor, explaining that as a retired person, she doesn't have that many expenses. She volunteered to turn over her stimulus payments to the organization—which he assured her wasn't necessary.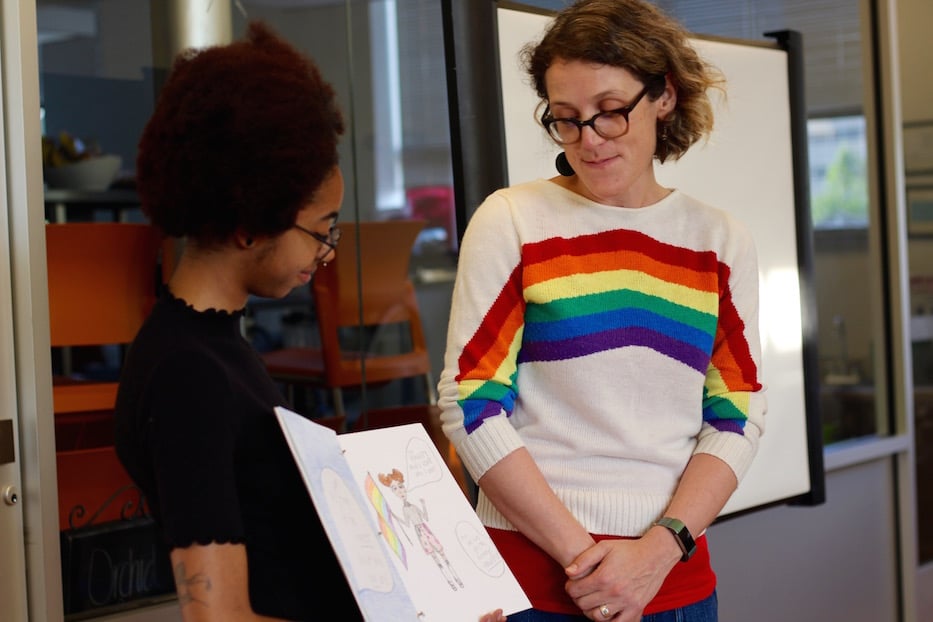 Honesty Robinson and Lauren Anderson at a "Story Days" event at ConnCAT in May 2019. Lucy Gellman Pre-Pandemic File Photo.
Literacy educator and People Get Ready Co-Owner Lauren Anderson, who also serves on the board of directors at the New Haven Free Public Library, pointed to the absurdity of closing a beloved neighborhood library that, even in the midst of a pandemic, is buzzing with activity. She slammed what many New Haveners see as a strategy to pressure Yale by putting Mitchell on the chopping block.
"Investing in our libraries is investing in the long term wellbeing of our city and its people," she said. "Mentions of branch closure do not represent well who we are and what we value. Indeed in that regard, the public library is a peerless gem that has pivoted to provide essential services to patrons during the pandemic."
She pointed to the library's 2019 award of the National Medal for Museum and Library Service, which it won with less funding than its statewide counterparts. Currently, the Mitchell Branch processes roughly 125 book and DVD requests per week for curbside pickup—a number that translates to about 500 per month and the second highest branch circulation in the city. It has also started lending out Chromebooks and WiFi hotspots and used the pandemic to tear up its old carpeting and do much-needed internal renovations. As of this week, it began a gradual reopening for time-limited browsing and use of its technology resources.
Noting that "budgets are moral documents," Anderson urged alders to consider the amount of good that the library does on an already-stretched budget that was cut last year. Public libraries have a high return on investment, she said: data from the Library Research Center suggests that for every dollar invested in a public library, libraries yield five dollars in return. During Covid-19, the library responded to the pandemic by growing its virtual footprint, working to bridge the digital divide, and opening its doors for essential services like printing and computer use.
Anderson looked to a Facebook comment from Westvillian Dr. Khalilah Brown-Dean, a political science professor at Quinnipiac University and host of WNPR's weekly program "Disrupted." Brown-Dean wrote a significant chunk of her 2019 book, Identity Politics in the United States, from Mitchell Library, where a friendly librarian would check in on her. When she looked around, she saw the kaleidoscopic community that the library attracts as a literary haven, technology resource, warming and cooling center, and spot for free all-ages programming.
"Rarely did I need a book," she wrote in a comment that Anderson read aloud. "I always needed a reassuring smile that it would all work out. I sat in that library and saw community in all its beautiful forms. Chapel Haven residents who imagined the world beyond the confines of the present. I saw families introducing their children to books while seeking a warming shelter and later a cooling shelter. There were elders gathering for knitting circles. College bound students seeking financial aid assistance. People searching the computers for work or mere human connection. Most of all I saw what I fell in love with as a shy 4th grader the first time my librarian introduced me to Virginia Hamilton's work: the power of connection."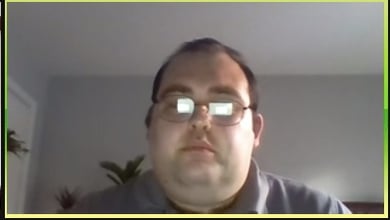 Charles Asner (pictured at left), a member of Chapel Haven who lives near the library on Fountain Street, called on alders to make cuts elsewhere in the city budget if they had to. As an adult living with autism, Asner said he recognizes firsthand that Mitchell may be the only branch many New Haveners can get to if they don't drive and are not able to easily take public transportation.
While the library is in Westville, it serves residents across the city, including families and individuals in the West Hills, Amity, Edgewood and Beaver Hills neighborhoods.
To spare the library, Asner suggested making better financial use of vacant or formerly vacant properties, like the tennis stadium recently turned into the Westville Music Bowl. He referenced testimony from William Street resident Aaron Goode earlier in the evening, in which Goode gave an argument for unit based pricing as a path to savings on solid waste disposal.
"People depend on public libraries not only as a source of literacy and learning but also as a means of connecting with the community," Asner said. "It's unfair to the Westville area, it's unfair to the greater Westville community. Furthermore, why Mitchell? I don't think any of the libraries should be closed. These are important resources that we need."