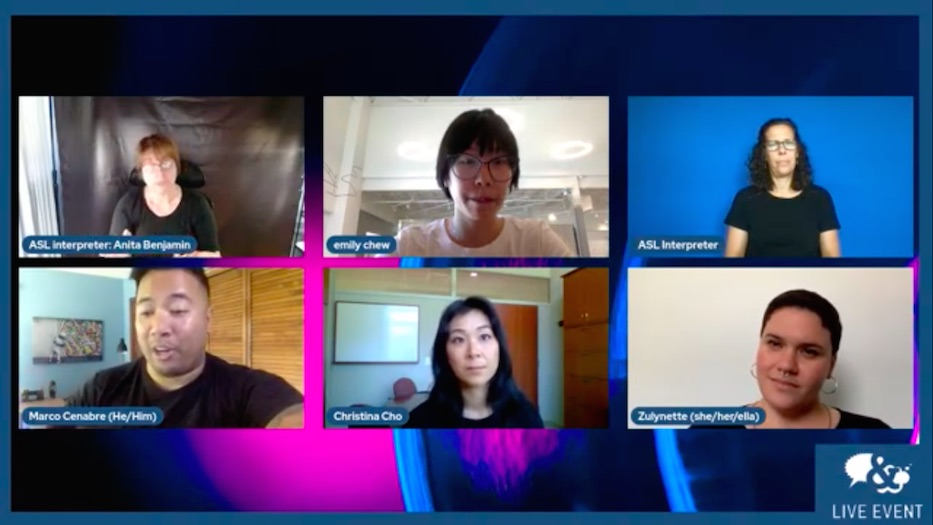 International Festival of Arts & Ideas | Arts & Culture | COVID-19 | Asian-American | AAPI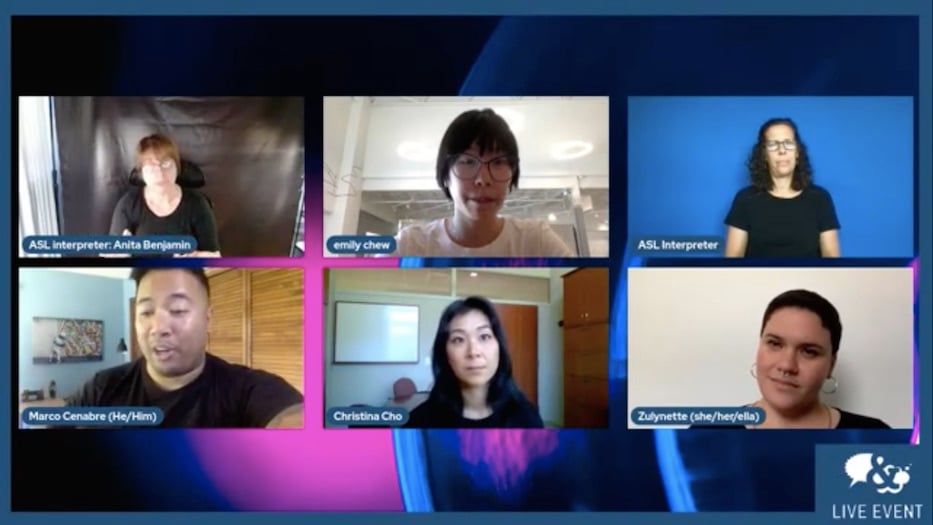 Photo from the panel. Screenshot via YouTube.
Growing up in New Haven, New Haven Academy teacher Marco Cenabre got questions about his background constantly. People asked him if he was Black. They asked him if he was white. They asked if he was mixed. Cenabre, who is Filipino-American, didn't know what to say in return. He didn't see himself reflected in any of his class materials. He never learned about his own history in school.
Now, he's using that experience to fuel his job teaching high school literature in the city that raised him.
Cenabre was one of three speakers at "Brilliant Boba: Amplifying Asian Voices," a recent panel discussion hosted by the International Festival of Arts & Ideas and the Yale-China Association. Moderated by Emily Chew, Yale-China senior program officer for Education and Arts, the panel included Cenabre, multimedia artist Zulynette, and immunologist and storyteller Christina Cho.
All three are involved in "Brilliant Boba," a project that seeks to center and celebrate Asian and Asian-American voices in New Haven this year. In particular, the project uses arts and culture, storytelling, and new educational strategies for teaching Asian-American history. It is a collaboration among New Haven artists, educators, storytellers, Yale-China and the International Association of New Haven.
Cenabre, who now works as a teacher at New Haven Academy, kicked the panel off with an anecdote from his childhood. When he was young, his classes didn't include information about Asian and Asian-American history or people, "except for like, this isolated bullet point in the bottom left corner of a really thick textbook," he said. It made him wonder what other information he was missing.
Over a decade ago, it led him to become an English teacher at Roberto Clemente Leadership Academy. He transferred to New Haven Academy to teach literature in 2015. More recently, it's why he joined the State Education Resource Center (SERC) to organize a forum on Culturally Relevant Pedagogy, and what drew him to the affinity group AAPI New Haven after it launched this year.
"Too many times … subjects are taught in isolation and not in connectivity to each other," he said. "So to have a group in which racial solidarity, voices are put at the forefront—the intent of this is to put at the forefront Asian-American voices, but not even Asian-American. Being in racial solidarity."
Chew asked panelists what they thought "being seen" looked like for each of them, in both the present and in the future. This year, hate crimes against Asian Americans and Pacific Islanders (AAPI) have spiked in the wake of the Covid-19 pandemic. In March of this year, the grassroots organization Stop AAPI Hate reported 3,795 instances of anti-AAPI hate crimes between March 19, 2020 and February 28 of 2021.
Those numbers, which reflect a 150 percent increase in reported violence, have continued to unfold in the four months since.
Cho jumped in. As a doctor, "I've been in school for a really long time," she said with a slight smile—it accompanies the profession. And yet for all of her academic work, she knew very little about Asian-American history and identity outside of her own lived experience for years. While she was raised by Korean immigrants, Cho said it took joining the Asian Network at Yale for her to plug into that history.
She described herself as still in the process of learning. Cho grew up with a "if you don't make it, you're lazy and you're not working hard" mentality, she said. As a college student, she recalled reading a chapter describing Asian-Americans as "the race that made it" and accepting the writing at face value. It took her years to learn that there are Asian-Americans who are living in poverty, struggle with all levels of education, have abusive households and are trying their best to be successful in a system that does not want to see them succeed.
"You can work hard, but it's like you're running through mud and someone else is running on perfect, perfect asphalt," she said.
Even now, she said, she can feel that tension in conversations with Asian-American friends when she speaks about how Asians are not a monolith. She pointed to the relative dearth of Asian and Asian-American women scientists in higher level positions, despite the fact that many of them hold the requisite degrees and qualifications. She pushed for more intersectional coalition building between Asian-American people and other people of color, particularly Black and Latinx Americans.
She said she is hopeful that that kind of work can create a better world for her young daughter to grow up in.
"For me being seen isn't just on the media or in politics—which is great, there's a lot of change there, there's more representation there—but being seen in just everyday life. You know?"
"It's kind of alarming how little we know about Asian-American history," she added. "And how much the freedoms and the rights that we have now were fought for—not just by Asian-Americans, but by other people of color. Especially Black Americans. And that alliance has really brought us where we are now."
Cenabre came back in. He pointed to the fact that public education often follows a "dominant" or white narrative, which leaves little room for the stories of marginalized communities and the struggles they have faced and overcome for centuries. He pushed for a different model, in which students learn how white supremacy was born and maintained—and work to combat it in their classrooms and everyday lives.
It's one of the things he now brings to his classes at New Haven Academy, which is a partner school for the Facing History and Ourselves framework. It was through the framework that he started learning Asian-American history, which he described as "life-changing for me," a few years ago.
"What if the point of education was to unite?" he asked. "I don't mean that in a Kumbaya, guitar, let's smile at each other [way]. I'm speaking systems and pedagogies and everything that got us to this point. Learning the past so that we don't repeat it."
"Let's learn about each other and let's learn about ourselves," he added.
Zulynette, who identifies as a queer Puerto-Rican womanist, said that she is using the project as a chance to dig more deeply—and intentionally—into cultural histories with which she was previously unfamiliar. She said she looks at both similarities and differences that exist between cultures, then thinks about "how it is that I can uplift and be a co-conspirator in supporting someone of a different identity than myself." She explained that she prefers the word co-conspirator to ally, because she feels like she needs someone with her in the trenches.
She told fellow panelists that she follows the model of participatory action research, in which community members, their voices, and their lived experience remain at the center of a given research project. She looked to the power of narrative and storytelling as focal to the project. For years, her show A Little Bit Of Death has done just that.
"For the work that I'm doing and the work that I'm part of, there has to be an emphasis on peoples' stories," she said. "It's validating. It is believing people. Story and narrative should always be at the forefront, because it is a way for people to hold on to their history."
Jamiah Green is a graduate of the Youth Arts Journalism Initiative and summer intern with the Arts Paper. She graduated from Cooperative Arts & Humanities High School in June and is headed to Southern Connecticut State University in the fall. Lucy Gellman contributed reporting.