Community Management Teams | Culture & Community | Arts & Culture | Newhallville | CPEN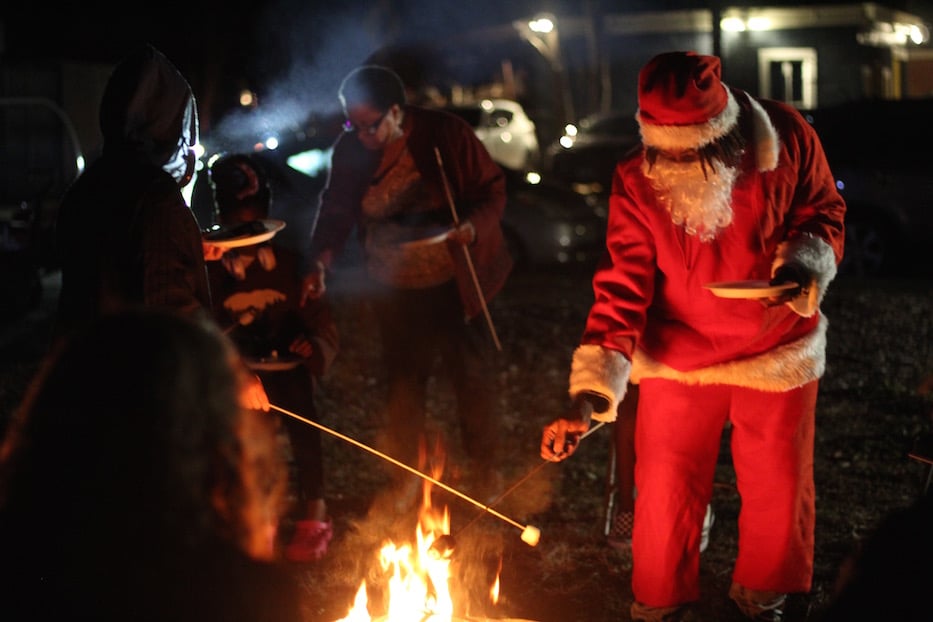 Kelly Shern came dressed as Santa. "It's jolly for people to come together as a family," he said.
Marshmallows roasted over an open fire. Ornaments materialized out of pinecones, crisco and birdseed. Santa made an appearance, collecting last minute wish-lists on his trip back to the North Pole. And the neighborhood choir remembered the lyrics to Rudolph the Red-Nosed Reindeer after the youngest carolers joined in.
Christmas came early to the Newhallville Learning Corridor last Friday, as neighbors gathered around a bonfire to celebrate a year of community building, mutual aid, urban gardening, and neighborhood festivals that stretched across a second pandemic year. Support came from the Community Placemaking and Engagement Network (CPEN), Neighborhood Housing Services of New Haven, the Menunkatuck Audubon Society, and Newhallville Community Management Team.
By the end of the night, it felt like an intimate family reunion. Doreen Abubakar, who founded CPEN in 2014, said that it is the third year she has brought the community together to celebrate in the space.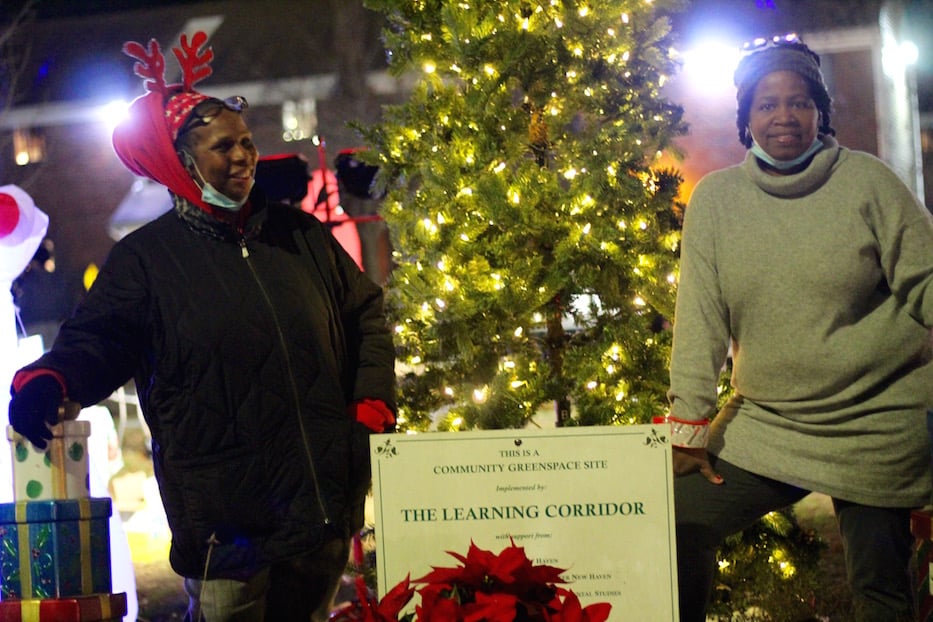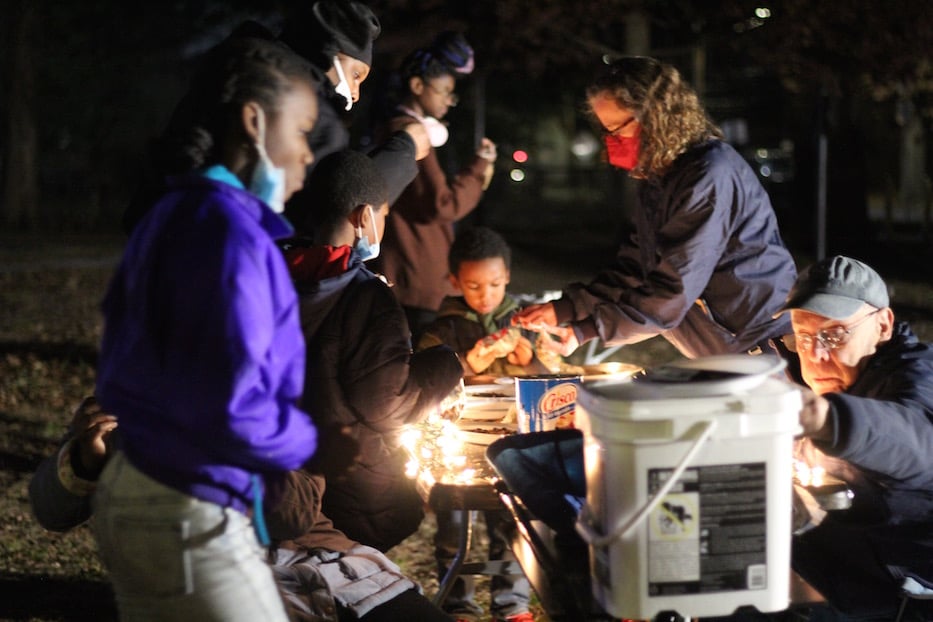 Top: Kim Harris and Doreen Abubakar. Bottom: Lights an ornament decorating station from the Menunkatuck Audubon Society.
"We want to go into the new year celebrating," said Kim Harris, chair of the Newhallville Community Management Team and president of Inspired Communities, Inc. "I love this season—how joyful everyone is. The spirit of willingness and the spirit of abundance. That's what we're all about. What can we do to enrich our community? To make our community the best that it can be?"
As the sky darkened to a wet, inky blue, Harris and Abubakar turned the corridor—a large, grassy island off Shelton Avenue that used to be known as the "Mudhole"—into a winter wonderland. In lieu of three wise men, Abubakar enlisted the help of neighbors, calling on one for floodlights, another for last minute-decorations, a third to jump in as Santa. As Tyrone Allen worked on the lights, she and Harris set up a 15-foot tree that Neighborhood Housing Services donated three years ago.
In the twinkling dusk, a station with free masks and sanitizer seemed to glow. Despite the afternoon's warmth, a blow-up snowman and elf greeted passers-by at the corner of Shelton Avenue and Hazel Streets. Chocolate, graham crackers and marshmallows waited eagerly for people to arrive.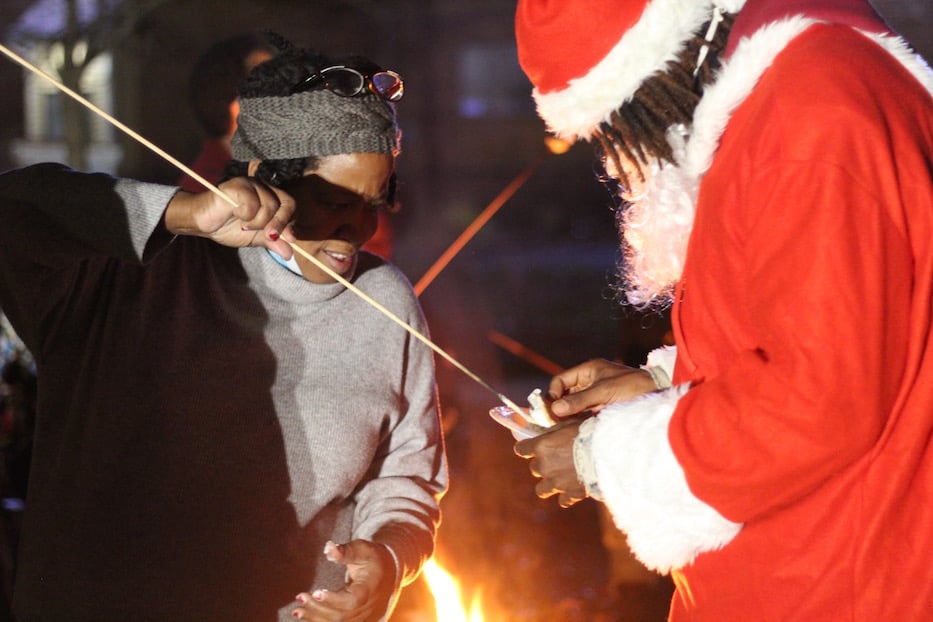 Doreen Abubakar and Kelly Shern.
By the time the sun set, a bonfire was going in the center of the corridor. Abubakar walked attendees through making s'mores, handing out roasting sticks and neat bars of chocolate on plates. Lifelong Newhallville resident Kelly Shern smiled from behind a silky white beard, and let the fire dance across his face. Half an hour before the event, he ditched his normal clothes for a velvety red suit, becoming Santa Claus just for the evening.
"It's jolly for people to come together as a family," he said as he turned a marshmallow slowly, inspecting its golden edges. The smells of woodsmoke and spun sugar drifted over the grass. "You know?"
Just before 6 p.m., sisters Gabby Crowder and Sefora Clemente-Crowder saw the festivities from across the street and came over with their cousin, Allyssa Blue, to take a look. As they sat around the fire with matching squares of graham cracker and chocolate, they compared notes on their favorite parts of the Christmas season, from caroling and cocoa to special ornaments. Blue, a student at Celentano School, said the holiday gives her a chance to reconnect with family members.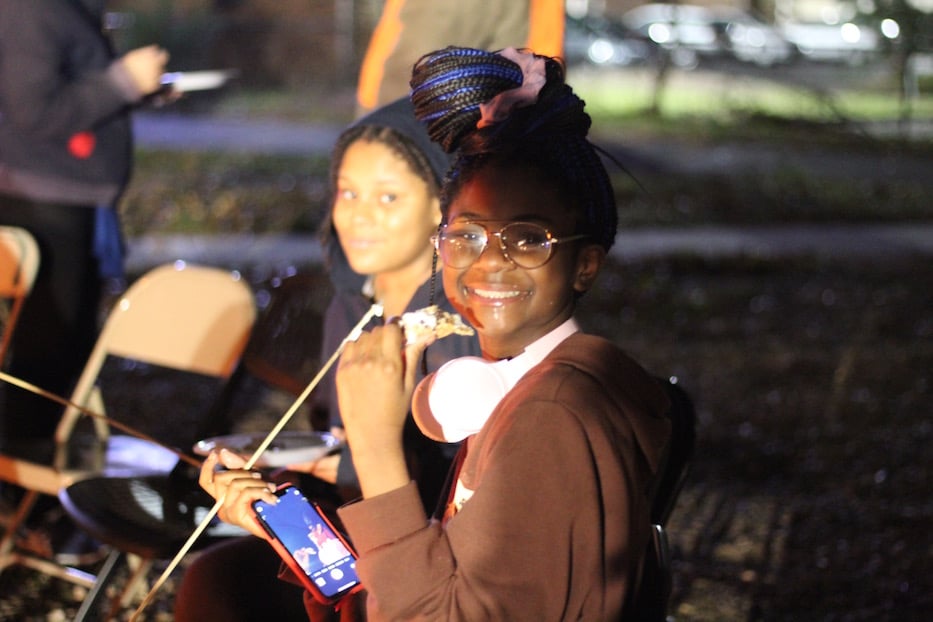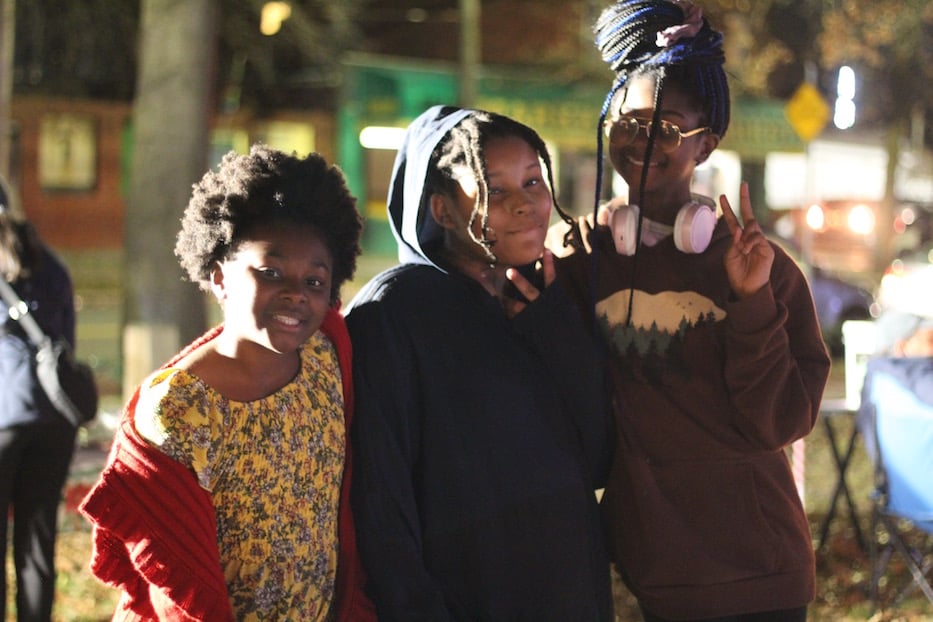 Top: Sefora Clemente-Crowder. Bottom: Gabby Crowder, her cousin Allyssa Blue, and Sefora Clemente-Crowder.
Clemente-Crowder agreed, nodding as she wiped a gooey wisp of marshmallow from her mouth. For her, this Christmas feels particularly special: her family was unable to gather last year because of Covid-19. This month, relatives from New Haven, Milford and Waterbury will all come together around a turkey dinner to celebrate.
Khalif Johnson, a High School in the Community grad who started working in the Hazel Street Garden in June 2020, said the season also comes back to family for him. After graduating from high school last year, Johnson stayed in the neighborhood to help with pandemic relief efforts. At Christmas, he's able to unwind with his mom, three siblings, grandmother and cousins. His Christmas wish this year is "just that my family remain in good health," he said.
Friday, he stood at a craft station beside Jalin Ambrose-Cooper, rolling pinecones in crisco and shiny white and brown seeds to make hanging bird feeders. Yellow-white Christmas lights twinkled as they snaked along the edges of the table, part of a display from the Menunkatuck Audubon Society. A student at Hill Regional Career High School and avid skateboarder, Ambrose-Cooper called the season "a time to get together with family and friends."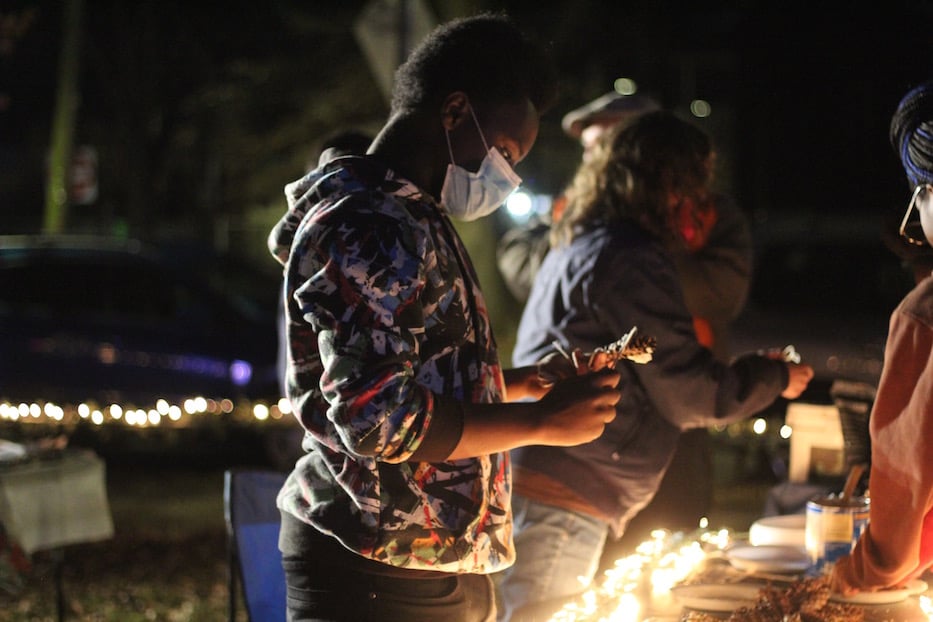 Jalin Ambrose-Cooper.
That's also the spirit behind the Corridor's growth, Abubakar said—particularly as the pandemic enters its third year and outdoor activities remain among the safest. Over the summer, CPEN and the Menunkatuck Audubon Society launched a Black Birding Club that uses the canal as its backdrop. The Perfect Blend hosted a weeks-long arts festival that brought the space to life. Across the street, CPEN has kept growing the Hazel Street garden.
"I believe in magnifying the beauty and the nature of our community," Abubakar said. "We want to continue working with the residents to empower them."
The requests for carols multiplied as neighbors circled up, eyes crinkling above their masks. Kids held up their newly-rolled pinecone ornaments. A tiny, high voice asked for "Jingle Bells," and suddenly the whole group was dashing through the snow in a cacophonous one-horse open sleigh. When the singers got to "Rudolph," there was a lull after the first verse. Attendees looked at each other, their eyes wide as if to say Do you have the lyrics?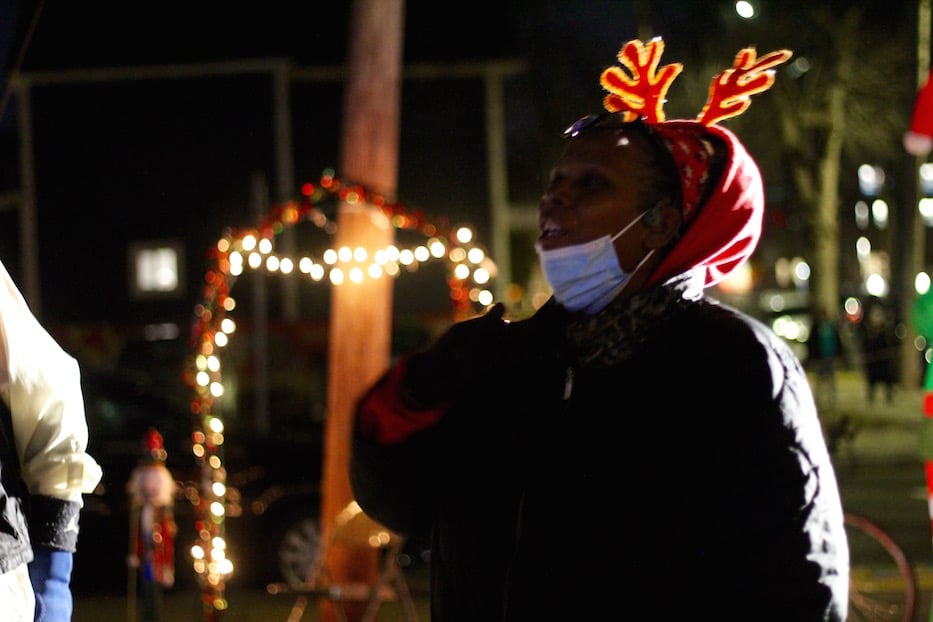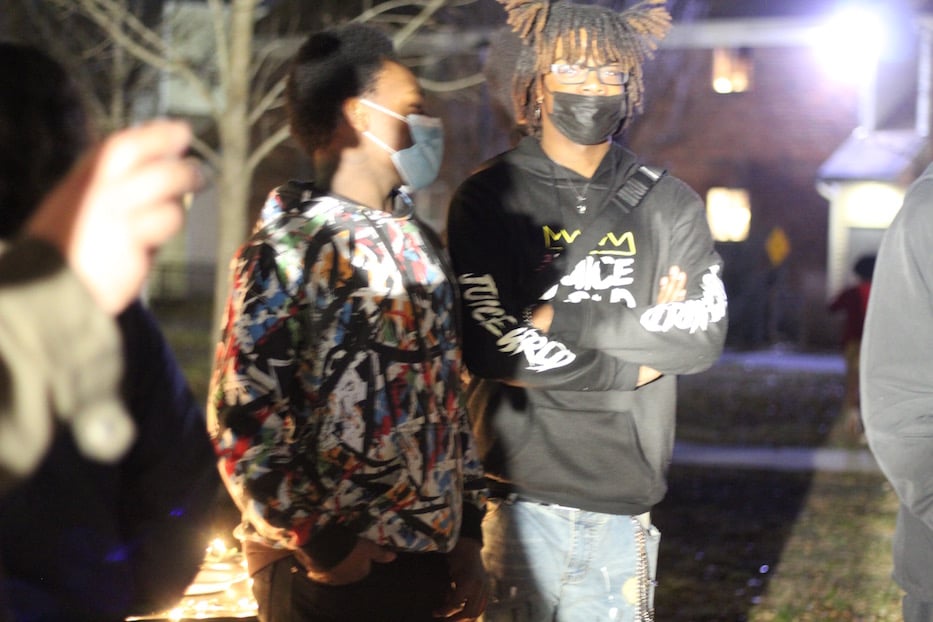 Top: Harris, rocking her Christmas antlers. Bottom: Jalin Ambrose-Cooper and Khalif Johnson.
Suddenly, a young voice cut back in, confident with the story of Rudolph's flashlight-like nose. Abubakar clapped her hands. Harris bobbed her head, making a pair of felted red antlers shake back and forth. The community choir, revitalized, flowed into "Silent Night."
Harris wove through the space afterwards, letting neighbors know the details of a Sunday party from the Newhallville Community Management Team at ConnCAT. She encouraged people to take masks, hand sanitizer and goody bags from two nearby tables. While summer is her favorite season, "Christmas is really it" for its sense of possibility and miracle, she said.
After an unwelcome pandemic hiatus last Christmas, she is planning to gather with cousins and an aunt who just celebrated her 90th birthday. It's the same tradition she grew up with when her mother and aunt were running Harris and Tucker, the same preschool she and her cousin Karen Tucker now operate. She loves reminiscing with them about New Haven's past so she can nurture its present.
"We're gonna eat a lot, we're gonna sleep a lot, and we're gonna talk about good memories," she said. "That's what we're all about."
To learn more about CPEN, click here.