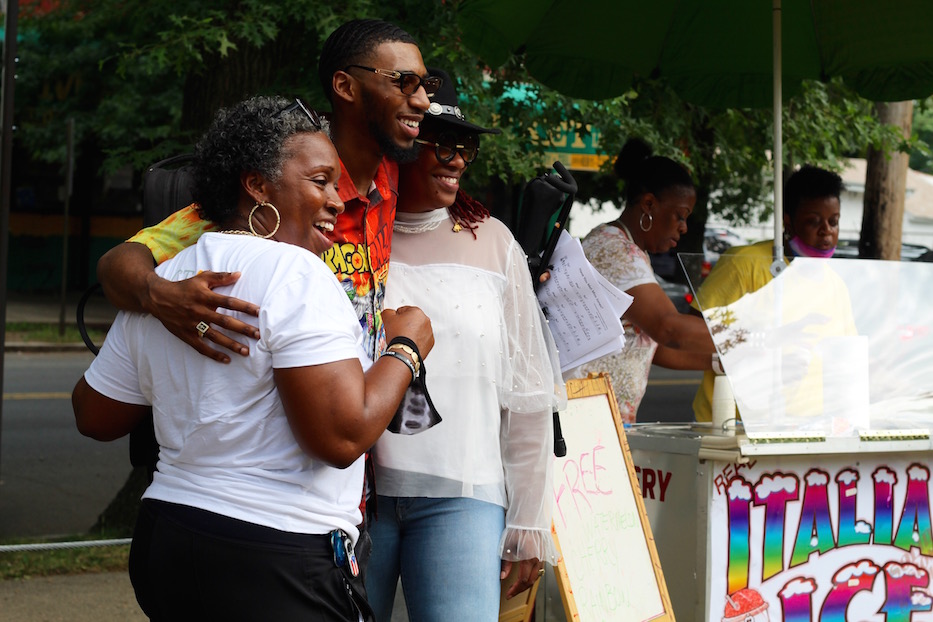 Dance | Education & Youth | Music | Arts & Culture | Newhallville | Learning Corridor | CPEN | The Perfect Blend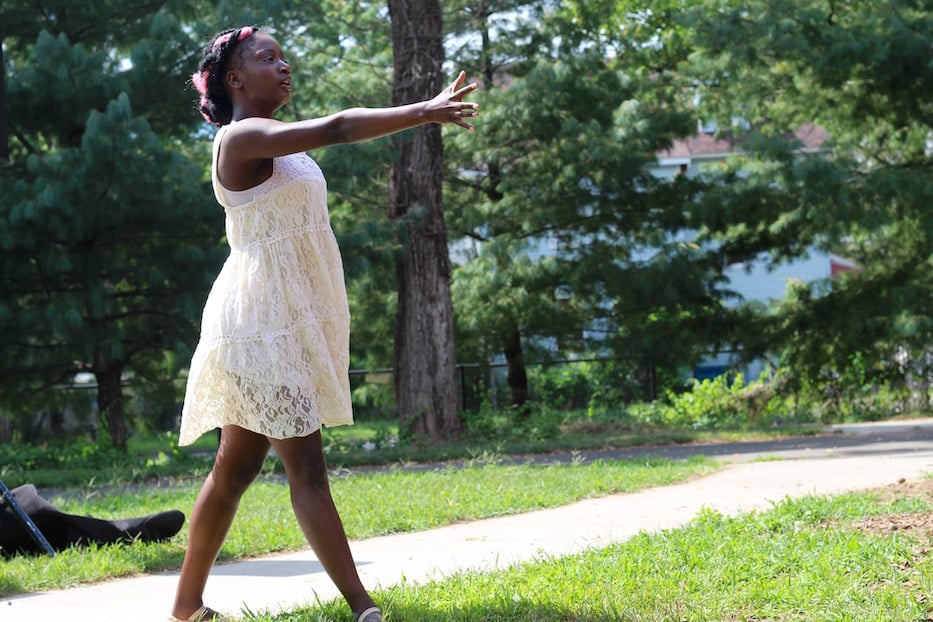 Sifa Kiza, a rising senior at James Hillhouse High School and the Educational Center for the Arts. Lucy Gellman Photos.
Sifa Kiza bent back and pressed her arms to the pavement, her body suddenly a bridge. She laid her shoulders square against the sun-soaked ground and stretched, feeling her way with her feet. Her legs, completely sure of themselves, sprang forward and glided in place. Céline Dion's "Ashes" crested over the Newhallville Learning Corridor, echoing out onto Shelton Avenue.
Saturday afternoon, the 17-year-old dancer graced the greenspace as part of a new weekend series from The Perfect Blend and the Urban Nonprofit Network that brings artists, activists, and local elected officials to the heart of the Newhallville community. For three hours, music and dance filled the corridor as old friends caught up, new ones were made, and free-flowing, gem-colored Italian ices kept attendees cool.
The series is scheduled to run Saturdays through September 18. It comes as that stretch of the Shelton Avenue also hosts Saturday plant sales in a Hazel Street garden maintained by the Community Place-Making Engagement Network (CPEN) and Sunday pancake breakfasts from longtime community organizer Brother Born.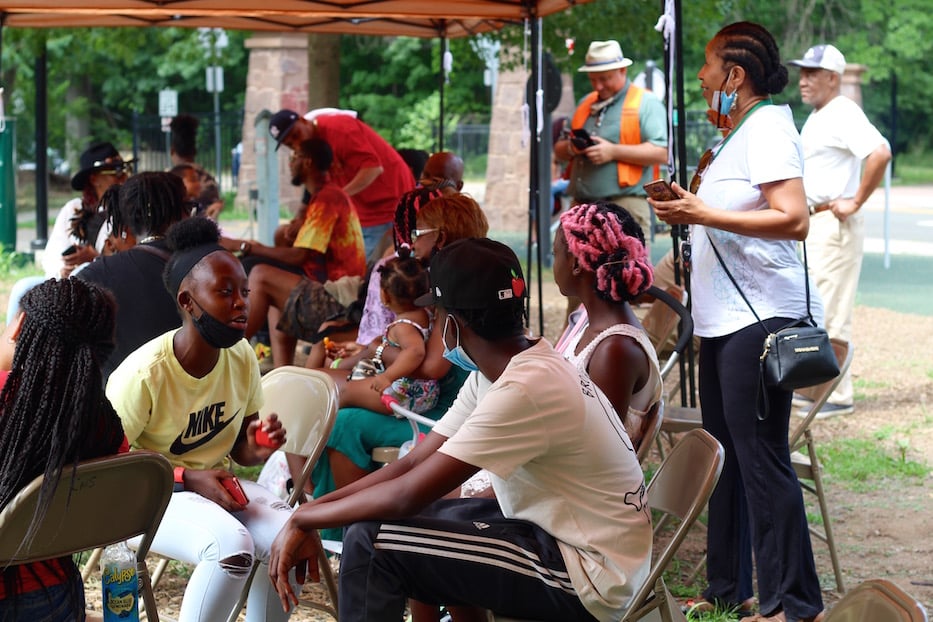 Sykes said the need for the series became evident the longer she thought about all the community has lost in the pandemic.
"With all the things we've been through in the last year, we realized we really needed to do this," said Jeanette Sykes, founder and director of The Perfect Blend. "This music is healing. I just wanted to bring some homegrown local talent. It's a great connection with the community."
To get the word out, Sykes printed and distributed 5,000 flyers to nearby homes and businesses. She worked with Doreen Abubakar, founder and director of CPEN, to secure the corridor for several weeks. She power-washed her house on Hazel Street, the butter-colored sides of which are now visible from the learning corridor. She booked artists from the city's public schools and from the neighborhood, hoping to create intergenerational dialogue.
Saturday, adults who had lived in the neighborhood for decades talked to kids who were growing up there. Beneath a tent, dozens of young attendees cheered on Yvonne Monk Adams as she cycled through jazz standards, her voice honeyed and reverent as it reached the work of Billie Holiday. Between numbers, she spoke about her own work, which includes over four decades "performing to God's glory" in and beyond New Haven.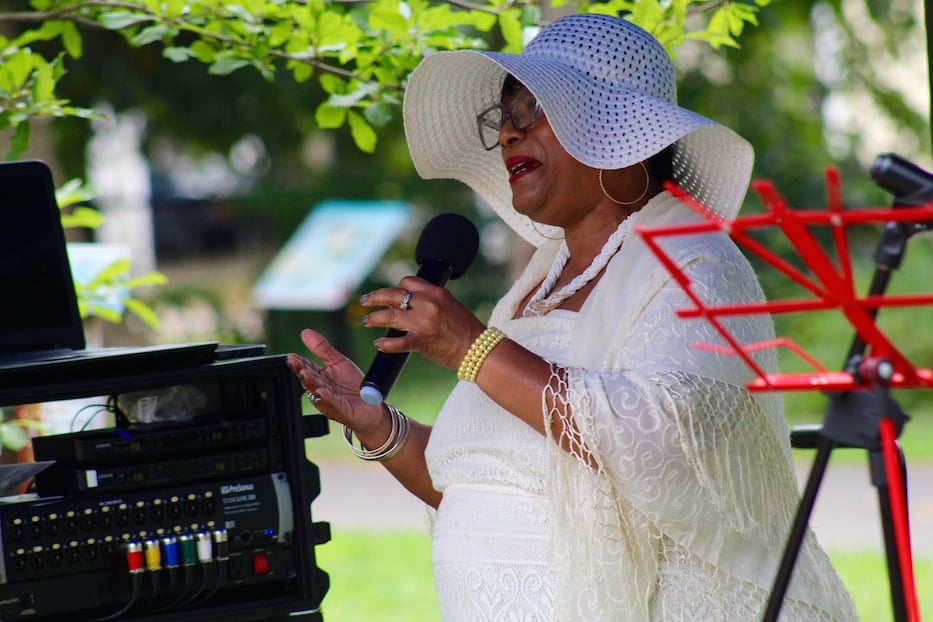 Yvonne Monk Adams, who performed jazz standards and then flipped the script on George Gershwin's "Summertime."
Sykes said that part of the hope is to teach young neighborhood residents about their own culture, particularly when they may not be learning it in school. As she prepared to close with her adaptation of "Summertime," Monk Adams said that she had added her own ending after realizing that "this song wasn't for us." After years of singing it, the lyrics struck her as a sort of antebellum fantasy. She urged attendees to "listen for the flip," which pulls the song into the present with a lamentation of police brutality and the state-sanctioned murder George Floyd.
Between acts, attendees looked for ways to beat the heat as the temperature continued to rise. In a pool of shade on Shelton Avenue, longtime Newhallville organizer Brother Born stopped by to hand out flyers for the V.I.L.L.E.G.E. (Visualizing Ideas Long Lasting Economic Growth through Education), a new network that connects social service opportunities with Newhallville neighbors. For years, Born has also hosted a weekly pancake breakfast for the community just off Shelton Avenue.
"I grew up all over the world, but the Ville is my home," he said. "I come out every day to see the community."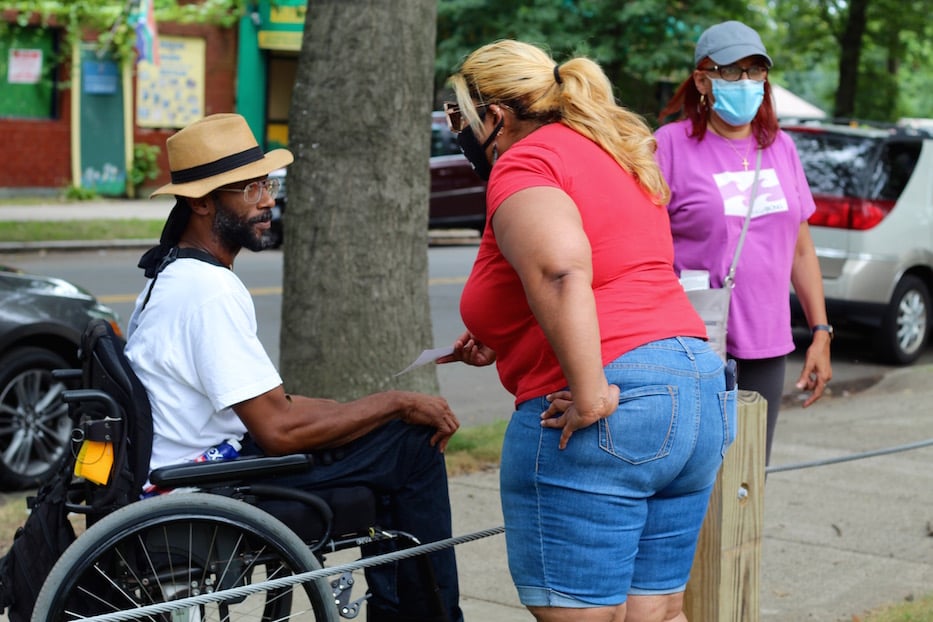 Brother Born and CJ. Both live in the neighborhood.
CJ, an organizer with Black and Brown United In Action and Unidad Latina en Acción, chatted with Born as a steady stream of neighbors stopped by on the sidewalk and caught up with them. A resident of the Harding Place Apartments, CJ "came right around the corner" when she heard about the weekly festival. By 30 minutes in, she was already working with Sykes to get more West Indian performers on the bill.
She said she saw the event as a reminder that Newhallville is so much more than the violent, resource-strapped neighborhood that it's often painted as in the mainstream media. When she looks around, she sees a neighborhood full of deep knowledge, decades of lived experience, and essential workers, from nurses and early childcare providers to hospital janitors to cashiers.
"There's a lot of history here," she said. "There's a lot of love. There's a lot of intelligence. We hear about the shot spotters and the shootings, but we don't hear about that, or the fact that we don't have the resources in this neighborhood. You knock on every door [in Newhallville], you find the people who got us through the pandemic."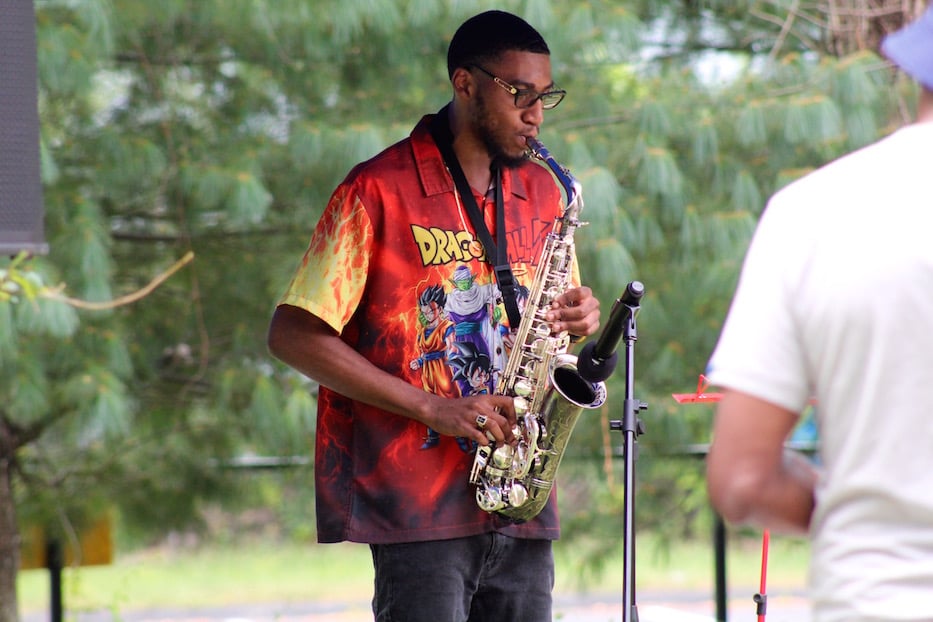 Kenyatta Harris, Jr., a Co-Op grad who has been playing the sax for a decade.
As she spoke, Kenyatta Harris, Jr. started in on Sam Cooke's "A Change Is Gonna Come" on saxophone nearby. A graduate of Cooperative Arts & Humanities High School and student at Gateway Community College, Harris has been playing the saxophone for 10 years and the piano for 16. He said he wants other kids in New Haven and Connecticut—particularly kids who look like him—to see him playing, and know that they can do the same thing.
His mom-turned-manager ("I'm the momager," she said matter-of-factly) Ethel Harris grew up in Newhallville in the 1970s and 1980s. She marvelled at how the space, once called the "Mudhole" and known for crime, has transformed into a sprawl of green with fresh grasses, pollinator plants, foot and bike traffic from the Farmington Canal and bubbling conversation.
"I love it," she said of the Saturday series. "I love it. You see old faces, new faces."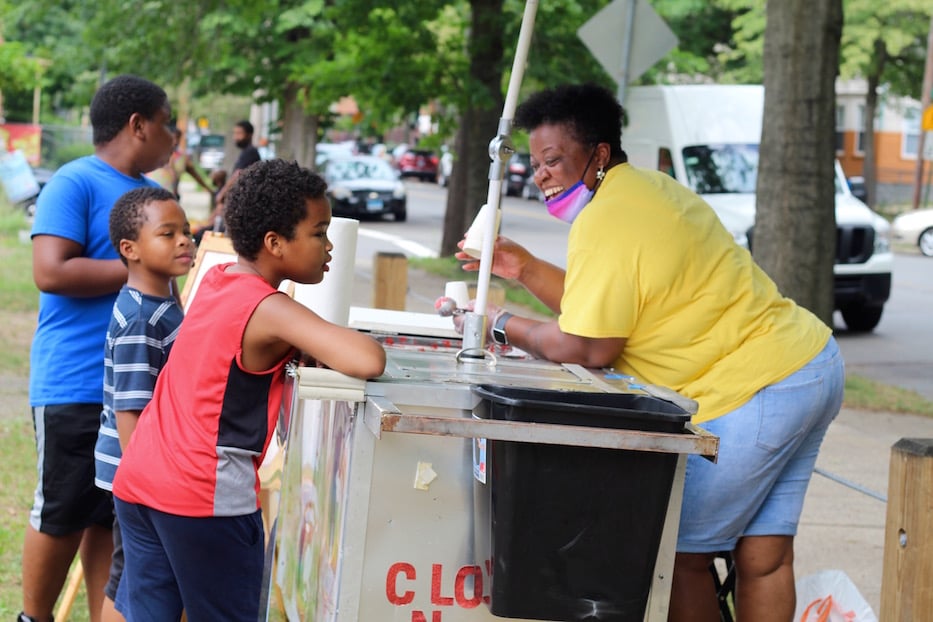 Brothers Izyeer, Kadyn and Kevin Battles with Tonia Moore.
Trying to stay cool, others found their way to a cart of pink, red, white Italian ices. Leaning over the chilled, colorful tubs, Hill resident Tonia Moore greeted a constant stream of attendees with a bright, broad smile. Raised nearby on Sheffield Avenue, she said it was nice to be back in the neighborhood. In just hours, she and her sister Tammy Lowery gave out hundreds of scoops.
Moore's brother in law, Clint Lowery, owns the sweet-toothed business but was unable to make it Saturday. As people lined up for free scoops of cherry, watermelon, lemon and a blue-and-red streaked "rainbow" flavor, Moore greeted one trio of return customers with a laugh. With tongues already stained red and blue by the treat, brothers Kevin, Izyeer and Kadyn Battles were back for their fifth Italian ice of the day. Kevin, who is the oldest, said that he was having fun listening to the music.
"It's good to come back and let the community know that we're here," Moore said after suggesting that the three wait for a few minutes before eating any more sugar.
"We wanted to come back and let them know that life isn't over," Lowery chimed in. Last summer, the business suffered as summer festivals, parades, and private gatherings disappeared during the pandemic. As those return this year, the cart is slowly making a comeback.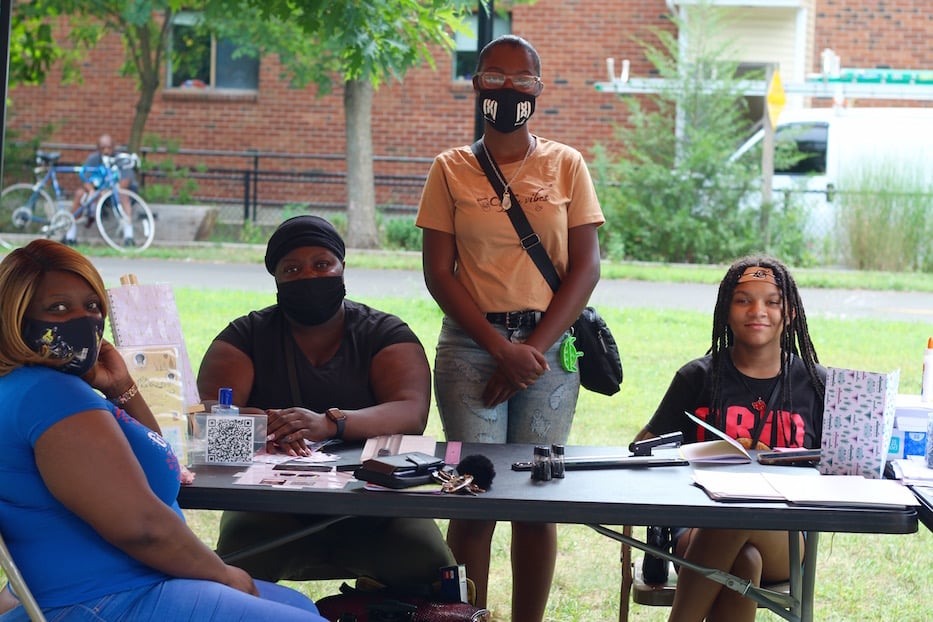 Malicia and Briana Hopes with 12-year-old Meyawna McCollum.
Nearby, mom and daughter team Malicia and Briana Hopes walked young attendees through making flip-books and notebooks that could get them through the first weeks of the school year. While she is now based in Beaver Hills, Malicia used to live in Newhallville, and came with armfuls of bright paper and art materials for students. Beside her, 12-year-old Meyawna McCollum worked on a watermelon Italian ice and finished a matching pink flipbook.
"It shows the kids that there is more to do than run the streets," Malicia said. As kids worked on notebooks, old friends stopped by the booth to say hello, some checking in on the annual Autism Awareness walk that she runs in Goffe Street Park each year.
Back under a tent-turned-stage, Kiza spread her feet and listened for exactly the right moment. With the first notes of Dion's "Ashes," she slow-ran in place, arms extended out until suddenly she couldn't contain them any longer. She sprang forward on the warm pavement and went airborne. When she landed in a crouch, she rolled onto her back and spider-walked her hands backward to the music.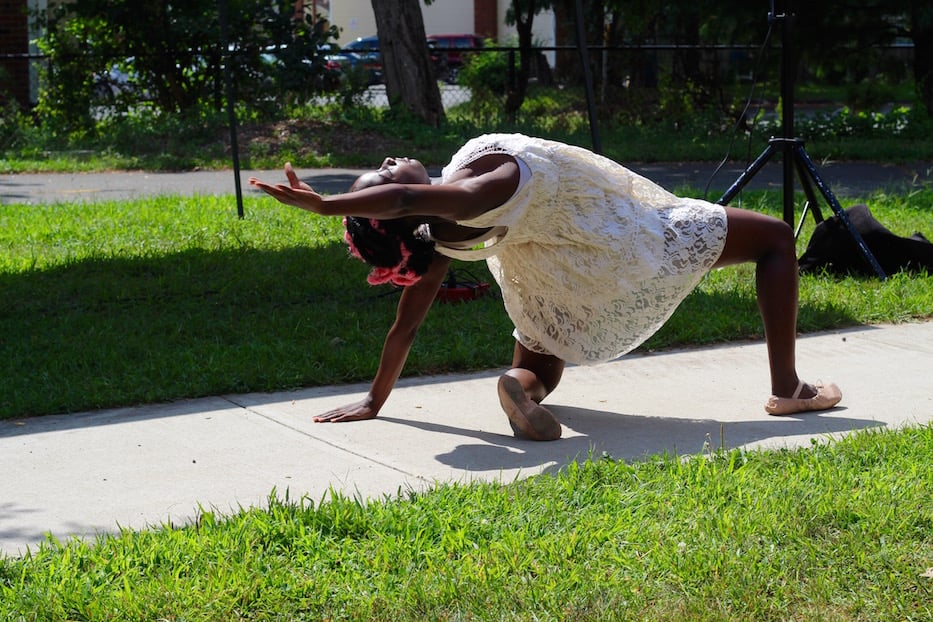 The audience cheered, some attendees standing to watch. Cries of "Yes, God!" and "That's all right!" bubbled up from beneath the tent. State Rep. Robyn Porter and aldermanic hopeful Devin Avshalom-Smith pulled out their phones and began filming. Wrapped in the lyrics, Kiza seemed completely unaware of the dozen people in front of her. She sprang back into the air and landed on her knees in the grass. She pulled into herself then unfolded and stood once again.
"We have to let our light shine even though there's been a lot of darkness," said Avshalom-Smith after watching the performance. "These are things that make the community a home, not just a house that we rent in."
Before she left the corridor, Kiza said that she thinks of dance as her most fluent form of communication. For years, she was an athlete with a particular love for running. But when she went into foster care seven years ago, "I couldn't run anymore." She decided to try dancing, which she could do in small spaces.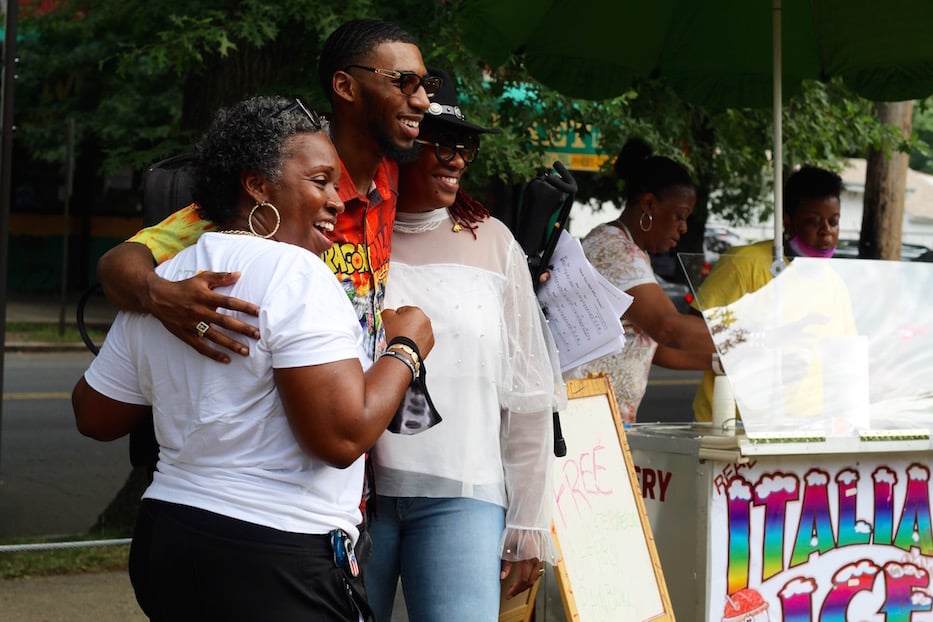 State Rep. Robyn Porter, Kenyatta Harris, Jr. and "Momager" Ethel Harris.
She soon realized that "the floor is my best friend—it's there to catch me." Much of her work unfolds on the ground for that reason.
"I like to take on big obstacles, and I like to push myself," she said. "I'm very tiny, so it's the only way I can be known. It's the best way to express my feelings."
Initially, she struggled with dance. But when she stepped into a classroom at the Educational Center for the Arts (ECA) her sophomore year of high school "I thought, 'This is my home.'" She is now a rising senior at the school.
When performances ended, the corridor remained full, attendees in no particular hurry to leave. Sykes buzzed around, touching base with artists, parents, neighbors. Porter made time to meet cousins Blake Fredrick-Sanders and John McLean, both musicians who grew up in Newhallville.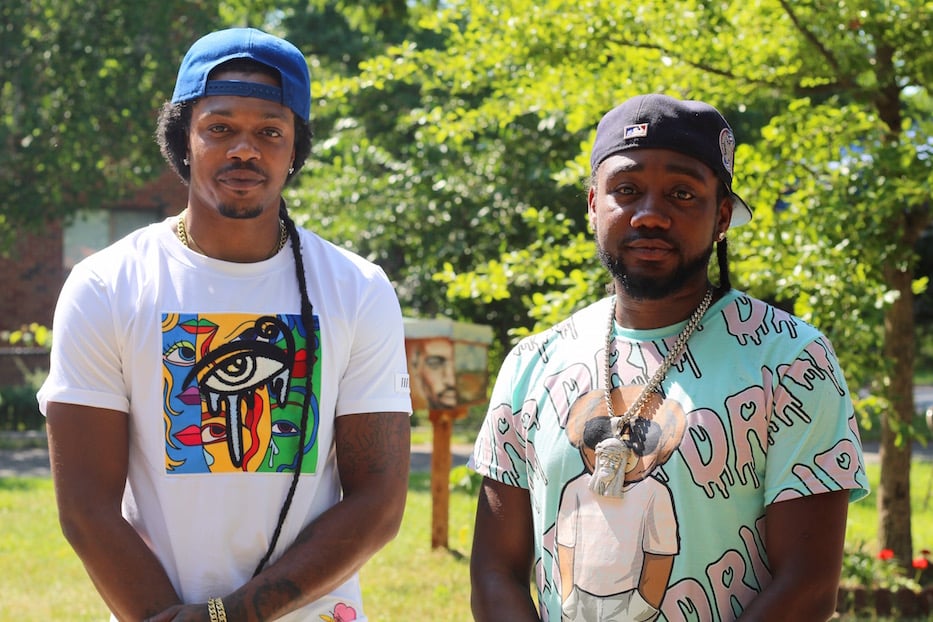 John McLean and Blake Fredrick-Sanders, who performs as YoungBlake203.
Born and raised in the neighborhood, both turned to the arts as an alternative to the violence that was often around them. After hearing about the Saturday series, they made it a point to stop by, and ask if they might perform sometime in the next weeks. As Sykes took down their contact information, Porter jumped right into a conversation with them.
"I gives me butterflies," she said, motioning around the learning corridor as neighbors chatted and raced the heat to finish their Italian ices. "You know when you were younger and you would see that guy you liked in school? It's like that. It's unadulterated love for this community. We're getting back to the basics."
Newhallville Community Connections Through Music and Arts takes place every Saturday from 1-4 p.m. on the Newhallville Learning Corridor. To find out more, click here.