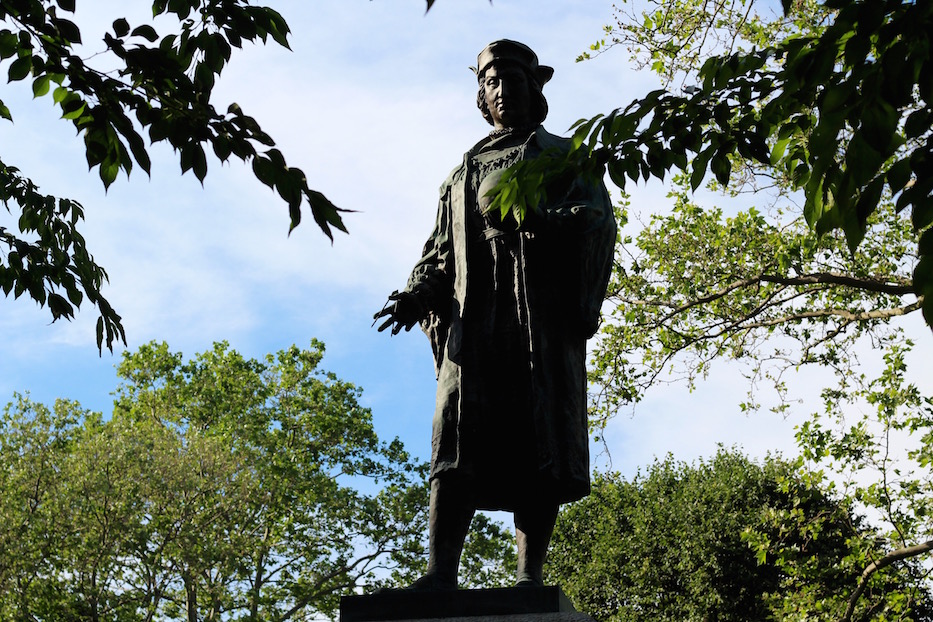 Columbus | Public art | Arts & Culture | Wooster Square | Indigenous rights | COVID-19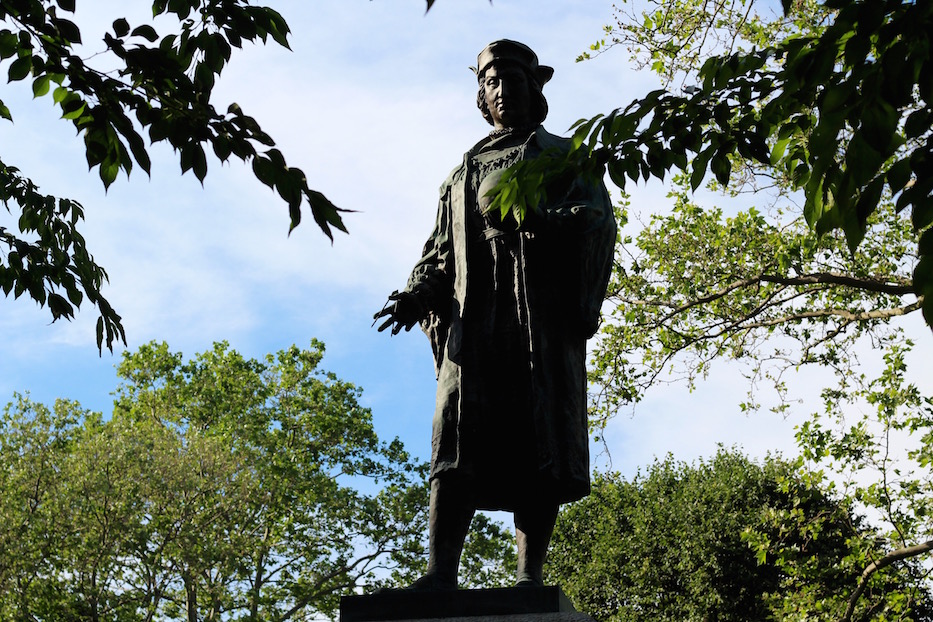 Frank Carrano: It's time. Lucy Gellman Photos.
Organizing among a diverse group of Wooster Square neighbors has paid off—a bronze, larger-than-life statue of Christopher Columbus is coming down after 128 years. Now the question is: who or what will replace it?
That is just one of the evolving discussions around the statue, plans for the removal of which were announced Monday afternoon. The decision follows several requests from Ward 8 constituents, a fiery petition started by a high school student, and months of discussion among a coalition of Italian-American societies, local legislators, and city residents who have been advocating for years. Ward 8 comprises Wooster Square and a slice of Fair Haven.
The Columbus statue was first erected in 1892, to commemorate the 400-year anniversary of his inaugural voyage across the Atlantic Ocean from Spain. In that and three subsequent voyages, Columbus and fellow crew members strengthened a foundation for colonization through the kidnapping, rape and enslavement of thousands of Indigenous people.
But in New Haven, he became a symbol of resilience. In 1892, New Haven's nineteenth-century Italian societies had to fight to put the statue in Wooster Square—the city's leadership originally suggested East Rock Park, according to New Haven author Anthony Riccio. The sculpture was recast in bronze in 1955; a memorial plaque was added in 1992. There is still a wreath-laying ceremony each year on the second Monday of October, recognized by some as Columbus Day.
"I am proud of the work done by the Wooster Square Community to come to consensus on this issue, and I believe that our actions to remove the statue from Wooster Square Park are on the right side of history," wrote Ward 8 Alder Ellen Cupo in an email Tuesday morning. "Every person who lives in or visits Wooster Square should feel safe, and should not have to be confronted with figures that remind them of violence and oppression."
"I know that there is more to do in confronting systemic racism in our community," she added. "This moment could not have been made possible without the work and activism done by Latinx, Black, and queer folks calling for justice on this issue for years."
The timeline on the removal has moved quickly, thanks in part to a petition started by Rhea McTiernan Huge, a student at Wilbur Cross High School and lifelong resident of Wooster Square. Last week, Huge started the petition, which is addressed to Mayor Justin Elicker, with a history of Columbus' misdeeds and a list of potential alternatives to the statue. A few of her suggestions include academic trailblazer Elena Cornaro Piscopia, neurologist Rita Levi-Montalcini, and Italian virologist Enzo Paoletti.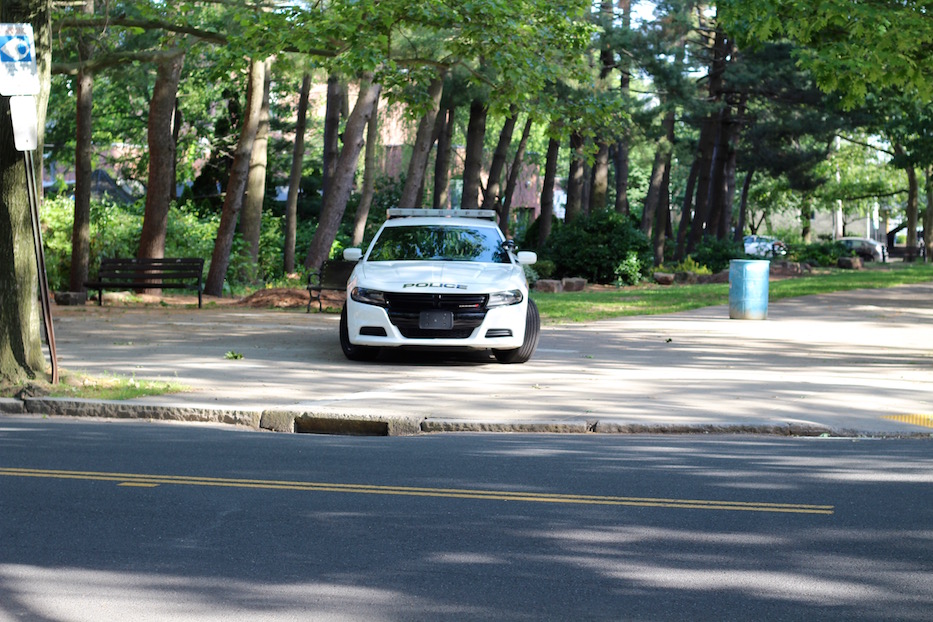 One of the NHPD vehicles stationed Monday close to the statue.
"Wooster Square is a historically Italian American neighborhood, and many argue that Columbus represents their Italian ancestry, and allows them to celebrate their national pride," she wrote. "I, as an Italian American who lives in Wooster Square, disagree. It makes me ashamed that my community exalts a man that caused so much pain."
In the initial petition, Huge chronicles a history of Christopher Columbus that is still largely not taught in schools, including the rape, murder and mass genocide of the Taino people, role Columbus played in the Afro-Caribbean slave trade, and his ensuing arrest by the Spanish government. As of Tuesday morning, just over 600 people had signed.
Last Thursday, New Havener Jacob Booth started a second petition also calling for removal of the statue. That petition has reached almost 2,000 signatures. He and Huge join a national groundswell of action: last weekend, statues of Christopher Columbus in Massachusetts, Minnesota, and Virginia were beheaded, toppled by force, and set on fire. On Monday, Hartford Mayor Luke Bronin announced that the city would also be removing its Columbus statue, which is located near the State Capitol building.
New Haveners have been calling for the removal for over a year. In June 2019, the city's Board of Alders held a contentious, three-hour hearing on a proposal to change Columbus Day to Indigenous People's Day, during which the Knights of Columbus brought in out-of-state members to testify against the proposal. While New Haven activists also showed up in force, the board did not go forward: New Haven now has events for both Columbus Day and Indigenous People's Day.
Amidst recent calls to defund the police, multiple Wooster Square residents have also started posting photographs and social media call-outs of the police cars stationed in front of or across from the statue, often at all hours of the day and night. Tuesday evening, District Manager Lt. Sean Maher said that officers are present because the statue is public property. He added that he does not like having to "babysit" the statue.
Then this month, those calling for removal received a surprise—resounding support from older, white members of the neighborhood's Italian-American community, many of whom now live outside New Haven. For over a year, Wooster Square enthusiast and historian Frank Carrano has been thinking about the need for a new monument to the neighborhood. It turns out he's not alone: members of the Saint Andrew the Apostle Society and St. Catello Society have also signed on.
The current moment, Carrano said, gave the matter a new sense of urgency. Monday's announcement was also signed by Cupo and Democratic Town Chair Vincent Mauro, Jr.
Carrano grew up in Wooster Square, close to where the Hamilton Street exit now lets cars off of the highway. For decades, the neighborhood was his home and his great love: while working for the New Haven Federation of Teachers and Greater New Haven Central Labor Council, he also penned a weekly column for the New Haven Register about growing up in Wooster Square. And yet, he also felt a sense of growing unrest within himself as he began to think about Columbus' full history.
"120 years ago when the statue was erected, Italians were new to this country and they didn't have a legacy of their own," he said in a phone call Tuesday morning. "We have a history of our own now, a legacy of our own that I think we should be proud of. We can make a long list, in terms of what Italian Americans have brought to the American culture—strong family ties, strong work ethic, solidarity within the community."
Since sharing the news on social media Monday afternoon, he has received both praise and backlash, including a few comments he called upsetting (several people have disagreed respectfully; others have used racist language and called him a disgrace to his family). Both Mayor Justin Elicker and U.S. Rep. Rosa DeLauro applauded the decision, noting that it will be followed with a series of community conversations on what comes next.
"I'm proud of the many leaders in the Italian Community who have taken proactive steps to decide to remove the Christopher Columbus statue from Wooster Square Park," wrote Elicker in a press release Monday afternoon. "The Christopher Columbus statue for many Italians is a celebration of Italian heritage. But the statue of Christopher Columbus also represents a time of colonialism and atrocities committed."
DeLauro, whose mother Luisa was known as the unofficial mayor of Wooster Square for years, was also especially supportive. As she has navigated the coronavirus on a legislative level, she wrote in an email, she's been thinking about it as part of two parallel and often intertwined pandemics: COVID-19 related disease and death, and white supremacy.
"This tectonic moment exposes so many wrongs, deep inequality, and racial wrongs, that as we fight the COVID-19 virus before us now, we must also fight the virus of injustice," she wrote in an email Monday afternoon. "Here in our community, we have an opportunity to begin to sew new threads of healing and unity by addressing the concerns around the statue of Christopher Columbus in Wooster Square Park."
"Wooster Square has long been the heart of New Haven's Italian American community," she added. "And, we are proud of our rich ethnic history. The statue was there to remind all of us of the Italian American contribution to our city. But, in telling the story of our families, we must not ignore the stories of others, whose families did not voyage for opportunity, but whose families suffered immense racial violence."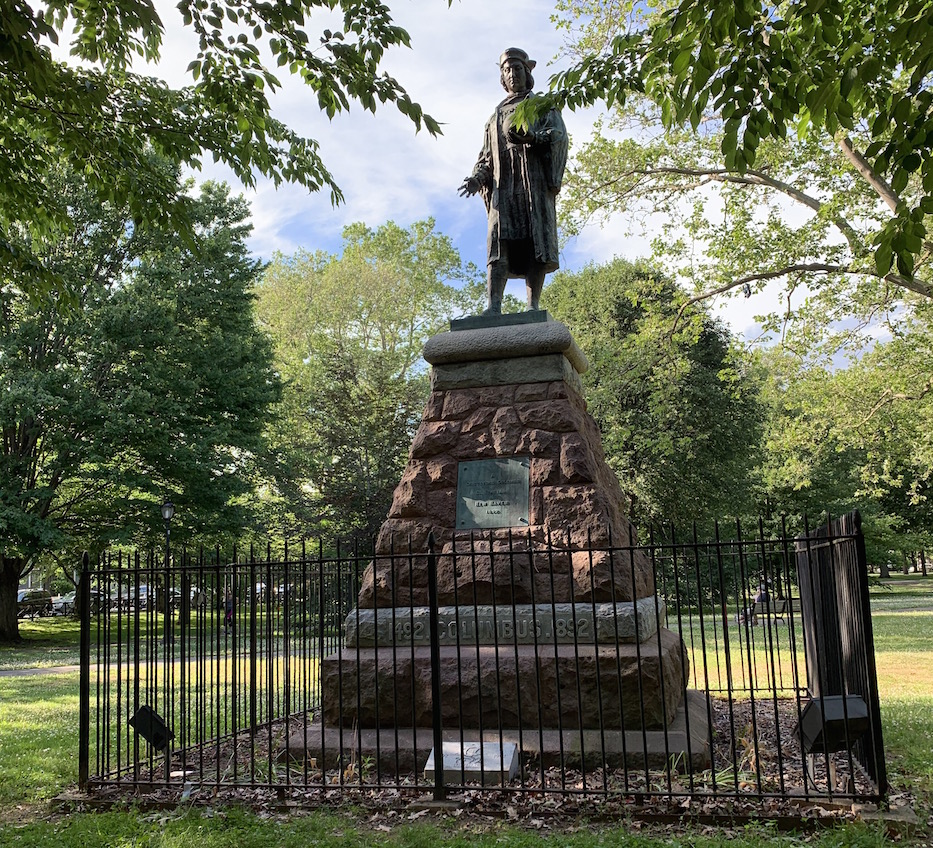 For many residents, the next question is what—or who—will replace it. Currently, the statue stands with its back to the Delauro Family Table, a privately-funded monument to the DeLauro family that was installed in 2011, during Mayor John DeStefano's final term in office. The table, which was designed by Barry Svigals, sits on the far side of the park, running alongside Greene Street.
Tuesday, Carrano suggested that the next sculpture shouldn't be a single person, but a monument to the neighborhood's history. While he would like to see a gesture to the neighborhood's Italian heritage, he acknowledged that New Haven is a very different place in 2020 than it was over a century ago.
"I don't want to see anyone there," he said. "I want a memorial to the people of Wooster Square. I personally would not be in favor of replacing one statue with another. I would be in favor of a memorial or a monument— a representation of all of the different areas where Italians have contributed."
He added that he is in talks with the City of New Haven, Connecticut Department of Transportation and New Haven museum on an I-91 underpass mural project, close to that Hamilton Street exit where he spent much of his childhood. The project will feature archival photographs of Wooster Square on one side, and an expressive design reflecting the current diversity of the neighborhood.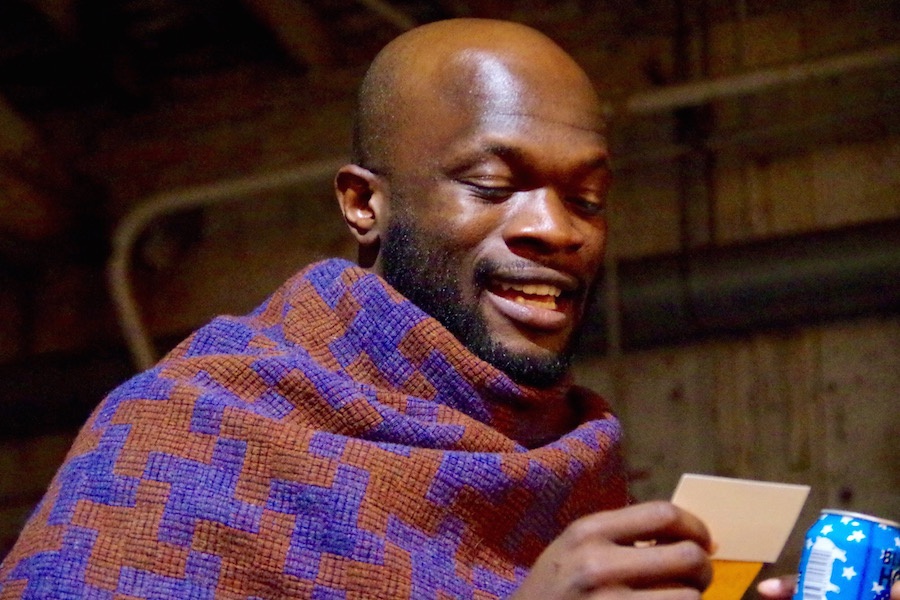 Obiocha at a food justice event in 2018. Lucy Gellman File Photo.
Onyeka Obiocha, who lives just beyond the park on Chapel Street, said he would like to see William Lanson, an engineer who built a nineteenth-century extension on Long Wharf and a section of the walls on the Farmington Canal. Lanson began his life as an enslaved man, and ended it having constructed part of the city. Last week,Obiocha drafted a resolution on the statue's removal, replacement, and next steps, including replacing Columbus Day with Indigenous People's Day. He intends to bring it before the Board of Alders.
In forthcoming community conversations, he said he also hopes New Haveners consider the full history of the city, including the displacement of the Quinnipiac People and contributions of New Haven's Black residents past and present.
"Be it further resolved that it is also recommended that the Board of Alders establish a task force to include community members and Indigenous People to provide recommendations as to how to implement the above recommendations," the resolution ends.
The State of Connecticut sits on land stewarded by the Mohegan, the Mashantucket Pequot, Eastern Pequot, Schaghticoke, Golden Hill Paugussett, Niantic, Quinnipiac, and other, once-known Algonquin peoples.
At a virtual meeting of the Downtown Wooster Square Community Management Team Tuesday evening, Wooster Square resident and union organizer Ian Dunn added that he hopes community discussions around the replacement statue reflect the current diversity of New Haven. He urged the 31 attendees, almost all of whom were white, to look beyond the Wooster Square community in their discussions.
"I would assign homework to everyone and start to think about who are the important people to have in that discussion," he said. "We need something reflective of the moment we're in and the community that actually lives here."
"When you need to have an armed presence to protect a statue, I think it just really says it's time for the statue to go," he added of recent police presence by the statue.
While there is not a timeline for the statue's removal, Carrano said that it would come sooner rather than later, propelled by the current moment. On Facebook, Native activist Norm Clement noted that when it is removed, "the land should be blessed again."
"It has a lot of history and a lot of emotional connection," Carrano said of the statue Tuesday evening. "The fact that the people within this coalition were able to set that aside ... I think is a great testament to people's ability to overcome their first reaction to want to keep something and be willing to give it up."
The statue will be preserved offsite. Neither the coalition nor Mayor Justin Elicker commented on Christopher Columbus Family Academy, a public school that sits in the heart of Spanish-speaking Fair Haven.
In October 2018, in honor of Indigenous People's Day, activists marched to the school, pummeled a Columbus-shaped piñata, and proposed renaming the it Mantowese School, in memory of a Quinnipiac tribal chief. Last October, also in honor of Indigenous People's Day, activists proposed renaming it Tlahuicole Academia de la Dignidad, after a sixteenth-century warrior from New Haven's sister city of Tlaxcala.