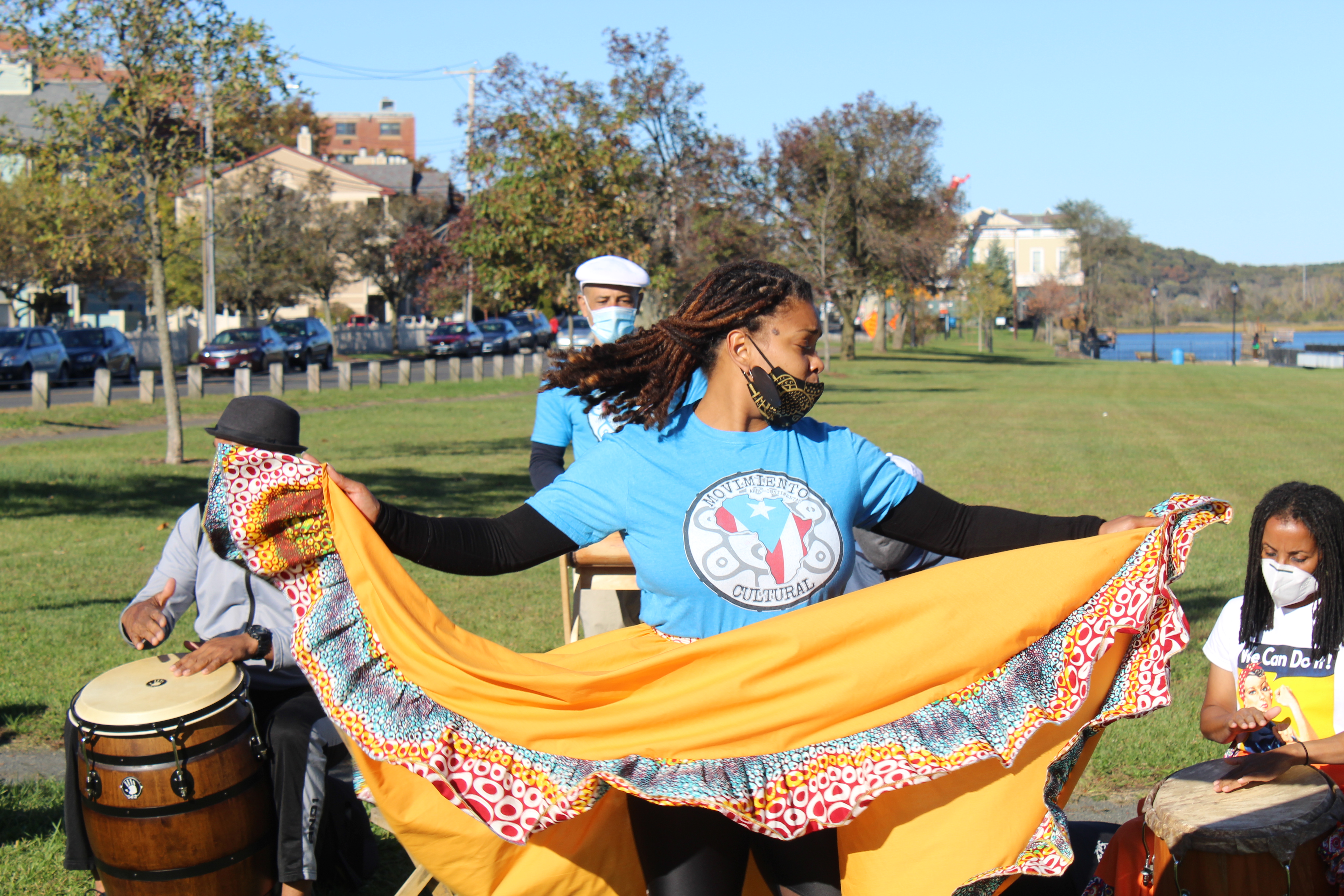 Politics | Presidential Election | Arts & Culture | COVID-19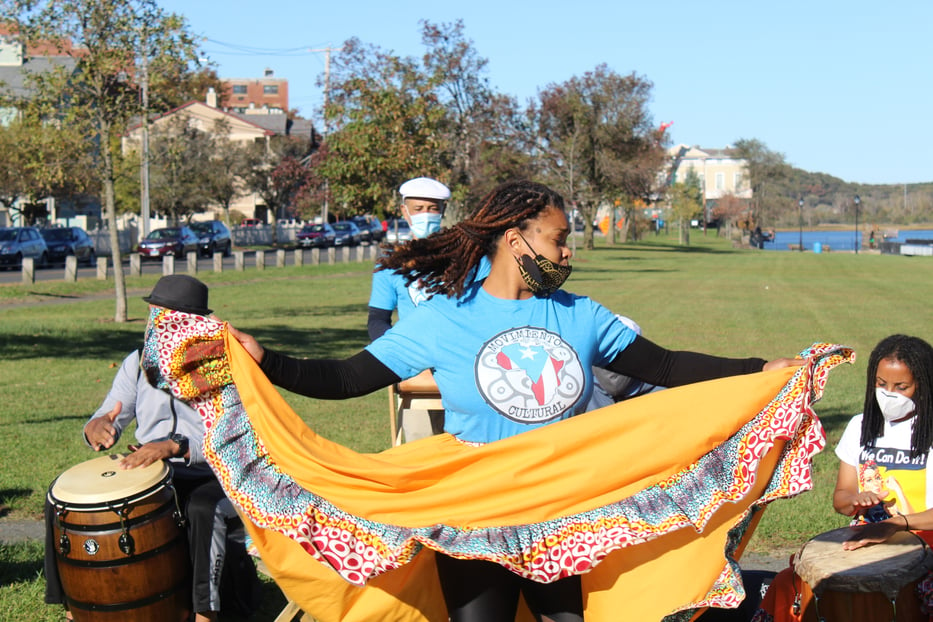 Addys Castillo performs a traditional dance with Movimento Cultural Afro-Continental (MCAC) to close out the voter rally.
In front of the Quinnipiac River, Dori Dumas turned to the crowd dressed in a shirt with the words WeAreDoneDying:Vote and a Black Lives Matter face mask. She invoked the legacy of Congressman John Lewis and his fight for the 1965 Voting Rights Act. She explained that she stands on his shoulders—and the shoulders of all those who fought for the right to vote.
"It is our turn to get into good trouble."
Dumas is the president of the Greater New Haven chapter of the NAACP. Saturday, she joined local officials and community organizers at Quinnipiac River Park in Fair Haven for a rally to increase voter engagement and participation across the city. The event was spearheaded by Kica Matos, an immigration rights activist and the vice president of initiatives for the Vera Institute of Justice and organizer Shana Jackson.
"I am angry," Jackson said Saturday. " I am angry at the killing of Black and brown bodies, the caging of Black and brown bodies. I couldn't allow my anger to consume me and make me sick."
The rally included participation from the Bangladesh Society of CT, the New Haven Registrar of Voters, the New Haven Chapter of Omega Psi Phi Fraternity's Chi Omicron, and Views From the Struggle. The Hamden Dance and Music (H.A.M.D) team and Movimiento Cultural both performed sets to liven up the crowd.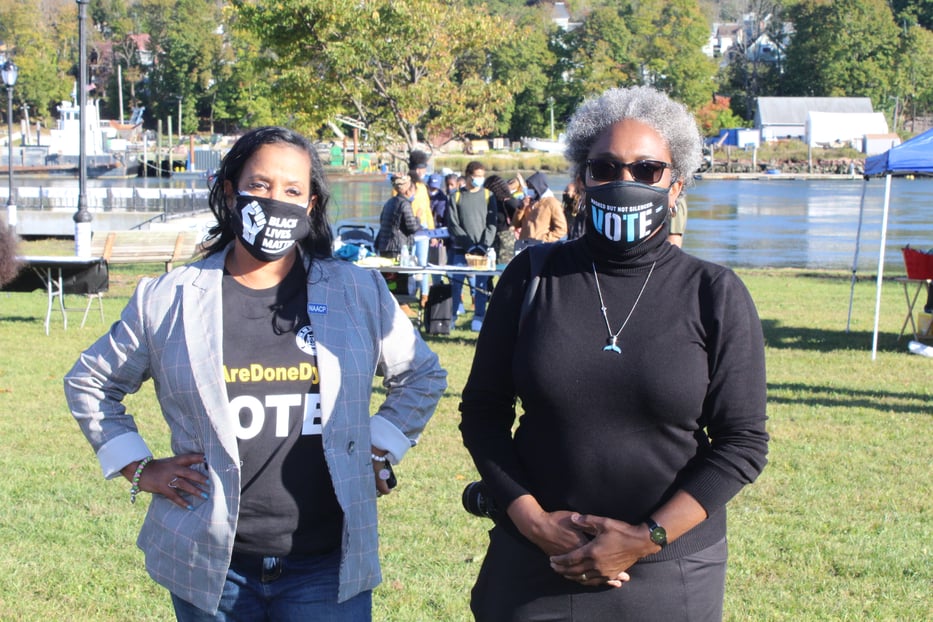 Dori Dumas, president of the Greater New Haven chapter of the NAACP, and Shana Jackson, one of the organizers for the event.
The day was dedicated to getting out the vote in a COVID-19 safe environment. Jackson, a librarian at the Yale Law School, organized a similar rally alongside Matos in Hamden in July of this year. She went to barbershops, corner stores, and other local businesses encouraging people to show up. While she had never organized in the past, she said, she was comfortable reaching out.
"I am not afraid of my community," she said. "The narrative placed onto our community [by the White House] is a false narrative."
Jackson also enlisted the help of Cornell Scott Hill Health Center to offer free COVID-19 testing for attendees and passers-by. Angel Ramirez, the practice coordinator for the testing, explained that free testing is especially important in lower-income neighborhoods including Fair Haven, as it eliminates the cost barrier for uninsured and underinsured residents.
While the state of Connecticut has said that people will not be charged for COVID-19 testing, several New Haveners have reported paying out of pocket, or receiving letters that their insurance will only cover a partial amount.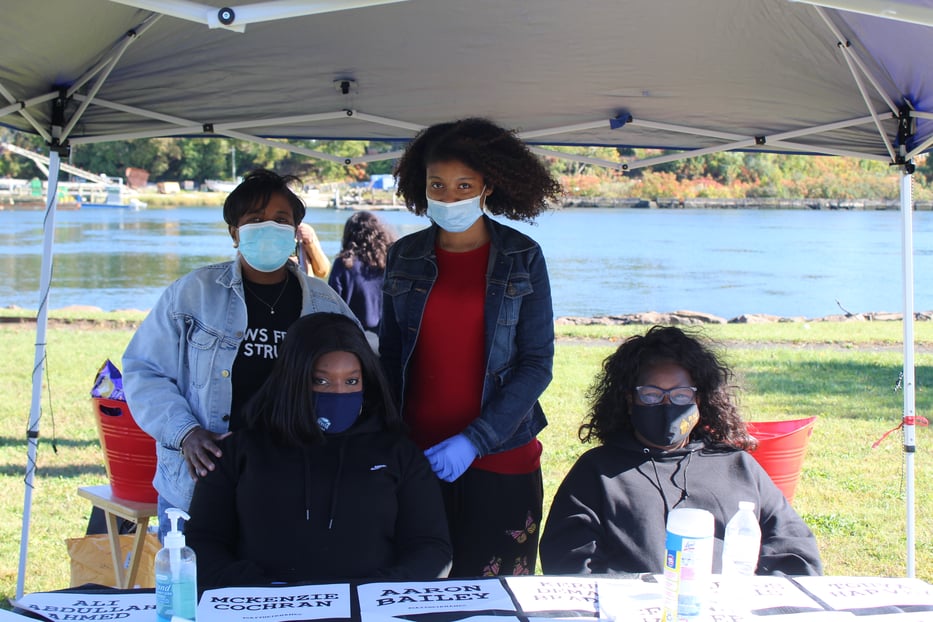 Top Row left to right: Gail Fisher, a board member of Views from The Struggle, and Jennifer Miller Bottom Row: Simone Henderson and Lorraine Hines. Taped on the table and all over the space were the names of people killed by police brutality.
Robin Moody-Davis, the marketing and outreach coordinator for Cornell Scott, has seen an increase in testing as cases go up. At the event, the health center tested 47 people, a significant increase from the roughly 20 people tested at other popup events. The increase in testing comes as COVID-19 cases continue to rise across the city.
As some New Haveners received testing, the rally continued. Matos urged attendees to vote "like our lives depend on it, because they do." She shouted out the neighborhood, pointing to a hill beside the park that leads to her home.
During the event, she and others spoke about the harm caused as a result of President Trump's election, especially the targeting of the refugee and immigrant community. Since the election, New Haven has often found itself under fire because it is a sanctuary city. One of the first people impacted by Trump's more violent policies was Nury Chavarria.
In 2017, she and her nine year-old daughter Hayley took sanctuary at La Iglesia de Dios Pentecostal right up the street from the park after Immigration and Customs Enforcement (ICE) agents gave her less than 24 hours to self-deport. By this point, Chavarria had been living in the country for more than 24 years since immigrating from Guatemala. However, she wasn't home when ICE agents arrived with the order - only her son and brother.
"They asked my son where I was," she recalled. "He didn't answer; he was so scared. They used excessive force on him."
In a separate interview, she spoke about the injustices undocumented communities face and the importance of the Latinx vote. The Latinx community should not be complicit and vote to protect immigrants like herself, she said.
"There isn't equality. We have rights as humans," she said. "They can't step all over us—it is an injustice."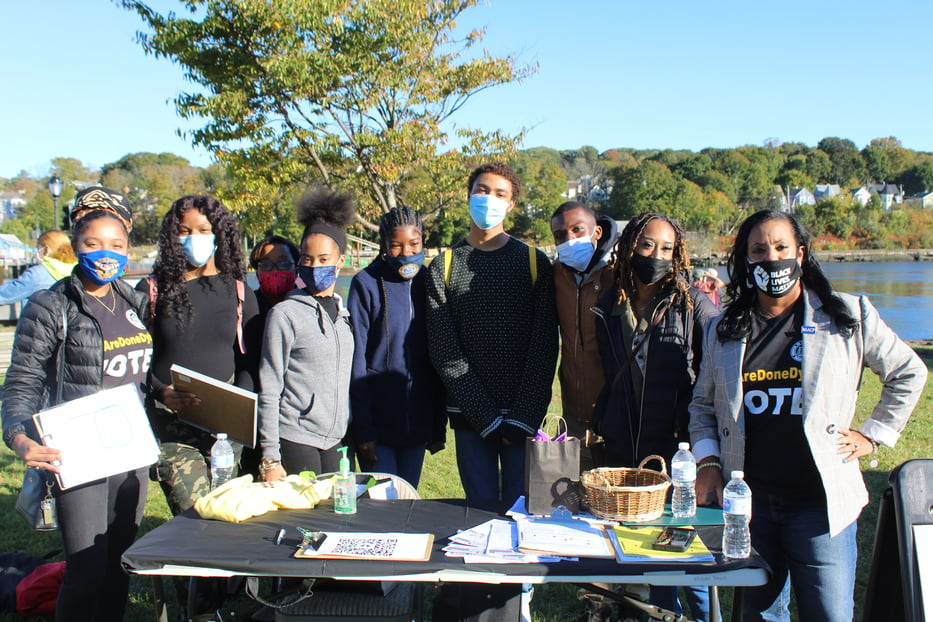 Left to Right members of the Youth Council and University of New Haven NAACP Chapter: Antoinette Badillo, Montsho Canton, Michelle Smith, Alexa Smith, Tiara Walters, Aaron Brooks, Jardan Harris, Destiny Robins, and Dori Dumas
Charla Nich, a member of Connecticut Shoreline Indivisible, added that voting protects the rights of those most marginalized like communities of color and undocumented people. Shoreline worked closely with the Chavarria family and continues to work with them to this day. Chavarria was granted a reprieve the same year but her case remains open. The next hearing is scheduled for sometime in 2021.
Anwar Mahmud, a member of the Bangladesh Society of CT, spoke about the attempted deportation of his wife, Salma Sikandar in the summer of 2018. The Trump administration had announced massive deportation raids the same summer. In 2018, more than a quarter of a million immigrants were deported by Immigration and Custom Enforcement's (ICE).
A notice from ICE demanded that his wife leave the country by August. Mahmud worked with Unidad Latina en Acción (ULA) and other immigrant organizations to halt the deportation. He himself and eight other activists went on a 36-hour hunger strike outside ICE offices in Hartford.
His wife was granted asylum the same summer, after multiple denied requests. He remains committed to giving back to the community after the overwhelming support he received. The Bangladesh Society of CT provided free masks to participants.
"I give back to the community because I got something from the community," he said. "My family shouldn't be here but we are because of the community. "
Later in the event, the city's Democrats Registrar of Voters Shannel Evans stressed the importance of local and state elections outside of presidential elections. You need people on the ground to fight for you, she said.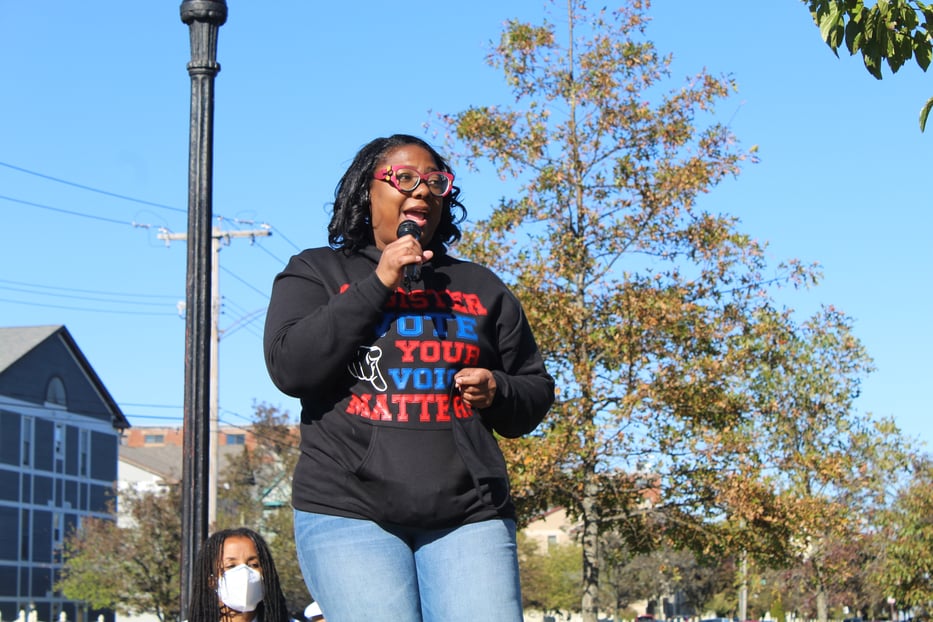 Shannel Evans, the city's Democrats Registrar of Voters, asked the crowd to vote in odd year elections and deliver ballots in person to the registrar's office.
"I don't know anyone out here who can call the White House," she said. "We need you to come out in the odd years for those municipal elections, too!"
To increase voter turnout, she believes that elected officials need to build strong relationships with community members. Neighborhoods with high voter turnout should not be taken for granted and used to mobilize other potential voters she added.
She asked that people not use the postal service to return ballots and instead return them directly to the registrar's office at 200 Orange Street. There are multiple ballot drop boxes outside of the Hall of Records.
"How many of you all have cooked with a recipe?" asked Earl Bloodworth, the director of the Bridgeport Reentry Program. The crowd raised their hands. "A recipe is like a plan. We need a plan, not just how we're registering or even voting, but how we're keeping officials accountable."
Bloodworth cleared up the misconceptions around ex-felon voting rights. In the state of Connecticut, ex-felons can vote if they're not on probation and have paid any outstanding fines. Often people with misdemeanors or on bail believe they cannot vote but that is a misconception.
The event concluded with a performance from Movimento Cultural Afro-Continental (MCAC). The group chanted a rally cry asking people to protect those who might be most vulnerable.
"Si te preguntaran donde es que yo vivo, no les de mi nombre, no tampoco mi apellido."
If they ask you where I live, do not give my first name or my last name.
The New Haven Registrar of Voters office will remain until 8pm on October 27th, the last day to register to vote. The office is located at 200 Orange St.