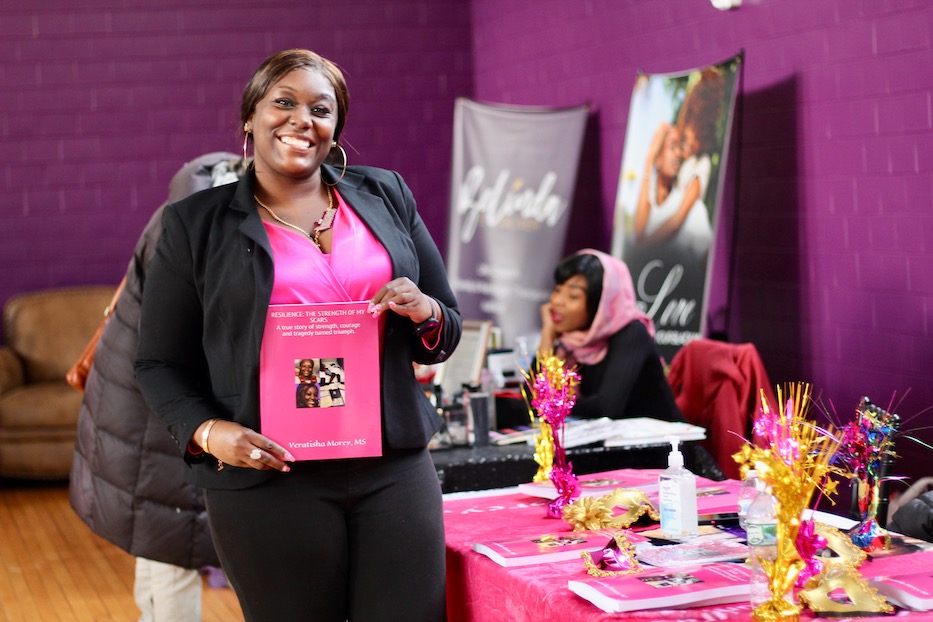 Culture & Community | Hamden | Arts & Culture | New Haven Free Public Library | ConnCORP | Arts & Anti-racism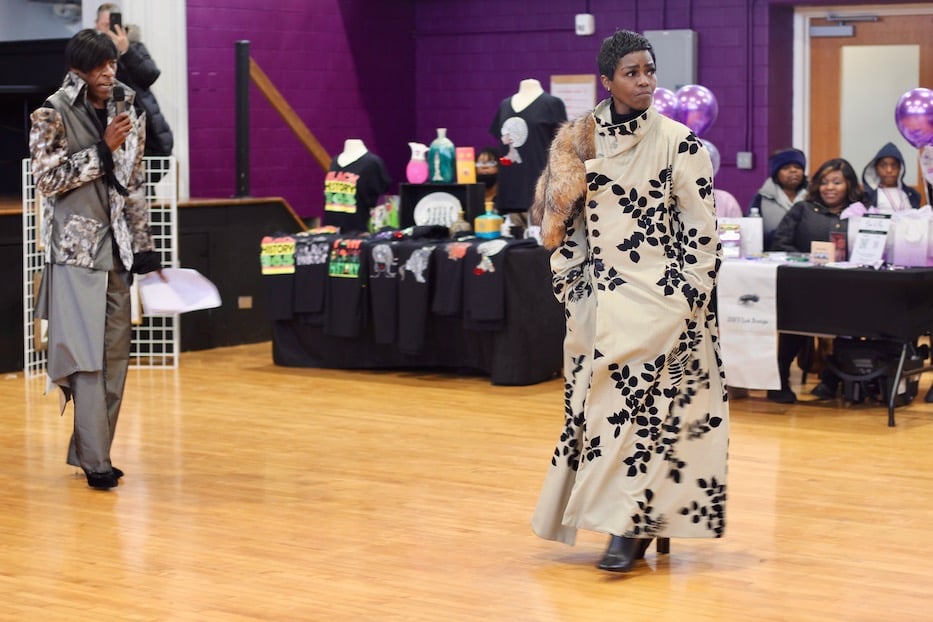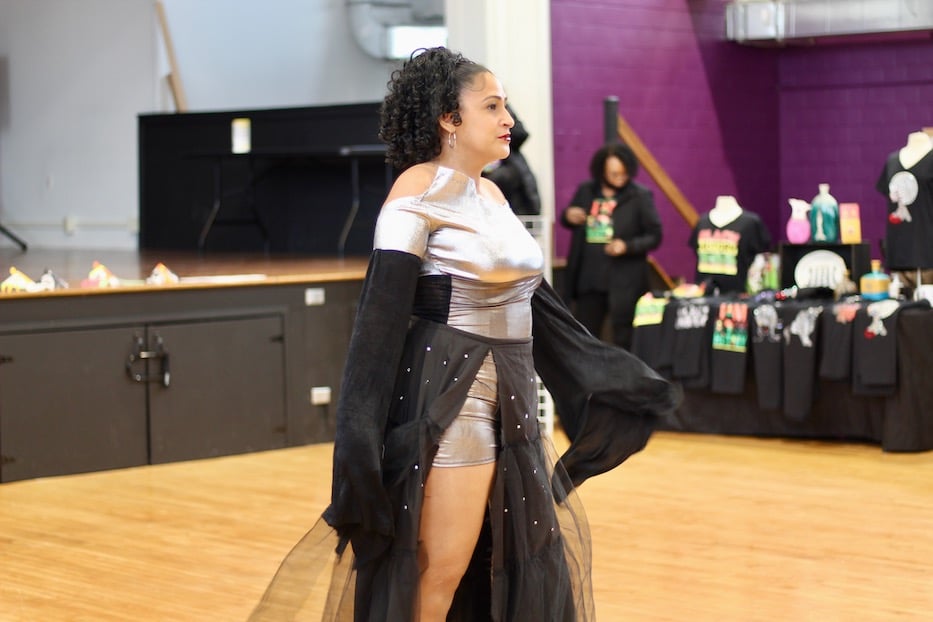 Top: Fashion designer Donald Carter and Jaxx Gary. Bottom: Model Alexandra Lakewood. Lucy Gellman Photos.
Alexandra Lakewood burst through double doors, gliding across the floor in a blur of silver and black. Behind her, Donald Carter watched his creation come to life, beaming so hard it lit up the room. Just feet away, Shari Caldwell ran over the steps to a South African gumboot dance in her mind, the movements part of muscle memory. A collection of painted masks peeked out from the stage, not wanting to miss a moment.
Saturday, the Connecticut Community Outreach Revitalization Program (ConnCORP) and Stetson Branch Library came together for the inaugural Ujamaa Market, meant to celebrate and amplify living Black History through storytelling, spoken word, fashion, puppetry, and dance. Held at the Lab at ConnCORP, the event brought out dozens to shop, network, gather and learn before the end of Black History Month.
"It's awesome," said Stetson Branch Manager Diane Brown, who planned the event with Elaine Roper, ConnCORP's vice president of culture and community relations, as part of an evolving partnership between the two organizations. "We worked with each other very well. We shared a vision."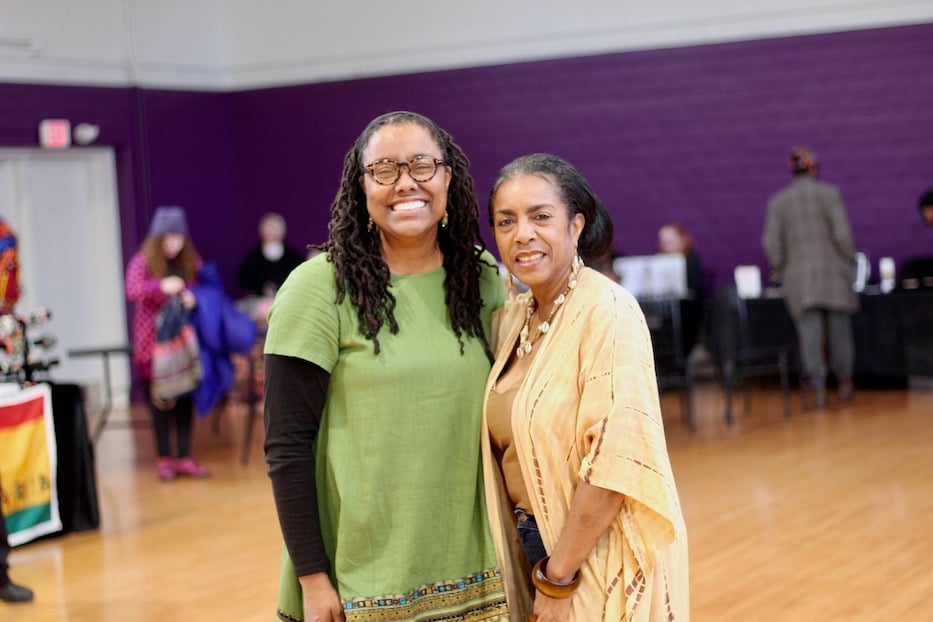 Elaine Roper, vice president of culture and community relations at the Lab, and Stetson Branch Manager Diane Brown.
That vision, she added, uplifts Black stories and Black futures wherever it can. As a crisp snowfall slowed outside on Morse and Newhall Streets, artists kept the mic hot indoors. Taking a spot just in front of the stage, Oso the Poet brought the space to a hush, unfolding a story of nonviolent protest and the legacy of Dr. Martin Luther King, Jr. bar by lyrical bar. Planting his feet firmly on the ground, he lifted one hand to his chest, the other gripping the mic. The free hand flew out to his side, slicing through the air.
"Here he stood/In the places where prejudice was given a safe haven to/Manifest into the minds of children from the next/Generation," he read. "To show that compassion triumphs over violent reactions/That interactions with our fellow man is to gain understanding rather than becoming that/Of which we fear."
He peeled back layers of American history, taking listeners back to March 1965, when thousands of civil rights activists walked across the Edmund Pettus Bridge on a march from Selma to Montgomery. He remembered nights spent in jail cells, where those activists sat waiting for release after practicing civil disobedience. He looked to King's 1963 March on Washington, and his fight for labor justice as a key part of civil rights.
"This was more than just a movement," he read from memory, his torso constantly in motion. "It was a revolution spurred by ages of change."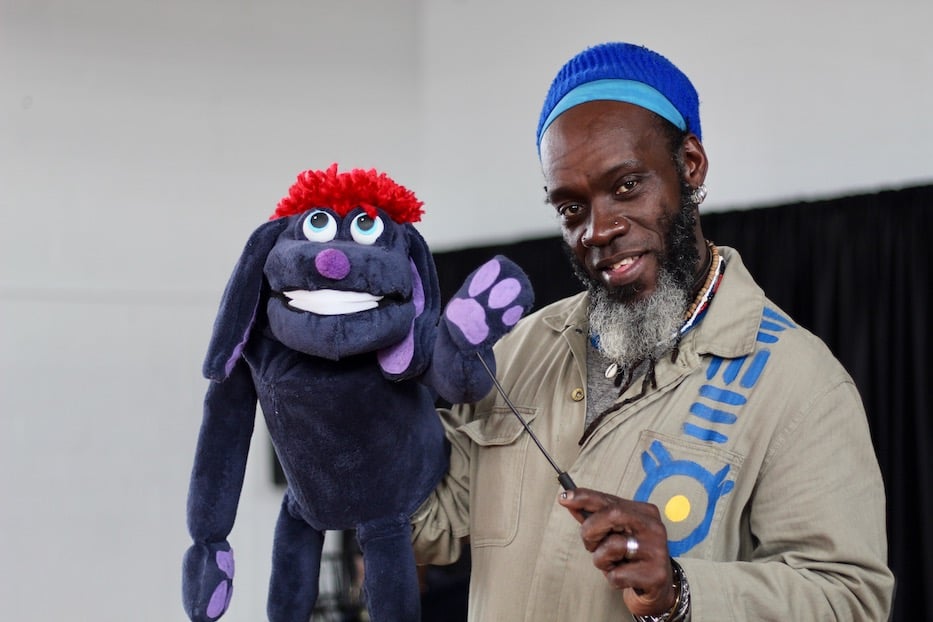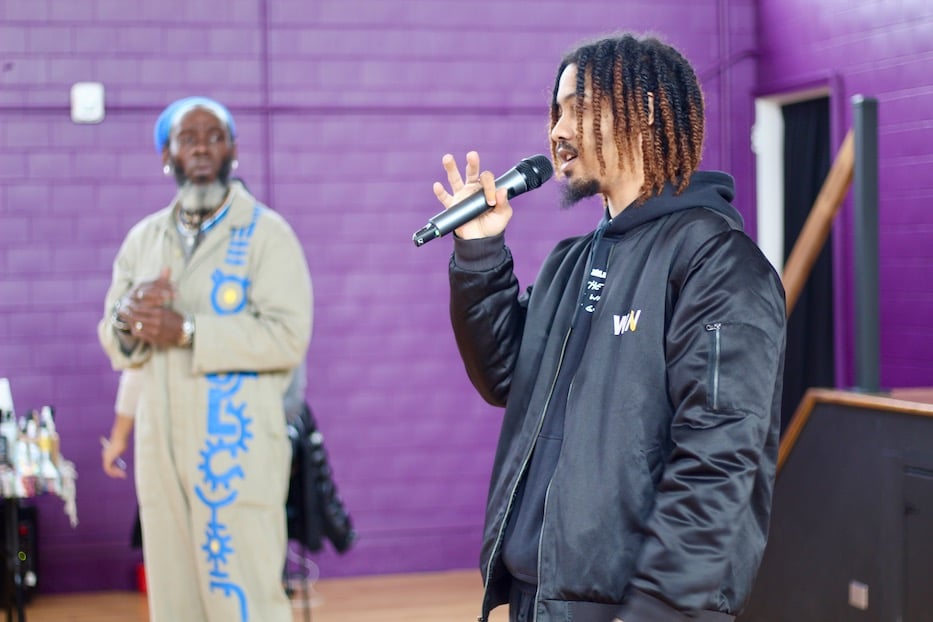 Top: Iyaba Ibo Mandingo with Aja. Bottom: Oso The Poet: "What will it take?"
When the room burst into a chorus of cheers and applause, Oso paused for a moment, and then flowed into his next piece. He took a beat to remember the victims of a mass shooting that left 10 people dead, all of them Black, at a supermarket in Buffalo last year. For him, it was an act of terrorism that crystallized the legacy of racism, white supremacy, and anti-Blackness in America.
It was also a call to action. As he recited the poem, his left hand traveling back and forth through the air, Oso the Poet called for elected officials to legislate not only weapons, but the white supremacy and white violence that makes them so dangerous. He called for an end to police brutality, stressing the toll that state-sanctioned violence has taken on his mental health, and the mental health of so many others across the country. He called for a stop to violence that is killing Black children and young adults on playgrounds, in their homes, and on their jogs.
"What will it take?" he asked, and the question hung in the air before he went on. He mourned a country that could hold a trial for a mass shooter, but not manage to take down a livestream that showed the spectacle of Black death. Around the room, vendors from Pretty Afrika's Sandra Enimil to Elm City Freddy Fixer Parade President Chanelle Golson stopped what they were doing to listen.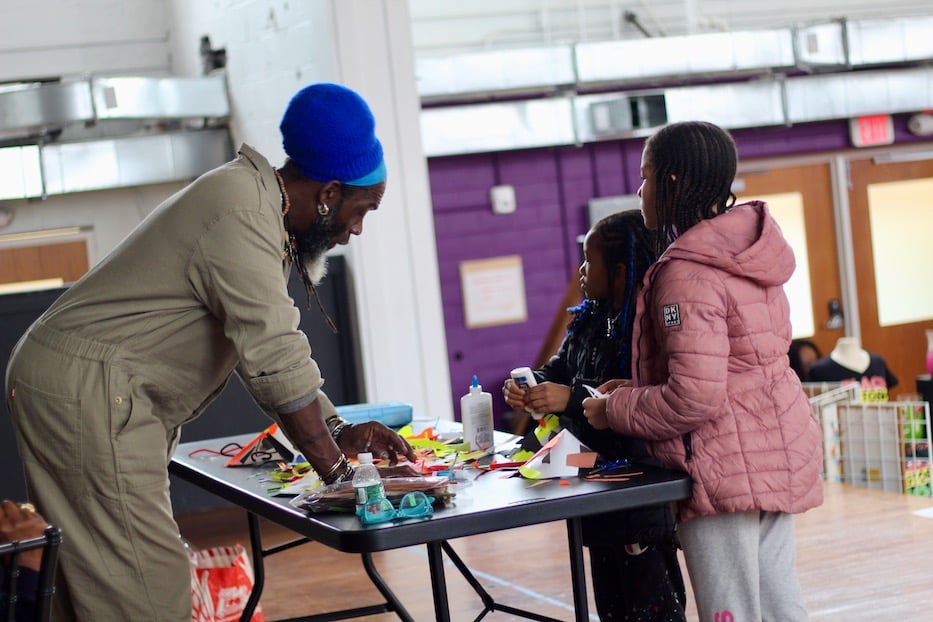 Iyaba Ibo Mandingo with Zoë and Mya Johnson, who are ten and eight respectively.
On the stage behind him, poet, builder and puppeteer Iyaba Ibo Mandingo worked quietly alongside Zoë and Mya Johnson, who had come out to the event with their mom, Rhonda Smith. As Oso read, the two glued brown and yellow construction paper to cut-outs of faces, making masks that later sat drying on the lip of the stage. The artworks rested there for the next hour, as Iyaba later performed an elegiac poem for Amadou Diallo.
Born in Antigua and raised in the West Indies and the United States, Iyaba looked to Saturday's celebration as a chance to teach young people about the multiplicity of a diaspora, and the rich West African tradition from which so many Black people were torn centuries ago. An advocate of recycling and reuse, he motioned to a duffel with multiple puppets inside, each built from found materials.
"For children, especially children of color, it's a tie to their heritage," he said. He held up his puppet Aja, Yoruba for dog, and pointed to the scraps of yarn, strips of packing foam, and gently stitched, thrifted fabric that had helped the puppet come alive. "It's that idea of the ritual of community for kids."
He added that he's seen how masks—traditionally used for West African African rite and ritual—can help young people connect with their innermost selves. When he teaches writing workshops, he said, shy students are sometimes more likely to read if they can do it with a mask on.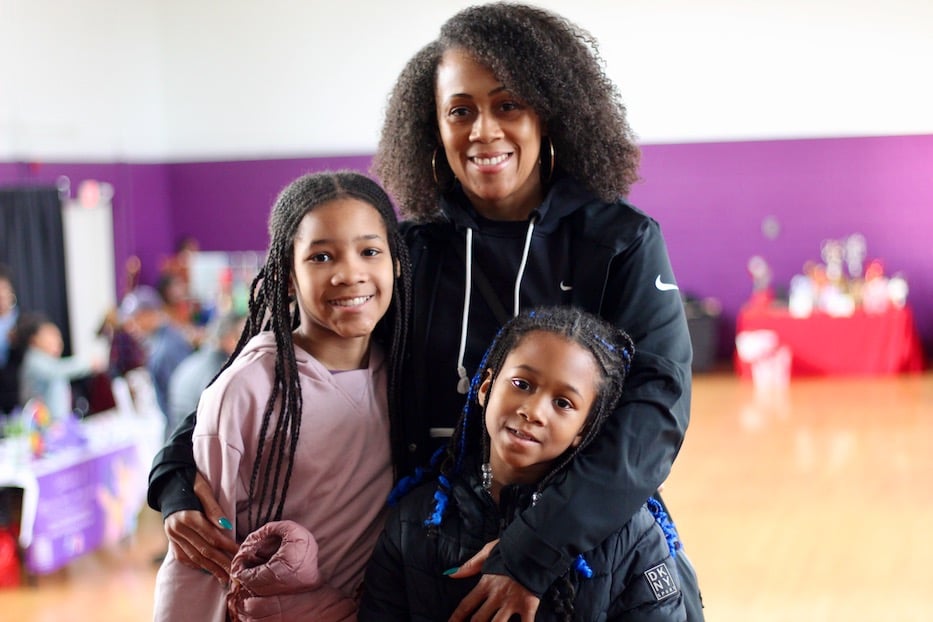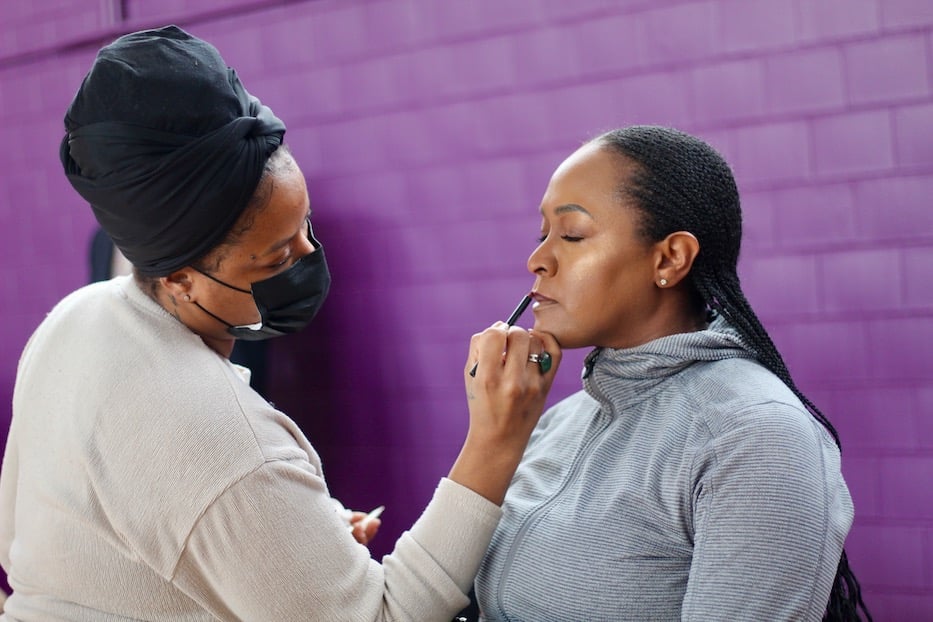 Top: Rhonda Smith with her daughters, Zoë and Mya Johnson. Bottom: Winter Carson and Opal Harmon. Harmon is the human resources manager at the Connecticut Center for Arts & Technology (ConnCAT).
Nearby, artist Winter Carson swirled a brush gently over a palette of pink and orange eyeliners, applying them gently to Opal Harmon's face as the two caught up. The owner of Blush Beauty Studio, Carson described her approach as a form of wellness, with a focus on self-care that radiates from facials to the conversations that take place in her studio.
Inspired by her grandmother—who used a single, purple tube of lipstick for her every makeup need—Carson pursued cosmetology as a young adult, after she realized that graphic design wasn't for her. In her studio, which is nestled in the Lab, she's been able to grow her practice with one-on-one appointments that make space for a client's wildest wishes and dreams.
"I like for my makeup to look natural," she said as she applied an oxblood-colored pencil to Harmon's lips. "One of my least favorite terms in the fashion world is 'cover up.' "
Harmon, whose daughter went to high school with Carson, said that the makeup is only part of what brings her to Blush. It's also the creation of an affinity space, where she knows she'll be safe and supported telling her stories or sharing what's on her mind or heart. When she watched Carson grow into herself from a sweet, ambitious high schooler, "it felt like a proud mama bear moment," she remembered.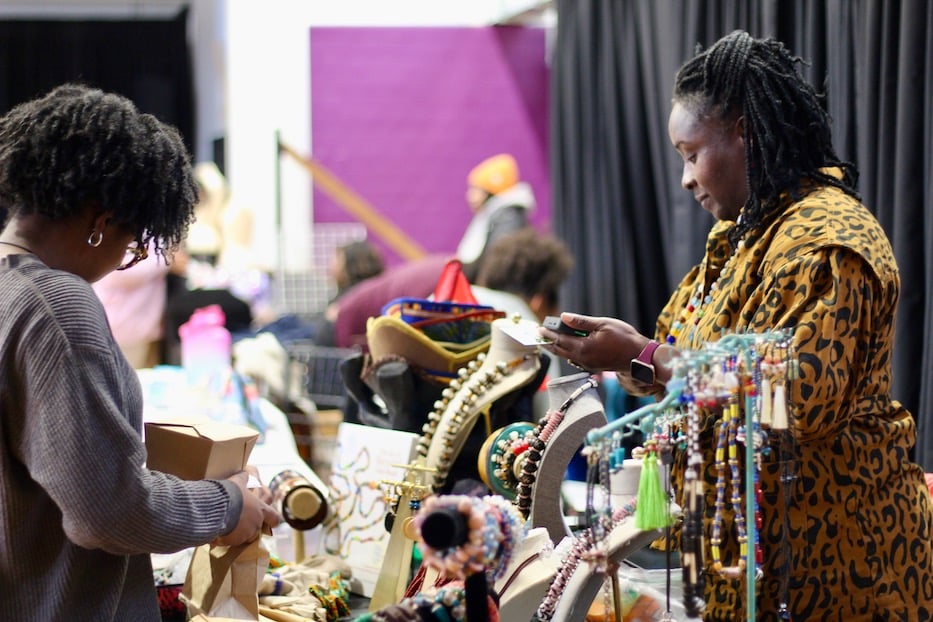 Sandra Enimil of Pretty Afrika with a customer.
Now, she trusts Carson with not just her makeup, but the emotional weight that she may be carrying when she walks through the studio's door. She remembered coming in early on a recent weekday, before going to a funeral. She wasn't coming just to make sure she looked put together. She was also there because the studio is a refuge and healing space.
"I went to Winter to come to the studio and get centered," she said as Carson added the gentlest dab of clear lip gloss. The makeup was secondary. She was able to keep herself together because she'd had that time to collect her thoughts and emotions at the beginning of the day.
"One of my proudest moments is the sharing of confidence with my clients," Carson said.
Around them, the most stylish part of the afternoon was just getting started. No sooner had stylist Elle Pearson revealed a suave, suited makeover than designer Donald Carter strutted in, rocking a mix of solids and patterns that glowed beneath the room's bright lights. As he lifted the mic to his mouth, he showed off a long, metallic jacket, with velvet-soft cuffs and a stiff, high collar à la Prince. His pants, one-half skirt and one-half trousers, swished as he walked.
"Please," he said, and two dozen pairs of eyes swiveled toward him. "We're doing runway here in New Haven." As he described each design, models sashayed and stepped out into the space, some gliding across the floor as they transformed the gymnasium into a runway fit for Paris Fashion Week.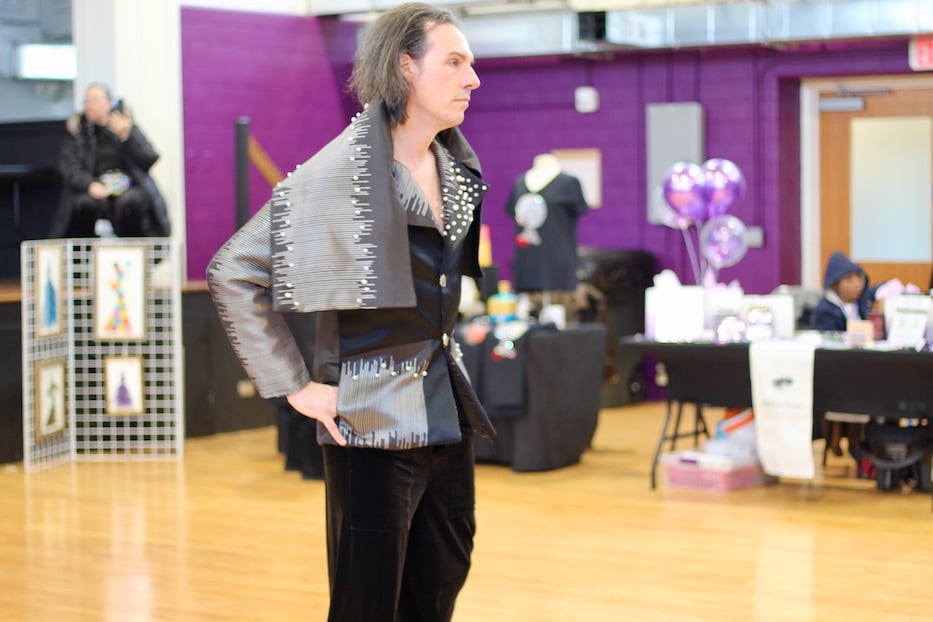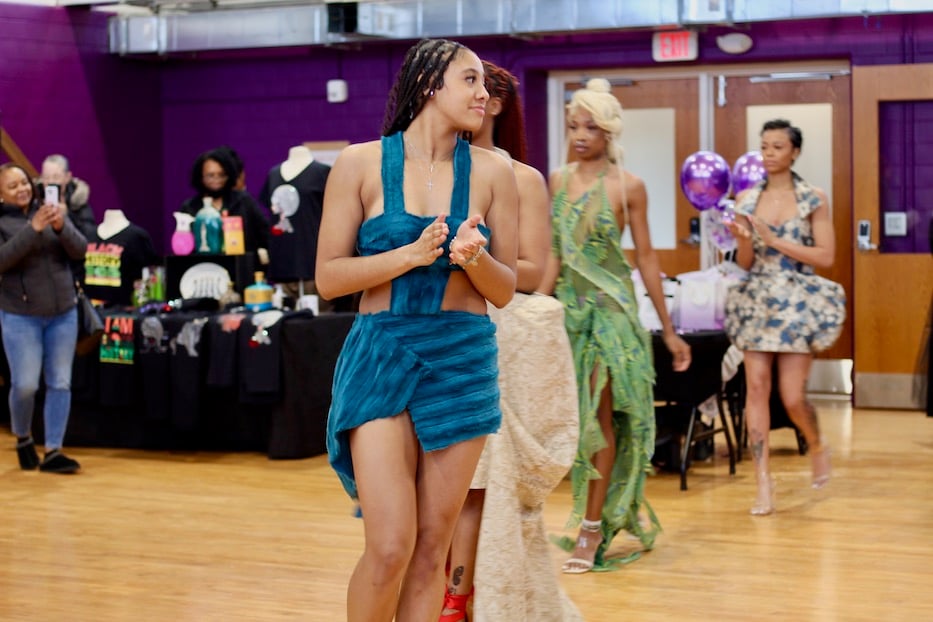 Top: Brian Robinson rocks a look. Bottom: Carter's models at the end of the show.
In a cream-colored coat with a high collar, Jaxx Gary floated in, hands deep in the pockets as she looked over one shoulder and struck a pose. On the coat, delicate black cutouts of leaves and branches bloomed across the fabric, as if spring had arrived early. A fox fur draped over her right shoulder, in a throwback to the first half of the 20th century. Across the room, Brown bounced Caldwell's granddaughter on her hip to the rhythm of her heels.
"PETA, don't come for me!" he announced to laughter as another model walked out in a aquamarine faux fur dress, fastened at the hips and shoulders while an open back peeked through. Behind her, a draped, flowing dress in peacock-patterned chiffon swept onto the floor, drawing murmurs of delight from every corner of the room. Lakewood followed, in a tight silver romper with black side panels, delicate black sleeves, and a flowing, sequin-studded skirt.
For a moment, it appeared that David Bowie had met Misty Copeland on the runway. As she walked, the fabric flowed with her body. Carter's face exploded into a smile as he introduced the next piece, a low-cut dress with wide, poofed-out hips from his Elizabethan Collection. Somewhere beyond the veil, Marie Antoinette was eating her heart out.
"I have news for you," he later said as models walked out onto the floor, applauding each other. He remembered how scared he once was of public speaking, and the freedom that came with conquering that fear. "If anybody has a fear, walk through it. Walk through your fear because it will show you who you really are."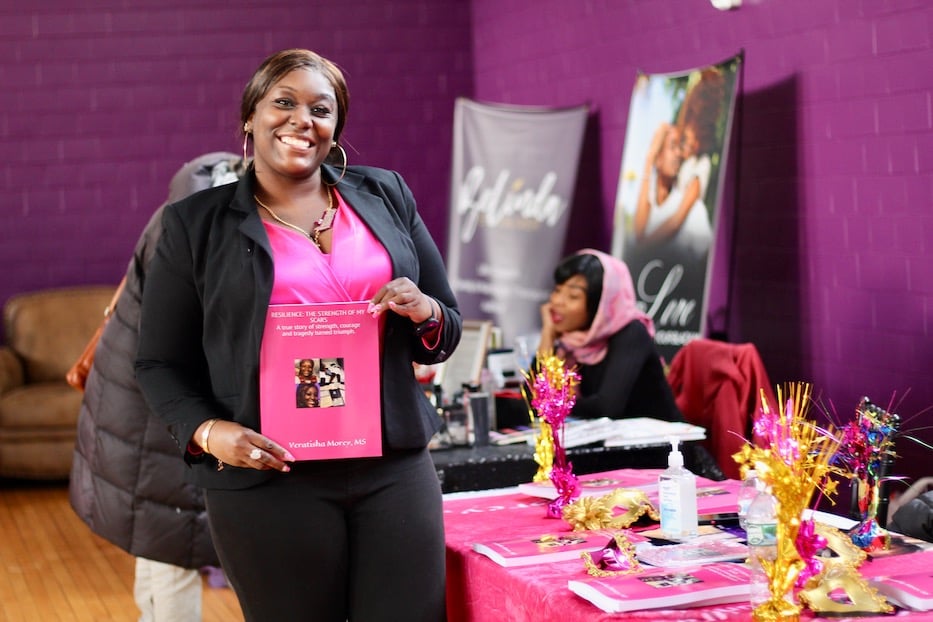 From behind a vendor table, author Veratisha Morey cheered each model on, her face glowing as she smiled. Born and raised in Bridgeport, Morey came Saturday to tell the story of her own survival—an example of living Black history that is still very much evolving. When Morey was 11, she was hit by a car while riding her scooter, and nearly lost her life. After two months in a coma, she woke up to severe injuries to her body and head.
As she recovered, she learned to live with a traumatic brain injury, finding that "I wanted to help people" because of the doctors, nurses, and emergency medical workers who had saved her life. For years, she worked for the Department of Children and Families in a service role. She later became a correctional counselor, and is now working towards becoming a parole officer.
For her, she said, it's part of giving back to a community that didn't stop believing in her recovery. She shares her story to let other people know they're not alone.
Back on the floor, it was time for Caldwell to close the celebration out. Calling out to a dozen attendees-turned-dancers, she moved through the steps of South Africa's gumboot dance, which finds its roots in the complicated and painful history of gold mining. Singing a scale to keep time, she lifted her hands to clap out a beat, then folded in her feet and legs. A dozen pairs of feet fell into formation behind her.
Turning toward the front of the room, she jumped, then pulled the sole of her food towards her hand. As she moved effortlessly, several of her former students worked to keep up with her.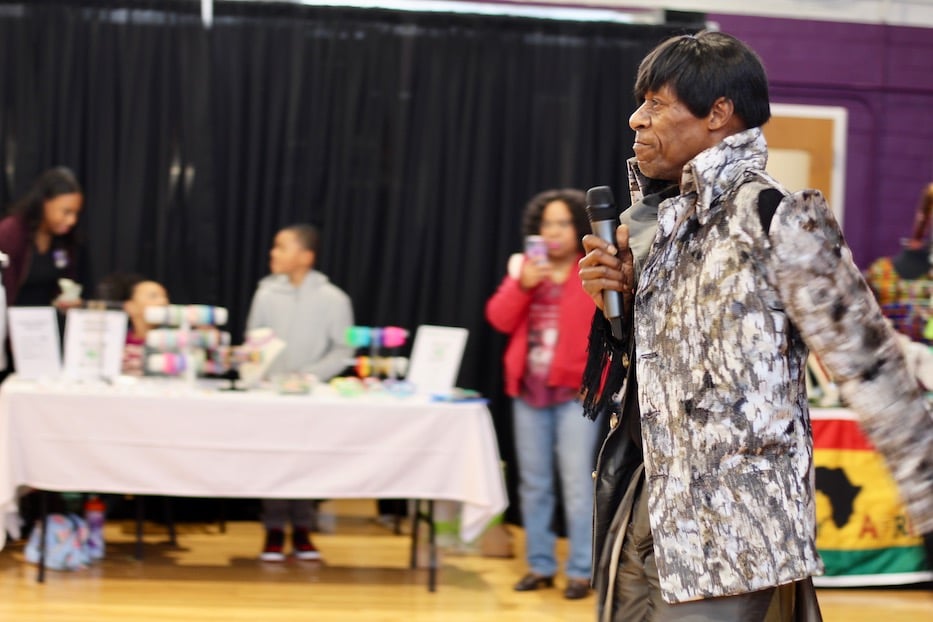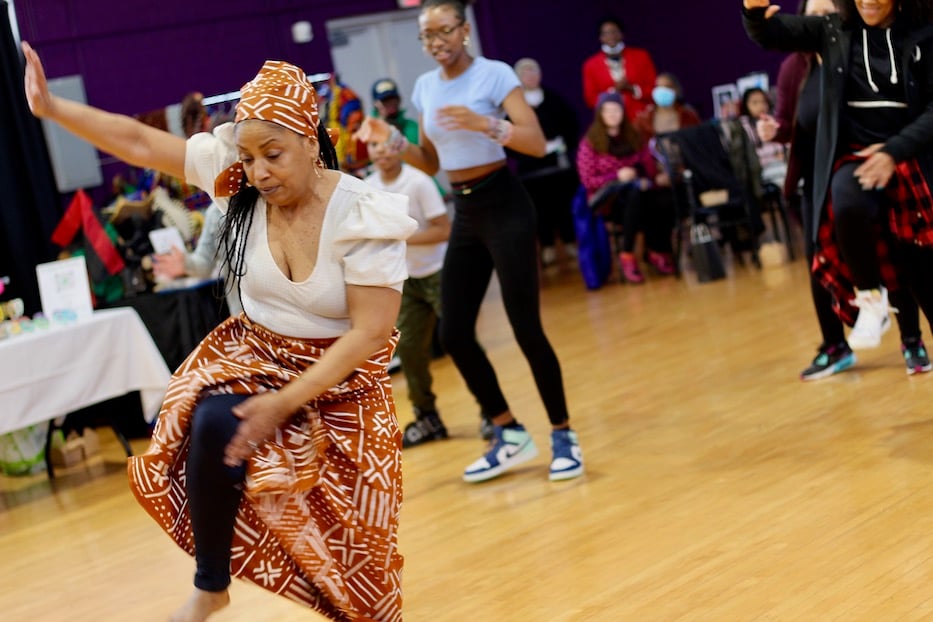 Top: Carter in full form. Bottom: Caldwell leads attendees in South Africa's gumboot dance.
Smith, now the accelerator programs manager at Collab New Haven, appeared delighted as she watched her longtime teacher work her magic. An alum of Dee Dee's and Betsy Ross Arts Magnet School, Smith came to the event after spotting Caldwell's name on the program. As she joined in, Zoë and Mya watched from the side of the room.
Caldwell, who now splits her time between Maryland and New Haven, later said it was good to be home. As a girl, she began her dance journey at the legendary Bowen-Peters School of Dance when she was just six years old, and soon was also a fixture at Miss Dee Dee's Dance and Fitness Center.
In those years, she said, she looked up to Brown as a kind of older sister. It was there that they first learned "dance from the diaspora," which made her heart soar. So when she had the chance to return to her old stomping grounds, it was an immediate yes.
"It's wonderful!" she said after the event, as she did a few extra dance steps with her granddaughter. "It just always feels so good to come back in among the community and just fit it like a puzzle piece."
To watch more from Saturday's event, check out the videos above. Learn more about the Stetson Branch Library here. Learn more about the Lab at ConnCORP here.