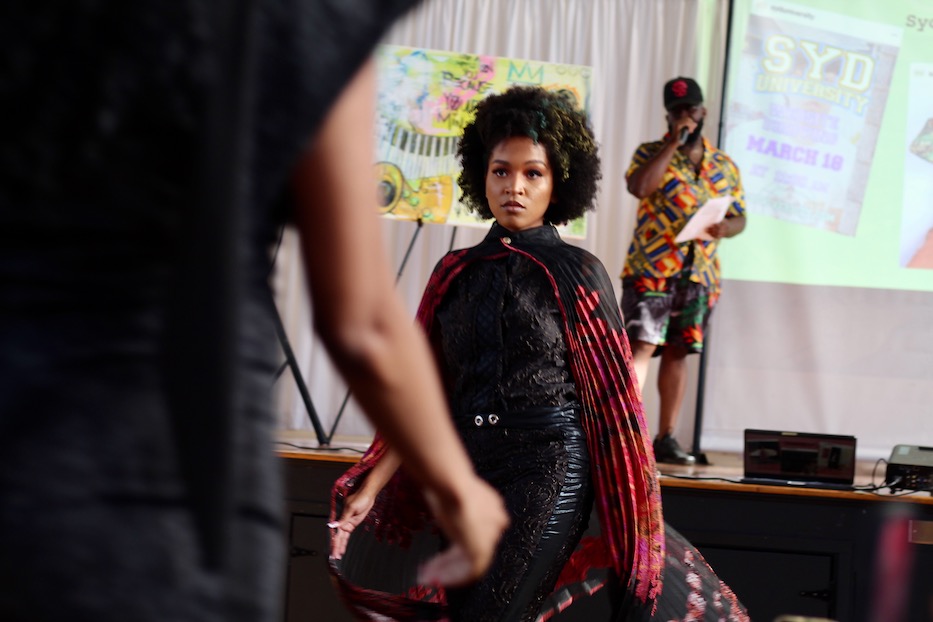 Black-owned businesses | ConnCAT | Culture & Community | Economic Development | Fashion | Arts & Culture | ConnCORP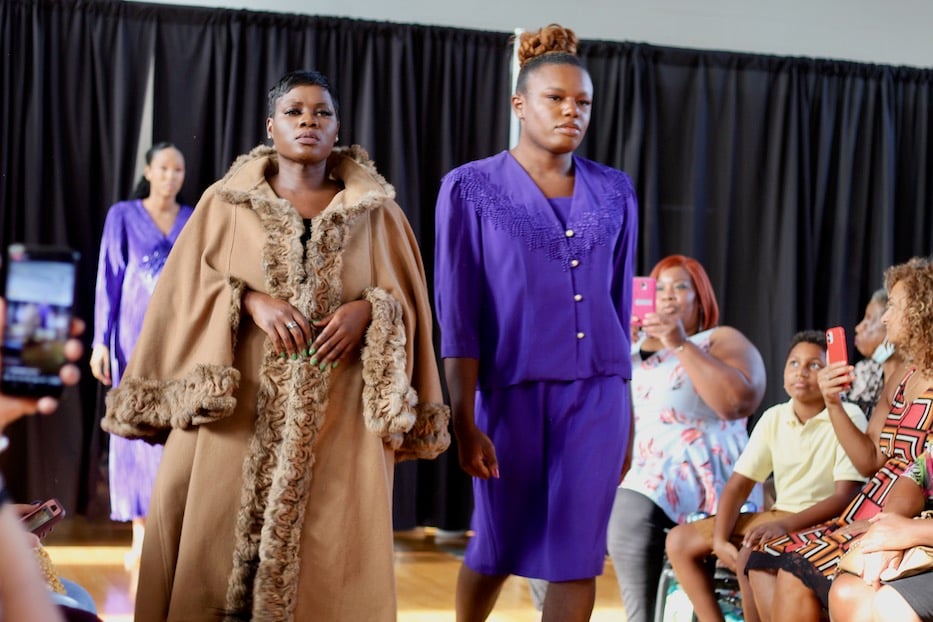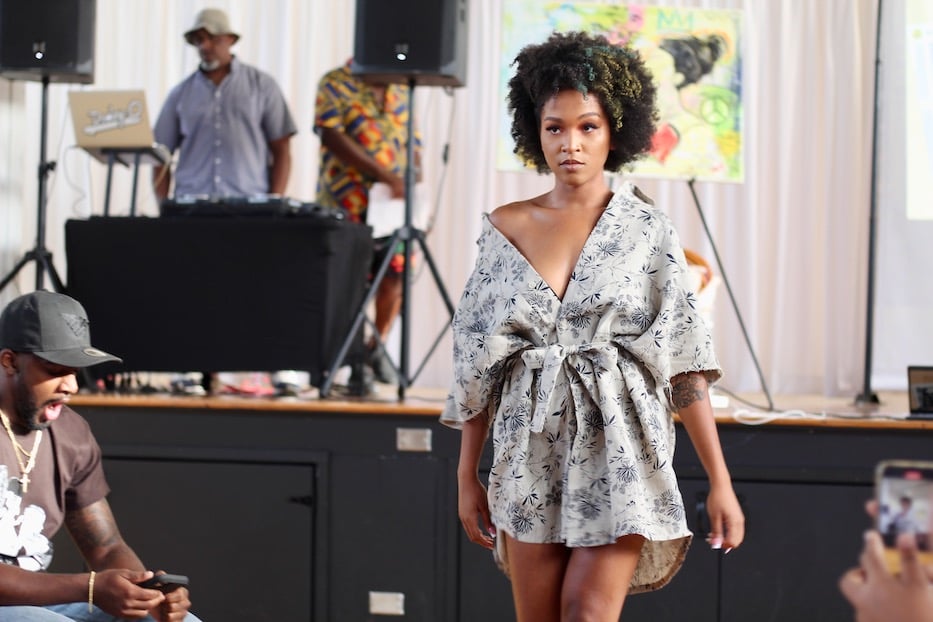 Top: Styled by Ashleigh Huckabey of Empath Vintage. Bottom: Designs crafted and sewn by Elle dot Kay. Lucy Gellman Photos.
The audience was already dancing when the beat to "Blurred Lines" came on, and the curtain parted at the back of the gymnasium. Ruffles, creamy raw silk and bone-white tulle filled the center of the room as models made their way down the runway. From the stage, a rendering of Breonna Taylor looked out onto the room with wide, soft eyes, taking everything in.
The music melted into another track, and fur, suede, and wool floated over the floor. "Oh yes!" Frank Brady exclaimed, and the audience exploded into applause.
That energy buzzed through ConnCORP's inaugural Black Excellence Fashion Show, held Sunday afternoon at the Lab at ConnCORP at 496 Newhall St. in Hamden. The exquisite brainchild of the Connecticut Community Outreach Revitalization Program (ConnCORP) and designers Tea Montgomery, Elle Pearson of Elle dot Kay, and Ashleigh Huckabey, Sydney Bell, and Kimberly Sewell-Poole, the show doubled as a celebration of Black businesses across greater New Haven. Throughout the show, designers shouted out ConnCORP's Elaine Roper, who made the day possible.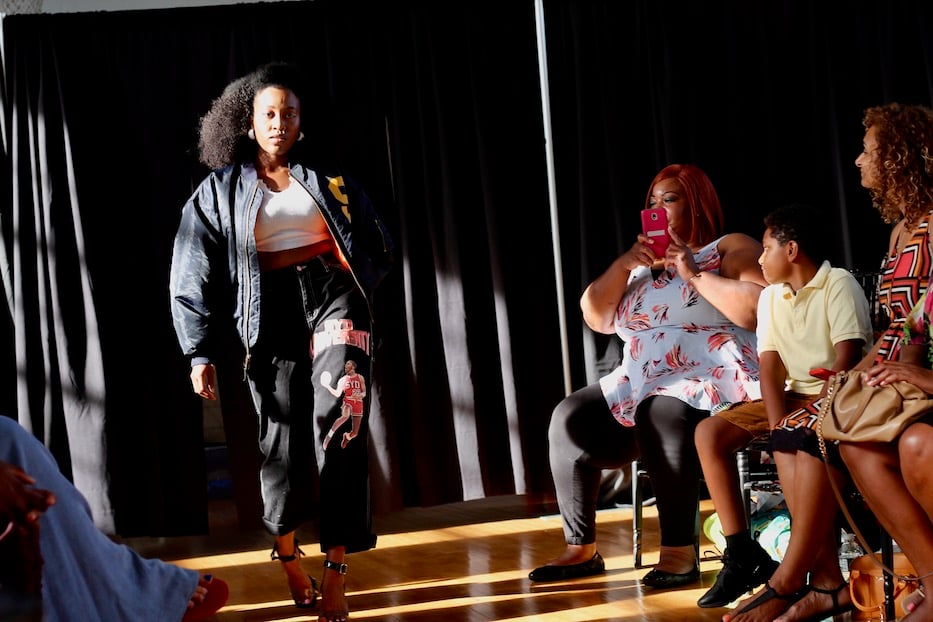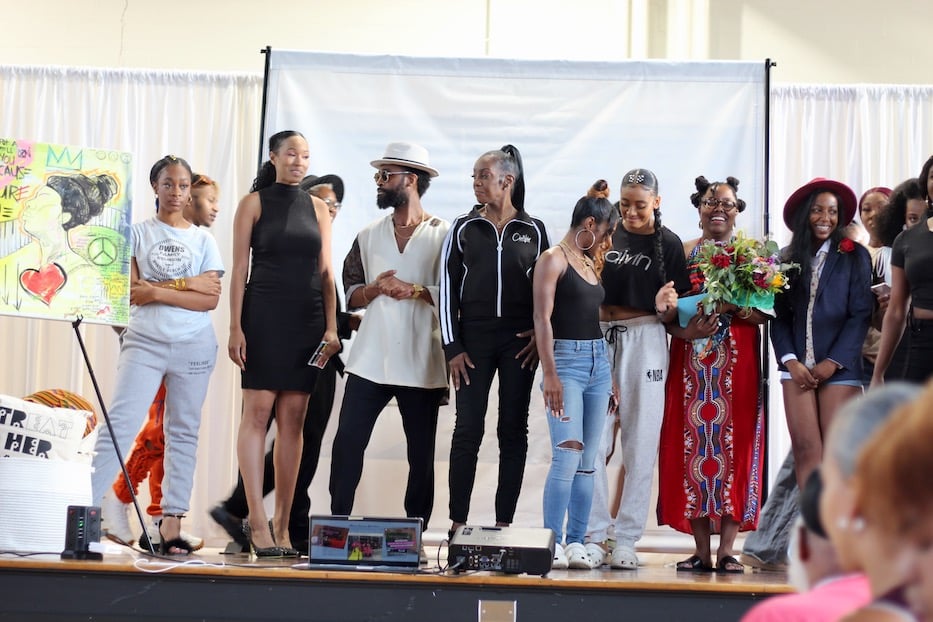 Top: Designs from Syd University. Bottom: Designers, models, and Roper (in long red dress) after the show. Tea Montgomery is pictured five people in from the left, in the white hat.
The four-hour event also featured a vendor fair, back-to-school backpack giveaway, and several activities for youth who attended. Hundreds came out throughout the day.
"Now that we're here, it feels amazing," said Montgomery, the lifelong New Havener and creative mind behind Threads By Tea. "I've organized things before, but I've never organized my own fashion show."
The show has been months in the making. Last year, Montgomery received a $10,000 grant from ConnCORP's Economic Justice Fund, an initiative to support Black-owned businesses disproportionately affected by the pandemic. As he grew his fashion footprint from Westville, he pulled in other designers around the idea of a fashion show that celebrated and amplified Black designers and Black-owned fashion businesses.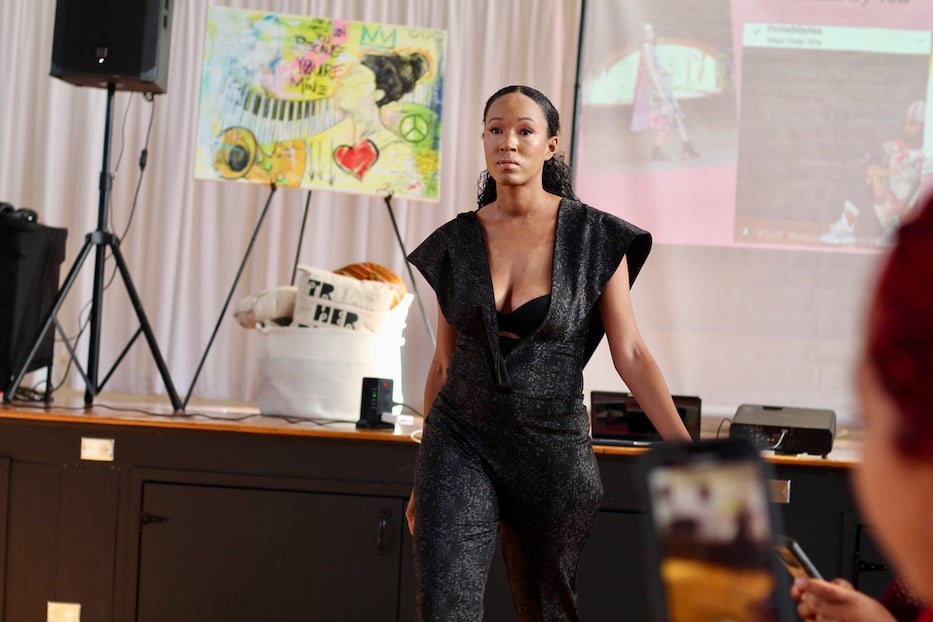 Designs from Threads By Tea.
He praised Roper, an executive assistant at ConnCORP who has become the architect of his wildest and most creative dreams. In addition to Threads By Tea, Sunday's show featured stylings from Elle dot Kaye, Empath Vintage, Syd University, Gentriii, and More Amour Boutique downtown.
Sunday, Roper beamed from the stage as she introduced the fashion show.
"I just want us to take a breath together," she said as over 100 attendees settled into their seats. For her, the community coming together to celebrate Black arts, culture, and economic growth is the very embodiment of ConnCORP's work "to eradicate poverty," she said. From her spot on the stage, she wove a through line from affordable housing and economic development and the necessity of Black art and artmaking.
She looked to the back of the room, where curtains separated the models and designers from the audience. At his station, DJ Dooley-O got ready with a lineup that kept the music coming. The show was about to begin.
Backpacks & Back-To-School Joy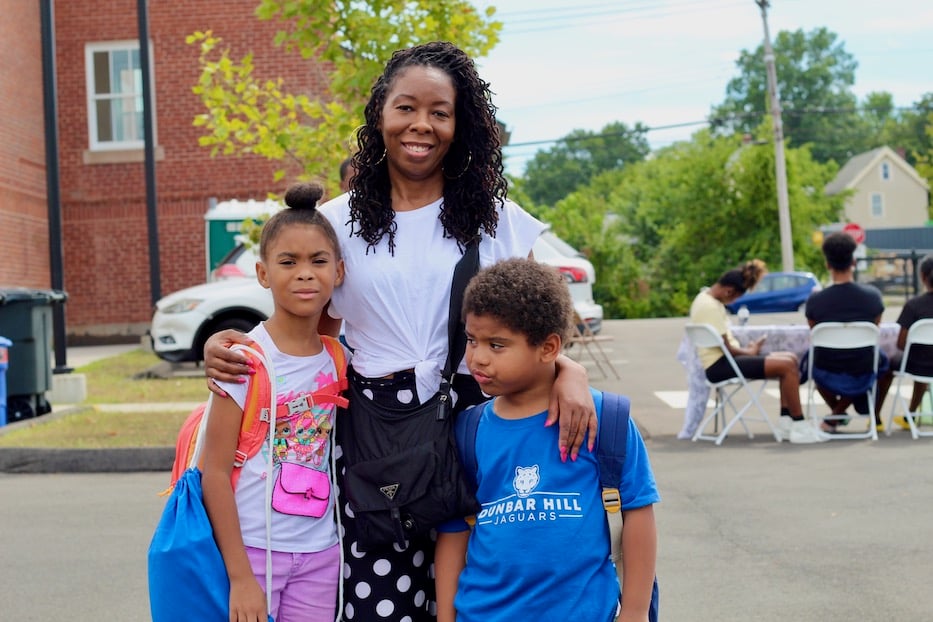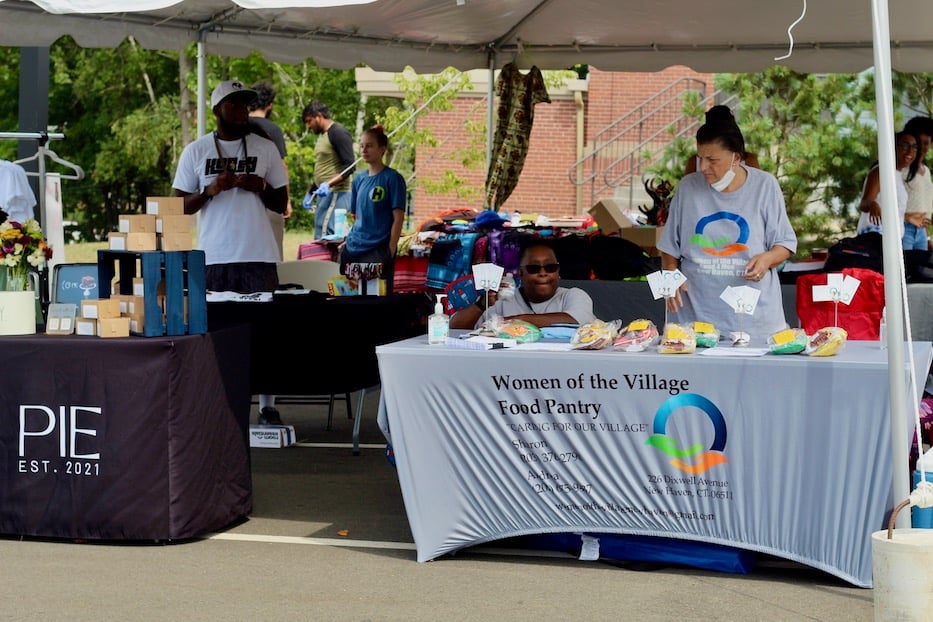 Top: Rebekah Paradise (center) with 9-year-old Stayanna and 7-year-old Jhaydenn Paradise-Colon. Bottom: Sharon Stevens and Andrea Mastraccio. Lucy Gellman Photos.
Sunday, the afternoon's magic began outside The Lab, where tents and booths sprang up across a sprawling parking lot just off Morse Street. Just a little after 2 p.m., families began to trickle in, stopping at booths for the New Haven Free Public Library, Women of the Village Food Pantry, and close to a dozen Black businesses. Across the lot, treats from bean pie to all-natural body butter waited eagerly for attendees. Shrieks of delight rang out across the space as a bouncy castle shuddered with dozens of small, airborne feet.
At a long table covered with backpacks, Trina Burden helped 7-year-old Jhaydenn Paradise-Colon pick out a blue backpack with orange zippers that popped with color. Beside him, his 9-year-old sister Stayanna debated the merits of a pink backpack with clementine-colored pockets. She ultimately went with it, fitting the neon straps over her shoulders.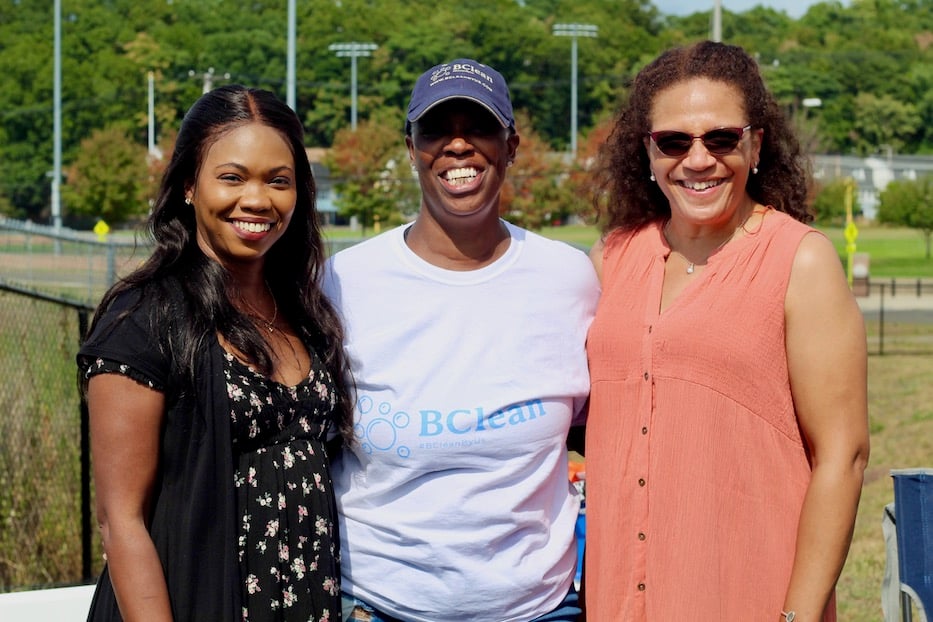 ConnCORP staff Jeneave Dacres, Trina Burden, and Andrea Taylor. All three helped fill the backpacks before Sunday, and included a handwritten note for students in each one.
Inside, volunteers from ConnCORP had stocked the packs with new school supplies, handwritten notes wishing students good luck, and bars of soap from Tierra Soap Co., sourced and crafted in Connecticut.
"It's definitely important," said their aunt, Rebekah Paradise. "Sometimes when you're wondering where the money is gonna come from," these kinds of events fill the gap. She didn't have similar events when she was a kid growing up in Waterbury, but wishes that she did, she added.
Next to her, Stayanna called the event "amazing," preparing to hop from the backpack station to a face painting tent nearby. Next week, she begins fourth grade, for which she has started a daily countdown (on Sunday, there were nine days left). With her pink backpack ready to go, she said she is most excited for math class, because "you get to do cool things."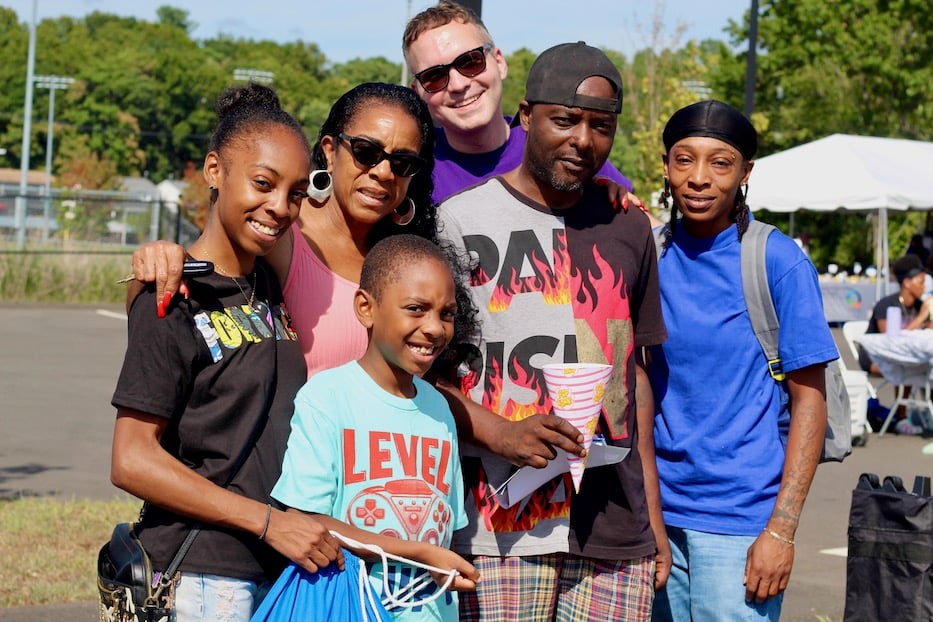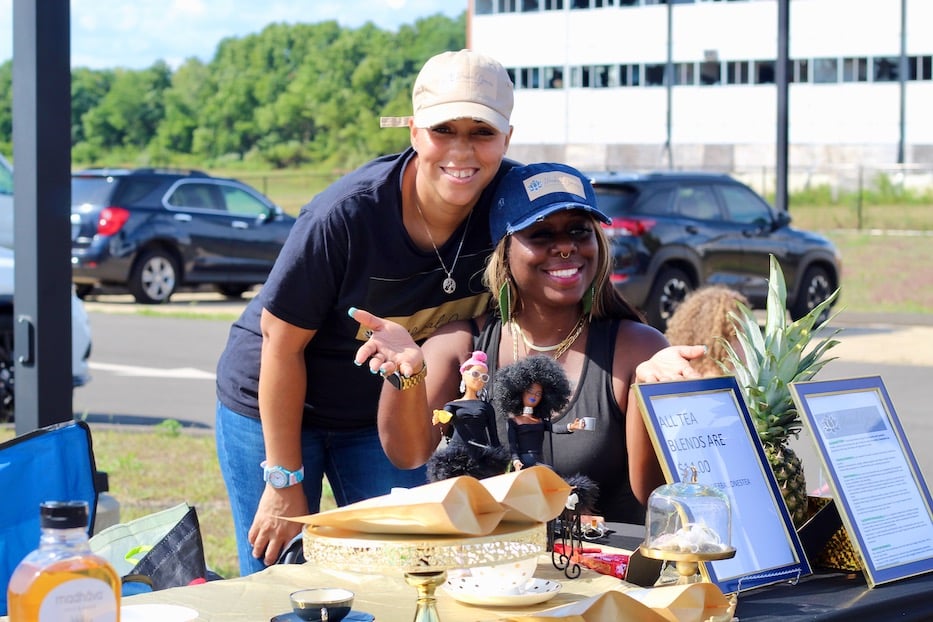 Top: Joelisha Troutman, Stetson Branch Manager Diane Brown, Young Minds & Family Librarian Phillip Modeen, 7-year-old Raheem, the Troutman's neighbor (who asked to be referred to only as "the neighbor") and proud grandmother Elisha Ratchford. Bottom: Entrepreneur Herbal Jones (in baseball cap), who runs Herbal Jones Tea.
At a table nearby, takeout containers of veggie roti and stew chicken appeared, and it was only seconds until Patti DeRoche's jingling, deep laughter, a trademark of Patty's Caribbean Kitchen, followed. Beside her, Stetson Branch Librarian Diane Brown and Young Minds Librarian Phillip Modeen guided students through dozens of free books that they could bring with them into the new school year.
Floating toward the library tent, 7-year-old Raheem and his mom, Joelisha Troutman, picked out close to a dozen books to get him through the first months of the school year. Next week, Raheem starts third grade at Elm City College Prep. He said he loves math and science, and currently wants to be a scientist.
"It's [the event] pretty helpful with the pandemic," Troutman said, praising ConnCORP's focus on community.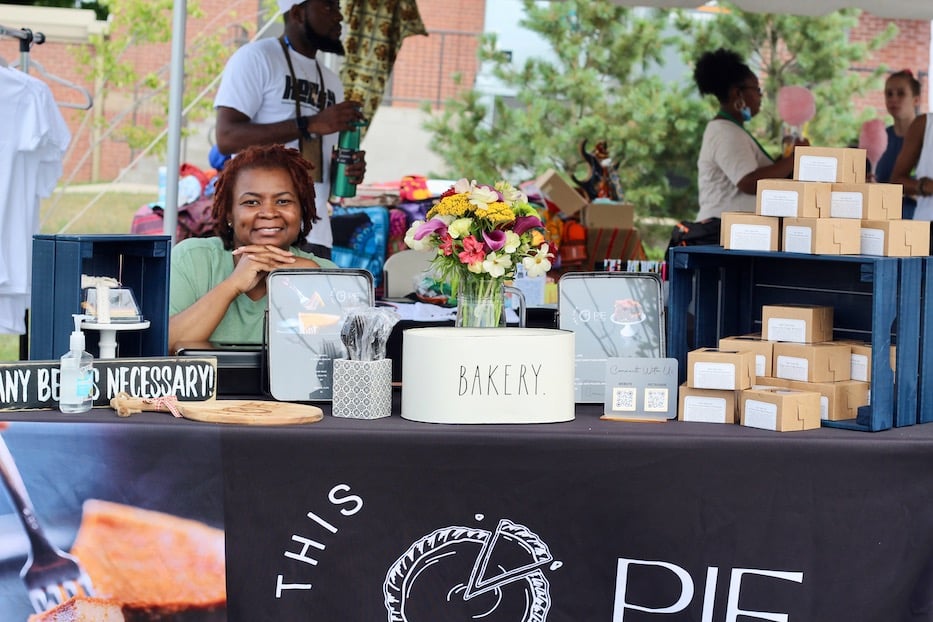 Quiana Tanner, who called Sunday a surreal and full-circle moment. Her booth includes a small sign that reads "By Any Beans Necessary," a nod to the origins of bean pie as part of the Nation of Islam.
Closer to the front of the building, lifelong New Havener Quiana Tanner chatted with attendees about her sweet new business venture Try This Pie, a small-batch bakery that specializes in nutty, spice-kissed bean pies and brownies and operates out of the kitchen at the Dixwell Community Q House. Born and raised in Newhallville, Tanner has been baking for decades; she's the family member always tasked with bringing desserts at holidays and family gatherings.
"Food is my love language," she said. In particular, she has perfected a smooth, custardy bean pie recipe that came from her mother's friend, and has remained top secret for over three decades. Sunday, small, pre-cut samples waited for curious onlookers who came by her booth.
Her journey from family baker to small business owner is not a linear one, she said. Ten years ago, she discovered "a fabulous bakery" in Paris that got her thinking about what it would take to own a bakery. But Tanner had a full time job to attend to, and the bakery got put on the back burner. Then three years ago, tragedy struck. Between the end of 2019 and the end of 2020, Tanner lost seven friends and family members to a multitude of illnesses. She turned to baking as a coping mechanism.
"I was thinking, 'What is my purpose?'" she recalled. "I brainstormed, and I realized I really needed to put this pie out there."
Last year, she connected with Cara Santino, food entrepreneurship program manager at CitySeed. She now sells her pies by special order through her website, and does special catering for events. She said that Sunday felt like coming full circle: Tanner grew up on Munson Street, which is roughly the midway point between the Q House and The Lab. While she would like Try This Pie to become her full-time gig, she still works for Social Security when she isn't baking.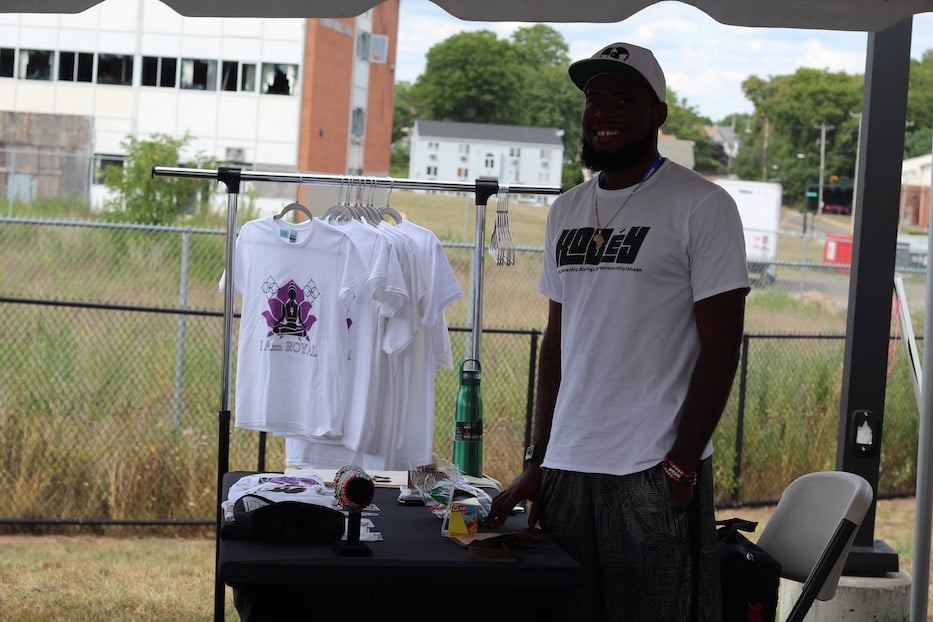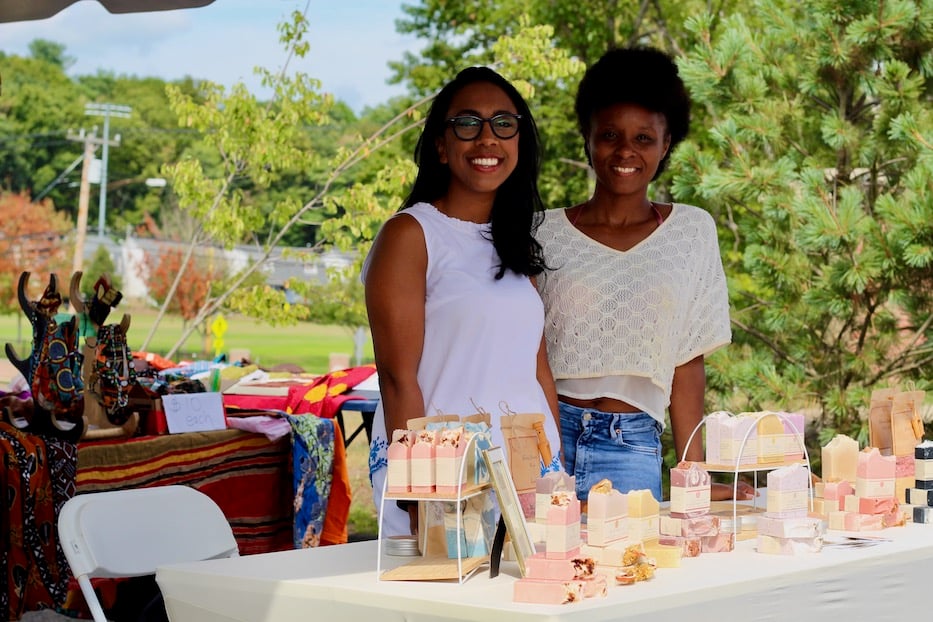 Top: Kobéy Smith of Kobéy. Bottom: Tierra Soap Co. co-founde Addy Reyes-Ramos and friend Margo Jones.
Behind her, Kobéy Smith introduced people to his brand, also named Kobéy. The innovation and entrepreneurship coordinator at Albertus Magnus College, Smith began building his own brand earlier this year, as a way to talk about mindfulness, meditation, and Black mental health. Born and raised in Bloomfield, Smith suffers from chronic anxiety, and for years felt silence and stigma around it, he said. Meditation became a lifeline.
In his job, it's part of his work to help students get their business ideas off the ground, he said. So last year, he started wondering why he wasn't building his own. Kobéy features t-shirts and bracelets that focus on meditation, and Smith hopes that they can start a conversation among consumers. On one, for instance, a woman sits cross-legged in a purple lotus flower, her hair drawn into a tight bun. The words I Am Royal scroll across the fabric.
Just two tables behind him, Tierra Soap Co. co-founder Addy Reyes-Ramos was also thinking about mental health and wellness. A year ago, she founded the company with her husband, Richard Ramos, as they navigated the pandemic with full-time jobs and two kids (when she isn't making soap, Reyes-Ramos is an accountant; her husband is a math professor).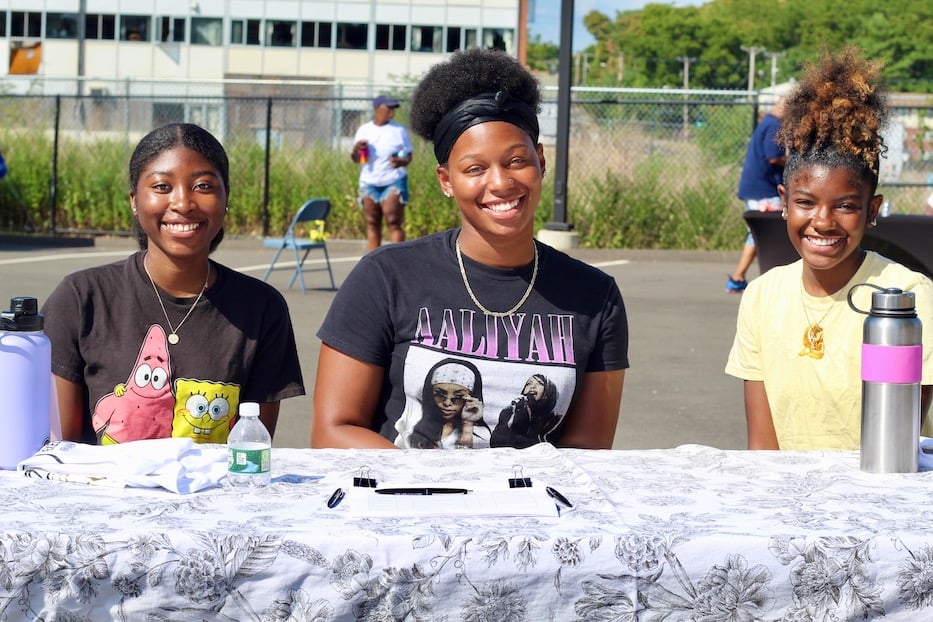 Danielle Burke, Darn Tucker, and Tiara Walters, all volunteers at Sunday's event. The three are all rising seniors at Achievement First Amistad High School.
As the two grew the company, they focused on natural, local ingredients, from herbs that came from their backyard to Connecticut honey. That's the spirit behind the brand, she said—completely homegrown, and by and for the community. So when she heard about the event from Huckabey, she both signed up to vend and donated enough soap to include one bar in each backpack. Recently, she said, she's been thinking about how basic hygiene can save a life.
"Anytime I can do something in the community, I will," she said. Hints of sandalwood, lemongrass and lavender wafted up from across the table. Elsewhere in the lot, a few attendees headed toward the doors of the building. The fashion show was beginning inside.
Black Fashion As Past, Present, & Future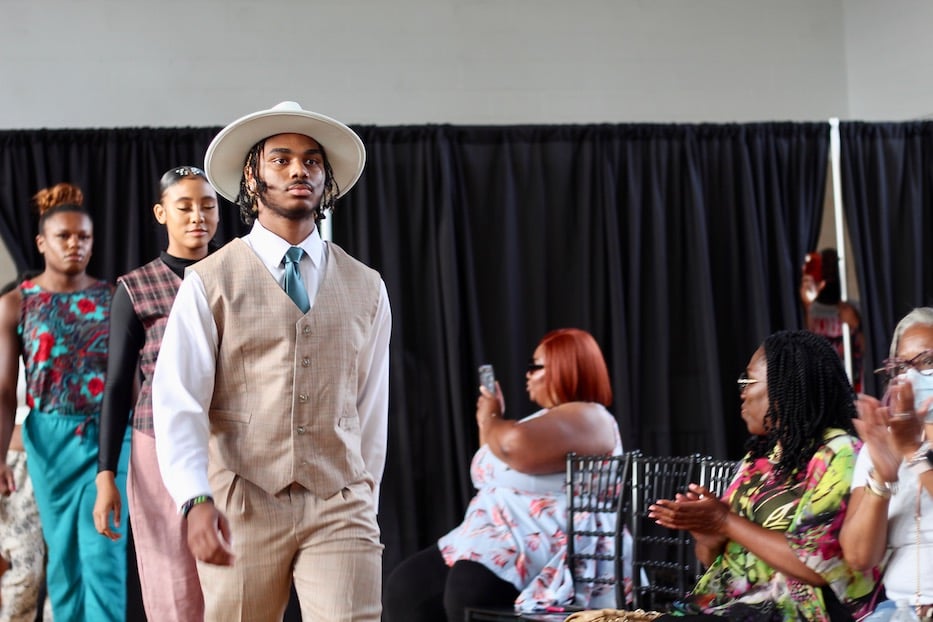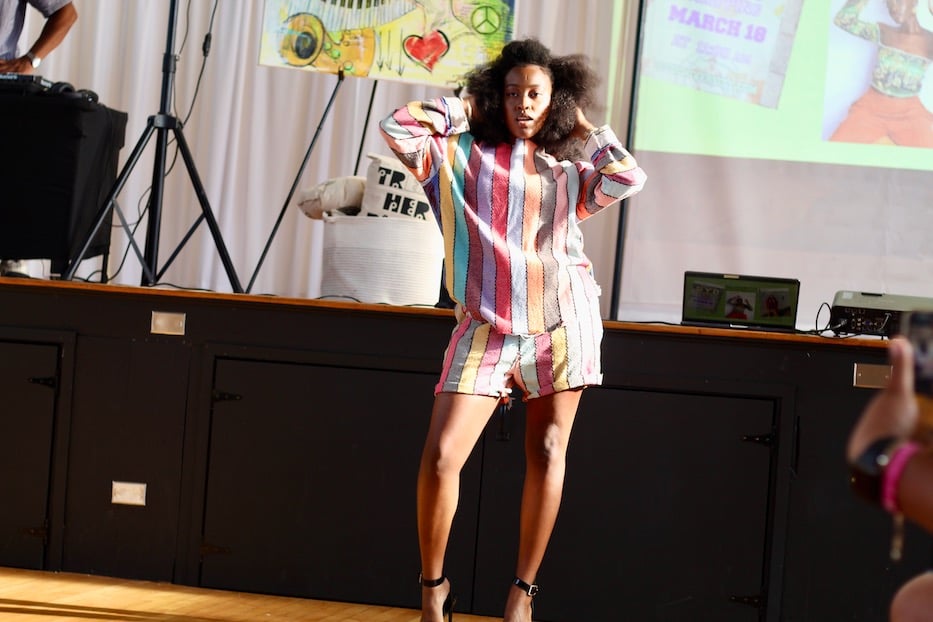 Top: Some of Elle dot Kay's designs hit the runway. Bottom: Designs from Threads By Tea.
Inside, energy filled the gymnasium-turned-runway as attendees had filled the space. In rows of chairs that had been set up for the event, attendees chatted with friends, admired the art onstage, and zeroed in on New Haven fashion royalty as Donald Carter swept into the room. From a DJ booth onstage, Dooley-O kept the music pumping over the audience.
In a staging area, designers worked out their final fittings before models hit the runway. At one end, Elle Pearson looked calmly over a rack of her latest designs, from earth-toned linen pants with embroidered, flower-patterned pockets to long, white-and-blue wraps in raw linen and silk. On one, a Delft-like floral design appeared to come from the earth itself. Elle dot Kay was ready to roll.
Raised in the New Haven area through high school, the designer attended the University of Connecticut, then grew her style footprint as an employee at Men's Warehouse. During her time there, she recognized her own knack for fashion, and started to experiment. Elle dot Kay was born with a few neckties and ties, and has grown from there.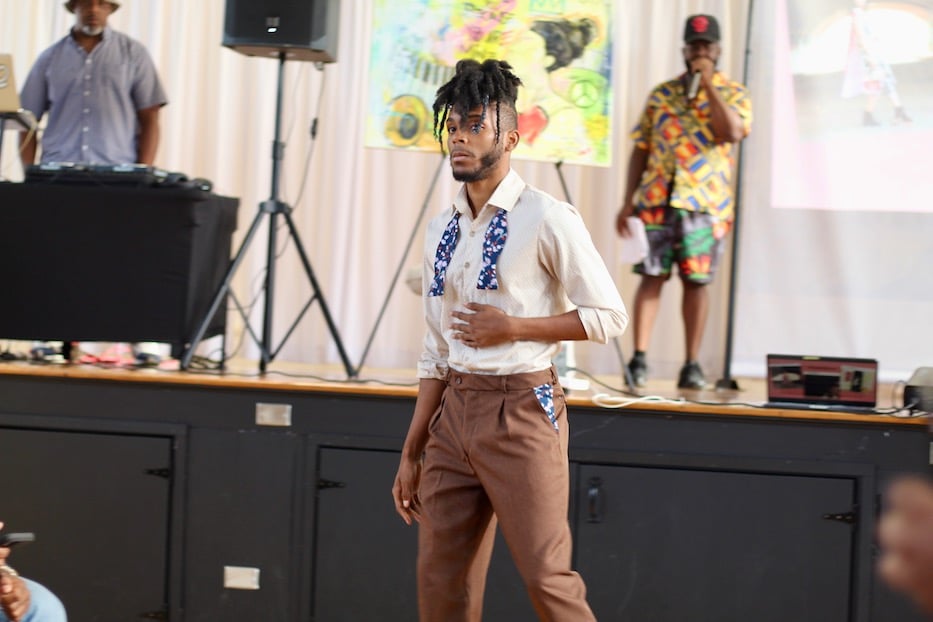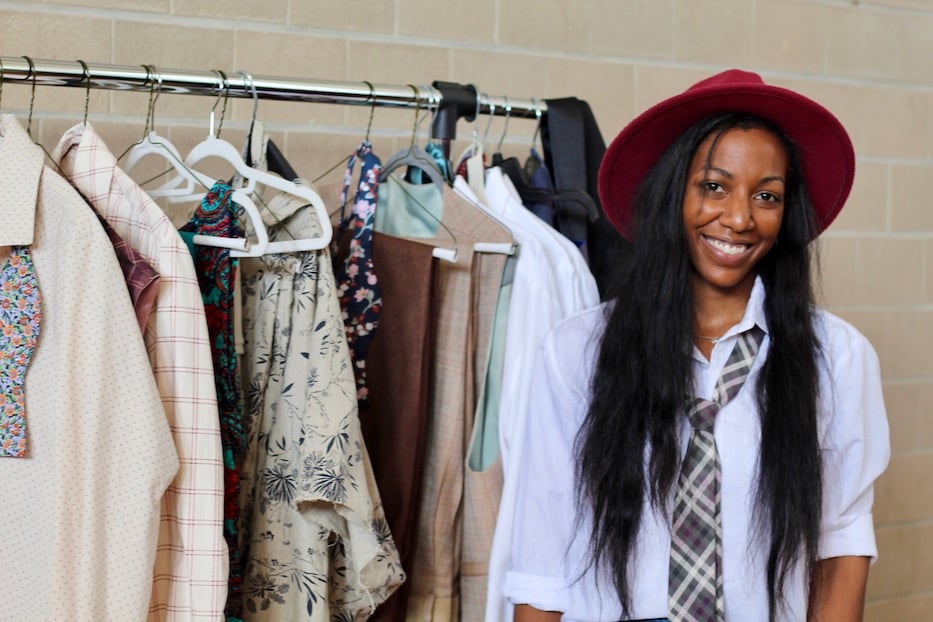 Top: Some of Elle dot Kay's designs hit the runway. Bottom: The designer.
"Everything we touch, it tends to grow, it tends to multiply," she said. Sunday's collection featured florals and earth tones in honor of the show's theme. She added that she sews every garment by hand (it's just her and her sewing machine, she said), and sources her fabrics as locally as possible. Sunday was a celebration of how Elle dot Kaye is growing piece by piece.
When models swept onto the floor later that afternoon, those designs took on a life of their own, with wheat-colored linen, pink tartan plaids for fall, wide-legged pants and a matching top and bottom in brilliant, marbelled red and turquoise. As garment after garment made it onto the runway, it seemed the applause never stopped.
Nearby, steam billowed out from an iron as Huckabey settled on a last-minute pressing of a repurposed silk gown. Wide-brimmed hats and racks of silk, cotton, wool and suede waited next to her, filled with discoveries from Long Wharf's Dock Deals and costume pieces that the theater is offloading in its move to itinerancy. After working on the short film See Me As with Lotta Studio last year, she said she was inspired to make the vintage fashions into brand new looks.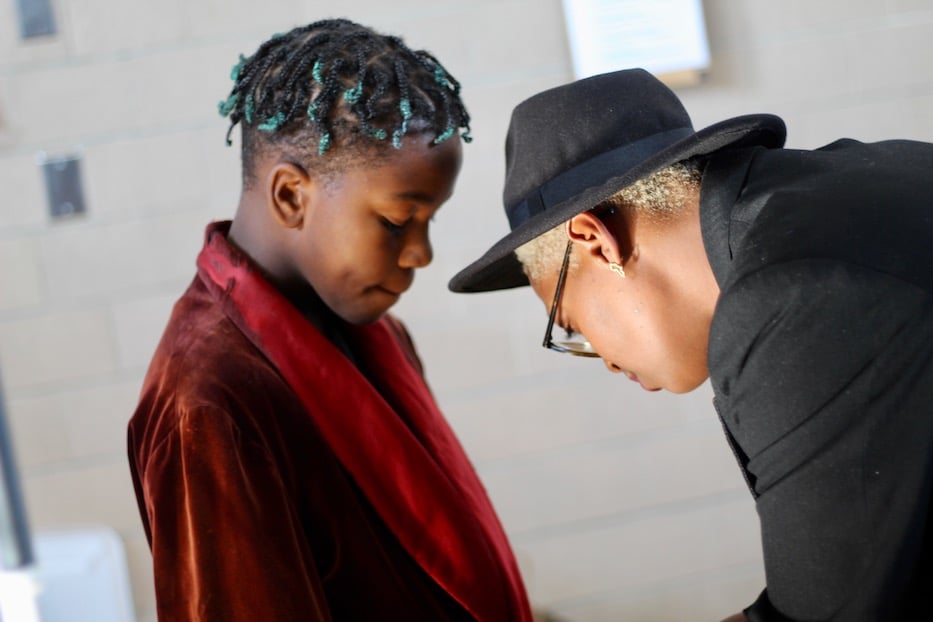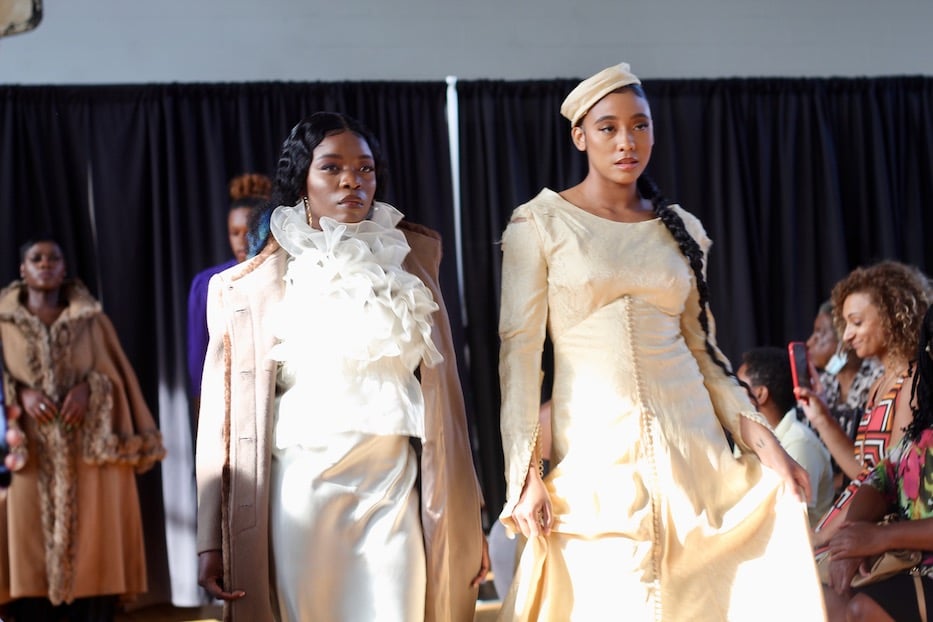 Top: Huckabey works with one of the show's smallest models. Bottom: "I take the past and I mix it with the present and the future," she said.
When she works, it's the shoulders of Alexander McQueen, André Talley, and June Ambrose that she's sitting on, she said. Sunday, the outfits that she styled include fashion that Black people would not have historically had access to, been pictured in, or given permission to wear in several parts of the country. That past, one of economic discrimination and disenfranchisement, is still so present.
"I take the past and I mix it with the present and the future," she said, adding that it took her weeks to settle on a theme. "So I really wanted to focus on a vintage futurism type of theme. I was creating looks that you haven't seen yet, and Empath Vintage really brought that today."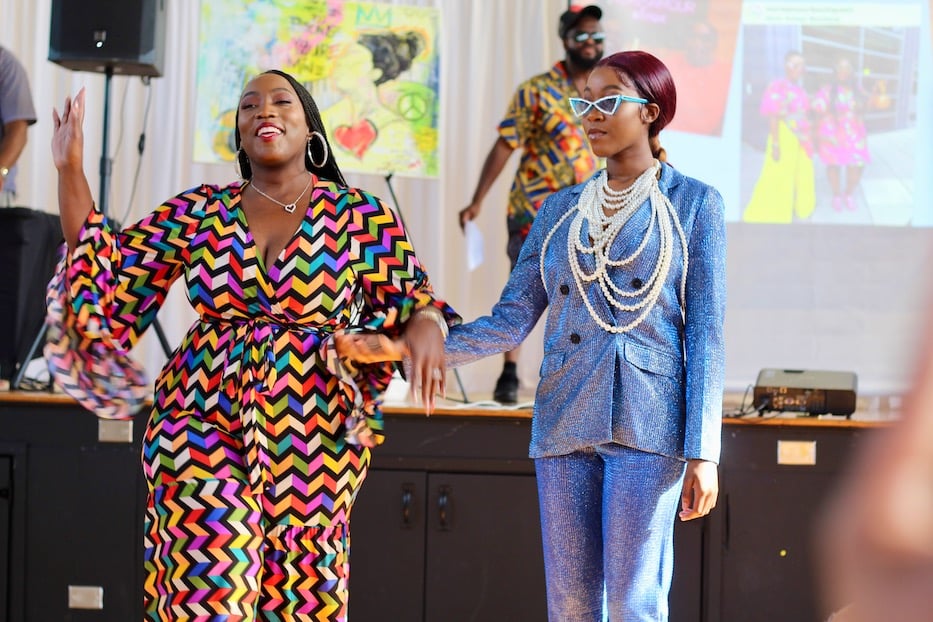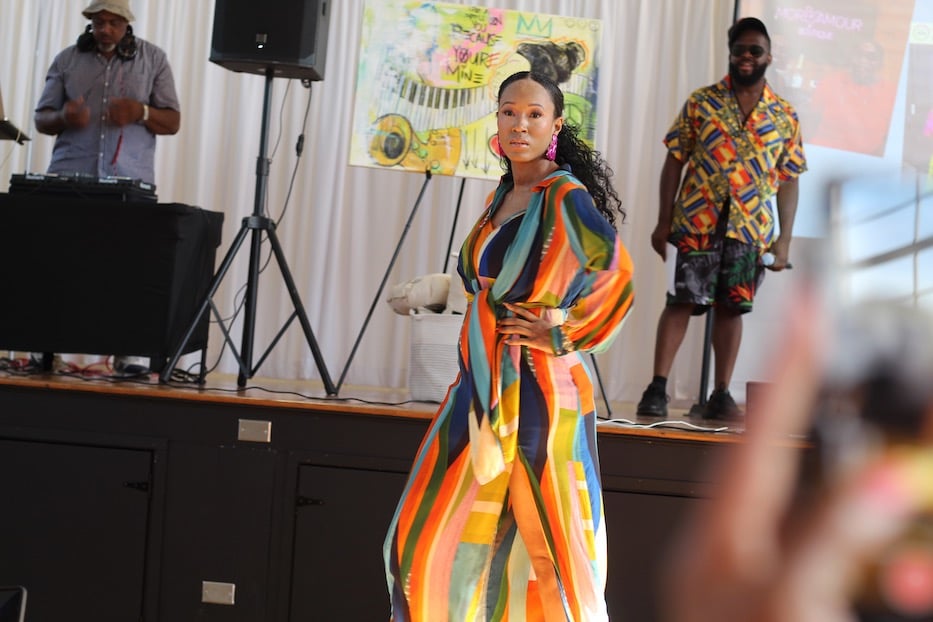 Looks from More Amour Boutique, which is located at 1130 Chapel St. Owner Kimberly Sewell-Poole is pictured in the top image at the left.
That was also true for Kimberly Sewell-Poole, who opened More Amour Boutique on Whalley Avenue in March 2020, and has since been able to move the store to Chapel Street. Sunday, she buzzed between a model in a sequined blue suit, large pearls and cat-eyed glasses and stylist Sharon May, dressed in a belted zebra print and black pillbox hat.
As she moved, Sewell-Poole became a whirr of color, in a retro-chic suit that undulated with a geometric, psychedelic rainbow pattern.
"With our new location on Chapel, it's been amazing," she said as she made sure every piece was ready for the runway. On the other side of the curtain, the low hum of attendees' chatter had risen to a buzz.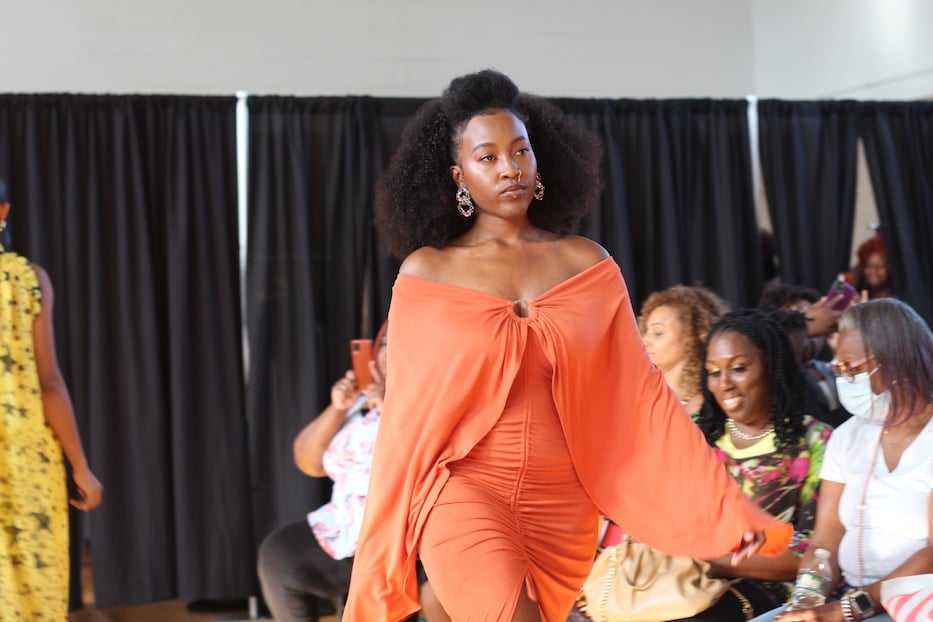 Looks from More Amour Boutique, which is located at 1130 Chapel St.
Originally from Baltimore, Sewell-Poole has been in love with clothes her whole life. As a child, she would spend hours among the oversized blazers and shirts that filled her parents' retail shop in East Baltimore. As she got older, she worked for years working in upscale retail, including for Neiman Marcus and Saks Fifth Avenue. A little over two years ago, she moved to New Haven to be closer to her husband's family.
She opened More Amour, which made it through Covid, as part of a Black-owned business dream. The name is both a nod to her hometown and to the French word for "love," of which she always wants "to spread more," she said. Sunday, that was clear as her models hit the runway in bright stripes, oversized tulle, gauzy and cotton dresses, loud statement pieces and big jewelry. She said the current collection focused largely on summer-to-fall "transition pieces," including blazers, suits, billowing pants and long-sleeved dresses.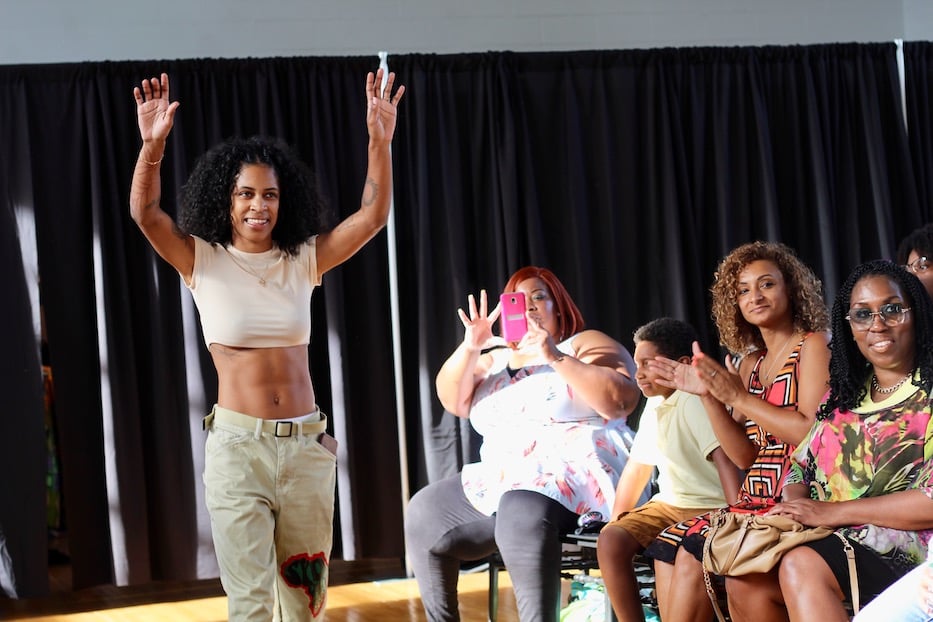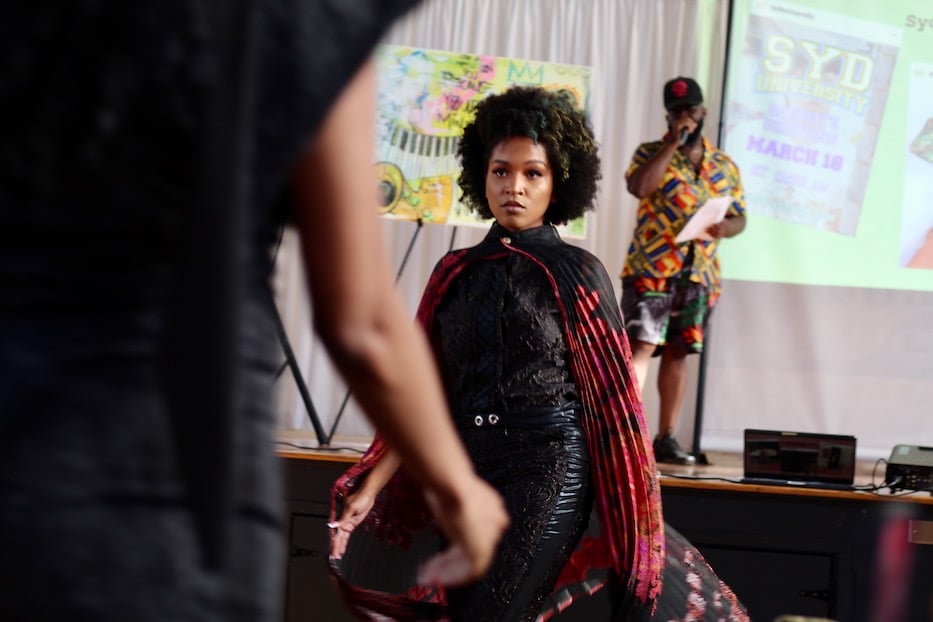 Top: Syd Bell, the designer behind Syd University. Bottom: Designs from Threads By Tea.
A few feet away, Syd Bell and Cecil Estes III traded notes beside a rack of Syd University jackets and sweats, printed with images pulled straight from Black cultural history. On one, Rosa Parks' infamous 1955 mugshot appeared beside a new graphic rendering of the icon in pink, bookended by the words Rosa and Parks in orange and blue bolded letters. In another that had attendees cheering, an image of Biggie Smalls emerged from the plush gray of a vest. As it floated down the runway on a pint-sized model, it suddenly seemed like the coolest back to school outfit ever.
Bell, who is now 24, founded the brand in 2019, when she was still a student at Southern Connecticut State University. Since her early beginnings doing each piece by hand, she has started to think about branching into small-batch manufacturing and "expanding my media," she said. She has also started collaborations, including most recently with Estes.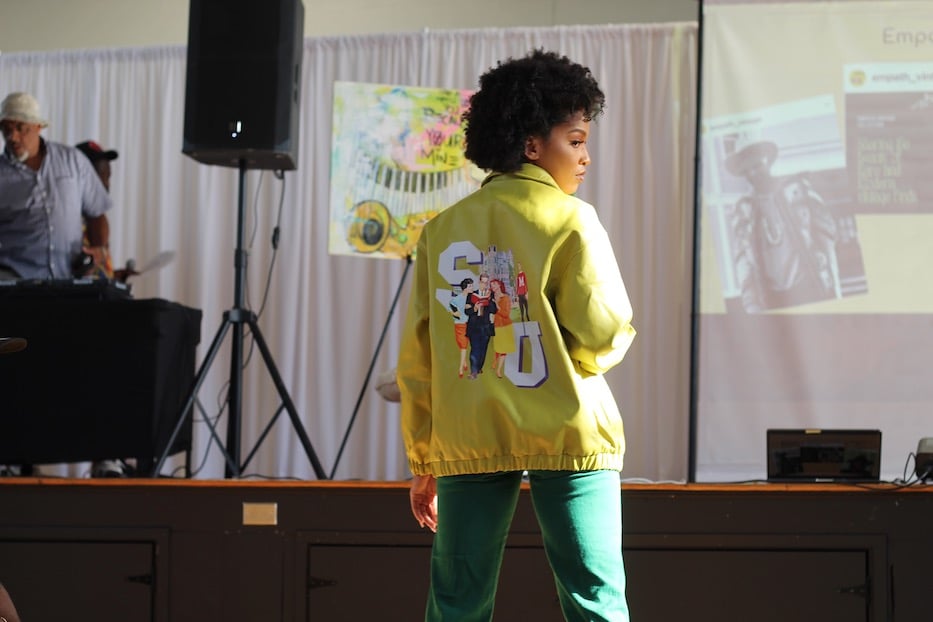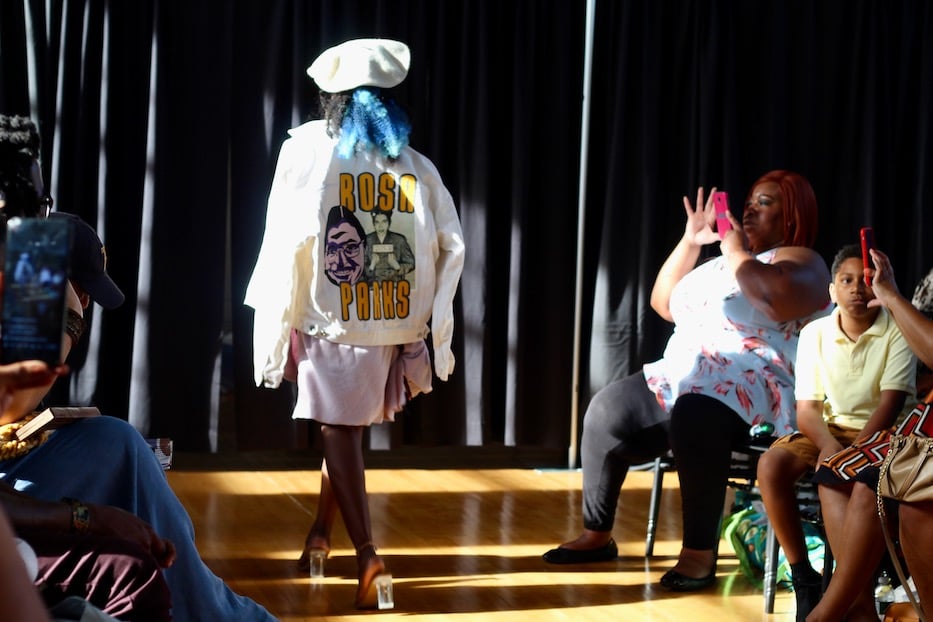 A third generation business owner himself, Estes is the person behind the brand Gentriii, a reference to his process of upcycling clothes that also reclaims the word gentrification. While his father and grandfather are mechanics, "I'm a mechanic with clothes," he said. "I give them a new look."
As Dooley-O cycled from Beyoncé's "Break My Soul" to old-school hip-hop, designers took one last look behind the curtain, and then got ready for the runway. On stage, Frank Brady described how he first became part of the Connecticut Center for Arts & Technology (ConnCAT) family a decade ago, after meeting now-President and Chief Executive Officer Genevive Walker. ConnCORP is ConnCAT's for-profit subsidiary.
"It's beautiful to see how things have come full circle," he said before welcoming young dancers from C.R. & Co. to the floor. No sooner had they finished than the beat dropped, and styles from More Amour boutique were flooding the runway in color.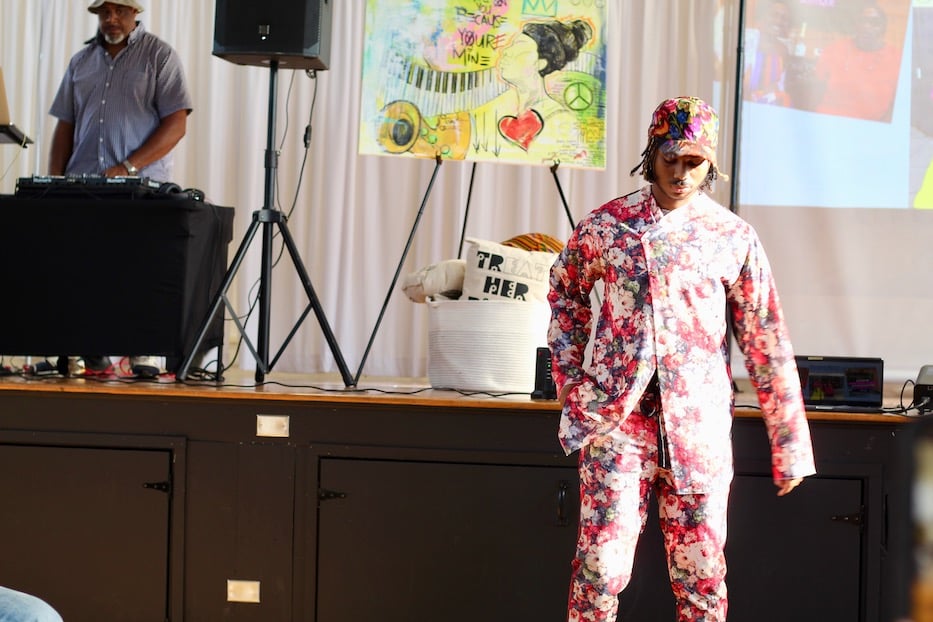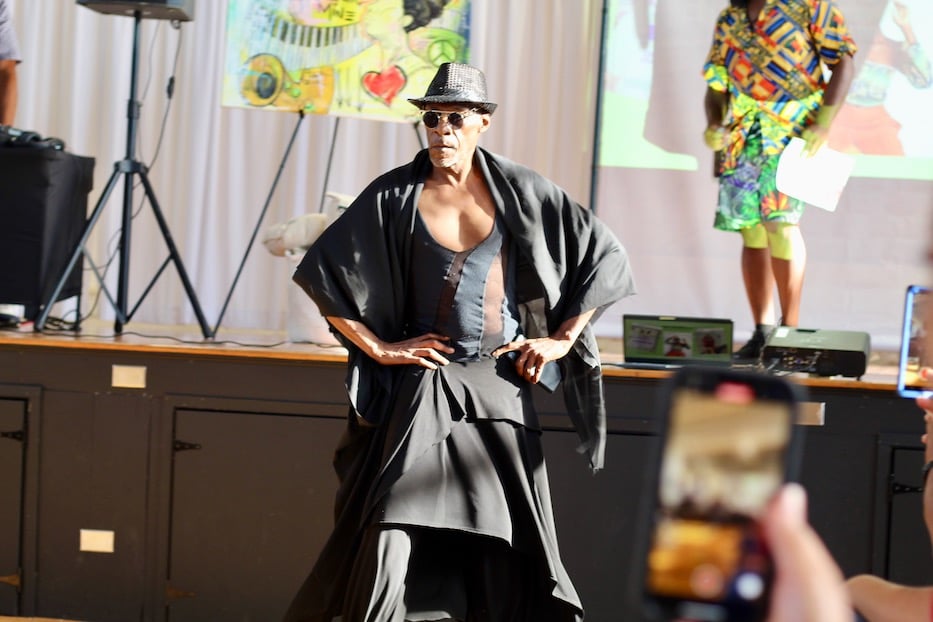 Top: Designs from Threads By Tea. Bottom: Donald Carter shows the audience how it's done.
The afternoon became not just a celebration of fashion, but also of community. Between designers, song, dance and spoken word filled the space. When Huckabey needed extra time, an impromptu modeling demo had some of the audience's youngest participants rocking the runway. During a short, unexpected speaking portion, Carter himself became emotional as he encouraged young designers to stay true to themselves. In over five decades of service to the community, he has become both an icon and a mentor for the next generation
The relationships that designers formed with each other will continue: the Elle dot Kaye brand and workshop will move into the same studio space at 1399 State St. in September. Montgomery has already begun mapping out a fashion event for next month. More Amour, which has remained strong through the pandemic, will have a new infusion of downtown customers and foot traffic this fall, curious to learn what the business is all about.
"Give it up for yourselves," Elle said at the end of the show, addressing the audience as she brought a bouquet of flowers over to Roper. "I want you guys to take a moment and look around. Look at the community that we are building."
Learn more about ConnCORP here.