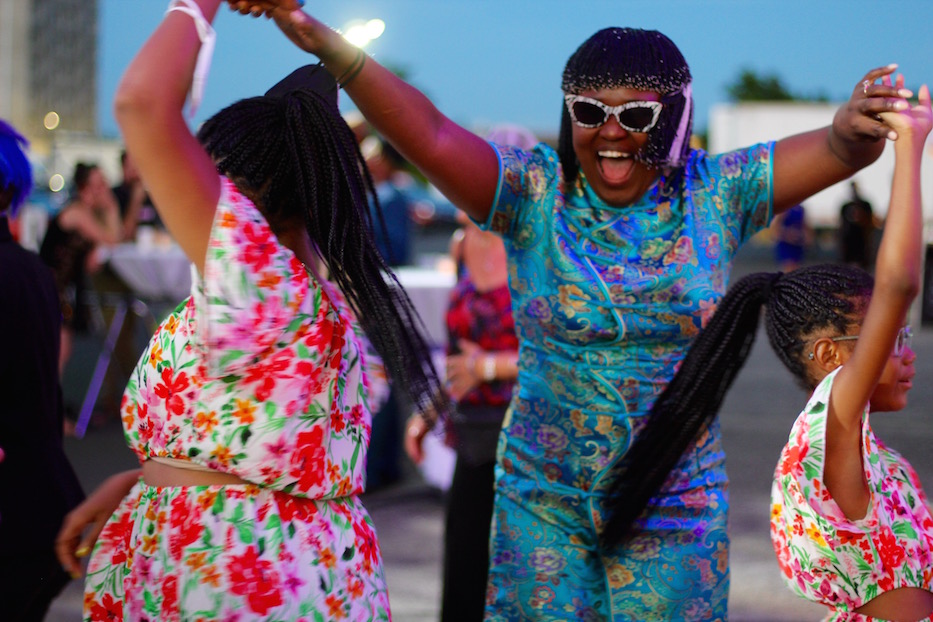 Long Wharf | Long Wharf Theatre | Arts & Culture | Theater | Arts & Anti-racism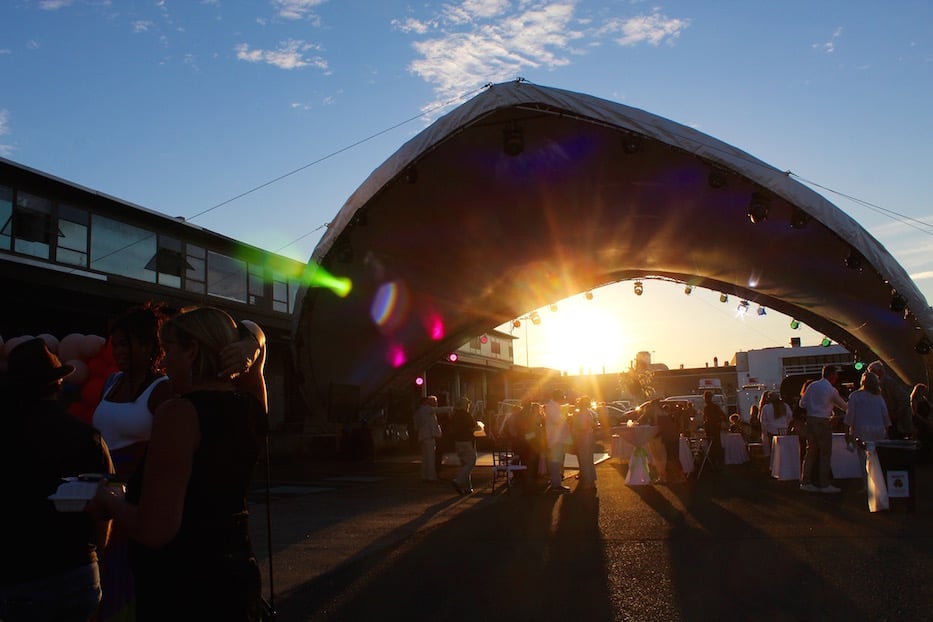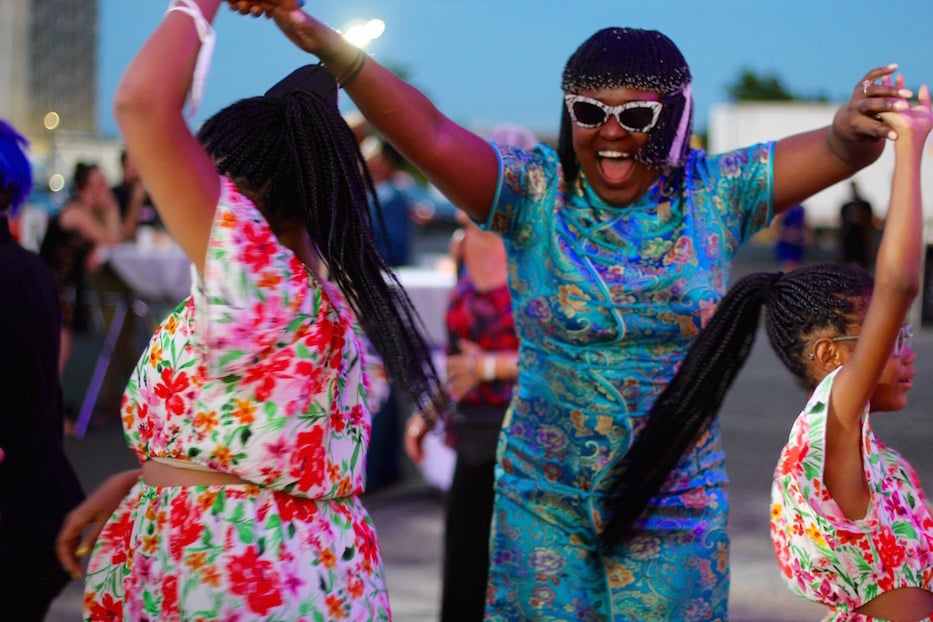 Top: The literal big tent. Bottom: Thabisa takes the dance floor with some young attendees. Lucy Gellman Photos.
A strawberry moon hung low over Sargent Drive, setting Long Wharf Theatre aglow in pink and yellow light. Beneath the wide mouth of a tent, attendees mingled in sequins, silver glitter, flower prints and a rainbow of red, cream, purple and teal. The cheerful clinking of glasses floated intermittently over pumping music. And once the "Cha Cha Slide" started, it seemed like everything was going to be alright.
That marked the culmination of Long Wharf's "Big Tent Party" Monday evening, a goodbye to the theater that doubled as a beginning of sorts. This year, Long Wharf plans to move to itinerancy, first with a move out of Stage II in September, and then with a final move out of the main stage in December. It started that sendoff Monday night with live jazz and vocal performance, food trucks, a dance party and the show-stopping film See Me As, a new short from Lotta Studio and 22 New Haven based artists and designers.
Long Wharf staff are still tallying totals from Monday, but said that the event raised close to $30,000 in a laughter-laced, lightning fast paddle raise from emcee Kiki Lucia and LWT Board Member Babz Rawls-Ivy. The next in-person work at the theater is Steve Driffin's Death By A Thousand Cuts in late June, followed by a three-day concert performance of Jelly's Last Jam in August. For a full lineup of 2022-2023 programming, click here and here.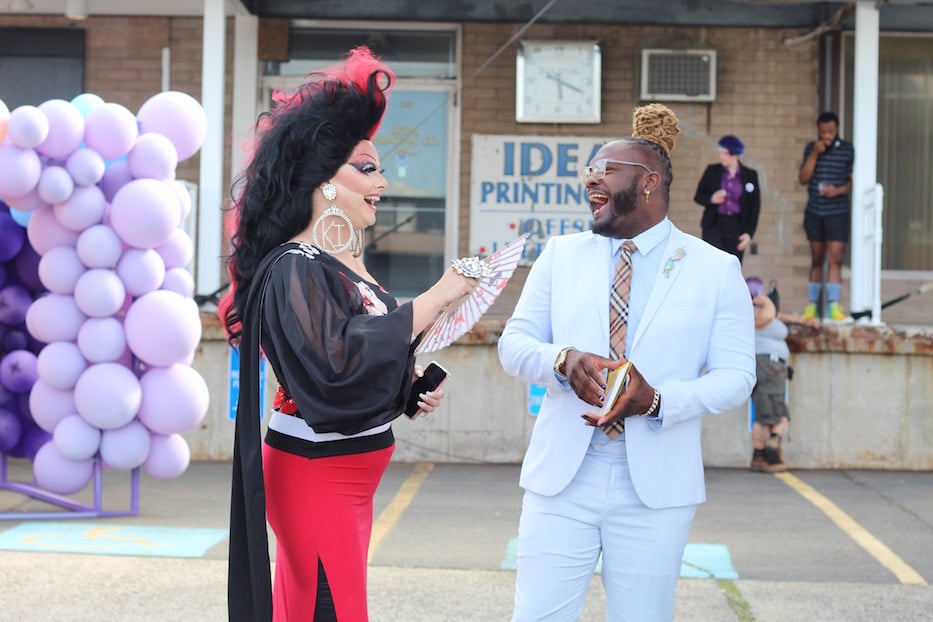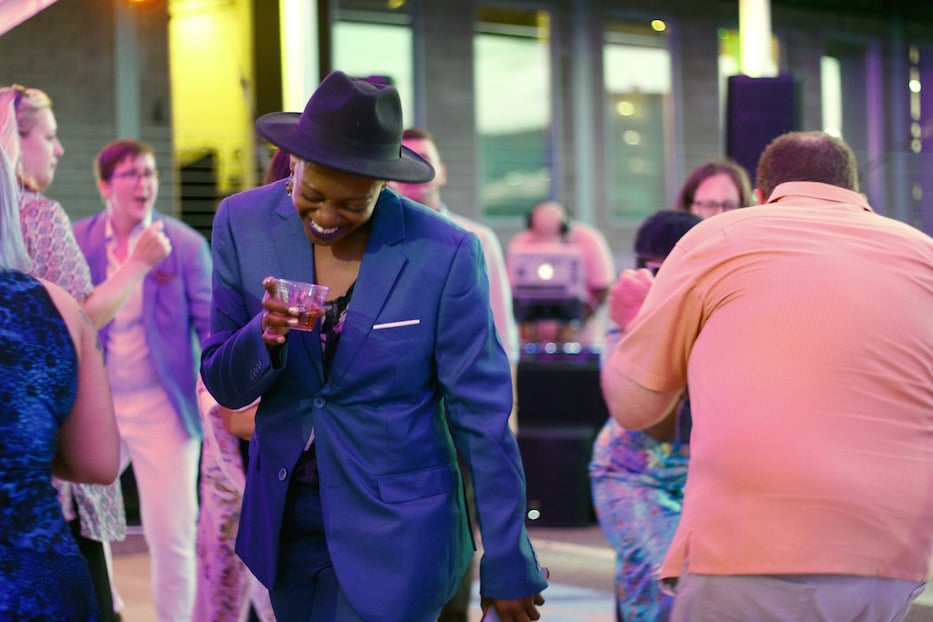 Top: Ms. Kiki Lucia and Malakhi Eason. Bottom: Ashleigh Huckabey, one of See Me As' stylists and owner of Empath Vintage. Lucy Gellman Photos.
"We've been talking about how the theater is like a big tent and we've been talking about making that tent bigger," said Managing Director Kit Ingui, crediting Director of Philanthropy Jennifer Crookes Carpenter with the bulk of planning. "Transition is hard! It's hard for folks who have been coming to Long Wharf Theatre for years. What gets us excited is knowing that it isn't the final fundraiser event [in the theater's history]. It's exciting and sad and there's joy in there."
It is a bittersweet moment of "a lot of lasts," she continued. Earlier this month, Madhuri Shekar's long-awaited Queen closed out the theater's last full season at 222 Sargent Dr. There was a last opening and a last closing, a last full performance on the Claire Tow Stage. The fundraiser will be the last of its kind on site. In September, Long Wharf will mark another last with Jenny Koons' multi-part Home(coming): A Community Parade, meant as a farewell to the building. By the end of the calendar year, Long Wharf will be fully itinerant.
The theater has done it all in the long shadow of Covid-19, which Monday kept Artistic Director Jacob Padrón from enjoying the festivities. And yet, Ingui said, the transition is also meant to usher in a season of firsts that she is extremely excited for. With Queen, Long Wharf was the inaugural partner on the National Asian American Theatre Company's (NAATCO) National Partnership Project (NNPP). Then last month, the theater announced its first season as an itinerant company, which includes performances at 222 Sargent Dr. and on the International Festival of Arts & Ideas Main Stage, Southern Connecticut State University's Lyman Center for Performing Arts and greater New Haven.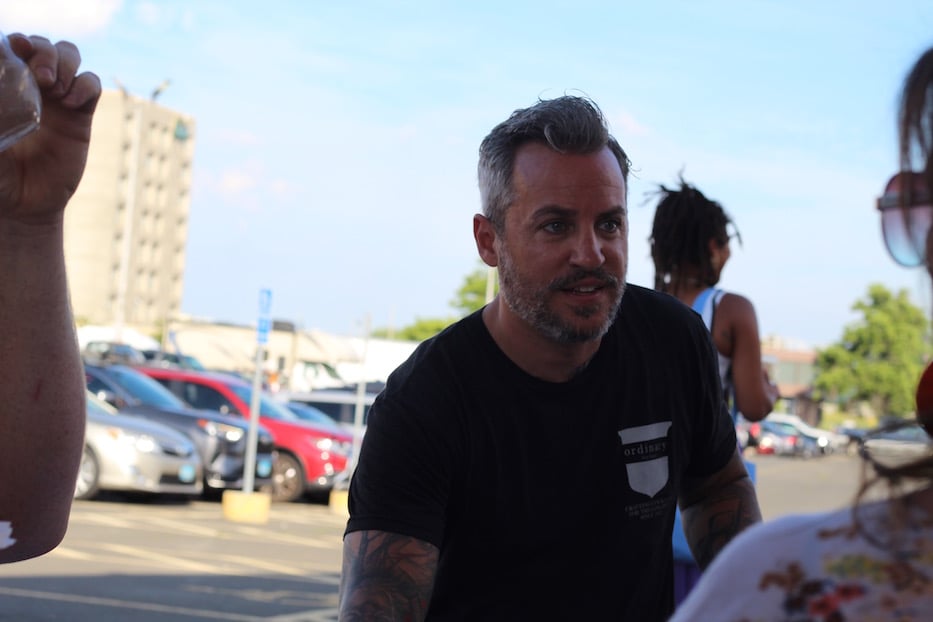 Top: Tim Cabral of Ordinary. Bottom: Live music included selections from musician Nick Di Maria and friends.
Through the move, Long Wharf plans to deepen its institutional partnerships, from the International Festival of Arts & Ideas and the Shubert Theatre to the New Haven Pride Center, New Haven Free Public Library, Elm City LIT Fest, A Broken Umbrella Theatre, and the City of New Haven. Some, like the Pride Center, have already been integral partners for years.
As Long Wharf leaves its decades-long home, it will do so with roughly 20 staff members and a budget of $3.5 to $4 million. While "we have a dream, a vision that involves a physical space," Ingui said, nothing is yet set in stone for the company's future. She said that "it's all being built" as the theater dreams about its next steps—and figures out what the community's needs are.
Inside the theater's main stage, attendees could feel the long goodbyes, new beginnings, and nods to a theater's storied history colliding all at once. In the lobby, costumes from five decades of Long Wharf performances stood at the ready by an empty box office, as crisp and stately as the day actors first slipped them on. Inside, drag queen Kiki Lucia waited in the wings, a red and black wig cascading down her neck. As she stepped out onstage, smiling beneath a row of chandeliers, the audience cheered in delight.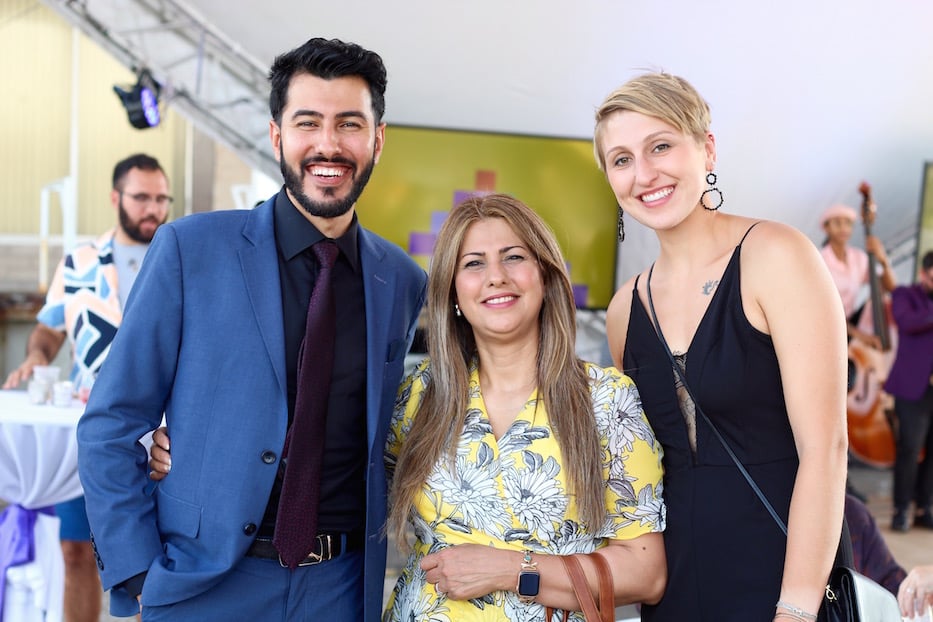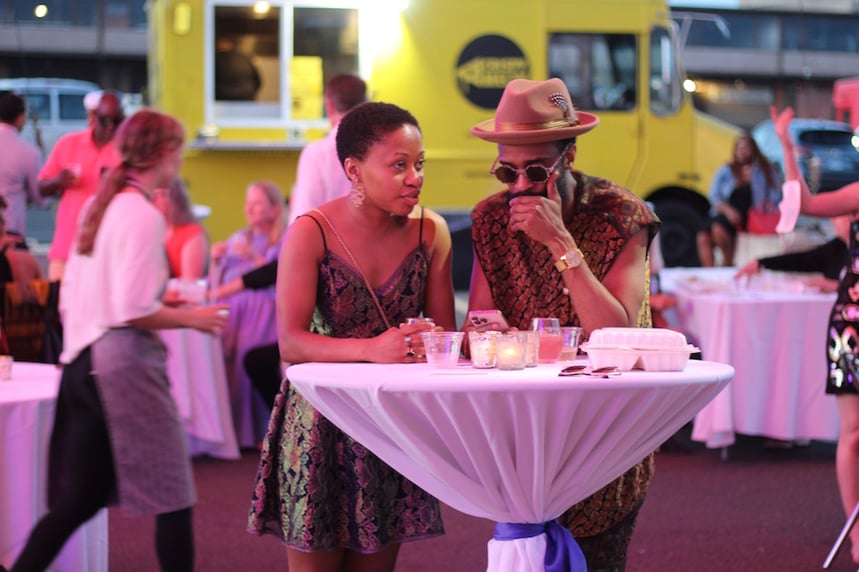 Top: Videographer/photographer Maher Mahmood, designer Bushra Mahdi, and photographer Rachel Peet. Bottom: Petite Sommelier Raven Blake and designer Tea Montgomery.
All of Monday's performers came with a sense of experiment. Taking the stage early in the evening, performer Gavin Creel reflected on Deirdre O'Connell's challenge to "make weird art" during the 2022 Tony Awards Sunday night. He is currently working on "Walk On Through," a musical based on the Metropolitan Museum of Art's sprawling collection. Nikki M. James, who may be best known for originating the role of Nabulungi in The Book of Mormon, dazzled with selections from Stephen Sondheim and Once on this Island.
When she stepped up to the mic with musician Pete Greco, New Havener Thabisa stunned with her piece "Nkwenkwe," using her full range and breath work to take the audience on a sweeping sonic journey. It's a song calling a young man "back to his senses" from "a tragic path" he has started down, she later said.
When she ended on her well-loved song "Te Amo" and mimed a trombone on stage, it was hard not to think of her there two years earlier, performing during the last August Wilson Monologue Competition that graced Long Wharf's stage in February 2020. Suddenly, the performance became a farewell—and an opening for new stages elsewhere in the city.
"Thank you for supporting the work of artists," she said before leaving the stage.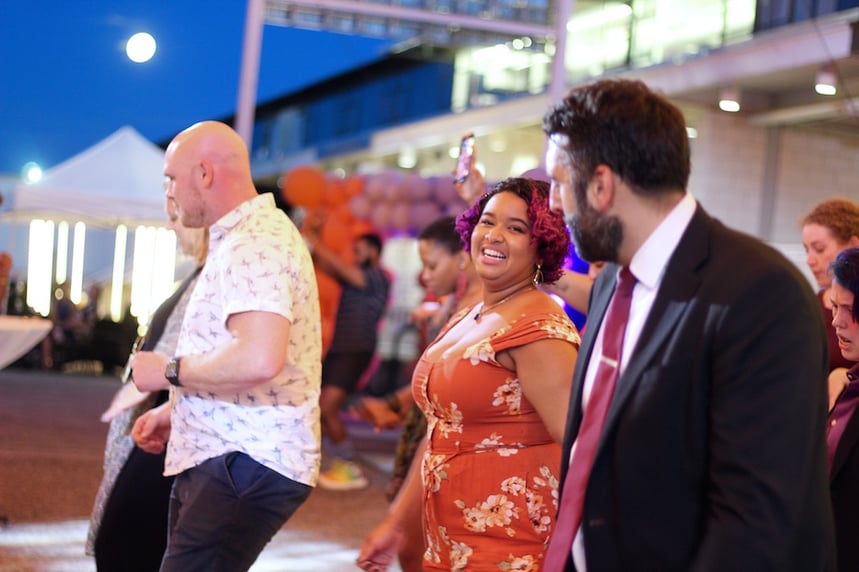 Long Wharf's Betzabeth Castro dances the night away.
That support echoed through See Me As, a very deep dive into the theater's costume department through which Lotta Studio worked with five models and five designer-stylists all based in New Haven. When Long Wharf reached out to Lotta Studio Co-Founder Mistina Hanscom in early 2021, "I was super excited to use the clothes," Hanscom said. Within just days, she had made a list of models "who I admired in the community," and who reflected New Haven's diversity.
They included artist-activist Isaac Bloodworth, Connecticut Voices for Children Executive Director Emily Byrne, Narrative Project Founder Mercy Quaye, drag queen Kiki Lucia (and a nod to her male alter ego, New Haven Pride Center Executive Director Patrick Dunn), and singer Thabisa Rich. Working carefully, Hanscom paired them with stylists and designers Ashleigh Huckabey, Bushra Mahdi, Tea Montgomery, Todd Lyon, and Melissa Gonzales.
She also assembled a powerhouse creative team, including videographers, photographers, scenic artists, makeup artists, animators, and audio designers and engineers.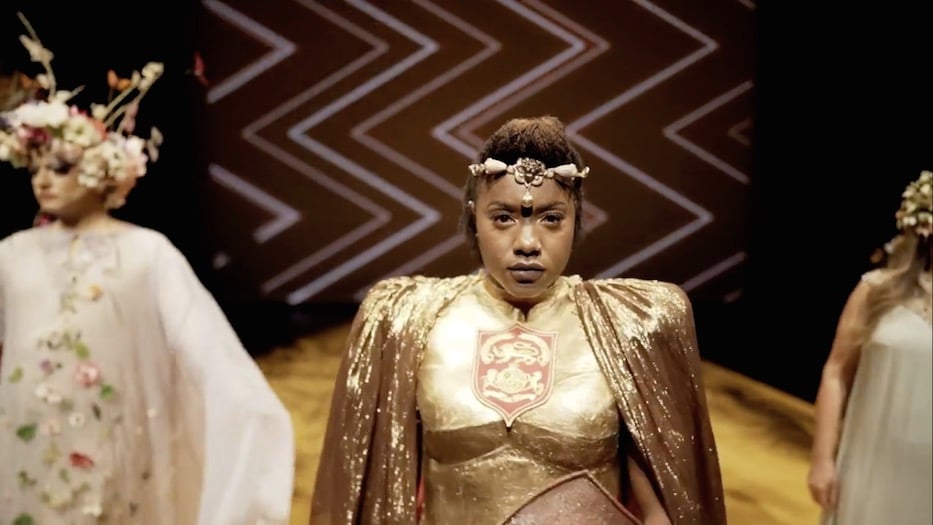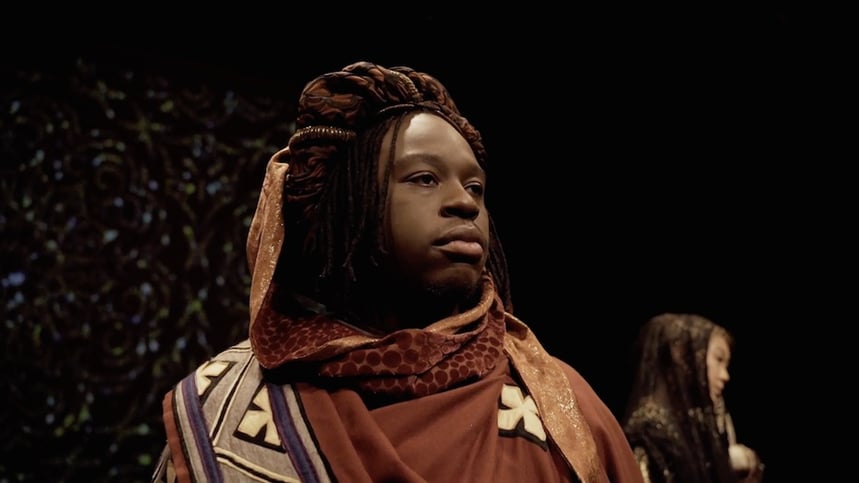 Stills from See Me As, produced by Lotta Studio in collaboration with 22 New Haven based artists and designers. At top is Mercy Quaye, founder and executive director of The Narrative Project. At the bottom is artist Isaac Bloodworth.
In the 20-minute film, designers and stylists dive into Long Wharf's costume department, riffing on pieces of clothing meant to represent the Renaissance, Victorian Era, Edwardian Era, Mid-Century and the future. After waking out to original music, they lift a paper, color-coded runway to reveal another color underneath. It is both a love song to the theater and to New Haven: viewers may spot the shield from An Iliad or frock from A Doll's House Part 2 alongside original designs from Mahdi, Lyon and others.
Monday, it felt more like a live performance than a video. As Bloodworth's face filled the screen, a jubilant "okayyyyyyyyy!" exploded from stage left, where Black Lives Matter New Haven Co-Founder and New Haven Pride Center Director of Youth Services Ala Ochumare was sitting. As soon as the audience felt it had permission, cheers, snaps, applause and cries of whoop! and what! And both yesss and YASSS filled the dark theater.
As artists spoke one by one in the film, murmurs of "that's right" and "okay" fluttered through the space. Hanscom later said that the act of pulling back the paper runway was meant to represent pulling back layers of prejudice and bias that have long existed.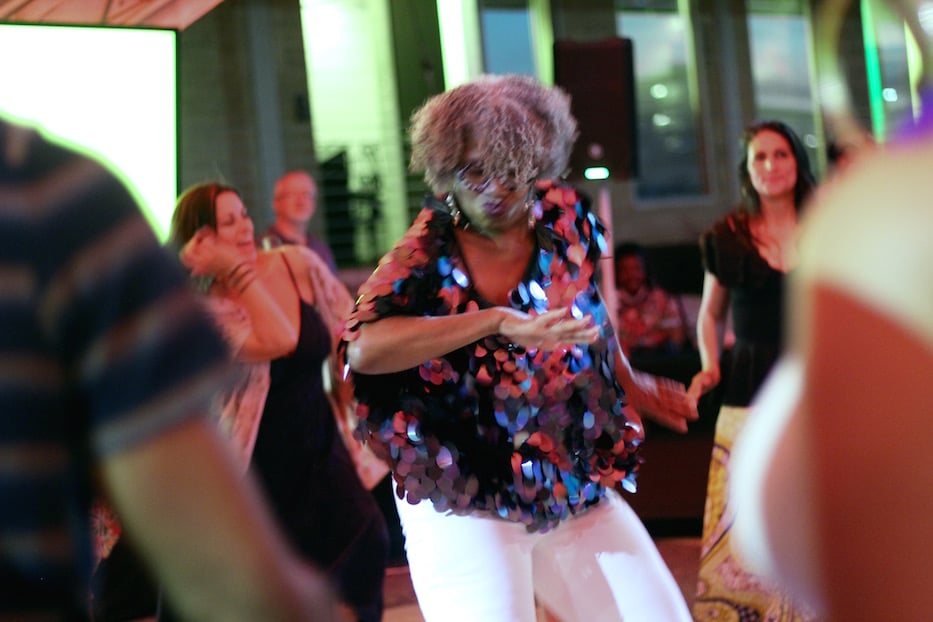 Elm City Lit Fest Founder IfeMichelle Gardin.
"This project is an example of how established institutions should be working with artists," she said in an email after the screening. "The support that I felt from Long Wharf was above and beyond a normal level of trust. They supported me as an artist physically, mentally and financially and allowed this creative group of individuals to hold a level of responsibility for their own vision in a way that is rarely experienced when you are collaborating with an institution."
"I felt needed and trusted throughout the whole process. I felt seen," she added.
Outside, a dance party carried attendees into the night. As some guests caught up over blaring music, most headed toward the dance floor, taking turns to jam at the center of a wide circle. When Bell Biv DeVoe's "Poison" came pumping over the DJs setup, Arts & Ideas Director of Programming & Community Impact Malakhi Eason took a mic and started singing.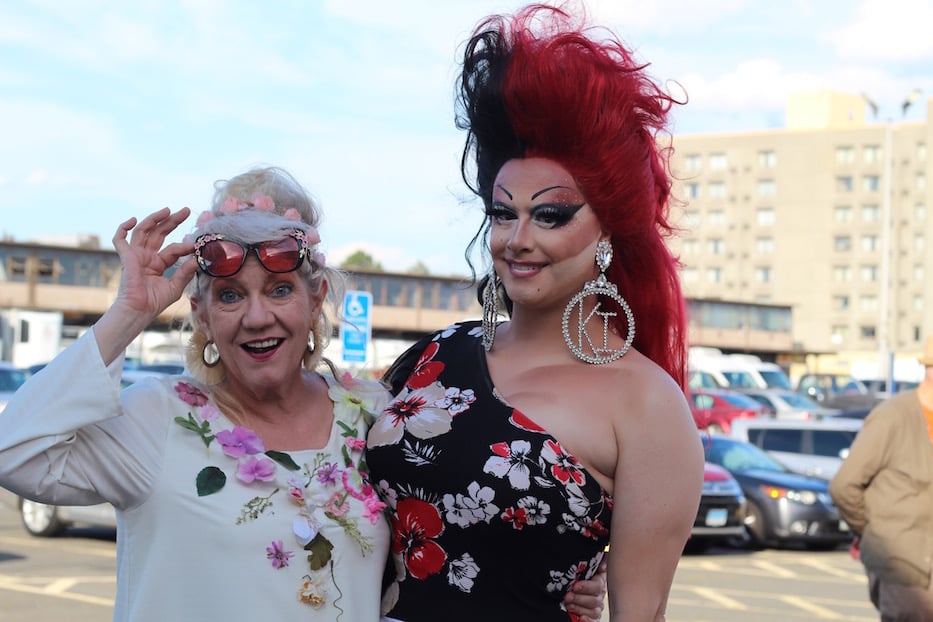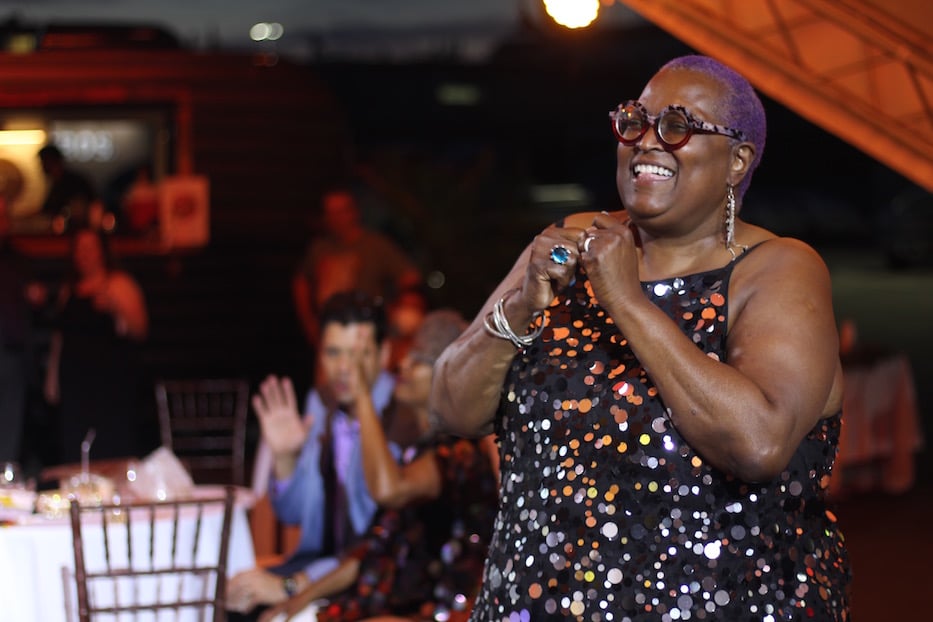 Top: Designer Todd Lyon and Kiki Lucia. Bottom: Babz Rawls-Ivy dances the night away.
Todd Lyon, one of the stylists and co-owner of Fashionista Vintage & Variety, said she loved the experience, and hoped to see more like it from Long Wharf going forward. A proudly self-described "townie," she remembered seeing her first play at Long Wharf in the late 1970s, when Rita Moreno was in the revival of Tennessee Williams' Rose Tattoo. She remained a fan of the theater, including partying with Al Pacino when he was starring in American Buffalo.
"I sort of always felt that Long Wharf Theatre was itself," she said. "It was its own separate world. I never thought I'd be invited to be part of the theater. I hope Long Wharf does continue to make connections in the community."
Lotta Studio plans to hold a screening of See Me As at their Westville home, 903-911 Whalley Ave. in New Haven, on June 30 at 7 p.m.