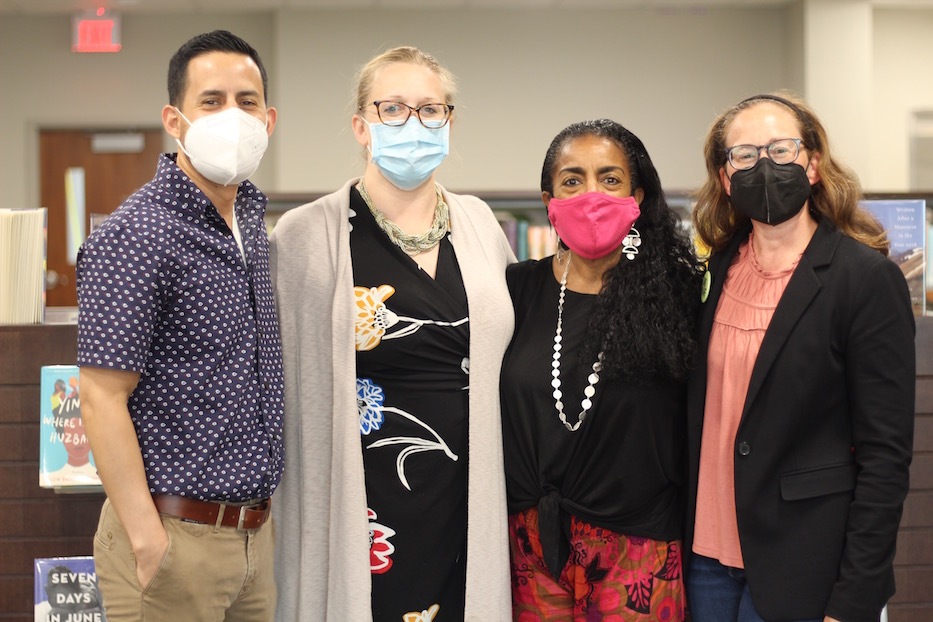 Dixwell | Long Wharf Theatre | Arts & Culture | New Haven Free Public Library | Arts & Anti-racism | Dixwell Community Q House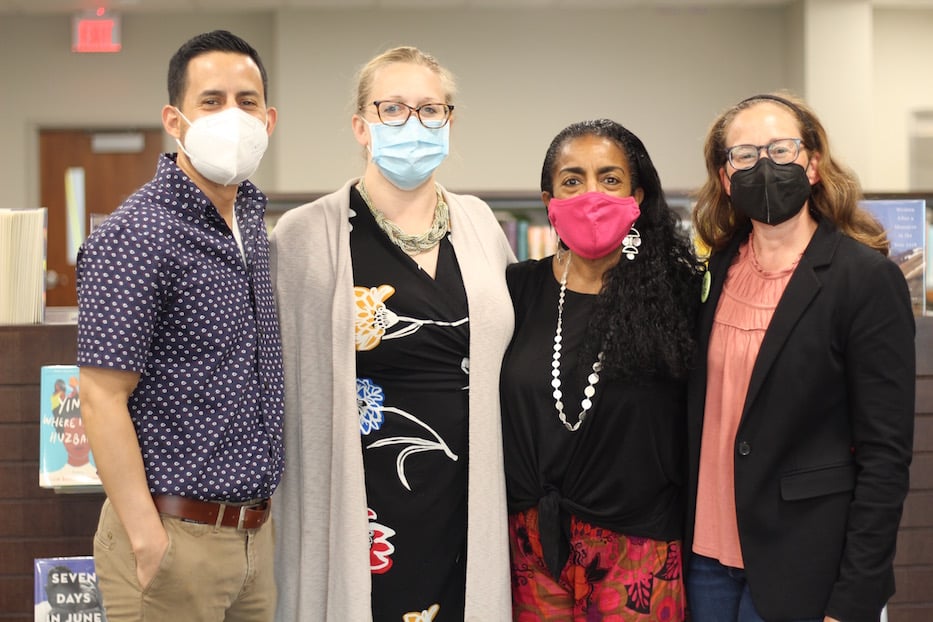 Long Wharf Theatre Artistic Director Jacob Padrón, International Festival of Arts & Ideas Executive Director Shelley Quiala, Stetson Library Branch Manager Diane Brown, and Long Wharf Managing Director Kit Ingui. Lucy Gellman Photos.
A celebration of Dixwell's rich jazz history—nestled in the heart of Dixwell. A night of storytelling that centers Muslim Americans. A 57-artist quilt and long, joyful goodbye to 222 Sargent Dr. A throwback to the play that started it all, in a performance to benefit the theater's next chapter.
Those are just some of the highlights of "Everywhere for Everyone," Long Wharf Theatre's 2022-2023 season, and its first as an itinerant theater company. Wednesday night, Artistic Director Jacob Padrón announced the season from the second floor of the Stetson Branch Library in New Haven's Dixwell neighborhood. The new season includes a mix of virtual programming and live performance, slated for both the Claire Tow Stage and the wider New Haven community.
It includes "Project 57," a quilted, 57-artist commission to celebrate Long Wharf's 57 years at 222 Sargent Dr., and partnerships with the New Haven Free Public Library, International Festival of Arts & Ideas, Artspace New Haven, and New Haven Pride Center among others. Kit Ingui, managing director at the theater, said that it is built on the pillars of "artistic innovation, radical inclusion, and kaleidoscopic partnerships."
"We are committed to building a theater that belongs to all people who call the city their home, and we believe in the promise that Long Wharf Theatre can be for everyone," Padrón said.
"I feel like this season really reflects the work that we are trying to manifest at Long Wharf Theatre, and I'm looking forward to it," he later added. "It's an exciting moment in the life of the theater company."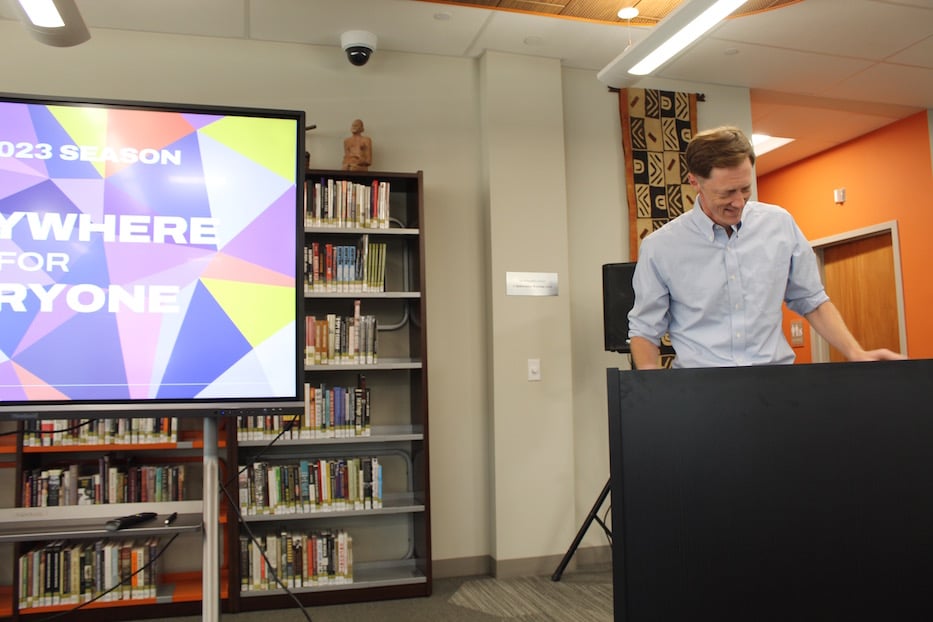 Mayor Justin Elicker at the season launch Wednesday.
The season will unfold in three "acts," beginning in August of this year and running through the spring of 2023.
Earlier this year, Long Wharf was able to extend its lease at the New Haven Food Terminal by several months, meaning that it no longer must be out of the building by June.
In September, it plans to fully vacate Stage Two, which holds a smaller theater and several staff offices. Then in December, it will vacate the Main Stage, where a performance of Queen is currently running through June 5. That new timeline will allow for a few final live performances at the space, including at least one new work.
"Act I," which launches in early August of this year, begins with Black Trans Women at the Center, a virtual performance now in its third year at the theater. Directed and co-produced by Dane Figueroa Edidi, the reading seeks to amplify the lived experiences of Black trans women, who are far more likely to be harassed, discriminated against, and killed than their cisgender peers. Playwrights include Andrea Jenkins, Bl3ssing Oshun Ra, Danielle Davis, and Davia Spain. The performance will be live-streamed on the theater's website and YouTube channel on Wednesday, Aug. 3 at 7:30 p.m. and will remain available to watch on-demand through Saturday, August 6.
The season continues August 26 through 28 with a concert performance of Jelly's Last Jam, George C. Wolfe's 1992 jazz musical celebrating the life and work of Jelly Roll Morton. For three nights, the show will run at Long Wharf's 222 Sargent Dr. home. During the same time, Long Wharf plans to hold programming at Stetson Library and in the surrounding Dixwell neighborhood celebrating Dixwell's rich jazz history. The announcement felt fitting at Stetson, which sits just a block away from the old Monterey and anchors the Dixwell Community Q House.
It's a special performance for Padrón, who has wanted to see it happen for over two years. In March 2020, the work was part of a new 2020-2021 season lineup when Covid-19 shuttered the theater. Patricia McGregor, who directed the play as a graduate student at Yale in 2009, was on tap to direct. This summer, she will return to New Haven as a consultant on the piece.
"It will be an event you will not want to miss," Padrón said.
"Act I" ends in September, with a performance of Bryce Pinkham and Zach Fine's in-progress Dignity, Always Dignity, a one-person show in which an actor trapped on a deserted island takes on Singin' In The Rain as a sort of swan song and passion project. He's all alone—and the water is rising—so he's saddled with the enormity of the whole musical. The work features writing from Fine and Pinkham, with music and lyrics from Rona Siddiqui and Kirya Traber.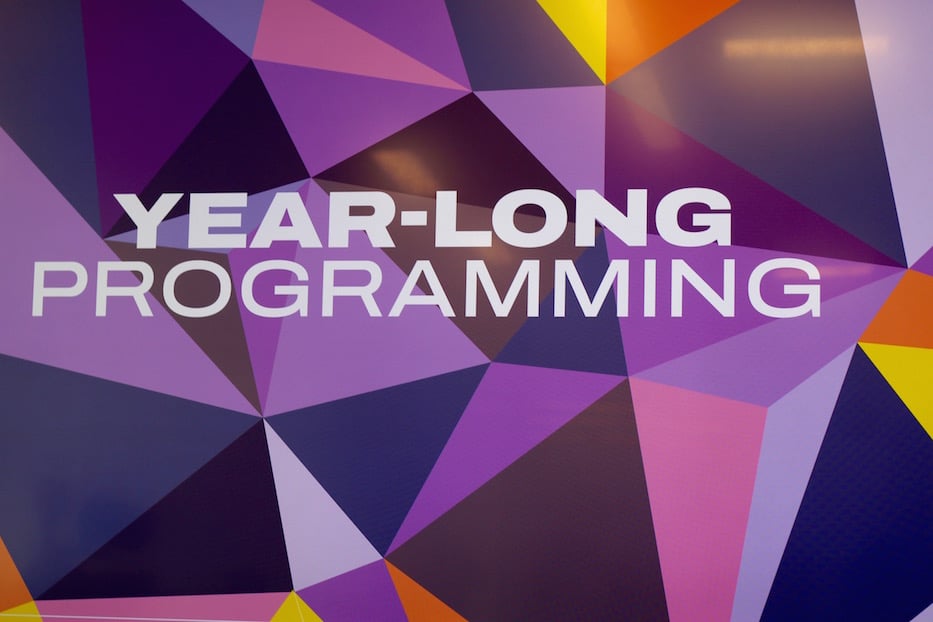 In September of this year, "Act II" will kick off a goodbye to 222 Sargent Dr. (or as Ingui said to laughs, "So did you hear?! We're moving!") with Jenny Koons' Home(coming): A Community Parade, a multi-day "series of festive communal rituals and micro-performances" designed to help the community bid farewell to the theater. The date for the performance is still pending.
"With us, we take the best parts of our history: our stories, our relationships, and memories of our extraordinary body of work," reads a release from the theater. "This fall we begin writing the next chapters of our story with our communities."
This fall, the New Haven Play Project returns with I AM: American/Muslim, a film and multimedia production from Aaliyah Miller and Halima Flynn. This year, it will center the stories of Muslim Americans across New Haven, where a vivid patchwork of lifelong New Haveners, faith leaders, immigrants and refugees, and transient students has birthed dozens of stories of what it means to be Muslim and American in this country at this time.
In the third and final "act" of this season, Long Wharf will present Live From the Edge, a live, in-person performance from UNIVERSES co-founders and Long Wharf playwrights-in-residence Steven Sapp and Mildred Ruiz-Sapp "redefining what theater is and who it speaks to." In line with the theater's new itinerant model, Sapp and Ruiz-Sapp plan to bring the show to two locations in New Haven, both of which are pending.
In spring 2023, the theater will also hold the second annual Next Narrative Monologue Competition, an outgrowth of the August Wilson Monologue Competition from Kenny Leon's True Colors Theatre Company in Atlanta. It will finish with a benefit reading of Arthur Miller's The Crucible, with which Long Wharf launched in 1965. This performance will be directed by David Mendizábal, who directed On The Grounds of Belonging in 2018, and held at the John Lyman Center for the Performing Arts at SCSU. It does not yet have a date.
In addition, the theater plans to continue several of its year-long virtual programs, including The LAB @ LWT and monthly "Play Club." The latter, open to members, takes the book club model and applies it to scripts, from new and emerging works to classics that the theater might take on. Ingui said Wednesday that members can expect a few surprise guests in the year to come.
"I'm excited and I'm inspired by Long Wharf Theatre's new direction," said Stetson Branch Manager Diane Brown. "This is what New Haven's people need now and have needed for decades. This is what cultural equity looks like in action, and I can see such a bright future for the possibilities this will bring to our city."
Several speakers echoed Brown's enthusiasm. Starting his comments with a moment of silence for the victims of shootings in Uvalde, Tex. and Buffalo, New York, Mayor Justin Elicker praised the work that the theater has done in the last two years, as a pandemic-era pivot became an exploration of diverse, often marginalized voices in the city. He looked to the arts as a powerful vehicle for anti-racism, noting the role they play in combating the violence and terror of white supremacy.
"You took a real risk by stepping into this new journey that you're on that starts here," he said. "So I admire you for the work that you have done and the leadership that you have taken, and this journey that you're going on, but we're going on together. And I'm grateful to you for serving that example to many of us, to think outside of what we've been doing and have the courage to do something wildly different."
Shelley Quiala, executive director of the International Festival of Arts & Ideas, said she is also excited for the next chapter in Long Wharf's history. As a wide-eyed college student, Quiala studied the field of social change theater, learning from theatermakers like Lou Bellamy and Tamara Underiner. She learned about El Teatro Campesino, the farmworkers' theater company that became Padrón's entryway to the field.
"Storytelling and theater in its best form is about [the] relationship between who is there to experience and who is there to tell. And the more configurations that we can have of that, I think the more interesting our stories are."
In an interview after the announcement, Padrón called the moment one of excitement and transition for the theater, as it moves forward into uncharted territory.
"Sometimes it can be hard to wrap your head around an idea," he said. "I think until you actually experience what this model is and what it means to center community …I think when people actually experience it, that's when I think it will all come together for folks. That's what I'm excited about. Let's not talk about it anymore. Let's actually start doing it."
Learn more about Long Wharf Theatre here. Read about Queen, which runs through June 5, here.