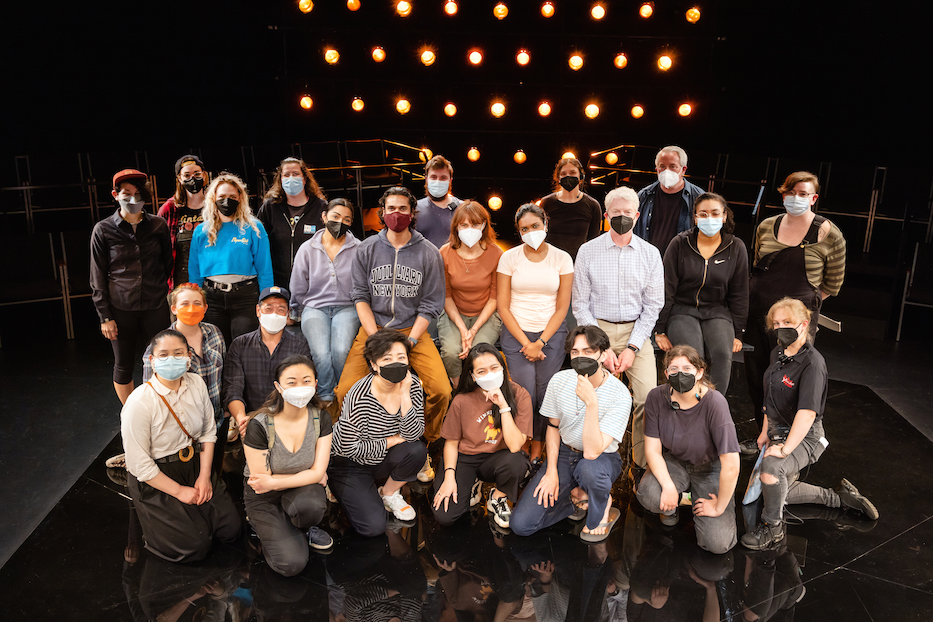 Long Wharf Theatre | Arts & Culture | Theater | Arts & Anti-racism | AAPI | National Asian American Theatre Company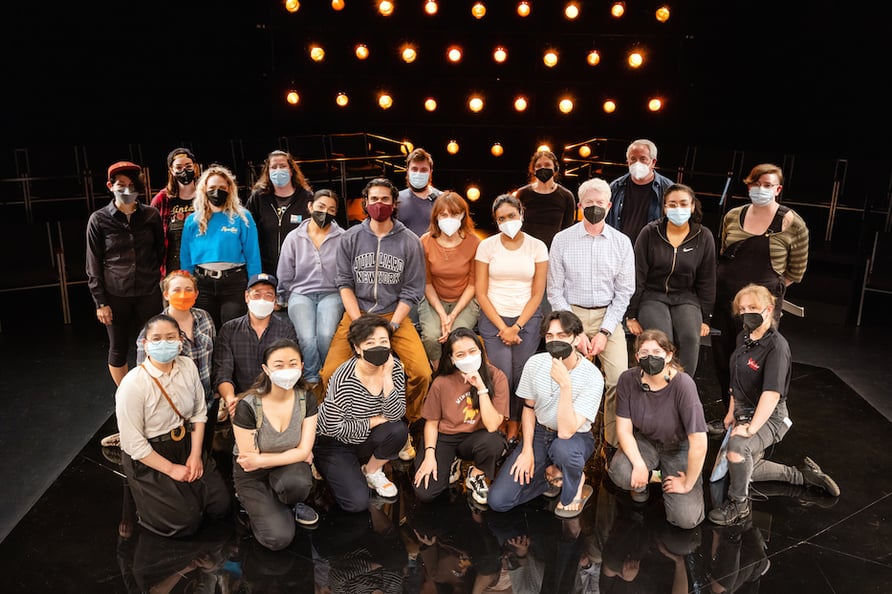 Jeremy Daniel Photo.
A trailblazing new partnership between regional theater companies and a national theater advocacy organization has spent years imagining how to amplify, honor, and champion more Asian American voices in theater. Now, it is preparing to take center stage in New Haven.
That's the story behind the National Asian American Theatre Company's (NAATCO) National Partnership Project (NNPP), a years-in-the-making initiative among NAATCO and several regional partners that launches at Long Wharf Theatre this month. Two years after Long Wharf first announced the partnership, it will kick it off with a performance of Madhuri Shekar's Queen starting on May 17.
The play is an elegant, layered exploration of honeybees, cultural and social mores, a data set gone awry and a friendship that might not withstand its consequences.
Queen is directed by Aneesha Kudtarkar, a 2019 graduate of the David Geffen School of Drama at Yale. Performances begin at Long Wharf Theatre on May 17; tickets and more information are available here. After closing in New Haven, the work will travel to A.R.T /New York from June 10 through July 7.
The NNPP furthers NAATCO's decades-long mission to bring attention to Asian American voices onstage, behind the scenes, and in the writing room and production process. Queen, which has an Indian American woman mathematician at its center, also distills the organization's work to communicate the breadth of a diaspora. For years, NAATCO has been actively working against the erasure of South and Southeast Asians in discussions around the Asian diaspora.
"It's a dream partnership, as far as I'm concerned," said Mia Katigbak, who co-founded NAATCO in 1989 with Richard Eng. "The relationship with Jacob [Padrón, artistic director at Long Wharf Theatre] and Long Wharf—we call them our anchor partner. It's a model for how we would like to infiltrate the predominately white institutions around the country."
The partnership has been years in the making. In 2019, Katigbak arrived at Long Wharf for rehearsals of ​​Lucas Hnath's A Doll's House, Part 2, in which she played a magnetic, wise and sharp-tongued Anne Marie. At the time, Padrón had just begun his tenure at Long Wharf with a 90-day listening tour of New Haven. The two knew each other from his time at the Public Theatre, where Padrón had been a line producer on NAATCO and the Public's co-production of Awake and Sing! In 2015.
At the Public, Katigbak had watched him build the bones of what would become The Sol Project, an initiative to celebrate and support Latinx voices in theater through production of their work. That launched formally in 2016, while Padrón was still working at the Public. When the two formally reconnected at Long Wharf, it had grown into a thriving project with regional partners across the country. Katigbak told him that NAATCO was thinking about a regional partnership program. He became instrumental in the planning process, she said.
"He was so influential in terms of thinking," she said. "It was really fun with Jacob. I would visit him in his office and I would see this whiteboard … and for more than a year it was passing scripts back and forth."
Along the way, Padrón helped her shape what would become the NNPP, with regional partners that ranged from Long Wharf to the New York Theatre Workshop to Two River Theater in New Jersey. Working between New Haven and New York, he and Katigbak went through dozens of scripts, trying to find the right one to kick off the partnership in New Haven. They had reviewed several when Katigbak sent over Queen, a script that she called resonant, wonderfully complex, and "very rich thematically" in a phone call last week.
Set in at the University of Santa Cruz in 2016, the work follows friends and colleagues Sanam Shah and Ariel Spiegel, doctoral research partners on a multi-year study of pesticide use and Colony Collapse Disorder (CCD) among a catastrophically dwindling honey bee population. In particular, the two are interested in whether the use of neonicotinoids, a specific class of pesticides toxic to bees, are definitively to blame for a sharp increase in bee deaths. Or as Ariel says bitterly, "wiping out seven billion bees over the past 10 years."
The two are drawn to the work for radically different reasons, from a love for applied mathematics to a love for nature's tiniest buzzing miracles. But on the lip of a major breakthrough—a paper in Nature, a presentation to the real-life Ecological Society of America—Sanam notices a discrepancy in one of the data sets, and struggles with what to do with it. It's not just a career-defining moment in the academic sense. Their data could have real implications for the chemical giant Monsanto (and, it seems, corporate America writ large) and for the way these two care for each other.
The question is a timely one: Monsanto has in recent years mounted an effort to dodge blame around CCD and environmental harm, even as its products kill bees with alarming and documented speed. Throughout the script, Shekar nimbly shows how a number of parallel hives—human and apoid, academic and not—risk sudden and devastating collapse if just one factor changes.
Padrón's response was immediate, Katigbak recalled. He loved the script, and saw a home for it at Long Wharf. In early 2020, NAATCO reached out to Kudtarkar, who had worked on its sweeping production of Henry VI in 2018 and [Veil Widow Conspiracy] in 2019, to direct the show. On March 10 of that year, Padrón stood before dozens of people in Long Wharf's sun-dappled lobby, and announced the partnership as part of a "boundary-breaking" season.
Less than 72 hours later, Covid-19 closures ripped through New Haven, forcing the theater to close its physical doors. As Long Wharf braved the online pivot, Katigbak and Padrón stayed in touch. Neither lost momentum on the partnership.
"That's one thing that Jacob is so good about, just checking in to say 'Don't worry, we're not deleting the season,'" Katigbak said. Meanwhile, "we continued to exchange ideas about Asian American playwrights, passing names and scripts and possibilities."
A discussion with Kudtarkar and virtual read-through of the work became part of Long Wharf's "Play Club" in April 2021. When the theater announced its in-person return to the stage last summer, Queen was part of a season that included Lloyd Suh's The Chinese Lady, a 30th anniversary performance of Fires In The Mirror, and a co-premiere production of Dream Hou$e from playwright Eliana Pipes. This year, NAATCO oversaw casting for the show, and began rehearsals in New York. It moved to New Haven, where it opens next week, earlier this month.
While Queen was always part of the partnership, Katigbak said that the performance feels different after two years of Covid-enforced isolation. She praised the work's production and design team, which has dedicated time to learning about bee communication, pollination, and how entire systems of agriculture and food production rely on honeybees.
"Because we've had the opportunity of contemplation, things are hitting differently," she said. "I'm just thinking about the hive, and those cells, and how we think about ourselves in these isolated cells. I think the quiet time that we've had has given us time to think about how we relate to each other and how we relate to the world."
As it comes to Long Wharf this month, Queen will offer collaborative programming in line with the wider goals of the NNPP, and a community-focused mission that Long Wharf has sought to deepen this season. These include a pre-performance "Outdoor Bzzaar" on May 22 and AAPI Night on May 27, presented in concert with the Yale-China Association. The latter includes a post-show talkback with Gloria Han, postdoctoral fellow at the Yale Child Study Center, postdoctoral associate Naomi Philip, and immunobiologist Christina Cho.
"​​I believe that our partnership with NAATCO supplements and enhances Long Wharf's initiatives, especially in terms of the amplification of usually marginalized voices in American theater," Padrón wrote in a statement supporting the NNPP that he sent the Arts Paper Sunday night. "We understood that this would take many years, but both Mia and I agree that permanent change takes a long time to implement and I am fortunate to find a comrade-at-arms like NAATCO in this endeavor."
"What Is The Story This Is Telling Me?"
In a recent call on Google Meet, Kudtarkar said she is excited to return to New Haven to direct the work. When she first received the script from NAATCO in January 2020, "I read it, and immediately fell in love with it," she said. Then, as the world shut down around her, she sat with it for over two years. The play resonates with her as strongly now as it did when she first read it.
"I think we can all point to examples, in recent years even, where we have all had moments of staring at a graph of some sort, or a chart of some sort, and going like: 'What story is this telling me and what am I meant to do with this information?'" she said. "What is the ethical thing to do with this information? And what are the differences between what is ethical and what is moral?"
For her, Queen is not just a story about bees, but a story about a friendship put to the test. As she sees it, "the motor of this play" is not specifically a research paper on the line, but the friendship that has bloomed and grown out of it, pushed and pollinated by data sets and regressions and late-night conversations and offers to babysit Ariel's toddler. Kudtarkar loved Shekar's ability to take characters that another playwright might see as secondary—Sanam, with her unabashed math geekery, for instance—and put them at the center of the drama. At times, she said, she sees versions of herself in every character onstage.
She's also thrilled to work again with NAATCO, on which the pandemic put a jarring 25-month pause. Four years ago, Kudtarkar came in as the assistant director on NAATCO's Henry VI, which went up at A.R.T./New York in August 2018. Two years later, she was the director on NAATCO's [Veil Widow Conspiracy], which ran at the New York Theatre Workshop during the summer of 2019. Working with the organization was revelatory, she said. She praised both Katigbak and Creative Producer Peter Kim for creating a space dedicated to amplifying Asian American voices across a diaspora.
"The mission was so simple and clear and really moved me," she said. "I found a place where I felt I was being invited to bring my identity, both as an artist and as a person, in its fullness into the room. And that had a really profound effect. It was my first time being in a space like that, and I realized that I had an ability to make all spaces feel like that as a director if I wanted to."
As she brings the work to Long Wharf, it's also a kind of homecoming. During her time at the David Geffen School of Drama, Kudtarkar never directed a show at Long Wharf, but spent time at the theater as a patron and a student. Since receiving that first call from NAATCO to direct the show, she's watched a pandemic change the landscape of American theater as a matter of survival. Long Wharf, which produced work online, brought a musical to city parks, and in February announced its move to itinerancy, has been part of that shift.
Like many theatermakers across the country, she said she's excited for Long Wharf's transition to itinerancy later this year. After watching theaters innovate to stay alive, she called it an honor and "a gift" to be closing out the season at its Sargent Drive home. After the isolation of Covid-19, she doesn't take a single day of in-person rehearsal for granted.
"When I am in the rehearsal room, and I do get to be with actors, and designers, and collaborators, I find myself being so much more present and so much more grateful," she said. "There is still a part of me, at any moment, that is ready for the call that says 'It can't happen anymore. It's not safe.'"
"And instead of thinking about 'Well, where are we going? How am I pushing everyone there?' I really have just started to go like, 'We get to play today. And that's a wonderful gift.' And we're gonna play as hard as we can, and invite as joyful rigor into the room today as we can, and maybe we'll get to come back again tomorrow and keep doing that. And that feels nice."
Queen begins at Long Wharf Theatre on May 17; tickets and more information are available here. After closing in New Haven, the work will travel to A.R.T. /New York from June 10 through July 7.