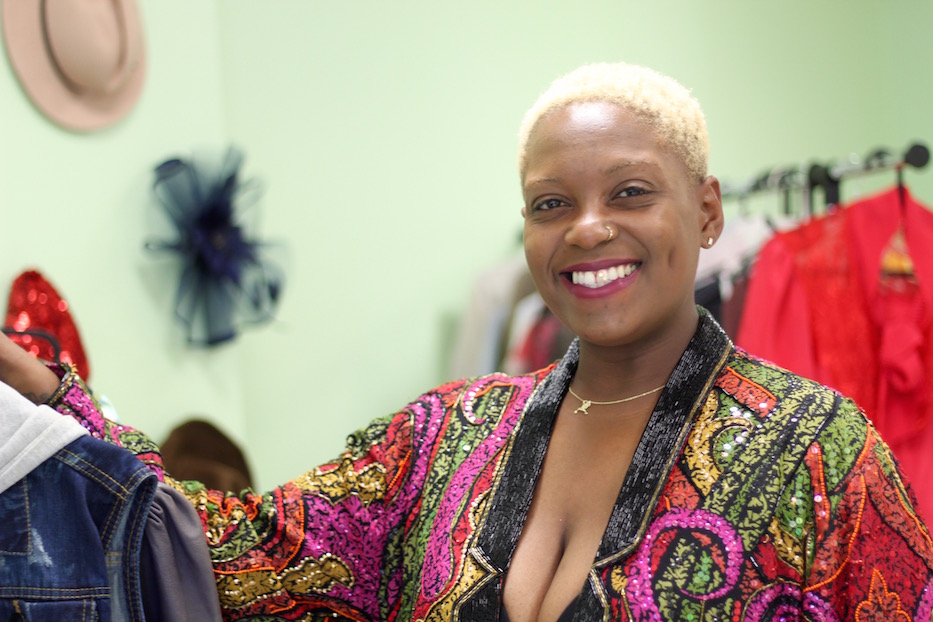 Black-owned businesses | Cedar Hill | Culture & Community | Economic Development | Fashion | Arts & Culture | Vintage clothing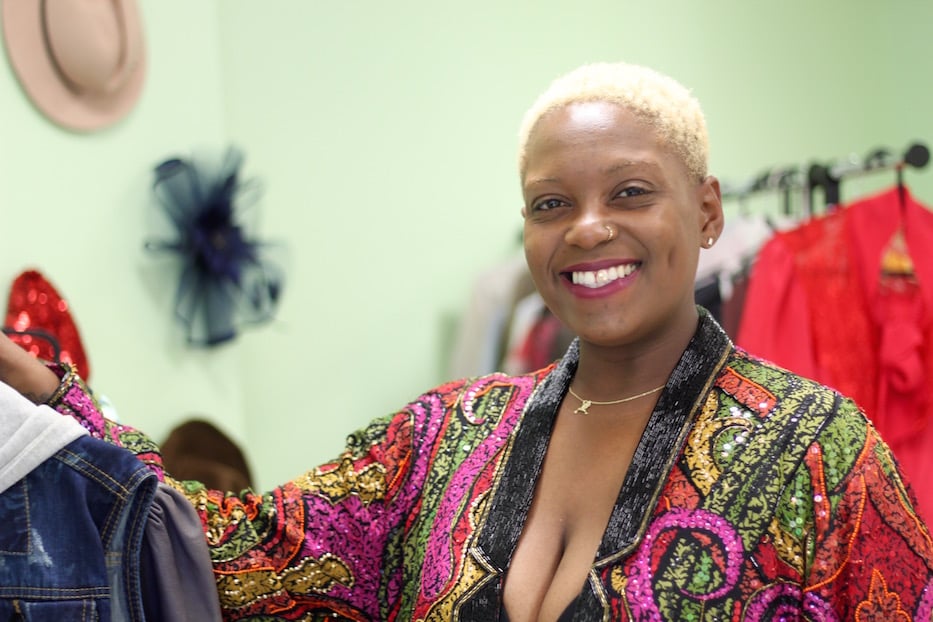 Ashleigh Huckabey in the store. Empath Vintage is located in the first floor of 1399 State Street in the city's Cedar Hill neighborhood. Lucy Gellman Photos.
Each piece of clothing tells a story. There is the beaded dress that a New Haven activist wore through the 1980s, heavy and sparkling as it sweeps the floor. There is a bright, cream-colored romper from an estate sale in Cheshire, patterned with dainty red flowers with thin green stems. There's the leather jacket that the shop's owner begged her father for at 12, and is ready to part with two decades later.
Welcome to Empath Vintage, the brick-and-mortar brainchild of artist, organizer, fashionista and lifelong New Havener Ashleigh Huckabey. This month, she is opening the doors to her State Street shop after years of vintage pop-ups and online sales. Customers can visit her at 1399 State St. during weekend pop-ups, or by appointment. She is currently running a GoFundMe to get the store solidly off the ground.
The first-floor storefront is part of a new collaborative spot for Black women run by Urban Collective Co-Founder Randi McCray, who left her Willow Street coworking space for Cedar Hill during the pandemic. For Huckabey, who quit a corporate job and moved into the State Street location in August, it's been a long time coming. Barber Rachel Graziano also runs the small business Roqkndy, dedicated to her craft, out of the space.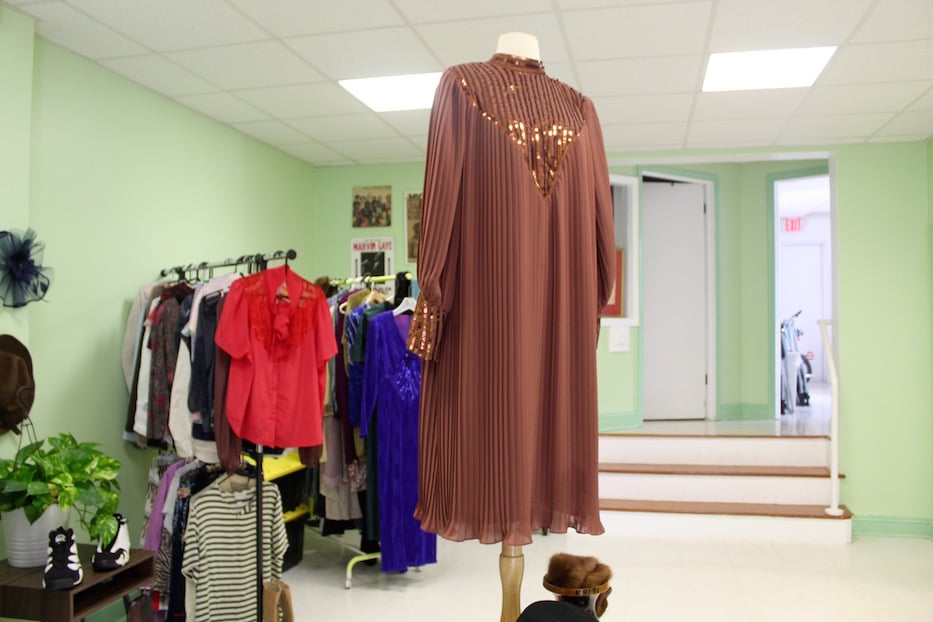 "It's been amazing," Huckabey said on a recent walkthrough of the space, surrounded by racks of clothing, boxes of gently used shoes and a fabric dress form in the center of the room. "It doesn't feel like work being able to tell the stories [of these clothes], to listen to these stories. It's a breath of fresh air to go from the corporate world to this."
The origin story of Empath Vintage begins three decades ago, when Huckabey was a little girl growing up in New Haven. As a kid, she was surrounded by fashion—most notably in the adoring graces of her great aunt, the late Rev. Elnora Bess. In the 1970s and 1980s, Bess owned and operated Elnora's Fashion House, nestled on Orchard Street and Edgewood Avenue. She adored her great niece, Huckabey recalled. And she let her become part of the magic.
"She was just a fashion icon," Huckabey said, her eyes wide and bright as she stood in the store on a recent Friday. By the time she was six or seven, she was talking to fellow women in New Haven about modeling and design. Around her, the world buzzed with craftswomanship and couture. Her great-grandmother turned out intricate quilts that Huckabey still remembers in vivid detail. Bess, whose fashion house also included a "charm school" for Black girls, drafted designs for hats and outfits that looked like nothing Huckabey had ever seen before.
It ran in the family. Her aunt, who now lives in Los Angeles, "used to make the craziest designs" and then urge Huckabey to model them—which she did, excitedly. For years, she also watched members of her extended family run Unique Boutique, New Haven's first Black-owned beauty supply store on Dixwell Avenue and later on Chapel Street. The bent toward entrepreneurship was in her before she even knew what it was.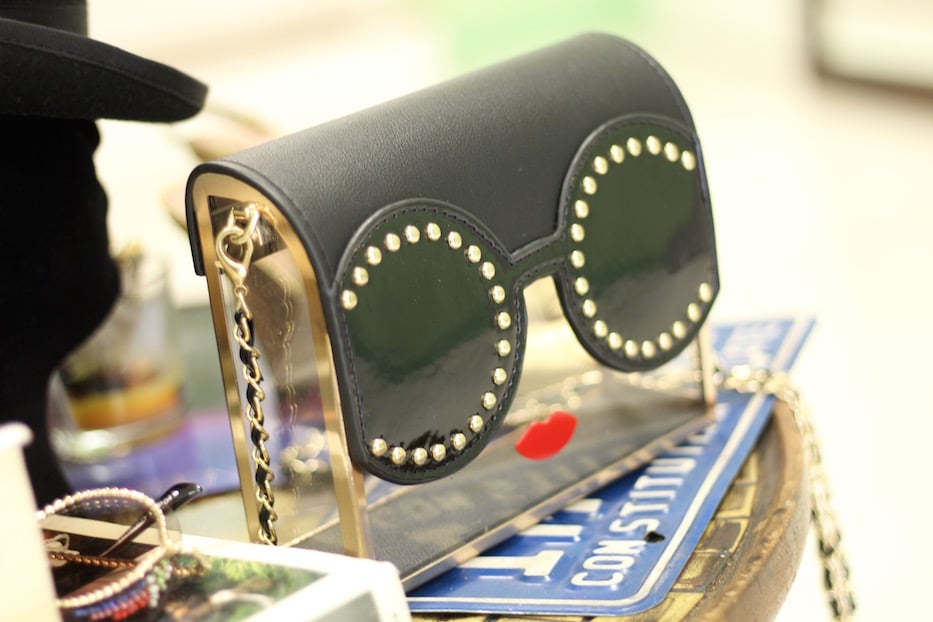 By the time Huckabey went to Hill Career Regional High School, fashion was a rhythm that pumped through her veins. Her budding inspirations, many of which she still looks to today, were eclectic: Diana Ross, Dapper Dan, June Ambrose. She loved color and texture, with a soft spot for items that came with a story. There, surrounded by hundreds of different styles in the hallways of the school, "just being able to see people in clothes that made them feel good made me happy," she said.
The artist knew she was inching towards something. When she studied journalism at Southern Connecticut State University, she co-coordinated the school's annual face model fashion show with her cousin, New Havener and Elm City Lit Fest coordinator Julius Lavaughn Stone. As a fashion merchandiser for H&M after college, she spent almost a decade designing the look and feel of displays. After a stint in New York and then five years in Dallas, she decided it was time to come home.
"As an empath, as someone who feels the needs of others, I knew that I had a deeper connection and a deeper gift than being someone's personal shopper," she said. "I wanted to come back to New Haven to be with my family and my community."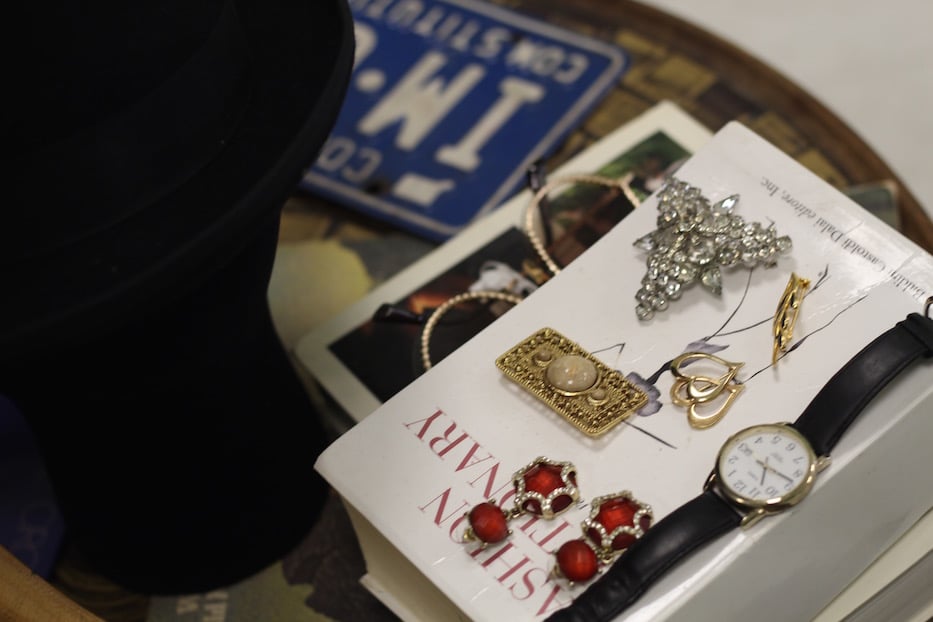 In New Haven, the success of Empath Vintage took time and planning, she said. After moving back, Huckabey stepped up as an organizer in Black Lives Matter New Haven, where she is now one of the group's five core members. She worked jobs in customer care, service and medical device sales, running clothing swaps and then pop-ups on the side. By 2019, she was exhausted. She realized she had to take a break to reinvent the brand. Then Covid-19 hit.
"The pandemic pushed to say, 'Ashleigh, you can do this,'" she recalled. "I want to bring back creativity to getting dressed."
She quit her job at Comcast earlier this year, as a leap of faith around her 35th birthday. McCray, who has known Huckabey and her partner for years, had just moved to the State Street location. She offered up the space over the summer. In a phone call Tuesday, she said the business aligns with her mission to be a collaborative and creative space for community members, particularly Black women.
"I think I share an affinity with Ash around vintage wear," she said. "She wants to give people the flexibility to embody their own style. I also just like to support folks who do what I did. I started working for myself seven years ago after working at Yale for 18 years. I was happy to support her in that work."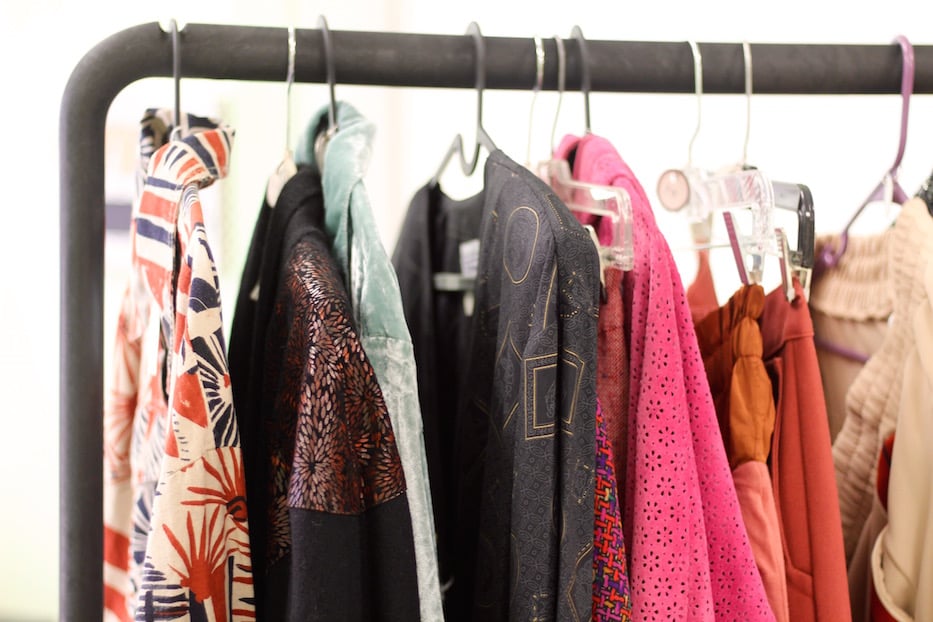 In the shop, Huckabey has summoned some of the fashion magic with which she was raised. Inside an unassuming office building, racks of shiny, fragrant leather, polyester, corduroy and cotton greet visitors against mint-green walls. There is a bundle of burned sage on a table, with which Huckabey cleansed the space earlier this year. Large rhinestone jewelry glints from beside a mirror. Yellow, low-heeled sandals with perfect bows sit on top of an old vanity license plate.
Huckabey's take on vintage is story-oriented—all pieces have a history, and their new wearers continue the narrative. Sourcing from consignment shops, estate sales, and personal collections around the city, the state, and often Brooklyn, she works to stock clothes for body shapes and sizes, exploding the myth that vintage wear is only for those who can shimmy into a 25-inch waist.
On a recent Friday, she floated around the store, picking out shirts, jackets and dresses that shone brightly between the white floor and ceiling. One, a blue-and-silver beaded evening gown with broad shoulders, comes from an activist friend's glamorous days in the 1980s. When she left New Haven a few years ago, she offered several of her clothes to Huckabey.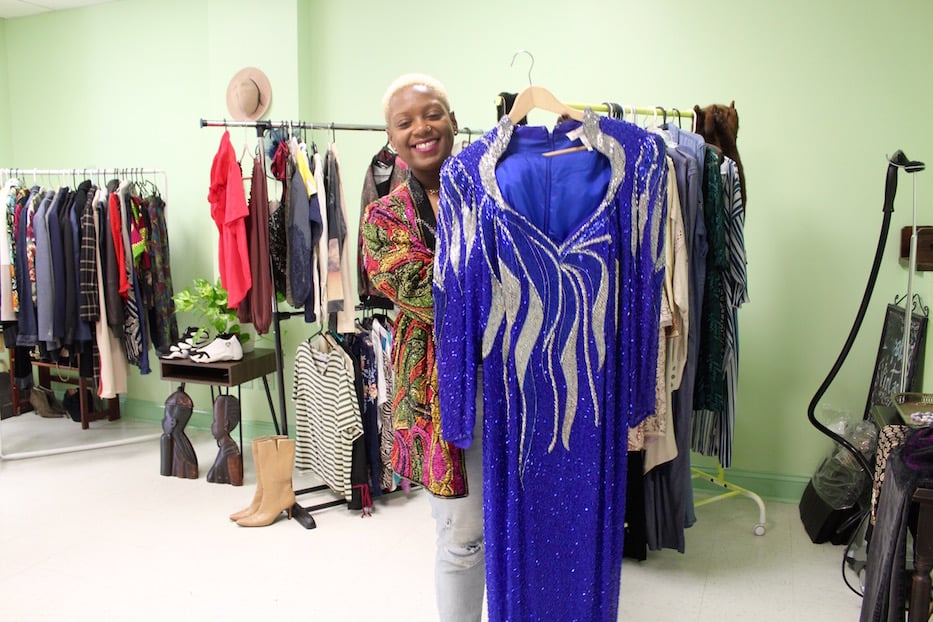 Huckabey beamed examining its deep, glimmering V-neck and floor-swishing length, debating how high a pair of heels would need to be to pull it off. She is drawn to sequins and beads and pieces of clothing that have panache, she said, showing off her own sequined jacket over a plunging black v-neck as she spoke.
On another rack, she picked out a well-loved leather jacket that has been in her own closet for over 20 years. When Huckabey was 12, she begged her father to buy it for her. It fits her as perfectly now as it did then, she said—but she's ready to let it become part of someone else's New Haven story.
"We can be in these beautiful threads and it doesn't have to cost thousands of dollars," she said. She added that as Empath Vintage grows, she wants to make space for local designers, including fellow New Haven Public Schools alum Tea Montgomery.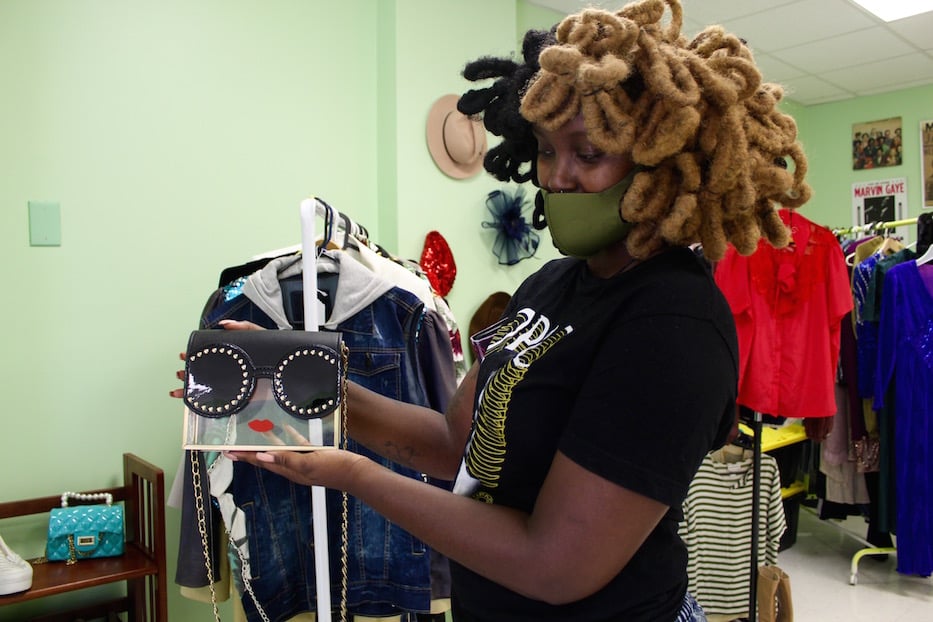 Stacey Anderson, who ultimately bought a pair of sneakers and the purse.
Stacey Anderson, a longtime friend of Huckabey and her partner's, tried on a pair of sneakers that looked as though they'd barely been worn. The first time she and Huckabey ever met, she remembered, the two had spoken about vintage clothing. Now she was back as an afternoon shopper, haloed as sunlight poured through the window. She kept one eye on a see-through purse designed with faux-leather sunglasses and puckered, bright red lips.
"I like unique pieces, because you're not going to find that anywhere else," she said, picking it up carefully, as if it might break. "That's like a treasure."
Huckabey said she has one more reason for launching the shop: to honor her family, and continue that creative tradition that so nurtured her as a child. When she opens the door to the State Street storefront, she's holding a history that has included Elnora's Fashion House, her aunt's modeling career, and Unique Boutique.
"It's my turn to keep telling that story," she said as sunlight streamed through the window and made patterns on the floor. "Being that those are my ancestors, I want to keep the Huckabey name alive. We really can heal the community in different ways by creating safe spaces. That's what I envision."
For Empath Vintage's hours or make a shopping appointment, follow the store on Facebook or Instagram.