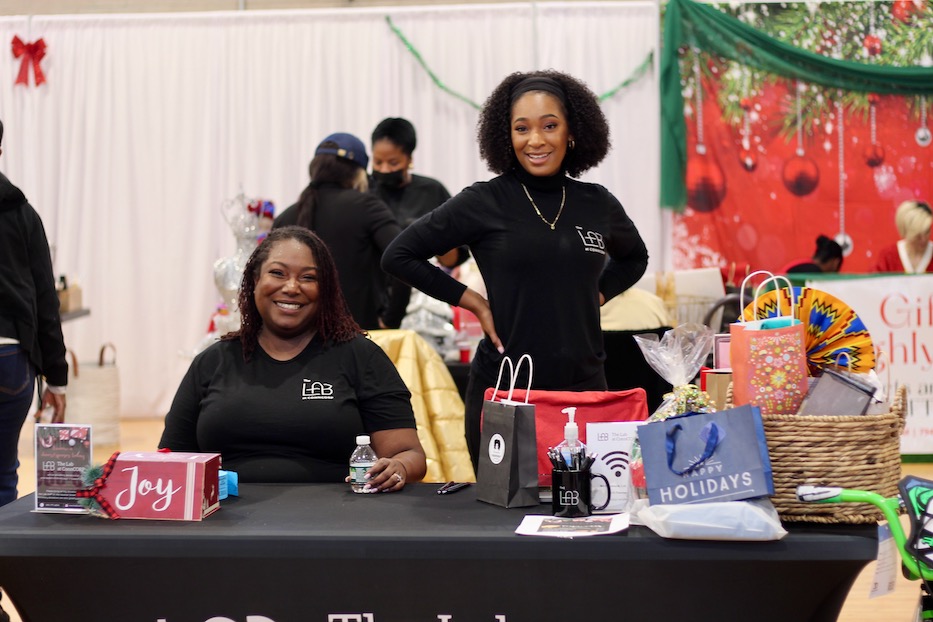 Black-owned businesses | Culture & Community | Economic Development | Arts & Culture | ConnCORP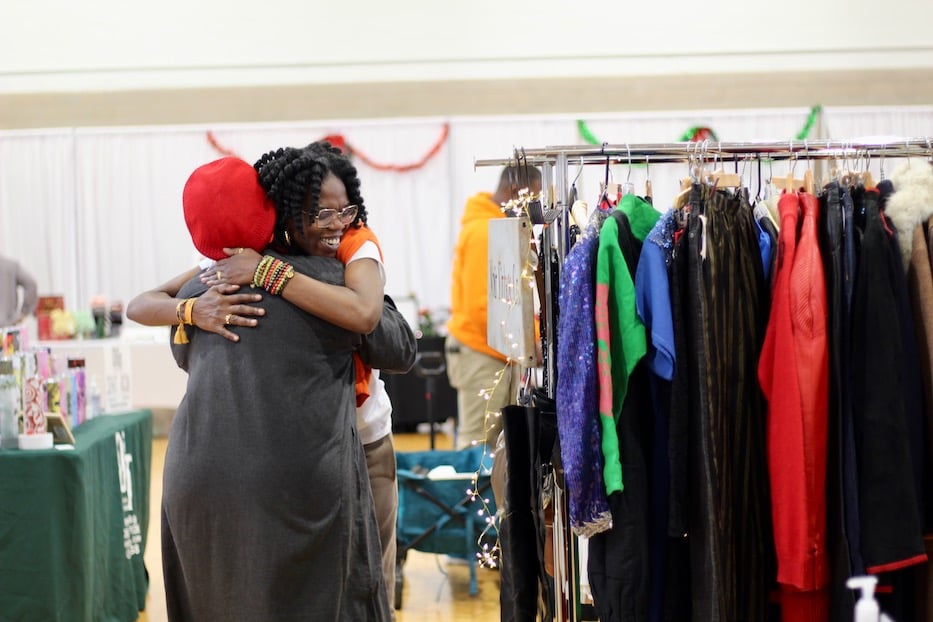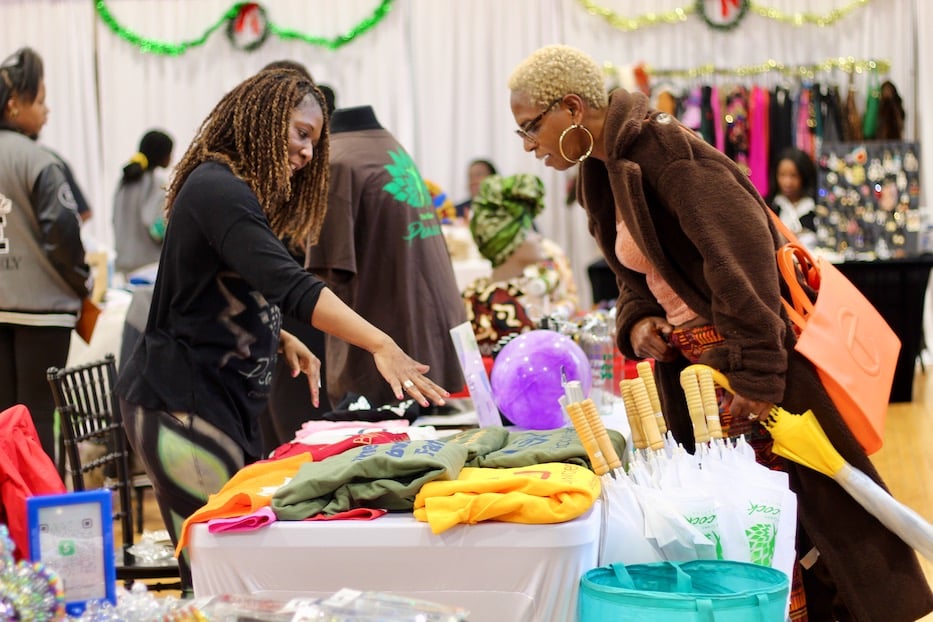 Top: Evelyn Massey of Noir Vintage Co. and Shamecca Davis of Rootuals Natural Haircare. Bottom: Chalia Gilliams of The Green Peacock with attendee/customer Stephanie Mallard, who works at ConnCAT. Lucy Gellman Photos.
Evelyn Massey caught Shamecca Davis' eye, and caught up with her beside a rack of vintage furs, leather and sequins that glittered as the two embraced. Winter Carson put the final touches on her sign for Blush Beauty Salon, and then welcomed the first wave of attendees over. Randi McCray pulled out a crochet hook and ball of yellow yarn, her hands a sudden ballet as Ariana Grande blasted over the room.
Christmas cheer came to The Lab at ConnCORP (Connecticut Community Outreach Revitalization Program) early Saturday, as nearly two dozen vendors filled the 496 Newhall St. space for ConnCORP's inaugural holiday bazaar. From festive remarks, dance performances and a toy giveaway to visits with Santa, the afternoon became a celebration of the community ConnCORP has cultivated in the last year.
It ends a year of firsts at 496 Newhall St., including first business fair, backpack giveaway and fashion show, first student arts showcase, and first youth summit.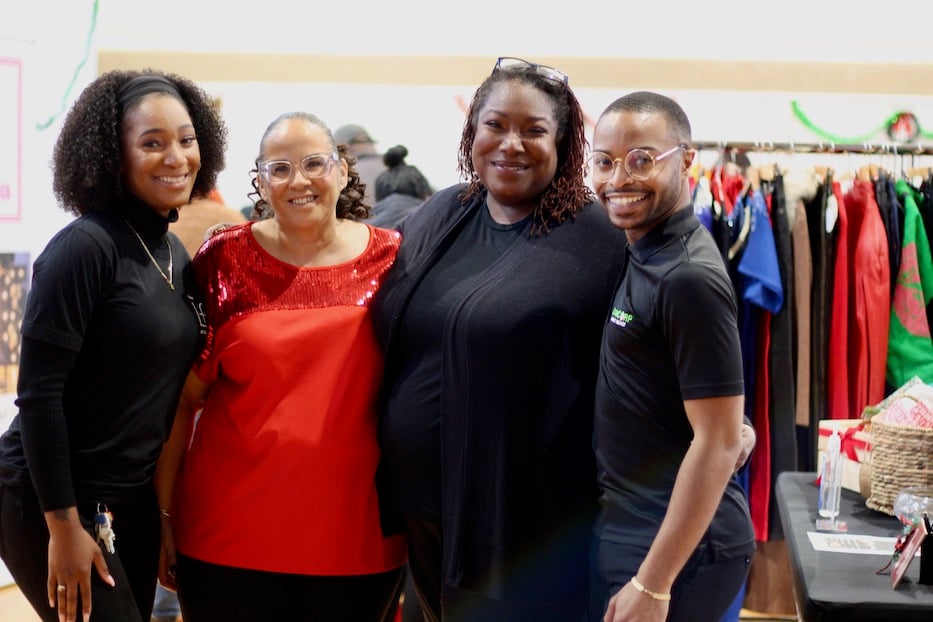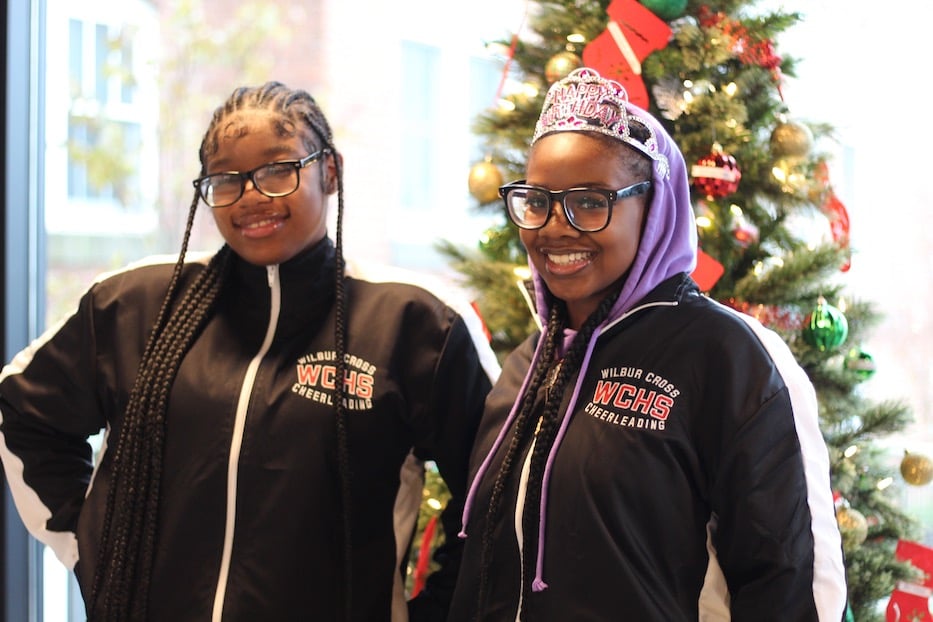 Top: The team that makes the Lab at ConnCORP run includes Jahkeeva Morgan, Nina Silva (board member), Lab Executive Director Aya Beckles Swanson and Myles Tripp. Bottom: Wilbur Cross High School students Roniece Richardson and Bailie Williams. They were among members of the cheer team that handed out gifts with Santa.
"We're making sure that small businesses get business," said Nina Silva, a ConnCORP board member who helped organize the event. After Lab Executive Director Aya Beckles Swanson suggested an end-of-year toy giveaway, Silva said, it morphed into a bazaar similar to one that ConnCORP held earlier this year, on the same day as its inaugural fashion show.
Around the space, a steady hum of chatter mingled with a Christmas playlist, spreading enough seasonal cheer to compete with the driving rain and gloom outside. At her station for Noir Vintage Co., Evelyn Massey arranged red leather jackets, sequined tops, and a suede coat with a fur-lined collar before taking a moment to trace her path from vintage enthusiast to small business owner.
Born in Virginia but raised in New Haven, Massey fell in love with vintage clothing as a teenager—first as a necessity, and later as a collector and an entrepreneur. In high school, "my girlfriends would go to the mall and I would go to Goodwill," where she discovered treasures among the musty racks of cotton, suede, silk, and denim.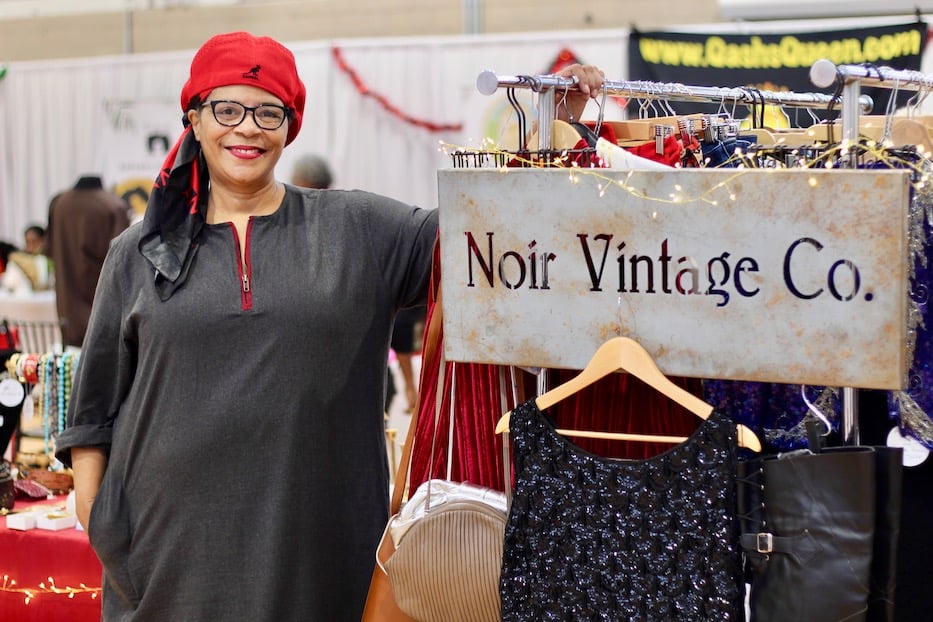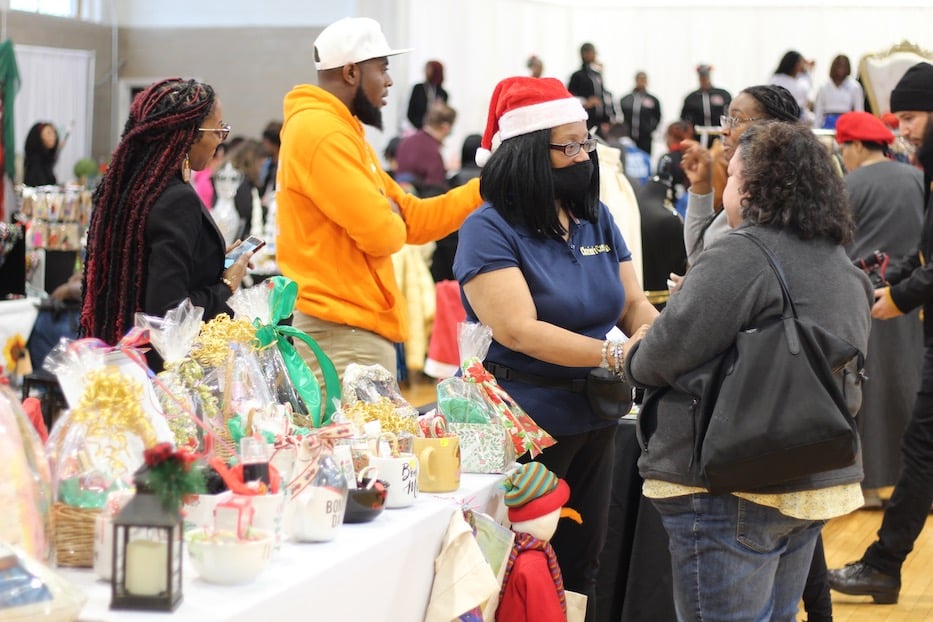 Top: Evelyn Massey of Noir Vintage Co. Bottom: The bazaar brought in hundreds of people over two hours.
The more she studied clothing, the more she learned about how to spot a vintage piece. For years, she worked as a makeup artist, but nurtured her love for old and unique clothes, building a collection that runs from the 1930s to the early 2000s. Then when the pandemic hit, she started seeing artists and business owners use social media—mostly Instagram—for live vintage sales and fashion shows. Something clicked.
"I did a show, and boom!" she said. "The rest is history."
She loves not just the thrill of finding and sharing vintage objects, but the impact: vintage is better for the environment and keeps clothes out of landfills, she said. Her customers are less likely to buy fast fashion if they can find what they need from her. In the past two years, Noir Vintage has grown from clothes to glassware, cutlery, decorative objects and jewelry.
Massey practices what she preaches, she added: Saturday she sported a Moroccan tunic with a red Kangol beret from the 1970s. "I like to mix my vintage," she said with a smile.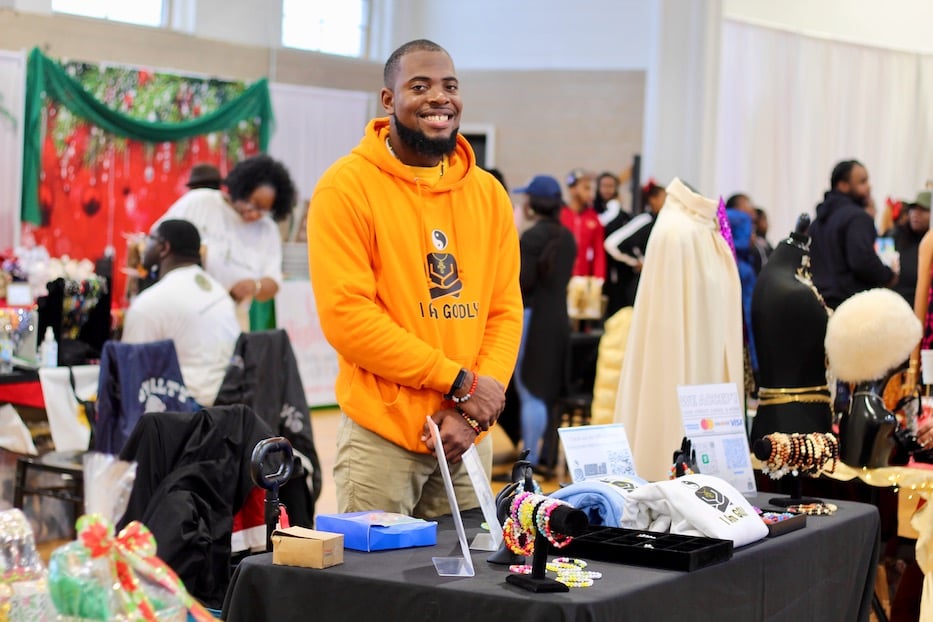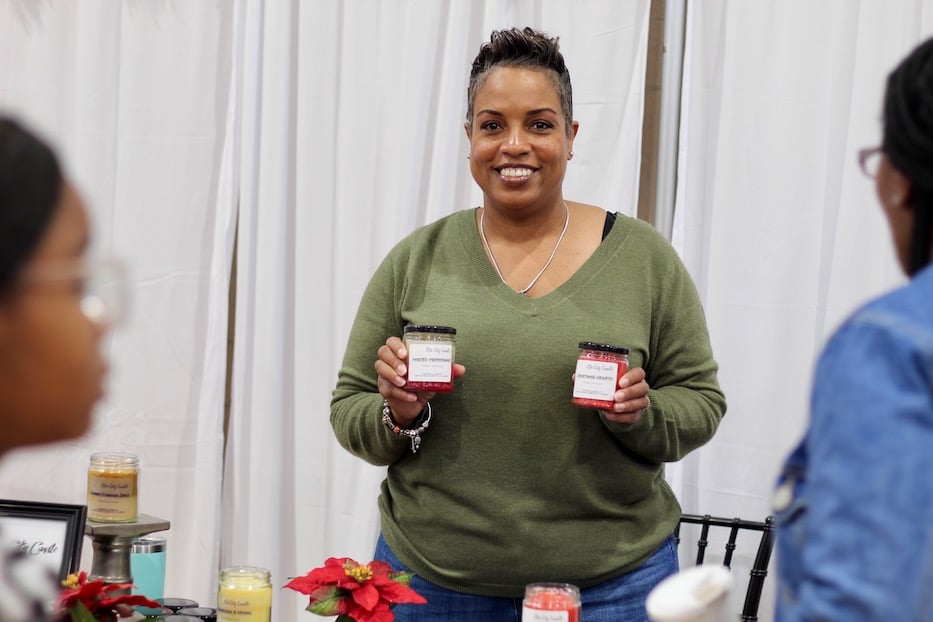 Top: Kobéy Smith. Bottom: Lonnette Diggs of Elm City Candle.
Two tables away, Kobéy Smith showed off beaded bracelets and sweatshirts from his fledgling business, also called Kobéy. Since launching the brand as a way to amplify Black mental health earlier this year, Smith has pivoted from clothing to bracelets. Each sports an inspirational word or phrase, such as one that read "Divine" as he cradled it in the palm of his hand.
"It's hard to sell mindfulness," he joked—but he sees the bracelets as a daily, wearable reminder. After nearly selling out of them at a ConnCORP event earlier this year, he realized that customers were into the idea too. For him, it's a way to break through the noise and stress of everyday life and find a place of calm, even temporarily. During the day, he is the innovation and entrepreneurship coordinator at Albertus Magnus College.
"This is my new form of meditation right here," he said, holding up a bracelet. "I like creating, and that means the world to me."
Multiple artists and vendors described their craft as a way to unwind. A registered nurse and research assistant at the Yale School of Medicine, Lonnette Diggs founded Elm City Candle because the process, from blending scents to hand-pouring her candles into squat glass jars, is relaxing after her work days. After starting to make candles 12 years ago for fun, she decided to turn it into a side gig.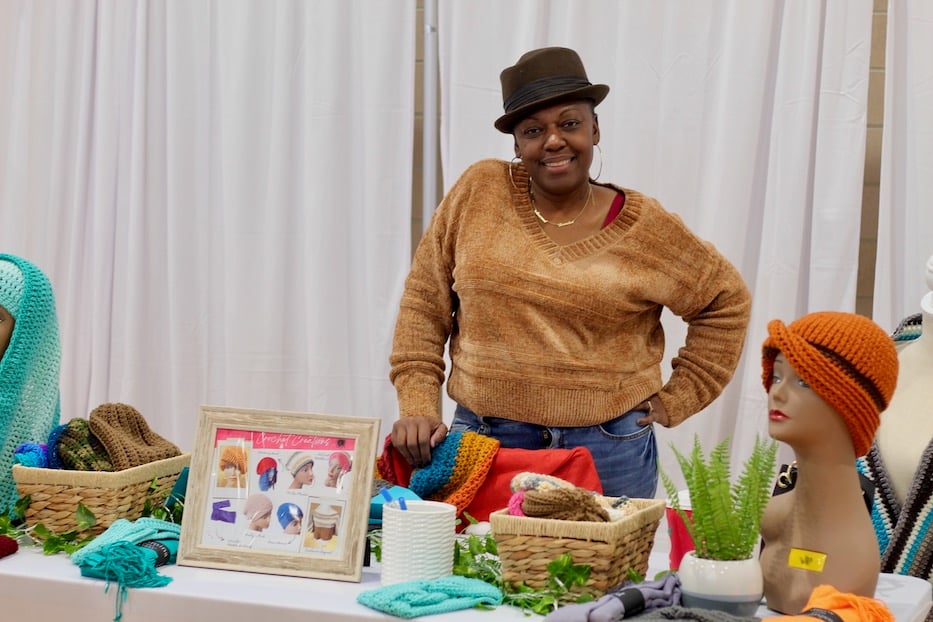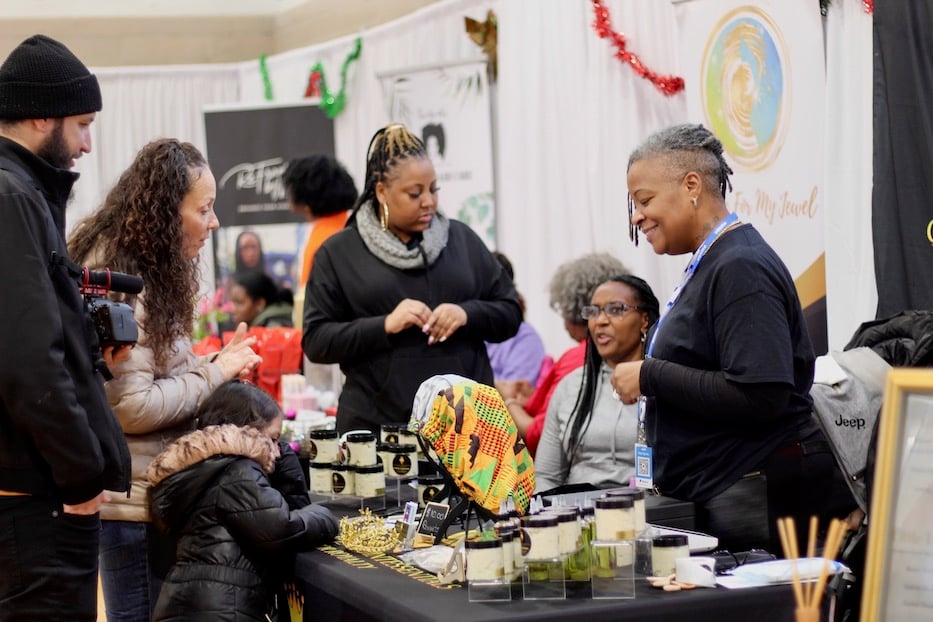 Top: Randi McCray. Bottom: Kim Little of Qash Queen Body Products,.
The creative behind TheBlackBohoCT, artist and entrepreneur Randi McCray said that her near-daily craft of crochet helps her de-stress from her day job as an equity consultant and educator, particularly as she grows her footprint doing racial justice work around the state.
During the week, she is often consumed in her work, she said—and crochet gives her the space to take a breath. It also gives her a way to give back to the community, she added: she's long been a welcoming face at MakeHaven, and she has taught classes in local libraries.
"Once you get the hang of it, it's not hard," she said, picking up her crochet hook as she showed off hats, neck wraps, and a series of round, organic yarn face scrubbers that will exfoliate without putting more microplastics into waterways. A hat might take her less than a full evening to do.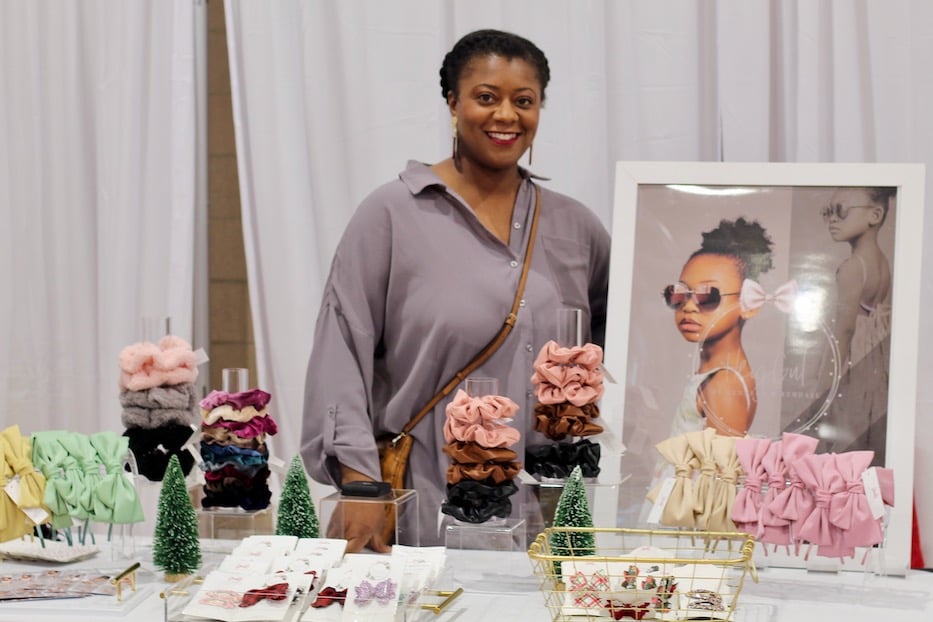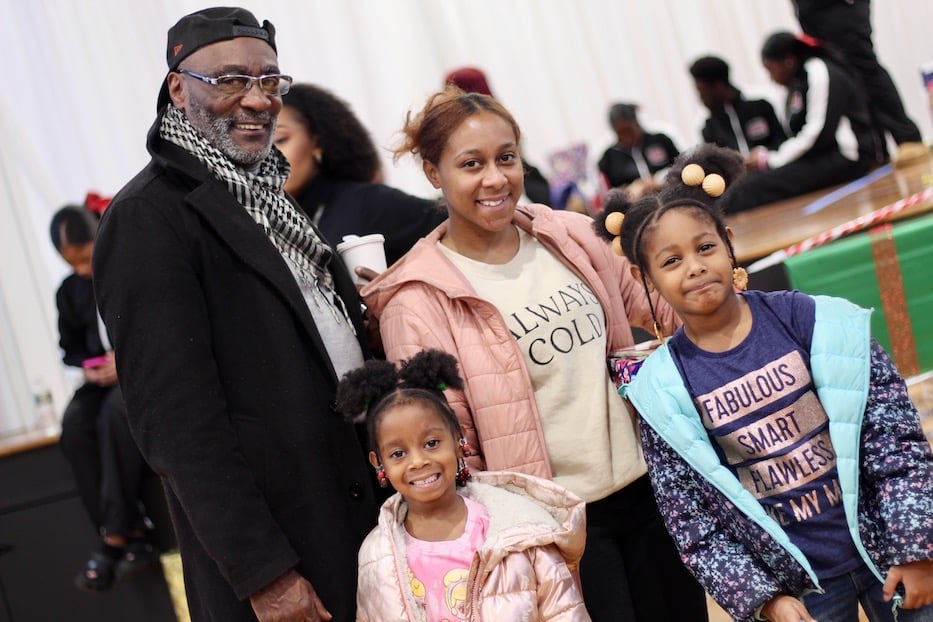 Top: DaMara Altman getting the word out about Hey Gul by Kennedy and Kendall. Bottom: Fred Christmas with his daughter Alexis and grandchildren Shamaya and Zamari.
One table over, early-stage entrepreneur DaMara Altman welcomed attendees to Hey Gul by Kennedy and Kendall, a line of accessories designed for and named after her two young daughters. Born and raised in Bridgeport—although she is now a proud Westvillian—Altman started sewing when she was just seven years old, and was designing by the time she was 13.
As she got older, "I always had jobs in the fashion industry," working as a designer for names that included Macy's and Lord & Taylor.
When she became a mom four years ago—Kennedy is four and Kendall is two—she and her husband decided that she would stay home full-time. After discovering that she had two "super girly" girls on her hands, "I started the brand for them." In April, they launched Hey Gul with a series of bows and satin scrunchies that showcased her daughters' pint-sized sense of style.
Since starting the business, she has worked to build the collection "based on childhood memories," including those she's creating with her daughters and family each season. When she was still a girl, Altman spent winter weekends visiting her grandparents in upstate New York, where they lived for years. She remembered getting out of the car and seeing her grandfather chopping wood, or her grandmother cooking as she fussed over the family.
Now that she's a mom, she's planning on bringing her daughters to New York City, where her parents both now live and are both celebrating their birthdays this month. Because of the pandemic, it will be the first time she has made the trip with Kendall—and braved Times Square with a double stroller.
"It's what the connection is all about," she said. "Bringing more of our stories in."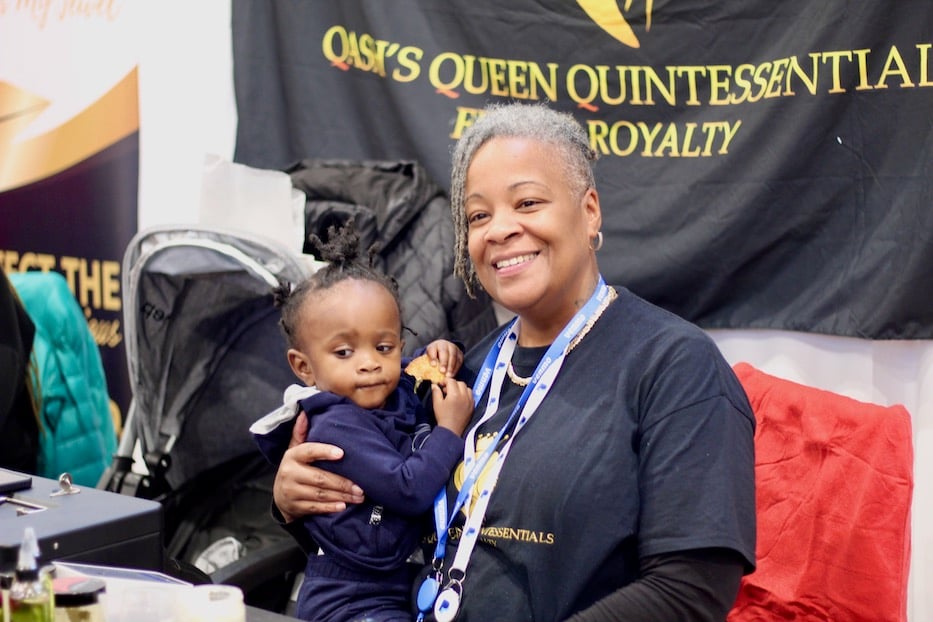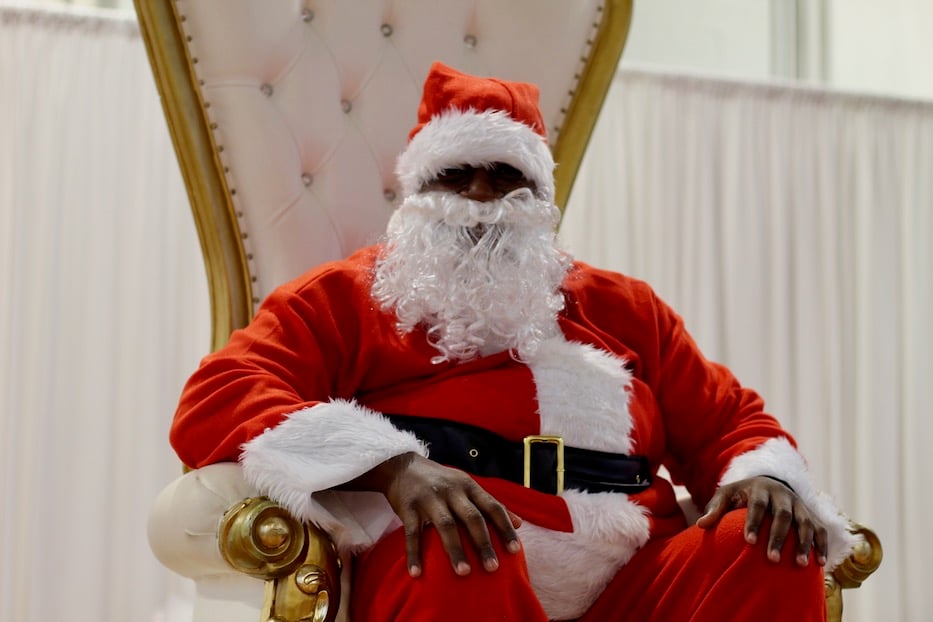 Top: Kim Little. Bottom: Jeroy Smith becomes Santa for the afternoon.
Across the room, Kim Little watched her young son, Qash, sleep sweetly in a rumple of blankets. She beamed at him as she started to tell the story of her business, Qash Queen Body Products, of which he is the namesake.
A lifelong resident of Newhallville, Little started the business a few years ago, after Qash came into her home through the foster care system, and then became a permanent part of the family through adoption. It was her second time as a mother (Little also has an adult daughter) and she dedicated herself to parenting.
In the first months of his life, Qash had bad eczema that put pain and stress on his tiny body. Because of complications with his birth, Little didn't want to give him any prescription meds or ointments, she said. Instead, she came up with organic salves and body butters that she was more than happy to share. After all, she said, it's an easy way to give back. "This is my village," she said of New Haven and of the community that rallied around her in Newhallville. "It raised me."
"He [Qash] made my life," Little added. "I couldn't see my life without him."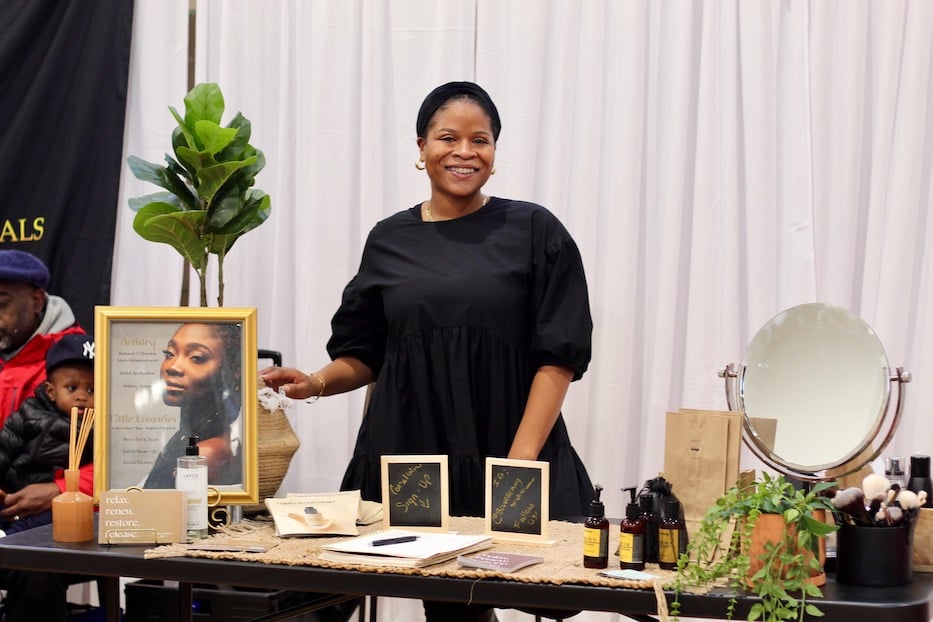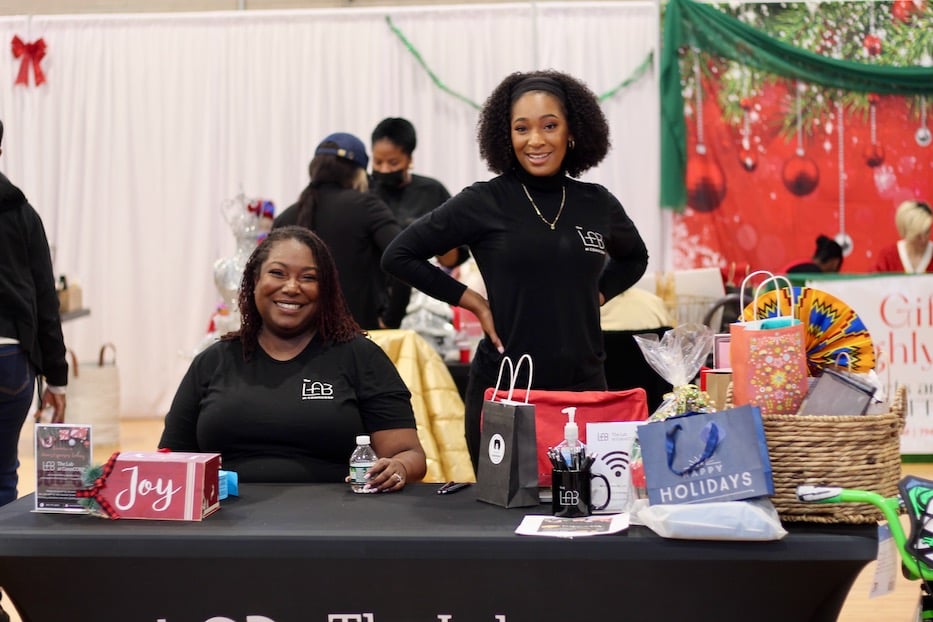 Top: Winter Carson, the owner of Blush Beauty Studio. Bottom: Aya Beckles Swanson and Jahkeeva Morgan.
Down a row of tables, Blush Beauty Studio's Winter Carson described growing a business that has been decades in the making. As a kid growing up in New Haven, Carson remembered watching her grandmother use a single tube of purple lipstick for every one of her cosmetic needs, applying it to her lips, her cheeks, and her eyes all for slightly different outcomes. From a young age, "I really understood color," Carson said—and felt inspired by it.
When she started school at Housatonic Community College for graphic design, "I always had my hands in someone's hair or someone's makeup." On her mother's suggestion, she pursued cosmetology instead, falling in love with how a few small tricks could transform a look (she has remained faithful to those minimal roots). After graduating in 2012, she opened a spot on Connolly Parkway in Hamden while working a number of retail jobs.
Then two years ago, she was accepted into Collab's business accelerator during the pandemic. It inspired her to push her career to the next level, she said. She is now in the ConnCORP/QU Entrepreneurship Academy, and has an office at the Lab. She praised Swanson for helping her build Blush Beauty's footprint, which she sees as more of a movement than a brand.
"It's beauty for all, wellness for all," she said Saturday. "It doesn't really resonate with me as just beauty. People put their confidence in my hands."
She's also about empowering other Black entrepreneurs, she said: she often directs people to New Havener Candice Dorman, a fellow Black business owner whose Ekow Body products are part of Blush's work.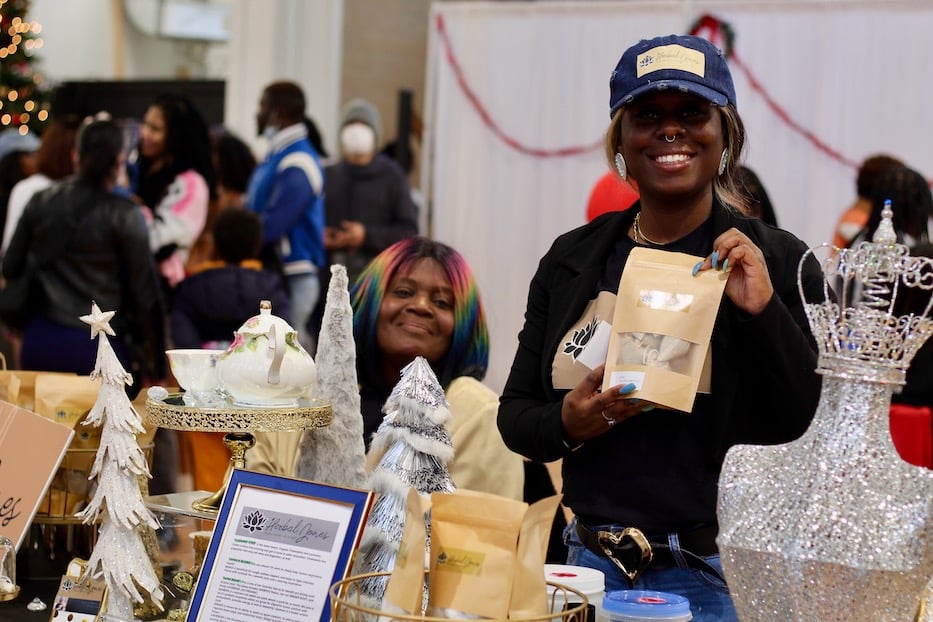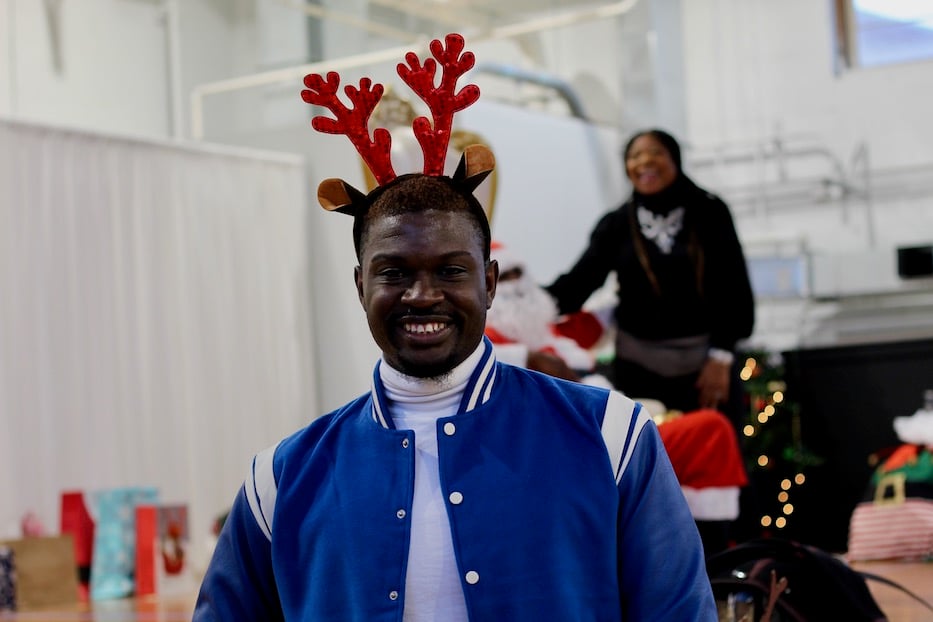 Top: Alisa Williams-Power and Herbal Jones, of Herbal Jones Tea. Bottom: Coach Johnny Johnson.
As the room hummed and buzzed around her, Carson greeted more attendees at her table, smiling behind a black medical mask. On stage, Santa handed out presents to a new wave of excited kids, members of the Wilbur Cross High School cheer team orbiting his chair in matching black-and-white jackets. Members of the Diamond Dolls, Prestigious Pearls and Radiant Rubies bobbed through the crowd, buoyant from their performance.
As he watched it all from the lip of the stage, Majorette Coach and Quinnipiac University student Johnny Johnson beamed. For him, the bazaar encapsulated the spirit of the season. As a shy student at Cooperative Arts & Humanities High School years ago, dance gave him the confidence to step into who he was. Now, he's trying to pass that on to his students. He loves that ConnCORP gave them a chance to shine, he said.
"It's just a beautiful thing to partake in," he said.