ConnCAT | Culture & Community | Education & Youth | Hamden | Science Park | Arts & Culture | Newhallville | ConnCORP | Arts & Anti-racism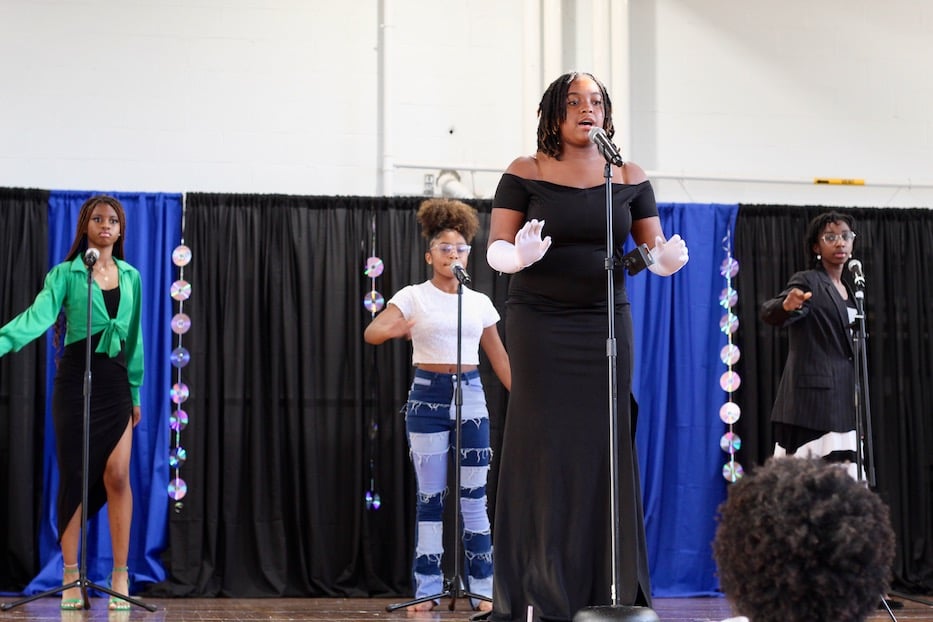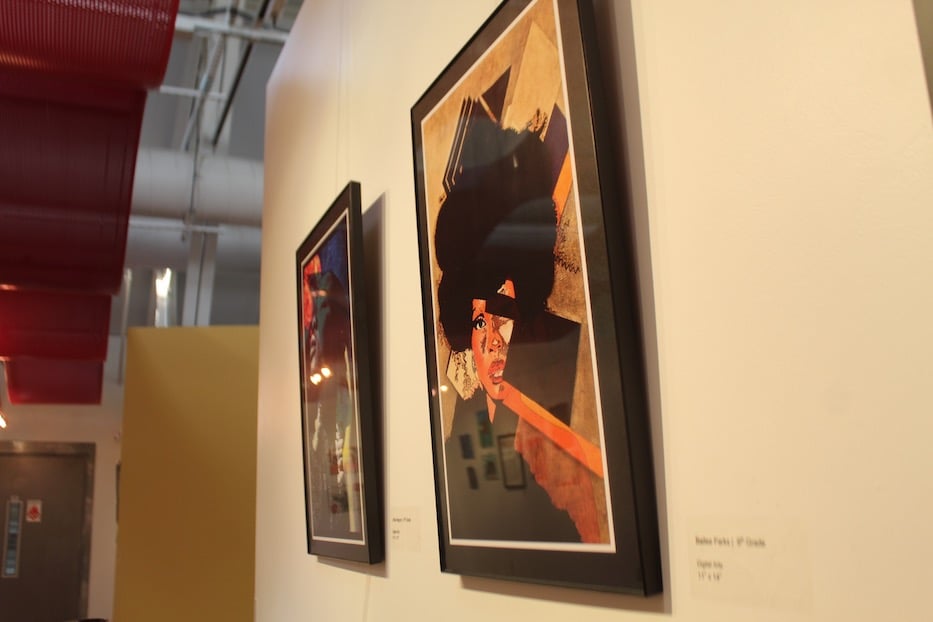 Top: Bailee Parks sings in the Friday summer showcase. Bottom: Her artwork on display at ConnCAT during the Wednesday showcase in visual arts + graphic design. Lucy Gellman Photos.
At center stage, 13-year-old Bailee Parks pulled two gloved hands to her chest, and began to sing. The white silk caught in the light, and for a moment it looked as though pearls were dripping from her fingertips. Her voice rose, and the spirit of Aretha Franklin slipped into her body. All I'm askin'! Is for a little respect! When audience members turned their eyes to the stage, it was the Queen of Soul looking back at them.
It was the culmination of a months-long summer arts program at the Connecticut Center for Arts and Technology (ConnCAT), where close to two dozen students have been learning visual arts, dance, theater, music and graphic design for the past several weeks. Last Wednesday at 4 Science Park in New Haven and Friday at The Lab at ConnCORP at 496 Newhall St. in Hamden, they had the chance to show off some of what they've learned across two summer showcases.
The first, in fine arts, focused on their studies of artists and civil rights icons of the 1960s and 70s through today. The second, a two-hour odyssey through the performing arts, centered the music and history of Motown. Both are part of ConnCAT's 10-year anniversary celebration, which also includes Sunday jazz brunches on August 28 and September 11 and a Black Excellence Fashion Show through its for-profit subsidiary, ConnCORP, on Saturday, August 21.
"I'm thinking about how we started with two or three classes—poetry, spoken word, music," said Steve Driffn, director of youth programs and co-director of operations at ConnCAT, as students took their place in the wings Friday. "It's the most beautiful thing to keep doing this work."
"They Opened Up My World"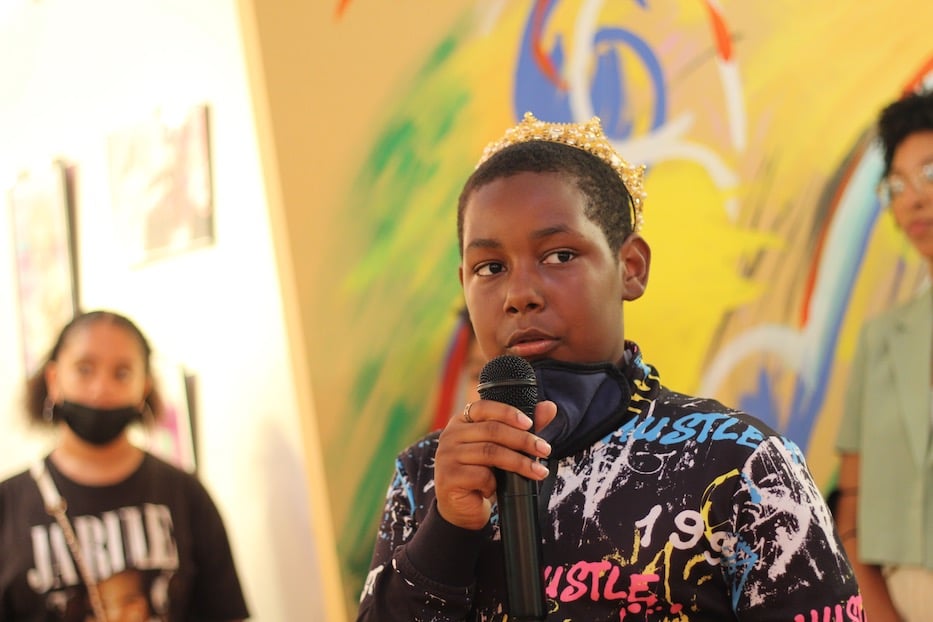 13-year-old Jamari Rowe-Little. Lucy Gellman Photos.
That sense of festivity—in all that students had accomplished, and also all that they would take with them into the next school year—began Wednesday afternoon, as students and families packed the second floor of ConnCAT's longtime home in Science Park.
Up a flight of stairs, the space's walls became a rush of color, works staring out expectantly at the sudden flood of viewers. In every direction, it seemed that there was another work waiting to reveal itself, from sharp-edged, vivid and rainbow-toned designs of Marvin Gaye, Diana Ross, Nina Simone and Ray Charles to contemporary calls for police and prison abolition.
The work reflected a summer spent deep in thought, said graphic design instructor Cody Norris. "Some of these kids could have a gallery of their own," he added with a broad, easy smile.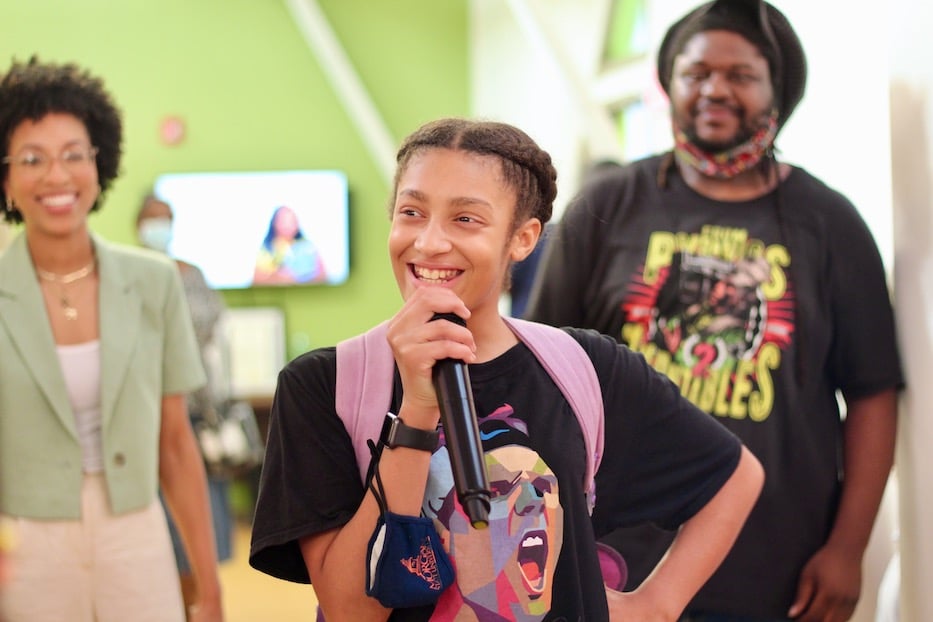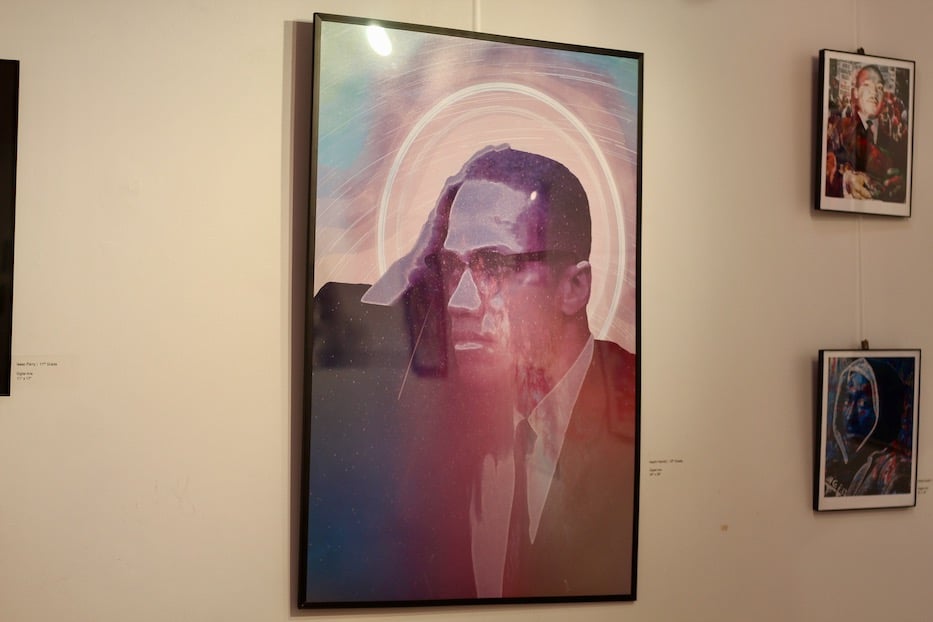 Top: Student Phoenix Clare, who also performed Friday. Bottom: Some of the work from Norris' graphic design students. Lucy Gellman Photos.
In one alcove, a haloed Malcolm X rested his head against his right hand, the frame flooded with pinks, purples and blues. Beside him, Rosa Parks looked out from her iconic 1956 mugshot, taken minutes after she was arrested for her participation in the Montgomery Bus Boycott. This time, the image was rendered in bright reds that seemed to glow.
A kind of controlled creativity ran through the images, reminding viewers that the past is not fixed in time, but something that also informs and moves through the present. Beside Parks, a photograph captured the words "Say Their Names" in still-dripping white paint and large, angular letters. With the image, students worked through six decades of civil rights history, drawing a through-line from 1954 to 1968 to 1991 to 2022, and reaching into the dark spaces in between. As if in agreement, a rendering of the late rapper Nipsey Hussle peeked out from elsewhere on the wall, his face fixed squarely on the viewer.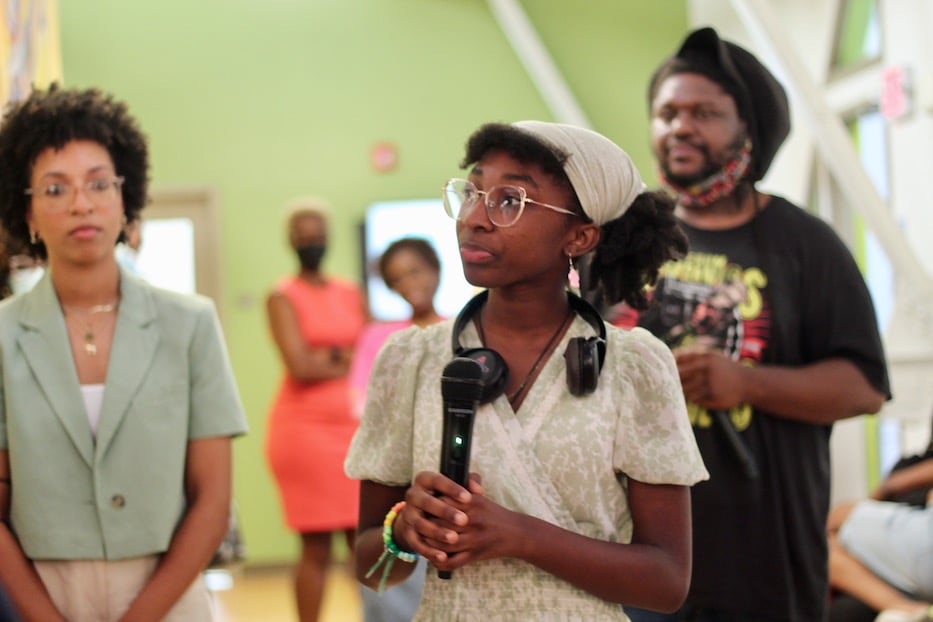 Student artist Kaylin Harrell. Lucy Gellman Photos.
That thoughtful kind of work looked out from every corner. Near the front of the hallway, student artist Kaylin Harrell bounced between two pieces, both paintings with layers of bright color, collaged magazine cutouts and text weaving through layers of paint. A rising sophomore at Amity High School in Woodbridge, Harrell said that the program helped reignite in them a long-held love for drawing and painting. They estimated that they've been making art on and off for the past decade, as long as ConnCAT has been in existence.
They motioned to the first work, titled Inner City Blues after Marvin Gaye's 1972 song of the same name. In the painting, a woman looked out at the viewer, a softness in her half-closed eyes, neat lips and swirled suggestion of a nose. Thick purple curls surrounded her face, interrupted only by a red flower over her bangs. Initially, Harrell said, the purple was designed to sit beneath a layer of black paint, giving it a slightly colorful hue.
But the longer the young artist worked, the more the purple seemed right just as it was. They thought about the long history of anti-Black hair discrimination, which only last year became illegal in Connecticut. They added text and magazine clippings of the musician Zendaya, who has become a subject of frequent press coverage and (arguably unwarranted) speculation for how often she changes up her hairstyle. They stepped back from the canvas, and saw someone they knew looking back.
"It reminds me of myself," they said. "It's just showing that you don't have to fit a certain image to be beautiful."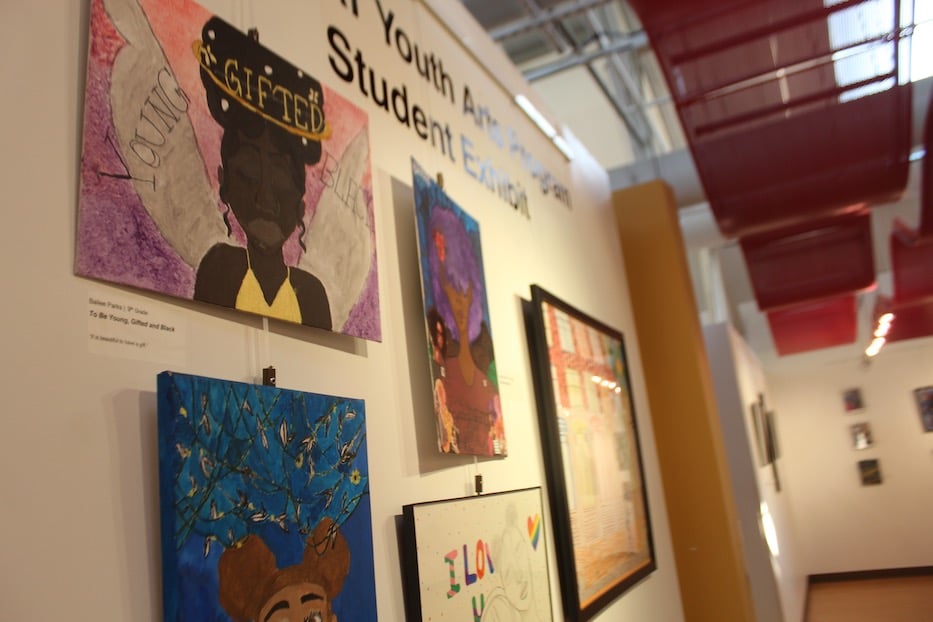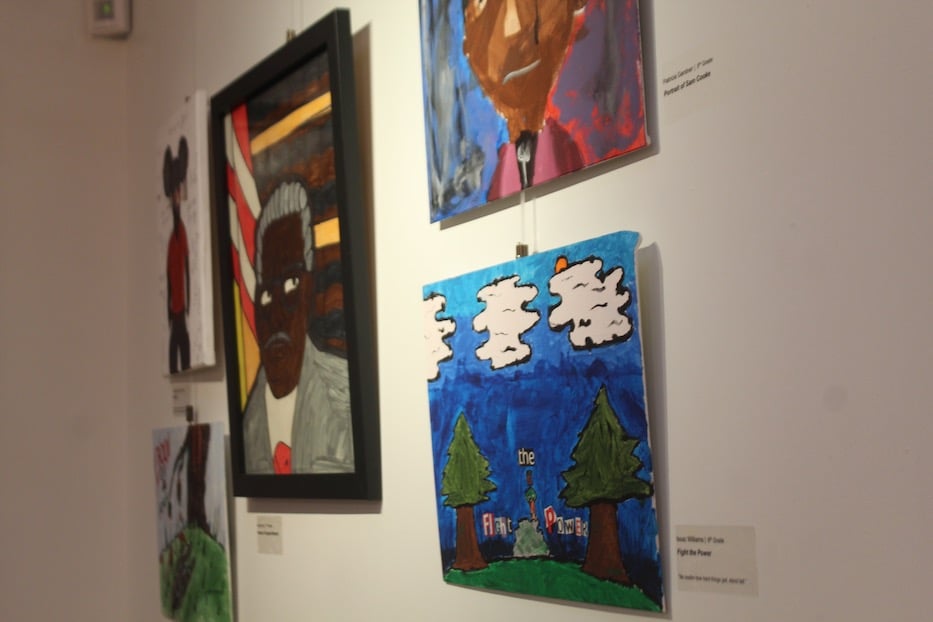 Lucy Gellman Photos.
Nearby, students took on dozens of interpretations of music and history from the era. A fairy in a gold tiara, her white wings lifted to the sky, became a meditation on Nina Simone's "Young, Gifted and Black." A blue and green globe spun in place on a canvas from Aiden Jordan, figures locking hands around its width as the words All I Want Is Equality stretched across the canvas. Beside it, it almost seemed that music might escape from J'Nel Negron's Rhythm and Blues if a viewer came close enough.
In Isaac Williams' painting and collage Fight The Power, the young artist set the scene in nature, flipping any viewer's expectation from the title alone on its head. Through several walls and beneath the space's bright yellow lighting, it seemed to commune with Nike Bonhomme's image of a protester mid-march, a sign hoisted above their head. They were two very different images of resistance, a reminder that Black bodies can and should take up space in any part of the world they wish to—including by resting.
As they milled around, students stopped their friends and families to describe their work. A rising freshman at Amistad Achievement First High School, Jali Rowe-Little said she was grateful for the summer program, particularly after initially thinking "I was gonna hate it." After starting the program in early July, she worked closely with Norris to craft a piece that addressed police brutality on her terms.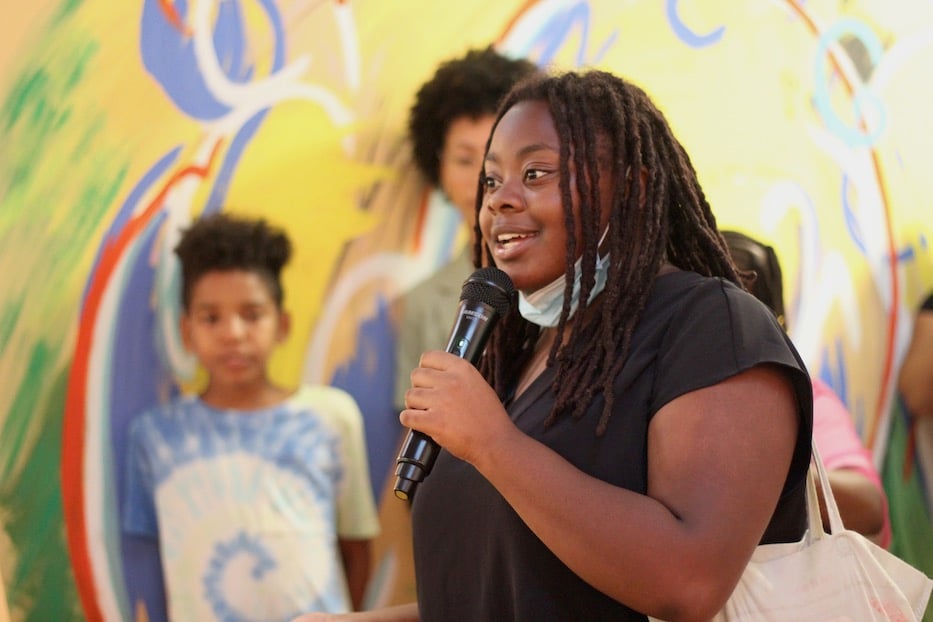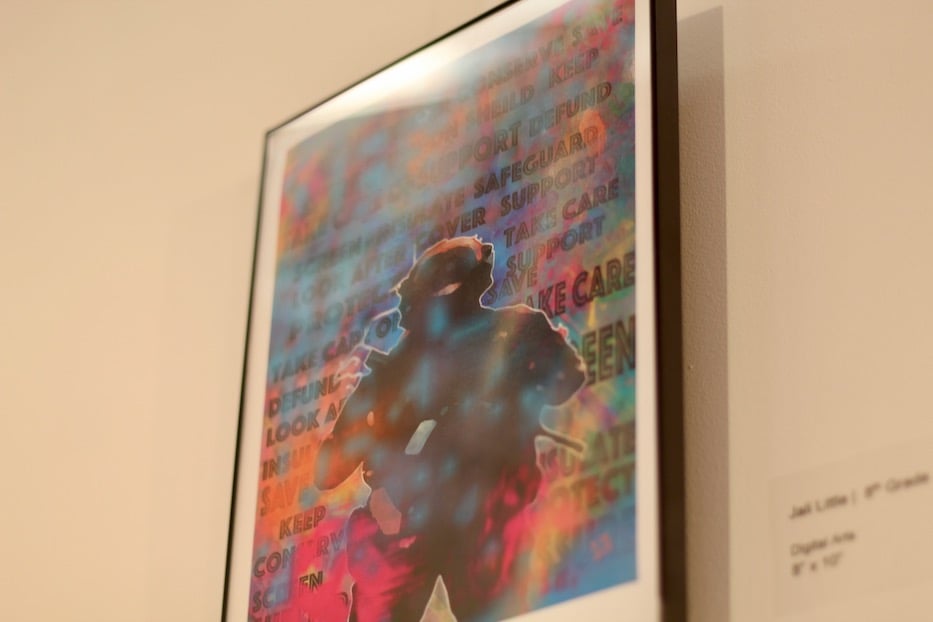 Jali Rowe-Little's work. Lucy Gellman Photos.
As they worked, she and Norris started with the word "protect," and then consulted a thesaurus to find as many synonyms as they could. She found close to a dozen, including "take care," "safeguard," "support," "conserve," and "save"—words she didn't always associate with the police as a young Black person in the U.S. As she worked, she paired those with the word "defund," and the silhouette of a cop in riot gear.
Behind the cop in the finished piece, the background explodes into a supernova of color, as if the universe has opened up during a giant, cosmic paint party. Smears of pink, red and blue make it onto his outfit, a thick jacket covering a bulletproof vest. The mingling colors, the words floating in the background—they all show a viewer that another world is entirely possible.
"They opened up my world," she said of faculty in the program. "There's so much going on in our world. If we don't talk about it, history is gonna keep repeating itself. It kind of gave me a voice to speak."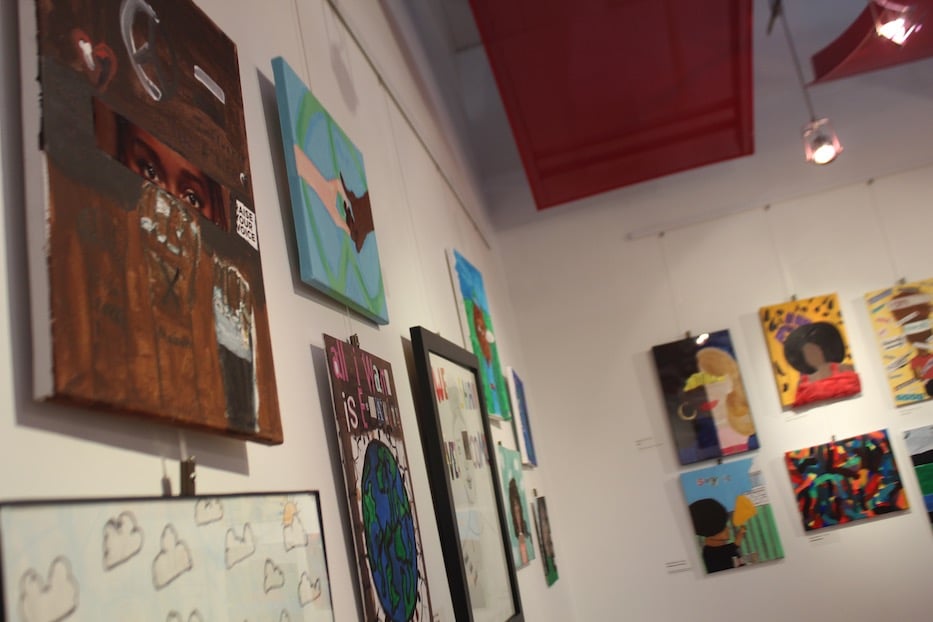 Lucy Gellman Photos.
Her younger brother, 13-year-old Jamari Rowe-Little (pictured above), said he also grew as part of the program. On one wall, his multimedia painting Give Us What We Want/Give Us What We Need looked right out at a viewer, a collaged strip of eyes posted just above eye level.
Across the hallway, his image of Nipsey Hussle stared back. He remembered hearing about the rapper's untimely death in March of 2019, and thinking "this can't be true," he said. The piece helped him work through some of the grief he still holds around that violence.
"Art, I can't really explain it," he said. "It brings out a different person in me. It brings out that unseen imagination."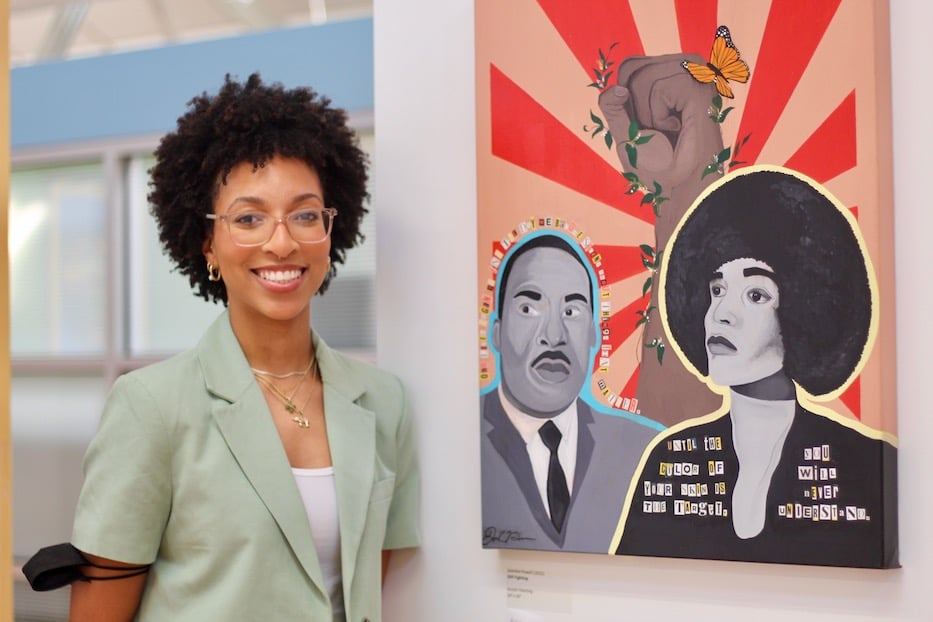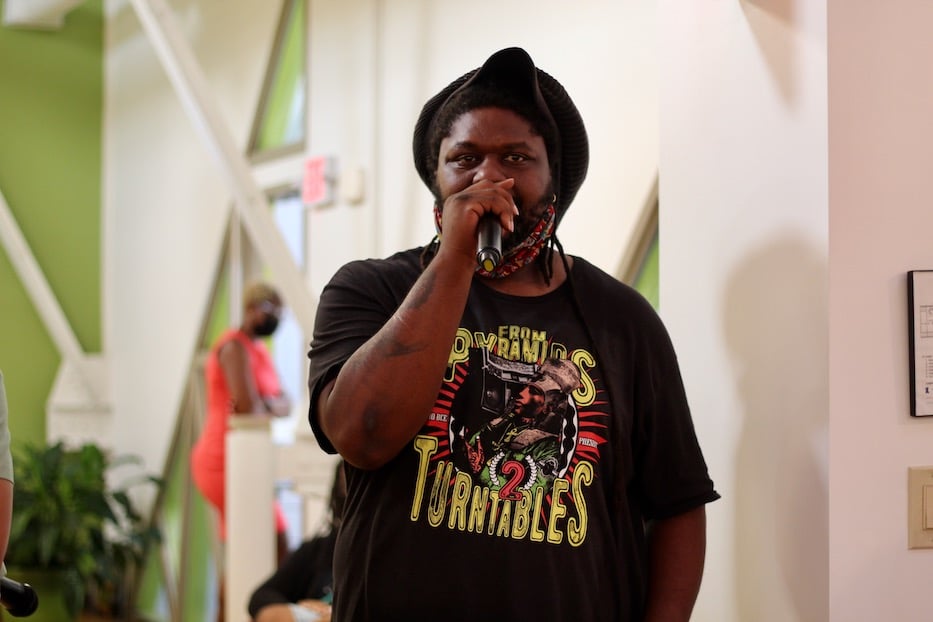 Top: Jasmine Powell. Bottom: Cody Norris. Lucy Gellman Photos.
It marked a full circle moment for some of the teachers advising them, too. Now a psychology major at Hampton University, visual arts instructor Jasmine Powell started at ConnCAT as a student 10 years ago. Back then, she said, she already knew how in love with the arts she was—and the organization helped nurture that passion. By high school, she had started a small business designing mortarboards and sneakers for friends. At Hampton, she still makes time for her own art when she isn't working. "It's relaxing for me," she said.
So when Driffin reached out to ask if she would return to teach, the answer was an instant yes. In the program's five weeks, she said, she's loved being an educator—even when it means fielding panic attacks or cobbling together ideas on the spot.
"I loved it," she said. "It's super surreal to be on the other end of things. It's super crazy. But I'm so proud of them. Not a lot of people have the opportunity to do something like that."
Norris, a spoken word artist, poet, musician, and graphic designer who grew up in New Haven, said he's grateful to have been part of the summer program. A decade ago, he got to know a then-nascent ConnCAT through Genevive Walker, who is now the President and CEO of the organization. Ten years in, "it feels amazing to know that the kids created this level of artwork," he said.
Motown Memories Kept Alive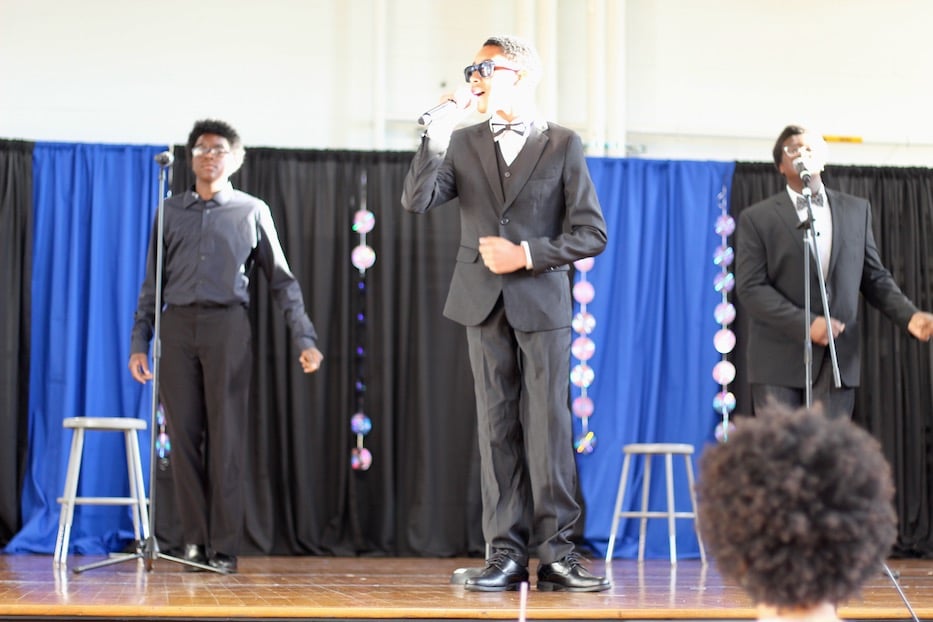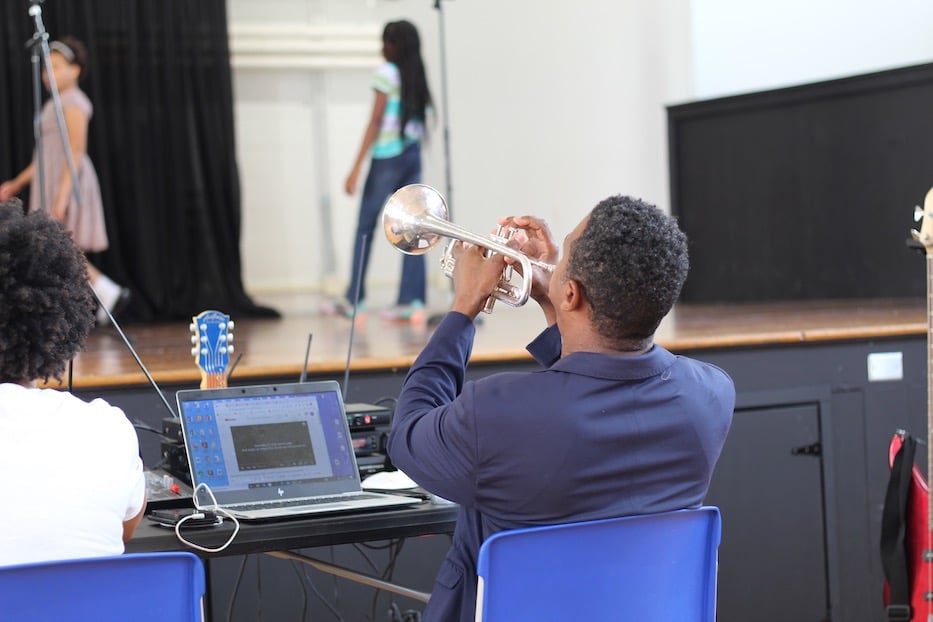 Top: Christian Edwards, who participates in programming at ConnCAT all year round. Bottom: William Fluker, himself a professional musician and a longtime teacher at ConnCAT, joins in. Lucy Gellman Photos.
That celebration carried through Friday night, as an audience of grandparents, parents, proud aunties, and family friends filled the auditorium on Newhall Street in Hamden. At the front of the room, teacher William Fluker waited with a setlist in front of him, and a cornet at his side.
Betsy Ross Arts Magnet School teacher Nikki Claxton, who has taught dance at ConnCAT since the beginning of the program, paced up and down the hallway one last time before entering the room.
As they settled in, students wound back the clock to 1959, when Barry Gordy founded Motown Records in Detroit, Michigan. In the wings, tiny versions of the Four Tops, Diana Ross and the Supremes, Jackson Five and the Temptations waited for their moment in the spotlight.
A suddenly-young Jimmy Ruffin ran over "What Becomes of the Brokenhearted" in his head one last time. A four-foot Smokey Robinson pulled at his suit jacket and prepared to take the stage.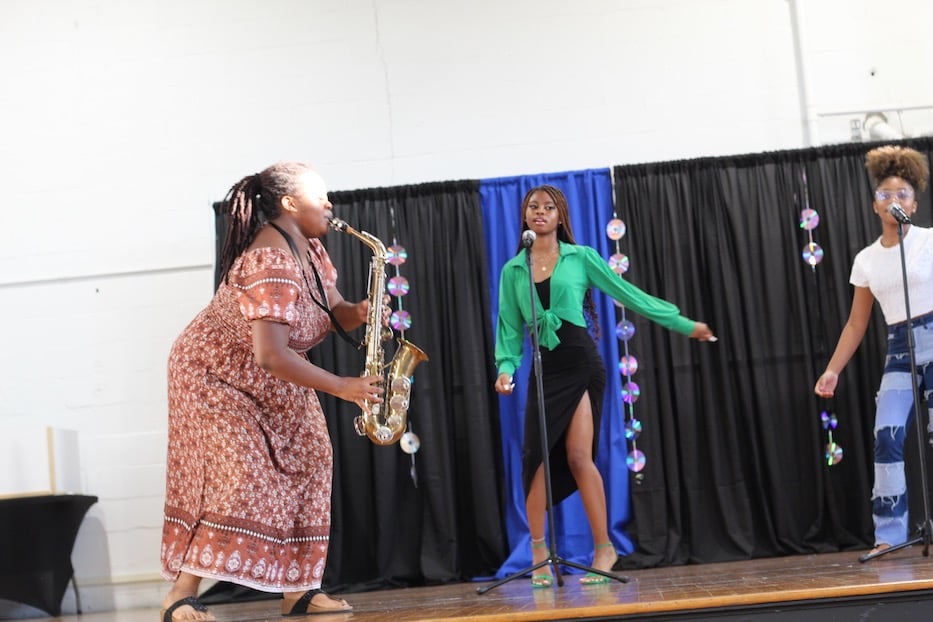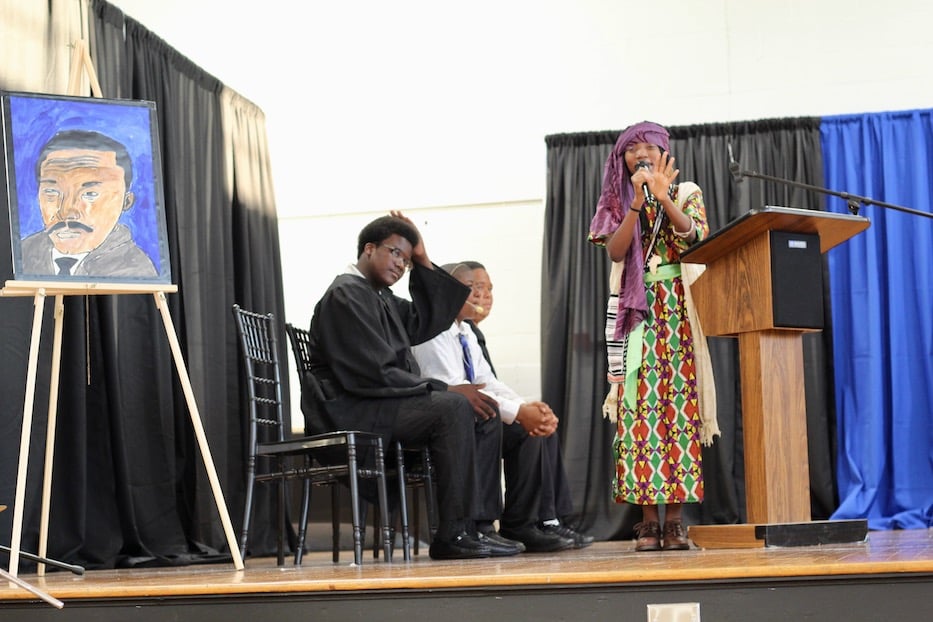 Top: Motown got the audience dancing as it spanned a decade of music history. Bottom: Scenes from "Remember Me." Lucy Gellman Photos.
"What Barry Gordy and Motown did for music is without question the most impactful, most significant contribution any one man could or did make to the industry," said Harrell, who later brought the audience close to tears with Billie Holiday's "In My Solitude." "The label gave us some of the most memorable artists and music of all time."
No sooner had those words graced the room than students dipped into history, and came out with a sound that both belonged to Motown and was completely their own. After a surprise performance of "Midnight Train To Georgia" from Walker, a sense of possibility vibrated through the auditorium. "Yes! Sing it!" yelled a parent from the second row as the four tops settled in at their mics, and began to sway and step to "It's The Same Old Song."
Bouncing between a keyboard and the mic, student Christian Edwards brought The Temptations back to life, swaying in time with the music as "Just My Imagination" melted right into "My Girl," and attendees began to sing along. When 9-year-old Kylee Sterling crossed the stage with "Do You Know Where You're Going To," it was for a moment as if a young Diana Ross had materialized onstage, soaking up each moment before she disappeared. By the time the pint-sized, big haired Jackson Five ran on to the first strains of "I Want You Back," the audience exploded with claps and cries of "You better sing!"
As they moved through a decade, students became culture-bearers, keeping an era and its history very much alive. When she appeared as Gladys Knight for "Best Thing That Ever Happened To Me" (watch it here), Nike Bonhomme let herself try on the singer's stylings for size. Walking slowly to the lip of the stage in a glittering black dress, she turned, gliding in profile before facing the audience once more. She pulled the mic to her mouth, crooning as her right hand wove through the air and then came to rest on her chest.
"We are actively cultivating a generation who would otherwise not know about a genre," Driffin said, adding that he's relieved to hear "the yelling and the screaming that we missed so much" filling the hallways all the way up once again.
Nowhere was that clearer than towards the end of the evening, as music melted into theater, and theater into dance. Performing "Remember Me," a play written, devised, and rehearsed in the past five weeks, students nimbly threaded a needle between humor and deep grief, mining the set-up for both comedy and heart.
As characters filled the stage, they were no longer in Hamden but in rural South Carolina, where a congregation had gathered to mourn the murder and burial of the Rev. Martin Luther King, Jr. As Isaac Perry swept onto the stage as a pastor, he summoned the sheer pain of the moment—but also made space for laughter as bad eulogies, physical humor, a coffin-related jump scare and the cantankerous grandfather that lives in every congregation made an appearance. It reminded the audience that even in the darkest of times, there is always light somewhere in the room.
They kept that movement going through the end of the show. To the first strains of Beyoncé's "Freedom," J'Nel Negron moved out across the stage, every eye following her steps. In her movements decades of history hummed to life, vibrating as she raised her right fist to the sky. She spun, arms raised, and suddenly it seemed as if she were marching forward. She reached back out toward the audience, and sunk into a full split.
The chorus dropped—Freedom Freedom/I can't move/Freedom, cut me loose!—and dancers exploded into motion behind her. As they moved, using chairs as their props, they built a narrative of protest that has traveled from 1950 right into 2022 New Haven. From the side of the auditorium, teacher Nikki Claxton cheered them on.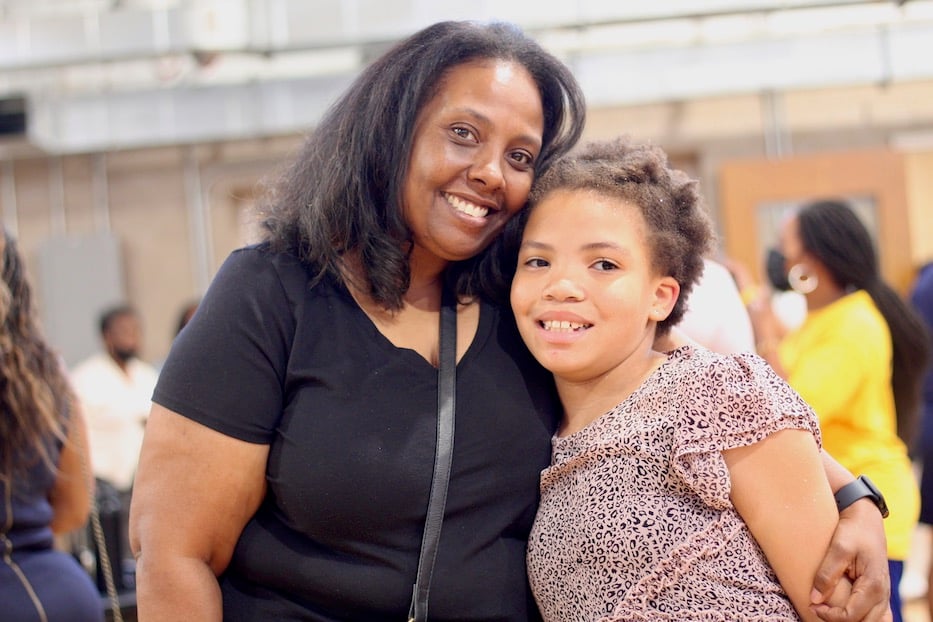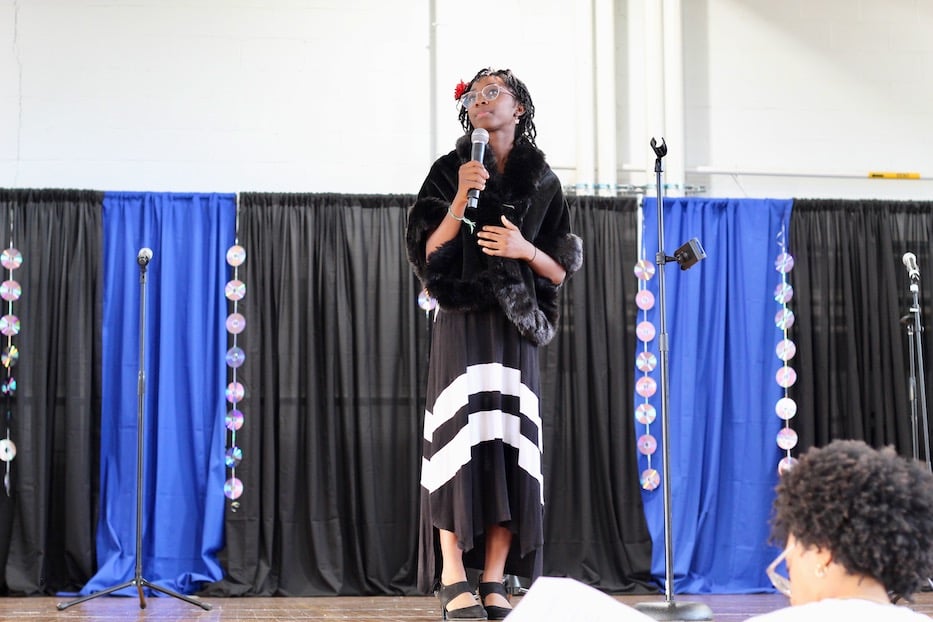 Top: "It makes me feel happy, and it's a good program," Kylee Sterling said. Bottom: Kaylin Harrell performs "In My Solitude." Lucy Gellman Photos.
"I feel like I'm on cloud nine," said Bailee Parks, who appeared as Aretha Franklin, when the performance had ended, and chatter filled the room once more. "As soon as I hit the stage, all the nerves are gone."
Closer to the stage, first-time performer Kylee Sterling stood with her mom, Maria Sterling. After stepping into Diana Ross' shoes for just a few minutes, she declared that "Motown was a very cool era," and she's excited to know about it.
"It makes me feel happy, and it's a good program," she said. "My favorite part was the music. I got to express my voice."
That was also true for 15-year-old Perry, a student at James Hillhouse High School who spent the evening shape-shifting his way through a decade of music history. Unlike some of his classmates, Perry said, he came into the program knowing—and loving—the history of Motown. He credited his mom for his interest in "old music."
"It's history and it's good music," he said. "It's important not to forget your history."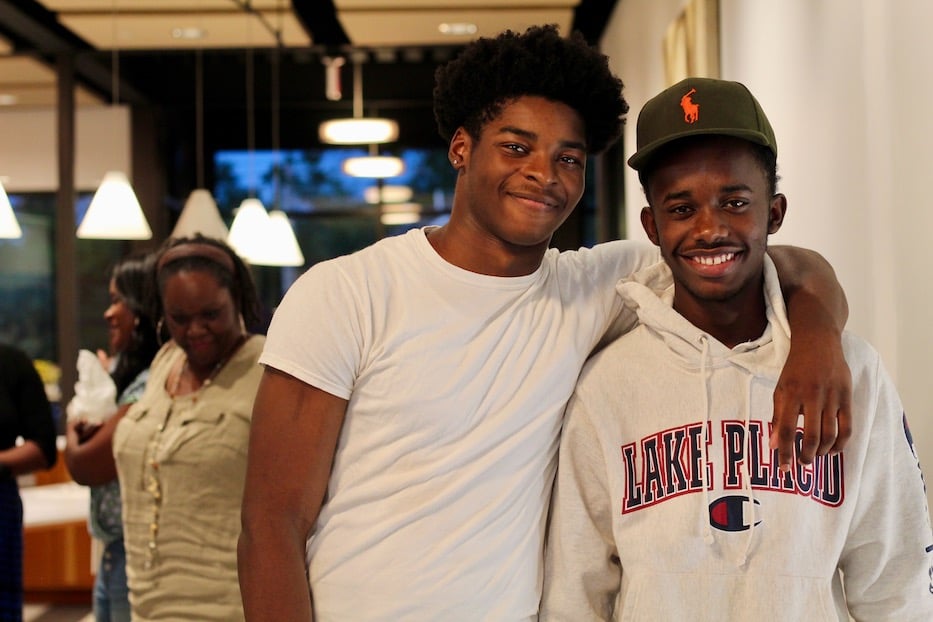 Alumni Qeanu Johnson and Rushann Freeman, who returned for the performance. "It teaches you to think outside the box," Freeman said.
Learn more about ConnCAT here. Watch the full performance from Friday here.