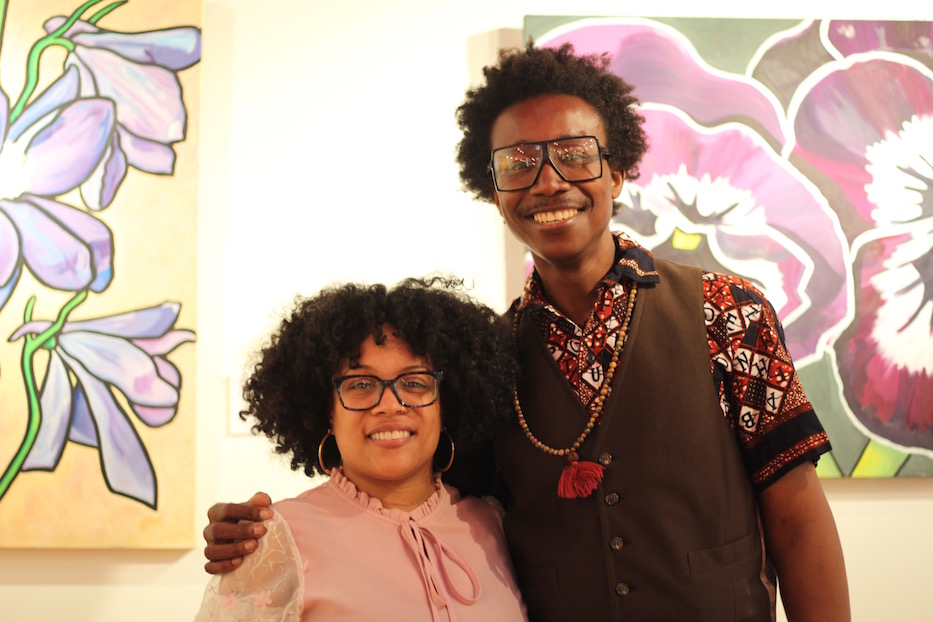 ConnCAT | Kwadwo Adae | Painting | Science Park | Arts & Culture | Newhallville | Visual Arts | Arts & Anti-racism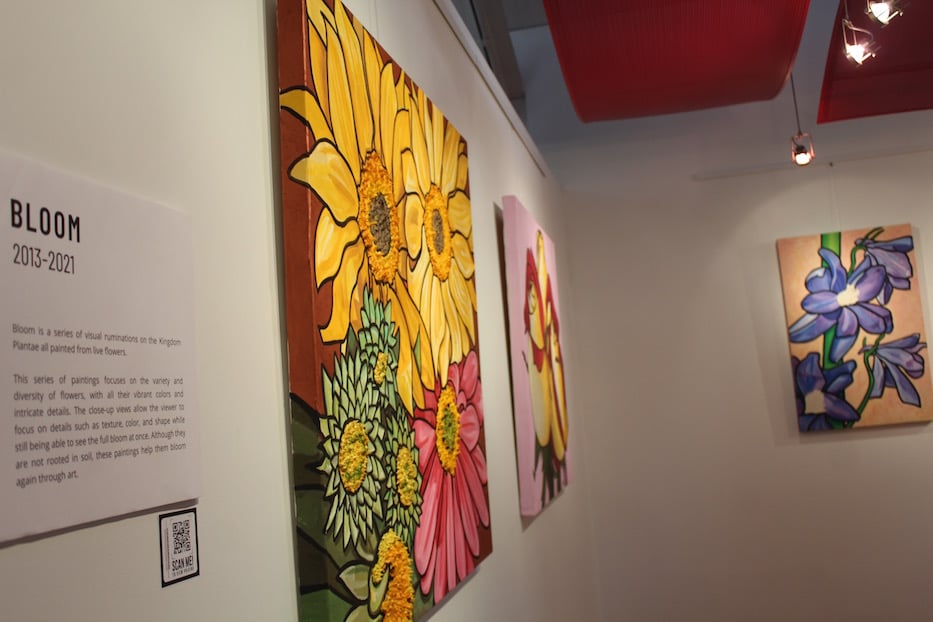 All artwork by Kwadwo Adae. Lucy Gellman Photos.
The sunflowers burst into bloom across one wall, their yellow petals arcing towards the top of the canvas. Beneath them, seafoam-green chrysanthemums bend toward the light in a cluster of three. A pink Gerber Daisy, its pistil thick and heavy with pollen, looks out from the lower right hand corner of the frame. Nearby, orchids blossom into a swirl of purple and white as if to say hello.
These are the flowers that beam brightness into Kwadwo Adae's studio in the darkest times of the year. Now, he is giving New Haven a window into his practice.
Adae is the subject of a solo show—astoundingly for many who know him, the artist's first—running now through July 31 at the Connecticut Center for Arts & Technology (ConnCAT). Installed across the building's second-floor galleries and hallways, the work centers healing, heart, and community building in over a decade of multimedia practice in New Haven.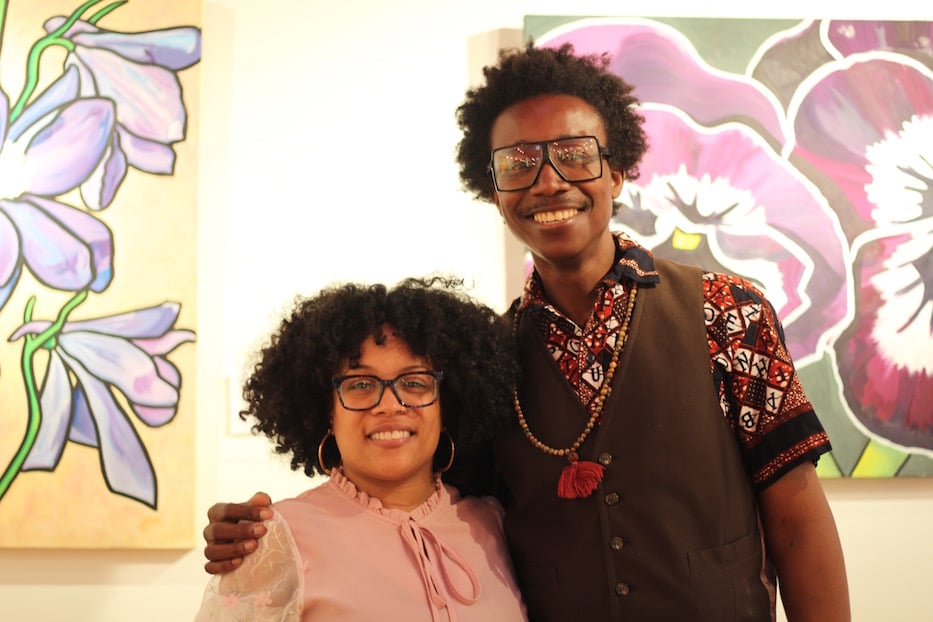 Curator Christina Goubourn and artist Kwadwo Adae. Lucy Gellman Photos.
It is curated by Christina Goubourn, marketing and promotions coordinator at the organization and herself a photographer, and is part of ConnCAT's tenth anniversary celebrations. At an opening last Thursday, President and CEO Genevive Walker said the show dovetails with ConnCAT's belief that students, who often come into the center unemployed and underemployed, are deserving of beauty all around them.
"I'm really delighted that I was able to have a show here, to have a solo exhibition in New Haven for the first time," Adae said at an opening last Thursday, holding Ross Gay's "The Book of Delights" gingerly in one hand as he spoke. "Delighted to show in a gallery, because I'm so used to showing on the streets. It's foreign to me. I see walls and I want to paint the walls … so I'm delighted to hang work that's meant for walls."
The exhibition spans over a decade of the artist's work, from portraiture and public art to his flower-filled canvases and evocative, otherworldly Kwadrilaterals. Together and apart, they tell the story of his path to not just painting, but to community building through the soul-feeding power of art. In particular, the show extends his conviction that art is a necessary part of social change, from the fight against police brutality to the simple act of adding flowers to the side of a building.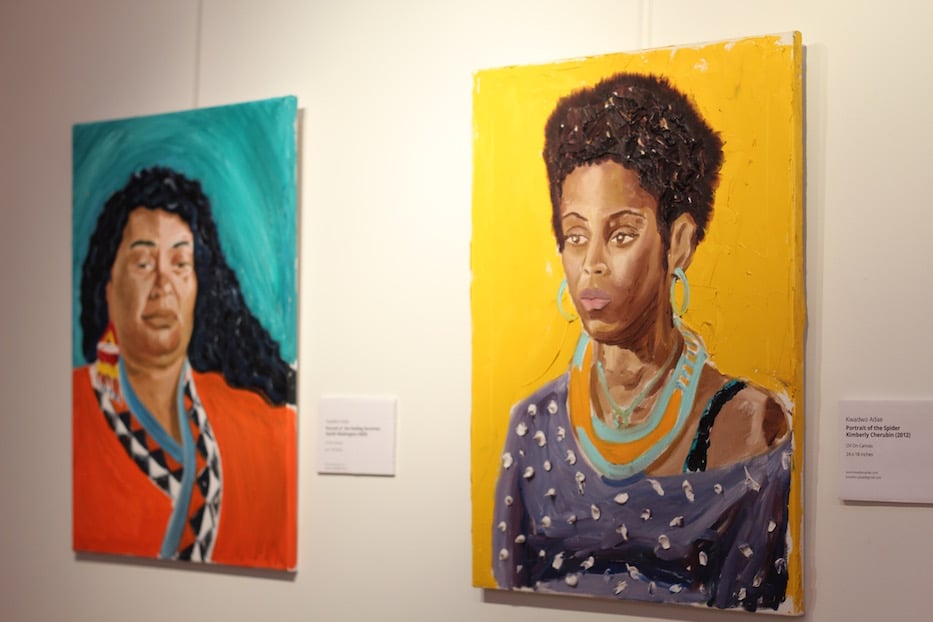 Adae's portraits of One Village Healing Co-Founder Hanifa Nayo Washington and Kimberly Cherubin. Lucy Gellman Photos.
It is not his introduction to the community: Adae currently runs a studio on State Street and has worked on over a half dozen New Haven murals, including sparrows on Dixwell Avenue and Division Street, a 17-figure ode to women's empowerment on the Farmington Canal Heritage Trail, Edward Bouchet's likeness on Henry Street and a Black Lives Matter street mural on Bassett Street. In the past few years, he has also installed work at John S. Martinez School, High School in the Community, Moses Y Beach Elementary School, and Elm City Montessori School among others.
For Adae, who is 45, the solo show has been decades in the making. Born into a Ghanian American family in upstate New York—his name means "baby boy born on a Monday" in Twi—Adae moved to Connecticut with his parents and sister when he was eight years old. From a very early age, his father Frank Adae said, he seemed like an old soul, sometimes pulling generations-old family aphorisms from thin air. "So many things about this kid that we don't even know as a parent," Frank said to laughter Thursday night.
Adae was endlessly fascinated by the world around him and the beauty within it, he said. After "doodling and scribbling on all my tests and doing poorly on exams" in school, he enrolled in weekly art classes in Trumbull. Something clicked immediately. Adae developed a sharp focus and self-directed style that he now hones in both his own practice and as an educator in New Haven.
"That changed everything," he said of his introduction to art. "Everyday I could go up the stairs, sit at an easel, and do whatever I wanted."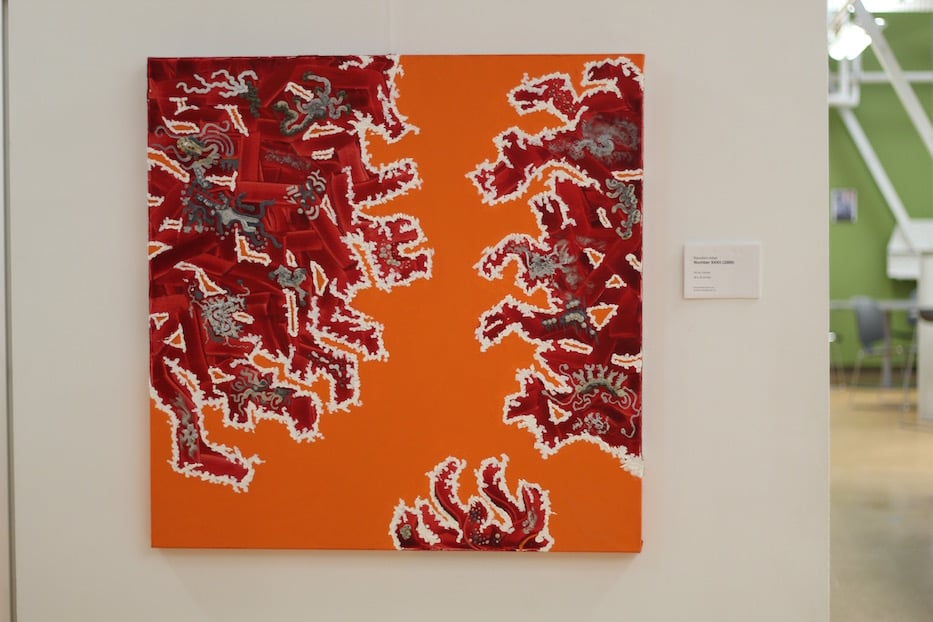 Six of Adae's 40 Kwadrilaterals are on view. Lucy Gellman Photos.
After studying Asian History at the University of Rochester in the 1990s, he went on to New York University (NYU) for a graduate degree in painting. He credits the school with an education that, years later, was nothing like what he expected.
NYU wasn't what he thought it would be, and "I struggled there," he said. By then Adae was a new dad, with two young sons who were just 14 months apart. Each week, he commuted from New Haven to NYU for his classes. Early on, he failed a review for presenting two related bodies of work, one abstract and the other figural, as a cohesive, interdependent whole. After an initial shock, he took the failure in stride.
It ultimately led him to begin the Kwadrilaterals, of which there are now 40 (only six are on display)—and to found his New Haven art school in 2005. Thursday, several attendees praised the canvases, which feature swirling, geometric shocks of color and paint that is carefully layered. On one, small blue circles give way to tiny, intricate mountains of indigo paint, sharp at the tip. On another, a delicate gilded overgrowth sprawls across the canvas, as if a precious gold fungus has grown right out of the paint.
"I was able to use this body of work to place the difficulties of my life in a positive light," he said Thursday. "Being able to speak to myself, to heal during the experience, which was arduous and difficult. And I love that art has the power to do that, whether it's painting or dance or music. It's that healing aspect that really I have come to need in my life."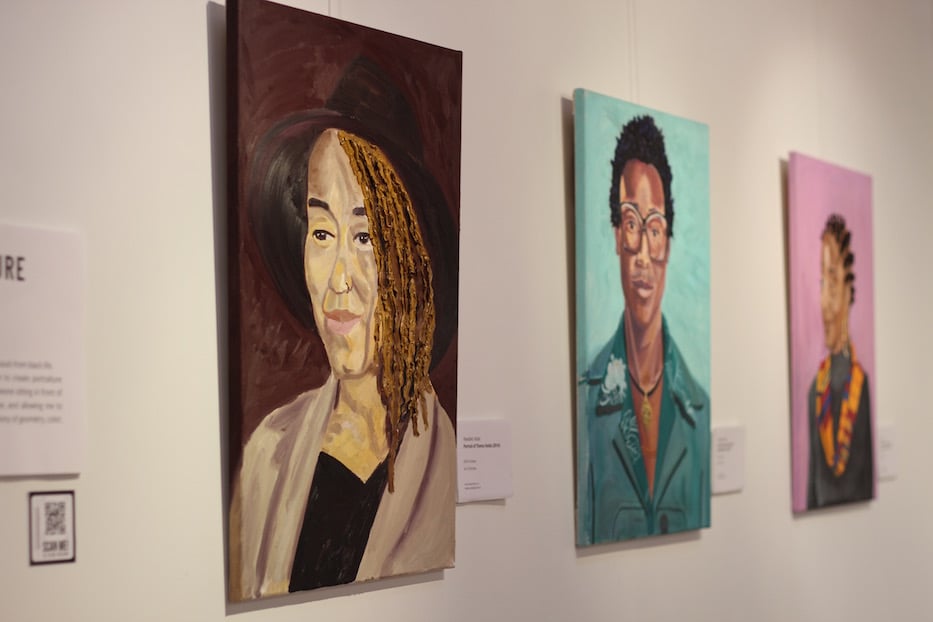 From left to right, Adae's portraits of One Village Healing Co-Founder Thema Graves, himself, and Zen Zilla Yoga founder Shefau Dabre. Lucy Gellman Photos.
That healing now echoes through ConnCAT, winding up the building's staircase and onto the second floor, where Adae's work lives beside a permanent installation from photographer Benedict J. Fernandez. On a wall close to the entrance, his 2012 Portrait of the Spider Kimberly Cherubin is one of the first works that viewers see, her eyes half on Adae, half on something just outside the frame. Ten years ago, Cherubin—the wife of an art school classmate—was the first sitter Adae ever had for a portrait session. During their sessions, she sat with knitting just out of the frame in her lap. Adae can still remember the insistent clicking of her needles as they worked the yarn.
Around her, figures spring to life, creating a timeline of family—biological, New Haven related and otherwise—past and present. From across the gallery, One Village Healing co-founders Thema Graves and Hanifa Nayo Washington exude warmth even from the stillness of their canvases, Graves beaming from beneath a wide-brimmed hat. Her hair, freshly coiffed and raised from the canvas, falls to one side of her face. Her eyes focus softly on something in front of her.
The portrait is from 2020, early on in the pandemic—but Graves looks calm, steady in the coming storm. Maybe it's because she's in good company: a 2014 self-portrait of Adae and 2020 portrait of Zen Zilla Yoga founder Shefau Dabre hang on the wall beside her. Washington, who went on to co-found the psychedelic support hotline Fireside Project and move to the West Coast, looks right out at the viewer from across the room. All will be well, they seem to tell her.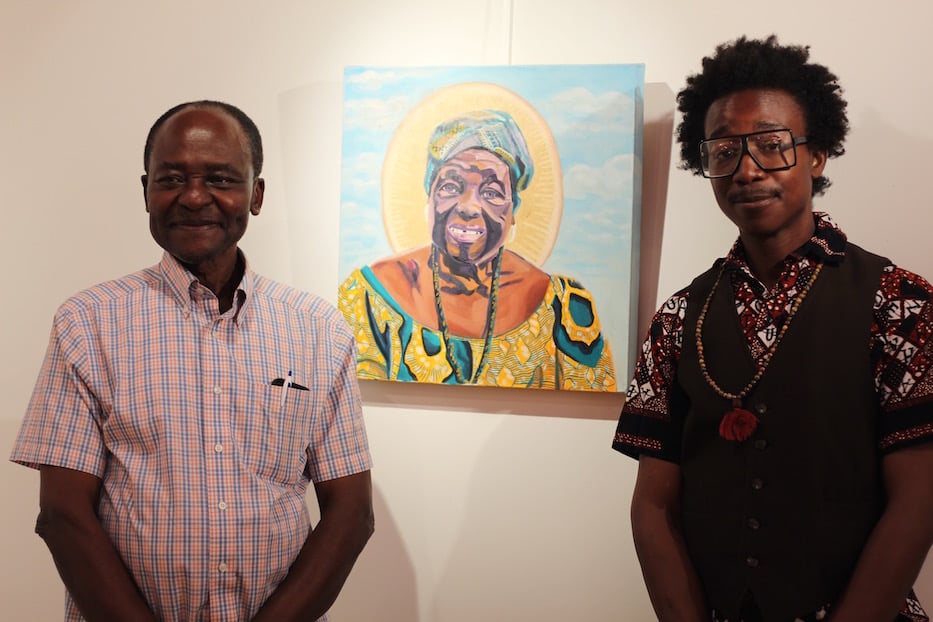 Frank Adae and Kwadwo Adae in front of Adae's portrait of Akosua Bemah Kumi. Lucy Gellman Photos.
"It is a luxury to have someone sitting in front of my easel, holding their face in time, and allowing me to capture their essence in the symphony of geometry, color, and shadows that make the face," Adae has written in an accompanying artist's statement.
One portrait stands apart from the others, asking a viewer to come closer. In it, Adae's late grandmother Akosua Bemah Kumi smiles wide, a halo surrounding her bright, wrinkled cheeks. A vivid cotton dress hangs from her shoulders, the fabric printed with blooms of indigo, blocks of yellow and thin, undulating green lines. Wispy, light white clouds float across a blue expanse in the background. She seems to emit light itself, as if the artist has found a way to paint on both sides of the veil.
Like all of his work, the portrait tells a story of family, of lineage, and of faith itself. The mother to six boys of whom Adae's father Frank was the oldest, Kumi lived in Ghana for her entire life, and was widowed as a young mother. For decades, she raised her children as a single mom and fierce matriarch, with a vibrating, steadfast energy that circulates through Adae still today. When she passed away a decade ago, "I wanted her to be in our lives still," he said.
While he originally painted the work for his father, her death "was still too fresh" for Frank to have it in the house, he said. Adae found it a second home in his living room in Bethany, where she held court consistently until the installation at ConnCAT. When he looks at it, he said, he remembers how his ancestors live on through him and his sons each day. He is no longer the only artist in the family: his teenage son Kwasi is now a mural assistant and teaches classes at the downtown branch of the New Haven Free Public Library.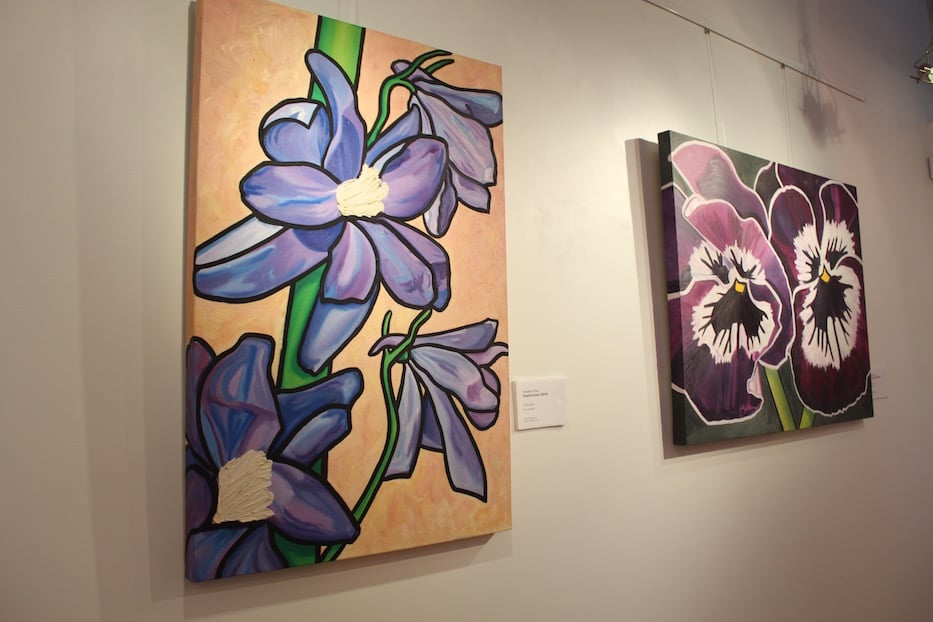 "I know that they're dying in front of me really slowly, so I'm trying to capture the beauty of what I see and feel the flower. Feel its essence," he said of his series Bloom. Lucy Gellman Photos.
Across the hallway from his portraits, Adae has turned a white-walled gallery into a garden with Bloom, still lives of flowers from eight long Connecticut winters. On one wall, orchids and delphinium flourish side by side, vivid in their shades of magenta, violet and lavender. In some places, the purple is the hue of a ripe eggplant, so deep it's almost black. Beside them, pink orchids and thick, garnet-red chrysanthemums explode into color. A rosebud sits quietly across from them, as if it is contemplating its next move.
The paintings, which start in 2013 and go through 2021, come from Adae's annual practice of painting flowers in the wintertime, when the bone-cracking New England cold "steals the color from the landscape," he said.
Eight years ago, he started the series as the dark months descended on New Haven with their low-hanging gray skies and early, frost-bitten nights. At the time, his art school was still on Chapel Street, in the same large building that once held Breathing Room Yoga and a number of refurbished apartments for rent. Before dusk, he would walk the short distance to The Blossom Shop around the corner, and collect flowers that were on their way out.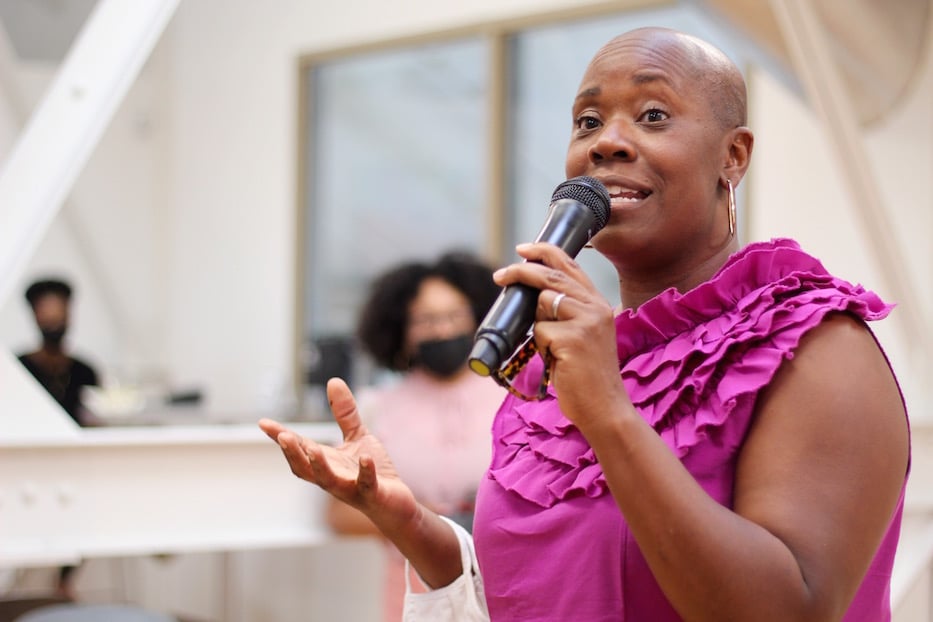 ConnCAT President and CEO Genevive Walker, who praised the work at an opening last week. Lucy Gellman Photos.
The flowers were fleeting, but they lasted long enough for him to paint them, he said. When he moved his studio to State Street, he continued the practice.
"It's really important to me to be looking at beauty," he said. "I know that they're dying in front of me really slowly, so I'm trying to capture the beauty of what I see and feel the flower. Feel its essence."
They go hand-in-hand with the Kwadrilaterals, time-intensive works which appear to come from another dimension entirely. Thursday, several attendees lingered at the canvases, taking time to absorb each detail. In Number XXXVIII, it was as if Adae had opened a portal, its slick, pink insides extending out to infinity. At the front—that gentle tear in time and space—streams of purple, gold and oxblood red surged forward as if they had fingers. If a viewer stepped in they could see purple shapes rising from the frame, like the tiny suction cups that run along an octopus' tentacle.
"What do you hold in your brain and your body while you paint?" asked New Havener Jordan Gage, who rolled in Thursday with fresh, hand-drawn black squiggles snaking across her crisp white low tops.
"Oh wow," Adae responded, taking a beat. "It depends on the subject of what I'm creating. If I've got someone in front of me, I just study them and break them down in terms of color, form, geometry, shadow. I look at what I find beautiful, aesthetically pleasing about all of it, and it's in everyone. Everyone's got beauty in them."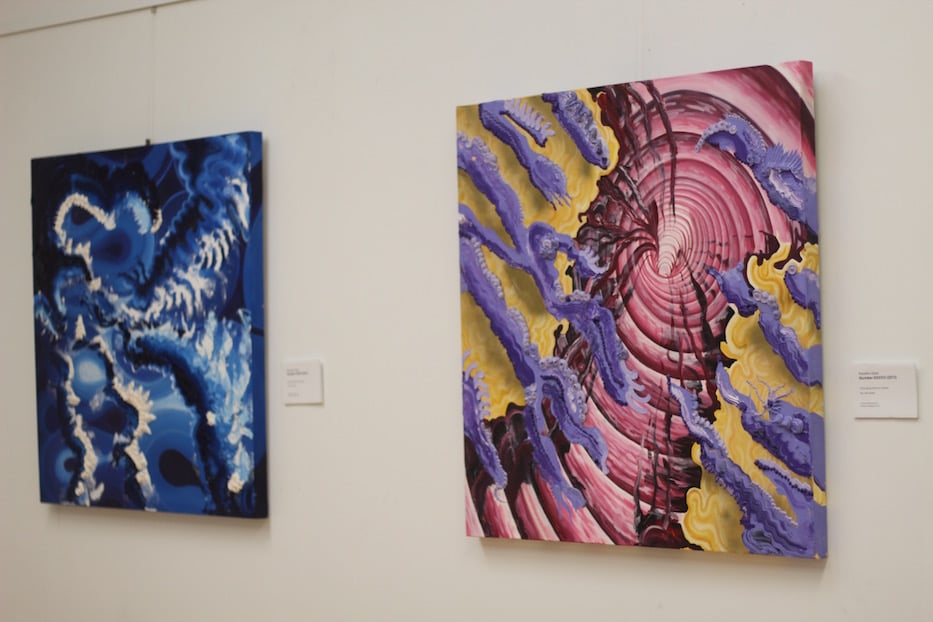 Six of Adae's 40 Kwadrilaterals are on view. Lucy Gellman Photos.
While the exhibition very much celebrates ConnCAT's physical space, Adae has also included photographs and preliminary drawings of his murals, a nod to his ongoing work as a public artist. Thursday, he noted his commitment to large-scale mural projects in New Haven, particularly in the city's chronically under-resourced, historically redlined neighborhoods.
Each of them is part of an ever-expanding personal geography, from a stand against police brutality in Newhallville to a belief that women's rights are, indeed, human rights at the New Haven-Hamden Goodrich Street border. Through his work in both Connecticut and abroad (the artist has completed projects in India, Ecuador, and Guatemala) he said he's found that every person in every place wants the same thing: for their neighborhood to have the same access to beauty and art as any other neighborhood.
This month, he plans to begin work on a three-story, 30-by-13 foot mural of orchids on the Hillside Family Shelter in New Haven's Hill neighborhood, at the corner of Sylvan Avenue and Stevens Street. The project has received support from the Community Foundation for Greater New Haven and the Urban Resources Initiative (URI), which will be planting an Eastern Redbud tree across the street. It marks another first for him: the project will be his artistic introduction to the Hill.
"The message is [that] everyone, no matter their circumstances, deserves to come home to flowers," he said to a wave of mmmhmms and applause that rippled through the space. "Everyone. It doesn't matter. With art and with nature, we can make a really beautiful corner in New Haven. And if we just keep doing that in all of the places that have been poorly redlined, we'll change the city."
Paintings By Kwadwo Adae runs at ConnCAT, 4 Science Park in New Haven, through July 31. For hours and more information, visit their website. Follow Kwadwo Adae's work on Facebook or Instagram at @kwadwo.adae. Watch more from the opening reception in the videos above.