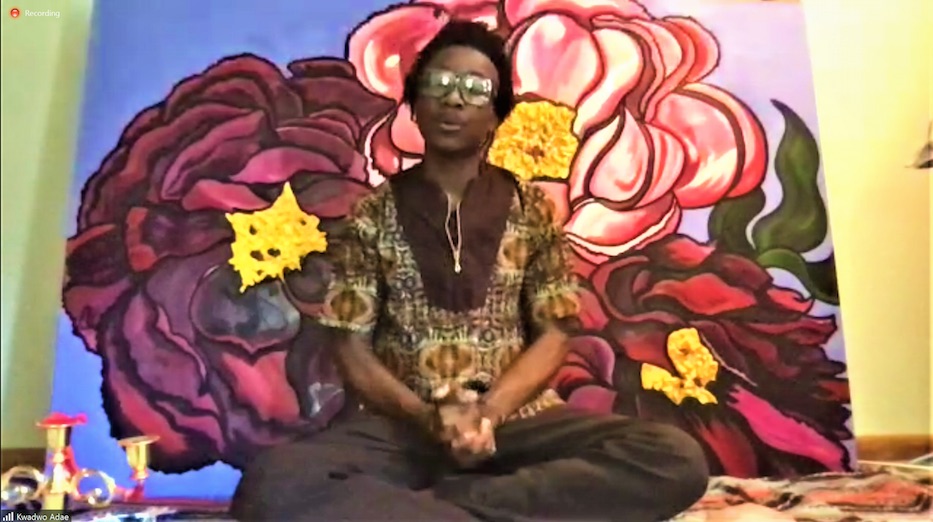 Kwadwo Adae | Artspace New Haven | New Haven Free Public Library | Visual Arts | COVID-19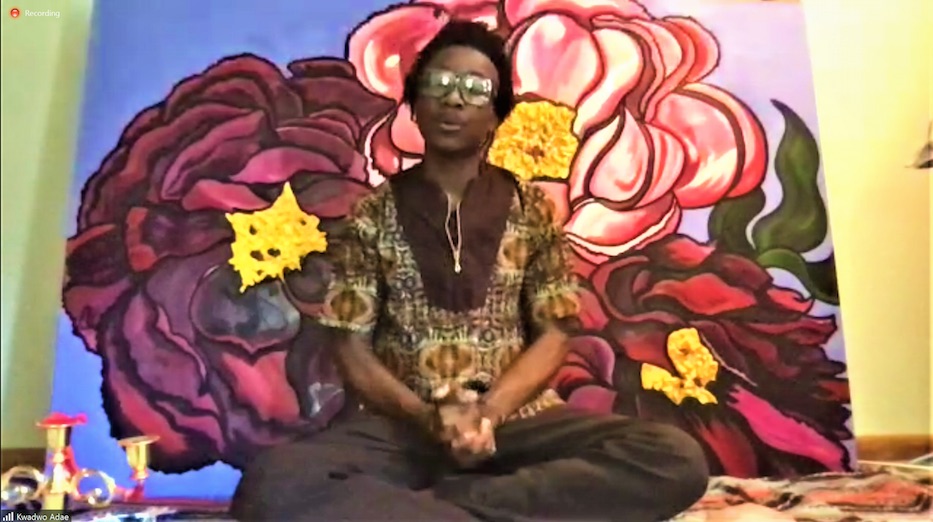 Adae, speaking in the NHFPL's series. Zoom Screenshot.
Artist Kwadwo Adae looked through a screen, past an image beamed over a camera, straight into Eric Rey's patient, questioning face. Behind the artist, a canvas exploded with color, red and purple flowers bursting into boom.
"When I look at your face in the Zoom screen," he observed with a crinkled brow, "I see this line right between your eyebrows. It's the same shade of yellow-white that your cheeks and your nose are hitting the light. On the sides of your head, you've got blue shadows coming in from the residual light in your room—a mix of yellow, white, and blue."
Last week, Adae and Rey were speaking as part of the New Haven Free Public Library's Artrepreneur Series, held multiple times per month on Zoom. The virtual initiative comes as the library continues to roll out new programming in the midst of COVID-19, even as it partially reopens its doors for curbside pickup and printing assistance.
Rey, who is the co-founder of Sopa New Haven, a drummer, and the library's entrepreneur-in-residence. began the talks on June 2 with musician Paul Bryant Hudson.
Installments are an inside look at the artistic process, with a hyper-local lens. In addition to Hudson and Adae, Rey has spoken to musicians Dylan McDonnell and chad browne-springer. Presenters describe what they wish—their work, passions, struggles, successes, and efforts to maintain themselves within the arts industry. At the end of their presentations, they field questions from community members.
Adae is the founder of alternative-arts school Adae Fine Art Academy and its Mobile Arts Studio. In 2005, the institution placed its roots in New Haven's Ninth Square Historic District; it moved to State Street last year. The artist's work spans further than New Haven—many of his murals cover walls throughout the East Coast, India, and Guatemala, as well as on the Farmington Canal Heritage Trail, Dixwell Avenue, and in businesses in downtown and East Rock. His exhibitions also extend throughout the United States.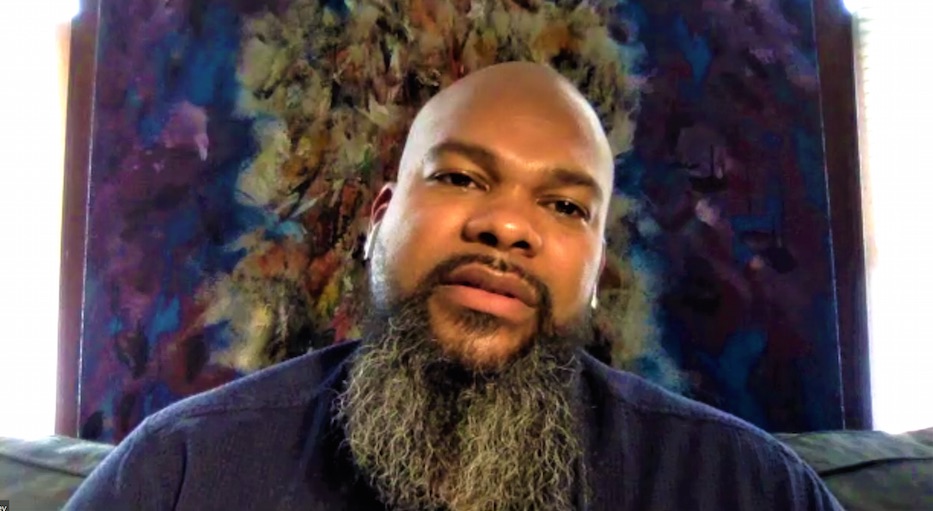 During the session, Adae spoke about work in Artspace New Haven's upcoming exhibition Revolution on Trial. The exhibition, which commemorates the 50th anniversary of New Haven's 1970 Black Panther Trials, opens July 24 at the Orange Street venue. His work in the show will feature what he called "protest armor," including nine portraits of demonstrators he selected for the work. The title is both literal and figurative—"protest armor" refers to both protesters' demeanor and garb in the face of militarized law enforcement.
"There's a moment when I'm photographing people in the studio to be painted for the portraits," Adae said. "I have my camera up, and I'm just like, 'Okay, pose how you would if you were at the protest!' Then I say, 'Okay, now look at me like I'm the cops!' I photograph that. I have a collection of these powerful faces—you can just see the demeanor change when a perceived threat appears."
Adae knows that threat all too well. His desire to pursue the project came from his own experiences protesting; he has also been open about being racially profiled by the New Haven Police Department more than once, including as recently as last month. He recalled "linking arms" with strangers during protests in a way that became too familiar.
His work is meant to be a visual ode to the protesters around him. He explained that he wants to artistically express the lives and stories that he'd never hear through portraits. He added that he struggled to summon the same empathy for law enforcement—he recalled the "nightstick blows" from the police he was willing to take to protect his fellow demonstrators. He had trouble seeing their humanity through their dark visors, riot shields, and tear gas.
A conversation with the founder of New Haven's Black Panther chapter, Ericka Huggins, reformed his thinking. She was prosecuted alongside Bobby Seale during those trials so long ago. Adae asked about her "protest armor." Huggins told him what she'd discovered through meditation while she'd been incarcerated.
"When a police officer encounters me, for any reason, the fear that would come over me when I was young is no longer there," she told him. "I focus on my humanity—the person behind that badge is also a human—that is what I focus on. Then, the fear melts away."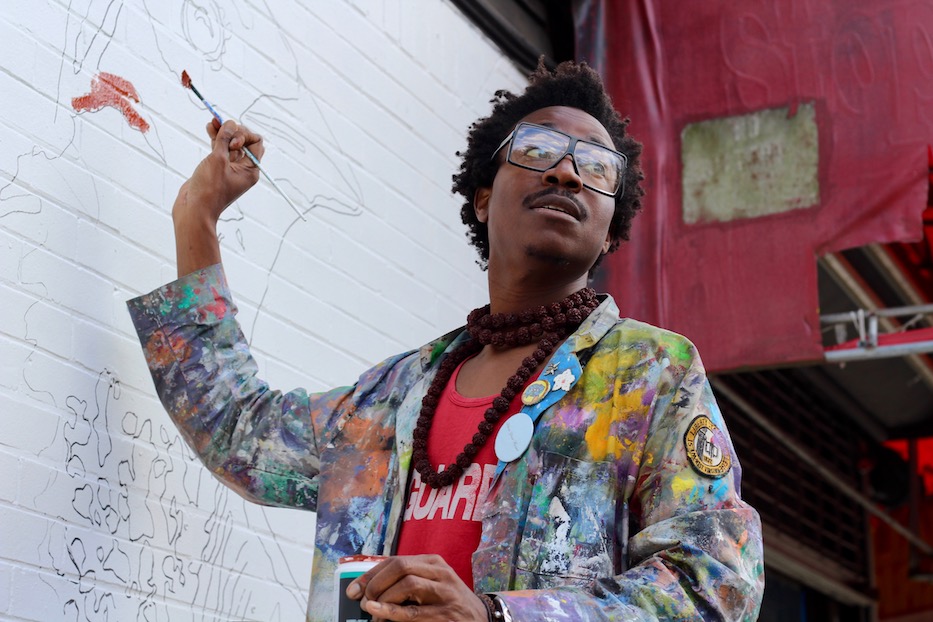 Adae working on a Dixwell Avenue mural in summer 2019. Lucy Gellman File Photo.
Adae had never experienced a moment so profound. He was, and continues to be, a proponent of meditation and mindfulness. Yet, he'd never forged the bridge between the universality and humanity he captured in his art and that of his oppressors. Huggins instilled a lasting change.
"We all should be interacting with one another, seeing each other first as human," Adae remarked. "The grandest illusions that humans have put up in front of one another is that somehow we feel different pain, elation, or love. That is the biggest trick, the biggest divisive trick that there is in this rich cradle."
The truth of equality, shared empathy, and love has always fueled Adae's art. He's taught art in psychiatric clinics, community centers, and group homes. He's taught across the world among languages not his own. He's always wished for that superpower, one that would allow him to "speak all languages everywhere." The closest he can get is his art. A painting of a flower in New Haven is a flower in India, Ghana, or Guatemala—art is universal.
"If more people just looked at the beauty of everyday things, it'd heal up a lot of society's damage," he said.
Rey closed the event by moderating a community question and answer session with Adae. Adae's art sparked curiosity and wonder from viewers. He fielded questions with grace and a smile. He explained his artistic processes and how he taught students.

He relayed his struggle to break into the artistic space as a first-generation American. He shared his Ghanaian roots and his desire to paint a mural of Queen Mother Yaa Asantewaa in his family's homeland. He hummed with the musicians and laughed with the rowdy.
He empathized with those struggling from the financial strain of COVID-19, during which unemployment in New Haven has skyrocketed to 1000 percent higher than what it was a year ago. One attendee was so compelled by his art, that she asked what she could to support him. Touched, he complied. He was selling paintings. He was instructing meditation courses. He was teaching virtual figure-drawing classes.
There was a somber silence. After a pause, Rey cracked a smile and asked Adae about his favorite taco places. The Zoom was rowdy once again in discussion and debate, with laughter from every color and creed. Adae beamed.
The Artrepreneur Series will continue August 7, featuring jazz musician Finn Henry. Register for the installment here.