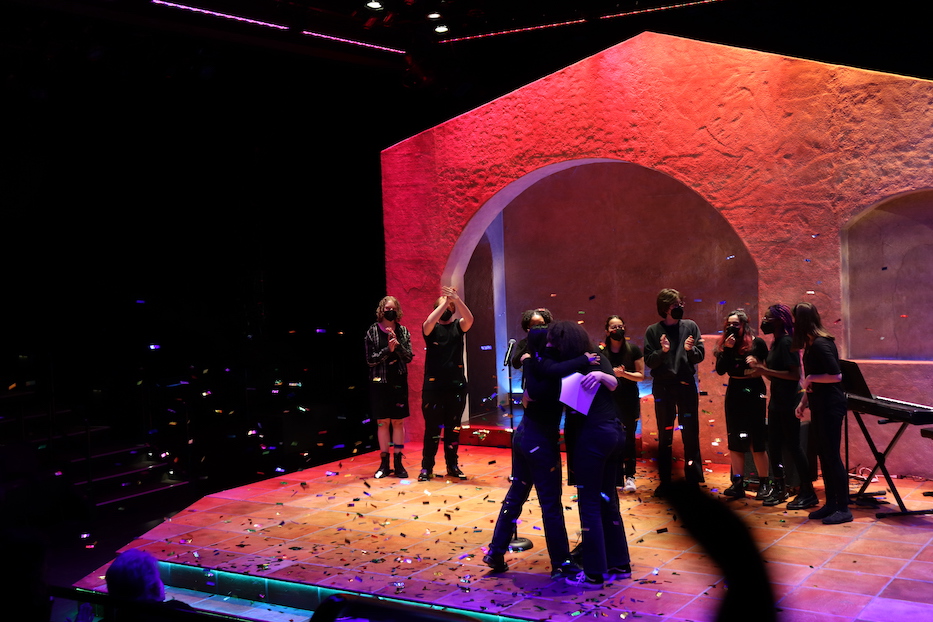 Education & Youth | Long Wharf Theatre | Arts & Culture | Theater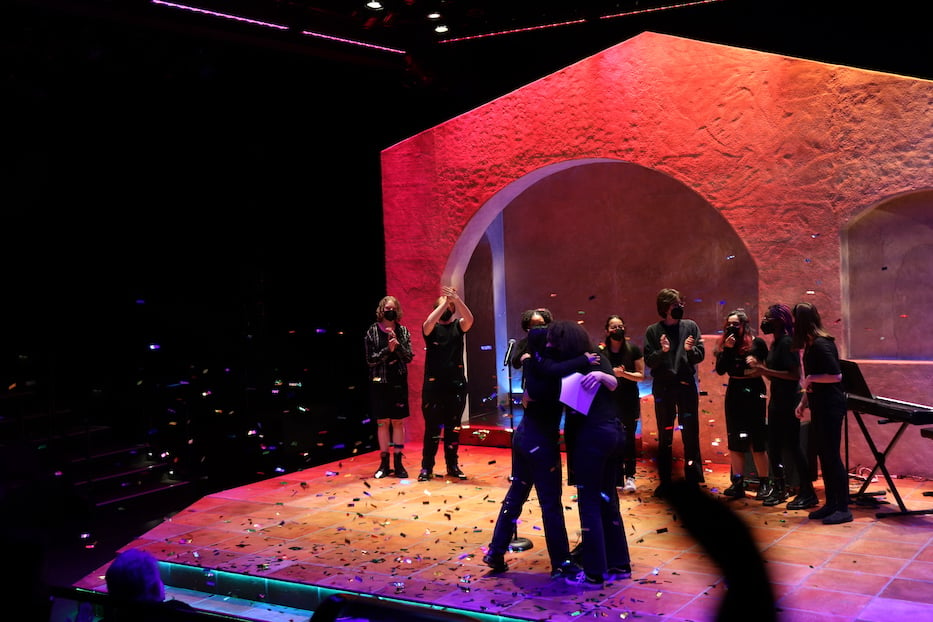 The finale. Jazmine Williamson Photo.
Julia Weston stepped forward on Long Wharf's stage, bathed in yellow light. In one universe, she was a white man with huge, thick-skinned feet, glowing green eyes and tiny hands, ready to decimate everything in his path. In another, she was a young Black woman on the sweet edge of 16, already aware of how history was working against her. In both, she harnessed something deep in her ribcage, and sent her story galloping forward.
"And I begin to laugh," she said. "And what starts out as a soft, murmur of a laugh turns into this maniacal, villainous laugh. I'm laughing so hard that I'm crying. I'm crying tears of joy."
Dreams, nightmares, alternate realities and dispatches from the future collided Monday night, as 11 high school students jumped headfirst into the regional finals of the Next Narrative Monologue Competition at Long Wharf Theatre. For eight weeks, they have been working with teaching artists Julius Stone and Jacqueline Brown on a number of contemporary monologues written by living Black playwrights. Artistic Associate Cheyenne Barboza doubled as the host.
"I think there's something really magical that was missed in the moment [last year]," Barboza said, addressing both the students and the audience. "What do they say in church? I hope you take what was for you and you plant it and you let it bloom."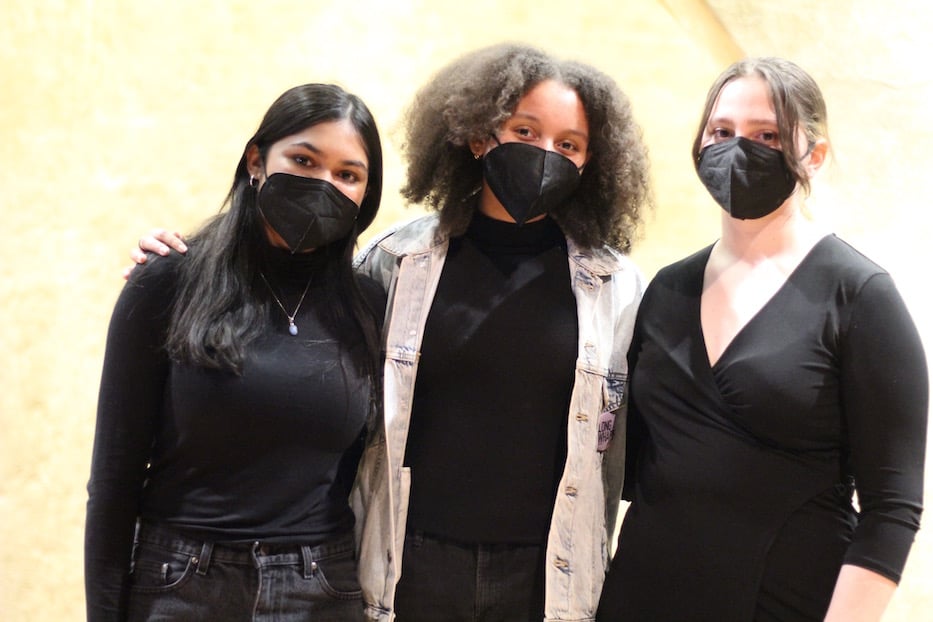 Leila Hyder, Julia Weston and Isabella Seery. Lucy Gellman Photo.
Weston ultimately snagged first place. She, as well as second-place winner Leila Hyder, will go on to national finals at the Apollo Theater in May. Both are first-time performers in the competition: Weston is a sophomore at Watkinson High School in Hartford and Hyder is a sophomore at Hopkins School in New Haven. Returning performer Isabella Seery, a student at Bristol Eastern School and the Greater Hartford Academy of Arts for Musical Theatre, came in third, making her the alternate.
A project of Kenny Leon's True Colors Theatre Company in Atlanta, the Next Narrative Monologue Competition emerged last year, as True Colors' Artistic Director Jamil Jude commissioned several contemporary Black playwrights to write monologues for high school students across the country. It takes the place of the August Wilson Monologue Competition, in which Long Wharf participated as a regional partner for four years (read more about that here, here, here, here and here).
Just as in previous years, the Yale Repertory Theatre and David Geffen School of Drama also came onboard as a partner, with performances from graduate students Anthony Holiday, Matthew Elijah Webb, Maal Imani West and Ben Beckham. The night, however, belonged to the youngest voices in the room.
Performing against the glowing, sunset-colored set of Eliana Pipes' Dream Hou$e, student-artists arrived in the cavernous theater entirely as themselves, and stepped into the spotlight as anxious mothers, sassy and jaded aunties, teenage wallflowers in existential crisis and high school students navigating friendships, academic loss, cultural appropriation, anti-vaxxer parents and parenting decisions that weren't theirs to make. In other words, as both their characters and sometimes, as themselves.
Caden Davila-Sanabria. Jazmine Williamson Photo.
On stage, all 11 seemed to register what it meant to be back in space together instead of on a screen. Between monologues, they used the one thing that the past two years have not promised anyone—their breath—to transition in and out of their roles. As they unmasked temporarily, performed, re-masked, and exhaled loudly, it worked to call the audience and their peers into the space.
As she opened the evening as Rachel Lynett's Minnie in "One Second," Cooperative Arts & Humanities High School freshman Caden Davila-Sanabria turned into a slump-shouldered 18-year-old hiding out at her own birthday party, dressed in an outfit that hadn't been comfortable to begin with. Panic teased at the edges of her voice until it crept in, slipping through her stomach and rib cage. Her words tumbled forward, increasingly restless. Seery later took on the same monologue with a softer, less manic energy that still bubbled with trepidation.
In every sentence, the audience could feel that low hum of the past two years—that anxiety that has worn its way bone-deep, and then kept going. There was the news, Minnie said, barely taking a breath. And police brutality. And climate catastrophe. And nearly two decades of not-normal-ness punctuated by a pandemic. By the time she wished out loud for some sort of pause button, the audience was right there with her, some attendees nodding on the edges of their seats.
"I'm tired," Davila-Sanabria said in a voice to which it was hard not to respond "Me too!" or "Say it!" in real time. "My body feels like it's carrying a weight that was meant for someone so much stronger than me and I'm collapsing under the weight of 'it's gonna get better' Does it really?"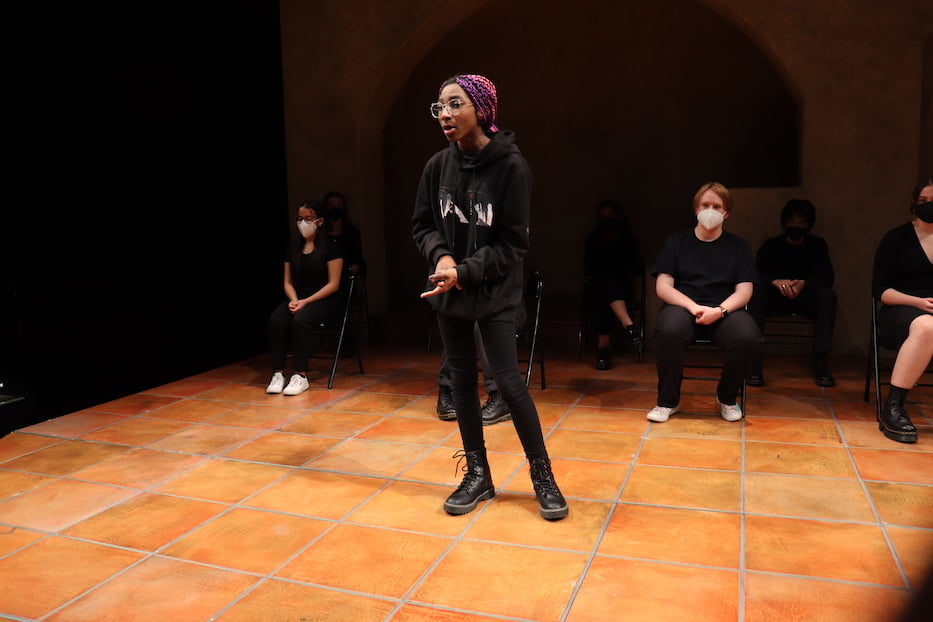 Kaylin Harrell. Jazmine Williamson Photo.
With a wisdom often beyond their years—and sometimes very much of their years—actors harnessed the grief, anxiety, exhaustion, and bittersweet humor that is woven into being young and human in this moment. In Candrice Jones' "It's Aaliyah for Me," Amity High School freshman Kaylin Harrell played the monologue for a sharp-edged sort of comedy, taking their peers to task as they defended their choice on a class assignment.
As they began to talk in a conversational voice, it was not hard not to imagine them in front of a real-life high school class, their peers slack-jawed but ready to listen up. In the monologue, the actor has chosen the Black singer Aaliyah, who died in a plane crash in 2001, as a celebrity death that moved them profoundly. At the time she died, Aaliyah was just 22 years old. And yet, the class and teacher protested: why not Whitney Houston?
As they found their light, Harrell put their arms out in front of them. Long pink and purple braids spilled over their shoulders. They tiptoed between smiling and giving the class a serious history lesson.
They waxed poetic on Aaliyah's reclamation of goth and her strategic use of sunglasses. They reminded the audience that before Whitney Houston died, the world broke her and then broke her again. They mourned the loss of a star whose voice shook the rafters, but pointed to another who was gone much too soon. Beneath a barbed performance, Jones' language hung over the audience, glittering with a script-flipping, monolith-shattering bucking of expectation that felt full of possibility. It seemed as if the monologue belonged at a rally or teach-in, where Harrell could have a megaphone and a boombox.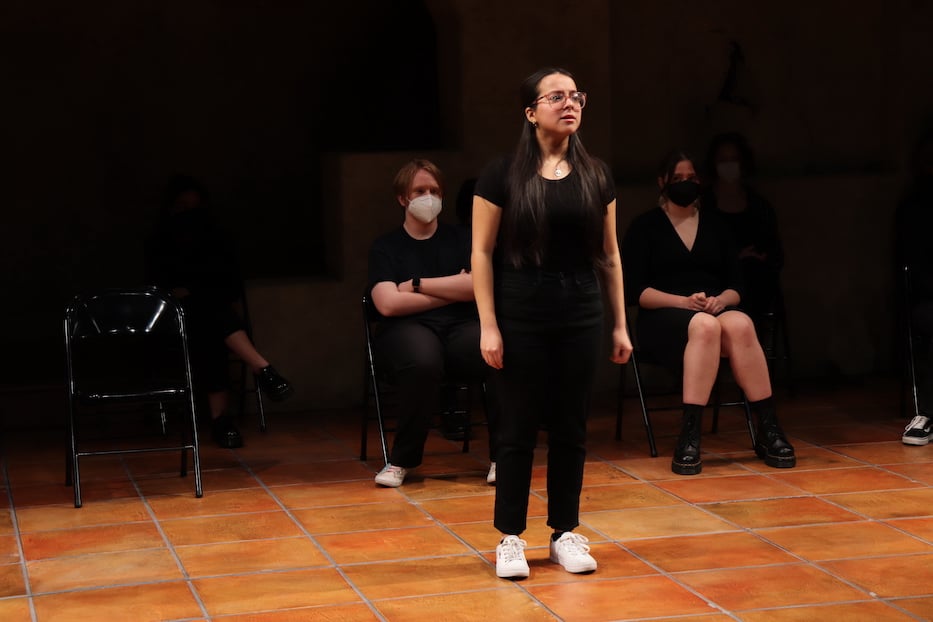 Grace Molina. Jazmine Williamson Photo.
When Harrell sat back down, students swam in their dramatic slipstream, using playwrights' world-building to find their own. In Idris Goodwin's "The Prophet," Bunnell High School student Grace Molina drew laughs as she described her visions of the future, reminding audiences of the dark, bitter hilarity in the attempted gaslighting of an entire generation (Goodwin's ability to fit Joan of Arc and DMX in the same sentence is narrative gold).
As she stood to perform Goodwin's "Not Giving Up My Shot," Katelyn Webster reminded the audience that 25 months into the pandemic, millions of Americans still believe in God, but question the existence of a vaccine that defines loving thy neighbor as thyself. Silas Webb, a student at Hopkins School who has delighted audiences as a member of Elm Shakespeare's Teen Troupe, somehow married physical humor, gentrification, and a well-placed, gnawing joke about colonialism all before the end of the night.
As Hyder morphed into an anxious mother in Jones' "Eat," she found the fine line between sadness and softness, turning to that balance instead of desperation. In the monologue, she is a mother stretched thin and talking to her son ​​Keyvaughn, who has stopped eating in protest of her job at a gun factory.
Leila Hyder. Jazmine Williamson Photo.
As she laid out the facts for her son—that the job allowed her to give him "food, clothing, and shelter," and would one day pay his college tuition—Hyder conveyed as much in a look, a pair of outstretched or recoiling arms, a quivering or bitten lip than in a single word or sentence. Just as in "It's Aaliyah for Me," Jones' raw poetry threaded itself though every pregnant pause and fiery downbeat. Hyder, meanwhile, took stock of the stage, and criss-crossed the open space to make it her own.
"​​And each time I see a school shooting happen I feel a pain in my chest cause I know where I work," she said, and the words soared through the space. "I know somewhere a mother is suffering because of where I work."
Around her, the audience could feel the weight of Columbine, of Sandy Hook, of Parkland, of Pulse—and also of Winchester Arms, of Sikorsky, of Lockheed Martin as it signs a 20-year agreement with the state. When she sat back down, it seemed that she was still in two places, doing the mental gymnastics of late-stage capitalism and having to make a living.
In an interview after the performance, Hyder said she tried to channel both her younger self and her mom while preparing for the competition. She was in elementary school when the Sandy Hook shooting took place, and spent time with her family at vigils for the victims. She's also been on ​Keyvaughn's end, stubbornly refusing to eat or clean or do her chores because of something she's angry about. The monologue spoke to her for its empathy and open-endedness. When her character finishes speaking, the audience doesn't know if Keyvaughn is going to eat. She chooses to believe that he does, she said.
"I connected to this character in a way that I didn't know I had in me," she said after the competition. "I feel like just picturing somebody so close and personal to you just not eating because of something that you're doing—you feel guilty," she said. "You feel like, 'This is my fault.'"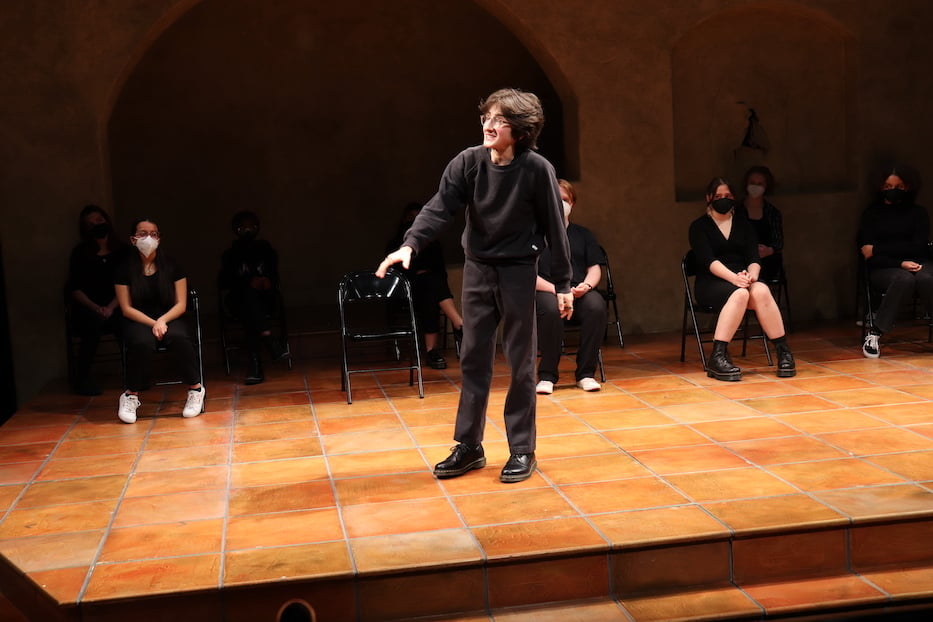 Silas Webb. Jazmine Williamson Photo.
Weston, who took on the character Eboni in Psalmayene 24's "The Recurring Dream, Or Small Baby Hands," agreed. As a vivid dreamer, she gravitated toward the monologue, in which a young Black woman is describing a dream in which she becomes a white man, riding a giant that can quash everything in its path. She doesn't reveal to whom she is speaking until the end, which is part of what makes the monologue delicious in a suspense-building-nerve-rattling-sunken-place sort of way.
On stage, Weston captured that energy as she stood to face the audience, her eyes fixed on a single point in the theater. Even before she opened her mouth, she had become Eboni, shoulders forward, feet planted so firmly they could have grown roots on the stage. When she moved, it was as if the whole room moved with her.
"I try to find meaning in dreams, I really do," she said in an interview afterward. "I think they are such sacred and personal things, so just trying to interpret that … they're such powerful things really. I think dreams are reflections of our own personal desires, and also the opposite. Maybe the things that we're not too fond of in ourselves."
"​​Being a Black woman myself, being an actor, being a writer, being a creative, I felt that it was really important to get to perform pieces by people who look like me," she added. "Writers who were telling stories that aren't often told. And also by young people, which I think is very important … I think we're sending such a powerful message."