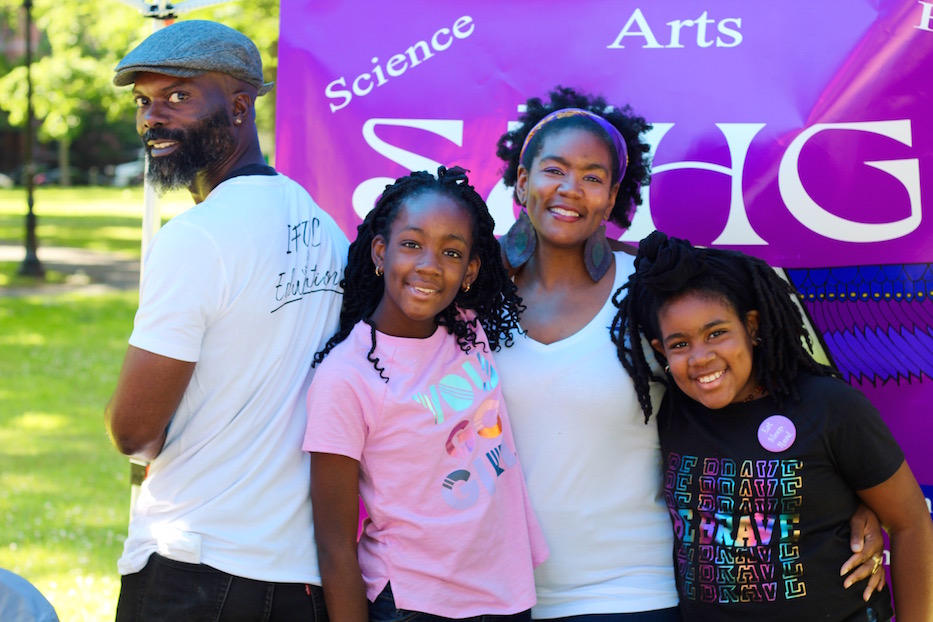 Dixwell | Downtown | International Festival of Arts & Ideas | Juneteenth | Arts & Culture | Citywide Youth Coalition | Arts & Anti-racism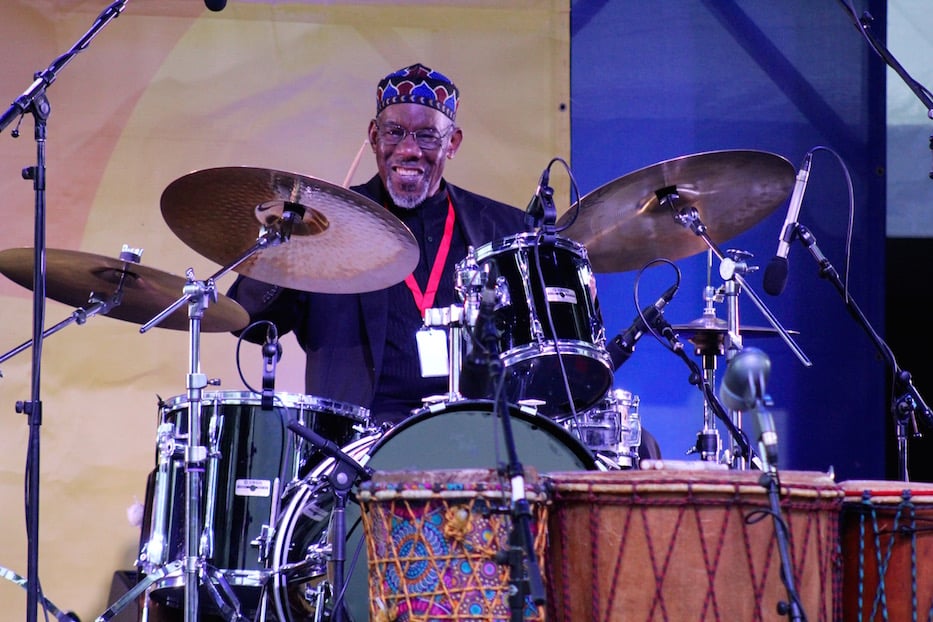 The musician Jesse Hameen II. Lucy Gellman Photo.
The rain had just started to fall and nobody seemed to mind. From the stage, Jesse Hameen II hammered out a greeting, the cymbals crisp and clear over the Green. To his left, a saxophone gilded in to say hello. To his right, an upright bass thrummed its muscled, throaty response. As Rodney Jones joined in on guitar, umbrellas came up. People kept dancing.
Saturday and again on Sunday and Monday, musicians, vendors, and independent artists all started a conversation as part of "Juneteenth: Full Circle," an initiative of the ​​Official Juneteenth Coalition of Greater New Haven (JCGNH) and International Festival of Arts & Ideas to bring Juneteenth celebrations into the heart of New Haven. In its ninth annual year, celebrations centered both fatherhood and Black liberation, including what it means to break from the nascent corporatization of Juneteenth.
The JCGNH's activities this year included a history-making flag raising on the Green, Temple Street vendor market, Elder Honoring Ceremony, and a full afternoon of activities Monday at Stetson Library.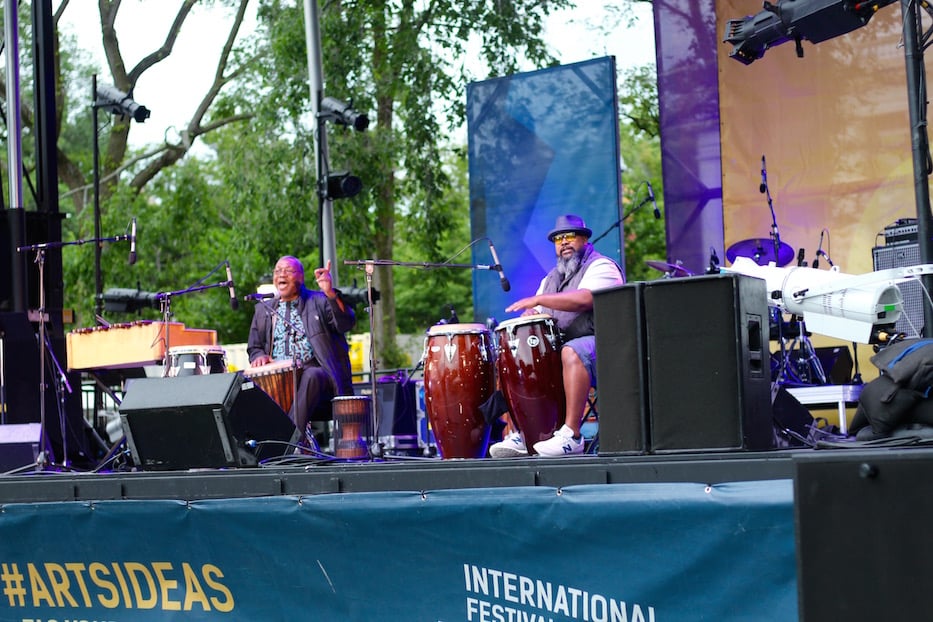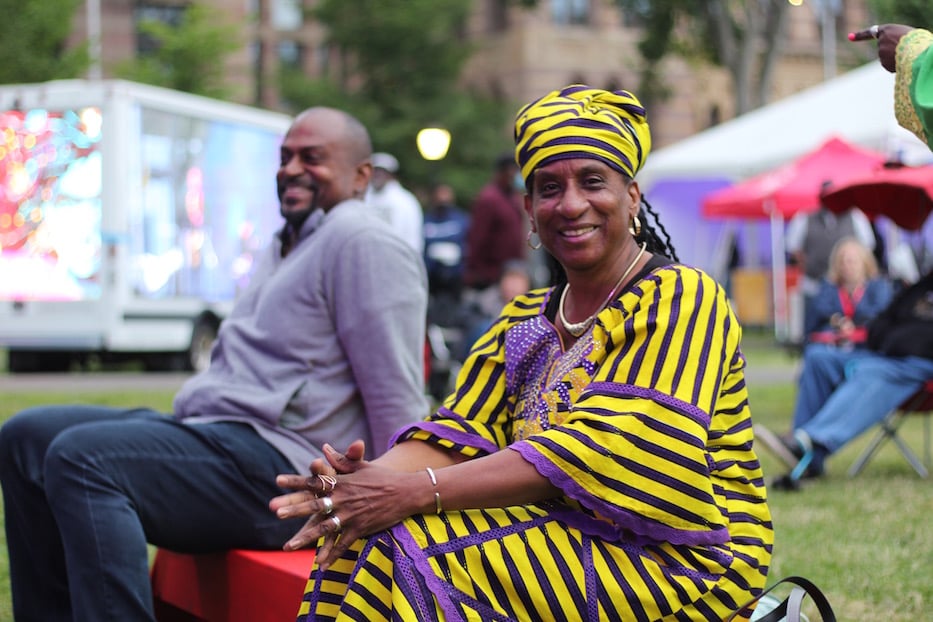 Top: Musicians Brian Jawara Gray and Eric Rey. Bottom: Iman Uqdah Hameen. Lucy Gellman Photo.
The JCNGH is an affiliate of the National Juneteenth Observance Foundation, or NJOF, which fought to make Juneteenth a federal holiday for almost three decades. Founding members include Artsucation Academy Network Founder Hanan Hameen, her mother, ​​Iman Uqdah Hameen, and Stetson Branch Manager and lifelong New Havener Diane Brown.
"A lot of people have the misconception that this was a holiday that was given to us," said Hanan Hameen Saturday evening, praising "Mama" Opal Lee for her tireless decades of work to make Juneteenth a federal holiday. "This was a holiday that we worked for. We petitioned for generations, since June 19, 1865.
"This was not given, this was not a present, this was not something that was thought about because we started working on reparations. No. This is something that we worked for."
From the moment Hameen welcomed musicians to the stage Saturday night, it felt more like a dialogue than a transactional performance. Spread out across the New Haven Green, audience members greeted each other, stopping to talk, catch up, and snap photos even as an evening drizzle rolled in and the temperature dropped. As the first verse of "Lift Every Voice and Sing" rang out over the grass for the second time in one day, a certain reverence came over the space.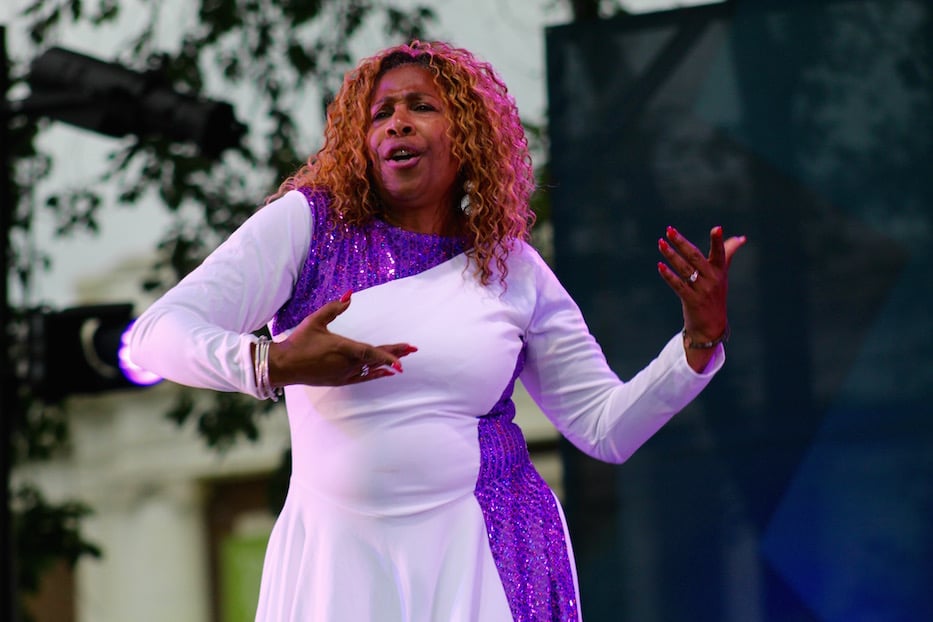 "As many of you know, our history has always included a spiritual side," Pam Brooks-Campbell said.
Throughout the night, musicians and dancers kept that conversation going. Taking the stage in a long, flowing white dress with purple glitter at the sleeves and waist, lifelong New Havener Pam Brooks-Campbell opened performances with a gospel number written by her son. As she used the whole stage as a platform, she got a few attendees on their feet and dancing.
"As many of you know, our history has always included a spiritual side," she said. "So it just seemed appropriate to start off with a gospel song."
The conversation flowed through a short set from musicians Eric Rey and Brian Jawara Gray, who started with a hushed, cavernous stage and ultimately got attendees clapping along and answering with an occasional oooh and ah!. Watching each other for some small cue—the sight raise of a chin, the widening of one eye—they began to drum slowly, feeling out the contours of the air around them.
Rey's hands rolled across the taut drum skin, and suddenly the two were pounding out a rhythm over a backing track. Gray began to sing to the music.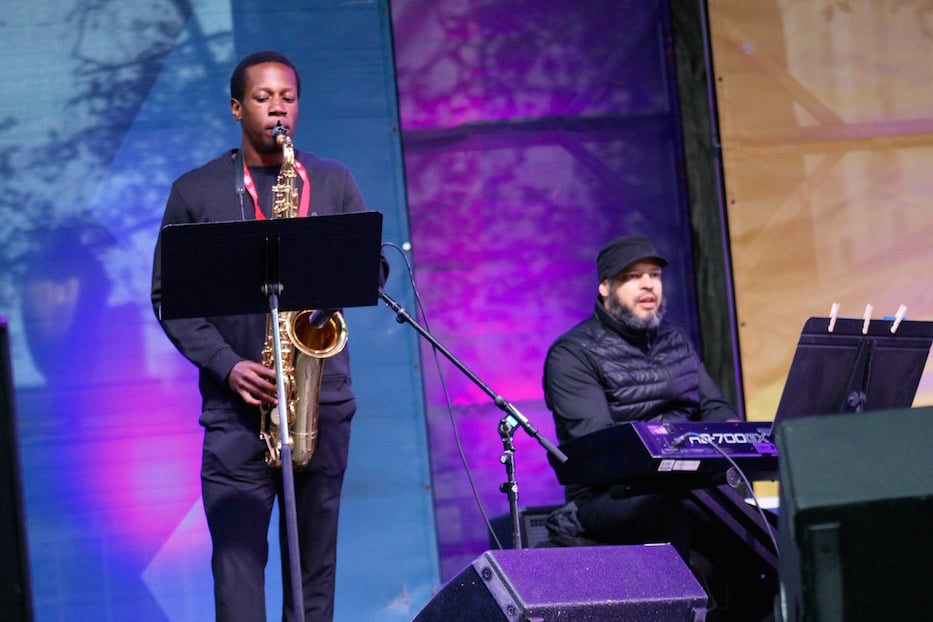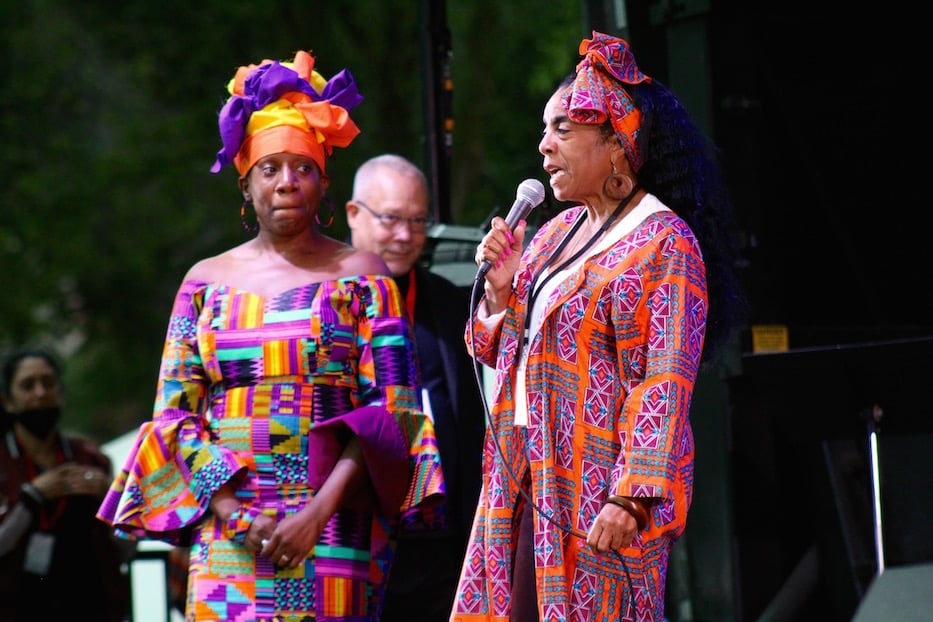 As drums swelled, Hanan Hameen emerged from the wings, and let her body move to the rhythm. Her arms and feet went airborne. Her body transformed into a flash of brilliant color. When she stepped back, Gray hopped over to the xylophone and kept playing.
It set a tone for musicians Jesse Hameen II and members of his band Elevation. As they set up, Brown remembered growing up in New Haven, and learning to drum from him as a small kid. When Hameen came over to babysit—she still refers to him affectionately as "Uncle Cheese," a reference to the fact that he is always smiling—he would pull out pots and pans on which Brown and her sister could play. Decades later, the memory is still fresh in her mind.
They, too, dipped into a conversation without words. Listening for the right moment, Hameen II opened with a steady beat, watching as sax, keys and guitar joined in. Drums threaded their way through bass and sax, quieting as musicians took their chance to solo, then fell into the background. Keys wove a soft, mellow carpet beneath the groove.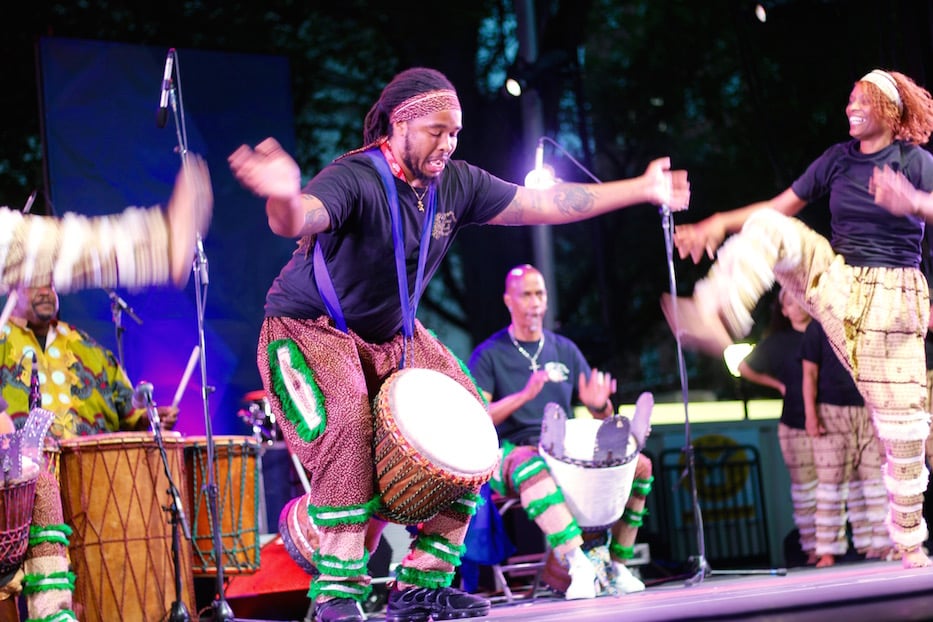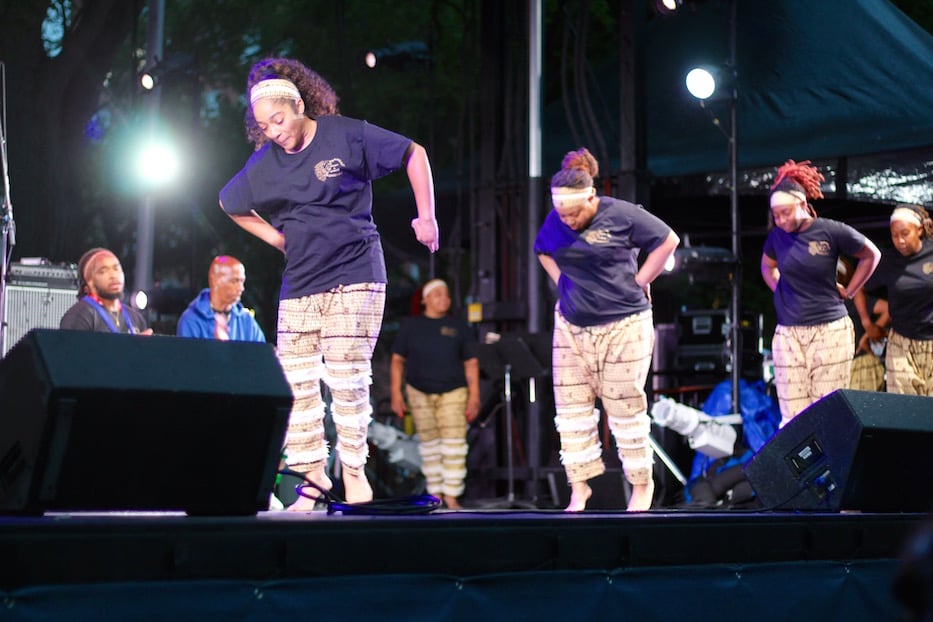 Bambara Drum and Dance. Lucy Gellman Photos.
Close to the end of Elevation's set, Hanan Hameen returned to the stage, drumming with her dad in a performance for the first time ever. The two watched each other intently, talking in a series of half- and full smiles, head nods, flexing wrists and moving shoulders.
"That was an honor," she said, remembering how "I used to create the jazz tunes with my feet" when she was a kid. "
In the wings, artists from Bambara Drum and Dance Ensemble waited for the right opening. When it came, they closed the night with explosive dance, hammering out a heartbeat that tied Saturday night to over four centuries of history.
"A Sense Of Freedom"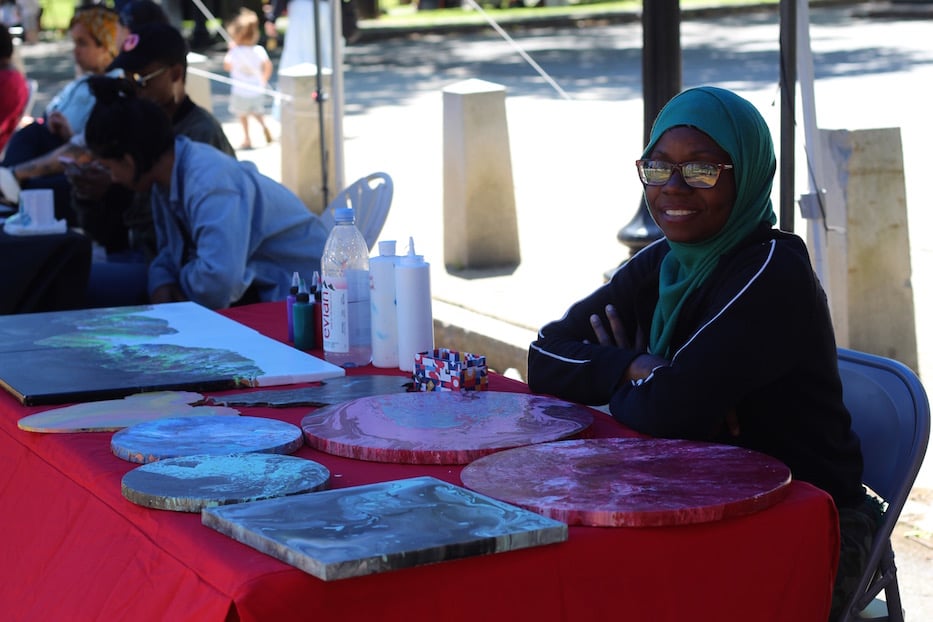 Shameeka Hill. Lucy Gellman Photo.
On a vibrant Sunday afternoon, that conversation continued with a vendor village, as small businesses, organizations, and independent artists set up tents and tables along Temple Street between Elm and Chapel. Across the street, gospel music wafted over the New Haven Green. Ben Haith's red, white, and blue Juneteenth flag flapped proudly overhead for the first time in the city's history.
Beneath one of the first tents, artist Shameeka Hill chatted with passers by about her work. Born and raised in downtown Brooklyn, Hill went to school for criminal justice, then worked in social services for the City of New York until 2016. Six years ago, she decided "I wanted to get out of New York," and moved with her kids to New Haven. In the city, she works with people who have mental illness.
It led her to her artistic practice, she said Sunday. While she had already long recognized drawing as a form of therapy, she started experimenting with paint pouring, learning the practice from video tutorials online. As she spoke, several canvases and wooden board stretched out in front of her, the paint color bright and marbled in the light. What she likes about the practice, she said, is how open-ended it is—if she gets a canvas that she doesn't like, she can keep making changes to the design.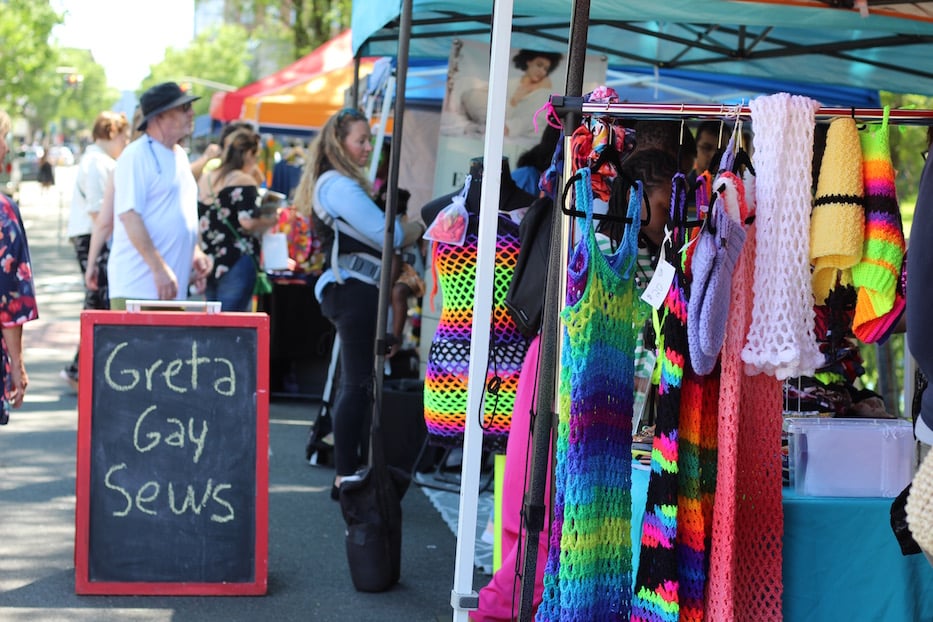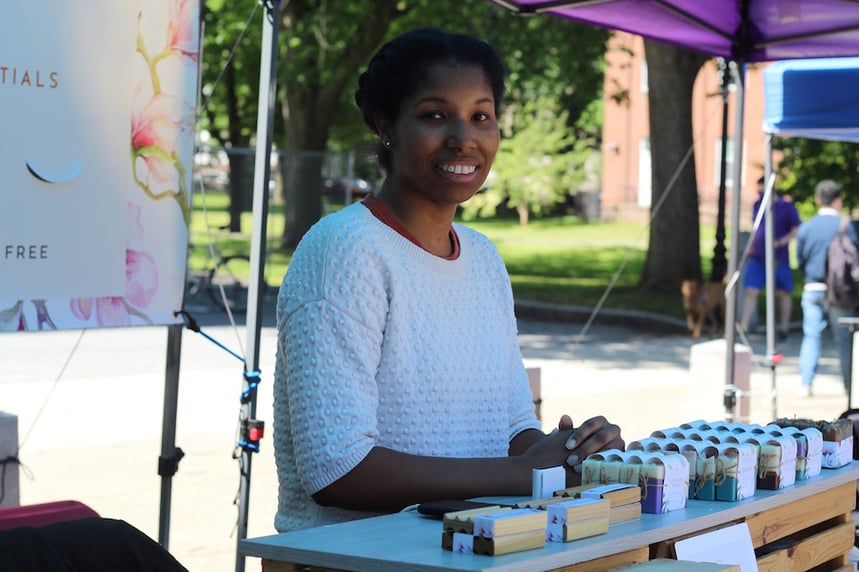 Artist Kiah Smith of Smithmade Essentials.
As she looked over the bustling street, Hill said she was excited for the market—and for the wider recognition of Juneteenth as a federal holiday. Now 38 years old, she didn't learn about Juneteenth until she was in her 20s. She's still thinking about how to talk about it with her kids, who are three and six. She called it a chance to celebrate "a sense of freedom."
Beside her, longtime friends Alana Ladson and Faith Kim laid out a spread of Ladson's work, from mugs that read Hydrated and Healing with fat, blue drops of water to digital designs of young Black women in their element. On one side of the table, Ladson had rendered a mom, beaming at her young child as she received a bouquet of flowers. On the other, a round sticker caught in the sunlight. United Against Creeps Everywhere, it read. Butterfly-women gazed out curiously from a cluster of enamel pins.
A lifelong New Havener—she and Kim graduated from Wilbur Cross High School together a decade ago, and have remained close—Ladson started creating art as a kid, when she didn't see herself or other people of color represented in visual art. In particular, she wanted to see more Black women in art. So she decided to do something about it herself.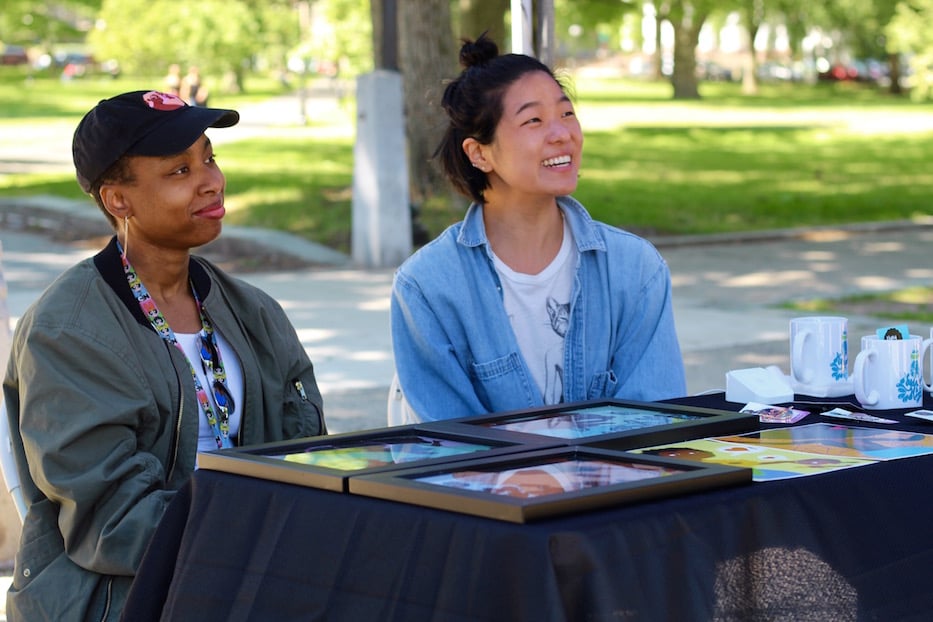 Longtime friends Alana Ladson and Faith Kim. Lucy Gellman Photo.
"I identify as a woman, and I was like, 'I need to see other women in art,'" she said. Even as she pursued a degree in psychology at St. John's University, she deepened her artistic practice. She said that she often thinks of the tie that visual art and artmaking have with social and emotional learning.
Sunday, she was also thinking of what it meant to be vending as an independent artist—among other independent artists—on Juneteenth. Growing up in New Haven, no one talked about the holiday inside or outside of the classroom (the JCGNH has held celebrations for nine years, but the city has only recognized it as a holiday for two). Now that she recognizes it, "I think it means freedom," she said. She added that the vendor fair was "a great way to highlight Black creators."
That sentiment flowed across the booths, from a tent for Smithmade Essentials (read more of her business story here) to a station for Ekow Body.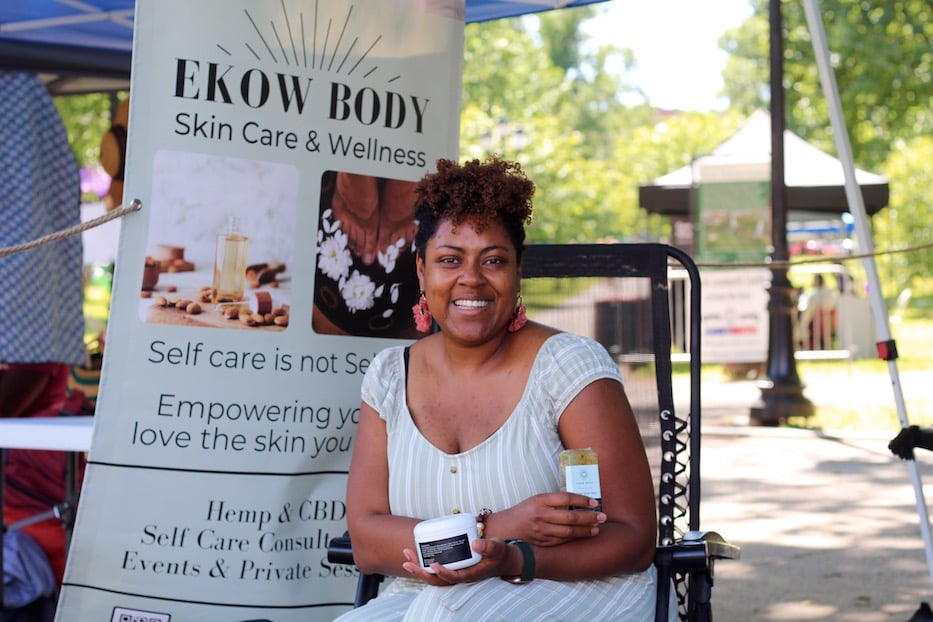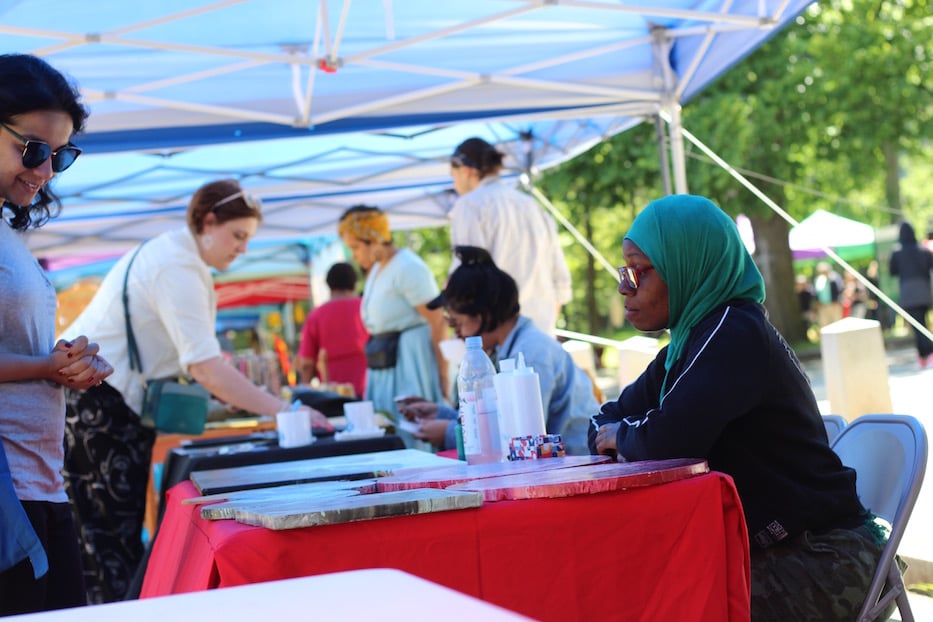 Top: New Havener Candice Dorman. Bottom: Hill.
Run by New Havener Candice Dorman, the line of natural and CBD-infused products grew out of her search for a skin care treatment for her son, Emery Ekow Dorman, who suffers from eczema. When he began to experience flare ups, she discovered that cortisol treatments were time-limited: patients had to stop them after two weeks. She found that a peppermint-scented salve with CBD, now sold as her CBD balm, gave him fairly instant pain relief.
Offering a small scoop to Fair Havener Helene Sapadin, she explained that the chemical makeup of CBD fits into the same brain receptor as THC, without causing the same high. In addition to relieving pain, it calms the neural system, giving the body a chance to heal. In addition to stress relief, she said, it can also help people sleep. In addition to the CBD-infused line, she recently rolled out her "Grounded Sole" collection, focused on footcare.
The products are only part of the process, she said: she wants people to take the 15 minutes or so that foot care requires. As if on cue, she laid Sapadin back in a reclining chair, and set two round cotton pads gently over her eyes. Then she set a timer for two minutes of meditative relaxation. As a "solopreneur" who is also a mom and an active member of her community, she said, she practices what she preaches. Dorman belongs to the nearby JCC and tries to get to the sauna there three days a week.
"I like to show people how to create space for themselves," she said. "Self care is not selfish."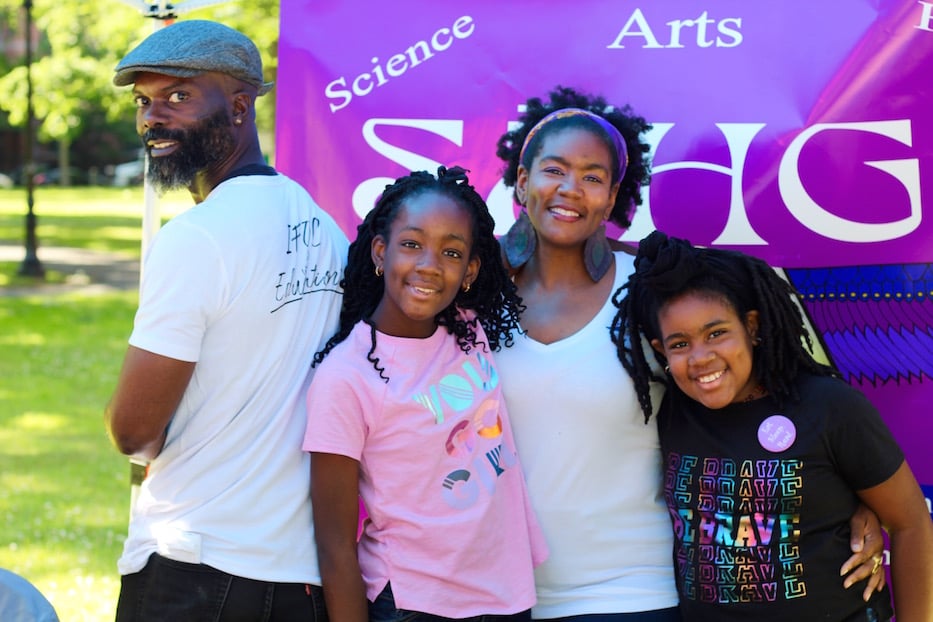 Belito Garcia, Santana Brightly, Arden Santana, and Nevae Brightly.
Across the street on the upper Green, the vendor village continued with several educational organizations, from Sisters With A New Attitude (SWANA) to nascent educational initiatives.
Beneath a tent for SĀHGE (Science, Art, History, Government, Economics) Academy, Arden Santana and Belito Garcia handed out civics quizzes, entering those who answered in a raffle for SĀHGE Academy swag. The small piece of paper included questions on the Fundamental Orders of Connecticut, the Bill of Rights, the 13th and 14th Amendments, and the creation of Juneteenth among others.
Founded last year in the midst of the pandemic, the academy is designed as a small, civics-based independent school for young people in New Haven. On Juneteenth, Santana said it felt good to be in the heart of downtown, talking about their first year of work. The academy plans to hold its first open house at the Stetson Branch Library on June 26.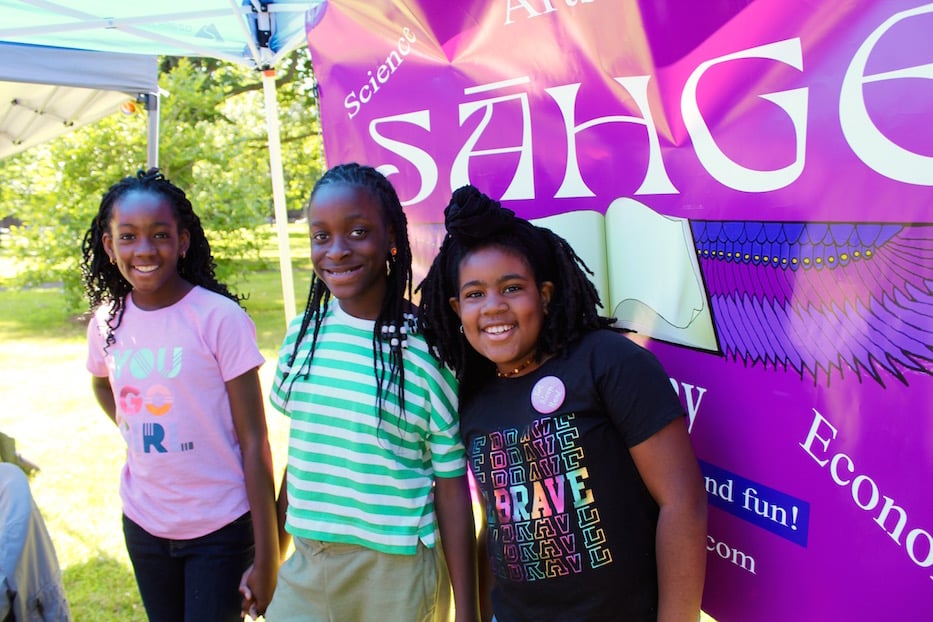 When Santana first learned about Juneteenth, she said, "I wanted to honor it and to celebrate it." Now, she said, she worries about the possibility of corporatization—her friend reported seeing paper plates that read "It's the freedom for me" at a big box store—and sees events like the vendor village as an antidote.
"If you really want to celebrate Black people and their freedom, be allies," she said. "Support Black artists. Support freeing the soul and the mind."
Behind her, SĀHGE fourth graders Nevae Brightly, Amayah Smith and Santana Brightly sat close to the back of the tent, drawing and chatting. After learning about Juneteenth—and knowing that it fell on Father's Day in 2022—all three said the day felt particularly meaningful to them.
"I think about how my ancestors were not free," said Amayah. Beside her, Santana Brightly jumped in.
"Juneteenth is special to me because it shows the day that slaves became free," she said.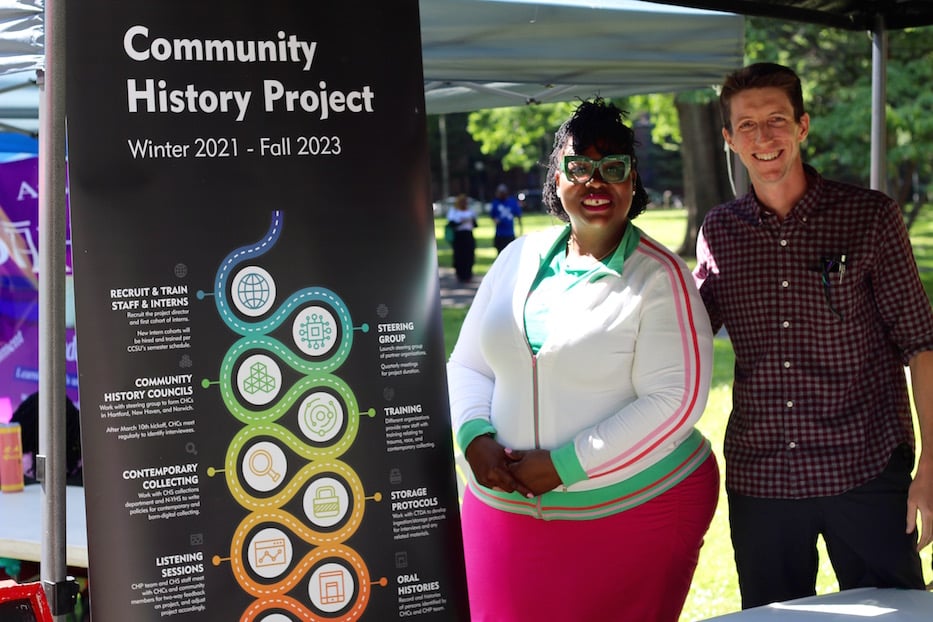 Samariya Smith and Peter Moran of the Connecticut Historical Society (CHS).
Beside them, Samariya Smith and Peter Moran of the Connecticut Historical Society (CHS) told attendees about their nascent oral history project, designed to collect stories of the pandemic from voices that have been left at the historical margins. A handheld recorder, set to off, sat in the shade of the table. Beside them, a timeline walked people through the project.
Smith, a project manager on the initiative who came decked in her AKA pink and green, said that CHS started building the bones of the project in 2020, when staff went to find records from the 1918 influenza pandemic and realized that "the things in our archive are not exactly equitable in nature."
By collecting oral histories, the society's hope is to build an archive that more accurately reflects Connecticut's diversity as history unfolds in the state. So far, CHS' goal is competing 100 interviews before the year is over. For Smith, who grew up in Hartford, moved away, and then moved back, that righting of the historical record feels personal—and will live on long after she has left the role.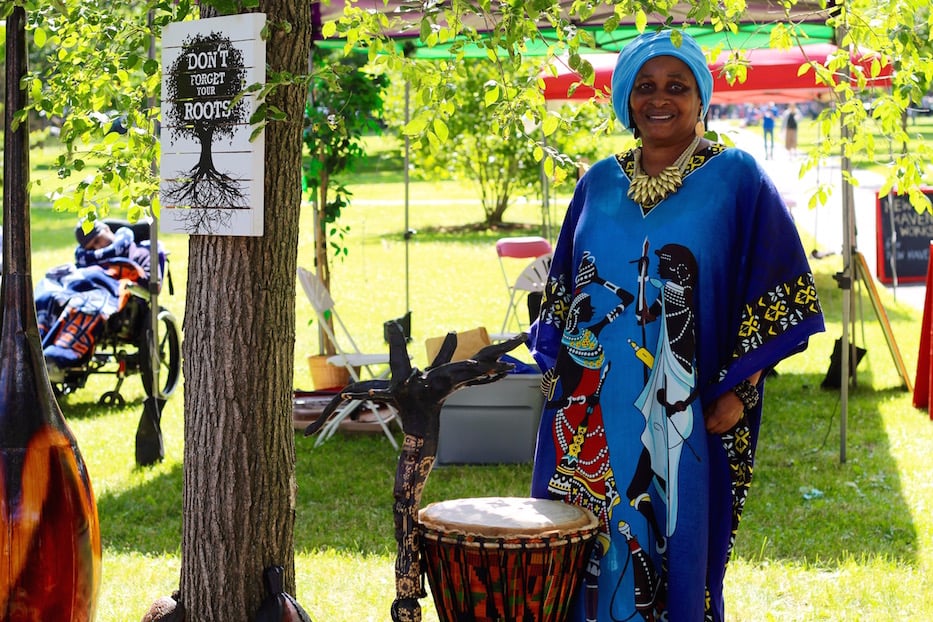 Deborah Elmore. Lucy Gellman Photo.
Before leaving the vendor market, most passers-by stopped by a display from artist Deborah Elmore, who founded SWANA two decades ago. Titled "From the Outhouse to the White House," Elmore walked attendees through 403 years of American history, starting with the enslavement and forced migration of Black people from West Africa, and continuing through the Underground Railroad, emancipation, reconstruction, twentieth-century discrimination, and the election of President Barack Obama to the White House.
On a tree, she had affixed a poem written and dedicated to the Obamas.
Our ancestors built the White House, the last stanza began
Painted the White House
And Cleaned the White House
It's only right that we finally
Take a seat in the White House.
Juneteenth Joy At Stetson Library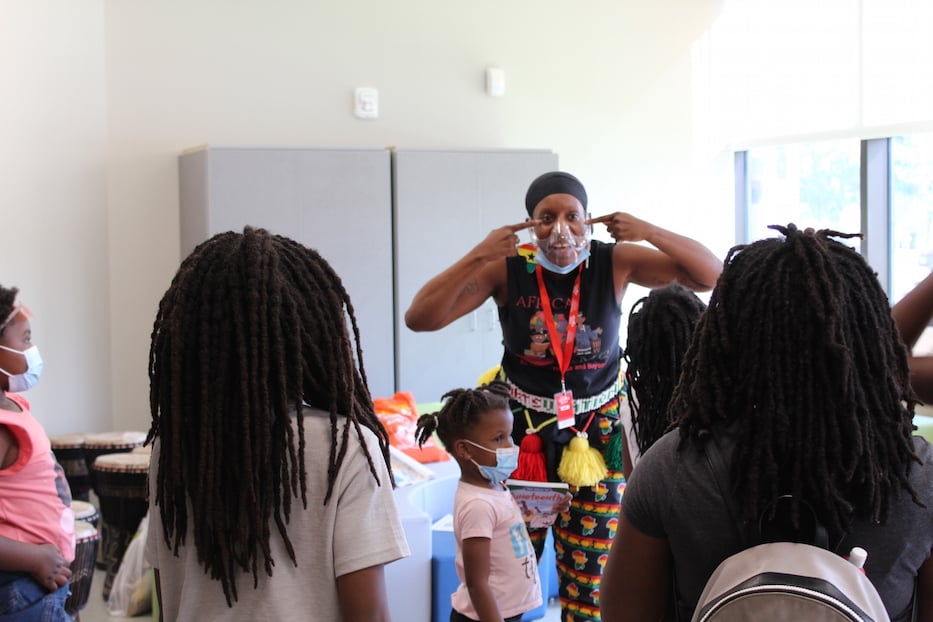 Hanan Hameen teaching. Danielle Campbell Photo.
Outside Stetson Library on Monday afternoon, the red-and-blue Juneteenth flag waved in the wind, fluttering as if it was saying hello. Beside the heavy double doors of the library, it became a sign of the celebration and ceremony unfolding inside. There, the ​​Official Juneteenth Coalition of Greater New Haven (JCGNH) prepared to end the long weekend with an afternoon of activity.
Downstairs, Hanan Hameen led a session of Africa Is Me, a signature program that began at the old Stetson branch building several years ago, and has since grown across not just the city, but to Hameen's work in Senegal, West Africa. As young people milled around her, she led them in drum and dance tutorials, getting them moving.
Coalition members had also set out color-coded construction paper across a children's reading area so young attendees could make their own Juneteenth flags. Children sat at the tables cutting out their red and blue pieces with instructions laid on the table. They traced white five-pointed stars, gluing them on to flag backgrounds with popsicle stick flagpoles. They proudly waved their flags as if they were already in the parade.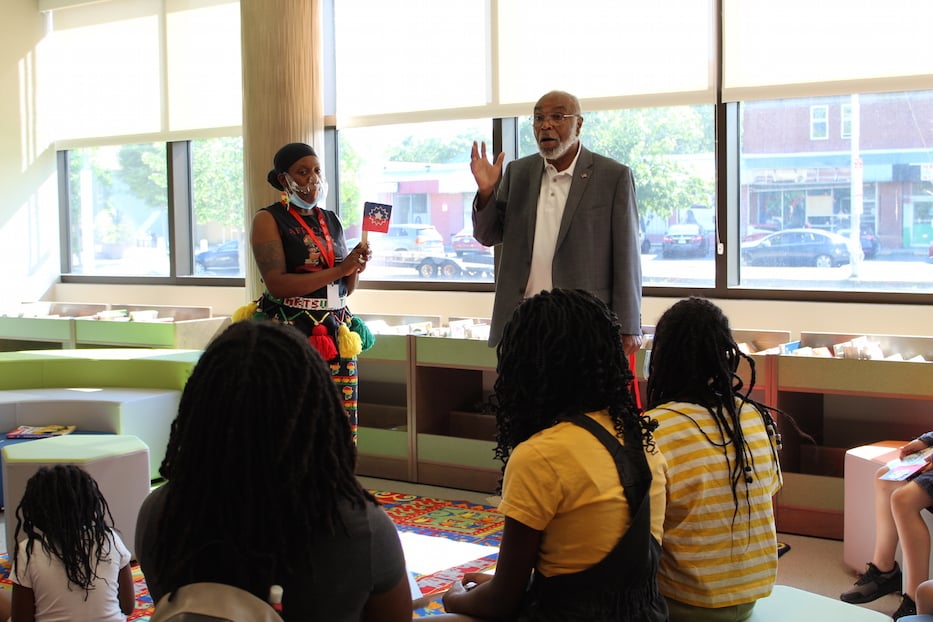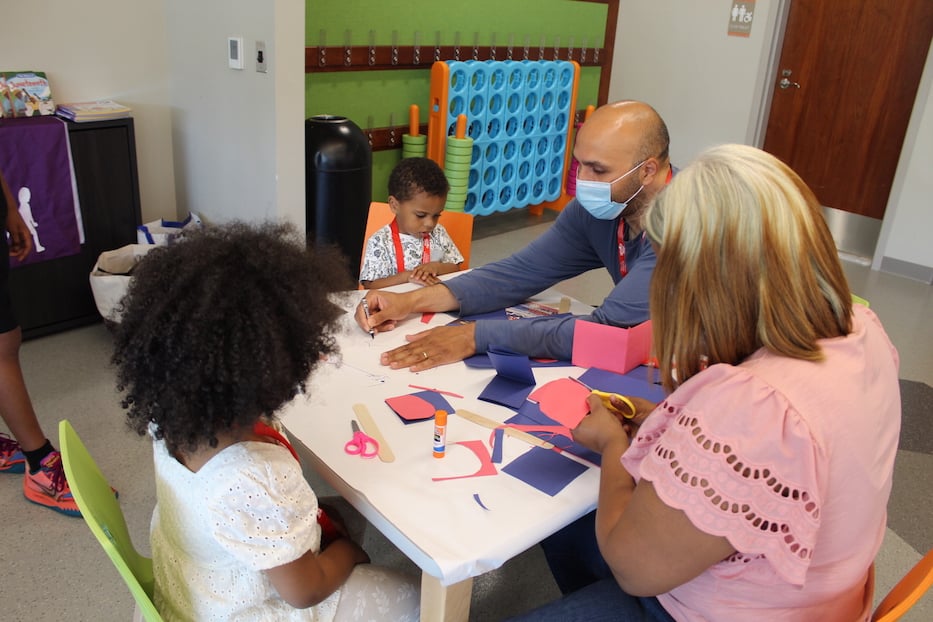 Ben Haith talks to young listeners. Danielle Campbell Photo.
One of the people coloring with his family was Elijah Haith, the adult son of Juneteenth flag creator Ben Haith. As his kids looked on, he spoke on how he felt about his father creating the flag and its widespread use today.
"With the coverage and being the national symbol, I guess I'm still processing it," he said. "Still taking it in."
He said the recognition of Juneteenth as a federal holiday is important, but progress needs to continue. "Things will progress. I believe that," he said.
Upstairs, Iman Uqdah Hameen opened a presentation and began to speak to older attendees. The presentation was an immersive discussion featuring videos about Juneteenth, including audio from a woman who was present in Galveston, Tex. when soldiers delivered the message that President Abraham Lincoln had signed the Emancipation Proclamation, and slavery was no longer legal in the United States.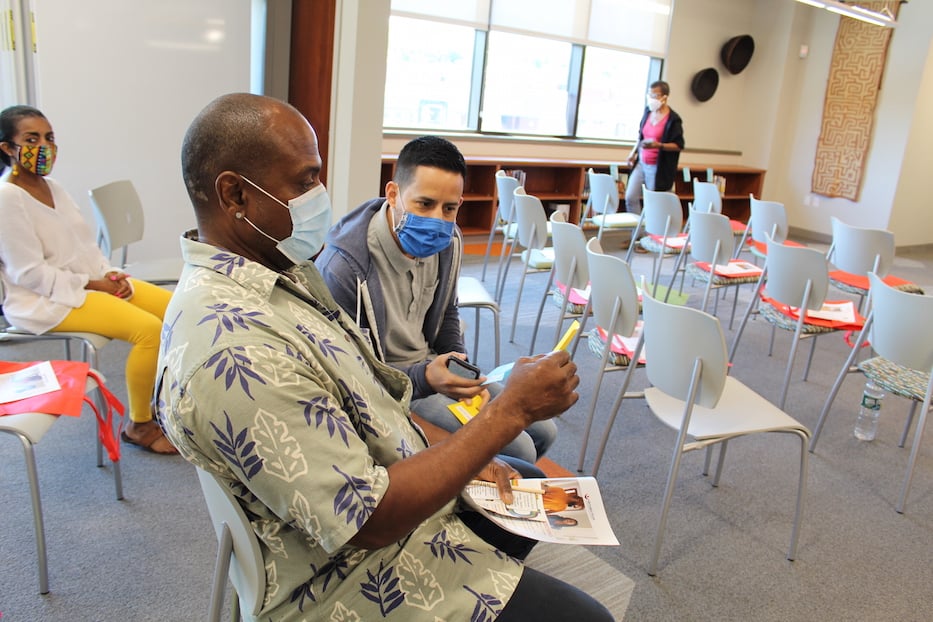 Terrance Riggins and Long Wharf Theatre Artistic Director Jacob Padrón.
It also contained the answers to a game meant as an icebreaker. In the game, each person received a number with a question on it, and a second number with an answer on it. Their collective task, then, was to match the correct questions up with the correct answers. For instance, one question asked the colors of the Juneteenth flag, which are red, white and blue. Another question asked for the name of the flag's creator—that's Ben Haith—who was present.
As Uqdah Hameen kept the presentation going, attendees watched a video of "Mama" Opal Lee, sometimes called the grandmother of Juneteenth, explaining why she thought the holiday was so important for everyone to celebrate.
"They gained so much," Lee said in the video. "They gained the ability to name themselves. To have children that weren't taken away from them. They were able to dress, to own property, to vote, pay taxes. All these things. It was freedom then and we need freedom now. And I see Juneteenth being a unifier."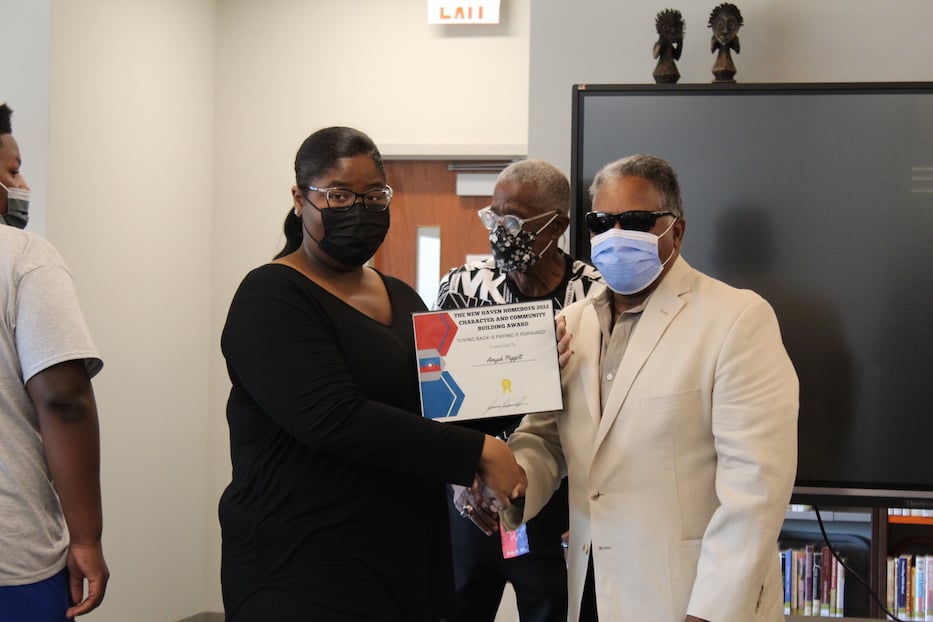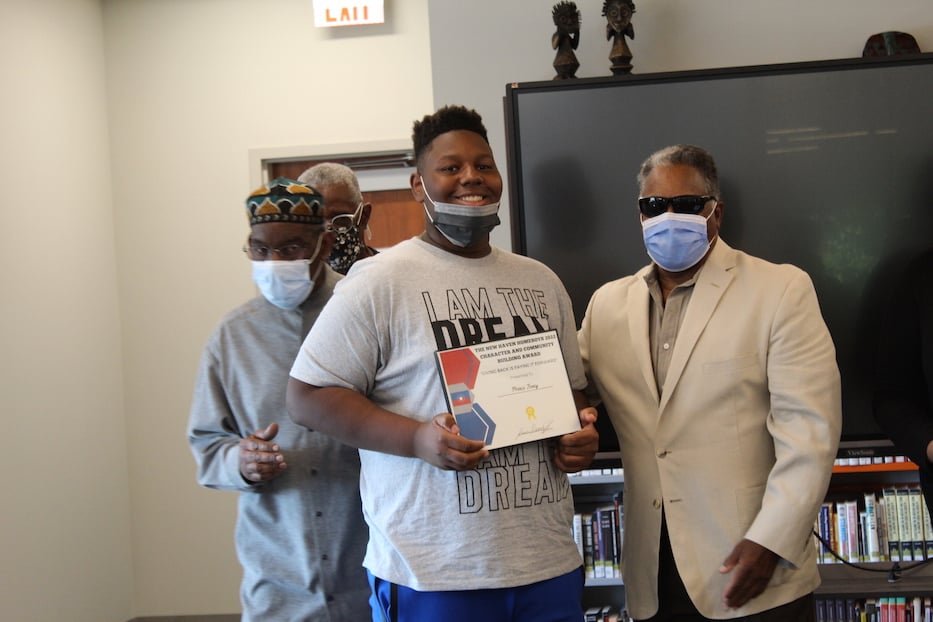 Scholarship recipients. Danielle Campbell Photos.
A discussion broke out about reactions to the video and what it means to be free.
Brown, now the branch manager at Stetson, said that her mother did not talk about her own mother's enslavement until a few days before she passed away, because it was too painful for her to bring up. With a power in her voice, she said that only when her mother knew she was about to pass did she even touch on the topic. Brown's mother, the Newhallville matriarch Lillian Brown, died at 100 in 2018.
Terrance Riggins said freedom is a journey.
"The theory of it is one thing but the practice and experience of it, it's a journey and am I truly free from slavery?" he asked. One floor down, kids were still creating flags while an afrobeats playlist set a fun tone in the background. Hanan Hameen glided around the space.
Ben Haith, the creator of the Juneteenth flag, asked about community—what it used to look like, how it looks now and what it should be. He. praised the late Rev. Ronald V. Meyers, Sr. M.D. who was the biggest advocate for the creation of Juneteenth as a holiday.
"There was something about him that made you think he was your friend," said Haith. "I realized that Dr. Meyers had a calling because he was just relentless in trying to get Juneteenth [the bill] passed. "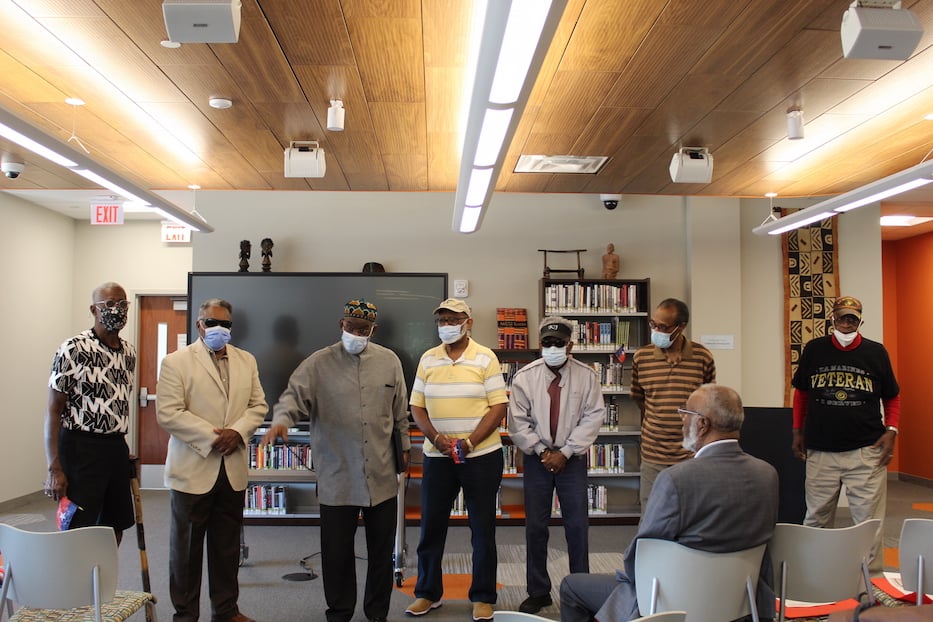 The Homeboys.
After the discussion, the children came upstairs to view a scholarship ceremony from the Homeboys, a group of born-and-raised New Haveners that includes Flemming Norcott, Jesse Hameen II, James Hill, Kenneth Jackson, Livingston Wormley, James Goodson and others. They presented $1,000 scholarships to 17-year-old Amyah Piggott, who graduated from James Hilhouse High School last week, and 14-year-old Prince Toney.
The Homeboys are longtime Dixwell community members who get together once a year and choose what parts of the community to give support to.
Piggott met Brown earlier this year, when her mother sent an email to the library saying she needed community service hours before she graduated. Piggott became a steadfast supporter—and volunteer—in the library. Brown signed her up for the scholarship as soon as she heard about it, and a few weeks later Piggott was told she won.
She wants to go to Southern Connecticut State University to study biology, she said. Her ultimate goal is to be an orthodontist.
"I hated my smile," she said. "So I want to help other people love their smile."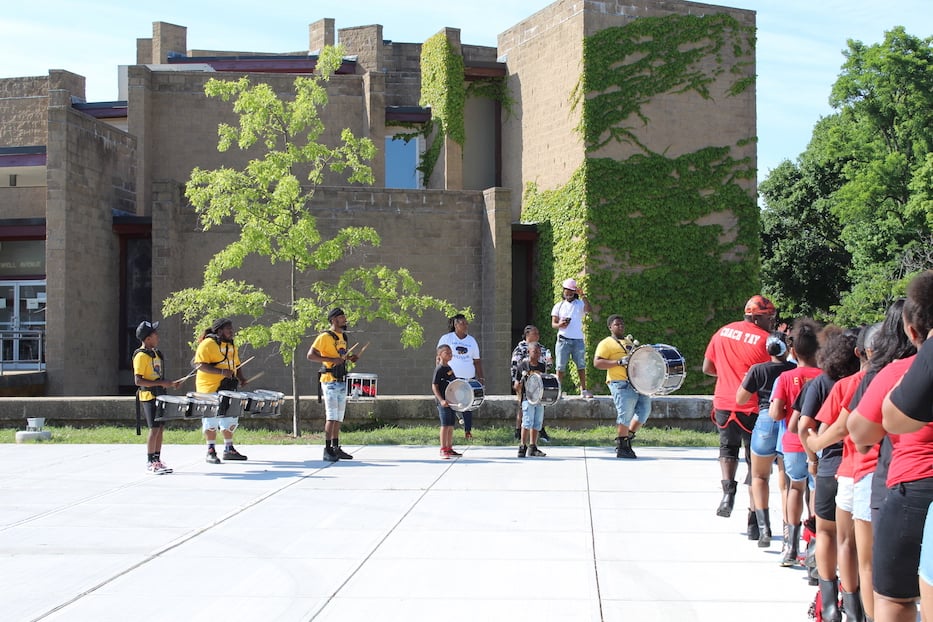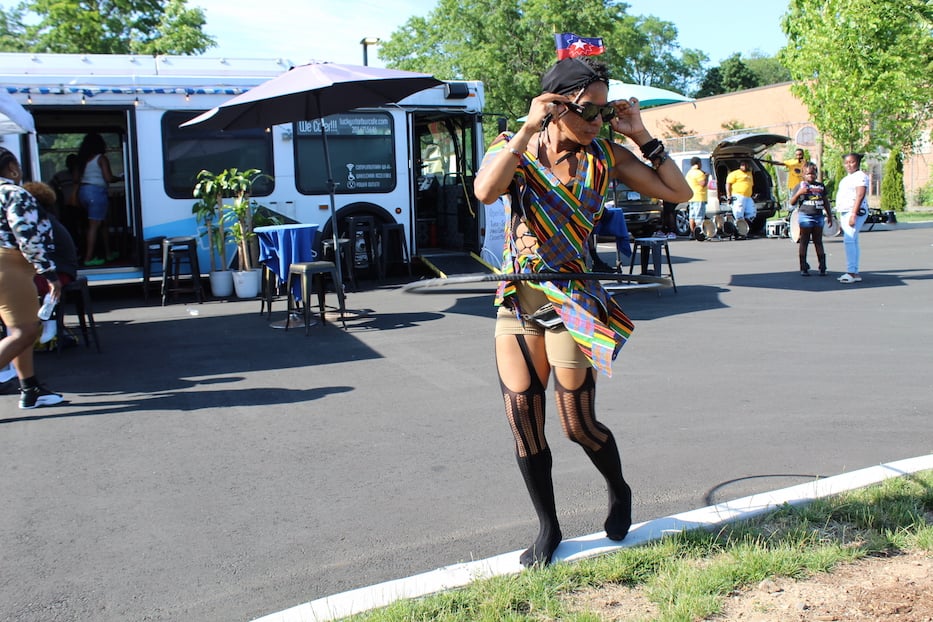 Danielle Campbell Photos.
Once the ceremony was over, Haith led the children in a discussion of the Juneteenth flag, watching as they took in an elder dance that followed. It felt like a full circle moment, fitting to this year's eponymously named theme.
The coalition, however, was not quite done. Before a final parade and entertainment from a drill team, Hanan Hameen led the children in a chant meant to instill self-love. They spoke about all the parts of themselves they loved including their eyes, fingertips and melanin rich skin. The chant led to the start of the mini-parade towards the terrace where The Village Drill Team performed.
Once the performance had ended people went to enjoy food from the Lucky's Star Bus Café parked in the back.
Hood Hula artist Diamond Tree twirled on the grass as the afrobeats came from the bus. She spoke about how she felt about the day's events.
"It's amazing. The reinforcement," she said. "I know our history. I'm thankful for that. So, I love the reinforcement of it because you never can know too much."