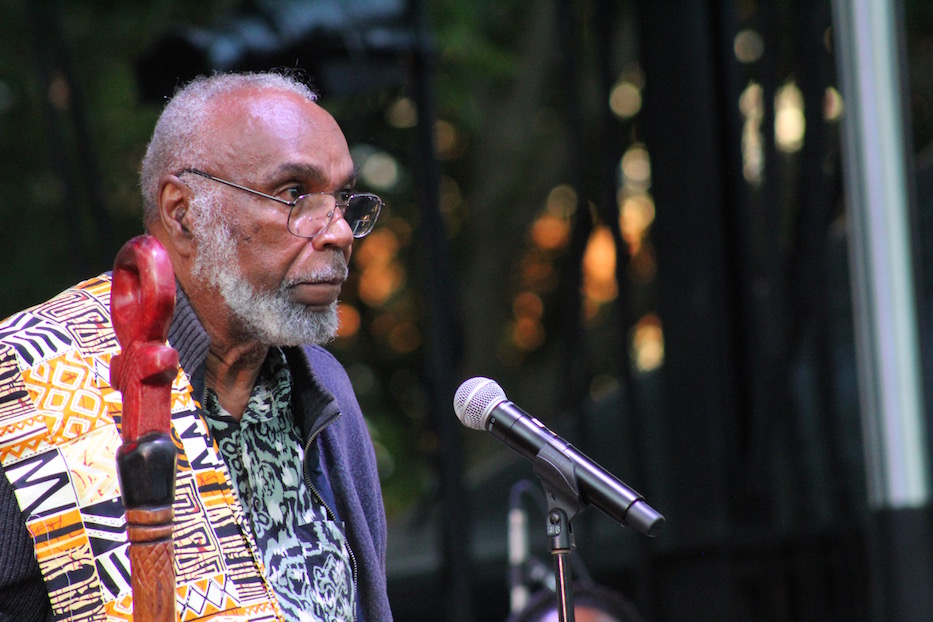 Culture & Community | Downtown | International Festival of Arts & Ideas | Juneteenth | Arts & Culture | Elicker Administration | Arts & Anti-racism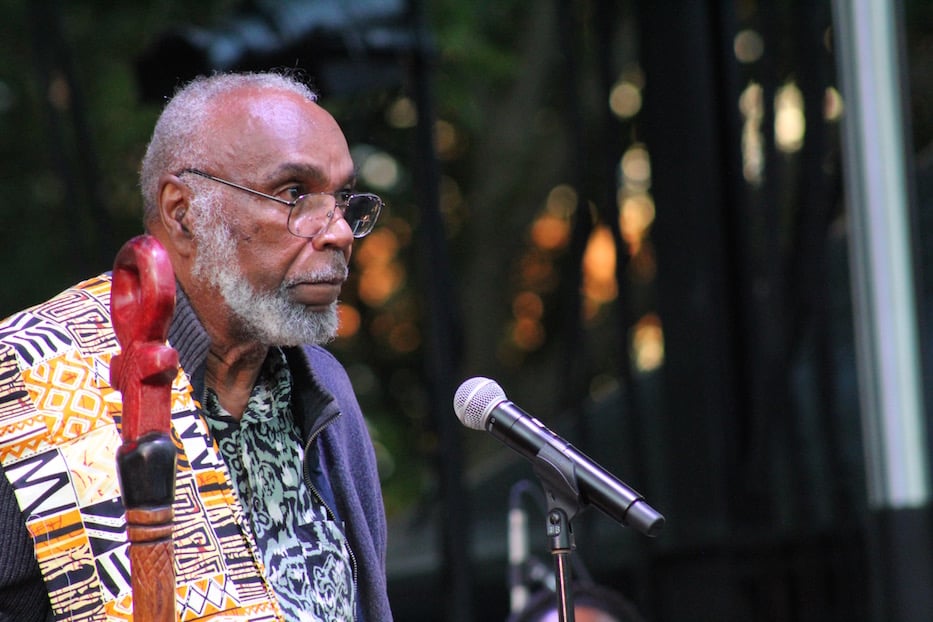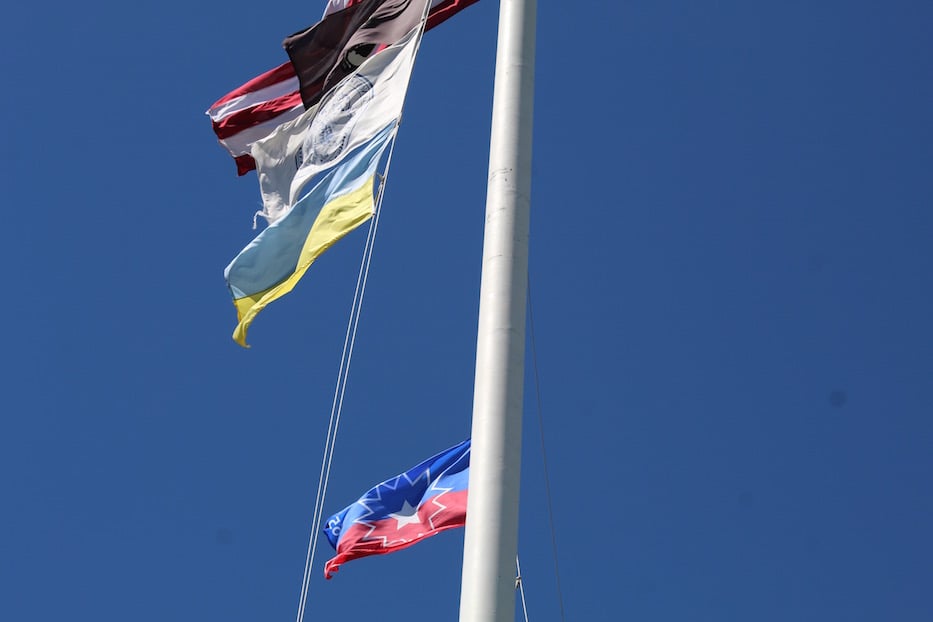 Top: Ben Haith. Bottom: The flag on the New Haven Green. Lucy Gellman Photos.
Ben Haith's Juneteenth flag made history when it rose on the New Haven Green Saturday morning, hoisted proudly as "Lift Every Voice and Sing" floated across the heart of downtown.
It made history again Sunday night, as Haith himself watched it flap in the wind, and described his hopes for the future of peace and liberation in the United States.
Haith delivered that message Sunday from the International Festival of Arts & Ideas' main stage, as part of an annual Elder Honoring Ceremony from the ​​Official Juneteenth Coalition of Greater New Haven (JCGNH). It capped off three days of Juneteenth celebrations from the coalition, including a meet-and-greet, flag raising, spirited concert, and vendor village. Monday, the celebrations continued with a three-hour event at Stetson Library.
Juneteenth recognizes the emancipation of enslaved Black people in Galveston, Tex. on June 19, 1865. Last year, President Joe Biden signed it into law as a federally recognized national holiday.
"The flag represents something much larger," Haith said as hundreds listened beneath a pink-streaked Sunday evening sky. "It represents many people who were enslaved in this country … and I believe that Juneteenth is gonna bring peace to our country."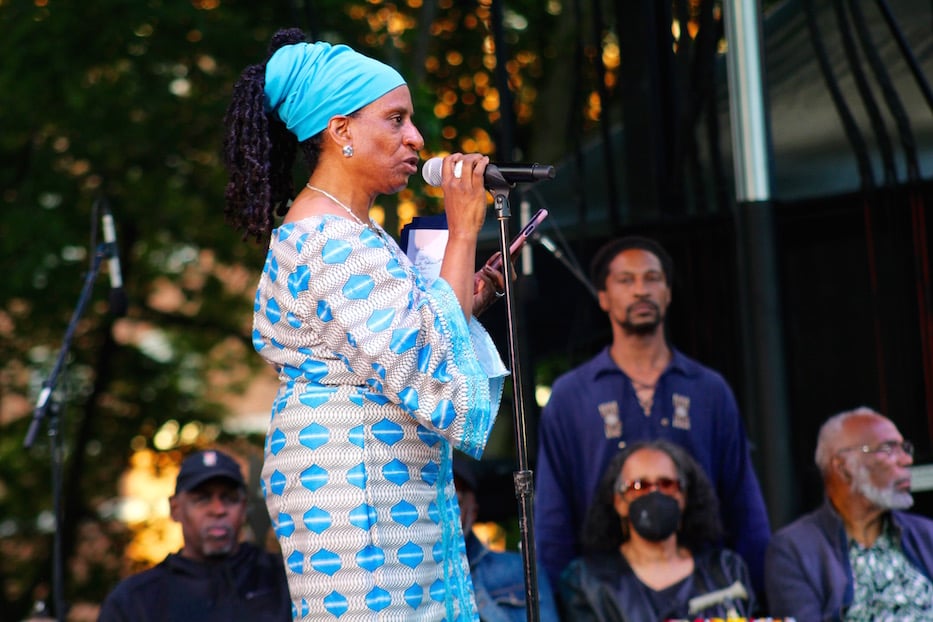 Iman Uqdah Hameen: "Such persons usually go undetected, unappreciated, and unrecognized by the very people they serve and fight for."
The JCGNH includes Artsucation Academy Network Founder Hanan Hameen, her mother Iman Uqdah Hameen, Stetson Branch Manager Diane X. Brown, and New Havener Linwood Ali Jabbar. It is an affiliate of the National Juneteenth Observance Foundation, or NJOF. In remarks both Saturday and Sunday, Hanan Hameen said this marks the ninth year of official Juneteenth events in New Haven.
It is the first year that the Juneteenth flag has found a place on the New Haven Green, where it will fly beneath the Ukrainian flag through the end of June. Haith, who grew up in Stamford, created the flag in Boston, and now lives in Norwich, was there to see it flying vibrantly as the sun set on Juneteenth. Throughout a ceremony Sunday, coalition members and a cheering, applauding audience thanked him for his contributions.
"Each honoree is selected to be part of the revered ceremony that recognizes the work, accomplishments and dedication of unsung members of the Black community," said Iman Uqdah Hameen. "Such persons usually go undetected, unappreciated, and unrecognized by the very people they serve and fight for. We, the JCGNH, honor them, put them on a pedestal that they deserve to be placed upon, and pronounce their position of eldership."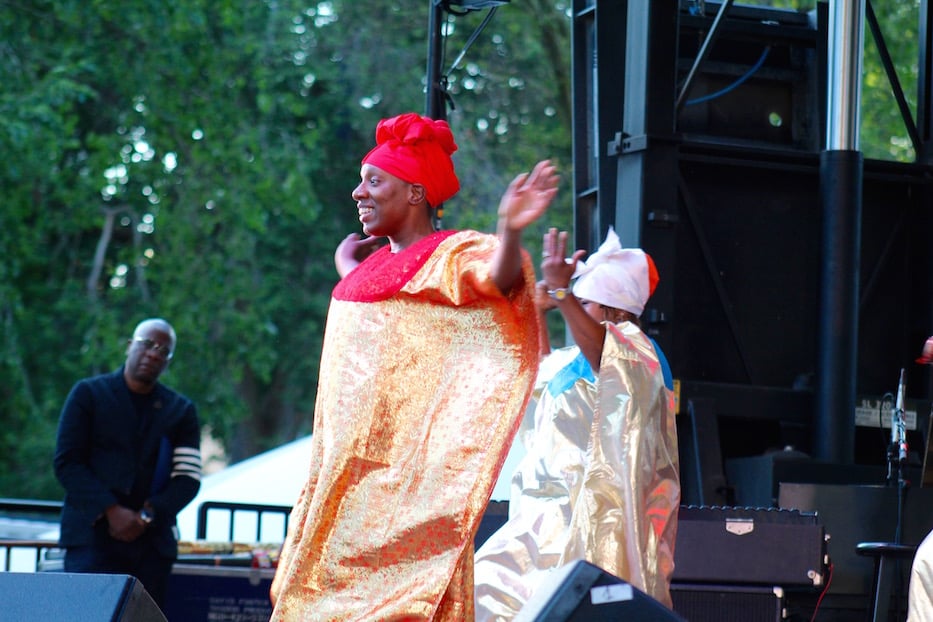 Artsucation Academy Network Founder Hanan Hameen with Keepers of the Culture. The group opened the ceremony with traditional West African dance.
This year, elders honored included Haith, creator of the Juneteenth flag, jazz legend and atomic veteran Hank Bolden, Black Panther Elise Brown, and Byron Breland, who was celebrated virtually last year but returned in person. The "Mantle Award," given annually to a younger New Havener doing transformative work, went to Thomas Daniels, Sr. and members of Fathers Cry Too. The organization is a peer-led support group for fathers who have lost children to gun violence.
"These are our warriors," Uqdah Hameen said. "We want to always remember them and continue the legacy."
The elders join a rich list that includes Ms. Emma Jones, a crusader for police reform, ​​former Black Panther George Edwards, the late educator Jeffie Frazier, the late Senior Elder Nabeela Uqdah, ​Newhallville boosters Hazel and Allen Williams, poet Deborah Elmore, and arts advocate Aleta Staton among others.
Every Voice Lifted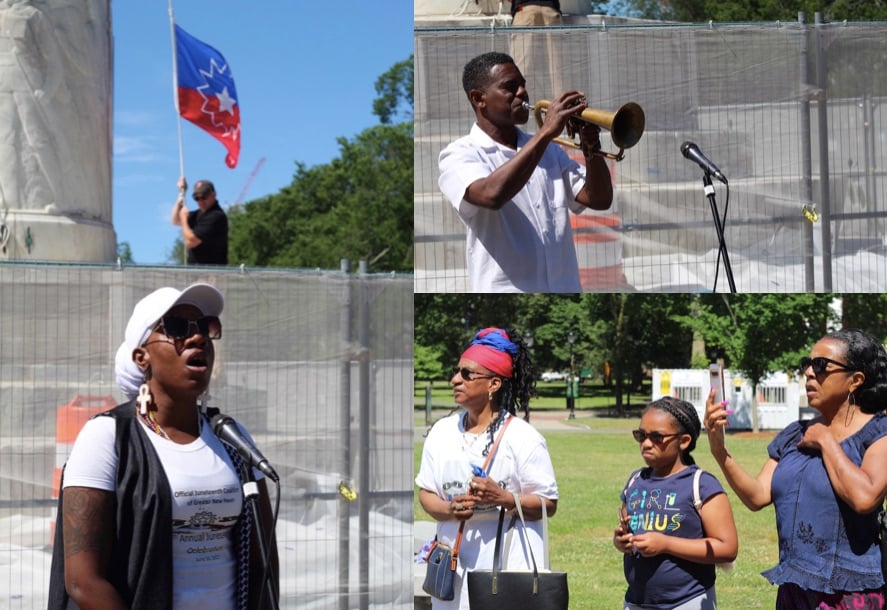 At left, Hanan Hameen leads attendees in "Lift Every Voice and Sing," also called the Black National Anthem. At the top right, William Fluker plays "What A Wonderful World" as the flag is raised. At bottom right, Iman Uqdah Hameen , Jada and Diane Brown watch.
Saturday morning, coalition members gathered at the center of the New Haven Green to celebrate the flag raising, a first in city history, with music and a short speaking program. Both Hanan and Iman Uqdah Hameen described the day as a long time coming, praising former Mayor Toni Harp and Mayor Justin Elicker for their continued support of the coalition's work in New Haven.
Hanan Hameen also thanked the International Festival of Arts & Ideas and Citywide Youth Coalition, who have long been partners on the event.
She took attendees through the symbolism of the flag, which includes a five-pointed star for the "Lone Star" state of Texas, an arc depicting a new and promising horizon, and red and blue blocks of color that reaffirm the painful and also profound history of the Black descendants of enslaved people in America. As she spoke, the flag waved in the breeze behind her. It later rose high into the New Haven sky, only after she had sanctified the space with the first verse of "Lift Every Voice and Sing."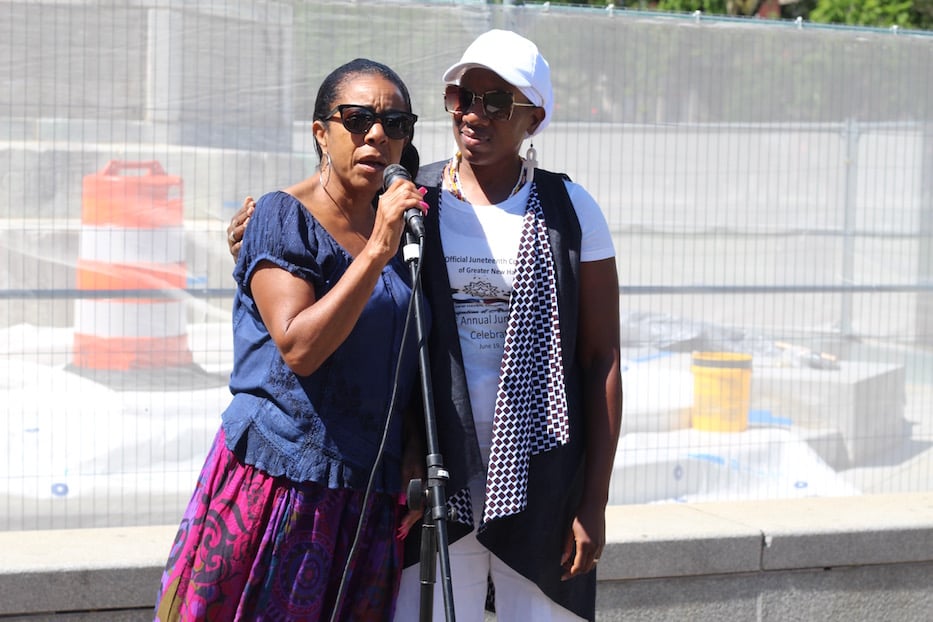 Brown and Hameen. "I'm very emotional," she said as she hopped briefly on the mic.
"It must be said that there is a story that precedes these accomplishments," said Iman Uqdah Hameen, who also paid homage to longtime Juneteenth advocate Dr. Ronald Myers. "There is a history to be told, and more work to do. While we agree that this is a time to celebrate, the story of Juneteenth cannot be relegated to a time when we celebrate only, and not commemorate, meaning honor and show respect, and learn more about Juneteenth."
She urged attendees to identify and "demystify myths" surrounding the date, which include that Juneteenth comprehensively ended slavery in America. As she pointed out, "slavery did not end with the stroke of a pen"—nor did the marginalization and economic disenfranchisement of Black Americans end in the nineteenth century.
Uqdah Hameen also pointed to a still-common misconception that Juneteenth is a new and made-up holiday. In fact, the first Juneteenth celebrations preceded Memorial Day and Labor Day, both of which came sightly later in the nineteenth century.
"We've come a long way since 1865 but man, we've got a lot more work to do," said Mayor Justin Elicker, thanking the coalition for its work in the city. "We all know these stories. And so many people here … are committed to doing this work. We've got a lot of work to do, but we've got to do it together."
To William Fluker's soaring rendition of "What A Wonderful World" on trumpet (listen in the video above), the flag rose into the air, refusing to stay still. Brown, who had brought her 11-year-old granddaughter Jada, watched with one hand over her chest. When she approached the mic in tears, Hameen put one hand gently on her shoulder.
With Jada at her side, Brown later said that she first learned about Juneteenth as a teenager, from Black students at Yale. At the time, she said, there was more interaction between university students and community members than there is now; those years also marked Yale student involvement in the Black Panther trials and the movement to free Bobby Seale and Ericka Huggins. Initially, she was bowled over by the history of the date. She still is today.
"I remember thinking, like, 'Wow,'" she said. "So you're told that you're free, but you got no job, no home, no place to go. So you stay." For Brown, who worked as a certified domestic violence counselor for years, it reminded her of the same trauma that battered women often faced with their abusers.
Jabbar, who also grew up in New Haven, said he was excited to see the flag up on the Green. As a kid, he spent time at the old Dixwell Community Q House, learning his culture from the artists and elders who graced its classes. Decades later, "we have to build the right foundation, and this is how we do it," he said.
He called for schools to start teaching a more in-depth history of Black people in the United States, rather than a curriculum that starts with enslavement, does not include Juneteenth, and glosses over much of the nineteenth- and twentieth-century history of social justice.
"By talking about our mistakes, that's how we learn," he said. He gestured to Jada. "That's our future right there."
"The Spirit Of Juneteenth"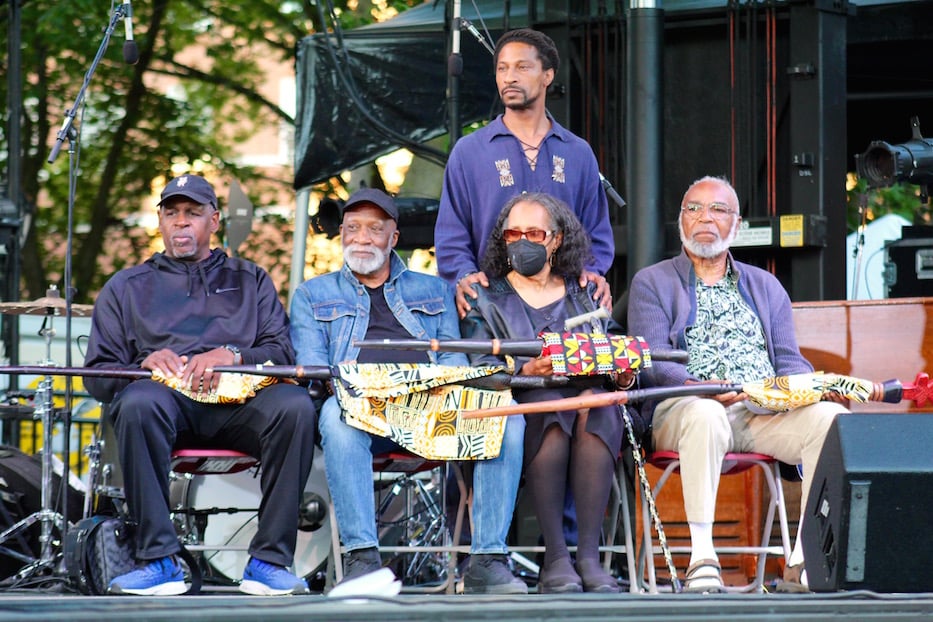 From left to right: Byron Breland, Hank Bolden, Thomas Daniels, Sr. (standing) of Fathers Cry Too, "Mama" Elise Brown and Ben Haith.
Sunday, Haith brought the flag and its history to life a second time as he rose to accept the award. In front of him, hundreds of people filled the Green, hanging on to each word. Beside him, ConnCORP President Erik Clemons read and delivered a mayoral proclamation.
"I'm very honored to be here in New Haven," Haith began. "Being a part of the spirit of Juneteenth has been something I never, ever expected."
Haith explained that he never intended to create the Juneteenth flag—but his mind and memory had other plans. While the artist grew up on the East Coast, he first heard the word "Juneteenth" on one of his childhood visits to Blackstone, Virginia, where his Aunt Anna and Uncle June lived on a farm. The first time he heard the word, he assumed it had to do with his uncle, whose nickname was "Junie." He didn't learn about the holiday until much later.
Decades passed before Haith heard the word again. The second time he was an adult, living in the highly segregated city of Boston, Mass. and working in crime prevention.
He started to do research on the day, so moved by what he found that he created a design to commemorate the history. The flag, which features a bursting, 12-pointed star and smaller, five-pointed star on a red and blue background, first appeared in 1997. Three years later in 2000, he and illustrator Lisa Jeanne Graf revised the flag for the NJOF.
"Not only do you represent your ancestors," he said. "In many instances you are your ancestors. How do you think we got here? It was because of them. And sometimes we forget. And I think Juneteenth is going to reunite us with our ancestors. I'm talking about not only people of African descent, but all people."
Sunday, he pointed to the flag as a symbol of national peace and unity, noting its potential to bring Americans together. He denounced an epidemic of gun violence, much of it fueled by white supremacy, that has stretched from Columbine to Newtown to Buffalo to Uvalde. The holiday, he said, represents the antidote.
"We don't need to be living in a world where we have weapons of mass destruction that can destroy humanity," he said to applause and offstage cries from members of Keepers of the Culture. "I tell people that we need to think of Juneteenth in terms of bringing peace to humanity."
"This has to stop," he later added of the violence ravaging the country. "And if our Congress can't stop it, then we of humanity must stop it. We must find a way to end it."
Watch the full Elder Honoring Ceremony above.