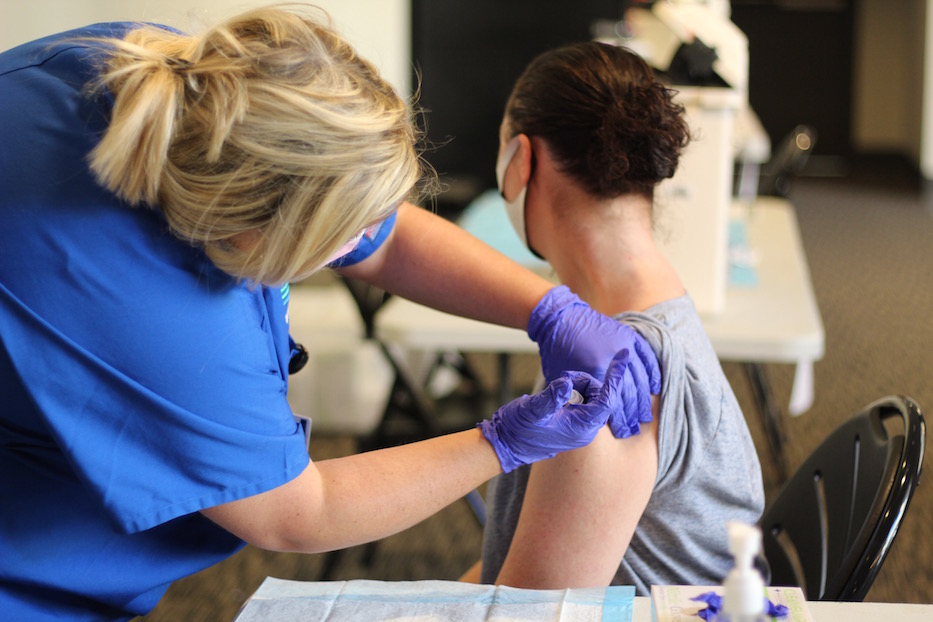 Downtown | Arts & Culture | Theater | Public Health | COVID-19 | Shubert Theatre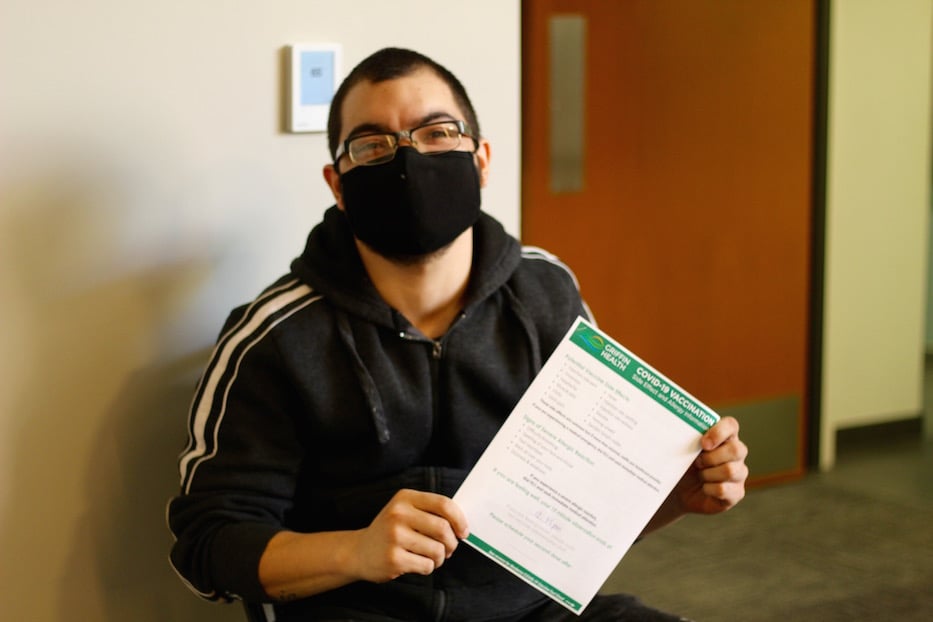 New Havener Jordan Roman: first stop at the Shubert, but not the last. Lucy Gellman Photos.
New Havener Jordan Roman took his first steps into the Shubert Theatre on Wednesday—not to see the latest Hamilton in the making, but to get inoculated against the virus that has shut down theaters nationwide, cost millions of Americans their jobs, and put his family at risk.
He was one of a few dozen who entered the theater Wednesday afternoon, during a two-day Covid-19 vaccination clinic from Griffin Health. It marked the first time that Roman, who has spent the first 24 years of his life in New Haven, entered a theater he has only heard about since childhood. By the time he left, freshly jabbed, he promised that it wouldn't be his last time there.
The clinic, which is distributing the Moderna vaccine, marks the first time the theater has opened its doors to the public in over a year. The last time it welcomed visitors in person, it was for a March 2020 performance of Cats that packed the house with thousands of people over a weekend. Instead of furry four-legged costumes and big synthetic wigs, the day's most celebrated actors came in scrubs.
"We have to protect ourselves and members of our community," said Anthony McDonald, who was recently appointed the Shubert's new executive director. "It means the world to me that this is something we're able to do … it's about giving back to the community. It's great to open up our doors."
The clinic runs from 10 a.m. through 4 p.m. on Thursday. The Shubert will reopen as a hub for the second doses of the Moderna vaccine on May 12 and 13. No appointments are necessary, but people are asked to bring identification and insurance if they have it.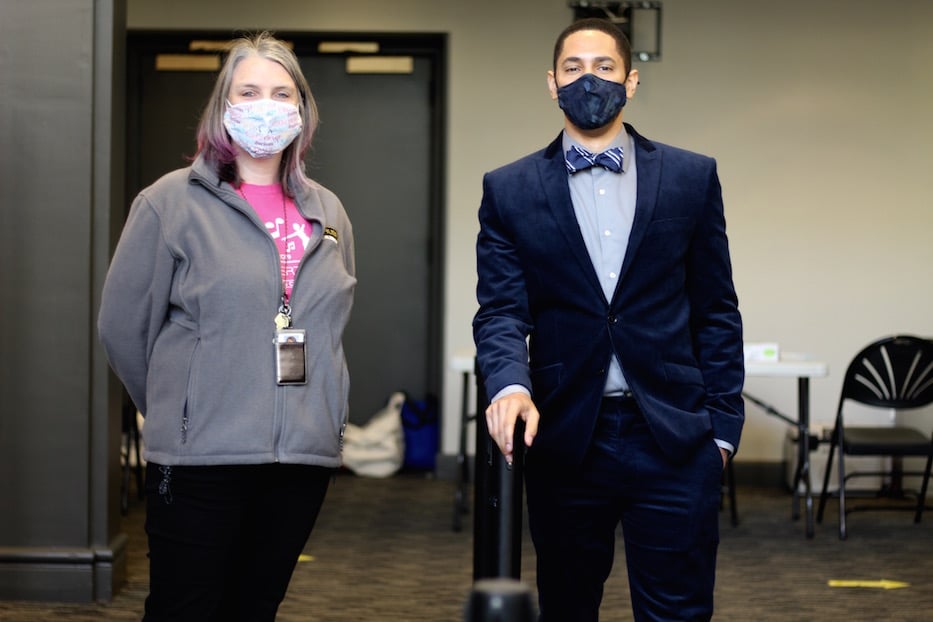 Kelly Wuzzardo, director of education and engagement at the Shubert, with Executive Director Anthony McDonald.
Wednesday, the College Street space had the trappings of a minimalist production, with registration tables set up by the front doors and vaccine stations arranged against the back walls. In the place of hot coffee and concessions, the scents of alcohol wipes and sterile rubber gloves lingered beneath the ceilings. Sunlight and fresh air streamed into the lobby, where two front doors were propped open. Somewhere from the second floor, The Temptations and Diana Ross & The Supremes belted through a loudspeaker.
For 24-year-old Roman, the vaccine came as a relief after a year of uncertainty. Born and raised in the city's Fair Haven neighborhood, he has spent the past year worrying for his family, a tightly knit web of siblings, nieces and nephews, and a mother who all live within driving distance.
Last year, he was working as a chef at Christy's Irish Pub when the pandemic hit New Haven. He remembered heading home when the restaurant closed, holding onto an uneaten brisket and hoping that the closures would only last for a few weeks. Christy's never reopened. As weeks turned into months, he found another job in maintenance for the Taft Apartments downtown. The Shubert, with a sign announcing a pandemic-era intermission, towered quietly next door when he headed to work each day.
He chose to get vaccinated "mainly because of what I do," he said. In his current position, he spends time fixing appliances in the building, including inside residents' apartments. He runs into tenants in the hallways and lobby of the building, sometimes in close quarters with them. He's also the de facto babysitter for his three older siblings, all of whom have young children. He said he's doing everything he can not to let his nieces and nephews get sick.
"That's the main thing for me," he said.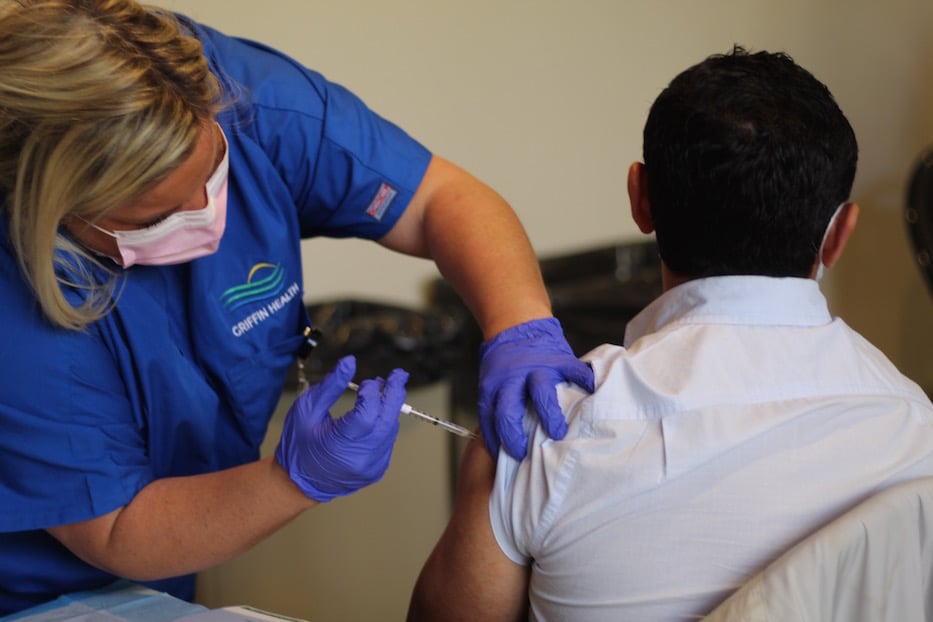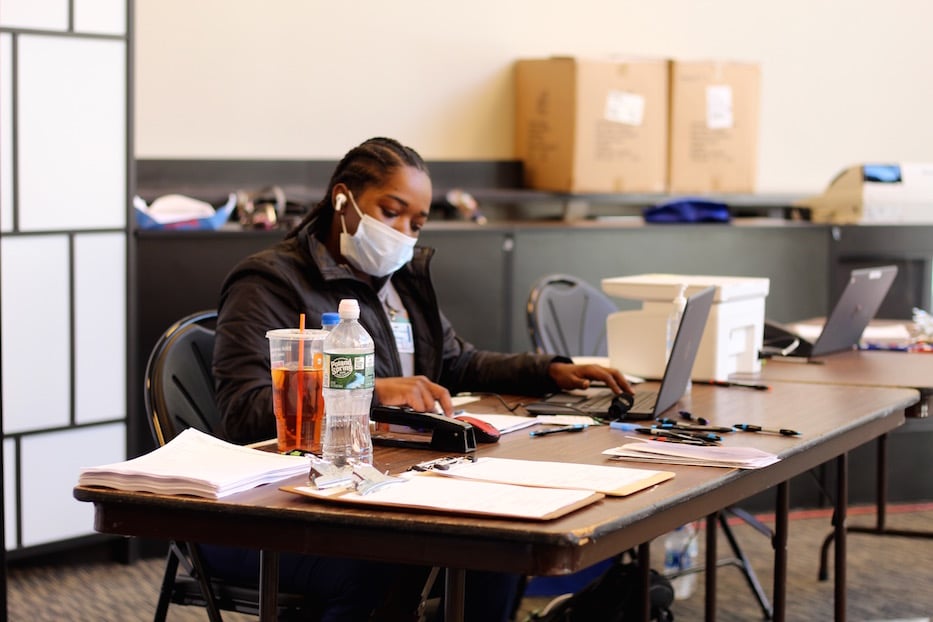 Top: Marco Siguenza gets his vaccine. Bottom: Griffin's Kristen Avery waits for patients.
He didn't expect a vaccine site he'd want to return to more than once. While Fair Haven is less than two miles from downtown, Roman never visited the Shubert as a kid. As a student at Fair Haven School and then Wilbur Cross High School, there were no field trips to see performances. He never had the time or resources for theater or live music, he said.
Instead, he fell in love with the city's museums, particularly the Hall of Dinosaurs at the Yale Peabody Museum of Natural History. He never pictured the performing arts as open to him. Now he's ready to return next month for an encore vaccine, and again when the theater reopens.
McDonald said that's part of his evolving vision for the space: to be a better bridge to the community. Before the Shubert can reopen to audiences and artists, a vaccine clinic may be the performance that he's most keenly interested in. Around 11 a.m., he sat for his own vaccine. As he bounced through the space afterwards, he praised initiatives "that aren't just about putting on a show."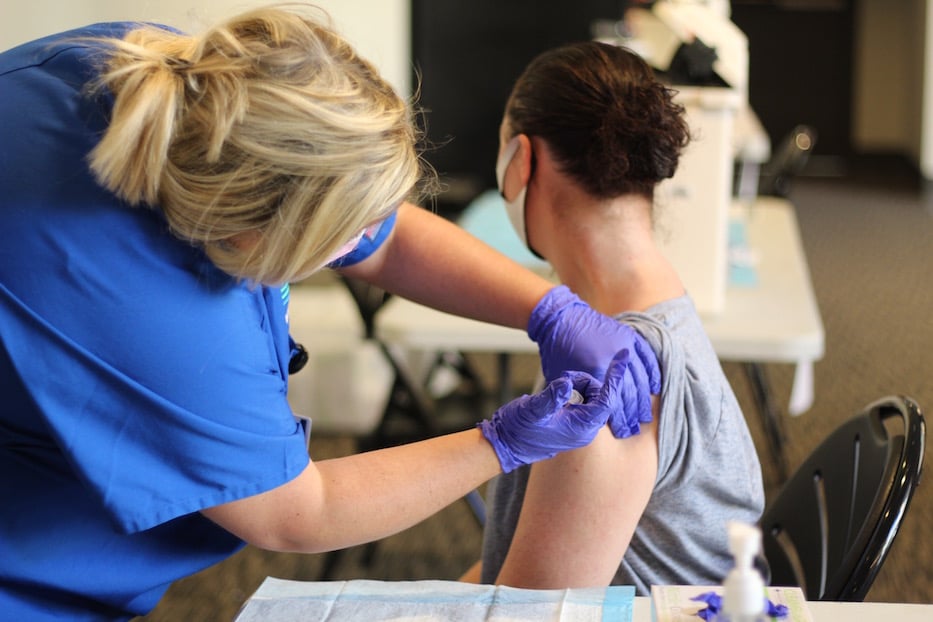 Around him, the clinic welcomed a steady trickle of attendees, many eagerly rolling up their sleeves as soon as they'd reached a vaccination station. After hearing about the clinic Wednesday morning, Karma Salon owner Cheryl McMahon jogged over from her College Street storefront, leaving a client to "marinate" as her color set in. As she sat, she chatted with nurse Mary-Kate Lemoult as if the two were old friends. The Four Tops' "Sugar Pie Honey Bunch" crackled overhead, piano rolling in.
The two ran through a quick medical history, including a bout with what McMahon believes was Covid-19 last January. When Lemoult asked McMahon if she had any trouble with needles, she chuckled. "I had both my children without an epidural!" she exclaimed. Just seconds later, the needle was in her arm, then out.
Lemoult, who is 33, said she has administered "maybe thousands" of vaccinations since October of last year. Raised in Trumbull, she entered the nursing field during the pandemic. Since joining Griffin's mobile vaccination unit, her work has taken her all over the state. She said that she's most invested in getting doses into underserved and chronically under-resourced communities.
"I just wanted to help," she said as she smoothed a band-aid onto McMahon's left bicep and sent her over to a chair to monitor for side effects.
While sitting for the 15-minute post-vaccine waiting period, McMahon said that the past year has been the most financially difficult that Karma has faced in its 22-year history. From March 19 through June of last year, the salon was completely closed. When it reopened, it was at 50 percent capacity. Of five stylists that she had before the pandemic, only three have returned. McMahon said that if she hadn't gotten Paycheck Protection Program funding, she doesn't know if the salon would have survived.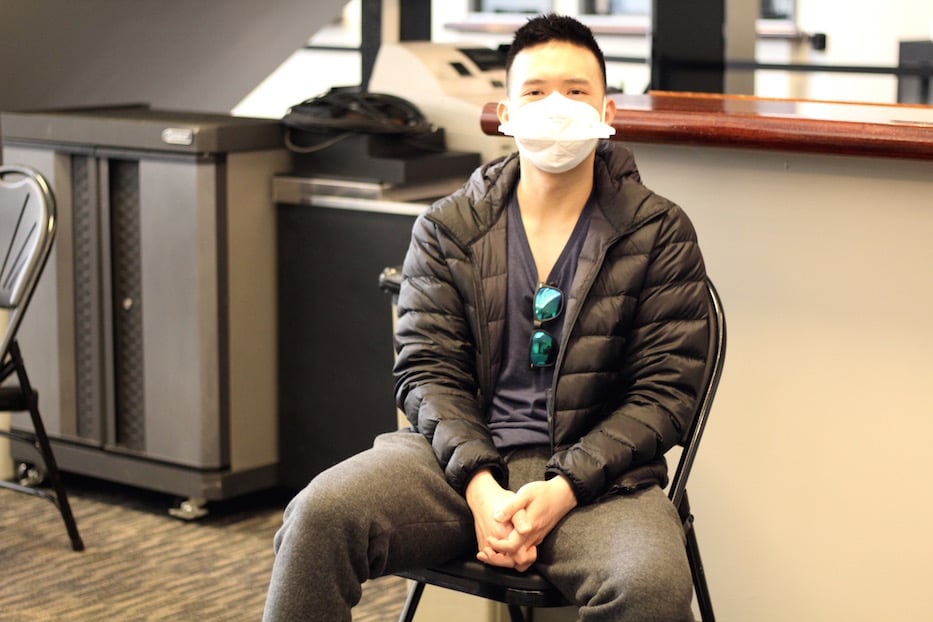 Edward Huang.
When she heard about a clinic down the block, she said it was a no-brainer. At Karma, several of her clients work at Yale New Haven Hospital, and have been exhorting the science behind the vaccine for months. While styling their hair, she's had time to ask "all the questions, honest and forthright questions," she said. Their answers—including from an epidemiologist—have left her convinced that it's the right thing to do for her kids, who are 12 and 14, for her elderly parents, and for her business.
She was also excited to return to the Shubert, she said. Before the pandemic, she frequently took her kids to performances at the theater and attended its annual galas, which didn't feel the same online. She has also done makeup for several of the actors who have crossed the Shubert's historic stage.
"I can't wait for them to open back up," she said. "I can't wait to start going back."
That was also true for Edward Huang, a computer scientist at Amazon who lives next door to the theater in the Taft Apartments. Before Covid-19, Huang and his girlfriend were frequent patrons at the Shubert, where they saw performances including The Sound of Music and that fateful run of Cats. "That was forever ago, it seems," he said.
For him, the theater is a palpable loss in a year that has been more isolating than most. During the pandemic, he's been working remotely and unable to fly back to California, where he has family in Los Angeles and San Francisco. He has been able to spend time with a brother who lives in Boston, but said he misses his family. In December, he and his girlfriend sprung for a Christmas-themed event that the Shubert held virtually. It didn't feel the same.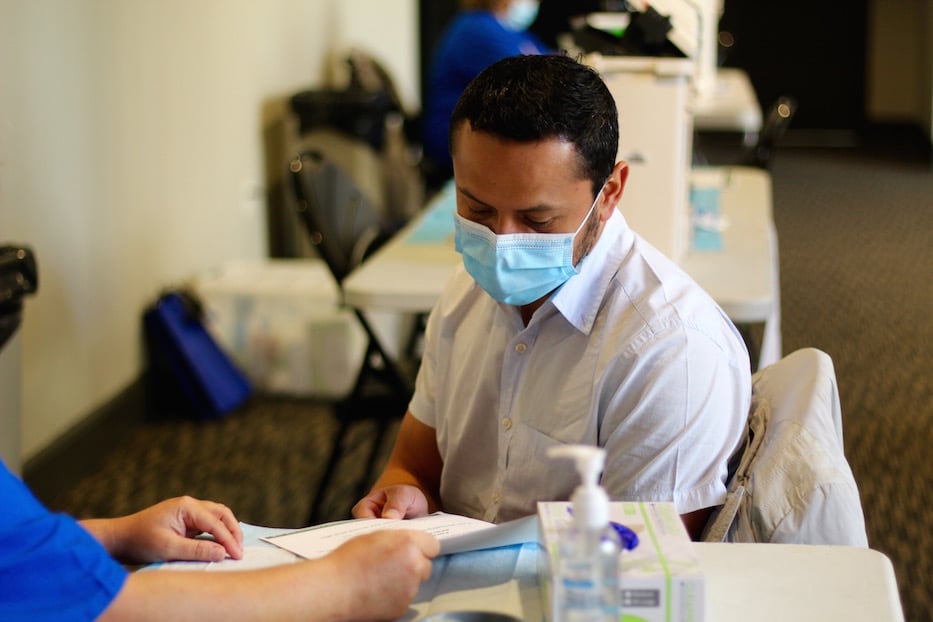 Marco Siguenza.
Marco Siguenza, who owns Jack's Bar and Steakhouse down the street, said that he also can't wait to get back to the Shubert for performances—but was glad to get back for a vaccine in the meantime. Siguenza is fairly certain he had Covid-19 last October—the vivid dreams about food are what stayed with him the most—and doesn't want to have it again.
When he sat down at Lemoult's station, he said that any vaccine side effects are preferable to getting the virus again, or passing it on to his family. At home, he and his wife have three young children who can't yet get vaccinated. His mother-in-law has lupus; his father-in-law is 85 years old.
Because they are elderly and immunosuppressed, they haven't been able to spend as much time with their grandchildren. As the needle went into his arm, Diana Ross crooned "Endless Love" like a sign from the heavens.
"I want to do my part to try to stop coronavirus and to protect my family," he said. "I can't wait to go back to some kind of normal."