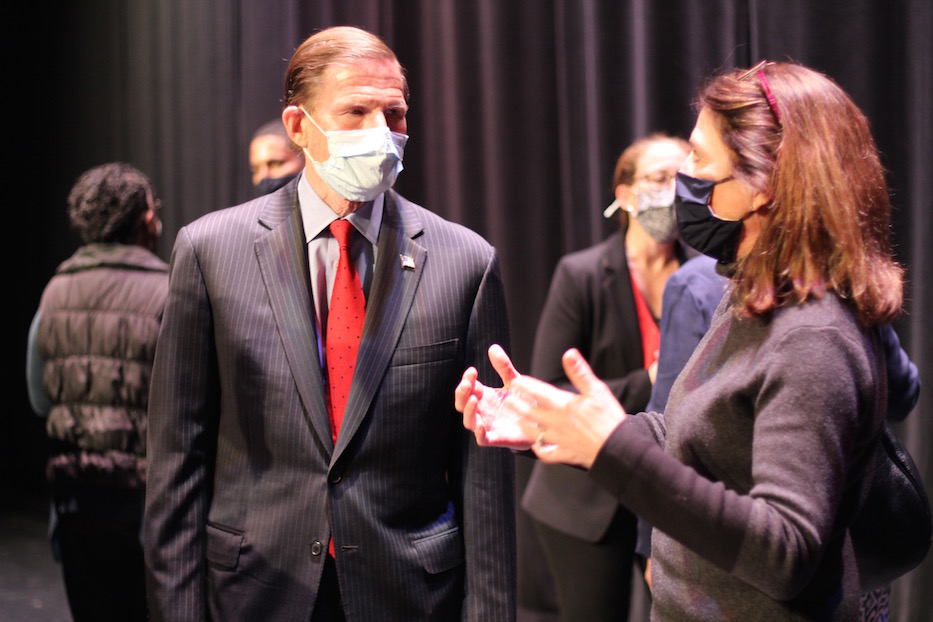 Economic Development | Arts & Culture | Theater | COVID-19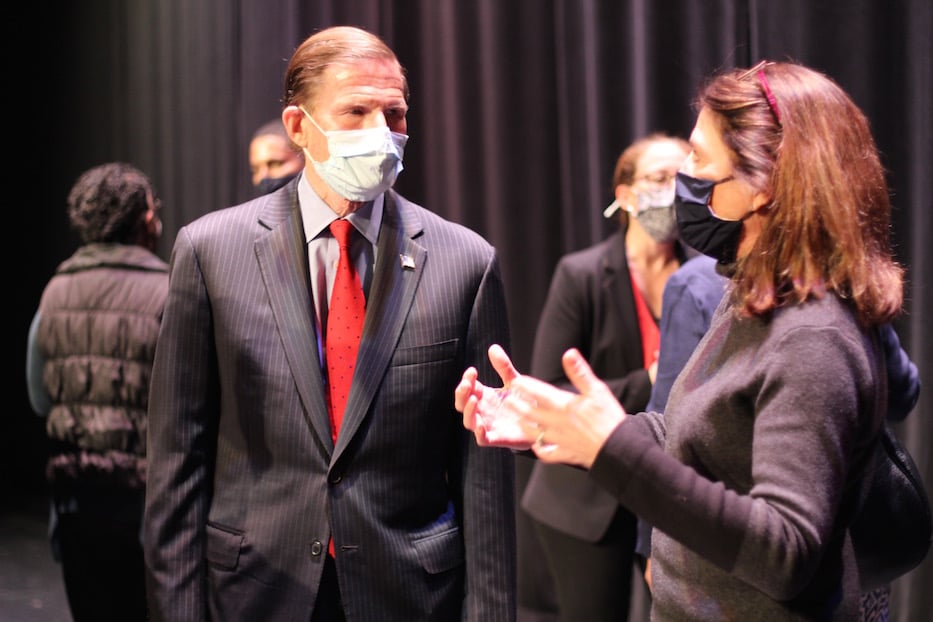 U.S. Sen. Richard Blumenthal and Elizabeth Monz, director of development at Long Wharf Theatre. "Theater should be part of our normal lives," he said Tuesday. "And the absence of theater robs us of a cultural lifeline that is vital to our coming together as people do. No matter what their differences on politics or other preferences, they come here together. They sit next to each other. They exchange greetings. And sometimes, make friendships." Lucy Gellman Photos.
The Shubert Theatre has survived two global pandemics, two World Wars, multiple municipal battles, temporary shutdowns, Covid-enforced layoffs, and a transition to new leadership. Now, an influx of federal dollars may help it—and several theaters like it—reopen during the second year of Covid-19.
Tuesday, U.S. Sen. Richard Blumenthal delivered that message on the Shubert Theatre's historic stage, as he joined local arts leaders to herald the Shuttered Venue Operators Grant (SVOG) program. Applications to the grant, formerly known as the Save Our Stages Act, open April 8 after months of anticipation.
The program was initially introduced by U.S. Sen. John Cornyn, a Texas Republican, and U.S. Sen. Amy Klobuchar, a Minnesota Democrat, in July 2020. Blumenthal was an early supporter of the legislation. Tuesday, he and local leaders shuffled into socially distanced spots on the stage, marking the first performance the Shubert has had in over a year.
"It was meant to be a bump in the road," Blumenthal said of the pandemic. "It's turned out to be a major obstacle. This economic crisis has been longer lasting and deeper than anyone anticipated. And it's hit particularly restaurants and theaters."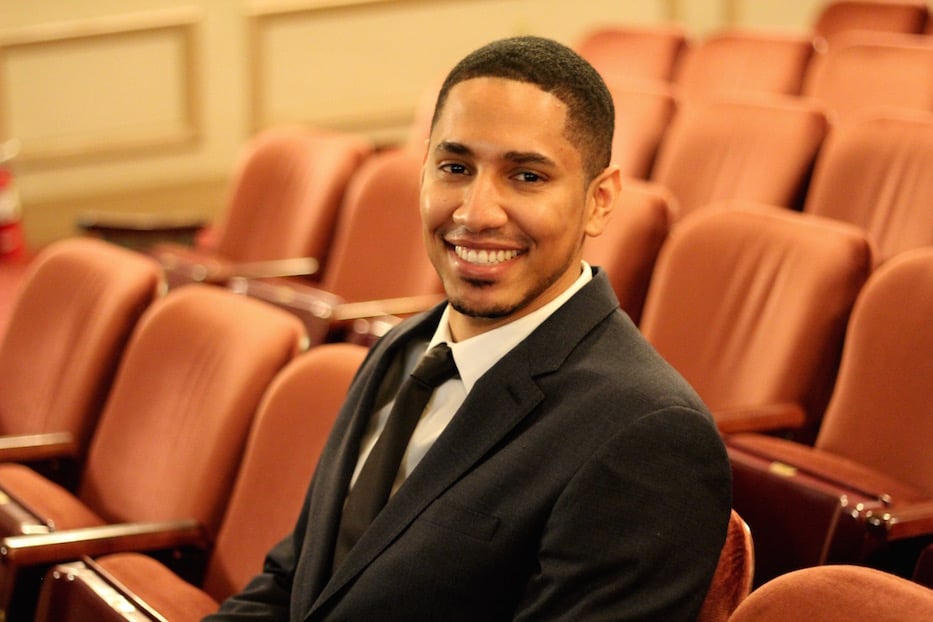 Anthony McDonald after the press conference. He removed his mask only for the photo.
SVOG, which will be administered by the U.S. Small Business Administration, was originally part of the Economic Aid to Hard-Hit Small Businesses, Nonprofits and Venues Act. It was amended with the $1.9 trillion American Rescue Plan Act earlier this year. The long-awaited grant program will distribute $16.25 billion in federal aid to theaters, music venues, museums, movie theaters, and other arts organizations with brick-and-mortar spaces.
Of that amount, $2 billion is reserved for operators that employ 50 or fewer people, in an effort not to shut smaller venues out of the program. It is set to roll out in phases; more information is available here.
Anthony McDonald, who recently joined the Shubert as its new executive director, called the program "a lifeline to the Shubert." Prior to Covid-19, the downtown theater employed 14 full-time staff members and dozens of part-time employees, from stagehands to box office managers. On the last weekend it was open, it brought in thousands of people for a March 2020 run of Cats. Since, it has laid off over 75 percent of its staff and is projecting $5.25 million in lost revenue due to season cancellations. Five full-time employees remain.
"Brighter days are ahead of us," McDonald said Tuesday, sanitizing the microphone carefully between speakers. "With the senator's support, I believe the Shubert will come roaring back better than it was before … my vision for the future is one where the entire community of New Haven feels seen, heard, and appreciated."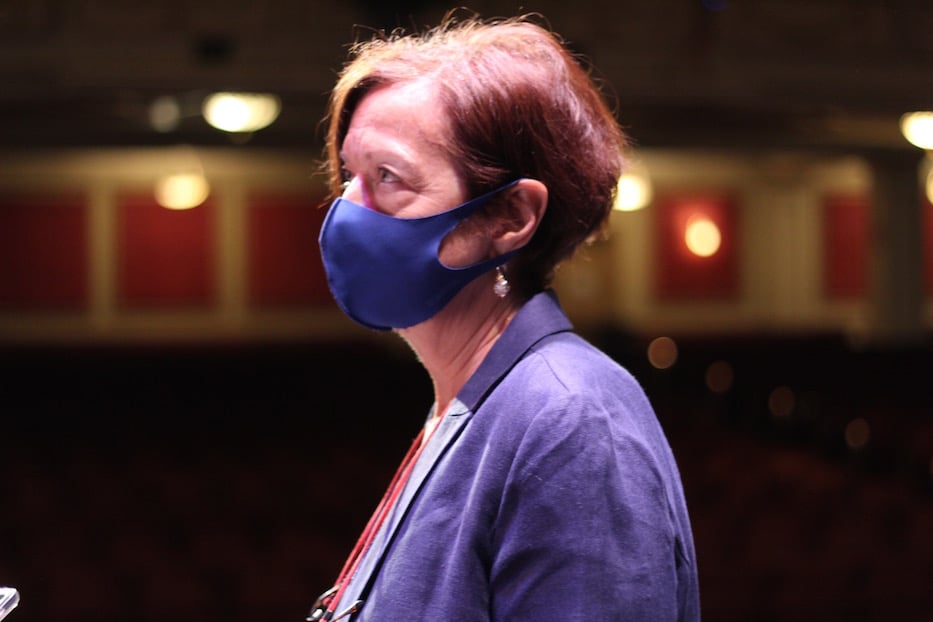 Claire Criscuolo, whose restaurant Claire's Corner Copia has lived on College Street for 45 years, said she can't wait for those days to get here. Before last March, she was used to adding an extra shift—or sometimes several—when she knew there was a show at the Shubert. The added revenue meant well-deserved bonuses, overtime pay, and the ability to sponsor local nonprofits including New Haven Reads, Clifford Beers, and A Place to Nourish Your Health (formerly AIDS Project New Haven).
When the theater shuttered and businesses soon followed last year, she relied on a mix of savings, Paycheck Protection Program (PPP) funding, and a returning client base to keep her staff employed and insured. She said that there were times she wasn't sure the restaurant would survive.
"It's enough that it makes the difference, that that's the extra money that we get," she said. "That's extra money where we get to go beyond paying what we pay [employees] and donating to our community. We might have extra money because of that to have a sponsorship … that's sort of the gravy. That's beyond what you need to just buy your organic romaine."
She added that she doesn't just see the theater as an economic boon: she misses the students who came for a play, stopped by her restaurant for a meal, and left downtown New Haven new career aspirations. She misses the front-of-house seats that she and her girlfriends bought and laughed in each year. She misses the performances that could transport her to another universe. Instead of "Save Our Stages," she and her staff have referred to the act as "Save The Community."
"It just makes us whole," she said. "And it supports so much of the community … We're connected. We're all connected. We depend on each other. And we must depend on each other even more. I think we realize that we are in this together."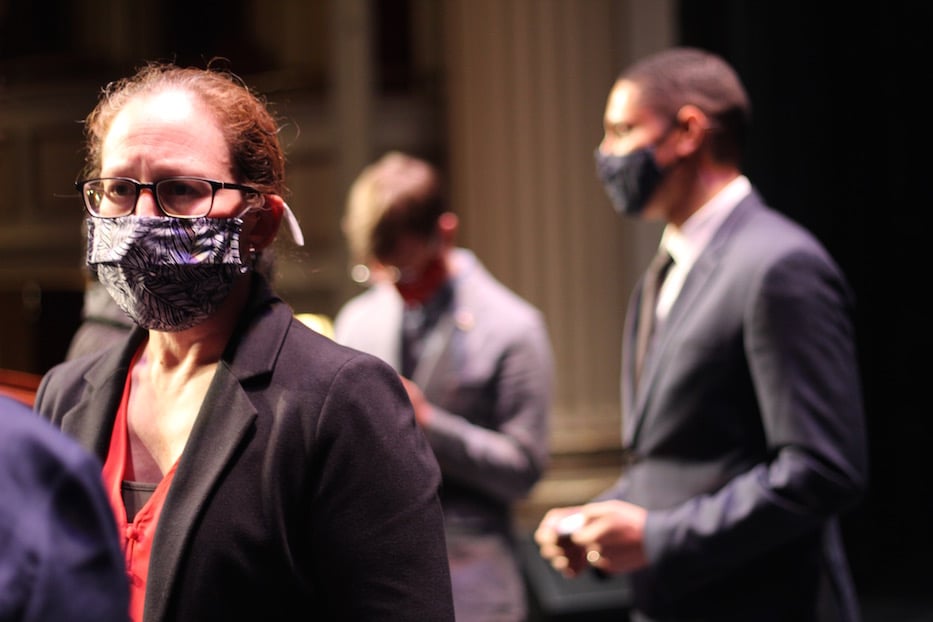 Kit Ingui, managing director at Long Wharf Theatre.
Fellow speakers looked to the arts as an economic driver that will be necessary to Connecticut's post-pandemic recovery. Prior to the pandemic, Connecticut's arts and culture sector generated $9 billion, 57,000 jobs, and five percent of the state's economy, according to Americans for the Arts. Between April and July of last year, the Brookings Institute reported that 33,258 creative workers in Connecticut lost their jobs.
Some never got those jobs back. The sector has lost over $16 billion nationwide, with 63 percent of arts workers reporting unemployment throughout or at some point in 2020. In a story that has become familiar across the country, artists of color have reported higher rates of unemployment and lost income than their white counterparts.
Thomas Quagliano, the head sound technician at the Shubert, said he hears from colleagues who are still out of work 13 months after curtains closed. He praised the International Alliance of Theatrical Stagehands Local 74, through which he still has health insurance. He said he can't wait to get back to work, and is grateful for SVOG in the meantime.
"When the show stopped, so did our careers," said Quagliano, a 25-year veteran of the theater. "There are stage workers all across the country still facing financial and healthcare hardships. We were truly some of the first to lose our jobs—and sadly, probably some of the last to return to them."
Attendees also noted the emotional and educational impact that the arts play in New Haven, from the high schoolers who leave the auditorium starry-eyed and full of music to the school buses that once pulled up for matinee performances. Looking over hundreds of empty red seats and quiet balconies, Long Wharf Theatre Managing Director Kit Ingui got choked up describing "this void" where gathering once existed. As of this month, Long Wharf is projecting almost $2 million in lost revenue and has laid off 40 staff members.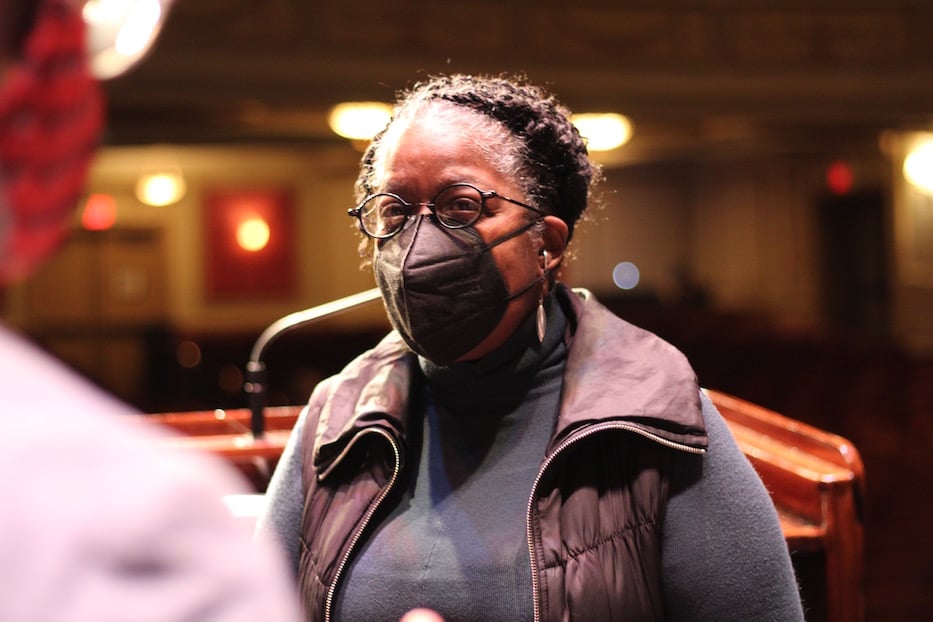 Aleta Staton, chair of the city's Cultural Affairs Commission, added that she is excited to feel the relief of SVOG ripple out into the greater New Haven community. From her perch, she can see how deeply city arts organizations are reeling from the economic impacts of Covid-19. "When one of us fails, all of us feel the hit," she said.
There's light on the horizon, Blumenthal said. Already, the performing arts are slowly, cautiously coming back. Daniel Fitzmaurice, executive director of the Arts Council of Greater New Haven, said that he's already heard from New Haven's lodging and tourism industry that hotel sales rose after the Westville Music Bowl announced a lineup of summer concerts. In the interest of full transparency, the Arts Paper is an arm of the Arts Council but is editorially independent from it.
"They immediately saw the bands booking hotels," he said. "They immediately saw ticket buyers booking hotels. You can't account that to Yale graduation. You can't account that to anything except the arts. And I think that's what we're going to see as we move forward. When the arts opens up, so does our community. So does our social connections."
Watch the full press conference in the video above.