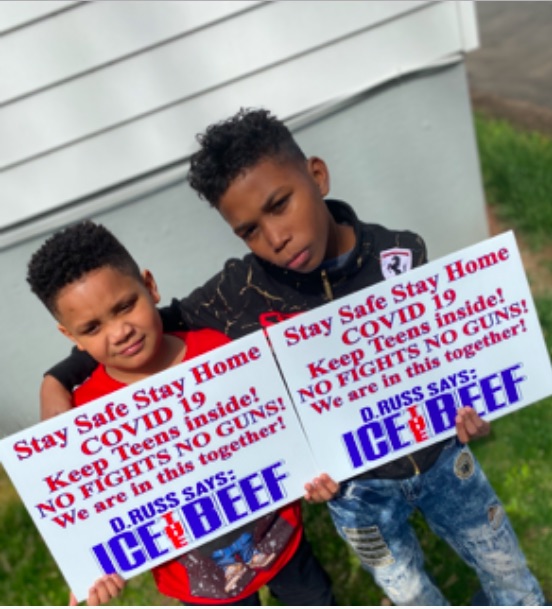 Culture & Community | Radio & Audio | Arts & Culture | COVID-19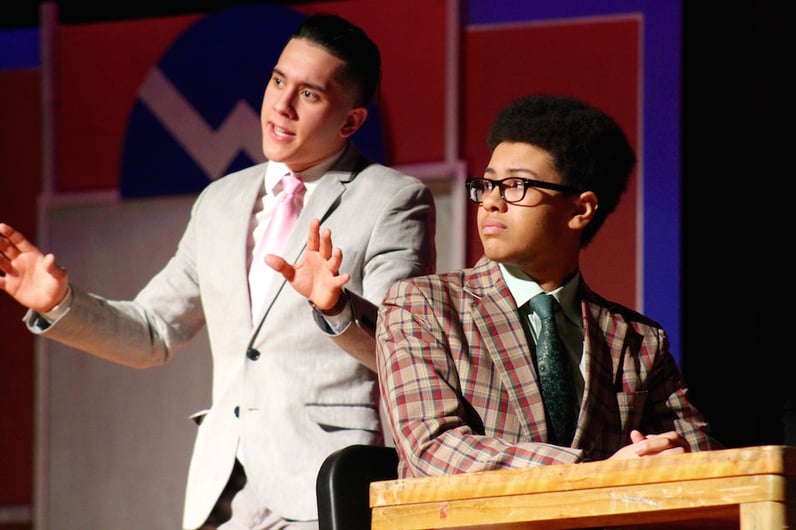 Brandon Oliveras as J. Pierrepont Finch and Eli Wells as Bud Frump in How To Succeed In Business Without Really Trying, rehearsals for which stopped just before opening night due to COVID-19. Lucy Gellman File Photo.
It's not your regular robocall. The ring is the same. Four chimes signal a public service announcement. But the voice on the other end is Wilbur Cross senior Brandon Oliveras, cycling through the do's and don'ts of COVID-19.
"Let's all please stay home," he says in a chipper voice, as if he is running lines for an upcoming performance. He reminds listeners to cover their faces, wash their hands and stay six feet apart. "If we all comply to these simple rules, we will all get back to our normal lives."
Oliveras is one voice on the COVID-19 Soundscapes Project, an evolving initiative from artist and organizer Daniel Pizarro to spread public health information through the city. Like a typical public service announcement, the project includes reminders to wear a face mask or covering, stand or sit six feet away from another person, wash one's hands, and stay home if they are able to. In a grassroots approach, Pizarro has relied on local voices to deliver those messages.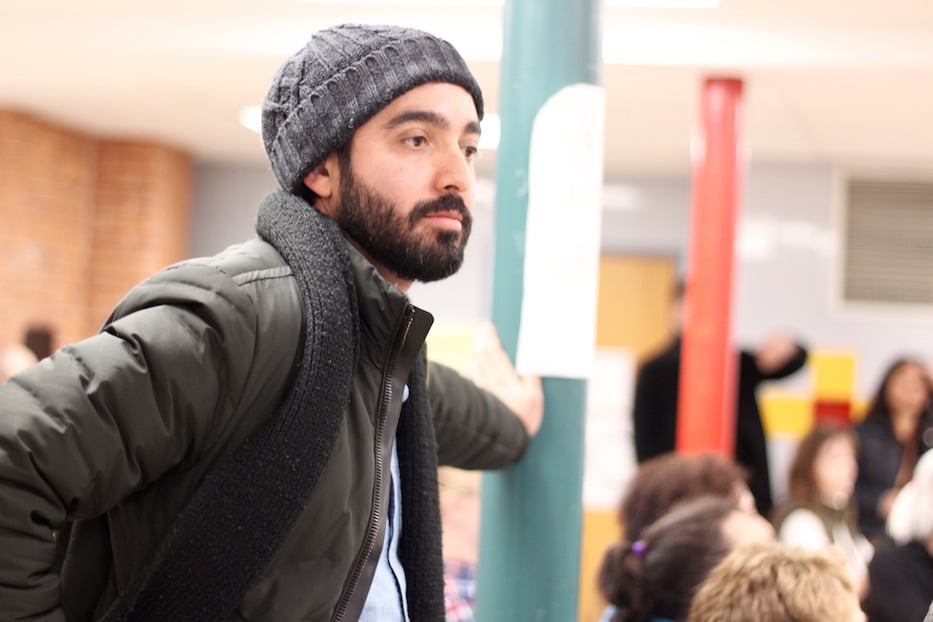 Daniel Pizarro at the second public input meeting for Mayor Justin Elicker's transition team in December of last year. Lucy Gellman File Photo.
In the past several weeks, he has organized robocalls and video messages for the project with Daniel Diaz, coordinator of parent engagement for the New Haven Public Schools. He's also worked with the City of New Haven, New Haven Police Department, Ice The Beef and JUNTA for Progressive Action, with which he is also doing work for a Pay Rent Fund and diaper delivery service.
"The idea was really to cater public health messaging to those who are being hardest hit," he said in a phone call Friday morning. "To have voices from those communities verbalize what is happening."
The campaign was first born in March, as Pizarro observed a disconnect between the public health warnings he was hearing and reading from the city and the realities he was seeing in New Haven. While the information was there—to wash one's hands, wear a mask, maintain physical distance, and stay home if possible—the practices didn't seem to translate.
Initially, he said, he was concerned about the Latinx community, and particularly access to Spanish-language messaging. But the disconnect was true across neighborhoods: he could be almost anywhere in the city and would see people without face coverings, in groups, or wearing masks beneath their noses.
He developed a plan: concentrate on some of New Haven's hardest-hit neighborhoods, find community members and leaders from those neighborhoods, and let trusted sources literally do the talking. There were only two rules: include public health guidelines and keep it to 30 seconds.
"These folks that are organizers and creatives, they know exactly what to do in the moment," he said. "Where our systems have failed us, people have jumped in. And it's been really great to see."
As partners emerged from the woodwork, each brought their own lyrical swerve to the campaign's messaging. Both Diaz and Cheila Serrano, JUNTA's director of social services, have provided a Spanish translation of every single message.
Oliveras, whose final high school play at Wilbur Cross was cut short by COVID-19, is succinct and upbeat. In his message, he reminds listeners that they should follow public health guidelines if they want to get back outside—and back to school—sooner rather than later.
"I understand, we are living in uncertain times," he tells a listener presumably on the other end. "But in order to get back to school and life as we know it, we should all be practicing these three simple rules."
Rev. Abraham Hernandez, who is vice president of the Northeast region for the National Hispanic Christian Leadership Conference, recorded a PSA in Spanish. So did Pastor Marcos Reyes. In early May, Pizarro worked with the New Haven Police Department to play the messages through a loudspeaker on a police car that was patrolling the neighborhood.
While he initially considered multiple vehicles with loudspeaker systems—including renting an ice cream truck—he said a police car seemed to best communicate the gravity of the message.
"I'm seeing different dimensions of how collaborations can grow in this moment," he said. "How do different organizations work together? How do different community groups work together? How do we work past those divides?"
"My goal is to help save as many lives as possible," he added. "At the end of the day, I'm thinking about who is hearing this."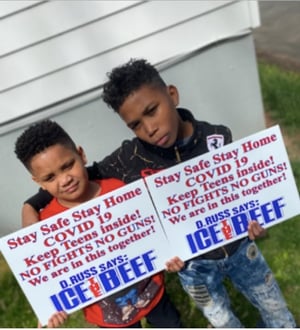 Some participants, it seems, had fun with the assignment. Ice The Beef President Chaz "Mr. C" Carmon recorded a message, then turned the platform over to his 9-year-old son Roberto and 11-year-old cousin Nazir Hobby. (They are photographed at the right). In the 50-plus days the two have now been out of their physical classrooms, they've been writing short raps and songs to keep each other occupied.
Both miss their friends: Nazir is a student at Betsy Ross Arts Magnet School and Roberto is a student at West Rock STREAM Academy. Nazir said he worries constantly about the possibility of passing it to elders in his life, which "would be really bad." Roberto worries about giving it to his mom. Both want to get back to some standard of normalcy.
"I want go to school to do my education/I miss my school, my teacher's amazing," they start on the track. "COVID-19 no we're not playin'/Please wash your hands is what I'm sayin."
In a phone call Thursday night, Diaz praised the messages as one of the ways community members are getting the word out to those who may not otherwise have access to that information.
"We're just trying to promote the whole thing," he said. "It is a learning curve. This week is teacher appreciation week. We're not only celebrating it for teachers, but we're also trying to use it to support parents."
He said that the past eight weeks have left him acutely aware of the amount of need in New Haven, particularly among families who were struggling with food insecurity, undocumented status, and financial precariousness before the pandemic.
He recalled talking to one student on the phone, and learning that her parents were both sick with COVID-19. Another was biking each day to Wilbur Cross, so he could sit in the parking lot and do assignments on the school's WiFi. Diaz hooked him up with a computer. Then he got back to work.
"You have to just soothe them," he said. "We just need to work together towards a goal, and the goal is to make sure that we get out of this together."
Pizarro said he is excited to continue the project, for which he is still collecting audio. In recent weeks, he has also added a video component to spread information about COVID-19 prevention as widely as possible.
He said the next video will include information about how to wear a mask properly, after seeing New Haveners across the city slip masks beneath their noses. He is also part of #StaySafeCT, an artist- and creative-led campaign to help flatten the COVID-19 curve through messaging strategies.
"We're honing in on that because the summer is coming," he said. "It's across the class spectrum, the racial spectrum. Folks just think this isn't going to hit them.
To find out more about StaySafeCT, visit it on Facebook, Twitter or Instagram. To get in touch with Pizarro about a potential message, email him at dnpizarro@gmail.com.