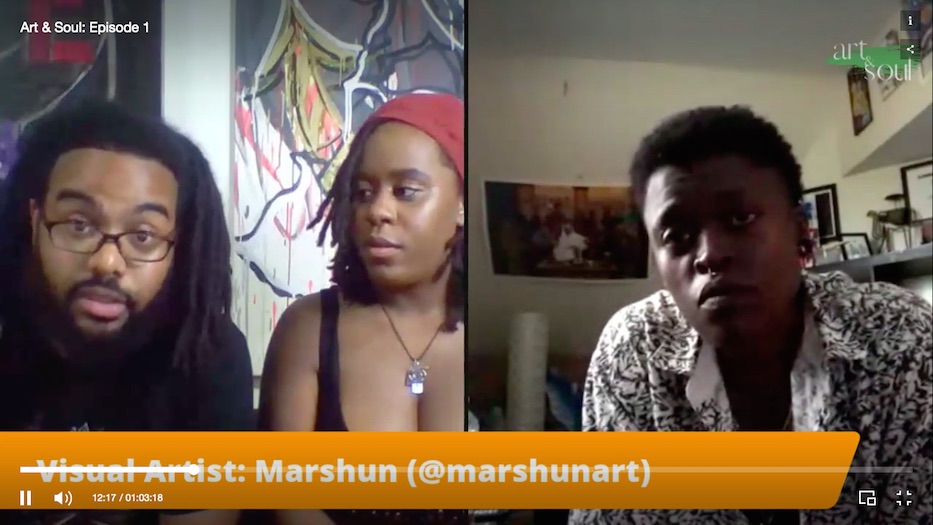 Music | Arts & Culture | Visual Arts | COVID-19 | Artist talks | Cultured AF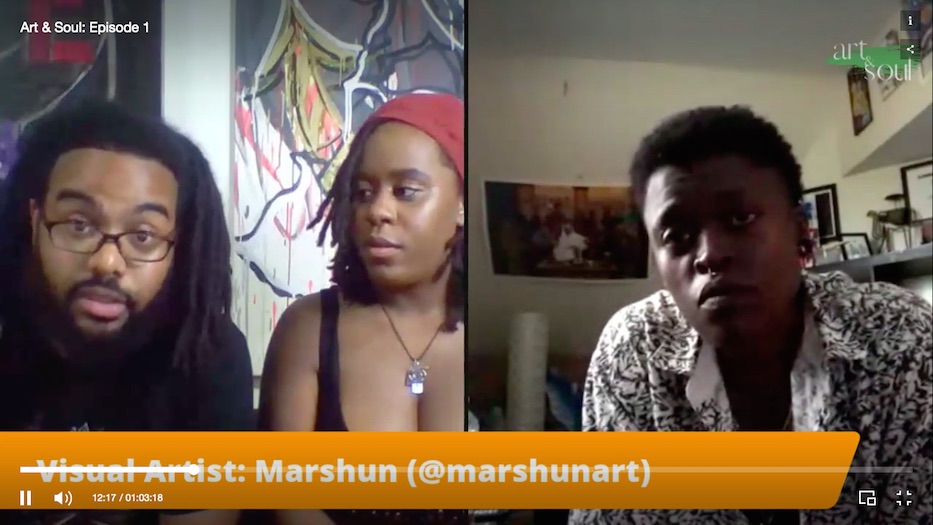 AnUrbanNerd (Josh Brown), Nita Sunday (Juanita Austin) and Marshun Art. Screenshots from live event.
Nita Sunday and Marshun Art were thinking about the next time they might see each other in person. Marshun's laughter echoed through the screen, not deterred by a pixelated image. Sunday noted details in the artist's work: the soft brushstrokes and dainty, gold crowns hovering above each head of soft Black hair. She promised that they would see each other in the real world again soon.
"I can't wait," she said. "I'm excited. It's always a party."
Welcome to "Art & Soul," a new series from Cultured AF Executive Director Juanita Austin and Director of Talent Josh Brown. After launching the series Wednesday with back-to-back interviews with artist Marshun Art and musician Denzel Williams, Austin is hoping that it will be a monthly occurrence. It dovetails with Cultured AF's goal of supporting Black, queer artists both in New London and across the state.
It is filmed on the "cultured couch" at the space's new home on 165 State St. in New London. When presenting, Austin uses the moniker Nita Sunday; Brown goes by AnUrbanNerd. For both of them, it's part of a larger digital pivot that the space is making in the midst of a public health crisis.
"With things changing [due to COVID-19], we are asking: What are the things that we want to do best," she said in an interview before the series. "We really wanted to focus on being able to produce content. We have the space and tools to be creative."
Before the pandemic hit Connecticut in March, Cultured AF was running its activities out of 176 State St. in New London. The space, called Cultured Studios, was a vibrant home to open mic nights, discussions, and a gallery space. In March, Austin had planned to host Marshun for a solo show, the artist's first in the state. Then everything screeched to a halt in a matter of days.
Austin, who founded the organization in 2019, leaned into the timing. She began to look for a new spot when her lease ended in April. While the new studio is not yet hosting gatherings due to the pandemic—"it's actually pretty big and pretty empty," she said, which may ultimately work in the group's favor—it has offered its space to small breakout groups.
Last week, it hosted New London based Hearing Youth Voices, a peer-led advocacy group fighting for an end to white supremacy. She said she's excited to be able to provide that resource.
"We had to figure out what that direction would be," she said. "We had to re-evaluate what we were doing and produce content for our community. Right now, that means a lot of online events."
In June, the group moved its "Talk Yo Shit!" open mic night online, Austin watching as dozens of community members packed the digital feed. It was clear to her that there was going to be a long-term need for online programming, which "Art & Soul" seeks to directly address.
Wednesday evening, that began as she and Brown welcomed Marshun Art to the screen. The moniker is the brand behind artist and illustrator Candyce Marsh John, a New Havener who has brought their work to La Sala Femme, children's books, and commissioned projects across the city and the state. They are known for their pointy, neat-edged crowns and comic-like illustrations.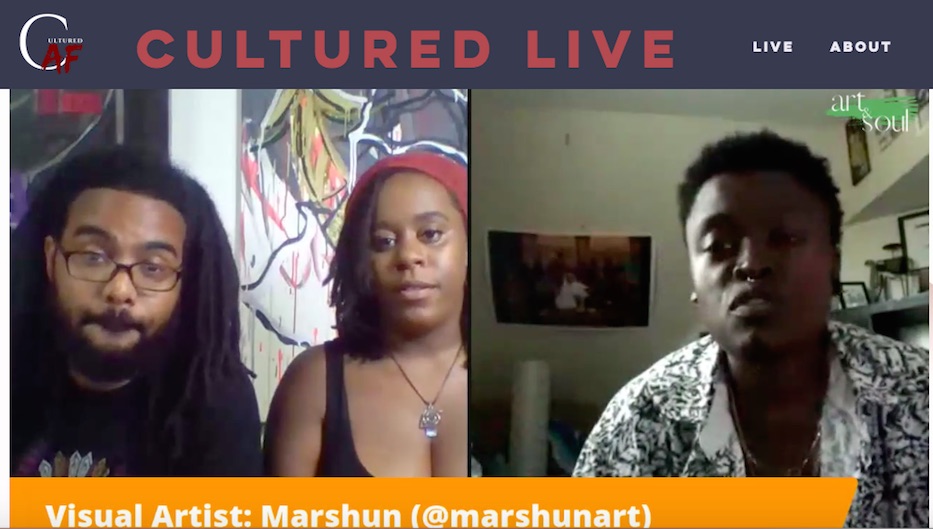 Filling half of the screen, they hopped into the creation story of Marshun the artist. As a kid, they grew up sketching in front of the television. It led to drawing as a form of self-expression, including the signature crowns that now hover over their characters' heads as a reminder that "we're all royalty." As the child of West Indian parents and grandparents, they added, that path wasn't always easy: art was seen in their home as a hobby, rather than a full-time vocation.
"I kind of got over the fact that I was weird, or that I was different," they said. "So I guess that was just me accepting myself. And so, I'm a martian. I'm an alien. I'm out of this world. Most of my perspectives are pretty much different from what most people believe. Or even, I just have the space now for those types of outer body things."
"Art & Soul" is meant to be candid: Marshun admitted that they first met Austin because they mistook her for someone else (after "seeing how dope you were," the two became and have remained fast friends). They waxed poetic on open mic nights that Austin used to host as the gallery manager at Hygenic Art, and then in the first year of Cultured AF.
Marshun seemed to relax across the distance: they slid from discussing their first art sale to the unexpected motivation they found in their own work after Nipsey Hussle died of complications from gunshot wounds in March 2019. As they spoke, the white walls of a room, decorated with a large drawing and bookshelves, peeked out. The drawing was just far away enough to come across as a blur of color, faces no longer visible at a distance.
"Literally, just continue to believe in yourself, continue to push in your craft, and create, create, create," they said to young artists in the virtual audience. "A lot of it is relationship building. When they see you working, when they meet you … when they see you create and make those connections, they're going to be more likely to buy a piece of art."
The conversation veered into COVID-19, which Marshun called unexpectedly "good to me, other than cancelling my show." In March, the artist was slated to host their inaugural exhibition at Cultured AF's previous space, also on State Street in New London. The show was based on "the elements" in the periodic table of Black history, from Biggie Smalls and Tupac Shakur to Malcolm X and Martin Luther King, Jr. to The Weekend. Then the pandemic hit.
"When that happened and it was cancelled, I took a break from just painting for a little while, just creating in general," they said. "Everything was there, in the exact place, but I just had to take a step away from everything."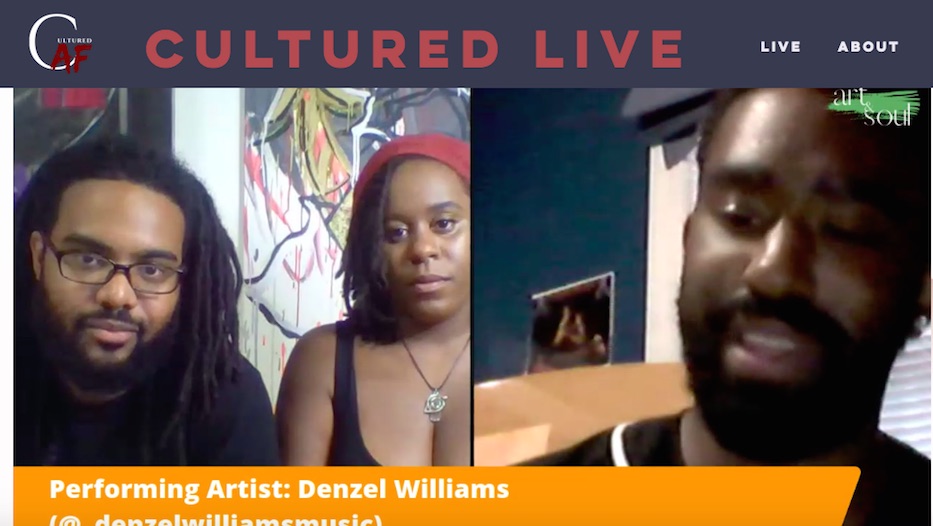 Then they recalibrated. They tried to "step out of the box," reimagining the well-worn grooves of their own practice. They recalled standing in their living room—more affectionately called "the lab"—and staring down a blank canvas for a few days before starting to work again. They spent most of quarantine in a different space, which they referred to as the "lab 2.0" in Philadelphia.
"So it sat for a little while, but after a couple times, I just sat down and was glued to it," they recalled. "But I also like to make sure that I have something to reference, but it also is an emotional thing … happy emotions, sad emotions, whatever the case may be. I wanted to paint things that were light, but also had, like, a little bit of a dark thing to it."
They also realized that they'd been moving too fast, operating at a speed that was not sustainable. COVID-19 made them slow down. They're trying to hold onto that going forward.
"I literally had the time to just worry about me," they said. "You know what I'm saying? Like, something as simple as putting on lotion again. I started loving myself again. Ultimately that is how I've survived this. Mentally, I've survived this. And just working out, bike riding. It's keeping me able to keep the fresh air that I've required, the sun that I need."
During the second half of the episode, Sunday and AnUrbanNerd welcomed musician Denzel Williams, and R&B artist who hosts The Rhythm N Brewz Podcast multiple times per month. Williams started singing as a kid, listening to music at home and in the front seat of his grandmother's car. He got serious about the craft in middle school.
He recalled walking down the hallway in seventh grade and singing selections from Usher's 2004 Confessions to himself. He thought the hallway was empty. Instead, a friend surprised him—she'd been listening—and urged him ho hone his skills. At home, his mom heard him sing and do the same thing. He started writing, first through poetry and then through songwriting.
"I always got good grades in it," he said. "I always got A's in the writing portion. I transferred it to music. And then I just kept going with it."
Wednesday, he talked about his process, which travels from pen and paper all the way to the recording studio. He tries to receive thoughts as they come to him—whether it's midway through a history class or midway through his morning shower. His current work is rooted in 1990s R&B.
"The creative process is so wild, of how things can just, like, trigger an idea," he added.
During COVID-19, Williams has also taken time to "think outside the box," as a matter of necessity. He will be doing a virtual birthday concert next month, to celebrate another trip around the sun. For months, he said he's been watching friends navigate the realities of a world where live music is no longer tenable—and may not be until 2021 or 2022. He decided that there had to be a middle ground.
"We have to kind of make it so people see us working, because it's like, you can post all day, but that just gets boring after a while," he said. "Even I get tired of posting. So I was like, you know what? I miss the stage, I miss performing, I'm not going to let corona keep me from that. So here's what I'm going to do. I'm going to build my own concert … and we're just gonna make it as fun as we possibly can."
He added that the pandemic has also forced him to realize the value of slowing down. Williams is in the midst of releasing new music, and is working on an album that does not yet have a release date. He said that for the first time in years, he no longer feels like he has to scramble to get it out.
"Learning to not be in a rush, really, has been a thing," he said. "We're all kind of in the same boat."
Cultured AF is on Facebook, Instagram and the web. To watch the full discussion, click here.