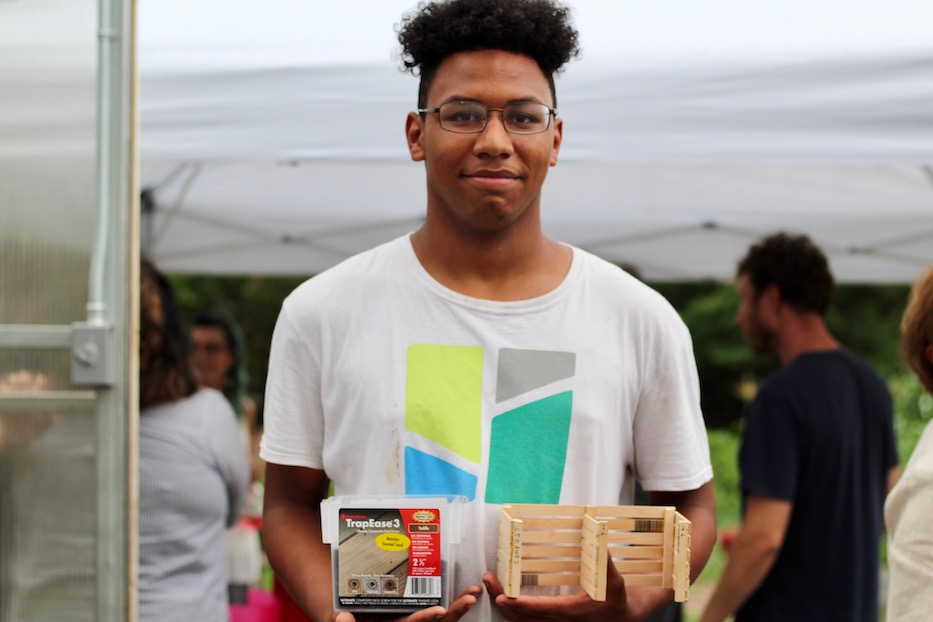 Culture & Community | Economic Development | Education & Youth | Fair Haven | New Haven Land Trust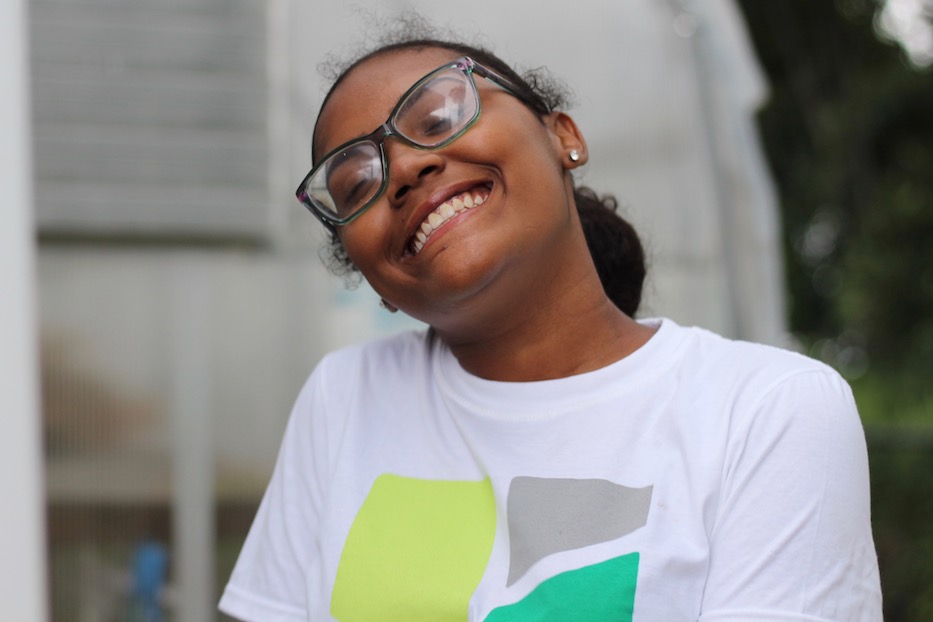 Zuiryliz Osorio, founder of Glossy Featurez. Lucy Gellman Photos.
Zuiryliz Osorio grew up dreaming of her own line of lip gloss and body lotion. Now, she's churning it out, balancing budgets and learning how to make money on it—with ingredients grown in New Haven.
Wednesday, 14-year-old Osorio was one of six "Growing Entrepreneurs" to present her business venture at the New Haven Land Trust's annual Ideas Fair, a celebration of group and individual projects by New Haven teens turned agrarian experts and small business owners. Close to 20 attended the event, held at the organization's Grand Acres Community Garden on Perkins Street.
"This group has been really passionate and excited about what they're working on," said Esther Rose-Wilen, garden education coordinator with the organization. "Just seeing them get excited is great. Their first prototype is always an exciting moment."
Since its official inception in 2016, the program's participants have turned out jams and jellies, body butters and scrubs, and condiments and sauces among other products. During the school year, they meet twice a week for a total of five hours; in the summer they meet 25 hours per week through New Haven's Youth @ Work program. In addition to their own ventures, students work on garden infrastructure projects across the city, including raised beds and fences.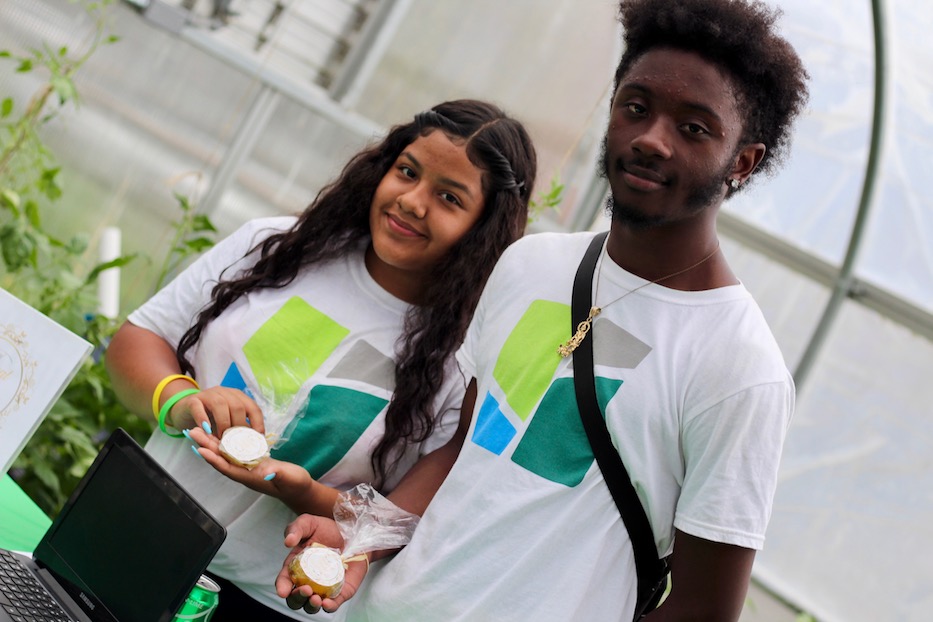 Giselle Cando and Devonte McElveen.
Inside Grand Acres' greenhouse, some of those projects were taking root. At a table placed among beds of green tomato plants, Giselle Cando and Devonte McElveen walked potential customers through Natural Body Treatments, a fledgling venture churning out seashell-shaped bars and discs of soap. Each bar is infused with whole and crushed chamomile from the surrounding garden.
"Everyone needs soap," said Cando, 15-year-old student at Hill Regional Career High School. "We wanted to make it accessible and affordable. We tried to make it for everyone."
The two were inspired by the idea when they looked up soap recipes earlier this year and realized that many of them still called for lye, an alkali that can be harsh on skin. The two endeavored to find a glycerin alternative that also had local ingredients.
They crunched numbers, made budgets, and tested out a mix of plant matter, glycerin, and water in silicone molds until they found a consistency that they were happy with. At the fair, attendees tested out a bar, dipping their hands in a big bowl of water afterwards.
"I like working together," Cando said. "I love that we're outdoors all the time, and that we're learning to do this by ourselves."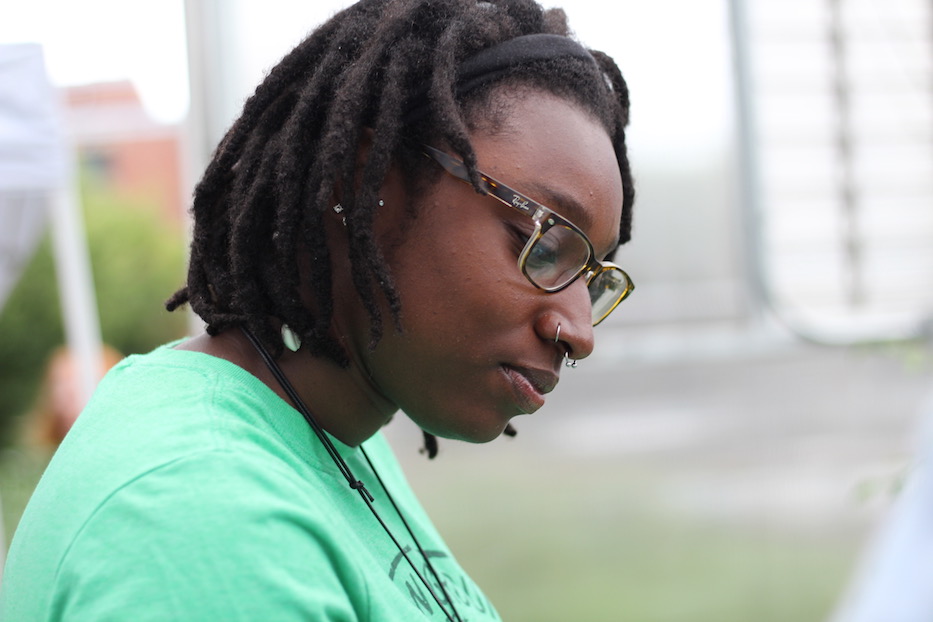 Paris Robberstad, an environmental educator at Common Ground High School.
The youngest of four kids, Cando added that she was also drawn to the project for its craftiness. As a kid, she tried making chapstick with household ingredients. The older she got, the more interesting skin-friendly cleaners became. That's also true McElveen, who said he delights in for growing vegetables, tending to the garden, and cooking.
Currently, the two are planning to start with the soap and expand their line one product at a time. With other entrepreneurs in the program, they've started selling the soap at the Thursday afternoon farmers market in Quinnipiac River Park. Stopping by the table, environmental educator Paris Robberstad said she was convinced, noting that the soap was the same quality that she's seen at artist markets and craft fairs.
"I think it's awesome," she said.
When mayoral hopeful and former Land Trust Director Justin Elicker stopped by, Cando took it as a chance to describe the product, pointing out yellow flecks of chamomile embedded in the bar. Her pitch was almost done when she paused to describe bath bombs, which the duo hope to add to their rotation of bathtime products in the near future (the jury is still out on rubber duckies). Elicker hesitated. He had never heard the term before.
"It's like, fizzy, and you put it in the bath," she explained to Elicker. "Sometimes they have glitter in them."
She had piqued the interest of pint-sized soap connoisseur Mateo Cruz, who heard the word "bath" and was, according to his dad Lee, entirely sold on the product.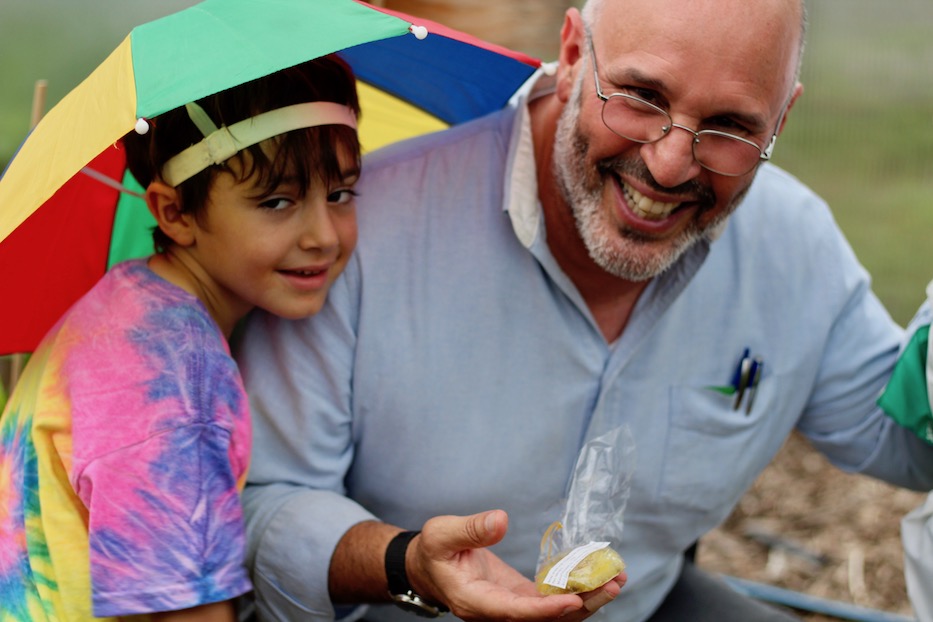 Mateo and Lee Cruz with their first purchase of the fair.
Elsewhere, cosmetics and self-care turned into a theme of the evening. A 16-year-old student at the Sound School, Anajja Stevenson came to the fair with his new brand of scented candles, each homemade and poured into a glass container with a dusting of chamomile and blue cornflower petals on top. They currently come in two sizes, selling for $4 and $10.
Earlier this year, he started the project after finding a video on YouTube of someone making and selling their own candles. To make the batches, he melts down blocks of wax, mixes in essential oils, and pours the mixture into small jars before sticking in a wick. He said that the brand, Anajja's Candles, was partly inspired by his grandmother, who burns candles in her Newhallville home to make it feel cozy.
"It showed me you can make these things quite easily," he said, recalling several trips to buy essential oils at Elm City Market and WalMart, then cutting up and boiling wax on a double burner. As he tweaked recipes, he learned which flavor combinations worked and which didn't (cinnamon and sweet orange was particularly bad, he said). Recent scents include cinnamon, eucalyptus, frankincense, lemon, and tea tree.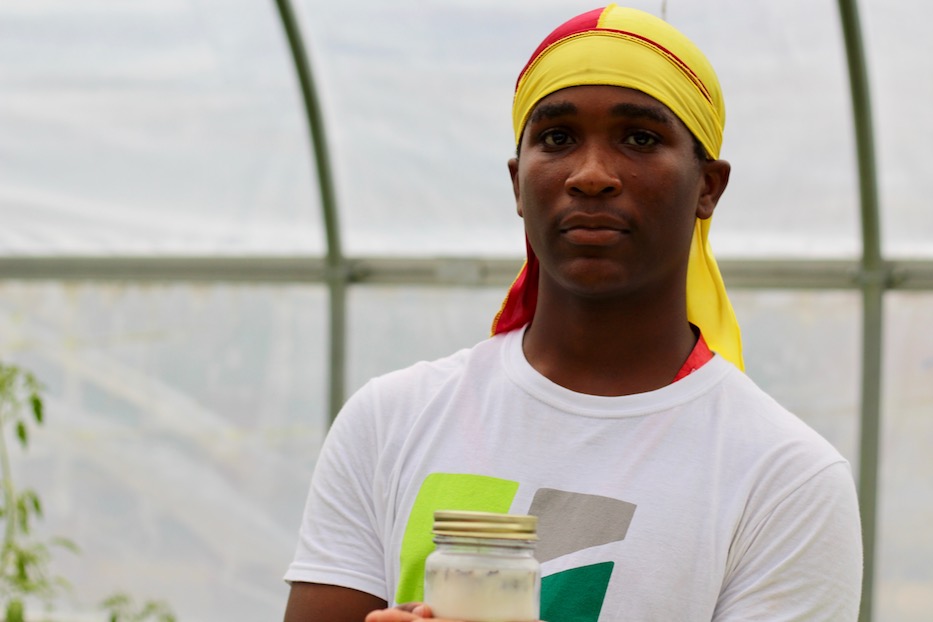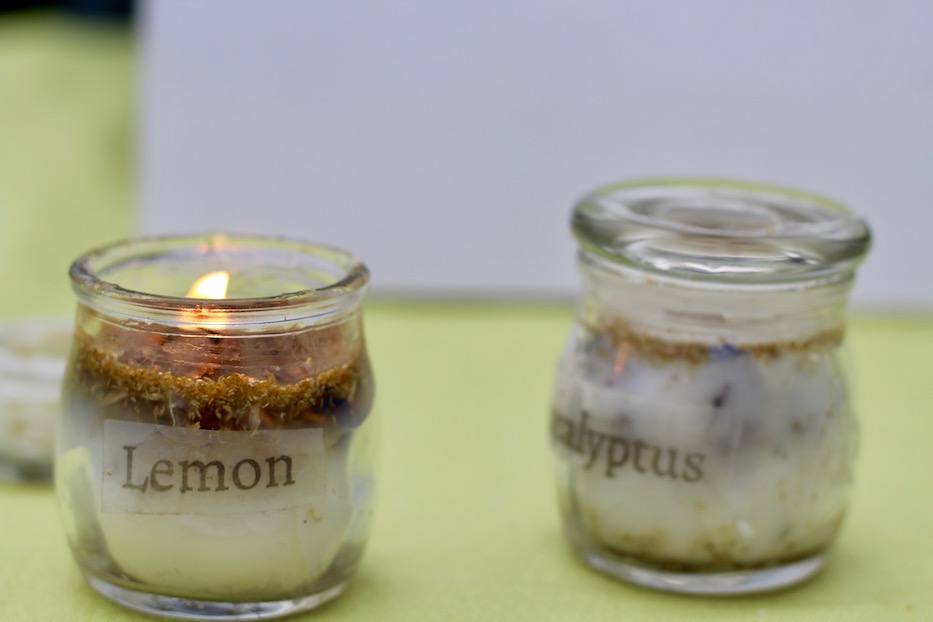 At the table next to him, Osorio introduced Glossy Featurez, a lip balm comprising orange extract, coconut oil, essential oil, a common gloss base called Versagel and dehydrated blue cornflowers from the garden. At 14, she said it's a small dream realized—she's been tinkering with lip gloss for eight years, since watching her mom put it on and experimenting with coconut oil and pink food coloring.
"It's teaching me to make my own money, to go deeper into the business, to set up my templates and everything," she said. She added that she plans to become a lawyer, but wants to continue small-batch cosmetics on the side.
The only outlier was Sharric James, a 17-year-old drama student at Cooperative Arts & Humanities High School who is a peer leader and compost devotee. As a small group gathered around his table, he launched into his pitch: compost bins as a way to fight food waste. Unlike the large, sealed tubs distributed by Peels & Wheels Composting, these are wooden structures intended for outdoor use.
He said the idea came to him earlier this year, after researching early composting efforts in New York City that started in the 1980s. By then, James was already into his second year in the program, and had gotten to build compost bins with other members of the group.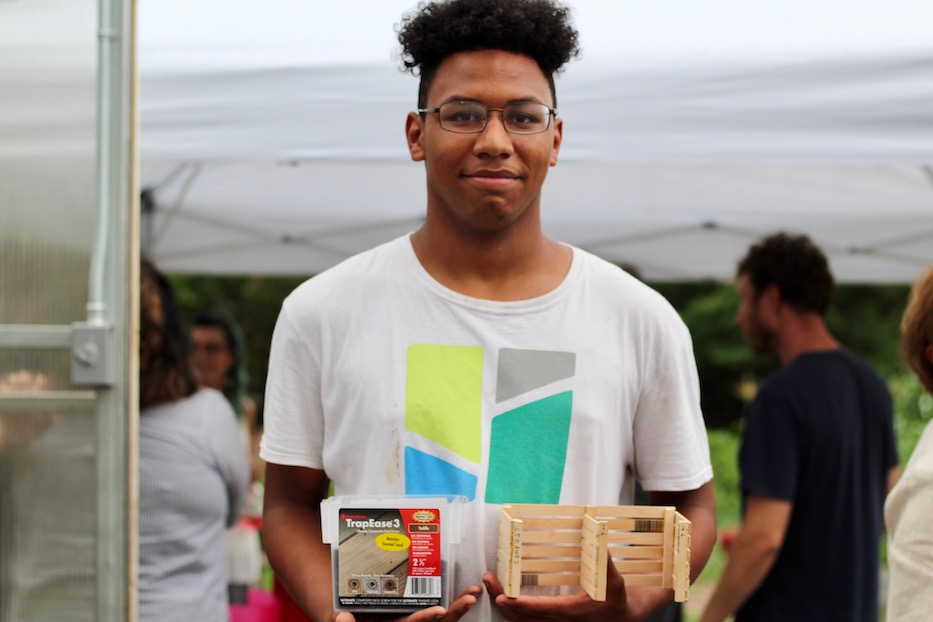 Sharric James with a model of his bins and sample size of dirt from composted food waste.
Then he found out that Connecticut throws away 520,000 tons of food every year—and that only 3.9 percent of that is composted. He also found out that incinerated waste contributes to the asthma epidemic in the state, which hits poor cities the hardest. And reading about good bacteria that grows in compost, he got excited.
"I've always been fascinated with how the world works," he said, turning to an expense spreadsheet that outlined materials, power tools, and the cost of his labor. To get off the ground, he and fellow entrepreneur Juan Marroquin are looking at a startup that comes in just over $1,500. They've spent some of the summer pitching to New Haveners who have already opted for raised beds, another Growing Entrepreneurs project from 2017.
As he and Marroquin embark on the compost bins, he said that he's most excited for the build out. Two years ago, he helped build an urban farm in the Hill. Now he tinkers whenever he gets the chance, offering to fix bike parts, garden beds and fences that break around his neighborhood.
"I love building," he said. "That part is really fun."