Bill Kraus | Economic Development | Arts & Culture | New Haven Clock Factory | Film & Video | Mill River District | Gorman Bechard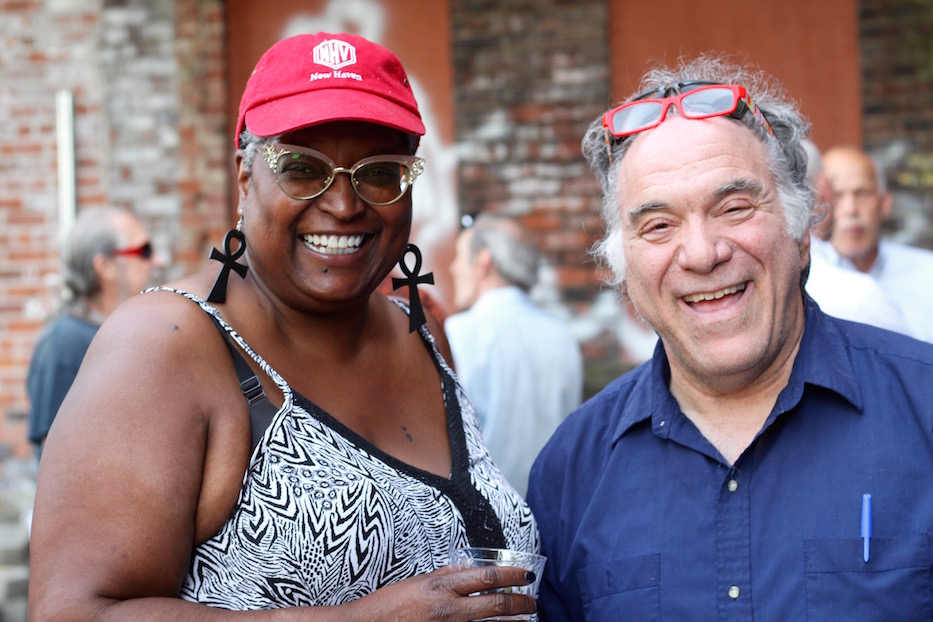 Babz Rawls-Ivy Pictured and Paul Hammer. Lucy Gellman Photos.
It was where Babz Rawls-Ivy found an upscale Black music club outside of New York City. Where Will Diaz discovered the thrill of punk rock before he finished middle school. Where Paul Bryant Hudson snuck in after band practice and Gorman Bechard threw up in an empty back room. Maybe more than once in the same night.
Those stories are just a sliver of Factory – 150,000 sq feet of Sex, Vice, Music, Art & Clocks, the newest documentary from veteran filmmaker Gorman Bechard and Producer Bill Kraus. The film, of which they hope to have a rough cut by NH Docs next year, chronicles the lives of the New Haven Clock Company building at 133 Hamilton St, which has withstood 177 years of transformation and is now poised to become affordable housing and artist's lofts from Oregon-based Reed Realty Group. For a previous article on the building's long history, click here.
Tuesday evening, the filmmaking duo hosted a fundraising party in the building's sprawling lot, as their Kickstarter for the film enters its final two weeks online. After 75 hours of filming and roughly 30 interviews, the Factory team is trying to raise $16,500 for the film by July 25, which will get them through the end of production and a rough edit. Bechard said they will eventually need closer to $120,000 for music rights, sound mixing and other production elements. Over 120 attended.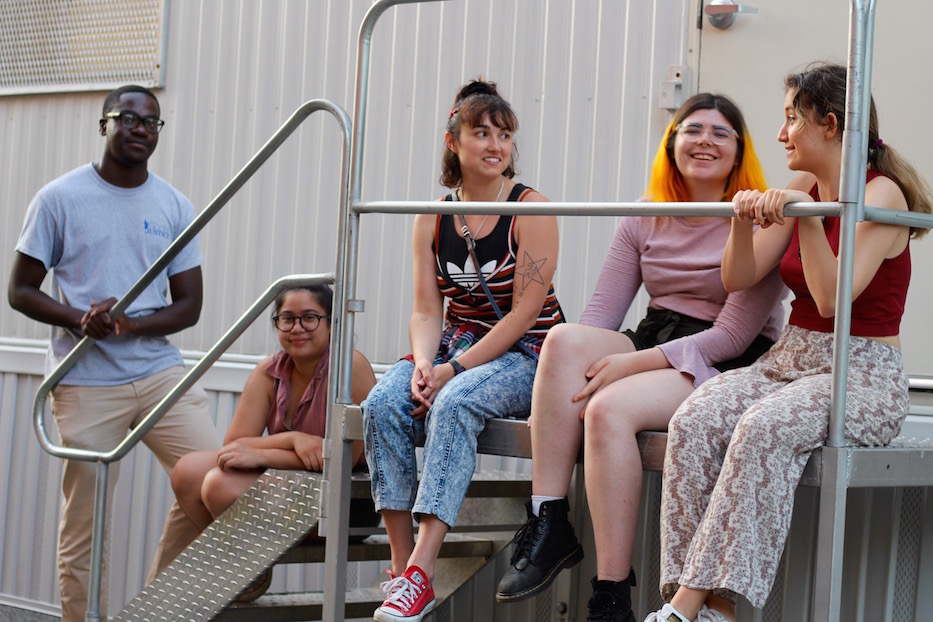 Some of the interns who will be working on NH Docs this year, and have gotten roped into helping with Factory too.
The party was sponsored in part by NH Docs, which Bechard founded with film professor Charlie Musser in 2014. Over the course of the evening, attendees raised $4,500 for the film, including a $3,000 gift from Louis Taglitela, Jr. His family's company, Franklin Construction, has been located around the corner from the factory for over a century. That history, it turns out, has hooked Bechard too.
"I became interested in this because of the lives that were lived in here," he said before showing an early trailer. "There are so many crazy stories here, and I started realizing that I wanted to make a film that sort of represented every boarded-up building in every city. And this was the one to do it with."
"So you live somewhere else, and you have a building, and it probably has some crazy history," he added. "Maybe not as crazy as this. But hopefully, you'll look at this film and it will represent it."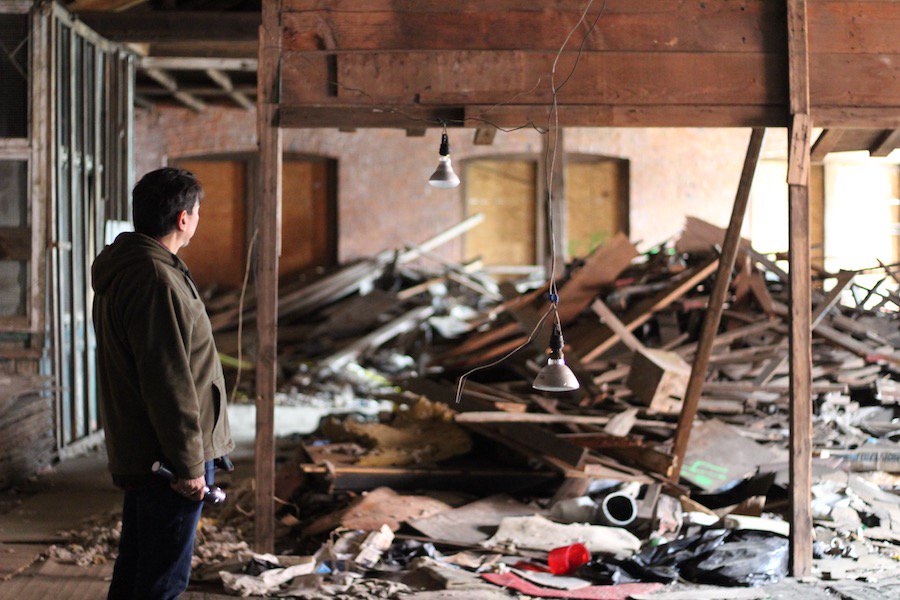 Bill Kraus in the factory last summer, before environmental remediation.
He's not exaggerating. In its over 170 years, the factory has been home to the largest clock company in the world, a hub for nineteenth-century innovation and immigrant labor, renowned music clubs, sanctioned strip joints and unsanctioned motorcycle havens. It has welcomed a mime troupe with improvised plumbing, illegal cock fighting ring, the Papier Mache Video Institute, indoor skate park, raucous Yale parties, and a marijuana grow house busted by the Drug Enforcement Administration in the early 2000s.
Earlier this year, that history took another turn when the owners of Scores strip club refused to leave, putting the whole ballet of a development deal in jeopardy.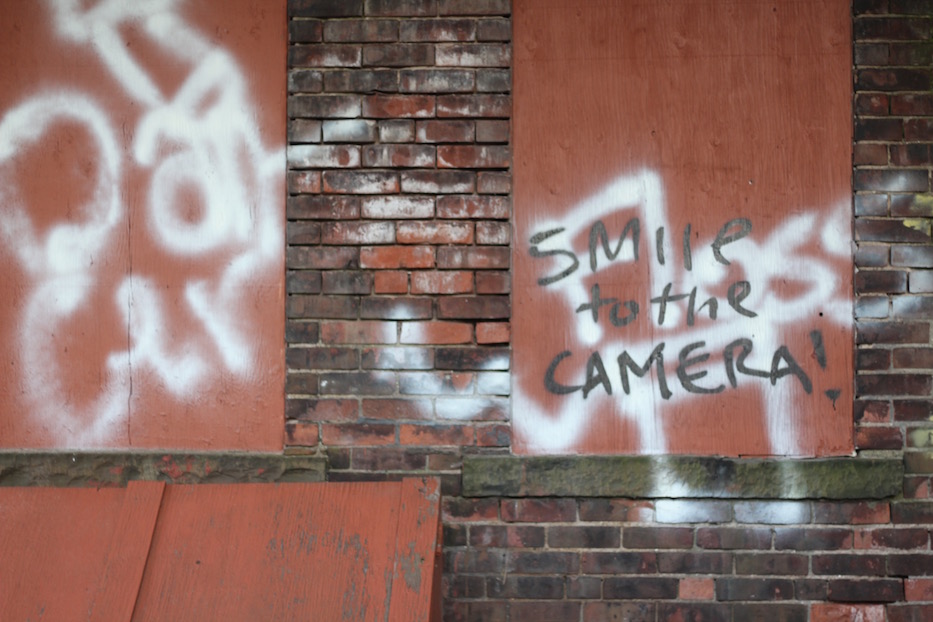 In that sense, Factory has been over a century in the making, as ghosts pile up inside the building with thousands of stories to tell. But the path toward the documentary picked up precipitously in 1999, when Kraus was scoping out old buildings that had potential for another life. While he ultimately settled on Read's Department Store (now Read's Artspace) in Bridgeport, he remained close with the Clock Shop Factory building's owners, getting to know the space intimately before going to bat for it in the last decade.
Along the way, he found himself accumulating tens, then hundreds, of stories. They started with "these small, little things you'd see in the building that were hard to explain … murals of classical hermaphrodites, walls full of graffiti of strippers talking to each other, a lot of vague sort of stories about lines around the block for an art exhibit in 1984" and so on.
Then there was what he heard. One person might mention a show they'd seen at Brick & Wood. Another would note that they'd done mime in the building, or frequented a gay club in one wing, or built a half-pipe.
Murals from the Yale School of Architecture's famed Beaux Arts Balls still wink out from the walls. Lucy Gellman File Photo.
"Just the curiosity of all of this led me to start tracking down some of these people and finding out the details," he said Tuesday. "And as I found people, these whole worlds would sort of open up. They'd tell me their stories, they'd share photos, things like that."
When Kraus gave tours of the building—sometimes to New Haveners, sometimes to real estate developers interested in the property—he regurgitated the history, pausing in Hiram Camp's old office, or offering a sneak peek at graffiti that strippers left for each other. He became the factory whisperer: he knew where floorboards were likely to give way or already had, what rooms had been cleared out and which still had half-full bottles that looked like they'd been abandoned.
People who'd gotten his tour encouraged him to do something with the number of stories he had. But "I'm not about to write a book," he said Tuesday. Then he met Bechard.
"This is just something that's a labor of love for both Gorman and me," Kraus said, adding that Factory is a completely independent project with no ties to or funding from the developer. "We're not raising money to renovate the building … it's basically all there. We're just raising money to complete the film. We need your help in order to make the film happen."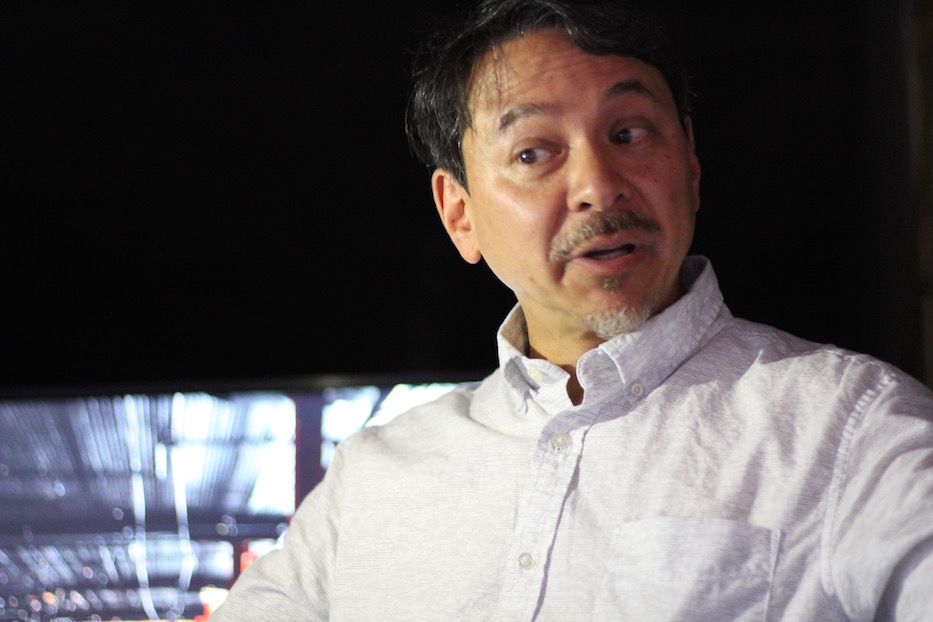 Kraus Tuesday: "This is just something that's a labor of love for both Gorman and me."
Tuesday night, some of those histories bubbled to the surface as a crowd gathered to support the film. Turning the clock back, WNHH Community Radio host and Inner-City News Editor Babz Rawls-Ivy (pictured at top) recalled getting dressed up to see R&B and jazz acts at Brick & Wood, so memorable that they also got a mention in Dr. Cornel West's Brother West: Living and Loving Out Loud, a Memoir.
"This was the party place!" she said, a huge grin spreading over her face as she spoke. "It was as close to New York as we could get. It was a very upscale Black party place—and we don't have those anymore in the city. It was a mix of jazz and R&B, and there were real artists that played here."
As a creative and a woman of color, Rawls-Ivy said she misses the history, but also wants to know more about the current project—that "I'd like to live here" when the building is finished, which may be several years away.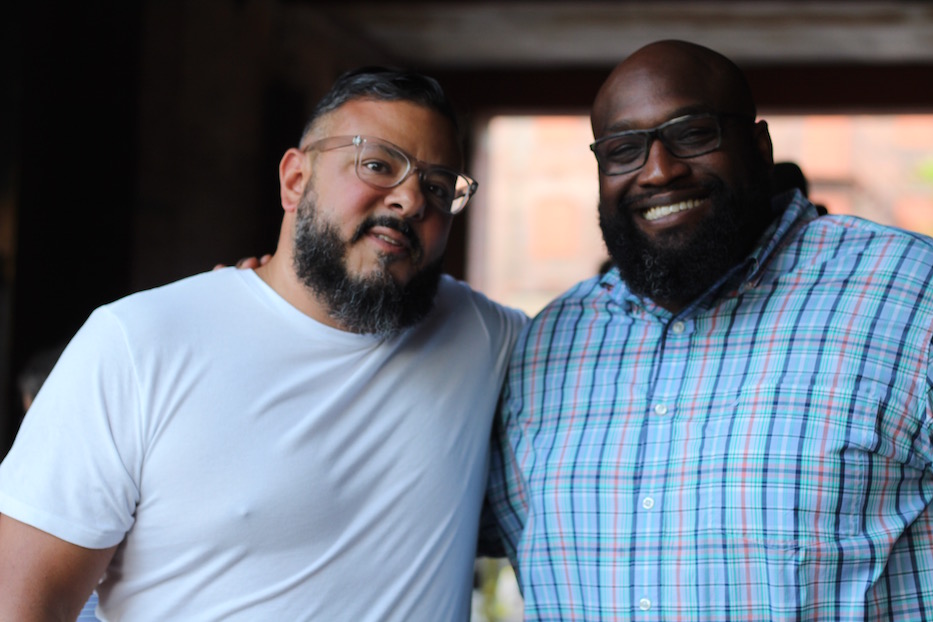 William Diaz and Seth Poole.
Now in his 40s, William Diaz recalled making the trek from Bridgeport to the factory when he was just 12 or 13 years old, a middle schooler with a taste—and sharp ear—for punk. At the time, he said, shows admitted an all ages crowd. Alcohol and drugs weren't something that he worried about—many of the bands he saw were trying to stay clean and sober, meaning that substances weren't heavily present.
In the 1980s, he remembered making a musical pilgrimage to hear the heavy metal band GWAR, and another for the Detroit-based rock band Death, and a third for Corrosion of Conformity. While he heard about the jazzier days of Brick & Wood from his dad, an R&B performer, he never experienced them firsthand.
Others have a more recent history with the building. Musician Paul Bryant Hudson, whose voice coasts over the end of the first trailer for the film, recalled sneaking into the building exactly once during his high school years, on the way home from band practice at Church On The Rock. No sooner had he and a group of friends made it inside than they got freaked out and left.
"It felt, and clearly was, dangerous," he said. He added that he's excited for the future of the building, as both an artist and a longtime New Havener, with family who have been rooted in the city for generations.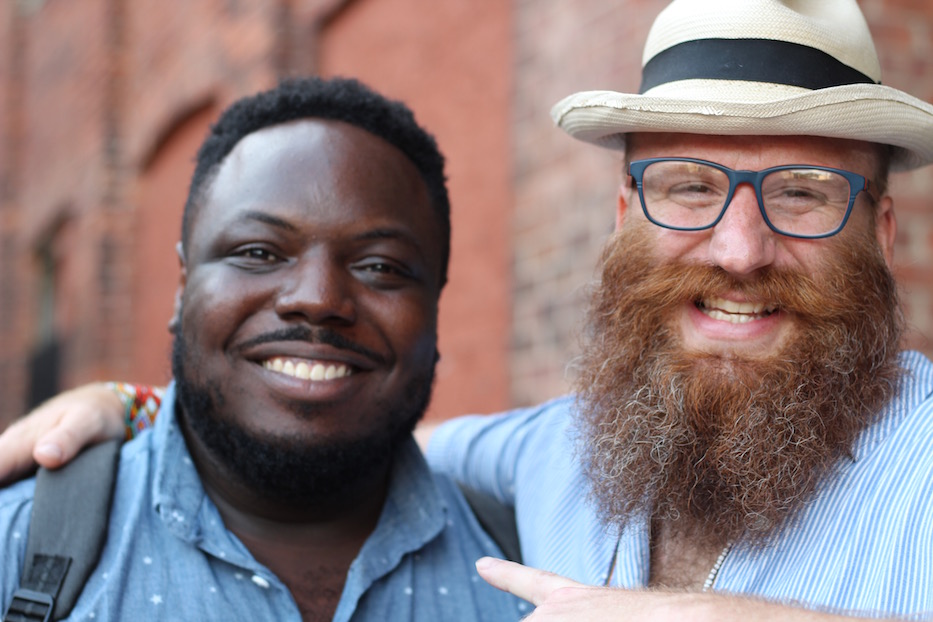 Paul Bryant Hudson pictured with Damian Paglia.
Those moments are what Bechard is trying to capture, he said. In part, there's a personal connection that keeps bringing the filmmaker back. In 1987, Bechard went to see a band that his friend Jan Redder was performing in. Redder was just a kid—he had reached out to Bechard with an interest in film at 15—and the two were becoming fast friends.
Bechard was wrapping up filming for Psychos In Love, and wanted a night to kick back. So "we got rip-roaring drunk," he recalled. When the time came to "puke my guts out," he found an empty room off to the side where he could do so in peace.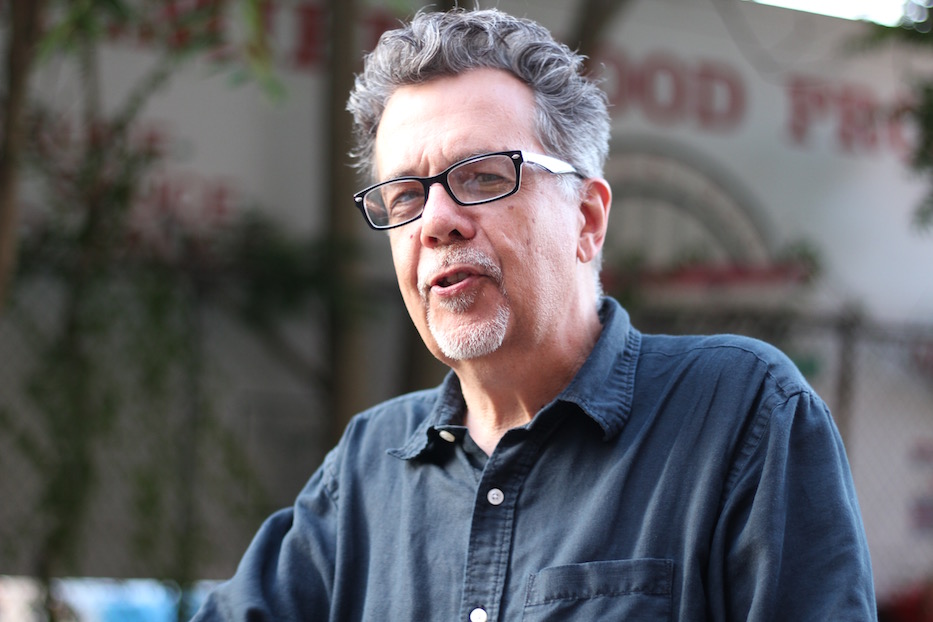 Bechard: "My love here is how the building kept surviving."
But mostly, his drive to make the documentary is inspired by his love for old buildings, many of which were torn down during New Haven's period of urban renewal in the 1950s and 1960s. He has a very soft spot for old-boned structures such as Mass MoCA, an electric company that shuttered in the 1980s, and later became an art museum.
In the New Haven factory's life—nearly two vibrant centuries and counting—he sees hundreds of other histories, in hundreds of other post-industrial American cities.
"My love here is how the building kept surviving," he said. "It is the greatest character in his film."
The Kickstarter for Factory runs through July 25. To find out more or donate, click here.