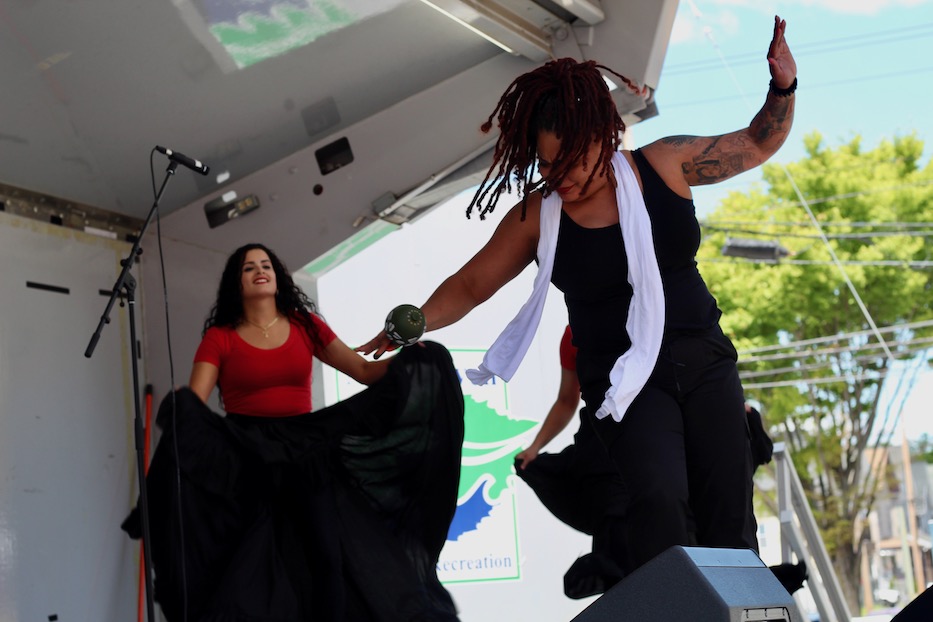 Culture & Community | Fair Haven | Fair Haven Library | Arts & Culture | Arts & Anti-racism | Fair Haven School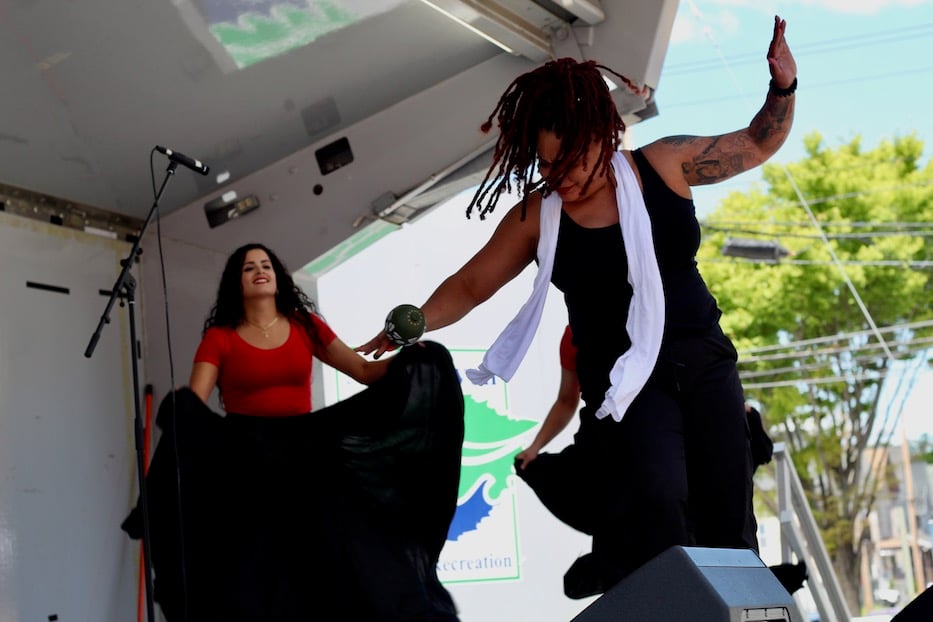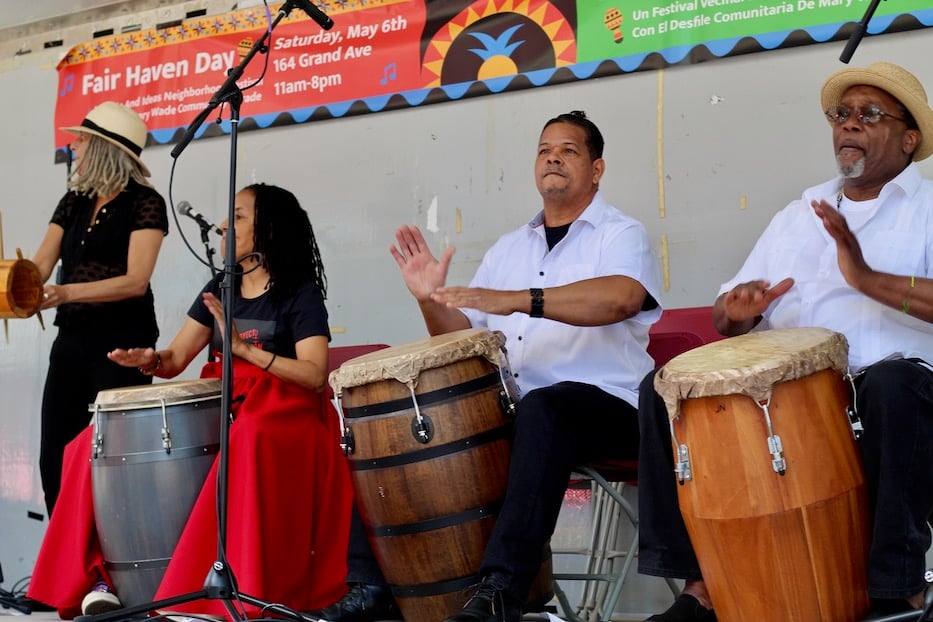 Proyecto Cimarron takes the stage early in the day. For a video of their performance, read on to the end of the article! Lucy Gellman Photos.
The whisper of maraca and roll of barriles sounded over Grand Avenue, and suddenly even the street seemed to be dancing. On the sidewalk, the smells of slow-roasted pernil and sweet plantains wove through a growing crowd. A quartet of fairies readjusted their wings and moved to the music. Back at the stage, 10-year-old Ashley Trujillo ran toward the steps, a yellow whistle steady between her lips, and began to dance.
The sound ushered in a sun-soaked Fair Haven Day on Saturday, as thousands of friends, families, and neighbors gathered outside of Fair Haven School and the Fair Haven Library for hours of music, artmaking, sports clinics, bike month joy, and a vendor and nonprofit fair in the parking lot. The work of a 22-member planning committee, the event both showcased the neighborhood and brought back a celebration not seen in over a decade.
Organizing partners included Junta for Progressive Action, ARTE, Inc., the Fair Haven Community Management Team, New Haven Free Public Library, Fair Haven School, the Semilla Collective, Grand Avenue Special Services District, Movimiento Cultural Afro-Continental (MCAC), the New Haven Board of Alders and the International Festival of Arts & Ideas. This year, Arts & Ideas celebrates a decade of its neighborhood festivals in Fair Haven, Dixwell, Newhallville, The Hill, and West Rock/West Hills.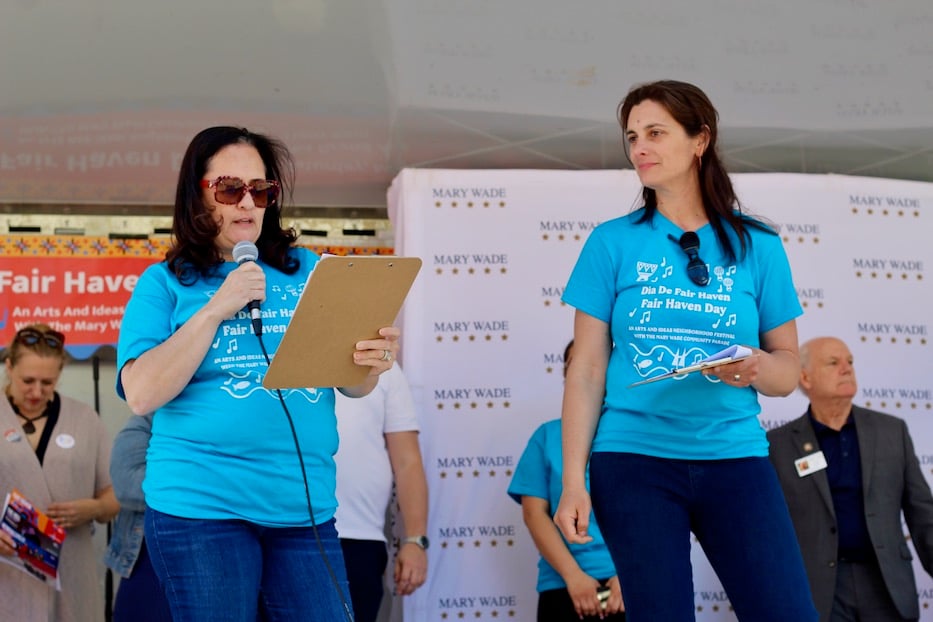 Mildred Melendez and Sarah Miller.
"We are a neighborhood of immigrants and community builders, defined by the rich diversity of our cultures and nationalities," said Fair Haven Alder Sarah Miller, as Ward 13 Democratic Co-Chair Mildred Melendez repeated the remarks in Spanish. "This school, Fair Haven School, is the largest elementary-middle school in our city, and like our neighborhood, works to be a place where everyone belongs, whether you were born in this neighborhood or you got here yesterday."
It represents a community-powered effort to revive Fair Haven Day, a long-missed neighborhood festival that disappeared over a decade ago. In the 1970s and 80s, Fair Haven hosted an annual parade and festival that some longtime residents still remember. When it sputtered to a halt, the Mary Wade Home picked up the parade, which has become a beloved Fair Haven tradition.
For years, said President and CEO David Hunter, the organization kept it going in May to honor both Senior Citizens' Month and Memorial Day. Then this year, it joined forces with the Fair Haven Day planning committee to support the event. After starting the day with a parade, some staff members stuck around, visible with clown noses and blue polo shirts as they wove through the crowd.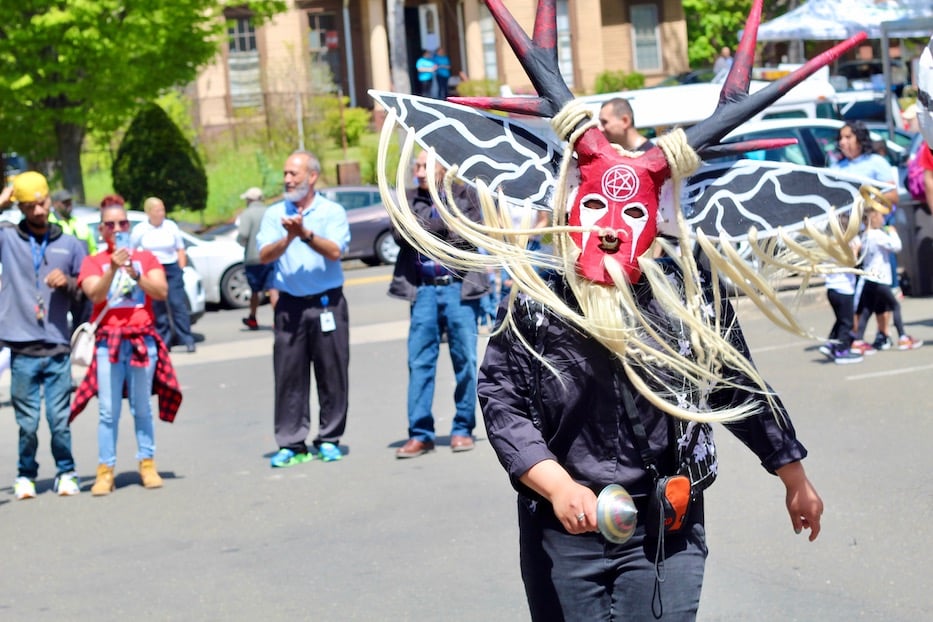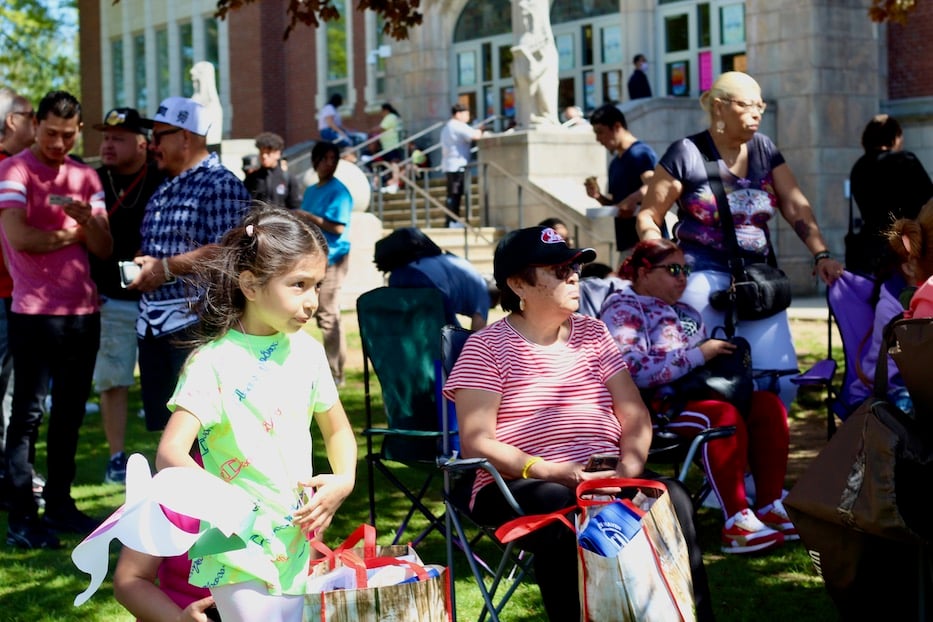 As musicians arrived, it seemed the whole festival had a wild, strong heartbeat that did not stop until close to sundown. Just past noon, it began as Proyecto Cimarrón took the stage, members warming up on their instruments as an audience swelled around them. On stage, co-emcees Joe Rodriguez and Ambar Santiago-Rojas greeted hundreds of attendees who milled around the parking lot.
As the president of Puerto Ricans United and a longtime resident of the neighborhood, Rodriguez noted how much joy it gave him to see the festival in full swing. Santiago-Rojas, a sophomore at Wilbur Cross High School and member of the Semilla Collective, later echoed that sentiment as she watched a fandango unfold in the parking lot.
"Welcome to … the … festival de barriooooooo!" Rodriguez roared, kicking one foot forward in celebration as the crowd cheered. Behind him, musicians Kica Matos and Carlos Cruz hammered out an assent on the barriles. "You ready for some bomba!? Que la bomba!?"
From the moment Addys Castillo began to sing—yo soy cimarrón, yo soy cimarróna—attendees were with her. In the parking lot, attendees who had come prepared with snacks and lawn chairs bobbed along, some rolling their shoulders to the sound. Kids stopped mid-sprint, listening as her voice dipped and soared through the mic. The barriles rolled, and sisters Naomy and Natasha Velez began to dance in time with the beat.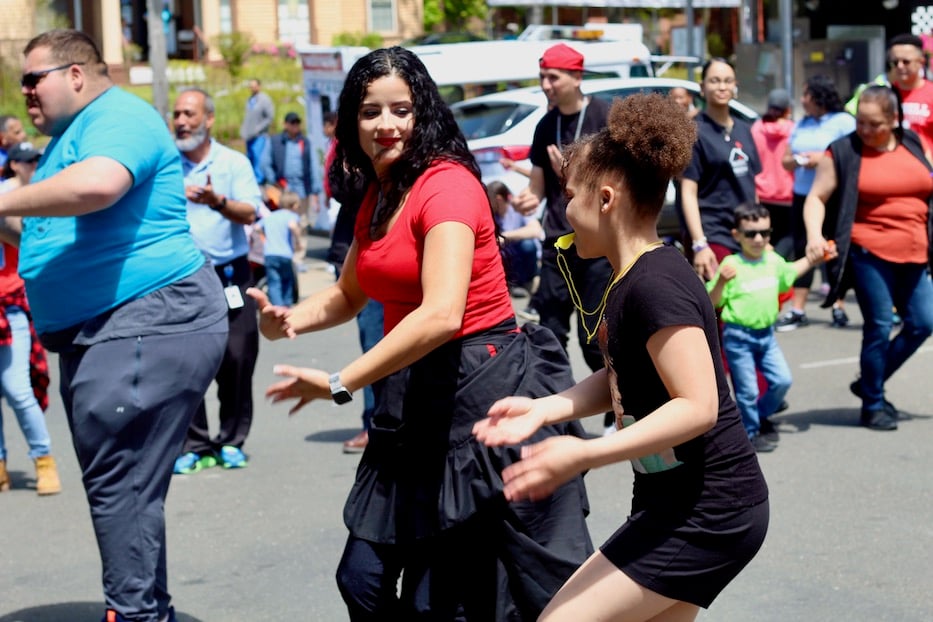 Ashley Trujillo gets an impromptu dance lesson.
"So essentially our name is 'Project Liberation,' and we're gonna liberate you with some bomba, with some joy," Castillo said after the song, before jumping back onto the mic. Two years after its first performance and bombazo downtown, the group has continued to learn and arrange new music, often connected to the revolutionary roots of the art form.
As Castillo's vocals filled the air a second time, fourth grader Ashley Trujillo stopped what she was doing, and cautiously approached the stage. From the ground, she watched the drums, counting the beats between sound and silence. She watched as the Velez sisters became a blur of black and red fabric, bowing to el primo before starting a dialogue with the drums. At some point, she scurried up the stairs, and succeeded in bringing Natasha down into the audience.
Soon, a bomba lesson was unfolding in front of the stage. The two walked it back in quick, tiny footsteps. They brought their arms out to the sides, palms wriggling in invitation to the drums. They remembered their hips and swayed forward, Velez laughing as Ashley tried to lead the way.
"The drums help me feel more un-shy," Ashley said after the song had ended, and Velez had joined her sister back onstage. A fourth grader at Fair Haven School next door, she said she had never tried bomba before, despite her Puerto Rican roots. When she dances, "I feel happy."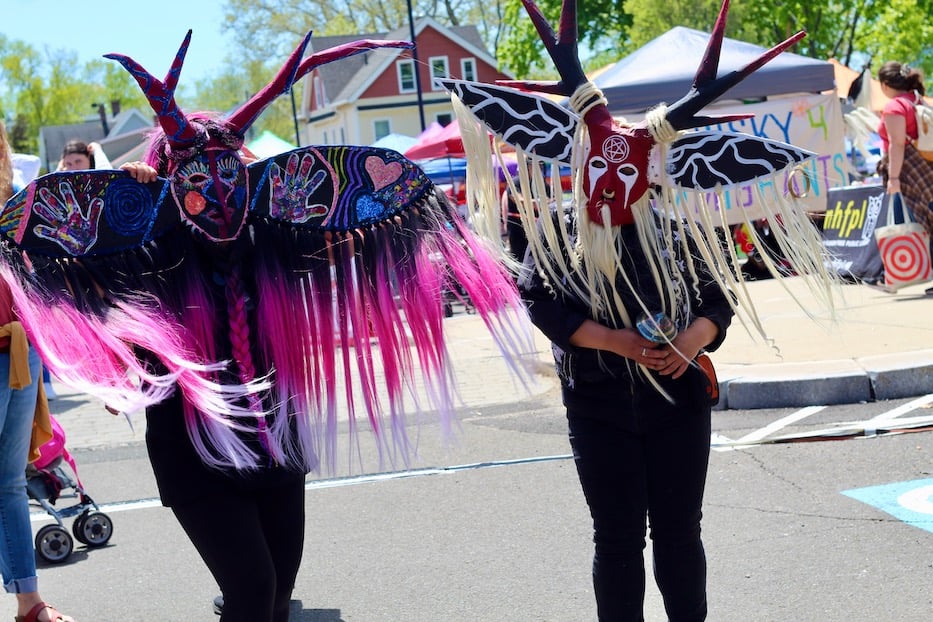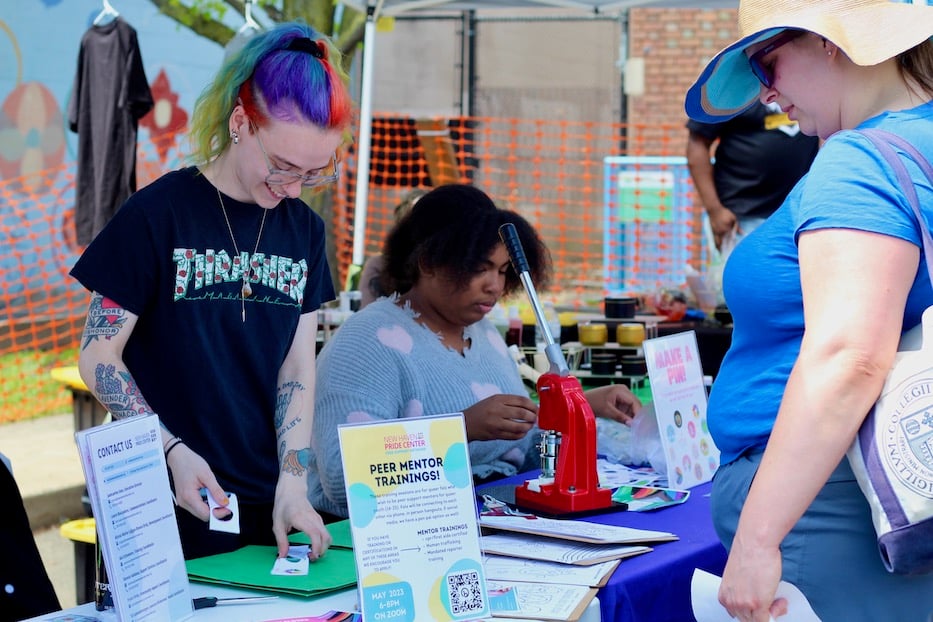 Top: Members of the Semilla Collective. Bottom: A vendor fair featured dozens of local nonprofits, entrepreneurs, and social service organizations. Pictured is Laura Boccadoro from the New Haven Pride Center.
In front of the stage, other dancers slipped into her place as she jogged off toward Exchange Street, where a bike clinic was in full swing. In bright, wide-mouthed masks with long strands of hair, braids, thick paint, glitter, and horns, members of the Semilla Collective transformed the lot into a Danza de Diablos, paying homage to the the Afro-Mexicans who still live in Guerrero de Costa Chica in Oaxaca, Mexico.
"This comes from when slaves were brought to Mexico," said Fatima Rojas, a member of the collective who was soon moving with abandon before the stage. The dance, she said, is both an act of remembering the harm of colonialism and enslavement, and also a reminder that there are Black Mexicans who have kept their traditions alive.
Closer to the sidewalk, cousins Daniomar Gonzalez and Syrena Torres cooled off with popsicles as the sun rose high overhead, pushing spring right into early summer. As a Fair Havener and proud Boricua, Torres said she was excited to come out Saturday and fête the neighborhood with her friends and family. Too often, she said, it gets a bad rap.
"I think people don't really see the beauty of Fair Haven," she said. "I love how this presents the community."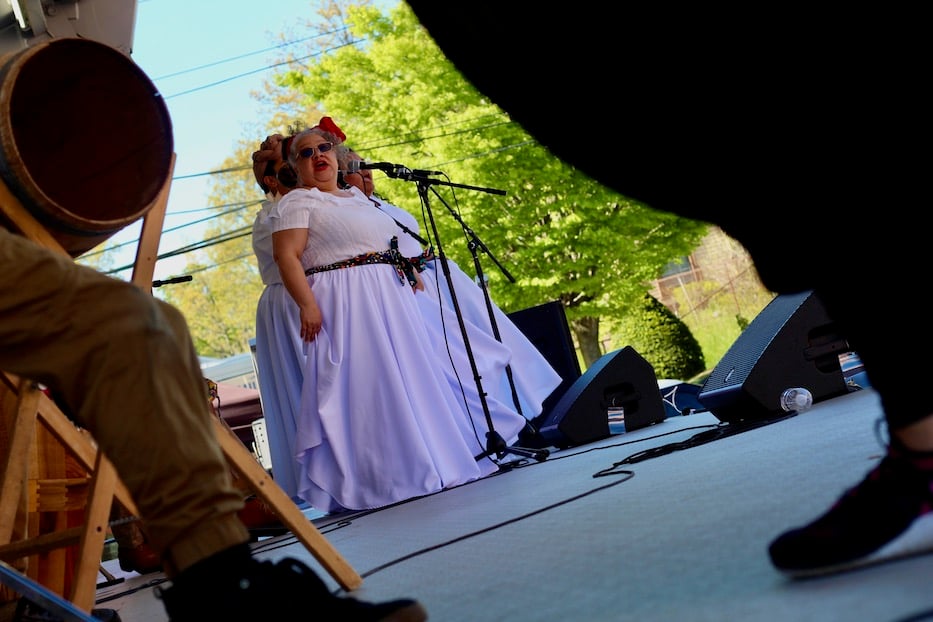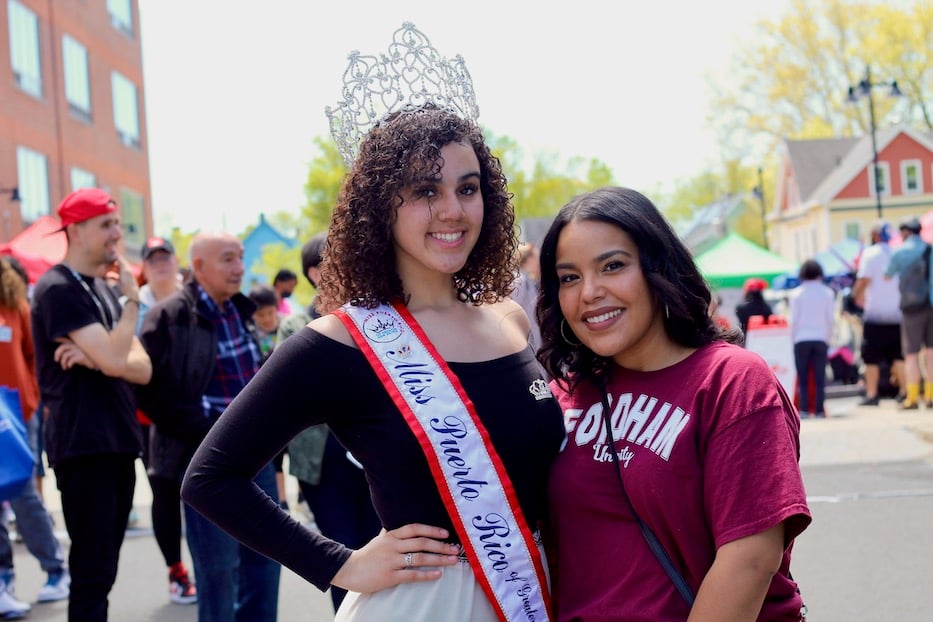 Top: Movimiento Cultural Afro-Continental, which took the stage with Bomba later in the day. Bottom: Miss Puerto Rico Miriam Magalis Cruz and event coordinator Anika Russell.
So did Miriam Magalis Cruz, who earlier this year was crowned Miss Puerto Rico in a ceremony at Wilbur Cross High School, where she is a junior. Saturday, she said that both the title and the ability to proudly represent the island in her neighborhood "mean so much more than words can explain." After she graduates from high school next year, she wants to become a firefighter.
Well before that, she said, she's using her crown and her title to spread awareness around Autism, which she began to learn about when her brother was diagnosed years ago. When she's just Miriam, she added, she's a young violinist at the Fair Haven-based nonprofit Music Haven.
"Not growing up in Puerto Rico, you disconnect from your culture," she said. "To have support has been amazing."
"I'm so excited," added Anika Russell, one of the organizers of the Miss Puerto Rico pageant. "I feel like it's important not only for young ladies but for the youth to have these opportunities."
"Everything I Learned, I Learned In Fair Haven"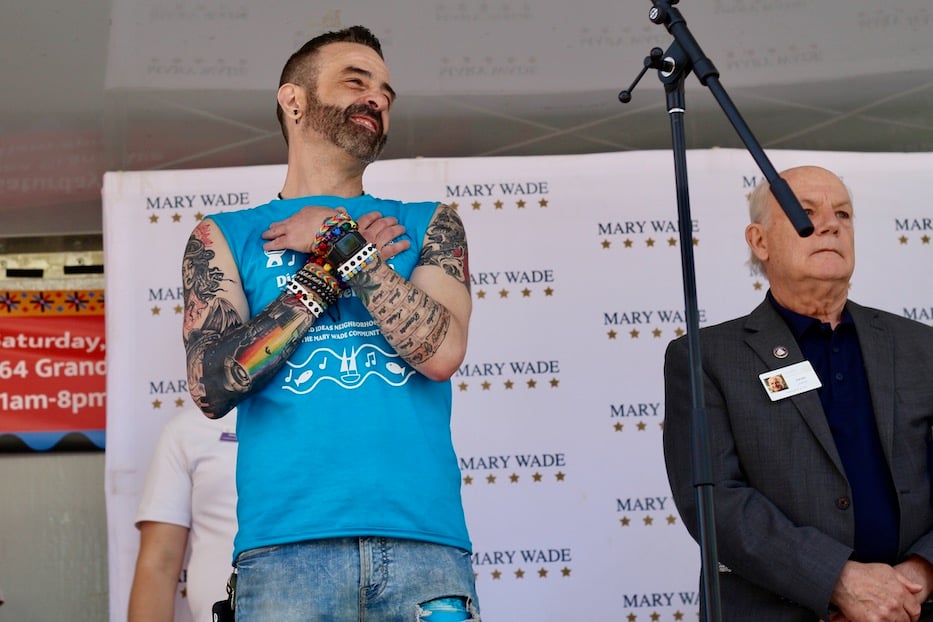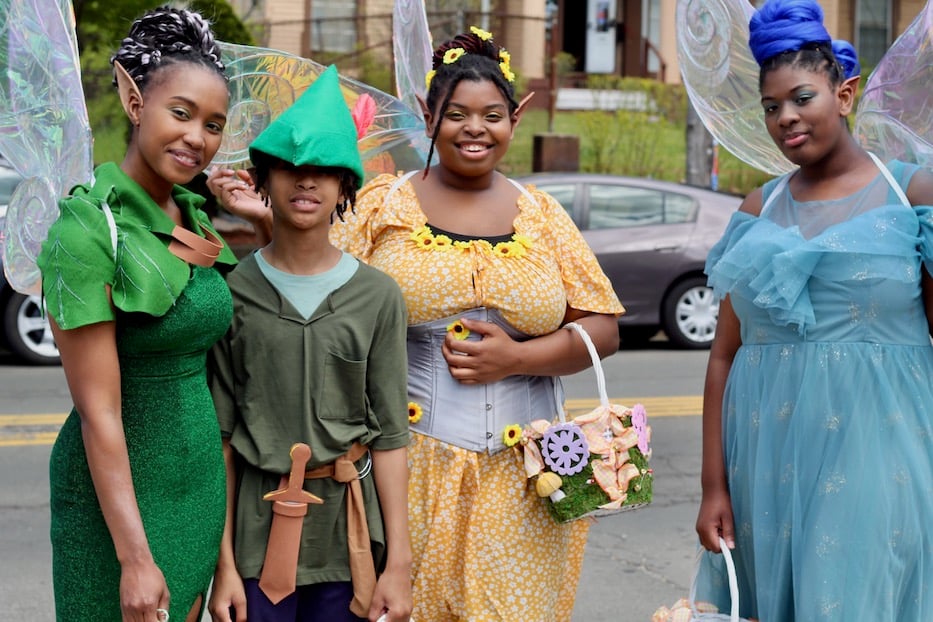 Top: Frank Redente, Jr. To his right in Mary Wade President and CEO David Hunter. Bottom: Tawsha Hall with her sisters and son. After working at Mary Wade and participating in the parade for years, Hall said she still dresses up to bring some extra magic to the festivities.
Nowhere was the pride for Fair Haven more palpable, perhaps, than during a short speaking program and awards ceremony, during which youth advocate and street outreach worker Frank Redente, Jr. was recognized for his leadership in the neighborhood. As members of the planning committee gathered around him, they became a smiling sea of aquamarine, in matching shirts designed by committee member Ruby Gonzalez Hernandez.
Born and raised in Fair Haven, Redente grew up watching his dad, Frank Redente, Sr., organize and coach citywide basketball leagues at the Farnham Neighborhood House. As he got older, he jumped in to help, and remained deeply in love with the neighborhood. In an interview on WNHH Community Radio last week, he remembered attending the original Fair Haven Day, riding in a tiny, battery-powered motorcycle and later, walking alongside his friends.
Saturday, he pulled his arms across his chest, and then extended both palms to make a heart with his thumbs and index fingers. Across his left forearm, the names Jericho, Daeonte, Quelly and DaShown peeked out; each represents a young person lost in the city to gun violence. As he spoke, he urged attendees to be in community with each other.
"Everything I learned, I learned in Fair Haven," he said, blushing at a federal proclamation that came before he left the stage.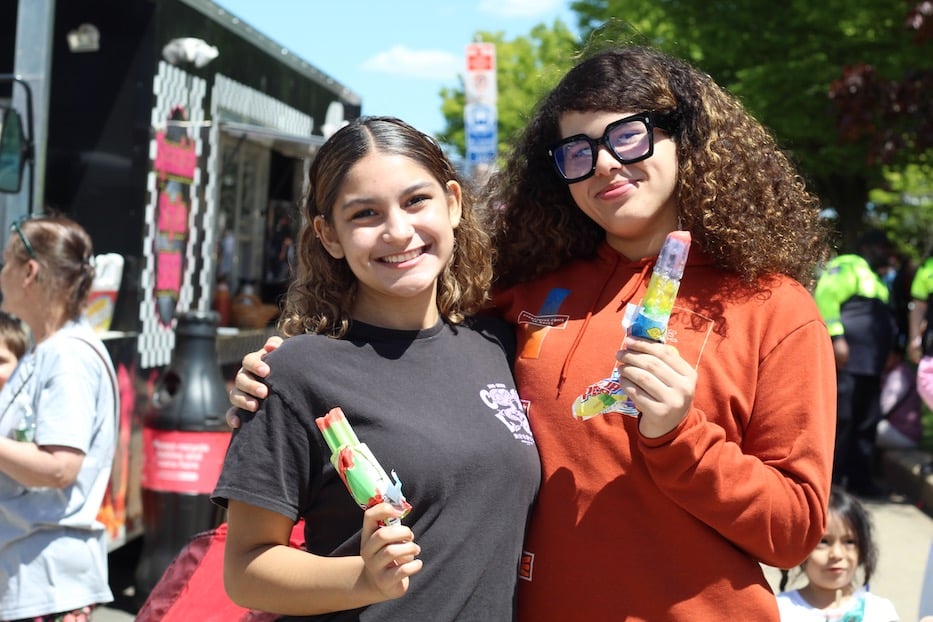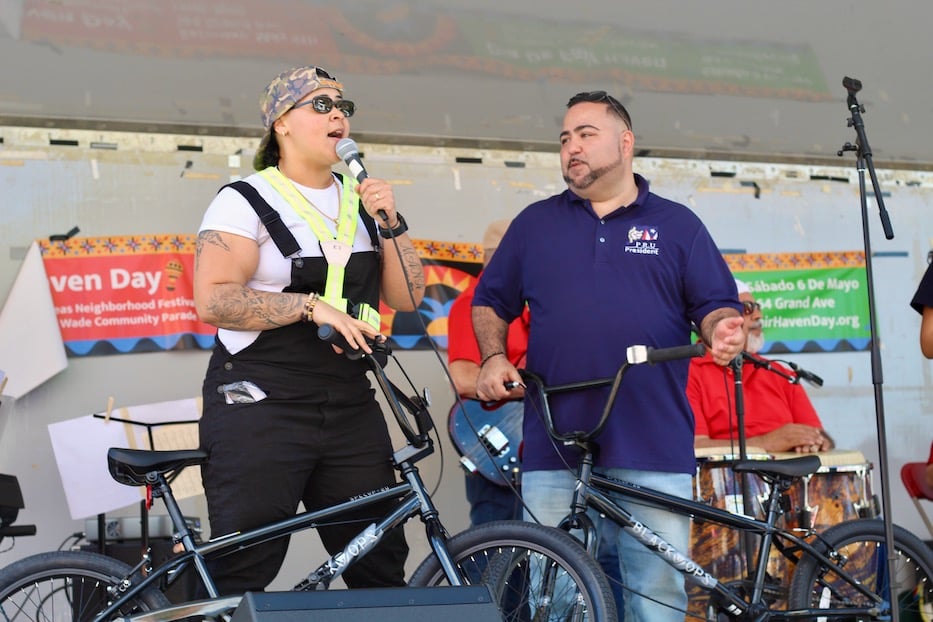 Top: Cousins Syrena Torres and Daniomar Gonzales, who are both in high school. Bottom: Lee Osorio, the executive director of the New Haven Coalition for Active Transportation, and PRU President and Co-Emcee Joe Rodriguez.
He was far from the only one to show some deep love for Fair Haven. Between acts, Santiago-Rojas and Rodriguez also hopped on the mic to celebrate the neighborhood, where dozens of bakeries, barbershops, botanicas, day care centers, small and large grocers and restaurants build a Latino-owned, self-sustaining business district.
Rodriguez pointed to its sheer diversity, shouting the breadth of Latinidad that lives within less than two square miles. He's right: There's nowhere else in the city where a person can find sugar-dusted conchas, calabaza squash, dried hibiscus flowers, quinceañera dresses and veggie tamales within a three-block radius.
Or as Miller and Melendez said, "If you are looking for flan, or a smoothie, or a haircut, or new shoes, or a plot of land to garden, you can do it all right here."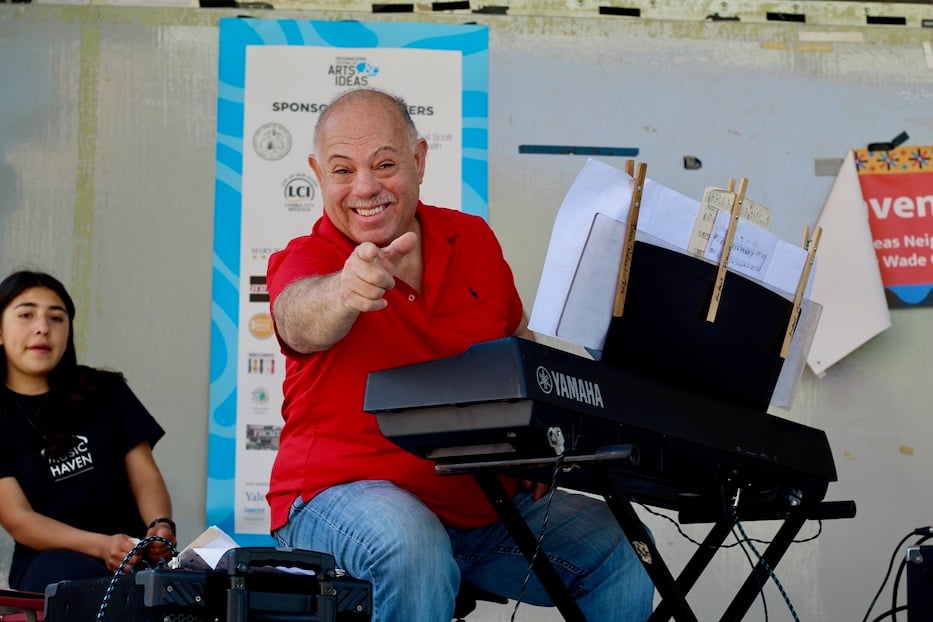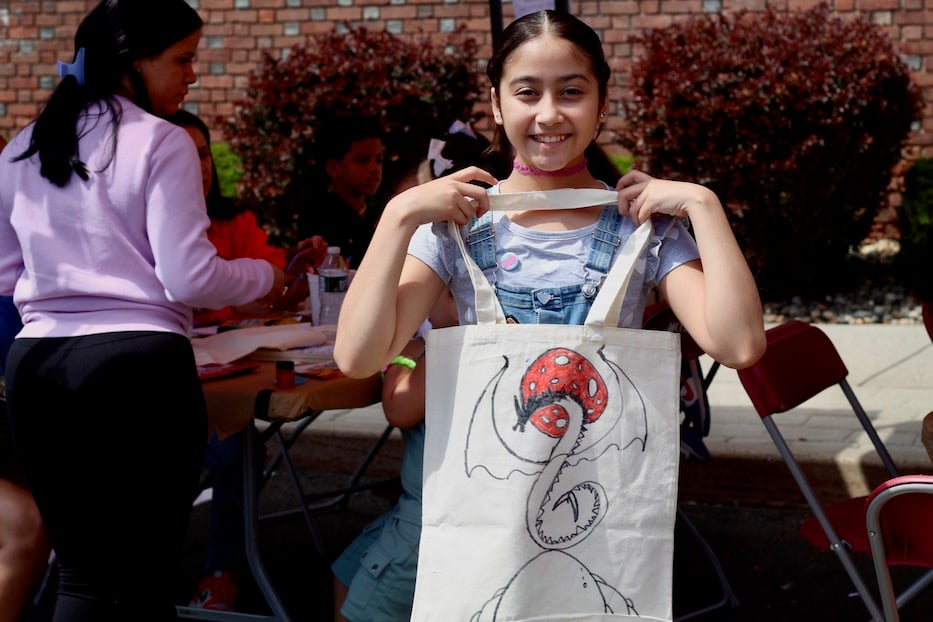 Top: Orquesta Afinke warms up. Bottom: Julie Colón.
Long after remarks had ended, attendees continued to celebrate the neighborhood's vitality. Beneath a row of tents for ARTE, Inc., Wilbur Cross High School senior Aidan Lyons buzzed from table to table, checking in on young artists. A tuba and trombone player at Cross, Lyons started teaching recorder lessons at ARTE's Saturday Academy several months ago. He's stuck with it, he said, because he loves the feeling of giving back to his community.
"It just feels good!" he said. "I get to help out people."
Nearby, Ross Woodward Classical Studies Magnet School fifth grader Julie Colón channeled her excitement into a double-sided canvas tote bag, reaching for a trio of bright magic markers as she sketched out a design. On one side, a dragon spread its wings and reared its head against a bright red, pockmarked moon. On the other, a heart extended across the cream-colored canvas.
As she colored methodically, her mom Jennifer Fernandez praised the festival as a family-friendly welcome back to the city. As a kid, Fernandez spent time between New Haven and Puerto Rico, ultimately living on the island for a number of years. Last year, she moved her family from Coamo, Puerto Rico to Fair Haven, where much of her friend-and-family support network now lives.
"Sometimes when I'm like nervous or mad, I draw and it calms me down," she said.
Fair Haven, Meet Fair-Side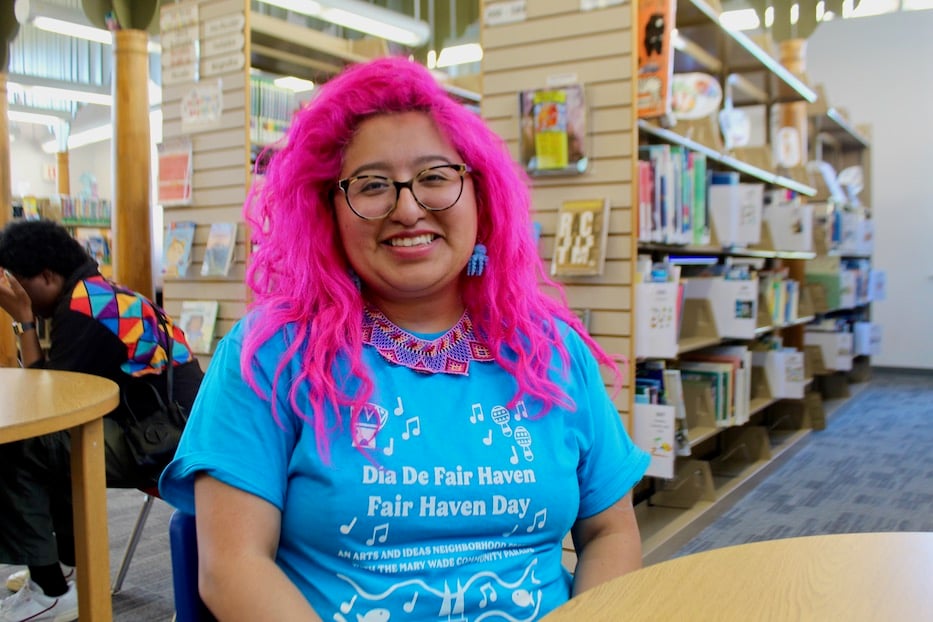 Ruby Gonzalez Hernandez, who also designed the t-shirts for Fair Haven Day.
As salsa and mariachi pulsed over the crowd, planning committee member Ruby Gonzalez Hernandez ducked inside the Fair Haven Branch Library, slipping into a bright yellow child-sized seat to give her feet a rest. Across from her, three figures looked out from Milena Alvarez' 2022 oil-on-canvas Luz, their bodies relaxed as they peered out of the frame. Just a few feet away, Kaelynne Hernandez channeled whole universes in her mixed-media I Can Feel The World Opening Up.
This, Gonzalez Hernandez explained, was the first public iteration of Fair-Side, a new community of practice designed to give artists—particularly Fair Haven-based artists—a flexible, non-judgemental, and welcoming space to make their work outside of legacy arts institutions. Titled Tierra after the unceded land on which Fair Haven stands, the exhibition features artists Kaelynne Hernandez, Elida Paiz Pineda, Milena Alvarez, Daniel "silencio" Ramirez, Melissa Villa (Amiga) and Madelyn LaRose. It runs through May 20.
What people now recognize as Fair Haven sits on Quinnipiac, Wappinger, and Paugusset land, according to the Canadian not-for-profit Native Land Digital. For Gonzalez Hernandez, a lifelong Fair Havener who identifies as Indigenous Zapotec, that history is part of intentionally taking up space with the show.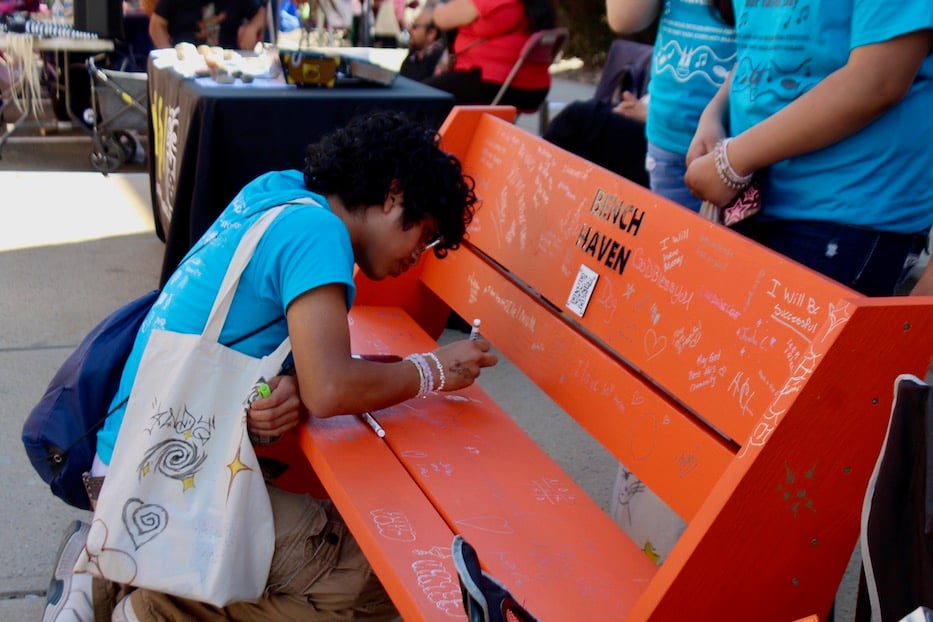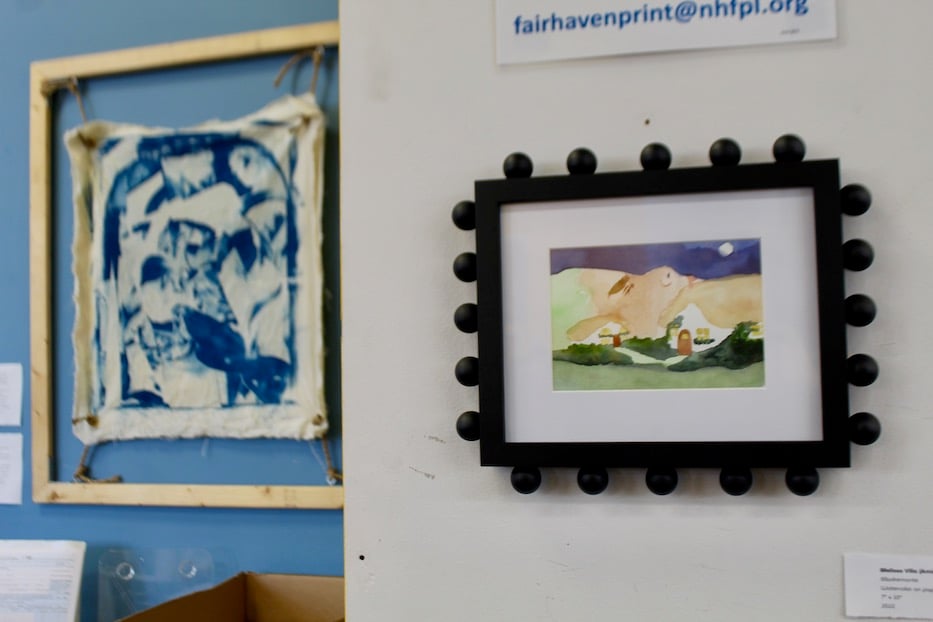 Top: Bench Haven, a new initiative of Haven Arts Park that is taking root. Bottom: Ramirez' brilliant blue, cyanotype-on-muslin embraced and Melissa Villa's Madremonte.
"I want to hold space and be in community with artists to simply be artists," she said as the horn section of Orquesta Afinke gave a brassy hello on the other side of the wall. "To make art, and not under the gaze of an arts institution. I started Fair-Side with no need for people to buy in: I wanted to ensure that artists from all different areas, from all different art forms, felt welcome here."
As a working artist herself, Gonzalez Hernandez was inspired to start the initiative after reflecting on a clear and pronounced divide between the city's artists and a number of white-led, entrenched arts institutions concentrated in downtown New Haven. Those include "anchor" institutions such as the Arts Council of Greater New Haven, Creative Arts Workshop, and the International Festival of Arts & Ideas, as well as Artspace New Haven and the Ely Center of Contemporary Art.
For years, she said, she saw how insular arts organizations could be: they tended to support and exhibit the same handful of practitioners, creating a kind of closed loop that was impossible to penetrate. Artspace, for instance, wasn't on her radar at all until she learned about their Summer Apprenticeship Program (SAP) in 2015.
When SAP led her to City-Wide Open Studios, she wondered why she'd never heard of it before. In fact, none of her colleagues and friends in Fair Haven had.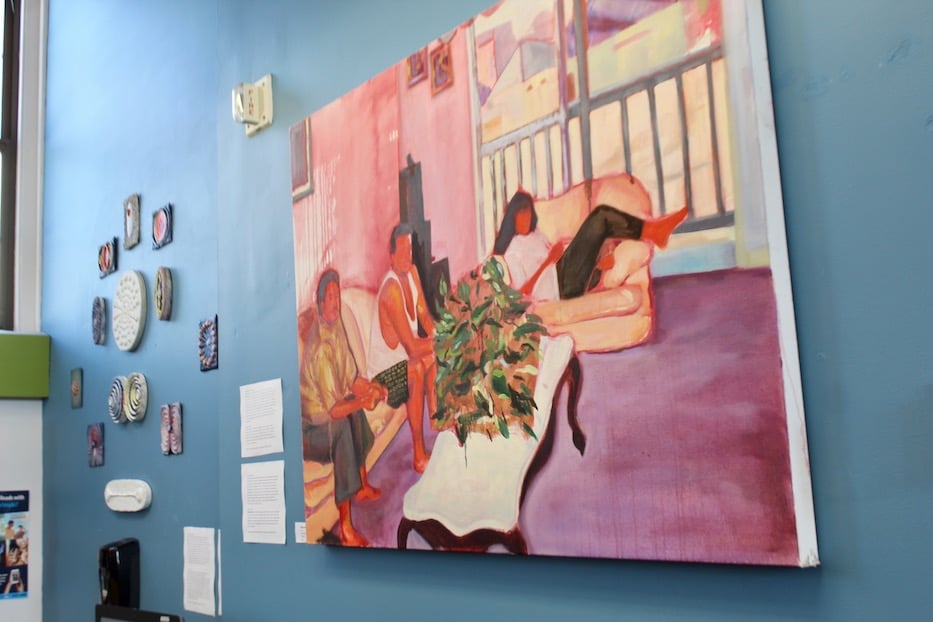 Kaelynne Hernandez' I Can Feel The World Opening Up (at far left) and Milena Alvarez' Luz.
"Why is it that people who live in this community, in this barrio, aren't connected to that?" she said. "Artists are building our own things because there hasn't been enough reckoning, reconciliation, accountability within [these] institutions. It's like, listen with open ears, or we're not gonna show up."
"This is the first of many," she added. "Not enough attention is being given to Fair Haven spaces. We are just as capable as any other arts organization."
In its DIY nature, Fair-Side is part of a growing grassroots ecosystem that also includes East Rock House, Volume II and the public art incubator NuSpiral. Many of the participants live in Fair Haven (as do all of Tierra's artists except Alvarez); many are arts workers and educators when they're not practicing their own craft. In addition to Tierra, which she called "the first of many" shows to come, she hosts a monthly event called "Parallel Play" at Bregamos Community Theater.
Around the lobby and first floor of the library, the seven featured artists tell a story of Fair Haven and of personal practice that is as diverse and polyphonic as the neighborhood itself. On a staircase leading to the checkout desk, LaRose's 2022 Untitled (Portrait of Aaliyah) catches a viewer by surprise, pulling them in. The installation is just as interesting as the work: a viewer can stand on the stairs, directly in front of the piece, or view it from above or below the steps.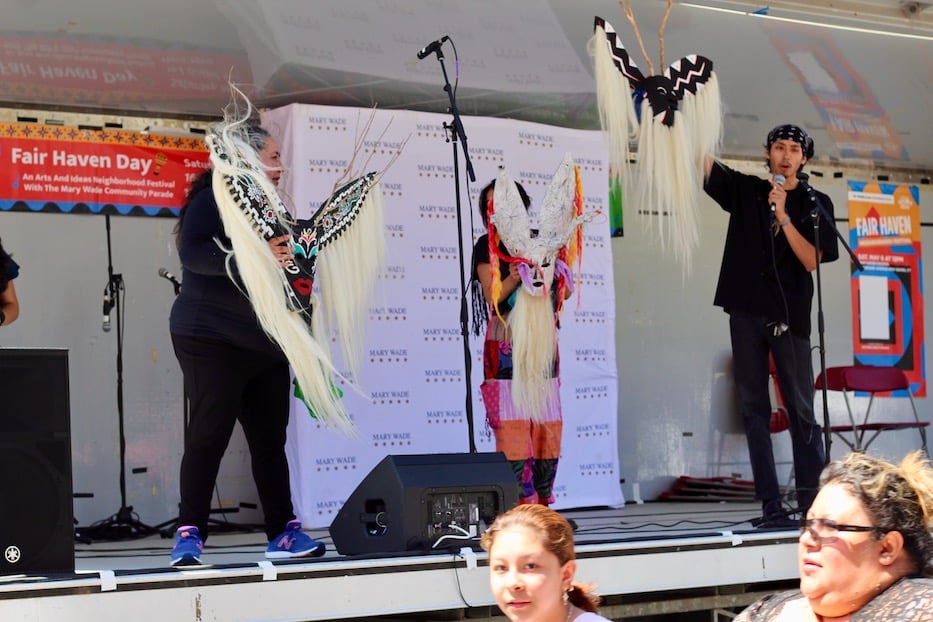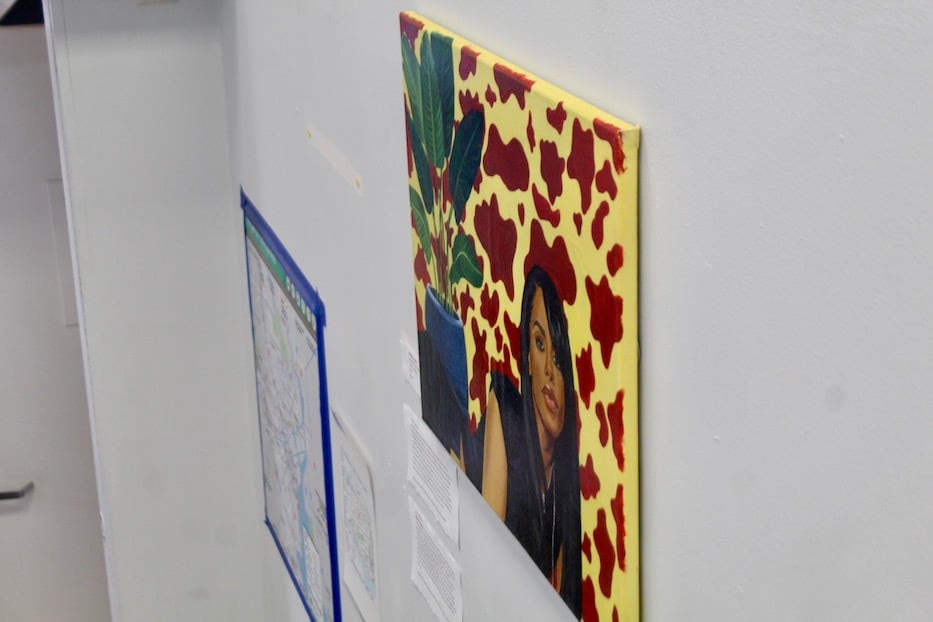 Top: Top: Members of the Semilla Collective outside. Bottom: LaRose's 2022 Untitled (Portrait of Aaliyah).
As she looks out against a red and yellow background, the late singer looks suddenly so alive, her lips in that signature Aaliyah pout. A plant, so emerald that it is nearly glowing, stands beside her. For viewers who remember the shock of her death in 2001 (LaRose, who is 24, was just a baby), it feels like a moment suspended in time, a reminder that she lived, and is horribly, unspeakably forever that young.
Above the stairs, a film from the artist Elida Paiz Pineda plays on loop, weaving a story together in a series of vignettes. Some moments, the cracked asphalt stretches out for blocks, baking in the summer sun. Others, roses sway in the breeze. A thicket of trees gives way to water.
It's powerful: Paiz Pineda is gifted in guiding a viewer through this neighborhood without judgment or bitterness or labels (Fair Haven, particularly from people who do not live there, is often the target of all of those), with edits that put package stores, bodies of water and soft, pink-petaled roses all on an equal playing field.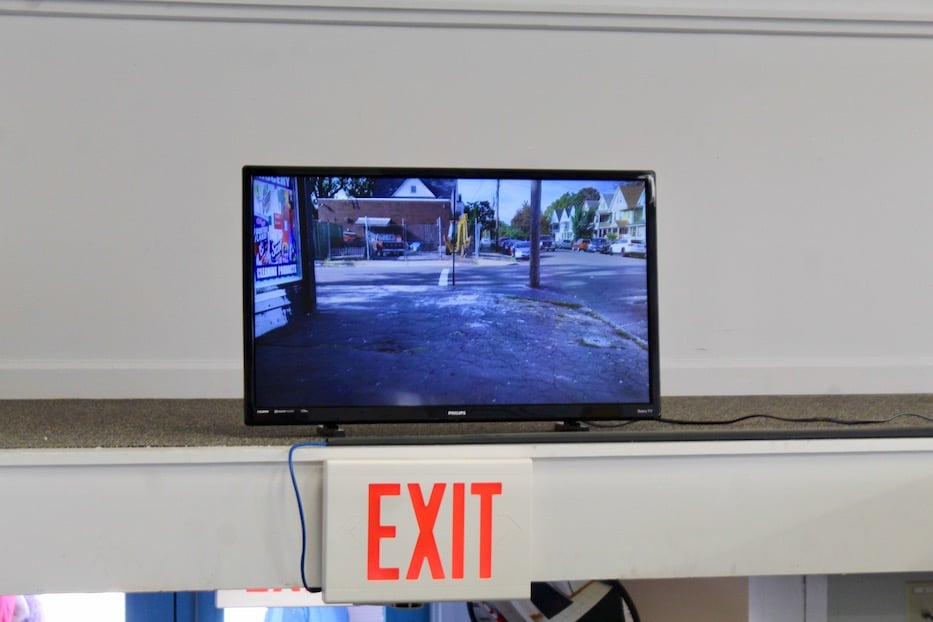 That is, simply the world as Fair Haven artists experience it every day. At times, Tierra grabs a viewer in its sheer beauty, with works like Ramirez' brilliant blue, cyanotype-on-muslin embraced and Hernandez' I Can Feel The World Opening Up. At others, it begs for a close look. In Melissa Villa's watercolor Madremonte, the artist has built on the Colombian folklore in which she was raised, rendering a work so delicate that a viewer must get close to study every detail.
So too in Luz, which hangs above a bay of computers in the children's section. Saturday, Gonzalez Hernandez pointed to the painting's trio of figures, who are depicted in the comfort of their own home. As they look out towards a viewer, artworks hang on the surrounding walls. She noted that they could be her brothers, her uncles, her friends. In them, she said, kids may see themselves.
Saturday, she described the show as a full-circle moment. The artist grew up on Fillmore Street, and came to the library multiple times a week as a kid. When she was done with classes at John S. Martinez Magnet School, she headed to Junta for Progressive Action, where artist Juancarlos Soto was still teaching. As she got older, she longed for an artistic community in the neighborhood, but found that there was no central place where artists could gather.
Now, she has built one. When she heard that Fair Haven Day had everything from music to food trucks, she proposed Tierra to round out the day's focus on arts in the neighborhood. She added that she can't imagine a better place to start showing the work of Fair-Side than the bookish, beating heart of the neighborhood that raised her.
"I read my first books here," she said, motioning around at the sturdy, tightly packed stacks and shelves of children's titles that surrounded her. "To be in this room, to be able to show young people where I was—this is us."
"It's been so beautiful to see this coincide with Fair Haven Day," she added, noting that her brother Erick, head of the Grand Avenue Special Services District, has also been an integral part of bringing back the neighborhood festival. "It has been a privilege, honestly a pleasure, to step into community work in Fair Haven."
Learn more about Fair-Side here. Learn more about Fair Haven Day here. The International Festival of Arts & Ideas neighborhood festivals continue this month and into June with The Hill (May 20), Newhallville (May 21), West Hills/West Rock (May 28) and Dixwell (June 3).