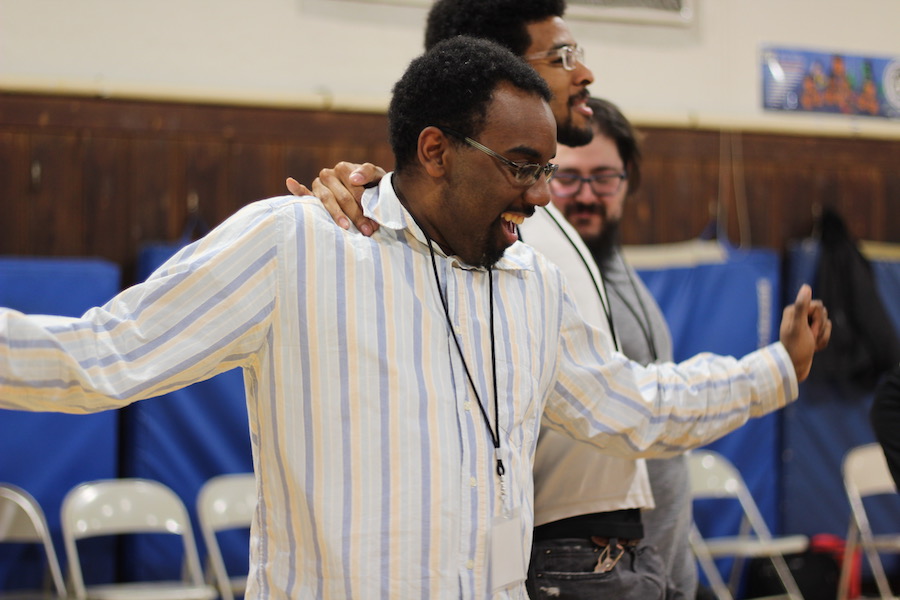 Downtown | Hamden | Music | Arts & Culture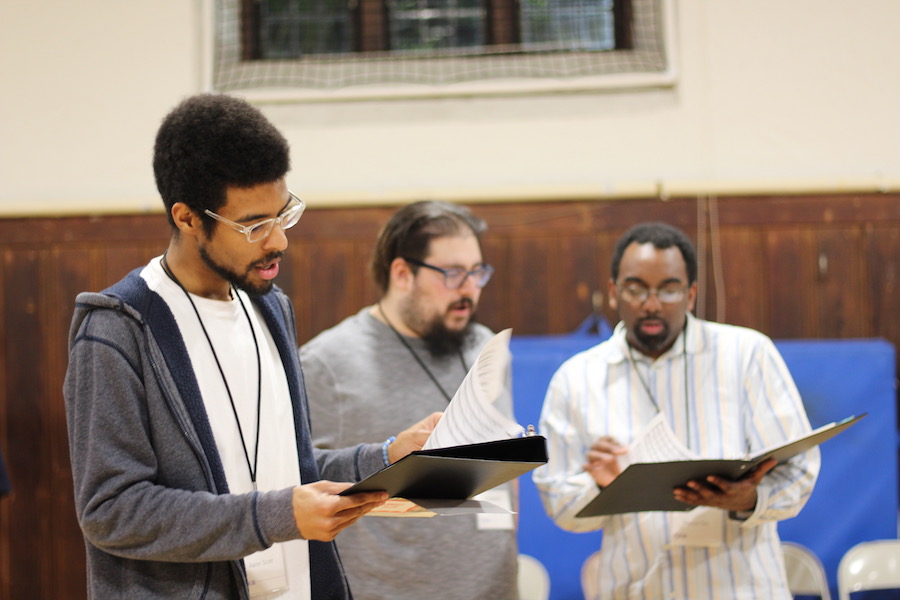 Aaron Scott, with choir mates AJ Ganaros and Marcus Tart, rehearsing the Star Spangled Banner Tuesday. In addition to
Wicked Divas
, they will perform at Connecticut's special olympics later this month. Lucy Gellman Photos.
Aaron Scott's limbs had turned to jelly even before the first strains of "Good Morning Baltimore" crackled over the loudspeaker. Pumping, staccato piano keys and sax burst out and he swayed to one side, then did a little slide to the other. Tracy Turnblad's voice piped over the room and he opened his mouth in a wide O and combed his arm back through his hair.
Scott is a member of the Connecticut Gay Men's Chorus, an intergenerational singing and social action group based in New Haven. This weekend and again on Valentine's Day, members will take the stage at Hamden Middle School, Shelton High School, and Woolsey Hall as part of Wicked Divas, a collaboration with the New Haven Symphony Orchestra (NHSO) and vocalists Alli Mauzey and Julia Murney. Tickets and more information are available here.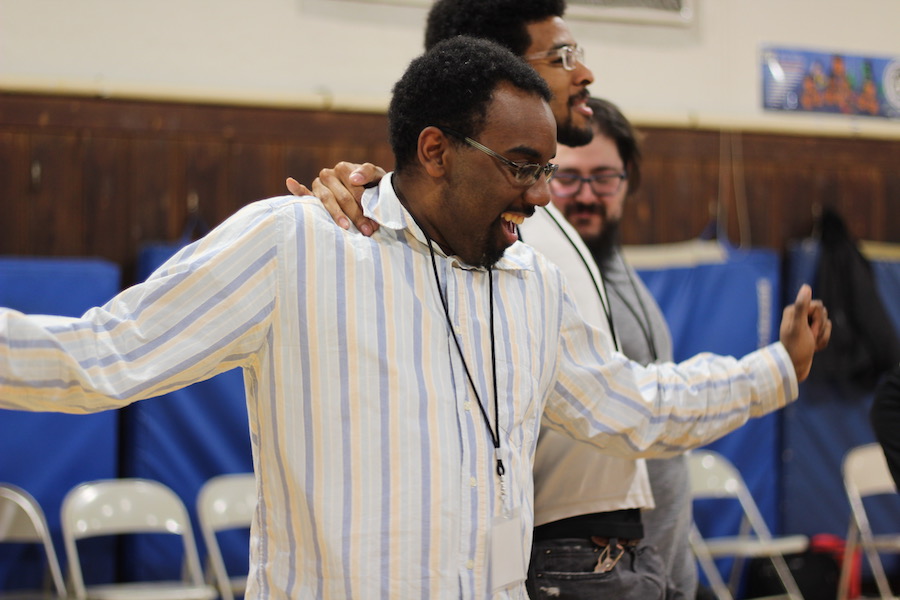 While Mauzey and Murney are literal divas—both have starred in Wicked on Broadway, among other shows—the performance marks the first time that the chorus is singing with a 60-piece orchestra behind them. In advance of the performance Saturday, they have been rehearsing with a recording of the symphony.
"We've always wanted to do something with them [the NHSO], but our budget is not enough to hire the symphony," said Artistic Director Greg McMahan at a rehearsal Tuesday night, held at St. Thomas' Episcopal Church in East Rock. "So for them to offer us to do this, it's just wonderful. Most of our guys have not had the chance to sing with that kind of orchestra before."
The concert, pulled from a pre-existing program, jumps between beloved Broadway hits from Chicago and Hairspray to Rent and Les Miserables among others. Last summer, McMahan said the symphony reached out to him after years of bouncing the idea of collaboration back and forth. He said yes immediately. On the symphony's end, NHSO pops conductor Chelsea Tipton said he's excited to meet and work with the group after hearing about them throughout his five-season tenure.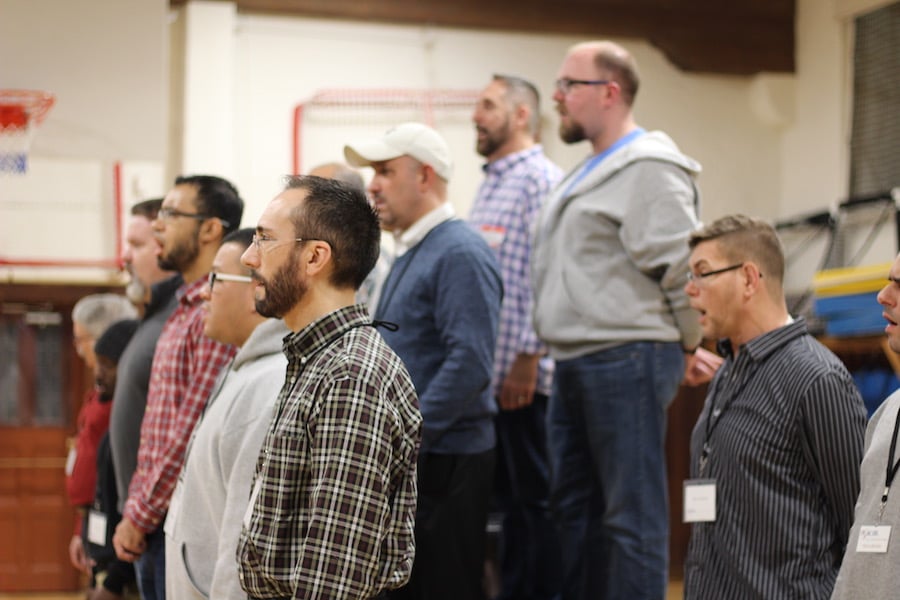 "There's something about being in the room with a lot of people enjoying the same experience," he said in a phone call Wednesday from Beaumont, where he is the maestro for the Symphony of Southeast Texas. "You can listen on YouTube, or on Hulu, but it's not the same. There's something about the energy of being in the room while it's happening."
In some ways, Wicked Divas is just that—a mellifluous midwinter pick-me-up, with some added sequins because Broadway demands it. Several members of the chorus have experience in musical theater, from performances in Torrington to Amarante's Sea Cliff in New Haven, which used to offer dinner theater during the week.
As members of the Gay Men's Chorus rehearsed "All That Jazz" Tuesday—there were a few sexy shoulder shrugs as McMahan instructed members to "look like you're having fun"—the world fell away, replaced by one packed with drama and intrigue. With the propulsive strains of "Good Morning Baltimore" and "You Can't Stop The Beat," Westvillian Marcus Tart formed an impromptu kick line, the chorus' Aaaahhhhhhhs and ooooohhhhs mingling with some Rockette-style moves.
There's an unspoken Broadway rulebook somewhere in there: that Jonathan Larson's "Seasons of Love" will never not make you feel bittersweet and existential, that there's a "Defying Gravity" moment in all of us, just without the E flat, that it is literally impossible to be mad when Hairspray is helping desegregate Baltimore and skinny, misanthropic white women have lost something for once in their lives.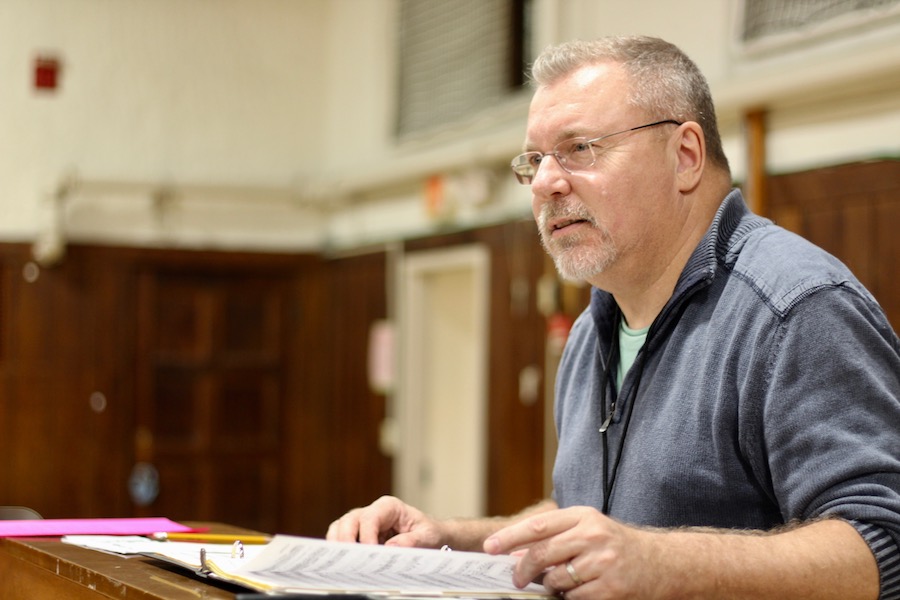 Artistic Director Greg McMahan: "Try to look like you're having fun"
But on another level, the chorus' collaboration brings fuller meaning to several numbers, some fitting right into their context and others standing alone. It is difficult to will away that lump in your throat during Jerry Herman's 1983 "I Am What I Am" from La Cage aux Folles, a song that is literally meant to bring the house down with the lyrics "I deal my own deck sometimes the aces sometimes the deuces/It's one life and there's no return and no deposit/One life so it's time to open up your closet."
To hear it sung in unison, the lyrics lifting just so, is a great deal more moving than Mike Nicols' 1996 take on the musical, where being gay just meant being a flamboyant parody of oneself.
As the group launched into "Circle of Life" Tuesday, member Cecil Carter stepped forward, his hands gliding through the air as he bowed then lifted his head, closed his eyes, and took the whole choir to church. On his voice—he will be singing with the divas in the concerts, but neither of them arrive until Friday—members of the group let themselves be transported, some swaying from where they stood.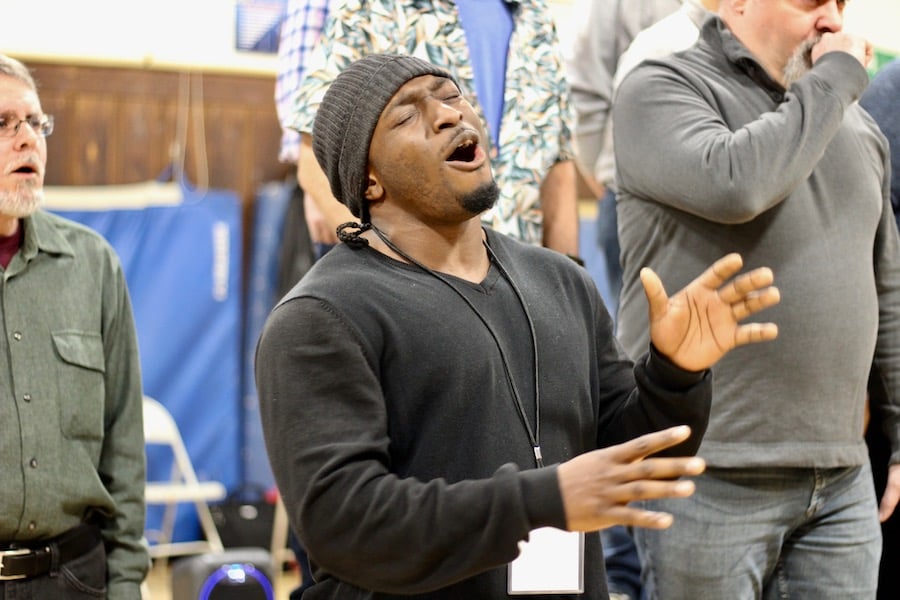 Members have even parsed through meaning in Frank Loesser's "Standing on the Corner," popularized in the 1956 musical Happy Fella. The song is very much a product of its time: the choir sings "Standing on a corner watching all the girls go by," and an icky feeling tiptoes around the lyrics, deepening as the song unfolds ("Haven't got a girl but I can wish/So I'll take me down to Main street/And that's where I select my imaginary dish"). As member Tom Shelham joked of the original vocalist, "you can see why he's alone."
But that's not how all of them are reading it. At Tuesday's rehearsal, chorus member Carl Delmolino said he frequently reminds the group that the program has taken it out of context, a song from over half a century ago that is "just guys being guys yucking it up."
Scott, a student in IT and graphic design at Manchester Community College, laughed as he cut in. He joined the choir in 2014, after meeting Delmolino at a rally for marriage equality in downtown Hartford, and giving the group a try just as he was coming out. From his perspective, he said, the chorus has been able to flip the meaning of the song—however deliberately or not. Instead of coming off as creepy, "actually it's a bunch of gay men going 'ooh, she looks nice! Oh, look at that! You think I'd rock that hat? Totally. Okay.'"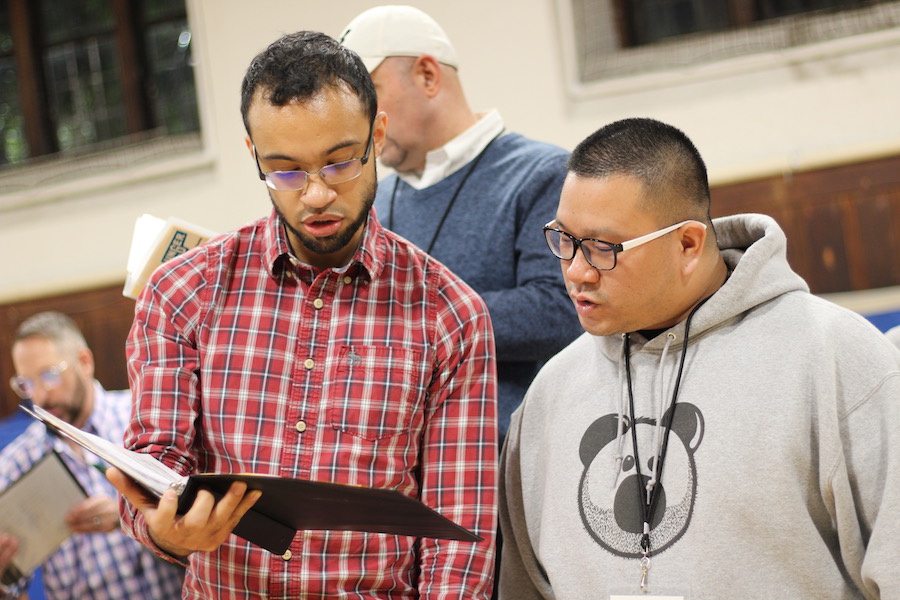 The program has grown into a kind of conversation piece—and trip down memory lane—for several of the chorus' members. Matthew Brand, vice president of the organization's board, said that the concert will mark an unexpected homecoming: the last time he was on the stage at Shelton High School, it was to play Jesus in Godspell over 20 years ago. His niece, who is now a senior there, will be performing in Chicago on that stage later this year.
"To come home and perform in front of my family with the New Haven Symphony Orchestra is a dream," he said, recalling performing years ago in The Pajama Game with Board President Ken Sawicki. "They [musicals] always tell the story of how people interact. Whether you're a man or a woman, regardless of your heritage or your race, all of those shows have a commentary about social issues that's still relevant today."
"I hope they're bouncing in their seats, I really do," Sawicki added of audience members. "Hey, get up and dance."