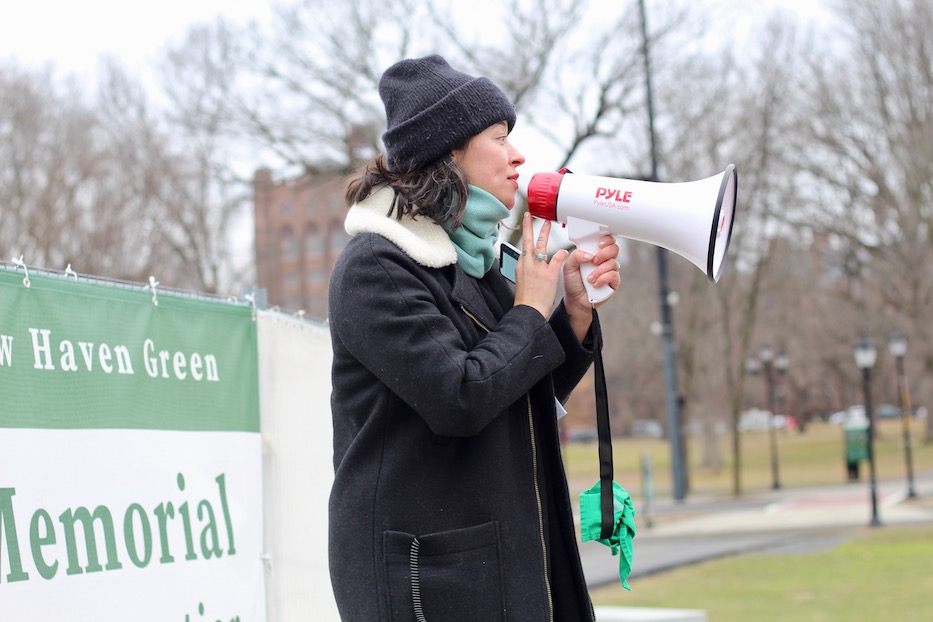 Culture & Community | Arts & Culture | Nasty Women New Haven | Abortion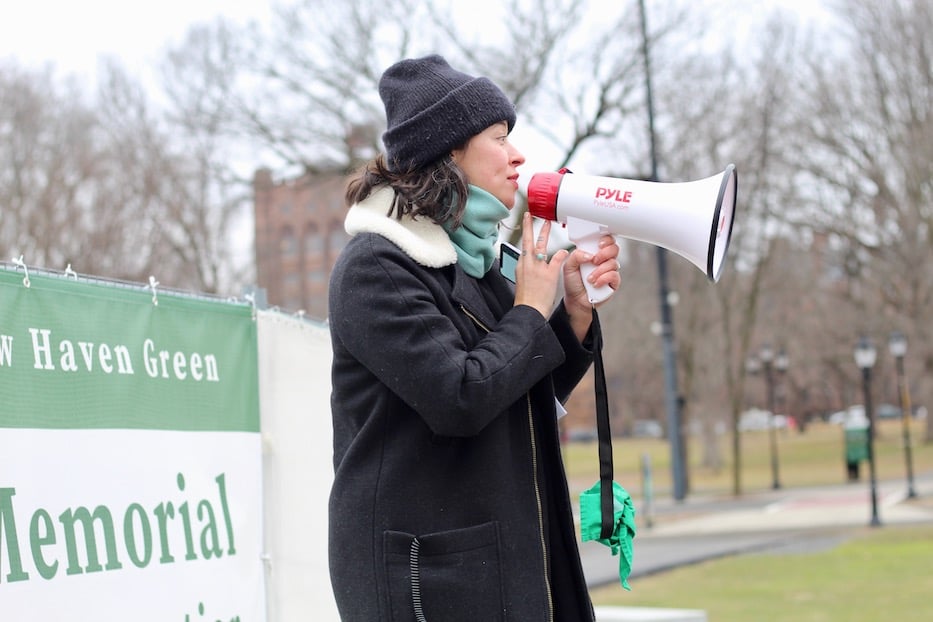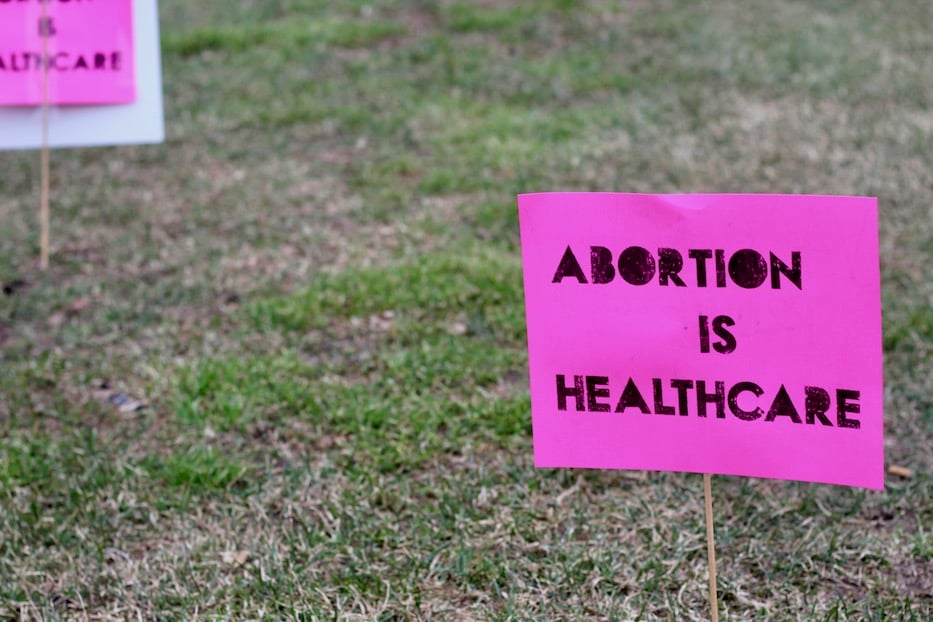 Luciana McClure on Sunday. "It should be a choice," she said. "And I want us to think about what happens when it isn't a choice. When we don't have a choice. Why is it robbed from some of us?" Lucy Gellman Photos.
Liberated. Equitable and accessible. Safe. Educated. Easy. Easier than it is today.
Those hopes for the future of reproductive rights rang across the New Haven Green Sunday afternoon, during a teach-in and art action on what would have been the 50th anniversary of Roe v. Wade. Organized by Nasty Women Connecticut, the event drew a small but vocal group that centered reproductive rights and family planning in the broader context of social justice work, anti-racist advocacy, and trans rights.
It took place at the Green's flagpole, newly lowered to half-staff to honor the victims of Saturday night's mass shooting in Monterey Park, California. Roughly a dozen attended, many to speak out about the reversal of Roe that took place seven months ago.
"Motherhood, any kind of parenthood, is a choice," said artist and Nasty Women Connecticut Co-Founder Luciana McClure, stepping up onto the Green's fountain. "It should be a choice. And I want us to think about what happens when it isn't a choice. When we don't have a choice. Why is it robbed from some of us?"
A flock of signs that read "My Body Is Not Your Body!," "Abortion Is Healthcare," "Gender Equality Now" and "Forced Parenthood Should Be Illegal!" swayed in the wind from a corner of the Green. Every few moments, artist Shea Emma Sinclair adjusted signs that read "Pussy Power!" and "Fight For A Planned Parenthood" that leaned against benches around Bennett Fountain. A fist, printed thickly in black ink, rose on a work that urged "Rise Up!"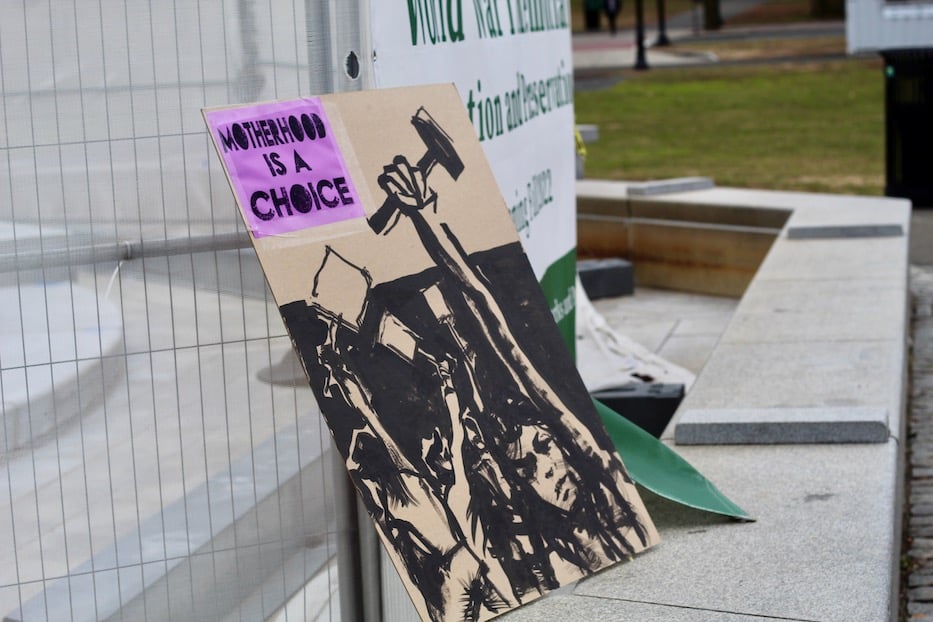 As she spoke, McClure stressed that reproductive justice is not just a women's rights issue, but a deeply intersectional one. As a queer, immigrant, Latina mother, a working artist, and a professor in Women's Studies, she knows firsthand that pregnant people of color, and specifically Black women, are more likely to be affected by abortion bans than their white counterparts. She knows that the majority of people who seek safe, managed abortion care are already parents. She knows that accessing safe reproductive care can save someone's life—and that not having it can end it.
As a mother who planned her pregnancies, "I want that for everyone," she said. Instead, she sees a country where forced birth, in at least 13 U.S. states, is now often seen as more important than a pregnant person's life.
Even in Connecticut, which has been hailed as a national model for reproductive rights, there are multiple proposed bills this session that would require parental consent for abortion. There was strong opposition among Democrats before the passage of last year's "safe harbor" law.
"How do we understand that?" she said. A green bandana, now synonymous with abortion rights, hung from the megaphone. "How do we understand the impact that our race, our class, our culture, our upbringing, our surroundings can impact on whether we have access or we don't have access?"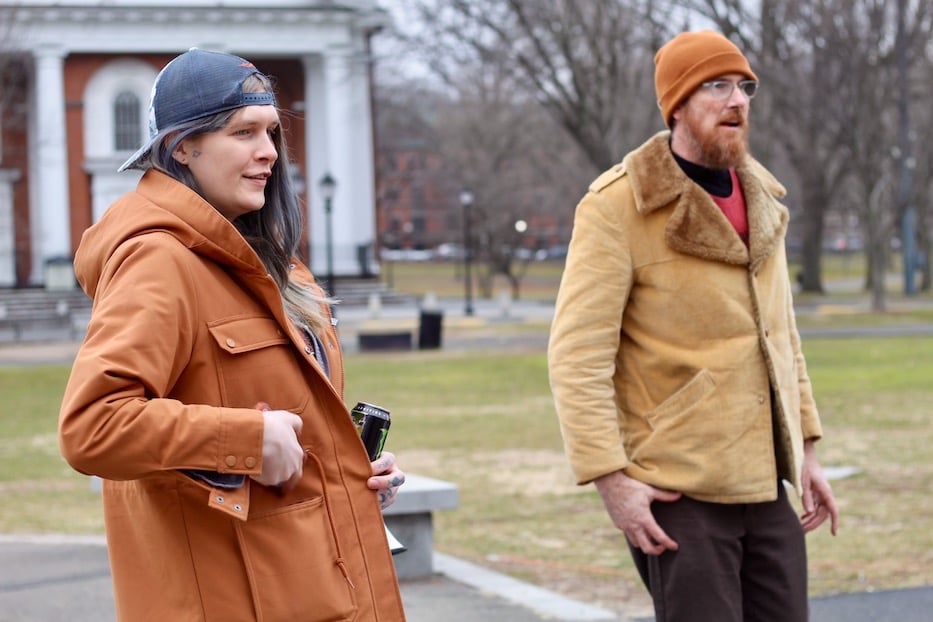 Shea Emma Sinclair and artist Nathan Lewis, who is McClure's partner. Sinclair lives in Bridgeport, but came out with screen-printed shirts and signs after hearing about the event from McClure.
She looked to the work of Smith Professor and SisterSong Co-Founder Loretta J. Ross, a Black feminist who first coined the term "reproductive justice" in the 1990s. In her framing of the term and theory, Ross explains that reproductive justice does not mean only access to abortion and reproductive choice, but access to the full spectrum of parenting decisions.
Those include whether to parent, how to plan one's parenthood, and control over "birthing options," including equitable access to medical attention, midwifery, and doula care. Most prenatal, birth, and postpartum doulas are not covered under current insurance plans.
Other speakers reflected on what might have been, with a different Supreme Court, a day of celebration. Sarah Fritchey, who works at The Narrative Project and is a new mom, pointed to the deep grief she was feeling around both the reversal of Roe and the disparity in care that it will exacerbate.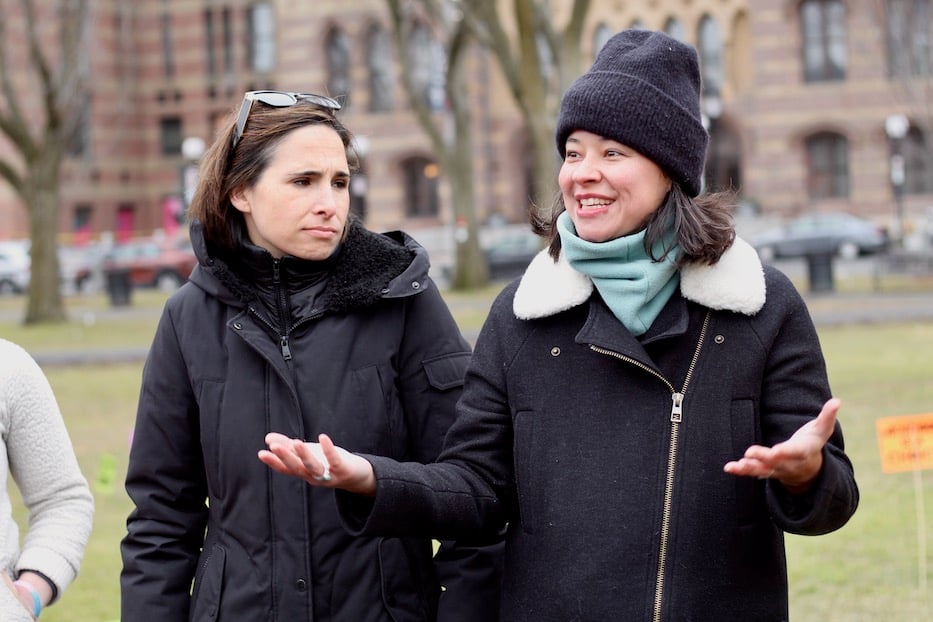 Sarah Fritchey and Luciana McClure.
She stressed that the majority of Americans believe that abortion should be legal in all or most cases—making that the decision and power of the U.S. Supreme Court feel all the more maddening.
"The majority is invested in providing abortion care! In providing access for people to be able to family plan," she said. "Because when we talk about family, this is a lifelong decision. Your family's going to outlast you. All of the issues are going to outlast your own life."
"I just want people to know, wherever you are standing in solidarity, New Haven's here with you," she added.
"I'm Sorry, Sister"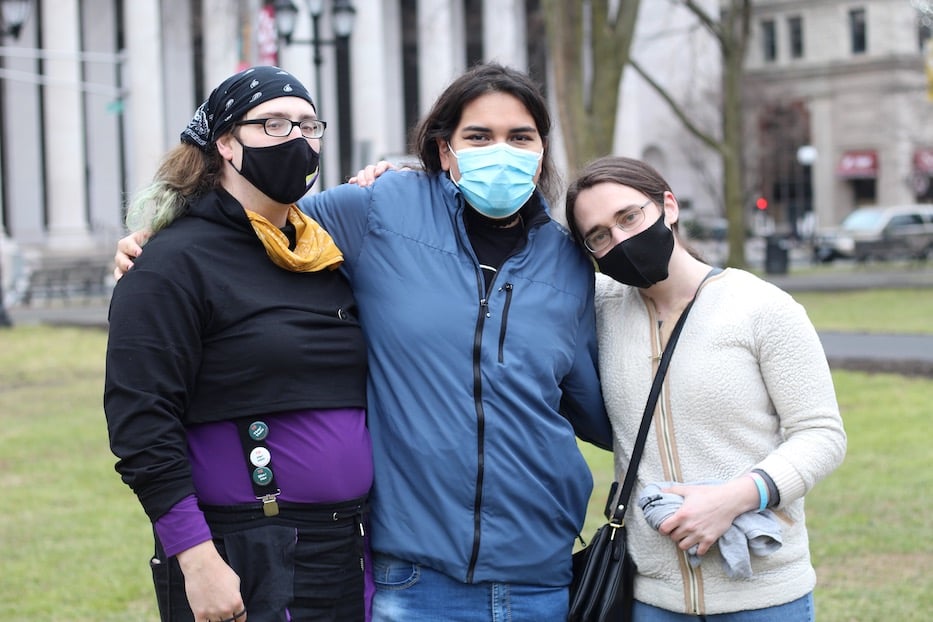 Flint Locke, Reina Rangel and Alcy Hart. Lucy Gellman Photo.
Both during and after the action, several attendees stressed the need for better and more affordable access to reproductive and gender-affirming care. Passing on the megaphone, Connecticut College grad Alcy Hart lifted their phone to their face, ready to read their poem "I'm Sorry, Sister." The work was written last November prior to Trans Day of Remembrance.
"What we're here for, and what this is all about, is basically fighting for the rights for our bodies to be ours," they said as their breath turned to white vapor in the air. "And while I don't have a uterus, so I can't get an abortion, that particular fight is something I know very well as a trans person."
As they read (listen to the poem in full in the video below), Hart expressed their sheer, often raw grief, words sailing over the Green as attendees hung onto each word. They advocated for more powerful legislation, pointing to a fear that the violence will get worse before it gets better. In one excerpt:
All of us are soldiers in a war we did not choose to fight
One we didn't know existed until we got our kevlar skirts
A war on many fronts, and you tried to fight on all of them

Your existence, resistance enough
The visibility of being on the street that cut you short
That ended your battle
Every war has casualties, and your number came up
And that's not fucking fair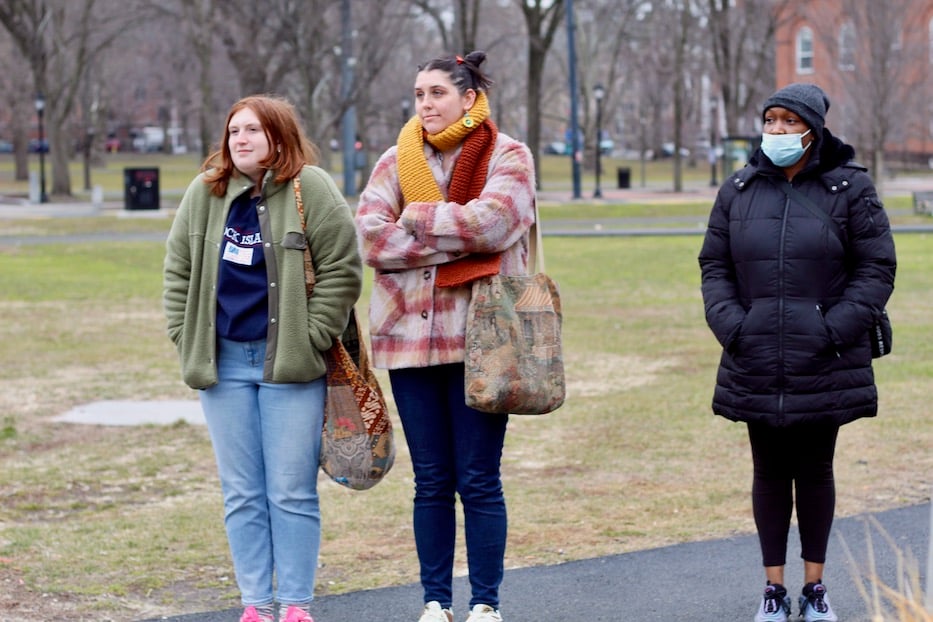 Sophie Kyle, Caro Karakey, and Nekiesha (she declined to give her last name). "Everything that you are saying, it matters—it should matter to everyone. Because all are human," she said."I just want to say the movement that you all are doing, it speaks volumes. There are people who are listening. There are people who see this. And there are people who still care."
After reading, they recalled sitting down last year, and scrolling through lists of trans people murdered in the first 11 months of 2022. Last year, that number was 33 by Trans Day of Remembrance, including 28-year-old Daniel Aston on the night of November 18. Aston was killed in the Club Q shooting, which claimed the lives of five people and wounded over two dozen others. By the end of the year, that number was 35.
"I just had this intense feeling, like none of these were inevitable," they said. "All of these were due to transphobia. Something broke [in me], and most of the poem, it just came out in one go."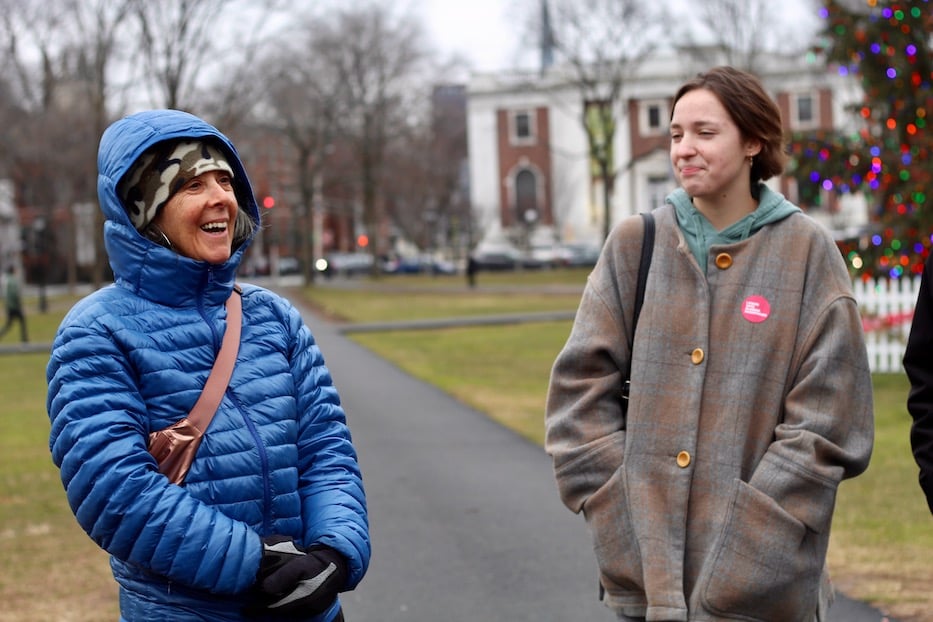 Kauder: End the stigma.
Former Artspace Director Helen Kauder advocated for a society in which both abortion itself and the conversation surrounding it are far less taboo. When she needed an abortion decades ago, she was able to access safe reproductive care in New Haven, she said. When her daughter needed to access an abortion several years later, the two had to drive to a clinic in Norwich.
She remembered sitting in the waiting room, conscious of the privilege that had made it possible for them to get there. They didn't have to worry about transportation, or finding temporary lodging, or taking time off because the clinic was far from home, or in a different state entirely. They were able to afford the procedure.
"It's just an incredible hurdle," she said, wondering aloud if the stigma would fade if more women spoke openly about their abortions.
Roughly one in four women, or 23.7 percent, will have an abortion by the time they are 45, according to the Guttmacher Institute. In 2017, research by Guttmacher also estimated that between 462 to 530 trans- and nonbinary individuals accessed abortion care that year—but that under a quarter of clinics provided trans-specific care. By last year, over half of all abortions were performed medically rather than surgically.
As abortion bans have continued to expand across the United States, abortion rights advocates have stressed the importance of supporting abortion funds, which can cover or subsidize the costs of travel, lodging, and the procedure itself.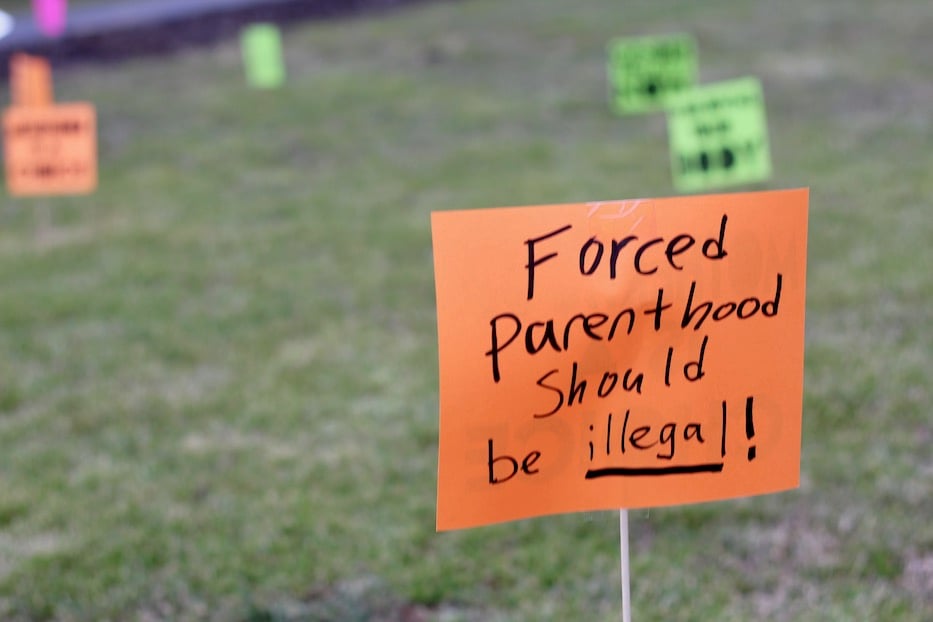 Attendee Reina Rangel, now a postgrad research assistant at Yale, recalled learning about abortion for the first time in college. As a kid growing up in Los Angeles, she saw classmates become pregnant in middle and high school, but didn't ever hear about an alternative to parenthood. No one talked to her about consent. "It was like, if you got pregnant, you were expected to be a mother," she said.
Then she got to Amherst College for her freshman year. The campus was a little bit of a culture shock: it was the first time she remembered meeting a critical mass of people who weren't worried about money, she said. It was also where she got her education in reproductive rights, including abortion access. Now, she constantly thinks about the power that education—or a lack of education—can play in having and raising a child.
"A child is not a very easy responsibility to take on," she said. "In reproductive health, I think education is a very, very powerful tool."
Walking among the signs, McClure said she was glad people had come out for the event. She said that she intends to do more around gathering people in the coming months, particularly as International Women's Day approaches in March. This year will mark six years since McClure, with over 350 participating artists and fellow organizers, launched Nasty Women Connecticut from downtown New Haven.
"I just felt so moved to do something today," she said. "We were all impacted by it, so we can all understand why it is important."
Learn more about Nasty Women CT here.