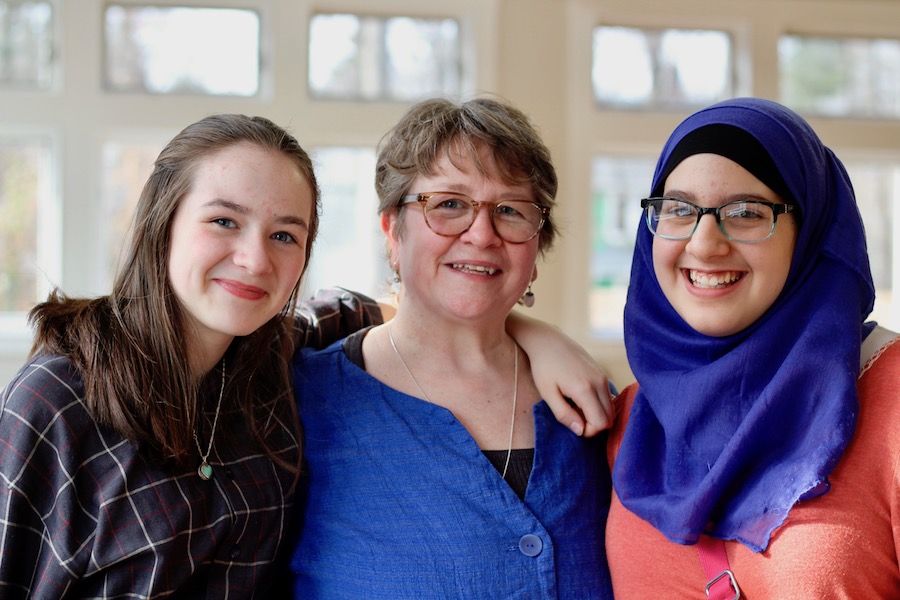 Collab New Haven | Culture & Community | Food Justice | Fair Haven Heights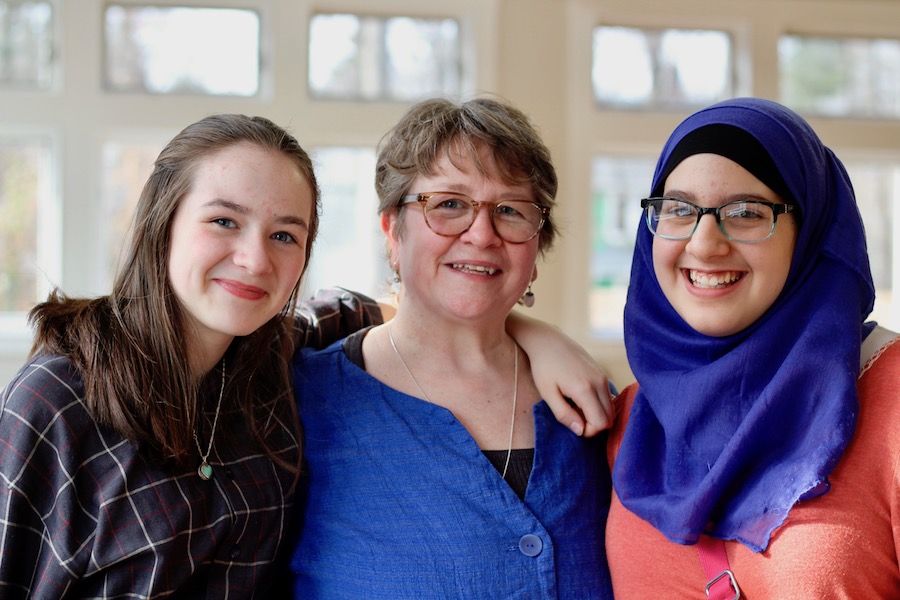 Lori Martin (at center) with her daughter Emma and volunteer Amira Shatara. Lucy Gellman Photos.
When Muriel Bodenwebber landed at Mary Wade home with several pounds of fresh figs a few weeks ago, she was met with raised eyebrows, handfuls of questions, and uncertainty around the bell-shaped fruit. By the time all the figs were gone, residents were asking when she'd be back with more.
Sunday afternoon, Bodenwebber was one of several people to speak at the launch of Haven's Harvest, a budding food recovery nonprofit run by New Havener Lori Martin and her son Caleb Martin-Mooney. Held at the New Haven Friends Meetinghouse in Fair Haven Heights, the launch drew over 50 supporters, volunteers, board members and New Haven Friends Meeting regulars, of which Martin and Martin-Mooney are both members.
Haven's Harvest began last year as an outgrowth of Food Rescue U.S., for which Martin has been a longtime volunteer and the regional point person since late 2017. Like Food Rescue U.S., Haven's Harvest uses an app to connect shelters, soup kitchens, food pantries, churches and service-based organizations with restaurants, bakeries, dining halls and grocery stores that have excess food, using volunteers to pick up and drop off loads. But Haven's Harvest also has an advocacy component, addressing how food recovery dovetails with environmental justice.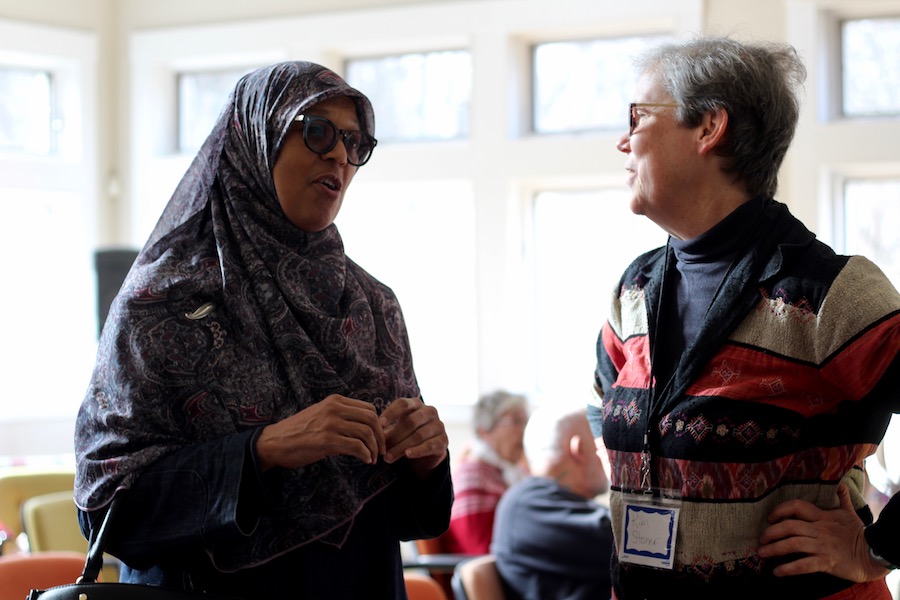 Food justice advocate Jamilah Rasheed, who runs a food pantry and New Haven Land Trust garden in the city's Hill neighborhood, and Entomologist Kimberly Stoner.
Several years ago, Martin said she began debating whether or not to form her own nonprofit after not feeling quite satisfied with the mission of Food Rescue U.S. While she praised the organization for its vision, she wanted something that made clear the link between food waste and environmental harm, including the release of methane gases in landfills, and freshwater lost to agriculture. She recalled frequent meetings with her "Care Committee," a subgroup of the New Haven Friends Meeting that listened to her growing thoughts and gave her counsel.
Then last fall, she applied for and was accepted into Collab's 10-week accelerator, pitching her idea as a pathway to both food and environmental justice. She began to build a board and small army of food recovery warriors, volunteers who use their cars to "rescue" produce, meat, bread and prepared food on a daily basis. She grew the organization's footprint, working with Trader Joe's, Stop & Shop, Whole Foods and Yale University dining halls that often had pounds of food to donate.
Because Haven's Harvest is not yet officially incorporated as a nonprofit, the New Haven Friends Meeting is serving as its fiscal sponsor. But that hasn't stopped the workflow—last year, Chief Operations Coordinator Caleb Martin-Mooney said that the group rescued an average of 16,000 pounds of food each week, saving it from trash cans, dumpsters and landfills to get it to those who may need it most.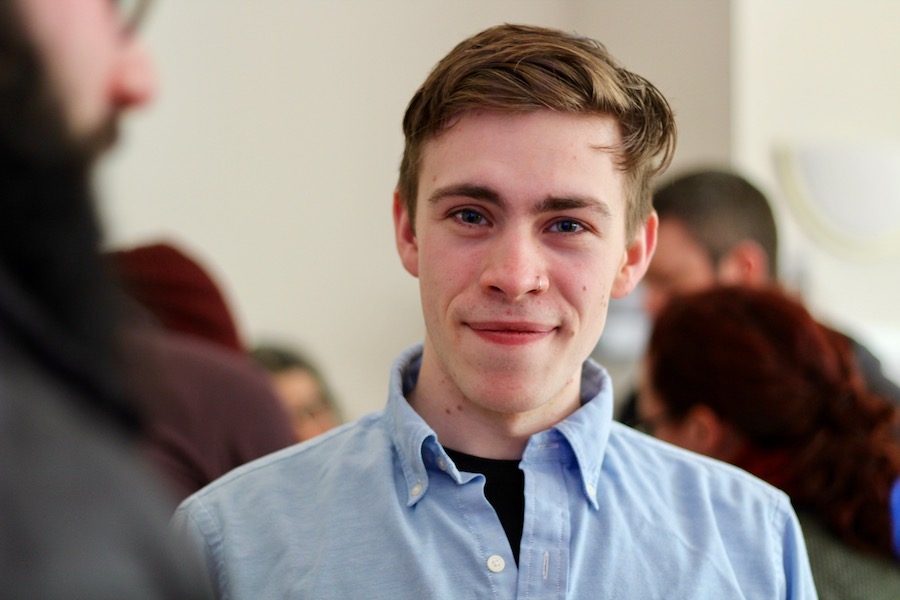 Caleb Martin-Mooney, who returned from Greensboro, N.C. to serve as Haven's Harvest's chief operations coordinator.
He praised local food distributors including Hummel Bros. Deli, recalling how exciting it can be to receive pounds of meat that recipients might not otherwise be able to afford. Once a year or so, he said that he and Martin get a load from City Line Distributors that is so large it requires several U-Haul trips or 10 to 20 cars.
That food goes to approximately 70 sites around the city, including faith-based organizations, food pantries, neighborhood outreach efforts and service organizations including Integrated Refugee and Immigrant Services (IRIS) and JUNTA for Progressive Action. Both the organization and its volunteers are protected by the state's Good Samaritan Law, a measure under which volunteers cannot be held liable for wrongdoing if food donations are made in good faith. So far, said Martin-Mooney, that hasn't been a problem.
Sunday, board members and volunteers spoke about the difference that Haven's Harvest has already made in their communities, and in their own lives. Addressing the crowd from the front of the room, Newhallville Community Management Team Chair and Inspired Communities, Inc. Founder Kim Harris ditched her prepared remarks to speak from the heart, breaking to applaud Martin several times. In the midst of planning a food distribution system in Newhallville, she said she's already seen the impact of Haven's Harvest, and praised the organization as "phenomenal."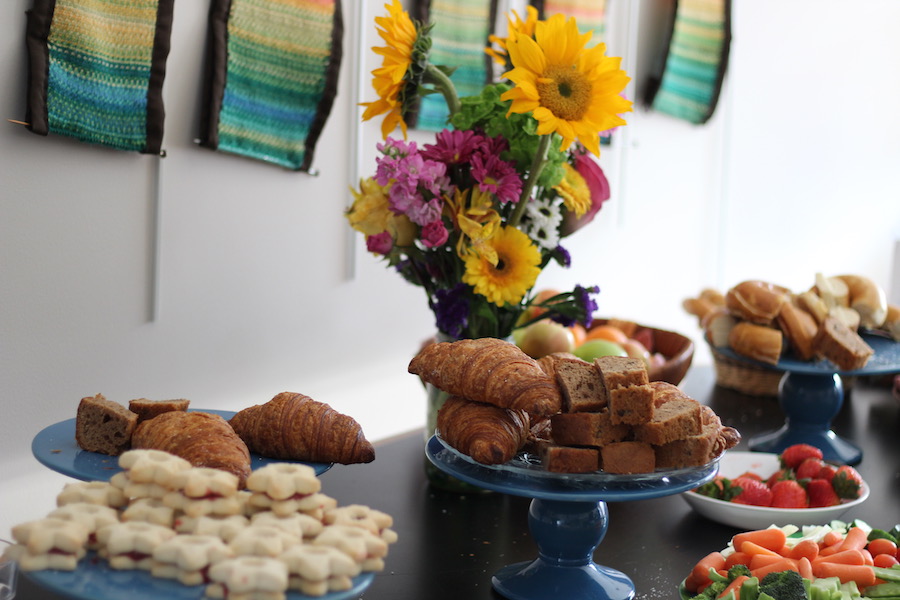 Sunday's spread comprised entirely rescued food, as well as bright cut flowers that had passed their expiration date.
"Food is a very social entity," she said. "It brings families together. It keeps friendships and bonds even stronger."
She recalled a family based in Newhallville that came to her in mid-January asking for help. They were planning a funeral, and couldn't afford food for the hundreds of attendees who they expected to show up. Family was coming in from out of town. The church was going to be packed with people. Harris picked up the phone, and dialed Martin.
"She said 'wait a minute, I'll get right back to you,'" Harris recalled.
Martin called a Whole Foods Store in Milford that Haven's Harvest had worked with before. By the day of the funeral, Whole Foods had delivered close to 20 bags of salad, entrees, bread, dessert and drinks, "enough to really feed a small army of people."
In Newhallville, Harris continued, 7,000 people live in one square mile, and over 25 percent of that population is in poverty. That means Haven's Harvest can sometimes make the difference between being able to eat—and feeding one's family—or going without a meal. She recalled meeting another woman, a mom of six, for whom this was the case.
Each Friday, she and her cousin Karen Tucker do a weekly food pickup to serve families on the north end of Newhallville. It's part of their work as co-directors of the Harris and Tucker School. When they first started distributing food, she met a mom who had six children, and was struggling to feed everyone in her family by the end of the month. She told Harris that the pickup meant everyone in her household would be able to eat.
"When you feed the mind, kids are smarter," Harris said. "They're not going back home and worrying … Lori, we thank you for helping these people who have to go through things every day to just get here. To just live."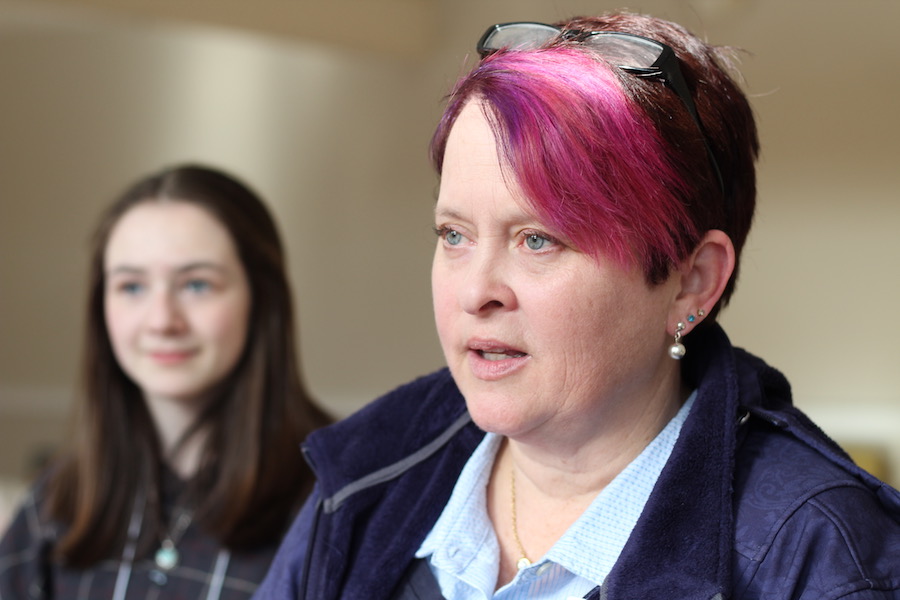 During a question-and-answer session that followed, creative reuse guru and EcoWorks progenitor Sherill Baldwin added that restaurants, bakeries and grocery stores should see food recovery as a cost-saving mechanism. Currently, those businesses pay a "tip fee" each time they dispose or "tip" a ton of waste. Across the country, Baldwin said those fees tend to run between $60 and $80 per ton. So less food waste translates to less money spent on those fees.
Bodenwebber also took the mic, laughing as she spoke. She recalled arriving at Trader Joe's for a pickup, and receiving pounds and pounds of fresh figs—a commodity that Martin said is fairly common, because they pass their sell-by date quickly.
Haven's Harvest has gotten figs before—they're especially popular with members of a local mosque. But Bodenwebber wasn't sure what to do with them. She brought them to Mary Wade Home, an assisted living facility in the city's Fair Haven neighborhood, and packed individual baggies for the residents. When she distributed them, she turned it into a learning opportunity. Soon, residents were bugging her to bring more back.
"We had a fig day, and it was absolutely phenomenal," she recalled to a smattering of laughs from around the room. "It made us ask all these questions. Where do figs come from? How do figs grow? Everyone is now enamored with figs."
It has also made volunteers more conscious of food waste in their own lives. A few weeks ago, Milford resident Sarah Bromley said she watched in horror as her local BJ's Wholesale store threw away 12 roasted chickens at closing time. Before they went in the dumpster, she had begged the store to let her take them for the organization. As she tried to reason with staff, customers started gathering around her to hear the argument.
"I had them ready to riot," she joked. The experience did have a silver lining: she found new partnerships with other small area businesses. Now, she visits Amici's Cafe weekly, taking boxes of prepared food to sites that need it.
Martin said she often hears about those experiences: a family that hasn't been able to put meat on their dinner table, and can suddenly make a meal they thought was impossible. Or someone who has never eaten a pomegranate or a bushel of asparagus, and learns to welcome the flavor and the nutrients that come with it. As Haven's Harvest grows, she is hoping to expand the network further, adding both food distributors and partner organizations who are battling food insecurity in their own communities.
"I'm amazed at how many people feel as passionate as I do about supporting food justice," she said after the launch, attendees sticking around to nosh on a spread of rescued produce, banana-walnut bread, pretzel rolls, and star-shaped cookies with bright jam at the center. "And the best part is making all of these new friends."